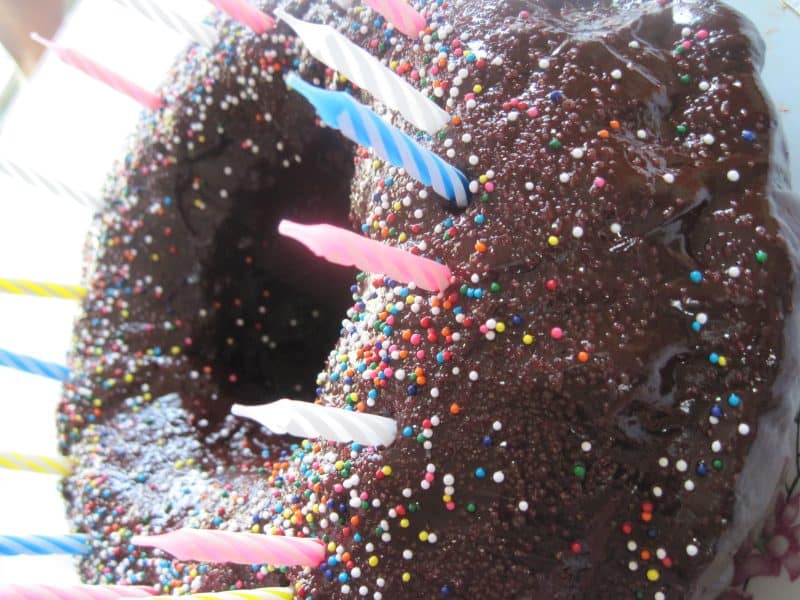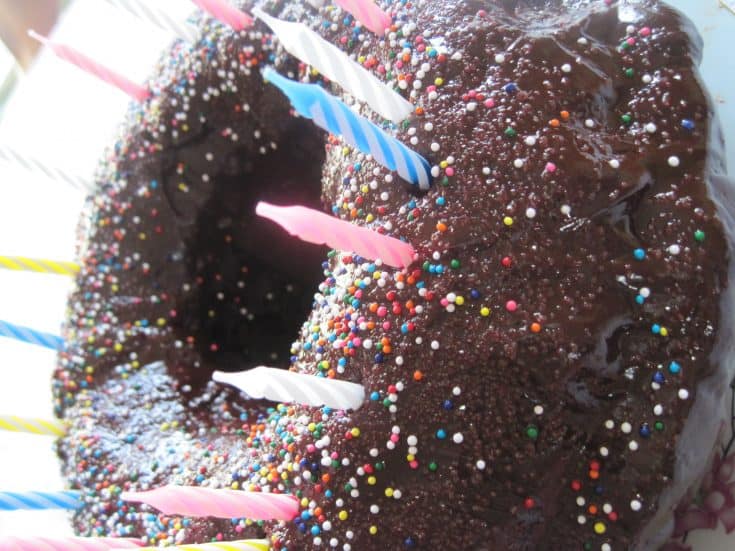 Chocolate Banana Birthday Cake
Ingredients
Ingredients:
2 1/4 cups flour
2 1/2 teaspoons baking powder
1/2 teaspoon baking soda
Pinch of salt
1/4 cup best-quality cocoa
3 large eggs
1 1/4 cup sugar
3/4 cup butter, melted
1 tablespoon vanilla extract
3/4 cup sour cream
4 medium ripe bananas, mashed
1/2 cup chocolate chips, melted and cooled slightly
1/2 cup chopped pecans
Glaze:
1 cup heavy cream
1 1/2 cups semi-sweet chocolate chips
Instructions
1. Preheat oven to 325°. Generously grease and flour a 10-inch Bundt pan.
2. In a bowl, sift flour with baking powder, baking soda, salt and cocoa; set aside.
3. In a large mixing bowl, beat eggs until light in color and fluffy. Gradually add the sugar. Add butter and vanilla. Beat until well blended.
4. With mixer at low speed, beat in the sifted dry ingredients in 3 additions, alternating with the sour cream. Fold bananas and melted chocolate into the cake batter; thoroughly combine.
5. Spoon cake batter into prepared Bundt pan and bake for 55 to 60 minutes, or until a wooden toothpick inserted in center comes out clean.
6. Allow the cake to cool in the pan for 15 minutes. Invert the cake onto a cooling rack and allow the cake to cool completely.
7. While the cake is cooling, prepare the chocolate glaze. Heat the cream until it just comes to a boil.
8. Pour the cream over the chocolate and stir until the chocolate is melted. Set aside until the cake is completely cooled.
9. When the cake is completely cooled, cover the top of the cake and sides with the glaze. Refrigerate the cake for at least an hour to set the glaze.