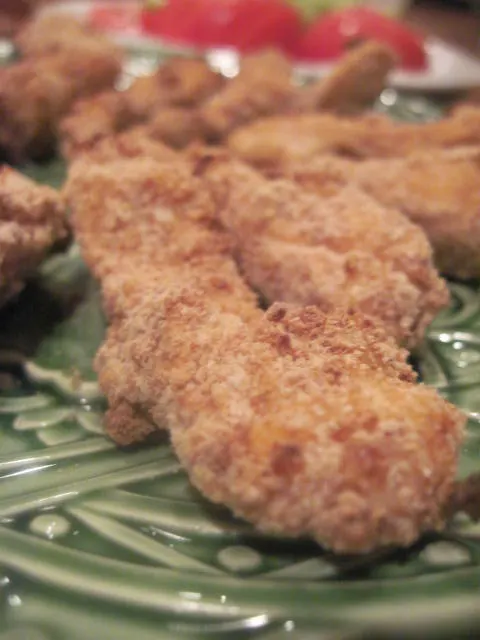 I have made this recipe many times and I finally got a picture before the vultures, I mean my family devoured it! My friend Lynne, from 365 Days of Baking has some amazing recipes on her blog. I tried this recipe and loved it when she posted it almost 3 years ago, I know I have to catch up! I like the flavor of the chicken when it is marinated over night. The ginger flavor isn't overpowering, it has a delicious flavor.
Crispy Honey Ginger Chicken
Ingredients
1 lb boneless, skinless chicken breasts, cut up into 1-2-inch pieces
Marinade
2 cups lowfat buttermilk
1/4 cup honey
1 tablespoon ginger
1 teaspoon garlic powder
Coating
2 cups Panko bread crumbs
1/4 cup whole wheat flour
1 tablespoon ground ginger
1 teaspoon seasoned salt
1 teaspoon garlic powder
Directions
Combine buttermilk, honey, ginger and garlic powder in a baking dish. Mix well.
Add chicken to buttermilk mixture.
Cover in plastic wrap and refrigerate for 2 hours or overnight.
Preheat oven to 450 degrees.
Combine panko, ginger, garlic, seasoned salt, and flour in a large bowl.
Toss chicken pieces in coating mix, making sure they are completely covered.
Place chicken on a wire rack placed on a rimmed baking sheet.
Continue with remaining chicken pieces.
Spray each piece with cooking spray or olive oil.
Bake for 10 – 15 minutes.
Turn each piece over and coat with cooking spray.
Bake again for 10 – 15 minutes.
Serve with honey.
Recipe adapted from 365 Days of Baking