It's time for a Red, White and Blue Cake for the 4th of July! This cake is super easy to make and so delicious! Fresh whipped cream and Mascarpone cheese, fresh blueberries, blackberries, strawberries cover an easy and moist butter cake.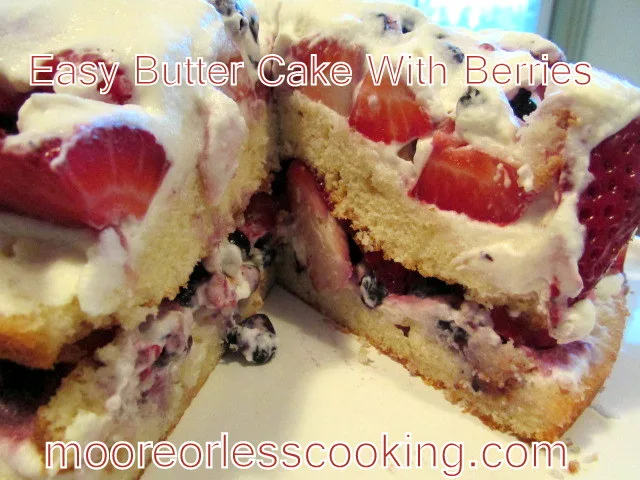 My family hovered around me as I decorated the cake~well decorated is a strong word, as I plopped the whipped cream and spread it all over the cake, diligently adding berries on the cake. They were like wolves and I started to panic, cutting the cake and serving them as fast as possible….well not exactly, but it was stressful! They inhaled every last piece as I shoved my elbow at a rib to get a picture!! You would think that I have never baked a cake before…… guess it's a compliment! They love my cakes!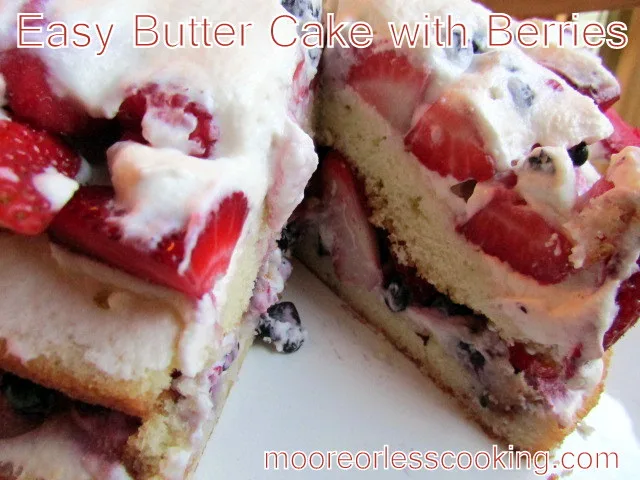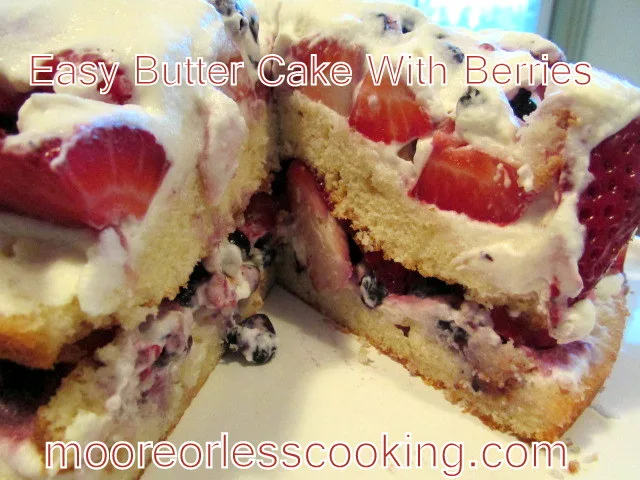 Yield:

1 cake
Easy Butter Cake With Berries
Like the best strawberry shortcake you have ever had!
Ingredients
For the cake:
1 1/2 cups all-purpose flour, plus more for coating the pan
3/4 teaspoon baking powder
1/4 plus 1/8 teaspoon salt
8 tablespoons unsalted butter (1 stick), softened, plus more for coating the pan
1 cup granulated sugar
2 large eggs, at room temperature
1/2 cup whole milk
For the filling:
1/2 cup mascarpone cheese, at room temperature
1 cup heavy cream
1 tablespoon granulated sugar
1/2 teaspoon almond extract
To assemble:
1 1/2 pounds mixed berries, washed (if you're using strawberries, they'll also need to be hulled and quartered)
Instructions
For the cake:
Heat the oven to 350°F and arrange a rack in the middle. Coat an 8-inch round cake pan with butter and flour, tap out the excess flour, and set the pan aside. Combine measured flour, baking powder, and salt in a medium bowl and whisk until evenly combined; set aside.
Place measured butter in the bowl of a stand mixer fitted with a paddle attachment and beat on medium high until light in color and fluffy, about 3 to 5 minutes. Add sugar and continue to beat on medium high until white in color and the texture of wet sand, about 3 minutes more.
Add eggs one at a time, letting each incorporate fully before adding the next. Stop the mixer and scrape down the sides of the bowl with a rubber spatula. With the mixer on low, add half of the flour mixture. Mix just until incorporated, then add milk and continue mixing until smooth. Add the rest of the flour mixture, mixing just until incorporated, about 2 minutes more.
Scrape the batter into the prepared cake pan. Bake until a cake tester inserted into the center comes out clean, about 40 minutes. Transfer to a wire rack to cool, about 15 minutes. Run a knife around the perimeter of the cake and turn out onto the rack, right side up, to cool completely. Meanwhile, make the filling.
For the filling:
Place mascarpone in the bowl of a stand mixer fitted with a whisk attachment and whip on medium speed until smooth, about 1 minute. Add cream, sugar, and almond extract, increase speed to medium high, and whip until ingredients are combined and firm peaks form, about 15 seconds more. Cover and refrigerate until ready to use.
To assemble:
Slice cake in half horizontally using a serrated knife. Divide filling evenly between the cut side and the top of the cake. Divide berries evenly over the filling. Stack cakes on top of each other and serve.
Recipe from CHOW.COM
I have joined some wonderful bloggers to bring you RED, WHITE AND BLUE RECIPES!
Are you ready for some more delicious RED, WHITE AND BLUE RECIPES??!!
TAMPA CAKE GIRL~ Red, White and Blueberry Cheesecake
COOKING FROM A SAHM~ Patriotic Pie
THE ROWDY BAKER~ Patriotic Fruit Pops
CRUMBS IN MY MUSTACHIO~ Star Spangled Cannoli