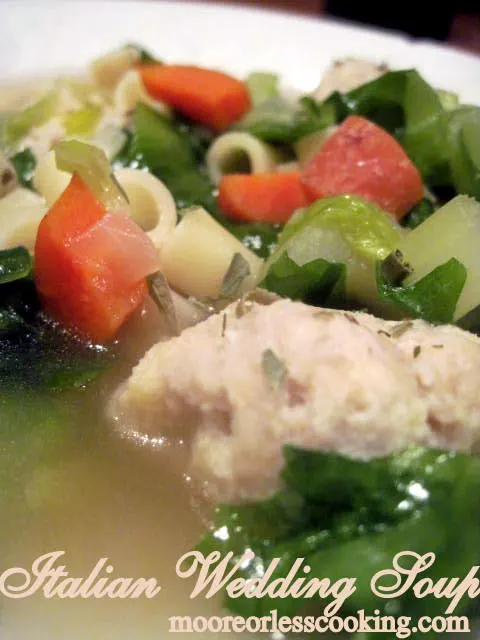 Italian Wedding Soup is one of my favorite soups. It is served at Italian weddings, American Italian weddings. It is not a heavy soup, perfectly delicious. It is also called Italian Escarole Soup or zuppa di scarola. I used beef and escarole for this recipe, but you can use any type of ground meat that you like such as chicken, pork or turkey. You can also use Swiss Chard or Kale. Try these different flavors, depending on the season and what is fresh.
Italian Wedding Soup serves 6 to 8
3/4 pound ground meat (chicken, turkey, pork or beef)
1/2 cup dry bread crumbs
3 large eggs
1/2 cup grated Romano cheese, divided
1/2 cup grated Parmesan cheese, divided
1 tablespoon chopped fresh oregano (or 1 teaspoon dried)
1 teaspoon salt
1/2 teaspoons freshly ground black pepper
3 tablespoons olive oil, divided
1 carrot, diced
1 celery stalk, diced
1 medium yellow onion, diced
4 cloves garlic, minced
8 cups chicken stock
1 bunch greens trimmed and torn into bite-sized pieces (about 6 lightly packed cups)
(Escarole or Swiss Chard or Kale)
1/2 package short tube pasta ( cooked al dente)
Directions
Combine the ground meat, bread crumbs, 1 egg, 1/4 cup of each cheese, oregano, salt and pepper in a bowl. Mix thoroughly, then form the mixture into 3/4-inch to 1 1/2-inch balls. You should have 20 to 30 meatballs, depending on how large you form them.
In large skillet, heat 2 tablespoons oil over medium high heat. Add the meatballs in batches, and cook, turning, until browned all over, 3 to 5 minutes. (If they are still a bit pink in the middle, don't worry, they will continue to cook in the broth.) Set them aside on paper towels to absorb excess oil.
In a 4 to 6 quart soup pot, heat the remaining 1 tablespoon oil over medium high heat. Add the onion and garlic and sauté until onions are tender and garlic is soft, but not browned, about 5 minutes. Add celery and carrots, saute 5 mins. Add the stock and bring to a boil. Add the greens, reduce the heat to low, cover, and simmer for 10 minutes. Add the meatballs and cook another 5 minutes.
Meanwhile, combine remaining 2 eggs and remaining cheeses in small bowl and stir with a fork to blend. Slow pour the egg mixture into hot soup, stirring constantly. Cover and simmer just until egg bits are set, about 1 minute. Add cooked pasta. Stir. Season to taste with salt and black pepper, maybe even a squirt of lemon juice, and serve immediately in a low bowl if possible so the meatballs are visible.
To re-heat, simmer gently over low heat.
Recipe adapted from theKitchn