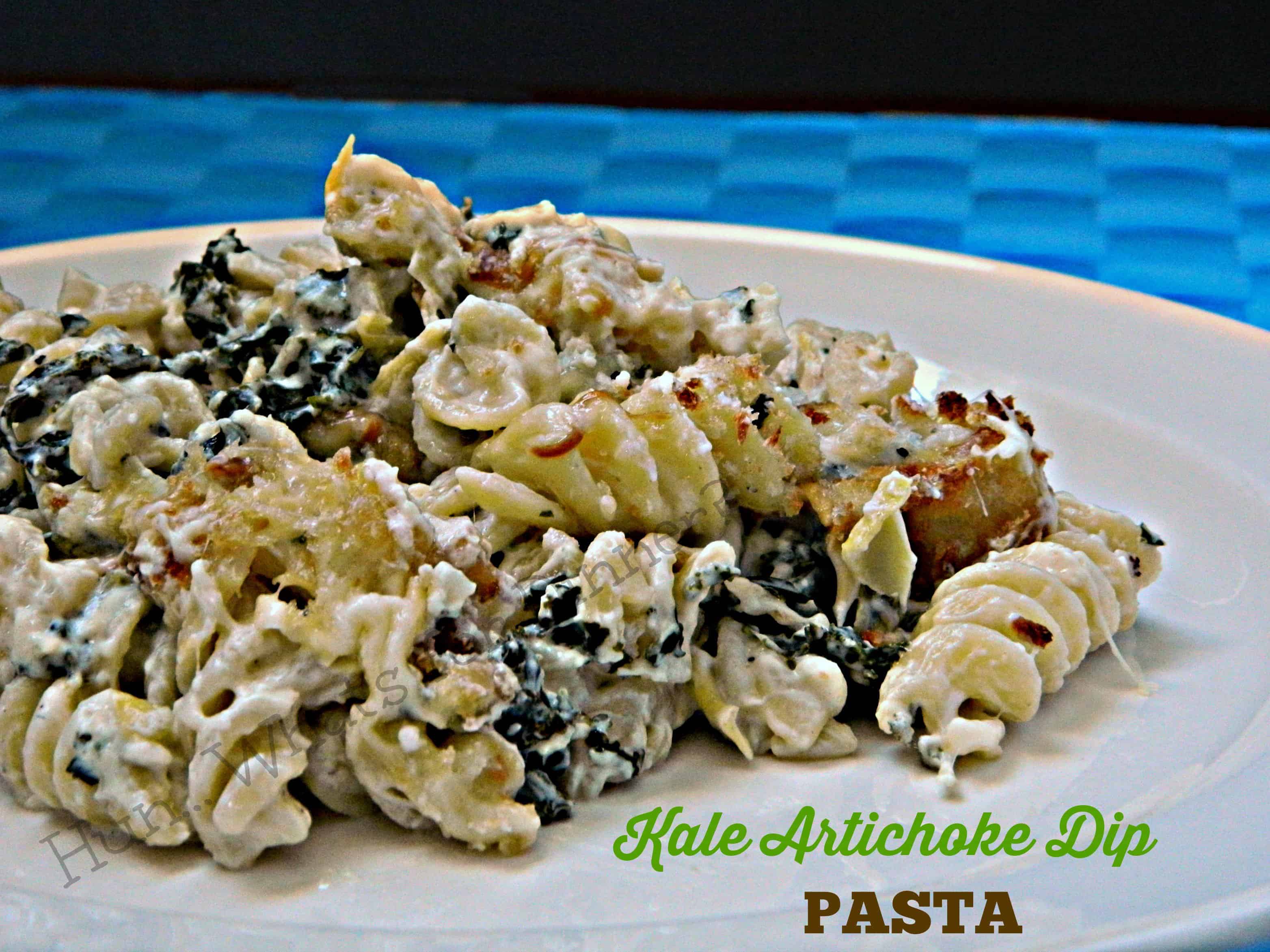 Hi everyone, I'm Cindy, from Hun… What's for Dinner? I am so excited to be sharing a wonderful recipe with you today, while Nettie is away. I first 'met' Nettie, on Facebook, many years ago. Recently we've gotten closer, but working together on recipe round ups. When Nettie left to go help a friend, I gladly offered to guest post while she was gone.
I love pasta! I probably could eat it every day. It is my go to, for nights where I want to make something delicious, but not spend forever in the kitchen. There's nothing yummier than a plate full of cheesy pasta! Recently I decided to substitute kale, in one of our favourites; Spinach Dip. Kale had been on sale, so I thought the kale would taste just a delicious as spinach. Boy was I right. We inhaled the Kale Arti Dip in no time flat. Since I still had kale leftover, and I was still day dreaming about the dip, I decided to try and turn it into a pasta dish. Turned out to be one of the best decisions I've made in a long time, LOL.

Kale Artichoke Dip Pasta
2 C fresh kale, washed and ribs removed
1- 14 oz can artichokes in water
3 Tbs olive oil
1 small onion, chopped
3 cloves garlic, minced
salt and pepper, to taste
4 oz cream cheese
2 Tbs mayonnaise
1/2 C dry white wine
1/2 C chicken stock
3/4 C shredded mozzarella, divided
1/4 C smoked Gouda, shredded
2 Tbs Panko bread crumbs
1/4 C Parmesan
8 oz fusili pasta
Bring a large pot of salted water to a boil. Add in pasta and cook, according to package directions.
While pasta is cooking, heat oil in a large skillet, over medium high heat. Add in onion and cook until translucent; about 2 minutes. Add in chopped kale and minced garlic, and cook until kale is wilted; about 5 minutes. Season with salt and pepper. Add in artichoke hearts, white wine and chicken stock; cook 3 minutes. Cut cream cheese into small cubes and add to the skillet, along with mayonnaise. Stir all together, until cream cheese has melted. Stir in 1/2 C mozzarella cheese and Parmesan, until melted and sauce is smooth.
Preheat broiler.
Drain pasta and return to the hot pot. Pour kale artichoke sauce over pasta and toss to coat. Transfer to a baking dish. Sprinkle with remaining mozzarella, smoked Gouda and Panko bread crumbs. Place under broiler, until top is lightly browned; 3-5 minutes.