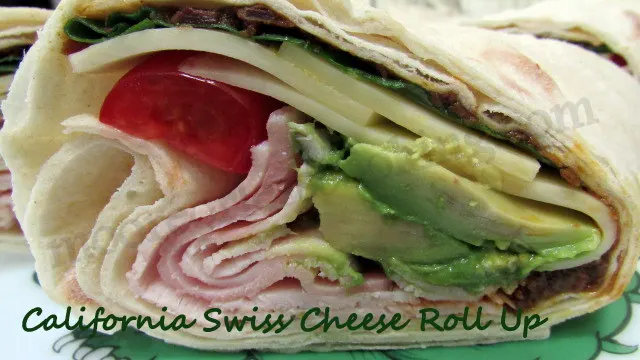 This POST is sponsored by ALPINE LACE. (But all opinions are from a very serious cheese lover). There is rumor that when I was a child, I snuck a block of cheese from the refrigerator and took a big bite out of it, put it back in the refrigerator hoping that the bite marks weren't noticed. Really, not much has changed… Being a busy Mom, I have a list of "Life Ingredients", which include taking some time out in the day just for me. Going for long walks, meditating, now that the weather is warming up, biking outside and making healthier food choices.
Cheese is a healthy food for snacks and sandwiches and my newest favorite wrap. I am in the land of health and sunshine this week, LA BABY…. and avocados are right up on the top of my list with yummy CHEESE…. so I came up with a delicious and light wrap with Turkey, Ham, Alpine Swiss Cheese, Avocado, Tomatoes and Sundried Tomato Pesto Lavash Flat Bread Wrap.
Did you know that most varieties of Alpine Lace® Deli Cheese are reduced fat, and perfect for snacking on the go or adding delicious flavor to your favorite recipe??? I usually don't go for the Reduced Fat products, but this one is very good, full of flavor.
Please check out the Alpine Lace Facebook Page. They have a great "daily allowance of happiness" program. If you have a favorite "healthy" recipe or a recipe that you have made healthier, let me know. I always need ideas for healthy "life ingredients" AND eating healthier too!
RECIPE: CALIFORNIA SWISS CHEESE ROLL UP
Serves 2
Ingredients:
1 Clay Oven Baked Lavash Flat Bread
1/2 Avocado,Sliced
4 slices Alpine Lace Swiss deli cheese slices
2 slices Italian Style Turkey Breast
2 slices Organic Black Forest Ham
4 Large Basil Leaves, chiffonade
6 Plum Tomatoes halved
1 heaping tablespoon Sundried Tomato Pesto
Mayo optional
Directions Lay out the flat bread, spread tomato pesto over bread, add turkey, ham, and cheese making layers, add sliced avocado, tomatoes, and basil. Roll up like a jelly roll. Slice on the diagonal. Serve with Veggie Chips. Wrap in saran wrap tightly and keep refrigerated if taking for a picnic or a work place.
This post has been linked up to these fabulous blogs: