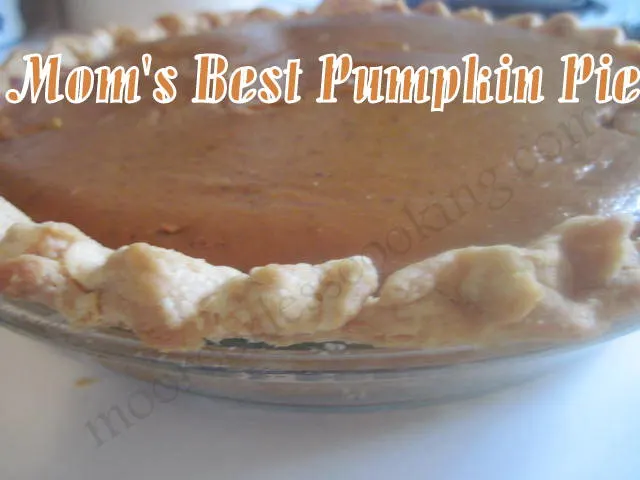 I come from a long line of pie bakers in my family. I remember my Great Grandma, Martha Cook, making her wonderful Boysenberry Cobblers that I still dream about. My Grandma Billie made a perfect Pecan Pie. Pronounced, puh-can, that's the way it will always be for me. But my Mom can make a pie crust like nobody's business, flaky, tender, perfect crust. I think the trick is not over working your crust, just do it and don't think about it. She also makes the best Pumpkin Pie that I have ever had.
My son requested Pumpkin Pies instead of a cake for his birthday. Yes his love for pie is in his blood. My Mom made two pies because she knew that her grandson could eat a whole pie by himself without blinking an eye. Topped with fresh whipped cream, nothing more comforting. I have been eating this pie my whole life and can't imagine a holiday without it.
Mom's Best Pumpkin Pie
Makes 2 pies
6 eggs slightly beaten
1 can ( 29 oz) solid pack pumpkin (we like Libby's)
1 1/2 cups sugar
1 tsp salt
2 tsp ground Cinnamon
1 tsp ground Ginger
1/2 tsp ground Cloves
2 cans (12 fl oz each) Evaporated Milk
2 9- inch unbaked homemade pie shells
Preheat oven to 425 degrees F
Combine filling ingredients in order given, divide evenly into pie shells. Bake 15 mins, reduce temperature to 350 degrees F and bake an additional 45 mins, or until knife inserted in center comes out clean. Wrap foil around crust if browns too quickly. Cool, garnish with whipped cream.
Homemade Pie Crust Recipe
Makes one 9 inch deep dish pie crust
1 cup all purpose flour
1/2 tsp salt
1/3 cup vegetable shortening
2-3 TBSP cold water
Directions
Combine flour and salt in a medium bowl, cut in vegetable shortening with a pastry blender or two knives until mixture is crumbly. Sprinkle with water, blend until mixture holds together. Shape dough into a ball, place on lightly floured surface. Roll out dough to 1/8 inch thickness. Line pie plate with pastry. Turn edge under, crimp edge as desired.
This post has been linked up to these fabulous blogs!