//


I was fortunate to cater a Bridal Breakfast and I thought an Overnight Sausage and Egg Bake or a Strata would be perfect for a party of 23 people.
I also baked a Brown Sugar Streusel Coffee Cake and a Blueberry Coffee Crumb Cake.
Everyone that tried the Sausage and Egg Bake made sure to tell me how delicious it was. I doubled the recipe, let it refrigerate over night and then popped it in the oven so it would be warm when serving to guests.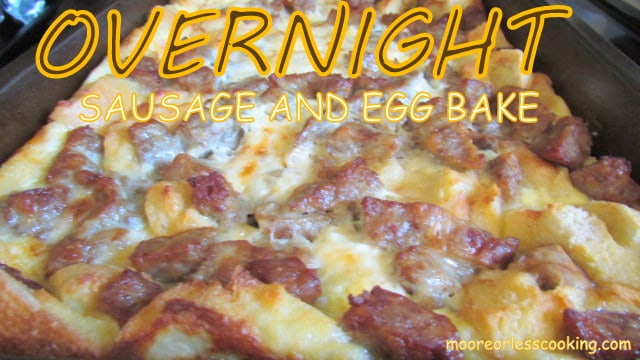 RECIPE
INGREDIENTS
Butter, for greasing your pan.
1/2 loaf of French Bread
1 pound fresh bulk pork sausage with sage
10 ounces sharp Cheddar, grated
2 cups milk
1 teaspoon dry mustard
1 teaspoon salt
5 large eggs, lightly beaten
Directions
Cut the bread into 1-inch cubes and spread in the bottom of a greased 9- by 13- by 2- inch casserole dish.
Preheat oven to 350.
Place Parchment paper or foil over a baking sheet, place sausages on top of foil.
Bake sausages in the oven for 35-40 minutes or until brown and no longer pink.
After sausages have cooled for a couple minutes, place sausages on cutting board and cut up into little chunks.
Spread the cooked sausage over the bread and top with the cheese.
Then stir together the, milk, dry mustard, salt and eggs.
Pour this mixture over the cheese.
Cover the casserole with aluminum foil and refrigerate for 8 hours or overnight.
The next day, preheat the oven to 350 degrees F.
Bake the covered casserole until set and slightly golden, about 50 minutes. Remove from the oven and allow the casserole to set for 15 minutes before serving.
Serves 12
LINKED UP: