I have joined up with some fabulous bloggers for a GIVEAWAY!! It's always perfect timing to win some extra cash for the holidays! We are giving away a $600 Gift Card!!!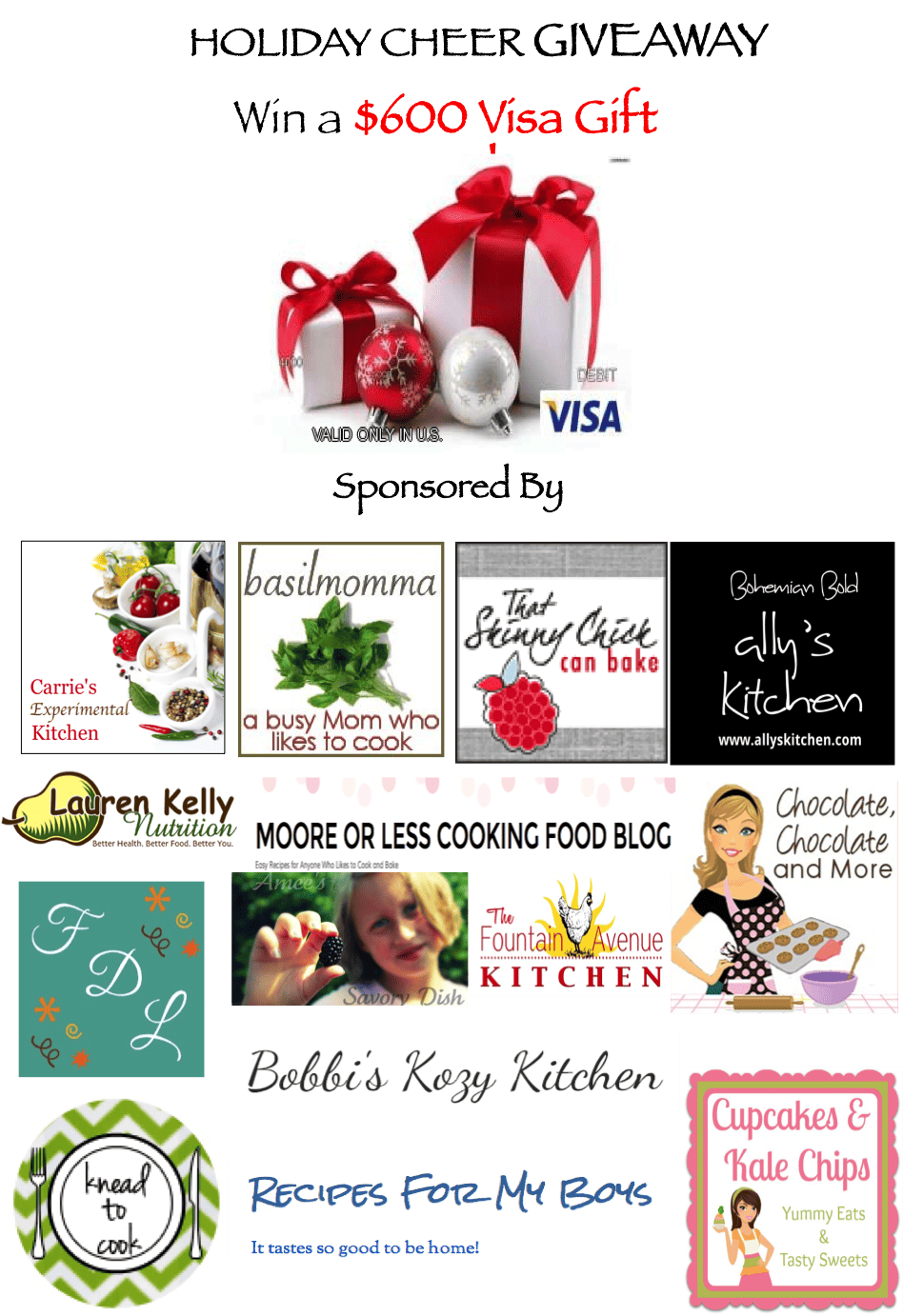 All you have to do is enter through the Rafflecopter link below and tell us what you would do with an extra $600 this holiday season. Once you comment, you will have over 50 other chances to enter. The giveaway runs from December 2-15, 2013 and one winner will be chosen and notified on December 16, 2013. Please read the complete Terms & Conditions as this giveaway is only valid for U.S residents only (Sorry, rules of the gift card company prohibit us from offering this outside of the U.S.).
Good Luck and Happy Holidays from
Carrie's Experimental Kitchen
,
Ally's Kitchen
,
Basilmomma
,
That Skinny Chick Can Bake
,
Lauren Kelly Nutrition
,
Moore or Less Cooking
,
Chocolate Chocolate and More
,
Food Done Light
,
Bobbi's Kozy Kitchen
,
Cupcakes & Kale Chips
,
Recipes for My Boys
,
Knead to Cook
,
The Fountain Avenue Kitchen
and
Amee's Savory Dish
.
A while back, Amy loaned me her fabulous cookbook: SARABETH'S BAKERY~ FROM MY HANDS TO YOURS BY SARABETH LEVINE. It is one of those cookbooks that I just cherish and go back and forth from page to page and imagine baking everything in her cookbook. I decided to start with her Bourbon Pecan Tart. I was not disappointed, in fact I was thrilled by how magnificent my tart looked and it tasted heavenly!
Pecan Bourbon Tart
1/2 recipe Sweet Tart Dough
1/4 cup dark corn syrup ( I used Light corn syrup)
1 cup packed (7 ounce) light brown sugar
6 Tbsp unsalted butter, cut into tablespoons
2 large eggs, plus 1 large egg yolk
1 tablespoon bourbon
2 cups coarsely chopped pecans
Make the full recipe of the Sweet Pie Dough and divide the dough into two equal discs. Freeze one and place the other into the refrigerator to rest for 30 minute, up to half an hour.
Position a rack in the bottom third of the oven and preheat to 350 degrees. On a lightly floured work surface, roll out the dough into a 1/8 -inch-thick circle. Follow instructions how to prepare Sweet Tart Dough ( below). Line a 9-inch tart pan with a removable bottom with the dough. Pierce the bottom of the dough in a uniform pattern with a fork. Freeze for 15 minutes.
Line the dough with a sheet of parchment paper and fill with pastry weights or dried beans. Place the tart pans on a half-sheet pan. Bake until the pastry looks set, about 12 minutes. Remove from the oven and remove the foil and weights. Continue baking the tart until the crust is barely browned, about 5 minutes longer. Remove from oven.
Bring the corn syrup, sugar, and butter to a boil in a saucepan over medium heat, stirring occasionally, until the sugar dissolves, about 3 minutes. Remove from the heat and let cool, slightly. Whisk in the egg yolks and bourbon until they are incorporated.
Add the pecans and mix well. Pour the pecan mixture into the pastry, Make sure the pecans are flat, not sticking up, so they don't burn. Bake just until the filling has puffed evenly, about 35 minutes. If edges are browning too quickly cover with pieces of aluminum foil. Cool for 10 minutes in the tart pan. Remove the sides of the tart pan, transfer to a wire rack and cool until warm or room temperature.
This filling is lighter than most pecan pies, the hint of Bourbon works to offset it's sweetness, without making it so overpowering. Serve the tart warm with whipped cream.
Sweet Tart Dough Recipe
Makes Two 9-inch tarts or Eight 3 3/4 inch-Tartlets
12 tablespoons (1 1/2 sticks) unsalted butter, at cool room temperature, cut into tablespoons
6 tablespoons superfine sugar
1 large egg plus 1 large egg yolk, at room temperature, beaten
1/2 teaspoon pure vanilla extract
2 1/4 cup unbleached all-purpose flour
1/4 teaspoon fine sea salt
Beat the butter in the bowl of a heavy-duty stand mixer fitted with the paddle attachment on high speed until smooth, about 1 minute. Add the sugar and beat, occasionally scraping down the bowl, until very light in color and texture, about 3 minutes. Gradually dribble in the eggs and vanilla. Reduce the mixer speed to low and add the flour and salt. Mix just until the dough clumps together and the sides of the bowl are almost clean.
Gather the dough and transfer to a lightly floured work surface. Knead a few times until smooth and supple. Divide the dough in half or into the portions asked for in your recipe. Shape each portion into a perfectly round disk and wrap each disk in plastic wrap. Refrigerate until chilled but not hard, 30 minutes to an hour. (The dough can be refrigerated up to 1 day, but it will be very hard and should stand at room temperature for about 30 minutes before rolling out. (The dough can be frozen, double wrapped in plastic, for up to 2 weeks. Defrost in the refrigerator overnight.)
When rolling out the dough, keep two things in mind. You want to roll it to an even thickness, and you don't want it to stick to your work surface. If your dough is the right temperature and texture (chilled and malleable, not cold and hard or soft and sticky), it won't crack and if it does, you can always pinch it together with your fingertips.
Lightly flour a work surface and your rolling pin. Place the dough on your floured work surface and sprinkle the top with flour. Roll evenly over the entire length of the dough, away from you. Give the dough an inch turn and repeat, making sure the dough is not sticking by throwing a bit of flour under the dough when needed. Continue around the circumference of the dough to create a circle of dough about a 1 1/2 inches larger than your tart pan. If your dough cracks around the edge, use your fingers to mold it together and continue rolling, turning ever so slightly.
Once the dough is the correct size, fold over and brush the flour off the exposed side. Fold again into a triangle and brush the exposed side. Turn the dough over and brush the final side. Place the point of the dough in the center of your tart pan and unfold, carefully lifting the dough into the corners, avoiding stretching the dough. You will ultimately want your crust about a ¼ of an inch above the lip of the tart pan. If one side is higher than another, I cut the dough and transfer it to a shorter edge and incorporate that dough so the short side also has a ¼ inch lip . When dough is done, place in the freezer until ready to fill or cook.
I hope you enjoy your sweet holidays and that all of your desserts come out perfect! Nettie
Fine Print~~The giveaway runs from December 2-15, 2013 and one winner will be randomly chosen and notified on December 16, 2013~~surprise surprise! Please read the complete Terms & Conditions as this giveaway is only valid for U.S residents only (Sorry, rules of the gift card company prohibit us from offering this outside of the U.S.).
This post has been linked up to these fabulous blog parties!
Kitchen Dreaming~ Happy Holiday Link Party