Fresh and juicy pineapple can be made into many types of amazing desserts. Here you will find 13 of my favorites! From Mini Pineapple Cakes and Tropical Pineapple Coconut Bars to delicious cakes, breads, pies and tarts.
There are so many ways to use this versatile tropical fruit as a dessert. Use fresh or canned pineapple for these desserts, or read on to learn how to can your own. You can't go wrong with this incredible selection of breakfast and dessert recipes! Try not to drool!!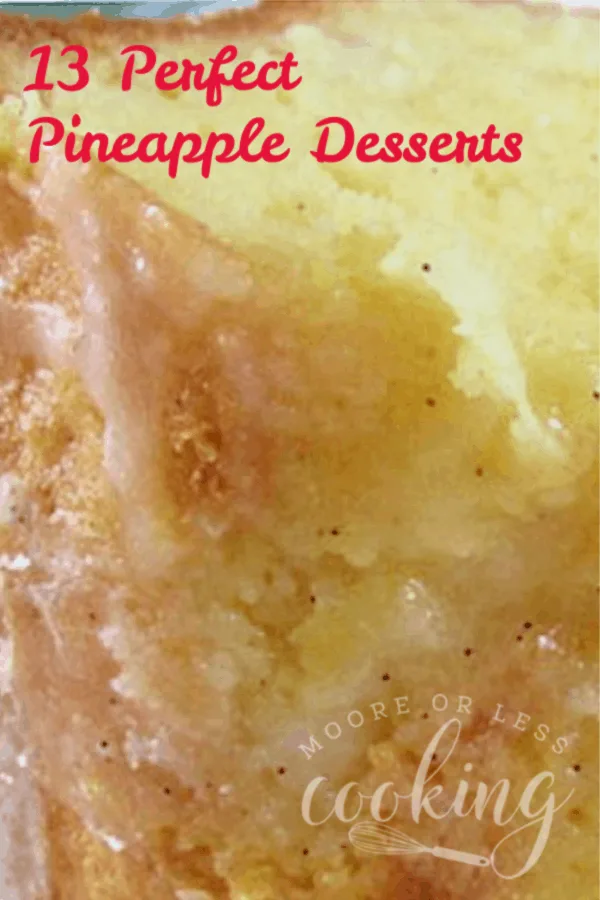 Tropical Pineapple Coconut Bars.Delicious sweet pineapple and toasted coconut make the ultimate dessert bar! Get the Recipe here
Pineapple Bundt Poke Cake! Watch this cake disappear quickly at your next event! Juicy pineapple makes a moist mouth watering Bundt cake. Get the Recipe here from Moore or Less Cooking Food Blog
Plated Pina Colada! If you like Piña Coladas….you will love this dessert. Light, creamy and dreamy with a splash of Malibu Coconut Rum thrown in for rummy fun. Decorate with coconut whip cream for extra yumminess! Get the Recipe here fromTampa Cake Girl
Pineapple Coconut Bundt Poke Cake! This is an easy recipe for the moistest cake for all of the Pineapple Coconut Fans! Get the Recipe here from Moore or Less Cooking Food Blog
Banana Split Muffins with Strawberries and Fresh Pineapple! Banana muffins enhanced with the bright flavors of pineapple and strawberry, topped with a chocolate cherry drizzle. Get the Recipe here from The Rowdy Baker.
TO SEE THE REST OF THE DELICIOUS PINEAPPLE RECIPES, CLICK HERE