20 Delectable Lemon Desserts
If you love the refreshing scent and flavor of lemon, you'll want to keep this collection of 20 delectable lemon desserts handy. Full of bright and tangy flavor, you'll find desserts in the form of cakes, cookies, pies, popsicles, tarts, cream puffs, and more.
From no-bake to freezer-friendly, grab a bag of lemons and get ready to squeeze, juice, and zest your way to making these desserts full of mouth-watering citrus flavor.
Lemons desserts are perfect for spring and summer but are popular all year long so there are plenty of occasions to make one of these delightful desserts. Let lemons take center stage and be prepared for the rave reviews that are sure to come your way!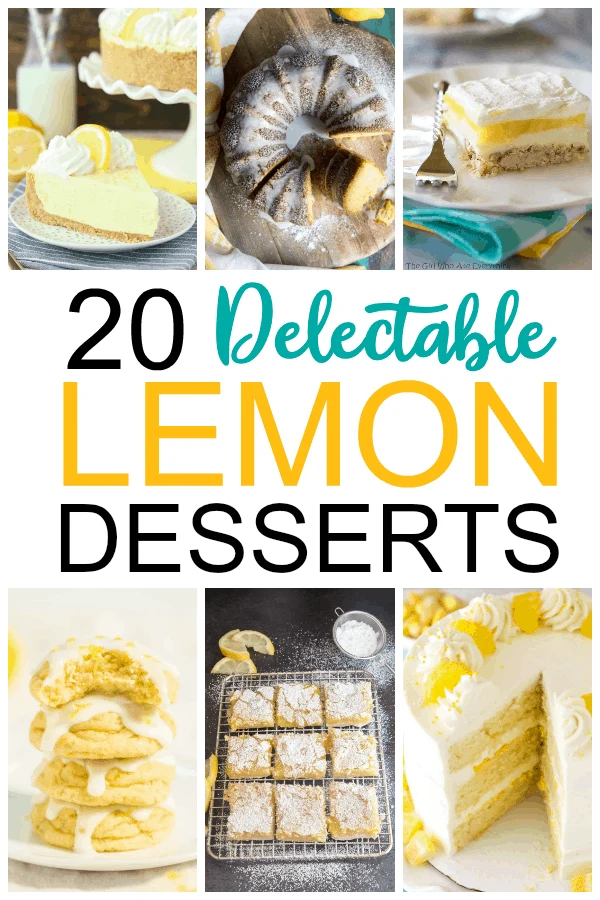 Follow me on YOUTUBE. FREE EMAIL SUBSCRIPTION HERE.
PLEASE REMEMBER TO SHARE ON FACEBOOK.
AND PIN IT!
Be sure to follow me on Instagram and tag #mooreorlesscooking so I can see all the wonderful recipes that YOU make from this site!
The addition of cream cheese to this cookie batter makes these cookies literally melt in your mouth. Add in lemon zest and lemon extract for a burst of citrus flavor. Drizzle them with a lemon glaze for the ultimate cookie experience. Oh, my!
Softbatch Glazed Lemon Cream Cheese Cookies by Averie Cooks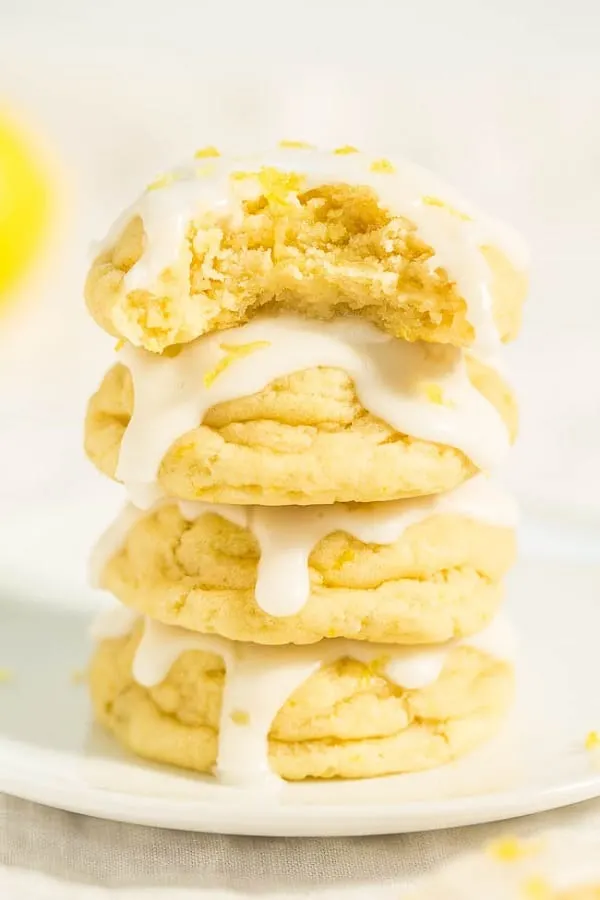 This sunny cake is perfect for a summer brunch or an after-dinner dessert. Thanks to lemon zest, this cake is full of citrus flavor. The crumble topping makes it a delectable cake that's further enhanced with just a dusting of powdered sugar. Friends and family will love this scrumptious cake.
Lemon Crumble Breakfast Cake by Saving Dessert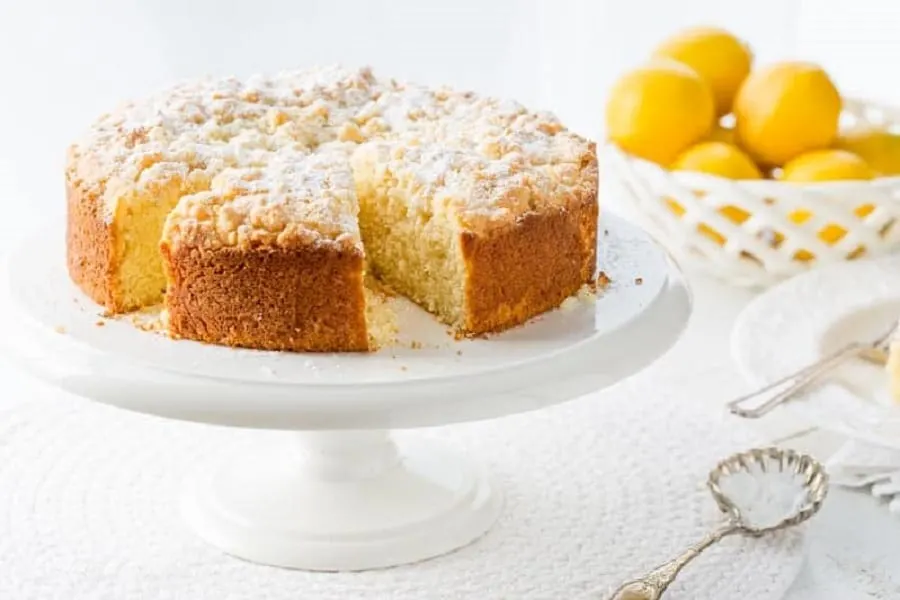 A crunchy pecan shortbread crust holds this lemony dessert that's layered with lemon pudding, cream cheese, and freshly whipped cream. The only thing that requires baking is the crust. Layer the lemony and creamy fillings and refrigerate until firm. Luscious!
Lemon Lush by The Girl Who Ate Everything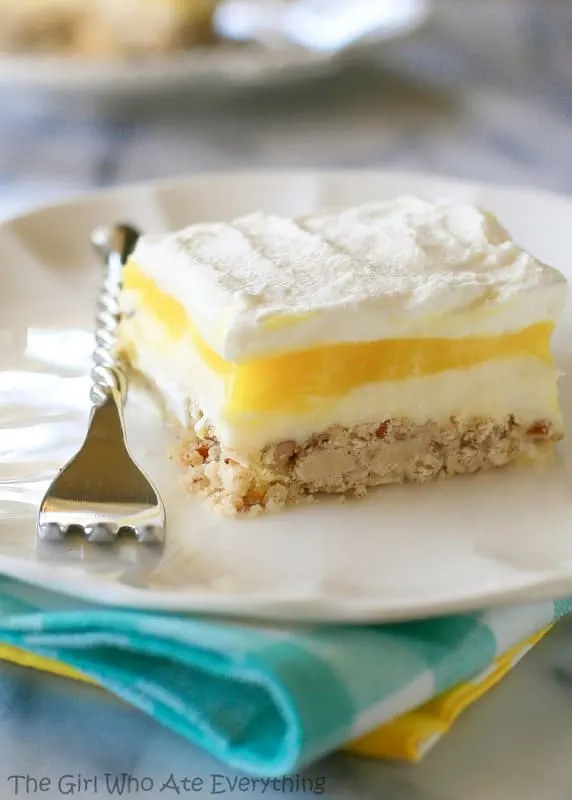 When the weather turns warm, have these refreshing lemon popsicles ready to pull out of the freezer. A lovely mix of lemon, buttermilk, and thyme give these pops a depth of lemon flavor that's truly scrumptious.
Creamy Lemon Cheesecake Pops by A Virtual Vegan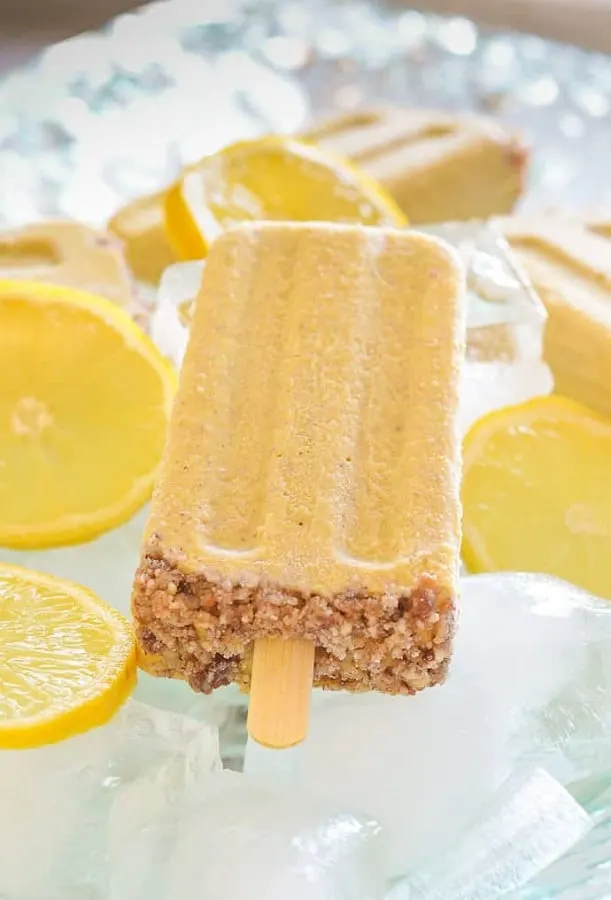 Bundt cakes always look impressive and this lemon one does, too. Buttery and moist, this cake is full of lemon zest that gives it a boost of sunny flavor. Keep the citrus profile going with a lemony glaze after the cake has baked and cooled. So pretty!
Lemon Bundt Cake by Oh Sweet Basil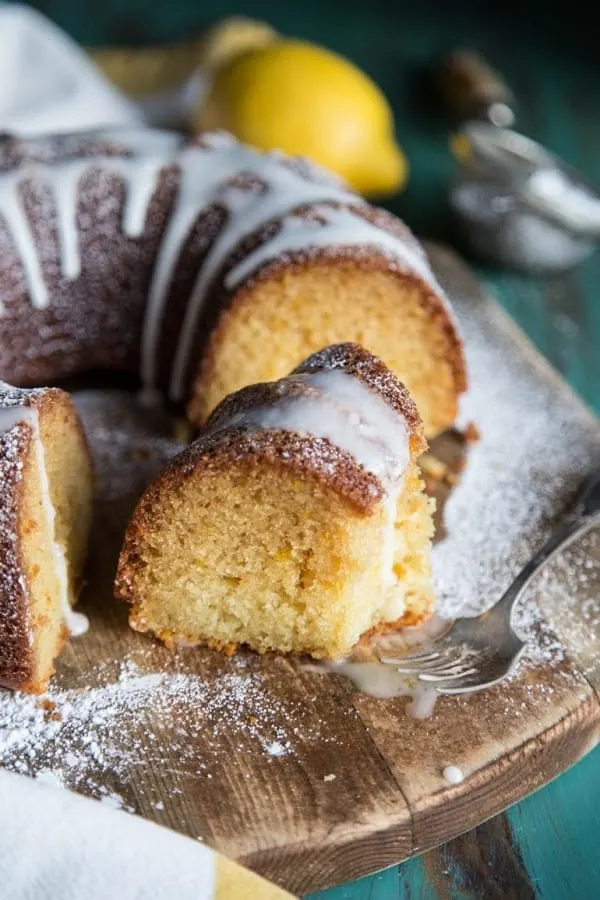 If you love pastry, try these light cream puffs that you can fill with a delectable Meyer lemon curd. While this recipe may take some time to make, you'll love that they turn out to be lemony little pieces of dessert heaven. Perfect for spring and summer parties.
Meyer Lemon Cream Puffs by Tutti Dolci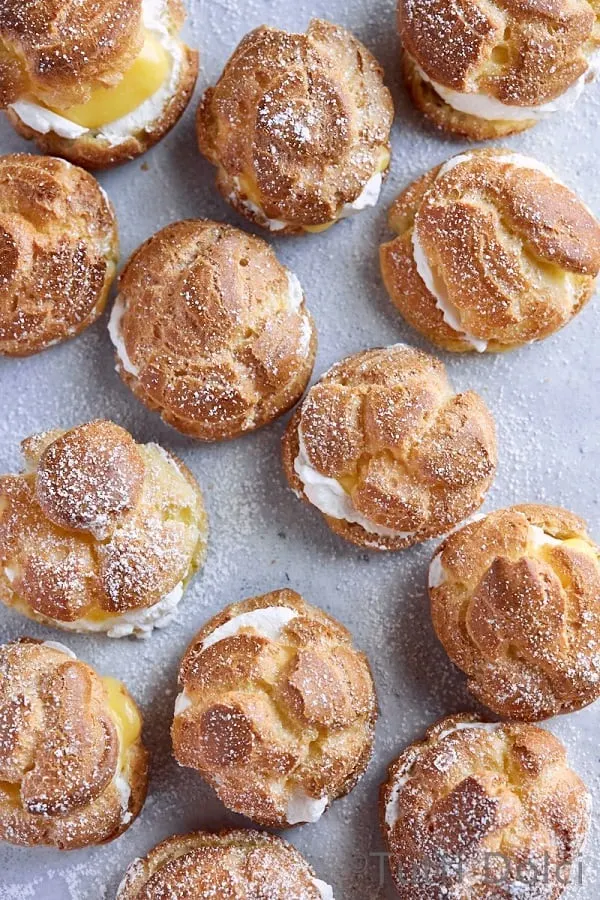 Lemon loaf with a sweet glaze on top has long been a favorite to have with a cup of coffee. Here, add some Greek yogurt into the batter for a lovely taste and a healthy twist to this citrus-flavored cake.
Greek Yogurt Lemon Loaf by How Sweet Eats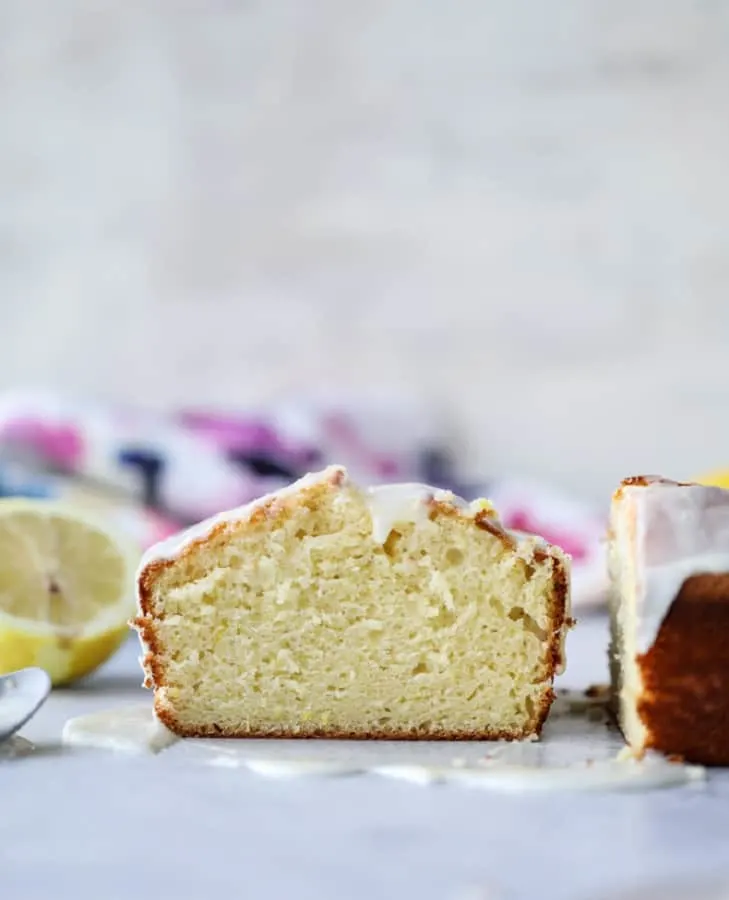 Make this classic lemon pie that's piled high with beautifully toasted meringue and be prepared for rave reviews! The sweet and tart lemony filling sits on top of a flaky and buttery homemade crust. Celebrate summer, and lemons, with this delicious pie!
Classic Lemon Meringue Pie by Sally's Baking Addiction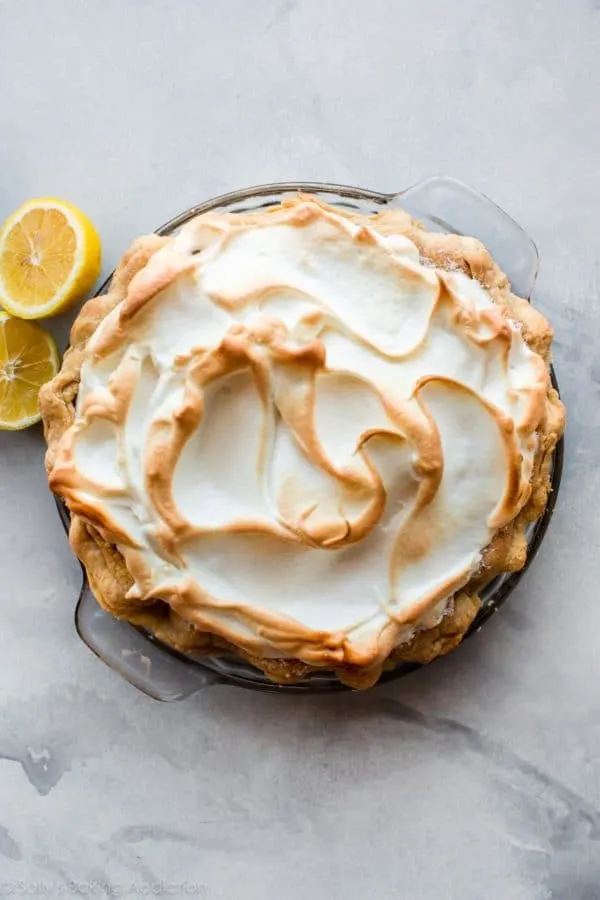 If you're looking for a showstopper cake, this is it! Layers of lemon curd and mascarpone cheese frosting separate this 3-layer lemon-flavored cake. It's the perfect combination of tart and sweet, all wrapped up in a beautiful presentation that's perfect for a celebratory event.
Lemon Mascarpone Layer Cake by Life Love And Sugar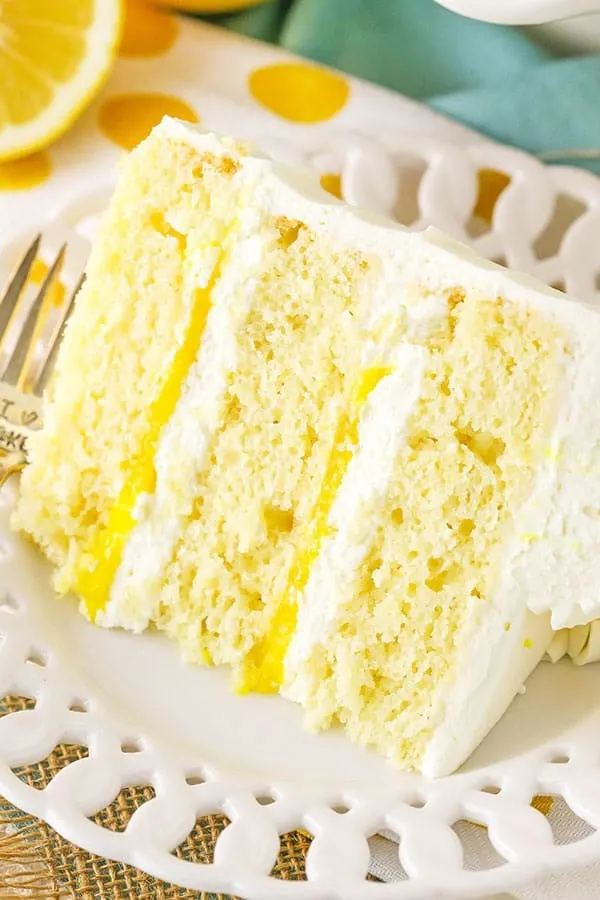 An easy shortbread crust holds these creamy lemon-filled squares that are a spring and summer favorite on every backyard barbecue dessert table. The lemony filling is tart and sweet. After baking, make sure to refrigerate so it firms up before cutting into squares. Dust with powdered sugar before serving. Delightful!
Lemon Squares by An Italian In My Kitchen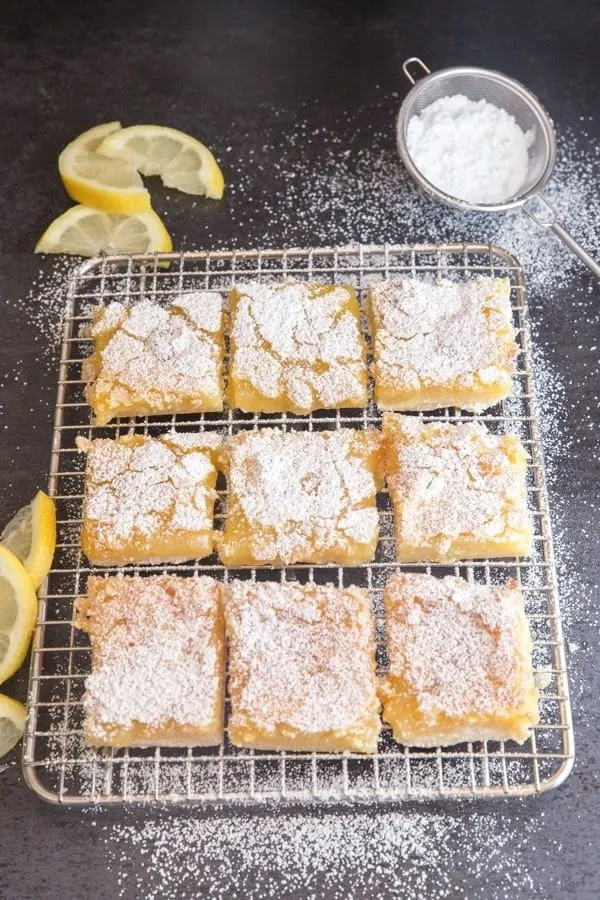 Lemon lovers will be in heaven with the burst of flavor in this awesome cake. After the cake is baked, poke holes in the cake and slather lemon pudding over the top so that it drips into the holes. Frost with a lemon cream cheese frosting. Garnish with lemon zest and white chocolate. Swoon!
Lemon Burst Poke Cake by Melissa's Southern Kitchen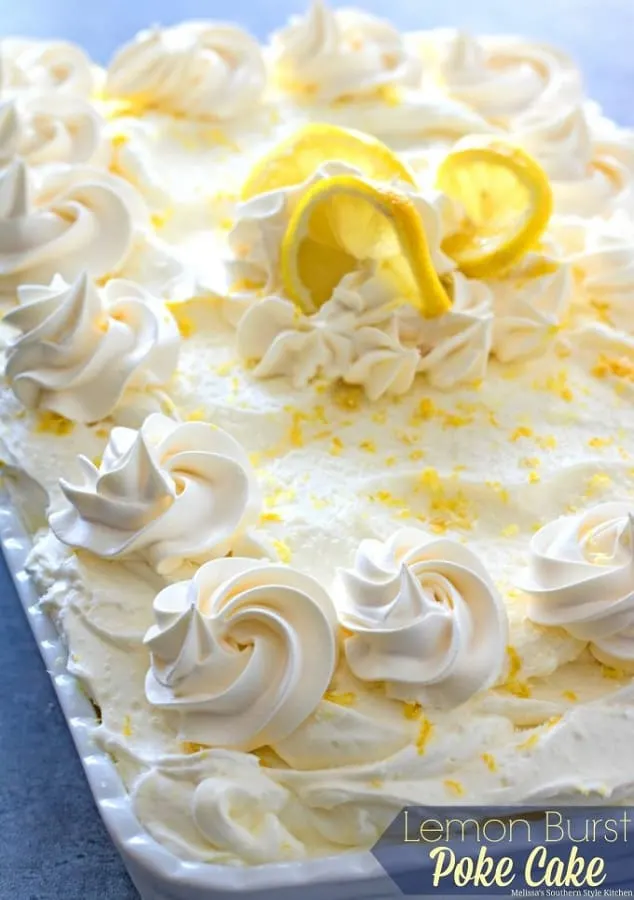 This tangy and zesty tart is as pretty as it is easy. The lemony filling is quickly combined in a blender and poured into a homemade shortbread crust. Bake for 30 minutes and then chill until firm and ready to cut. This sweet-tart is perfect for a family dessert and also sophisticated enough to serve to guests.
Shortbread Lemon Tart by Taste And Tell
Sugar cookies are awesome on their own, but add some lemon juice and zest into the batter and you've got a summer delight in cookie form. Take it over the top with a lemony powdered sugar glaze and watch these disappear quickly. Better make a double batch!
Glazed Lemon Cookies by I Heart Naptime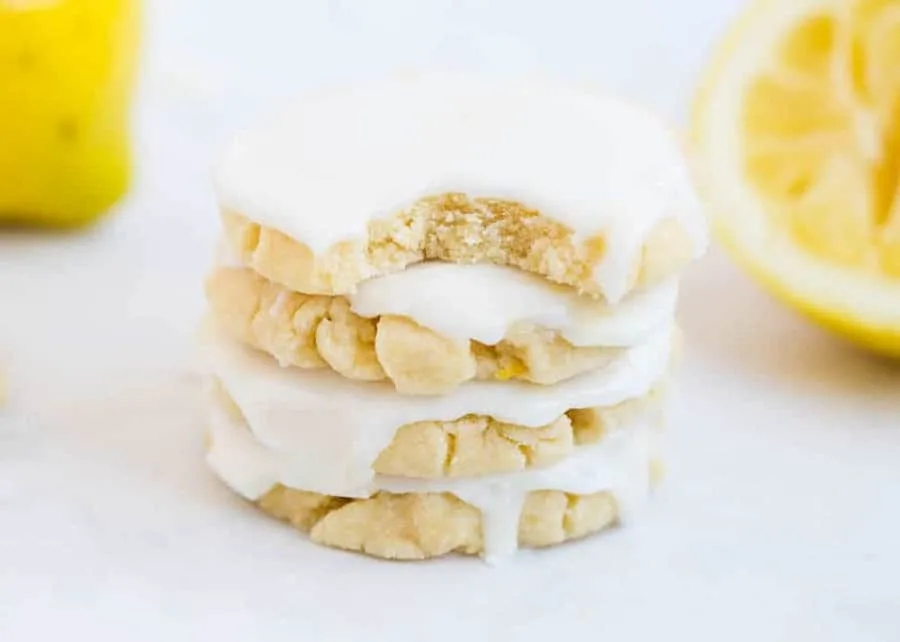 When it's too hot to turn on the oven, consider this refreshing no-bake lemon cream pie. The crust is made from butter and Nilla wafers. This filling comes together easily from the lemon pie filling, sweetened condensed milk, and homemade whipped cream. It's the perfect dessert to whip up for picnics and BBQs.
No-Bake Lemon Cream Pie by Beyond Frosting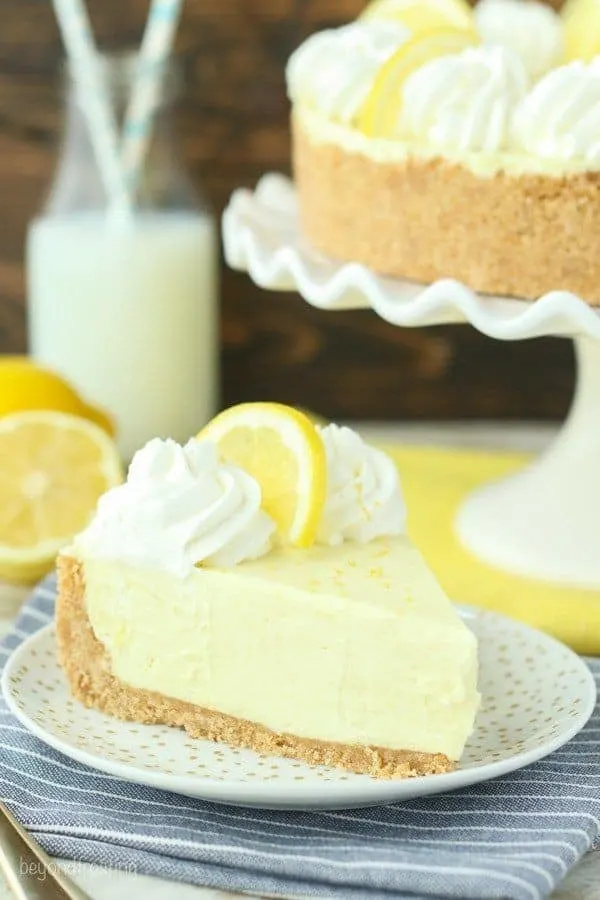 These lemon cupcakes have the added delight of a secret lemon curd stuffing that you'll only discover when you've taken a bite. Once you've made the cupcakes and they have cooled, hollow out the middle with an apple corer and spoon in the lemon curd. Frost the cupcakes with a lemon buttercream icing and enjoy this sweet treat!
Lemon Curd Stuffed Cupcakes by A Side Of Sweet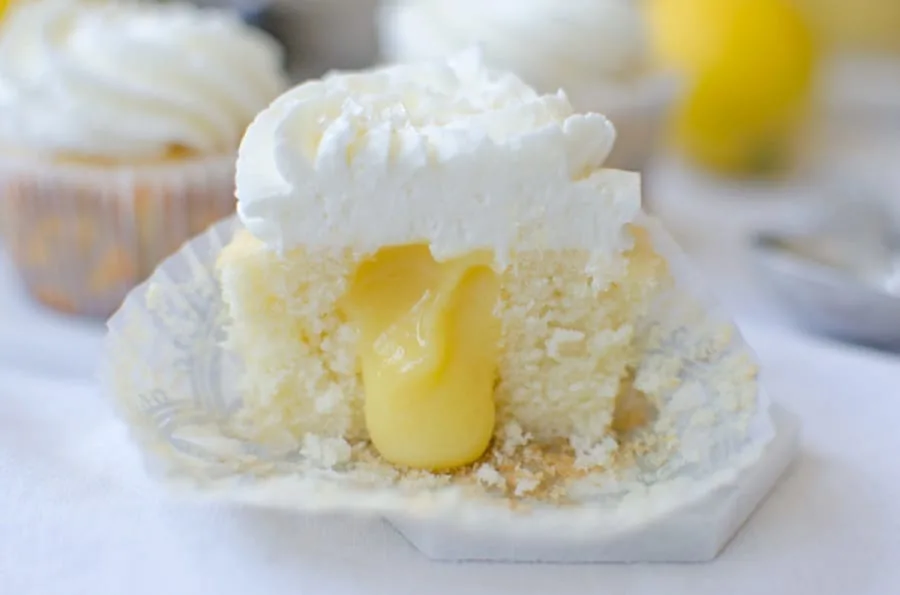 This bright and lemony sheet cake is perfect for large crowds. It' bakes up quickly and looks irresistible with its lemon glaze and a pretty garnish of lemon wedges. Make sure and refrigerate the cake before serving to help set the glaze.
Lemon Texas Sheet Cake by Five Heart Home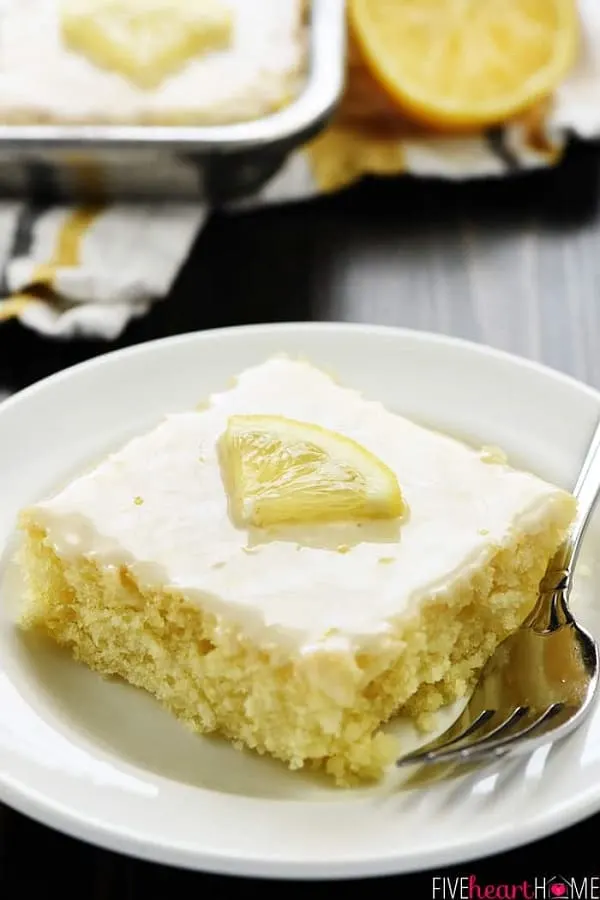 If you need to keep it healthy without sacrificing taste, try this gluten-free, sugar-free and low carb pie. The grain-free crust is flaky and is the perfect vehicle to hold the sour cream, lemon juice, and heavy cream filling. The meringue-like topping uses unflavored gelatin to help it come together. This is a delicious alternative if you're watching your diet.
Sugar-Free Low Carb Lemon Cream Pie by Sugar-Free Mom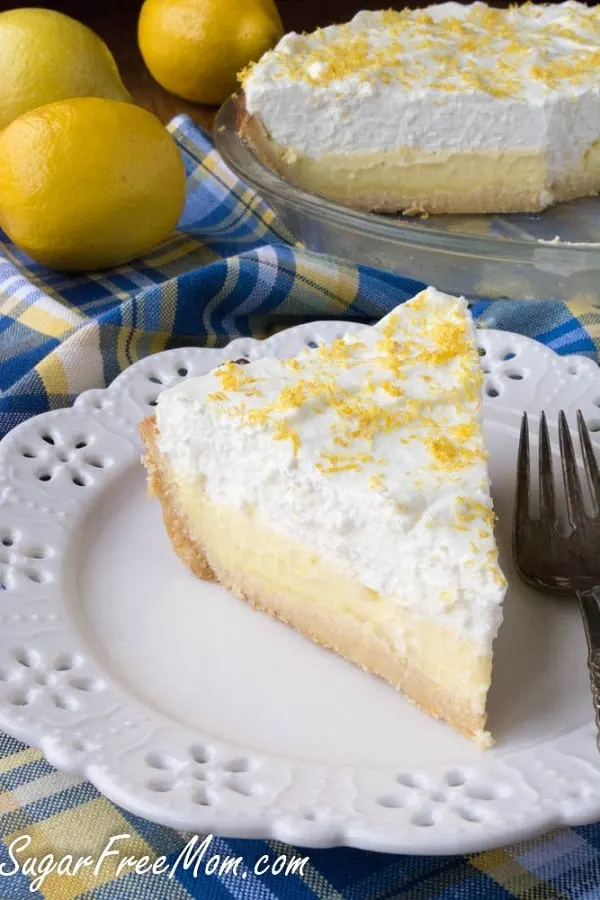 Zoom up some graham crackers in your food processor for this no-bake crust. Lemon jello, cream cheese, whipped cream, and sugar make up the smooth cheesecake filling while homemade lemon curd is added as a top layer. Refrigerate until ready to slice and serve these lemony bars.
No-Bake Lemon Cheesecake Bars by OMG Chocolate Desserts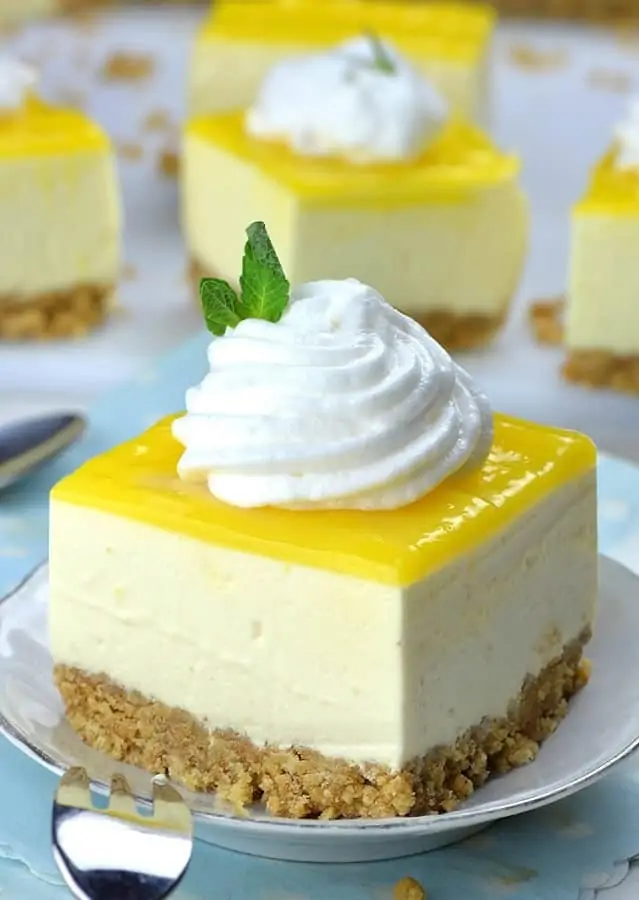 This lemon dessert is part cake and part pudding, which will happen naturally as it bakes. The top section will turn into a light and sweet cake while the bottom layer will be tangy and smooth. Be sure and use Meyer lemons in this one as they're a little more sweet and subtle in the flavor department.
Meyer Lemon Pudding Cake by Floating Kitchen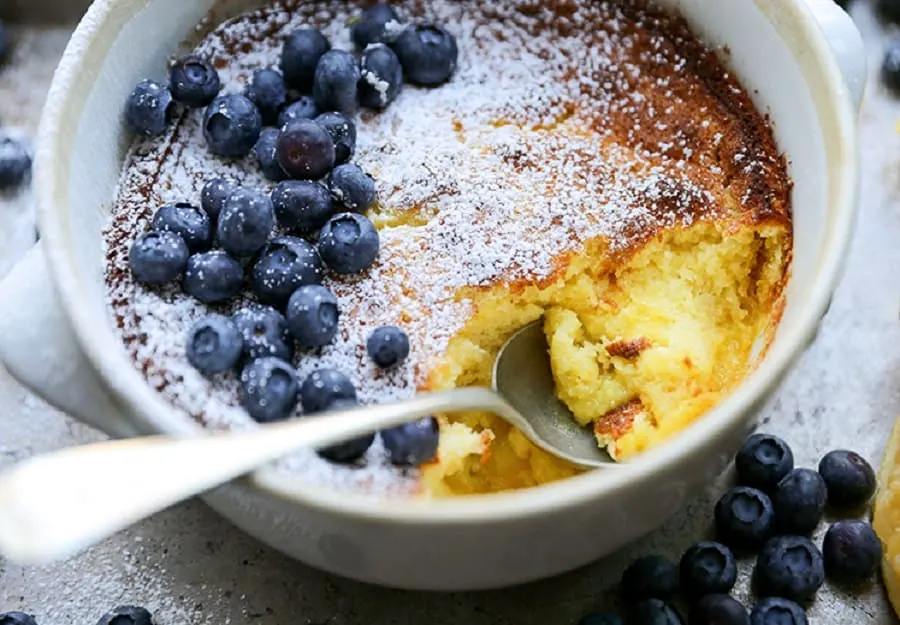 Who doesn't love a dessert that's easy, delicious, and a no-bake effort? Here's the perfect recipe for a cheesecake that's full of a lemon cream cheese filling with a graham cracker crust. The secret to this awesome cheesecake is lemon jello.
No-Bake Lemon Cheesecake by Spend With Pennies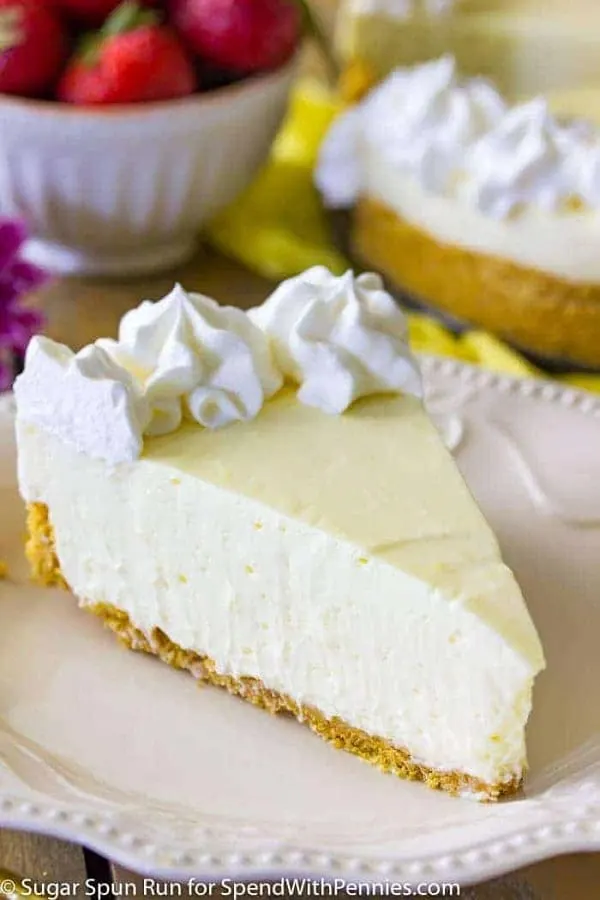 Nettie is a wife and mother who is passionate about cooking and baking… especially when easy meals are involved! With 5 children, Nettie insists that all meals, snacks, and desserts come together quickly! You will find a wide variety of easy yet scrumptious recipes on her very popular website Moore or Less Cooking.
Follow Mooreorlesscooking on FACEBOOK | TWITTER | PINTEREST | BLOGLOVIN |INSTAGRAM|