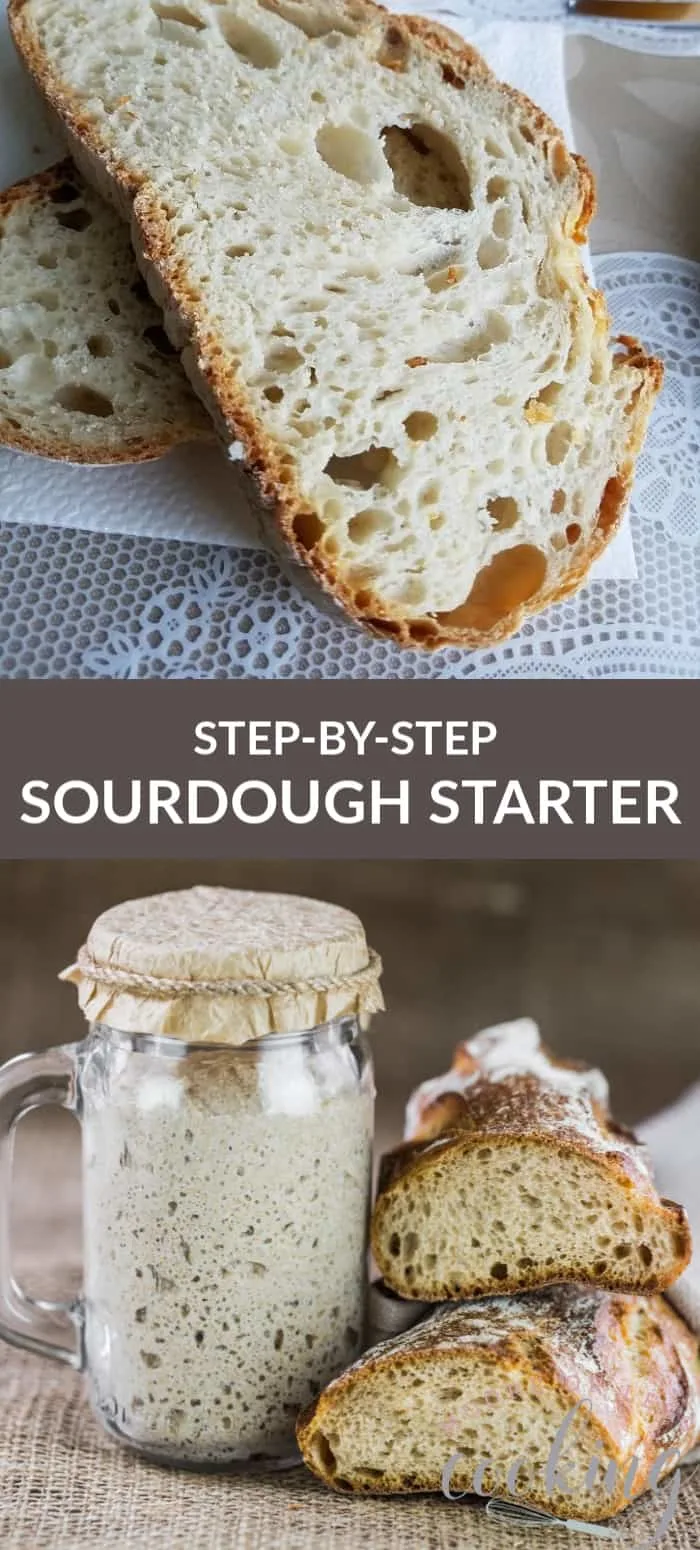 No Yeast? No Problem! Here's How to Make Sourdough Bread Starter Without Yeast.
It's very easy to make a Basic Sourdough Starter without yeast. It takes a bit of time, but the results are amazing and well worth it. There is nothing like a freshly-baked loaf of sourdough bread.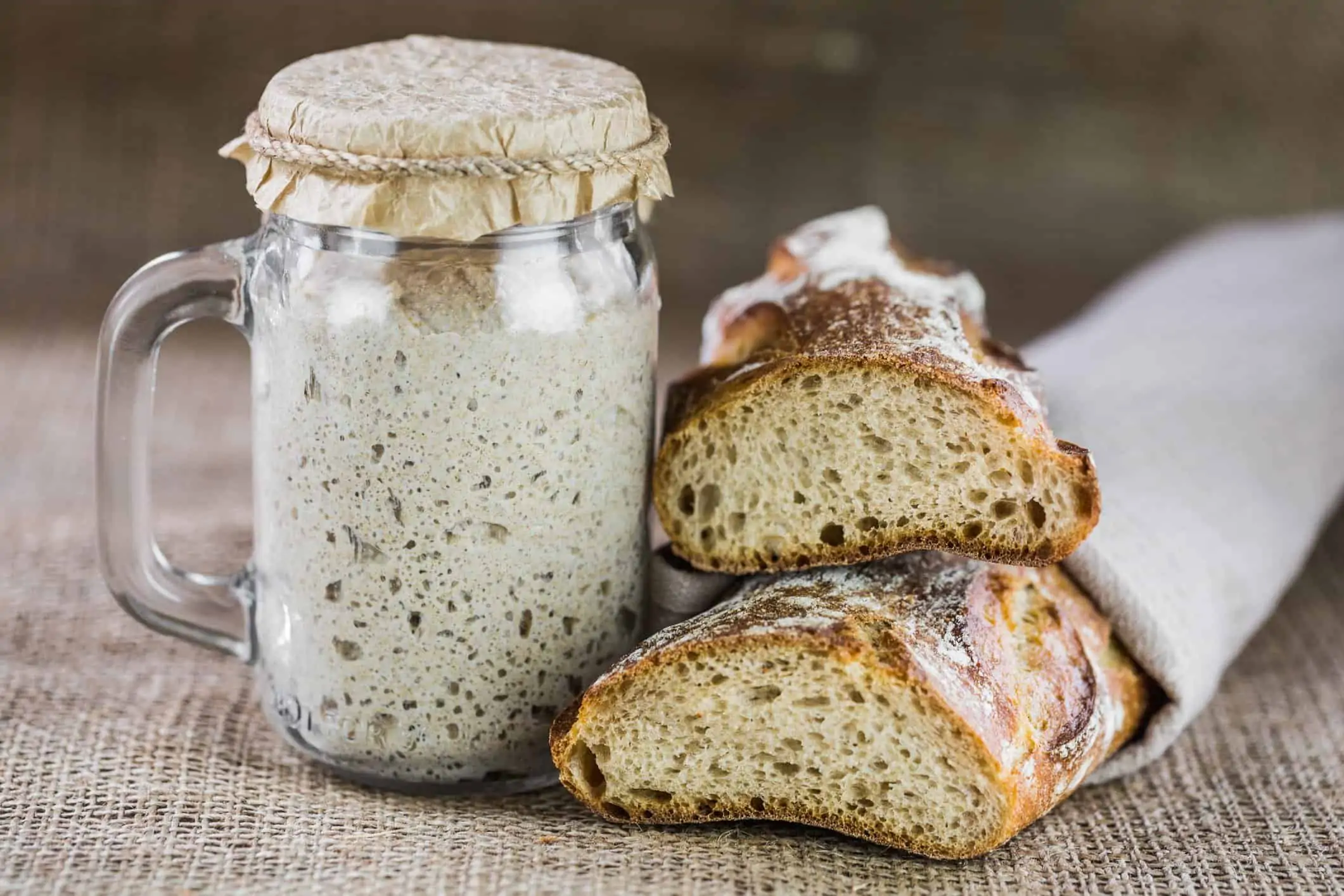 How to make a bread starter without yeast: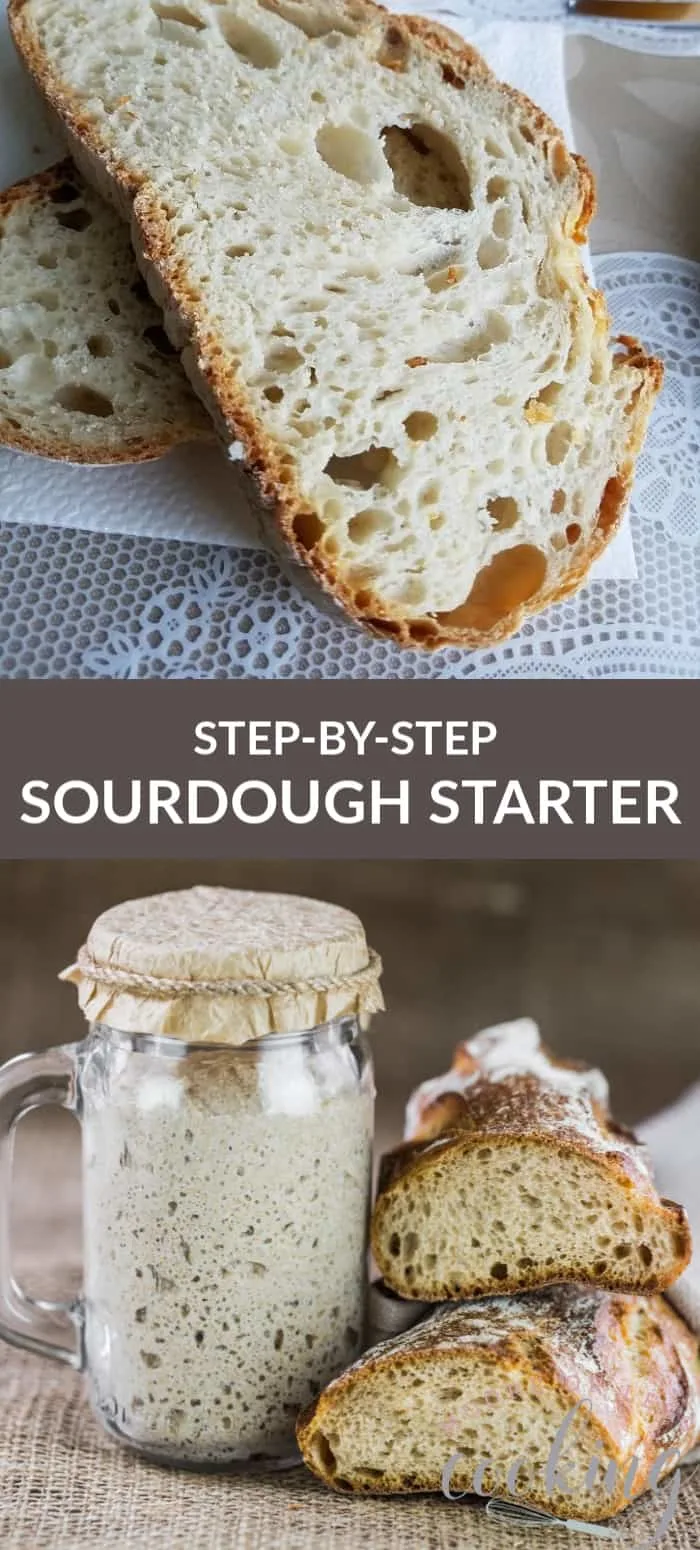 Sourdough bread starts with a good sourdough starter. This sourdough starter without yeast captures a wild bacteria. It is a natural fermentation including wild yeasts and bacteria. There are no yeast packets involved. It may sound like something from a scary movie, but believe me, it's not harmful at all and so delicious!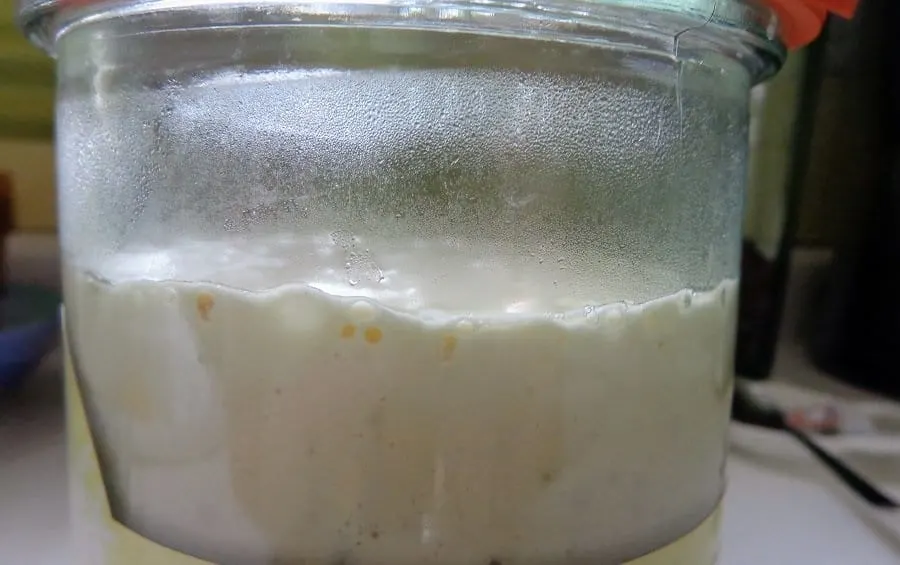 Scroll down to see how to learn how easy it is to make a sourdough starter without yeast. I see lots of home-baked bread in your future, especially when you can't get to the store.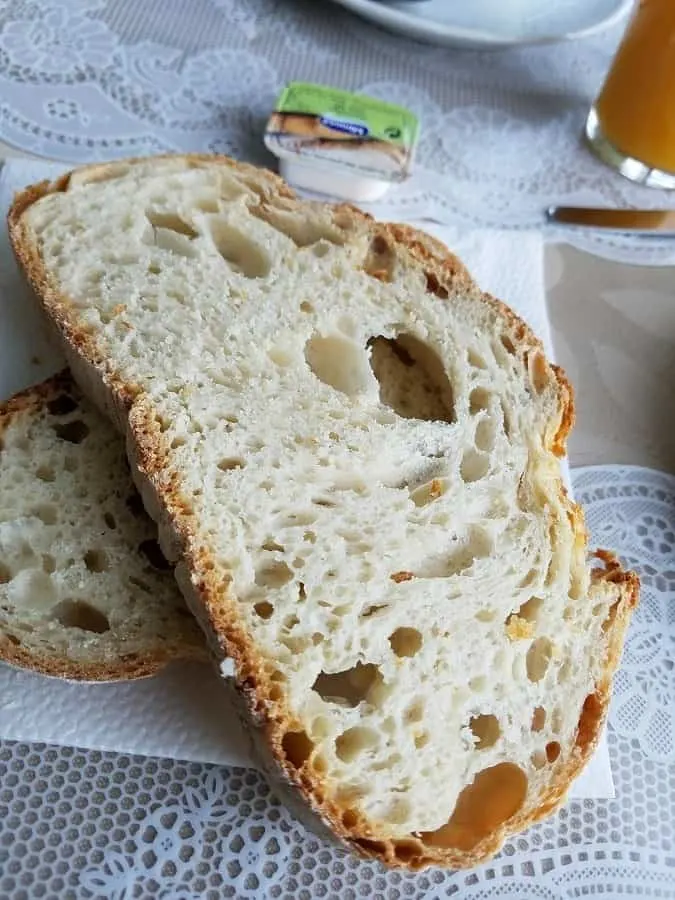 Nettie is a wife and mother who is passionate about cooking and baking… especially when easy meals are involved! With five children, Nettie insists that all meals, snacks, and desserts come together quickly! You will find a wide variety of easy yet scrumptious recipes on her very popular website Moore or Less Cooking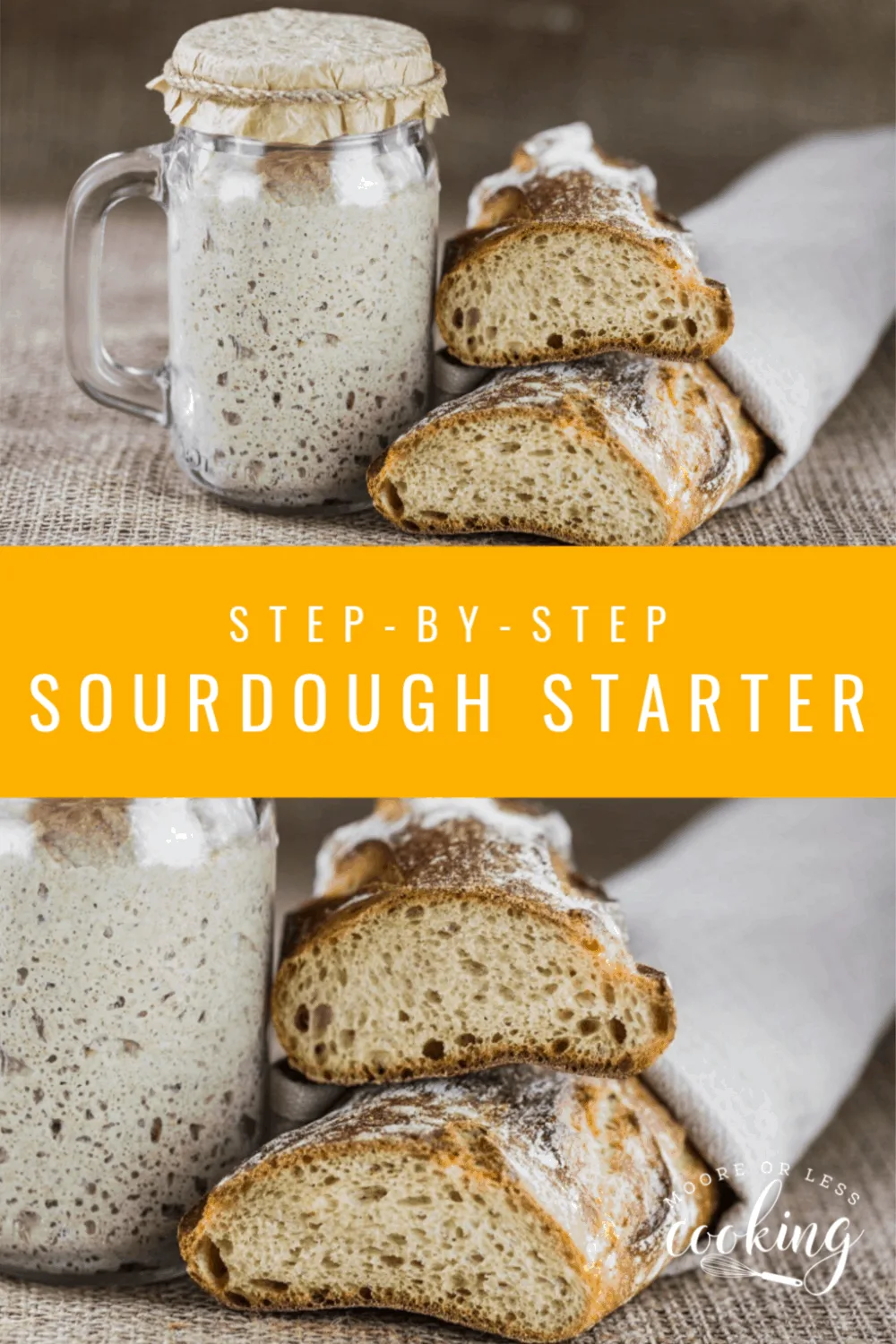 More Bread recipes:
More Dessert Recipes:
Be sure to follow me on Instagram and tag #mooreorlesscooking so I can see all the wonderful recipes that YOU make from this site!
Check out my YOUTUBE with a free email subscription HERE and please share on FACEBOOK and on PINTEREST
Follow Mooreorlesscooking on FACEBOOK | TWITTER | PINTEREST | BLOGLOVIN |INSTAGRAM|
Did You Make This Recipe?
I would love for you to leave a rating and a comment below! How'd you do?!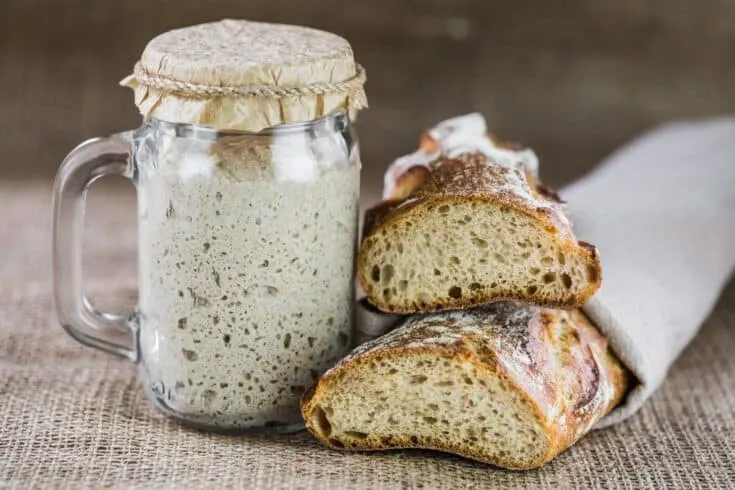 Yield:

4
How to Make Sourdough Starter
Additional Time:
12 hours
Total Time:
12 hours
10 minutes
It's very easy to make a Basic Sourdough Starter without yeast. It takes a bit of time, but the results are amazing and well worth it.
Ingredients
½ cup all-purpose flour
½ cup filtered or distilled water
Instructions
Day 1: Combine a half cup of flour with a scant half cup of water. Stir vigorously to incorporate air. Cover with a breathable lid and allow to sit in a warm space for 12 hours. Repeat feeding with the same quantities of flour and water.
Days 2 & 3: Continue feeding starter as above at the same 12-hour intervals. By the third day, a bit of life should show up. There should be bubbles. A sour smell will begin to be evident.
Days 4, 5, & 6: Continue feeding starter as above, but discard all but ½ cup of the starter just before you feed it. You should now see and smell signs of sourdough. More bubbles are forming, the starter is growing in volume in between feedings, etc.
Day 7: Your starter should now be very airy when it hits its peak, 4-8 hours after a feed. Continue feeding as on days 4-6 and feel free to start baking! You have successfully made this easy sourdough recipe without yeast.
Continue to feed once per day going forward, if the starter sits at room temperature. You can also store it in a refrigerator and remove it to bake with it once per week. Just be sure to remove it 24 hours before mixing up your dough so you can feed it and let it come to room temperature.
Notes
If you're using tap water, allow it to sit out overnight.
Once you have created your own yeast, you need to "feed" it regularly. This means adding 1 cup flour and 1 cup water to the mix so that the yeast can keep growing.
You will need to feed the starter daily if it is at room temperature, or weekly if it is in the fridge. If you don't bake bread that day, you will also need to toss out one cup of the starter after feeding so that the ratios stay the same.
This is an important step, and can be a great motivator to bake regularly so that none of your hard work goes to waste!
Nutrition Information
Yield
4
Serving Size
1
Amount Per Serving
Calories

57
Total Fat

0g
Saturated Fat

0g
Trans Fat

0g
Unsaturated Fat

0g
Cholesterol

0mg
Sodium

3mg
Carbohydrates

12g
Fiber

0g
Sugar

0g
Protein

2g