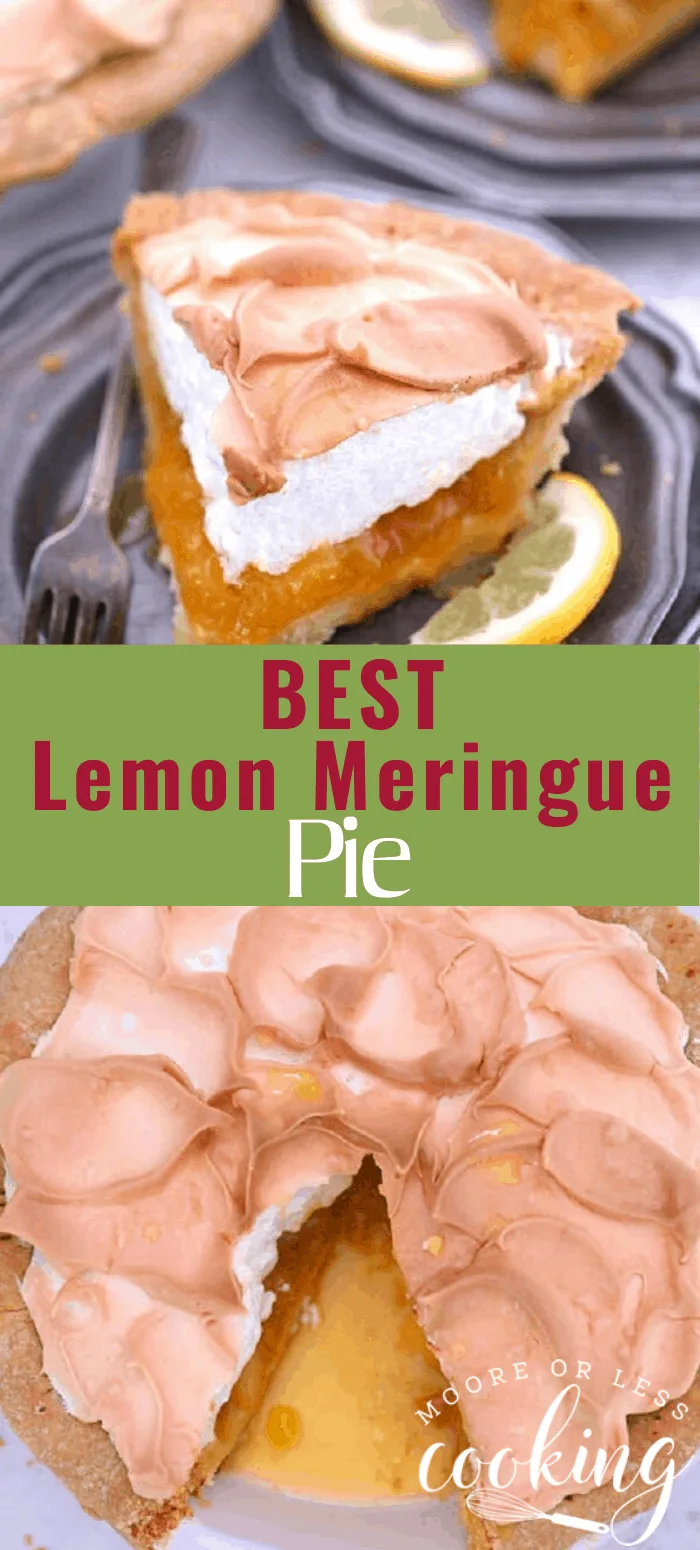 Best Lemon Meringue Pie is a classic summer dessert that is a balance of sweetness and tartness! It could be tricky to make but all you need is this easy recipe!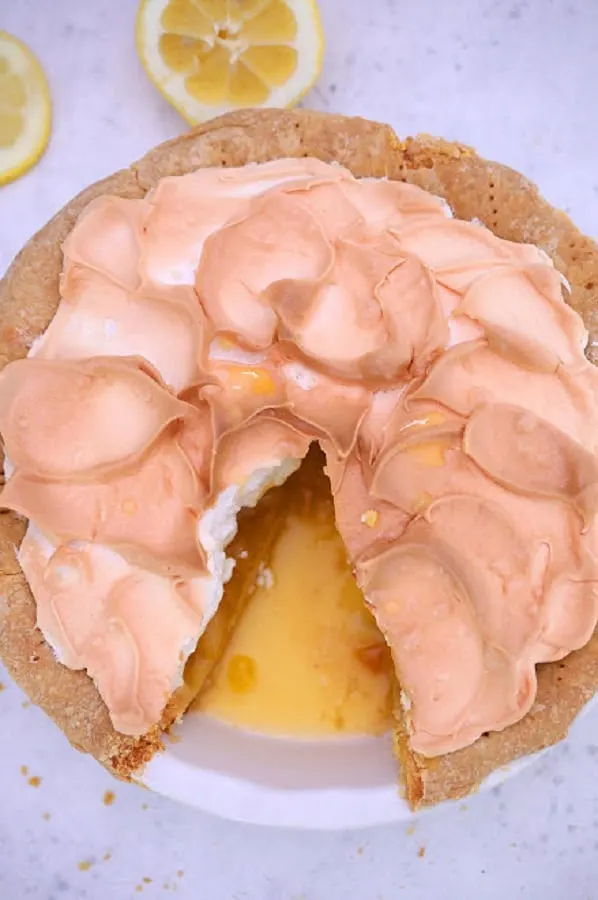 PIN IT: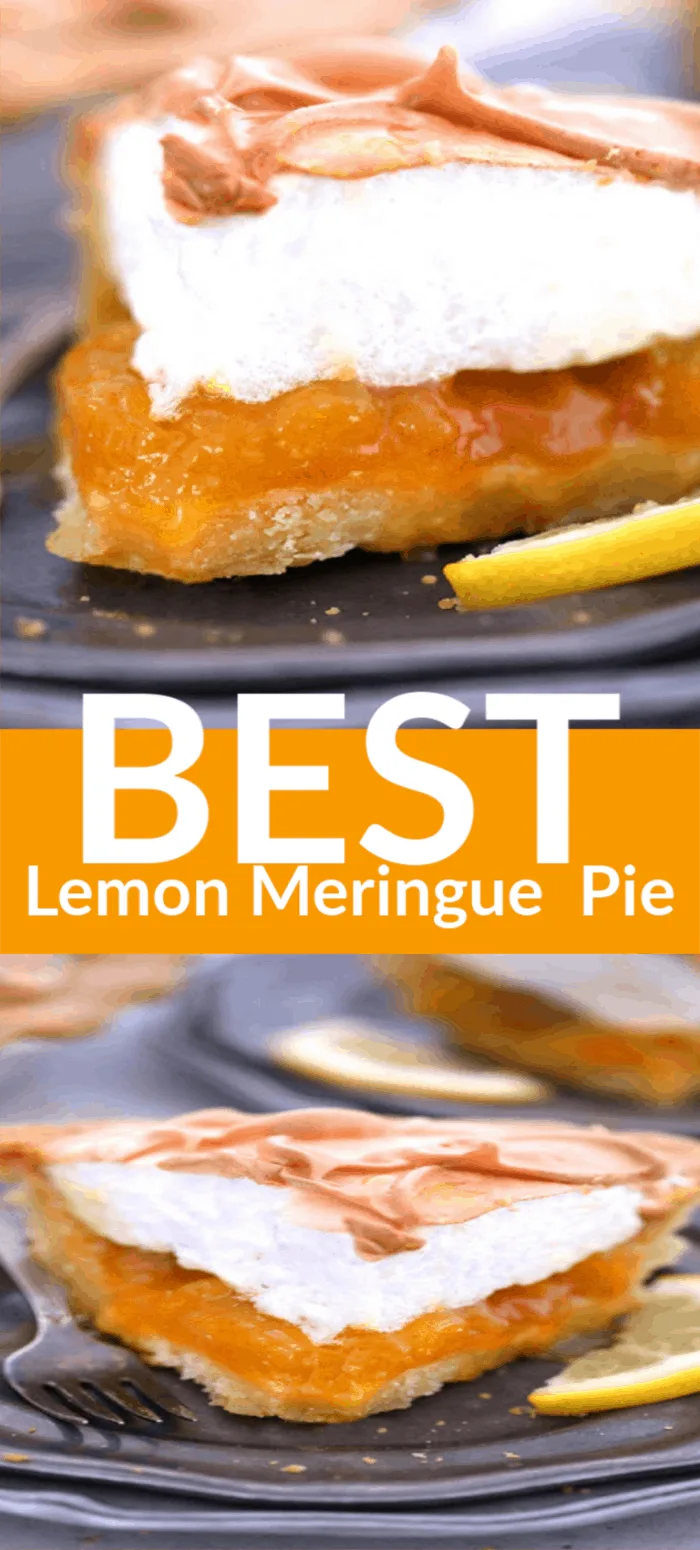 If you are looking for more summery desserts check out this easy Panna Cotta Recipe and Key Lime Pie.
Lemon Meringue Pie could be daunting at first but once you learn this easy recipe, you would be making it over and over again! It is addictive that way! You get a lot of textures with its many layers and you get the sweetness and sourness in just one dessert.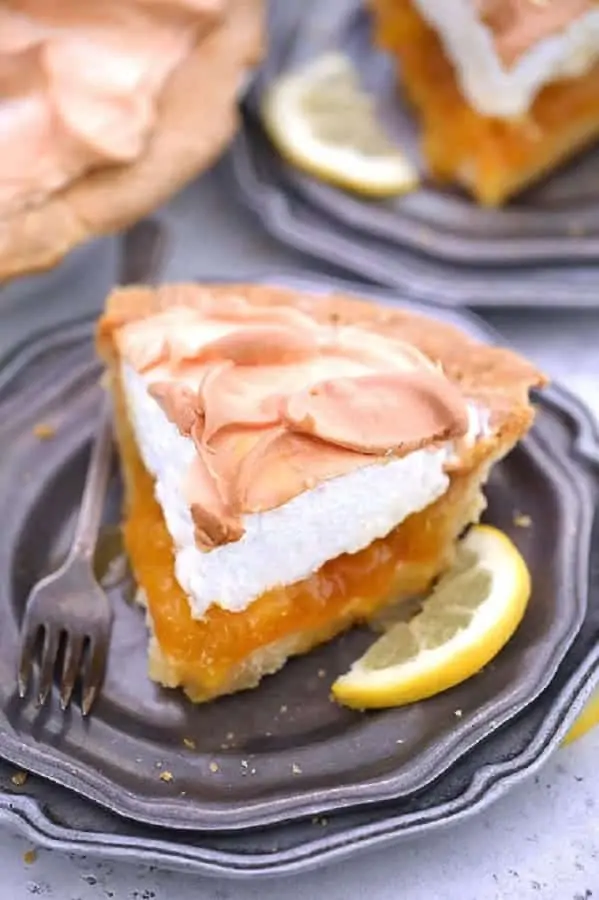 First, you slice through the fluffy top, and then, through the thick filling, and then, through the chewy crust. It is definitely a different experience compared to other desserts.
This dessert looks so pretty, too, making it one to serve at a party and will surely be a crowd-pleaser. It may take some time to finish this, but it is worth it with all the praises you will receive from your guests!
What is meringue:
It is made with egg whites and sugar whipped together to form a foam. This will go on top of the pie. It is easy to make and will only need a few ingredients and a handy electric mixer with the beater accessory.
For this recipe, though, aside from these two main ingredients, we will add cream of tartar to the eggs and salt to the sugar.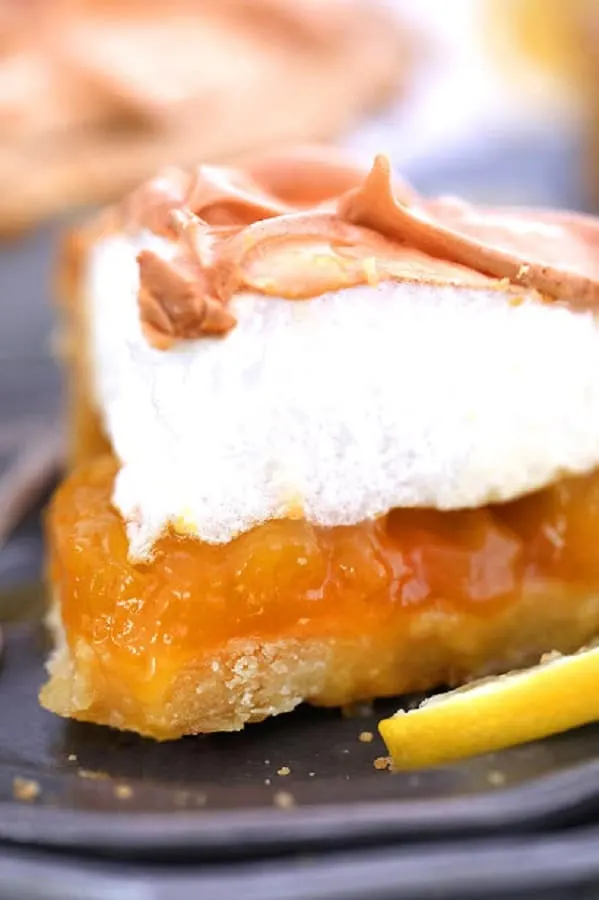 Is meringue safe to eat:
Strictly speaking, eating raw eggs is not safe because they may contain salmonella. In order to avoid this risk, the eggs whites can be pasteurized before whisking.
How do you make a lemon meringue pie
Prepare the crust:

Blend together the crust ingredients until coarse crumbs form. Make a ball out of these crumbs and refrigerate the dough ball for at least 3 hours or overnight. Afterward, roll it flat, and transfer to the pie plate and press on the bottom and sides.

Blind-bake the crust:

Set the oven to 400 degrees. Put parchment paper and distribute weights on top of the crust. Bake it for 15 minutes. Lower the oven temperature to 350 degrees.

Prepare the filling:

Use our

lemon curd recipe

to prepare 2 cups. Microwave this for a minute before putting in the pastry.

Prepare the meringue:

Whisk together the ingredients using the electric mixer until it forms.

Assemble:

Spread the meringue on top of the filling making sure that the whole top is covered including the crust. Make decorative peaks on top with a spoon.

Bake:

Bake for about 20 to 30 minutes. Let it cool completely after baking, then, refrigerate for at least 4 hours before serving.
How to store lemon meringue pie:
Keep it in the refrigerator loosely covered to prevent it from getting watery. It does not keep very well so you may want to enjoy it as soon as it is ready to eat. It will only keep for up to 3 days.
When covered too tightly, the top of the pie may release water. So, very loosely put a plastic wrap over it, avoiding the top.
How long can lemon meringue pie sit out:
Let it sit out for no more than two hours. Refrigerate it before the two-hour mark.
Why does lemon meringue pie get watery:
The meringue may weep as soon as moisture gets in contact with it. So, when it is humid, there is a high tendency that it will weep.
You must also avoid overbaking it.
Can you freeze lemon meringue pie:
Yes and no. Yes, you can freeze it minus the meringue. But, if the whole thing is finished already, just refrigerate it. Freezing and thawing will destroy the topping.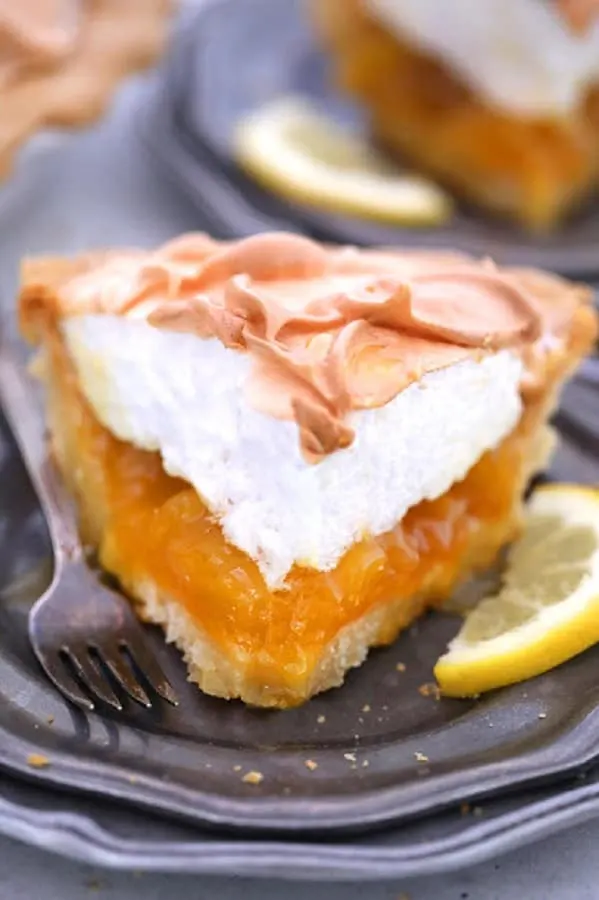 Recipe Tips:
When ready to serve, cut through using a cold and wet knife.

To properly separate yolks and whites, use cold eggs. But, before using the whites, let them stay out to heat up to room temperature.

You can freeze the crust for up to 3 months, and so, you may want to make several of these so you will have a premade one in case you would crave for pies.
More desserts that you may love:
Nettie is a wife and mother who is passionate about cooking and baking… especially when easy meals are involved! With five children, Nettie insists that all meals, snacks, and desserts come together quickly! You will find a wide variety of easy yet scrumptious recipes on her very popular website Moore or Less Cooking
Be sure to follow me on Instagram and tag #mooreorlesscooking so I can see all the wonderful recipes that YOU make from this site!
Check out my YOUTUBE with a free email subscription HERE and please share on FACEBOOK and on PINTEREST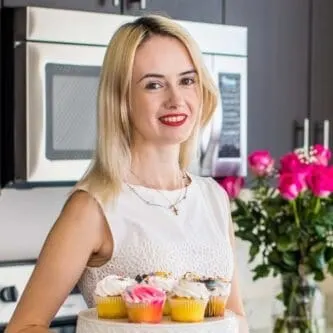 Catalina Castravet created Sweet and Savory Meals. She is a professional chef and food blogger who is always on the lookout for tasty and delicious recipes. Over the past 10 years, she and her team have created well over a thousand recipes, starting from quick breakfasts, to delicious dinner meals and desserts. All the recipes are shared for free for her beloved followers and readers. Cooking is her love and passion.
Follow Sweet and Savory Meals on Facebook, Pinterest, and Instagram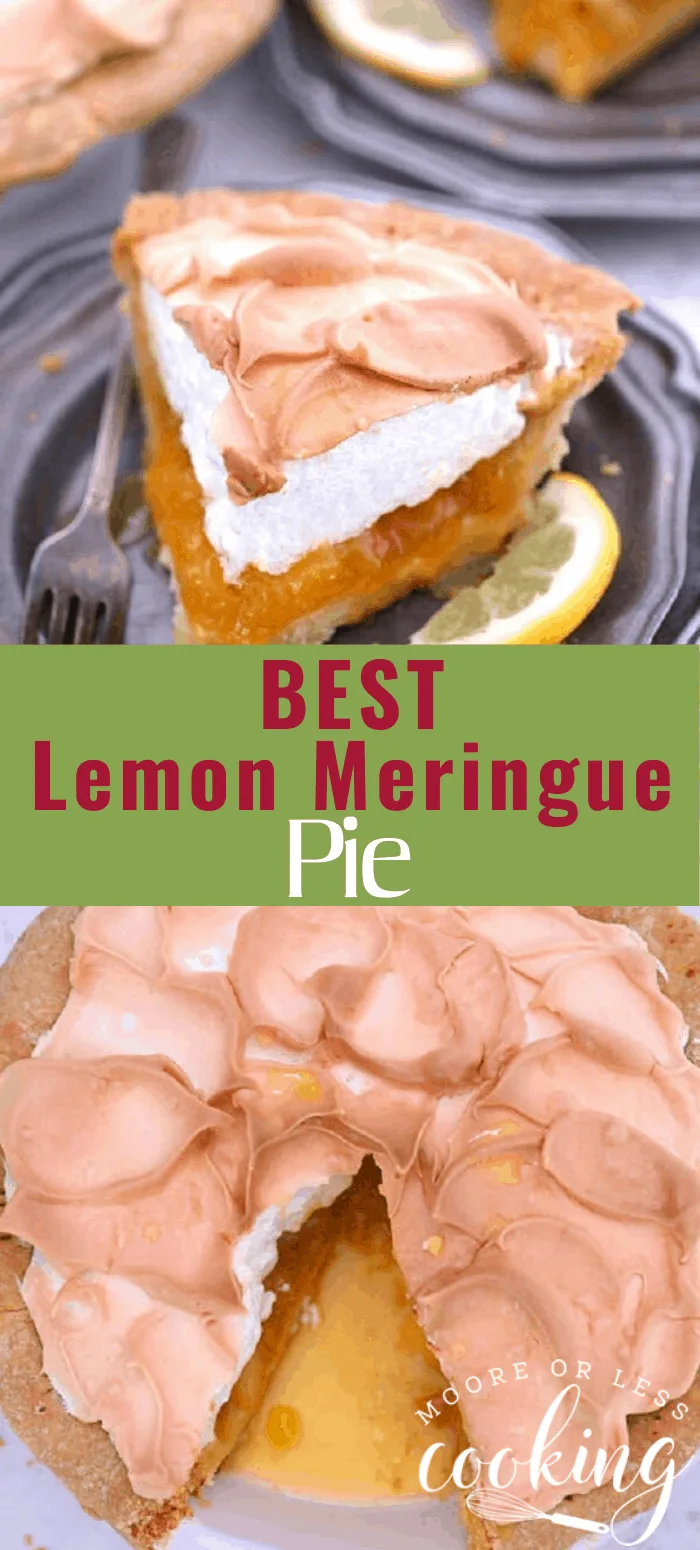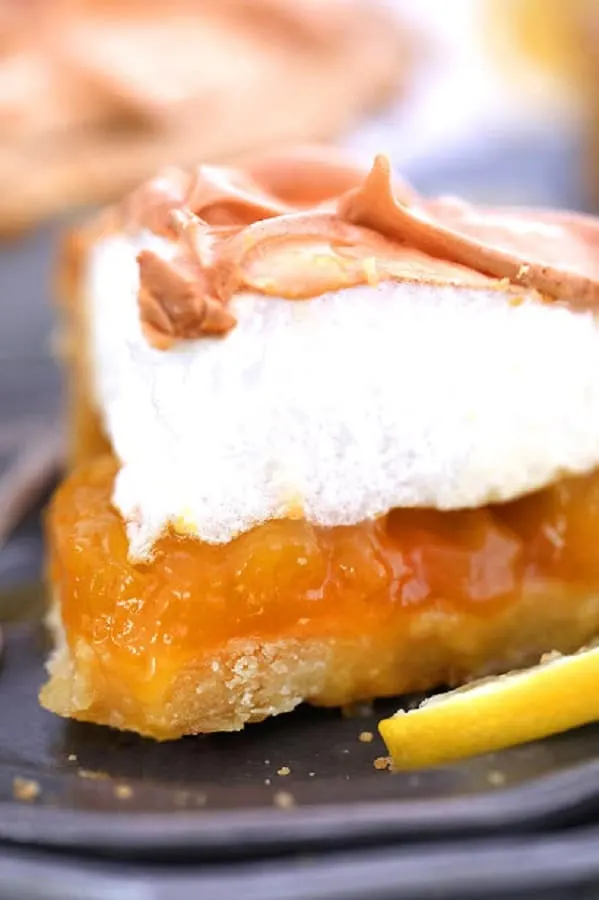 Yield:

1 pie
Lemon Meringue Pie
Lemon Meringue Pie is a classic summer dessert that is a balance of sweetness and tartness! It could be tricky to make but all you need is this easy recipe!
Ingredients
Meringue
6 large egg whites
1/8 teaspoon salt
Instructions
Pie Crust:
Transfer the pie crust to the pie plate and press evenly into the bottom and sides of the pie dish.
Line the chilled pie crust with parchment paper and fill with pie weights or dried beans.
Bake until the edges of the crust are starting to brown, about 15-16 minutes.
Remove crust from the oven and carefully lift the parchment paper with the weights out of the pie.
Use a fork to prick holes all around the crust and return it to the oven, bake for 7-8 minutes more.
Reduce oven temperature to 350°F.
Meringue:
Using a mixer with the whisk attachment beat the egg whites and cream of tartar together on high speed until soft peaks form, about 5 minutes.
Add the sugar and salt, and continue beating on high speed until glossy stiff peaks form about 2-3 more minutes.
Microwave the lemon curd for 1 minute, stir and add it to the pie crust.
Spread meringue on top of the lemon filling.
Bake for 25-30 minutes or until the meringue is browned on top.
Remove from the oven, cool on a wire rack for 1 hour before placing in the refrigerator to chill. Chill for 6 hours or overnight before slicing and serving.
Recommended Products
As an Amazon Associate and member of other affiliate programs, I earn from qualifying purchases.
Nutrition Information
Yield
12
Serving Size
1
Amount Per Serving
Calories

239
Total Fat

11g
Saturated Fat

6g
Trans Fat

0g
Unsaturated Fat

5g
Cholesterol

69mg
Sodium

202mg
Carbohydrates

30g
Fiber

1g
Sugar

23g
Protein

5g