Best Blueberry Bundt Cake with a Sour Cream Icing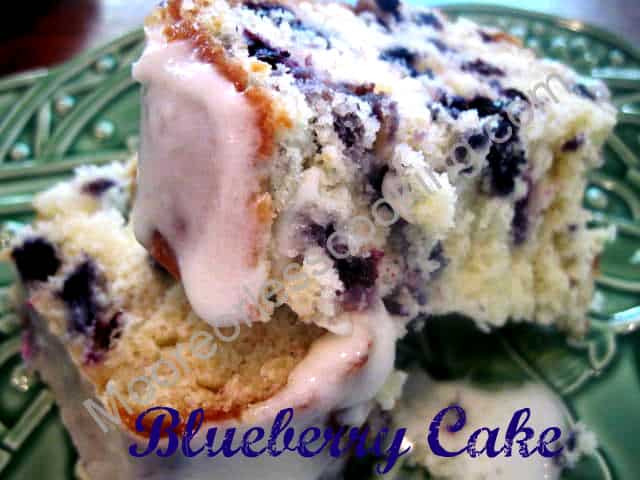 Friends send me recipes like you can not even imagine. I think I need a staff like Martha Stewart, then I may be able to bake three or four recipes at a time! What a dream!
Check out my YOUTUBE Video for easy instructions to make this incredible cake! Follow me on YOUTUBE
It's blueberry Season and Maine blueberries are so amazing. I have five quarts, so I have been searching through Pinterest for the perfect recipe. I wanted a Blueberry Sour Cream Bundt Cake and this is what I chose.
This is a wonderfully light and fluffy cake with lemon zest and a sour cream lemon glaze. It turned out perfect!
I asked hubs to critique it. Well, he is no help!!
This is what he said, " MMM not as many poppy seeds as the last one."
WHAT????!!!!
I think my voice raised a bit, I said, "There aren't any poppy seeds in this cake or the last cake I baked, you are off your rocker…" HMMPPPHH, have to find a new critic!!!
Well, I did have six of my daughter's friends try a piece, they loved it.
P.S. ~There aren't any poppy seeds in this cake or any other cakes that I have baked ever…. yet!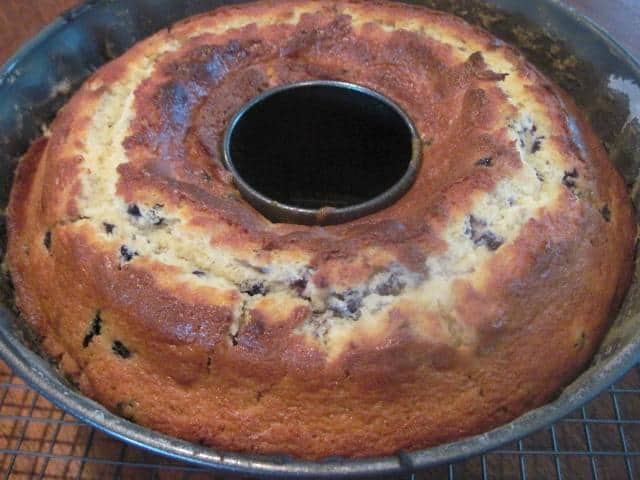 PIN IT FOR LATER:

Best Blueberry Cake & Video
Prep time:
Cook time:
Total time:
The BEST Blueberry Bundt Cake with an incredible Sour Cream Glaze!
Ingredients
Blueberry Cake:
3 cups all-purpose flour
1 tablespoon baking powder
1 teaspoon salt
1⅔ cups sugar
¾ cups unsalted butter (1½ sticks) – room temperature
3 large eggs – room temperature
1 tablespoon lemon zest
2 teaspoons vanilla
1 cup buttermilk (if you don't have buttermilk: scant 1 cup of milk with 1 tablespoon vinegar)
2 cups fresh blueberries – mixed with 1 tablespoon of flour.
*This will keep the berries from sinking to the bottom of the pan while baking.
*Frozen berries can also be used.
Sour Cream Icing:
4 tablespoons butter – softened
½ cup sour cream
½ teaspoon vanilla
½ teaspoon lemon juice
¼ teaspoon salt
2 2/4 cups confectioners sugar
Instructions
For the Cake:
Preheat oven to 350 degrees.
Grease and flour a bundt pan.
In a bowl, whisk flour, baking powder and salt together.
With an electric mixer, beat together sugar and butter until fluffy.
Continue beating, adding eggs, one at a time.
Add vanilla and zest, mix well.
Gradually add in dry ingredients alternating with buttermilk, ending with flour mixture.
Turn off mixer and gently fold in blueberries.
Pour batter into bundt pan.
Bake until a cake tester or wooden skewer comes out clean about 50 minutes to an hour.
Cool cake on a rack for 15 minutes.
Turn cake onto cake plate and cool completely before frosting.
For the Icing
Using a hand mixer, cream butter, sour cream, vanilla and lemon juice until smooth.
Gradually add confectioners sugar.
Add salt and mix until smooth.
Pour icing over the top of cake allowing it to run down the sides.
Recipe adapted from
A Southern Soul
Nettie Moore is the cook, baker, photographer, and designer behind Moore or Less Cooking Food Blog. Nettie is a self- trained cook and baker. She loves creating easy recipes that don't call for a lot of unknown ingredients.Nettie's Blueberry Skillet Cake has been featured in Taste Of Home Magazine and her Peach Raspberry Pie has won awards! She was born and raised in Southern California and now calls New England her home, where she lives with her husband and two children. Follow Nettie on her blog, Moore or Less Cooking, or here: FACEBOOK | TWITTER | GOOGLE+ | PINTEREST | BLOGLOVIN |INSTAGRAM|YOUTUBE