A moist and chewy oatmeal bar lightly sweetened with honey and loaded with Chocolate Chips!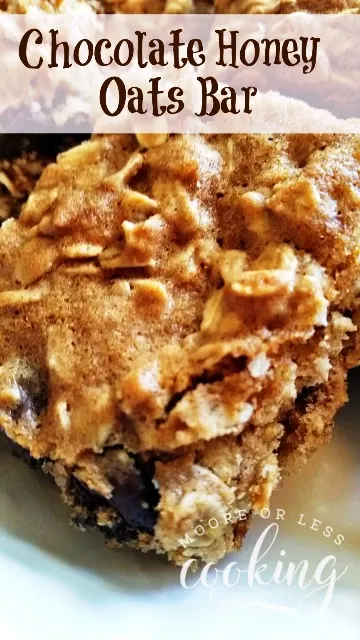 It's a traditional chocolate no-bake recipe—made with oatmeal instead of flour.
Instead of sugar, I am using honey for this recipe.
These homemade chocolate oatmeal no-bake bars are a perfect snack or dessert.
These wonderful bars are made with Nature Nate's Honey. It's 100% Pure, Raw & Unfiltered Honey. Nature Nate partners with commercial beekeepers that transport their hives all over the country depending on the season. They follow the "honey flow" – when major nectar sources are in bloom and the weather is favorable for bees to fly and collect the nectar.
This is the second week of Choctoberfest! Don't miss the amazing GIVEAWAY!!
For example, many of the Texas beekeepers will truck their hives to California for the winter, return them to Texas this spring, then go on to northern states later in the year; so that means the honey will have pollen from Texas as well as several other regions of the country.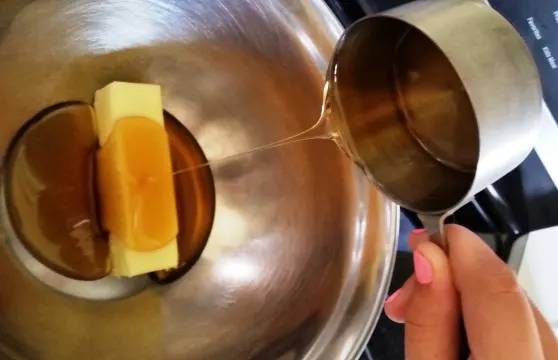 Nature Nate's honey is raw, which means it is not cooked at high temperatures. It's also unfiltered, meaning they strain only the undesirable bee parts and wax, leaving pollens intact. See how they handle their honey here.
1 in 8 women will be diagnosed with breast cancer in their lifetime. Nature Nate's has a strong initiative to support breast cancer awareness, check out their breast cancer awareness page at Honey Gives Hope
Spread out the batter in the pan. Bake for 35 minutes or until golden brown.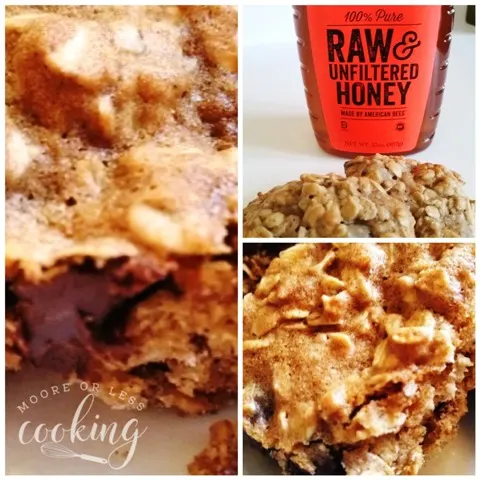 Follow Moore or Less Cooking: FACEBOOK | TWITTER | PINTEREST | INSTAGRAM| BLOG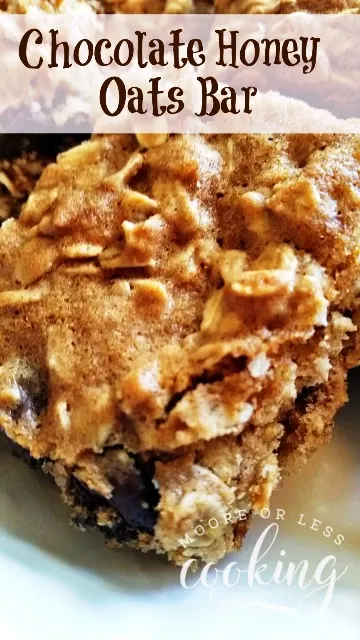 Yield:

24 bars
Chocolate Honey Oats Bar
Moist and chewy oatmeal bars lightly sweetened with honey and loaded with Gooey Chocolate Chips!
Ingredients
1 stick plus 6 tablespoons butter, softened
3/4 Cup firmly packed brown sugar
1/2 Cup Nature Nate's Honey
2 Eggs
1 Teaspoon vanilla
1-1/2 Cup flour
1 Teaspoon Baking Soda
1 Teaspoon ground cinnamon
1/2 Teaspoon salt
3 Cups Old Fashioned Oats
1 Cup Semi-Sweet Chocolate Chips
Instructions
Heat oven to 350°F.
In a large bowl, beat butter, brown sugar and honey on medium speed with an until creamy.
Add eggs and vanilla; beat well.
Add combined flour, baking soda, cinnamon and salt; mix well. Add oats and chocolate chips; mix well. Press dough onto bottom of ungreased 13 x 9-inch baking pan. Bake 30 to 35 minutes or until light golden brown. Cool completely in pan on wire rack. Cut into bars. Store tightly covered. Makes 24 bars.
#HoneyGivesHope #HoneyMakesItBetter #Choctoberfest