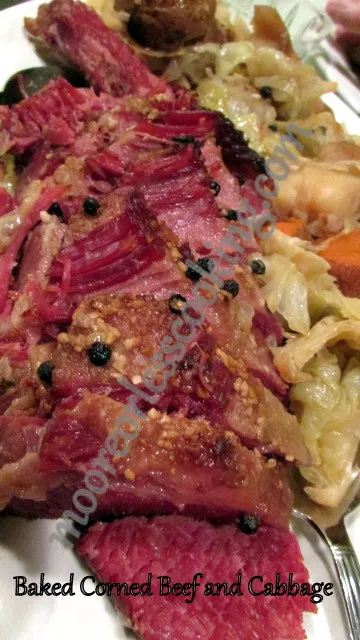 Every year I make hubs Corned Beef and Cabbage and every year I ask myself why I don't make it more often, the corned beef always gets gobbled up so quickly, so I go out to the market and buy another corned beef.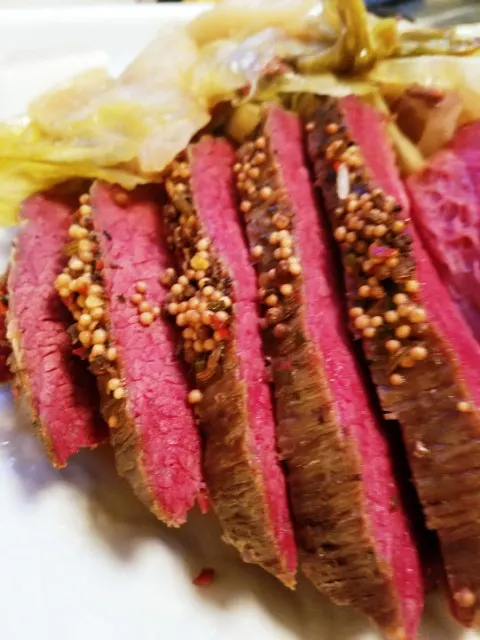 This year, I decided to bake my Corned Beef and Cabbage, except lo and behold, we didn't buy any cabbage…gasp…So I baked the Corned Beef with potatoes and carrots and hubs went to the market to get a head of cabbage.
After everything was nicely baked, I placed all the ingredients in a crock pot, but the cabbage wasn't cooking quick enough for me, so I placed it all in the oven, oh my my! Hubs said this was THE BEST CORNED BEEF!! Wow after 20 years of making this meal, I will be changing to baked only. The Corned Beef didn't come with a seasoned packet so I made my own seasoning. Perfection!
Yield:

4 pounds
CORNED BEEF AND CABBAGE
Total Time:
3 hours
10 minutes
Ingredients
1 package Corned Beef Brisket (3-4 Pounds)
6 potatoes quartered
3 carrots, cut into chunks
1 green cabbage, cut up
2 Tablespoons Peppercorn
1 Tablespoon Minced Garlic
1/2 cup hot water
Instructions
Preheat oven to 350 degrees
Unwrap the brisket and place it fat side up inside the baking dish.
If it came with a spice packet, sprinkle it over the top, then sprinkle on the black peppercorns and minced garlic and rub it in.
Cover the dish with a lid or heavy aluminum foil and place it in the oven for 2 1/2 hours-3 1/2 hours..
Check the brisket by inserting a fork in the meat.
If it goes in easily, it's ready; if it meets with resistance, bake for another 30 minutes---or up to an hour in some cases!
If the brisket is tough, it hasn't cooked long enough!
Once the brisket is fork-tender, remove it from the oven and let it rest, covered loosely in foil. Add cabbage and veggies during the last 1/2 hour-45 minutes plus water
Slice Corned beef into good sized slices, serve veggies along side.
Have a Guinness Beer or two with this delicious meal.
Happy St.Patrick's Day from the Moore Family!
May you always have…
Walls for the winds
A roof for the rain
Tea beside the fire
Laughter to cheer you
Those you love near you
And all your heart might desire.