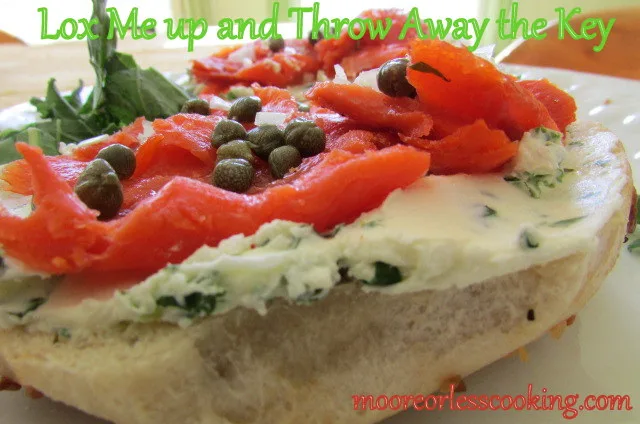 I have joined up with some of the most creative bloggers I know. We bounce ideas off of each other. We are sounding boards. We do not judge. We laugh together about the silliest things. We send virtual hugs all day long if one of us is having a hard day. This is the place I go to first.
But most importantly, we discuss food! This month we are sharing, "Welcome Spring and everything Green". If you have been following my blog, I have been working with Nature's Greens and have joined the Kale Up program!! Hooray for Kale~ it makes you happy when you eat it! How many foods can you say does that??
My recipe includes Garlic Bagels, Kale Cream Cheese and Lox from Ducktrap River of Maine. It's called Lox me up and throw away the Key!! I love my lox and bagels on fresh hot bagels with onions and capers.
Recipe: Lox Me Up and Throw Away the Key!
Ingredients:
1 cup finely chopped Kale
1 scallion finely sliced
1/2 cup cream cheese, softened
2 bagels ( Everything or Garlic), toasted
4 ounces smoked salmon
chopped onion for garnish
capers for garnish
1/2 lemon cut in wedges, for squeezing over lox
Directions:
Place the kale, scallions and cream cheese in a large bowl, combine. Spread cream cheese over bagel. Top each bagel with 1 ounce of smoked salmon, onion, capers, lemon juice. Serve immediately.
Serves 2
Recipe inspired by The 50 Shades Of Kale Cookbook
All of the GREEN recipes:
Pistachio Blueberry Cupcakes ~ Baking in a Tornado
Key Lime Chiffon Cake ~ Crumbs in My Mustachio
Lemony Thyme's Colcannon Cheesy Potatoes with Kale
Asian Salad with Chicken~ Tampa Cake Girl
Chocolate Mint Zucchini Swirl Bread ~ The Rowdy Baker
Roasted Tomato & Spinach Foccocia ~Cooking From a SAHM
Lox me up and throw away the Key ~ Moore or Less Cooking Blog
Maple Poached Pear Salad with Walnut Crusted Goat Cheese ~ Hun, What's for Dinner?
Green Tea White Chocolate Cheesecake ~ Manila Spoon
3/4 Pistachio Blueberry Cupcakes, from Baking In a Tornado
3/5 Crumbs in my Mustachio's Key Lime Chiffon Cake
3/6 Lemony Thyme's Colcannon Cheesy Potatoes with Kale
3/7 Tampa Cake Girl's Asian Salad with Chicken
3/10 The Rowdy Baker's Chocolate Mint Zucchini Swirl Bread
3/11 Cooking from a SAHM's Roasted Tomato Spinach Foccocia with Parm
3/12 Moore or Less Cooking's Lox Me Up and Throw Away The Key
3/13 Hun . . . what's for dinner? Maple Poached Pear Salad with Walnut Crusted Goat Cheese
3/14 Manila Spoon Green Tea White Chocolate Cheesecake