A creamy homemade tomato sauce flavored with spicy Italian sausage serves as a rich topping for zucchini noodles. It's an easy and saucy zoodles dish that's sure to be a hit with the family.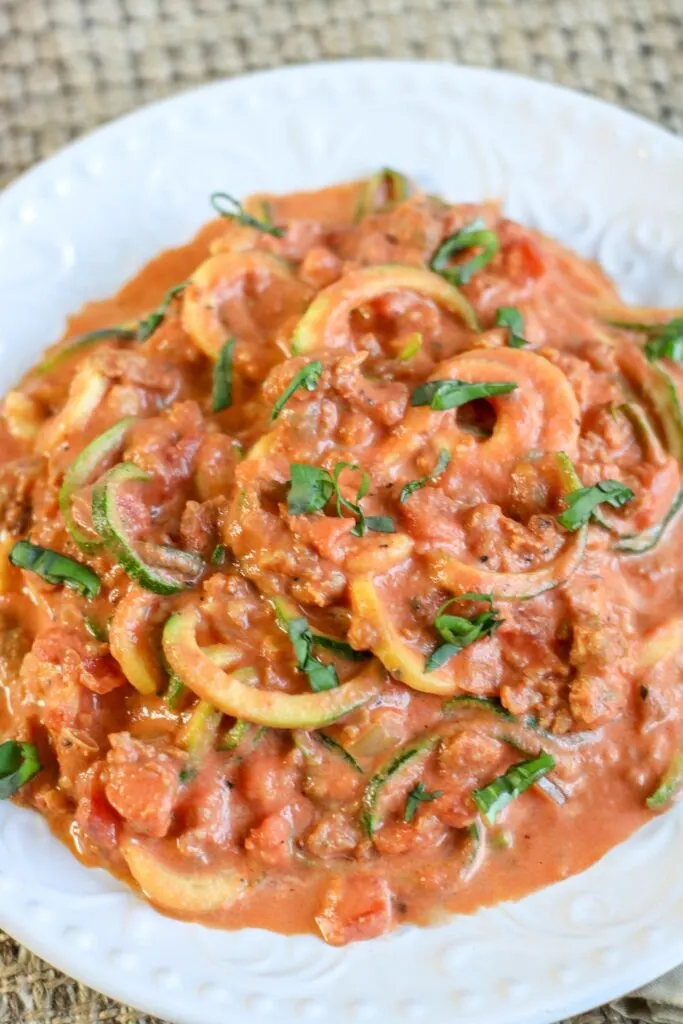 Elevate your homemade tomato sauce with the addition of heavy cream and parmesan cheese for an ultra-rich flavor. Take it a step further by using Italian sausage instead of the usual ground beef. The sausage will give it a little spicy kick, which is always a good thing!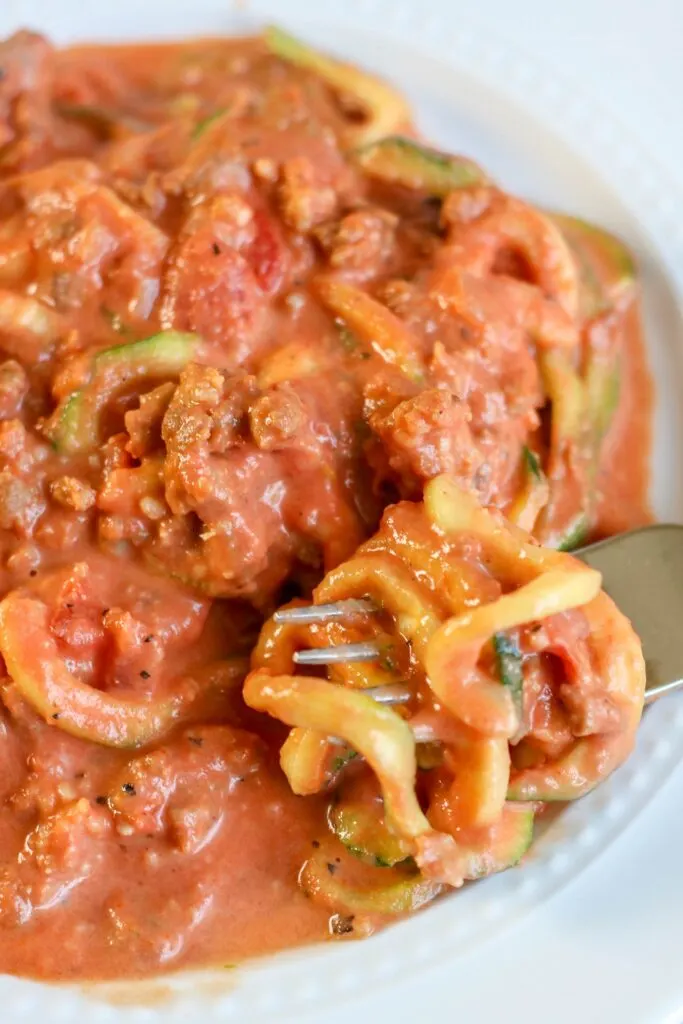 And, if you're looking for something different in the noodle department, zoodles, or spiralized zucchini, is a low-carb and healthy alternative that's the perfect vegetable-based noodle for this tasty sauce.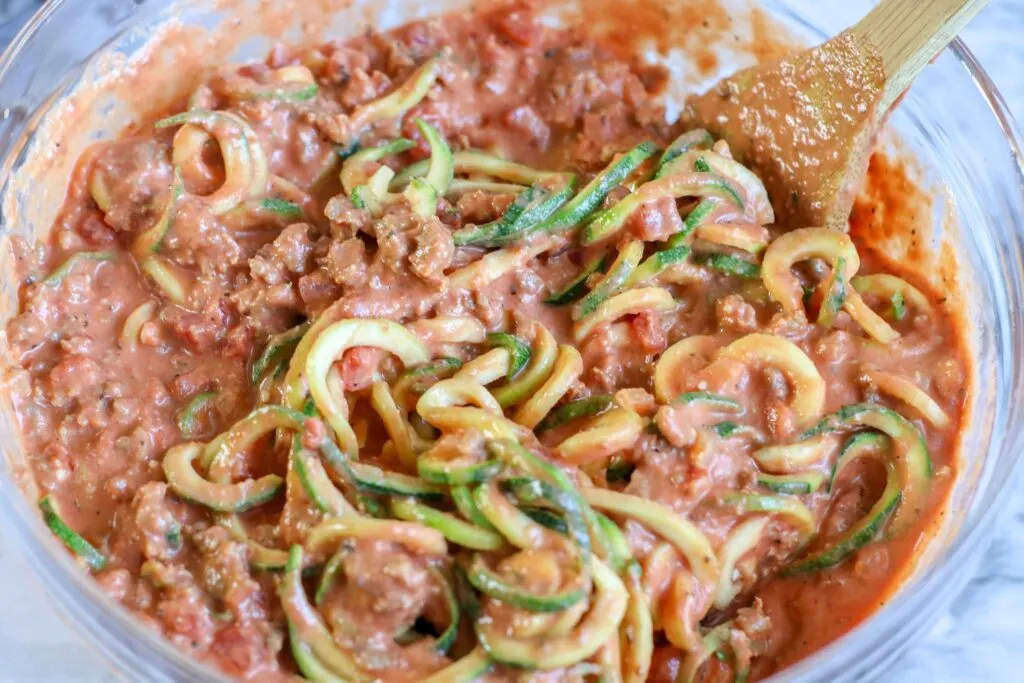 The best part about using zoodles for this recipe is that there's absolutely no cooking involved! These zucchini noodles will "cook" or soften once you top them with the warm and creamy tomato and Italian sausage sauce, so that's a win-win in the easy meal-prep department.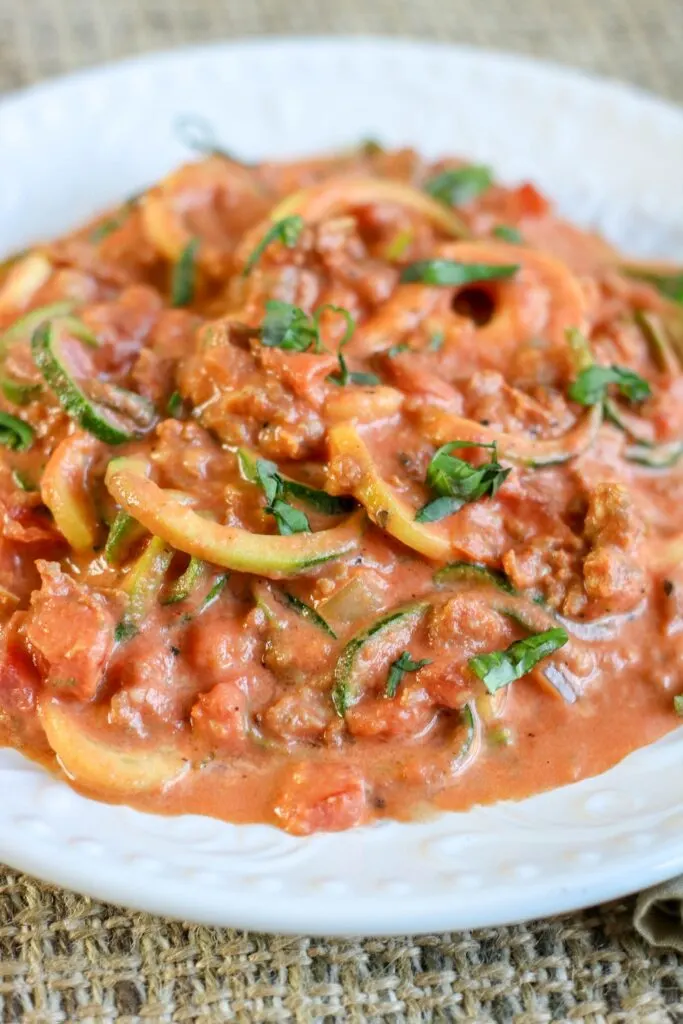 Ingredients
Hot Italian Sausage – make sure you remove the casing before browning the sausage, Make this ahead of time so the sausage is drained, crumbled and ready to add to the sauce.
Olive Oil – to sauté the onions and garlic.
Onion And Garlic – diced and minced, to add flavor to the sauce.
Tomatoes – you'll need a can of petite diced tomatoes, a can of tomato sauce and a can of tomato paste to make the base of the homemade sauce.
Seasonings – dried basil, salt and pepper all help to season and amplify the flavors.
Heavy Cream – neutralizes the acidity of the tomato sauce and helps thicken it into a rich and creamy topping.
Parmesan Cheese – the grated cheese elevates the creaminess of the sauce as well as helps to thicken it.
Zucchini – spiralized into noodles, this becomes the base that's covered with the homemade sauce.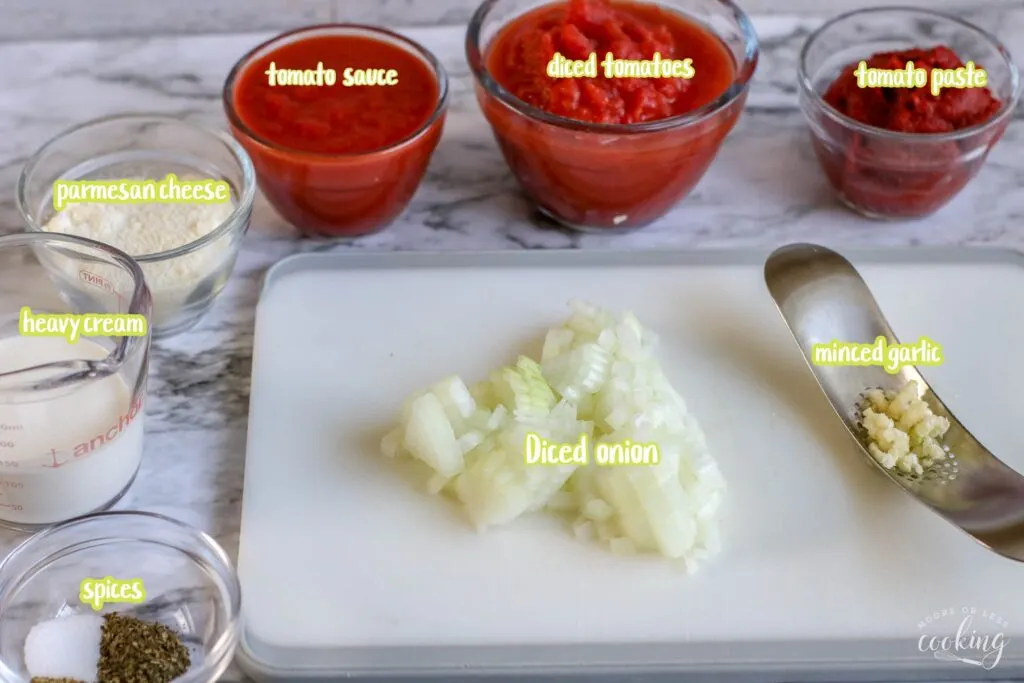 How To Make This Recipe
Spiralize the zucchini. Using a spiralizer or other tool (see my section below on how to spiralize zucchini), sprinkle it with salt and let it drain out any excess water by sitting in a colander while you prepare the rest of the meal..
Brown the sausage. Remove the casing and brown in a skillet, breaking it into clumps and crumbles. Remove to a paper towel-lined plate to let any grease absorb.
Sauté the diced onion and minced garlic in olive oil. Add in the browned sausage, all 3 cans of tomatoes and seasonings. Bring to a boil and reduce the heat. Simmer for 10 to 15 minutes.
Reduce heat to low and stir in the heavy cream. Heat through before adding the shredded parmesan cheese.
Transfer the drained zucchini to a large bowl and toss it with the warm sauce. Serve with additional parmesan cheese and/or fresh basil.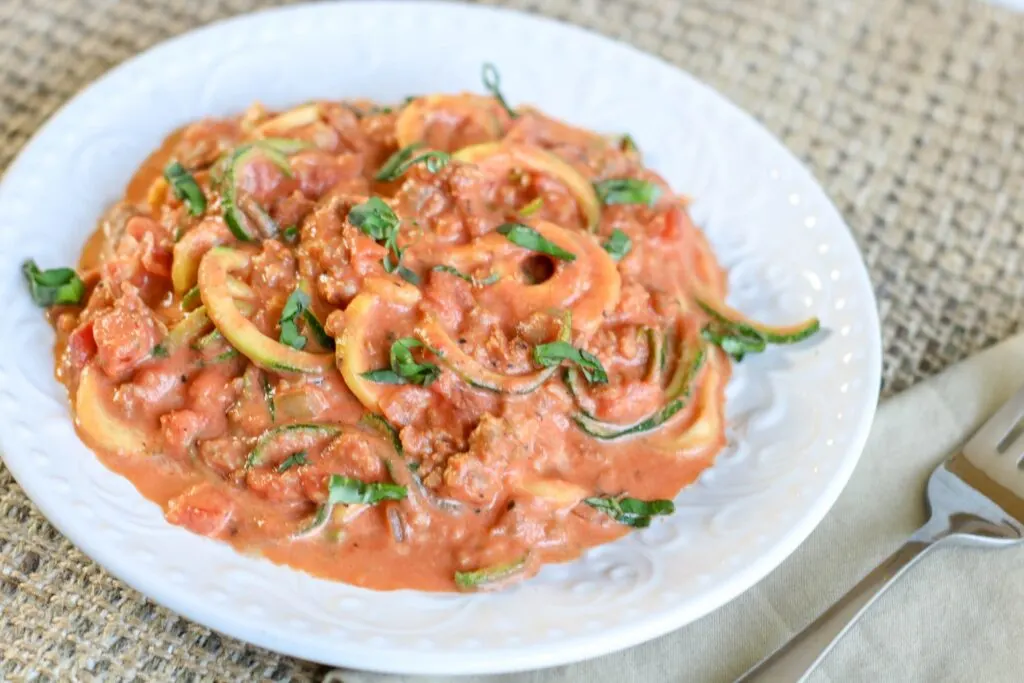 How To Make Zoodles
If you've never made zoodles before, here are a few ways to create spaghetti-like strands or ribbons out of zucchini squash.
Spiralizer: If you have a spiralizer, attach the appropriate stainless steel blade to create your noodles. Countertop spiralizers come with several types of blade shapes to make angel hair, wavy, or julienned noodles, so choose whichever one you prefer for your noodles.To create the noodles, cut off both ends of the zucchini (you don't need to peel it) and then cut it in half again. Attach one of the sections you just cut between the prongs and blade and simply turn the handle to spiralize it into strands of noodles.
Handheld Spiralizer – a small handheld spiralizer offers several built-in blade styles for creating noodles. Insert the vegetable and twist, using both hands to operate the spiralizer and veggie. It's an inexpensive way to get a similar result.
Julienne Vegetable Peeler – a vegetable peeler with a julienne blade can give you long strand results for noodles that resemble spaghetti. Just use the peeler, moving in a circular motion, around the zucchini to peel it into noodle strands. Stop once you get to the seeds in the middle.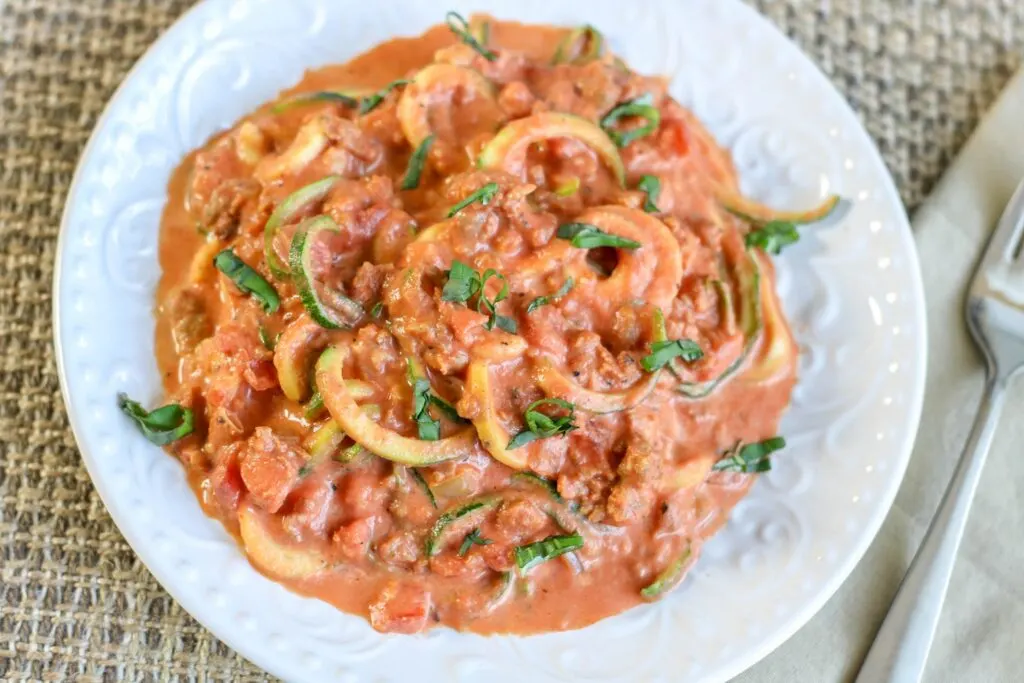 Variations
Just in case you want to customize this recipe using what you have on hand or experiment with different flavors, here are a few suggestions.
Protein: Swap the sausage for ground beef or ground turkey. You could even cook chicken breasts separately, slice them and add them on top of the sauce after you've plated it up. For a vegetarian option, swap out any meat for chickpeas or sautéed and sliced portobello mushrooms.
Veggies: Add fresh baby spinach to the sauce toward the end and stir it in so it wilts. Add sautéed button mushrooms or bell peppers.
Noodles: Any pasta noodle you like can be used in place of zoodles. Fettuccini, spaghetti, penne, shells, elbow macaroni – it's all good!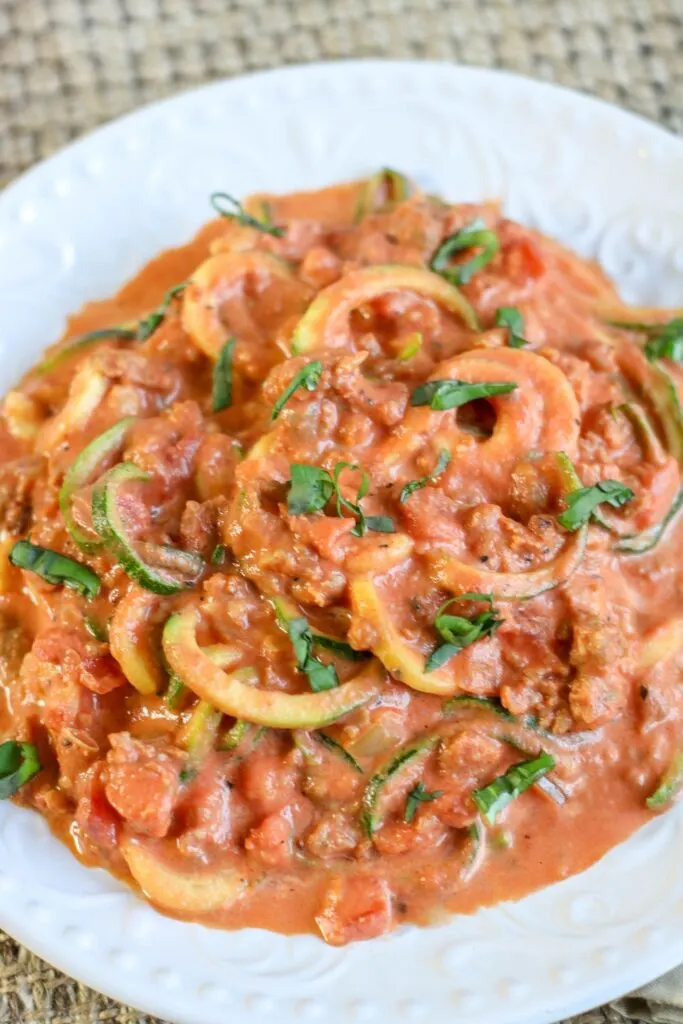 Can I Substitute Half And Half For The Heavy Cream?
I so want to say yes to this, but sadly, half and half won't give you the same creaminess as heavy cream. The fat content in the cream is what makes it so rich and flavorful. Plus, if you use half and half you'll get a "watered down" version that just won't have the same texture and taste.
For a dairy-free option that will still give you a rich and creamy texture, use full-fat canned coconut milk.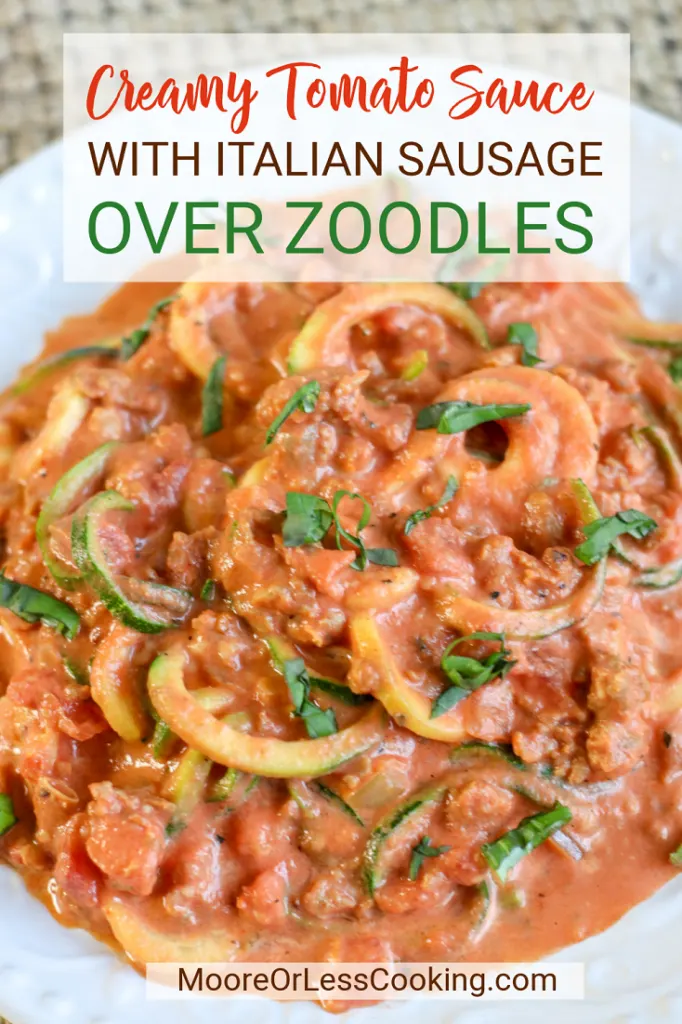 Storage
Refrigerator: Any leftover sauce can be stored in the fridge in a sealed glass container for up to 3-4 days. Reheat in a saucepan.
The zoodles, I've found, are best when made fresh. They tend to hold water so saving them overnight in the fridge may make them soggy. If you do, line your container with a paper towel to soak up any water they may expel.
Freezer: This sauce is perfect for meal planning, so if you make a double batch or have leftovers, it freezes beautifully. Make sure it's fully cooled before you package it in a Ziploc bag or a freezer-safe container. It will keep up to 4 months in the freezer. Defrost overnight in the fridge before reheating. Serve over fresh zoodles or your choice of noodles.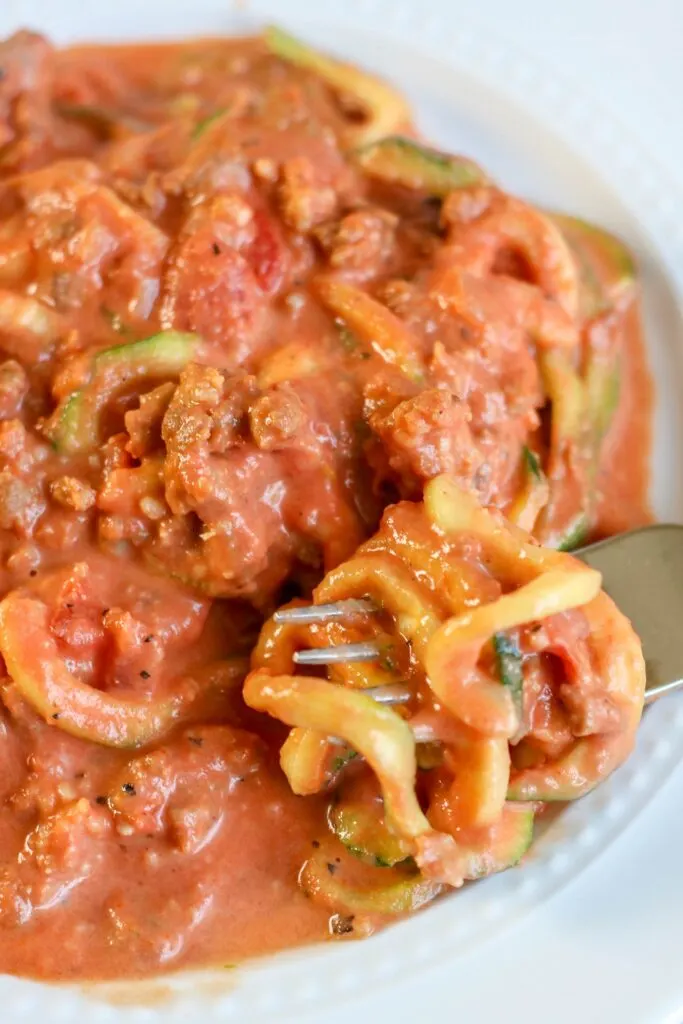 Related Recipes
Slow Cooker Zoodles in Meat Sauce
Low Carb Zucchini Spirals And Mini-Meatballs
Nettie is a wife and mother who is passionate about cooking and baking. With 5 children, Nettie insists that all meals, snacks, and desserts come together quickly! You will find a wide variety of easy yet scrumptious recipes on her very popular website Moore or Less Cooking
Be sure to follow me on Instagram and tag #mooreorlesscooking so I can see all the wonderful recipes that YOU make from this site! Check out my YOUTUBE with a free email subscription HERE
Follow Mooreorlesscooking on TWITTER | BLOGLOVIN
Did You Make This Recipe?
I would love for you to leave a rating and a comment below! How'd you do?!
Please remember to SHARE on Facebook and PIN IT!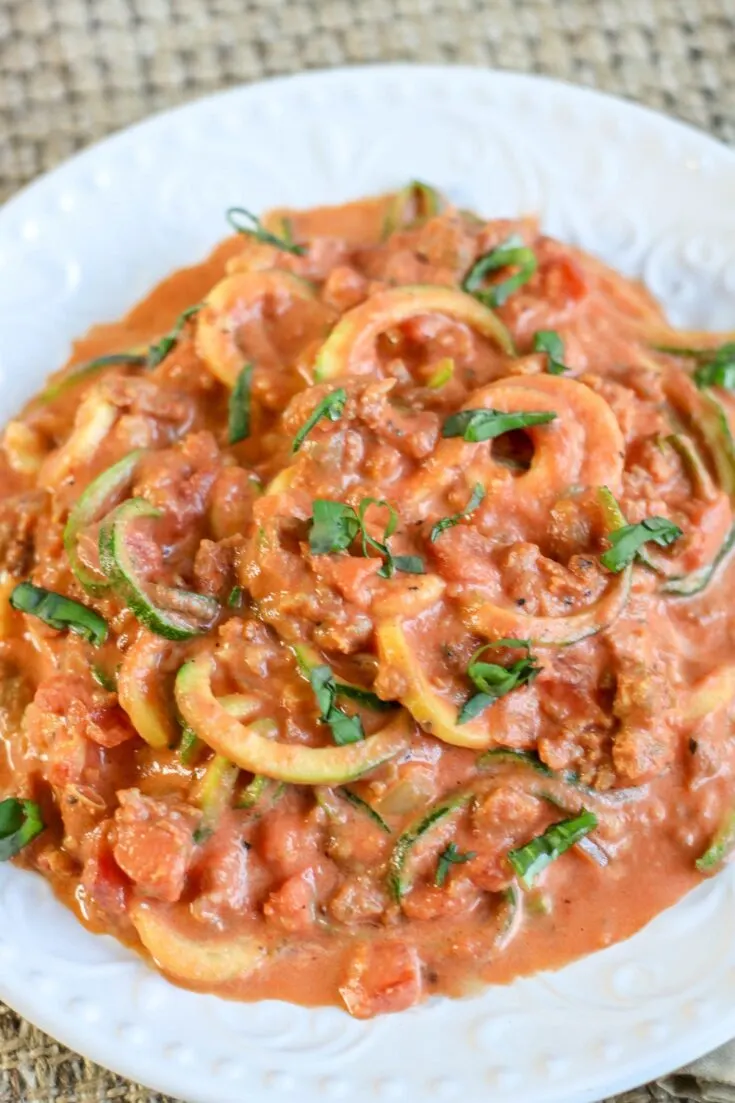 Yield:

6 servings
Creamy Tomato Sauce with Italian Sausage over Zoodles
Total Time:
1 hour
15 minutes
A creamy homemade tomato sauce flavored with spicy Italian sausage serves as a rich topping for zucchini noodles. It's an easy and saucy zoodles dish that's sure to be a hit with the family.
Ingredients
1 pound hot Italian sausage, casings removed, browned and crumbled
1 tablespoon olive oil
1 onion, diced
3 cloves garlic, minced
1 (14 ounce) can petite diced tomatoes
1 (8 ounce) can tomato sauce
1 (6 ounce) can tomato paste
1 teaspoon dried basil
1 ½ teaspoon salt, divided
½ teaspoon black pepper
1 cup heavy cream
½ cup grated Parmesan cheese
3 to 4 zucchini, spiralized
Instructions
Toss spiralized zucchini with 1 teaspoon salt. Allow draining in a colander while the sauce is prepared, about 30 minutes. After 30 minutes, use paper towels to squeeze the zucchini removing the water. Most of the salt will come out with the water. If you are sensitive to a salty flavor, go ahead and rinse the zoodles before squeezing the water out.
Heat olive oil in a large saucepan or medium skillet over medium-high heat. Add onion and cook, stirring occasionally until softened, about 3 minutes. Stir in garlic.
To the onion, add browned Italian sausage, diced tomatoes, tomato sauce, tomato paste, remaining salt, basil, and pepper. Bring to a boil and reduce heat. Simmer for 10 to 15 minutes.
Reduce heat to low and stir in heavy cream. Heat through before adding Parmesan cheese.
Transfer the zucchini to a large bowl and toss with sauce. Serve with additional Parmesan cheese and/or fresh basil.
Notes
Perfect Zoodles: After draining, place in a paper-towel-lined bowl to soak up excess water. When making the perfect zoodles, eliminating water at every step makes a big difference!
Make-Ahead: Prepare the zoodles and sauce and store them separately in the refrigerator until ready to serve. Then, reheat the sauce and zoodles separately and toss them together when hot.
Nutrition Information
Yield
6
Serving Size
1
Amount Per Serving
Calories

492
Total Fat

40g
Saturated Fat

19g
Trans Fat

1g
Unsaturated Fat

23g
Cholesterol

95mg
Sodium

1391mg
Carbohydrates

14g
Fiber

3g
Sugar

7g
Protein

20g
Note: This post contains Amazon affiliate links. This means that if you click on a link and make a purchase, I will receive a small commission at no extra cost to you. Thank you for supporting Moore or Less Cooking!