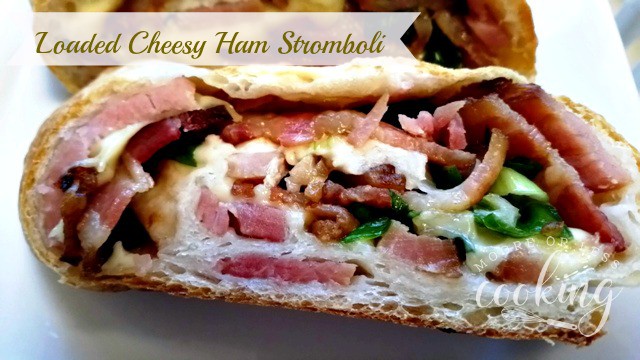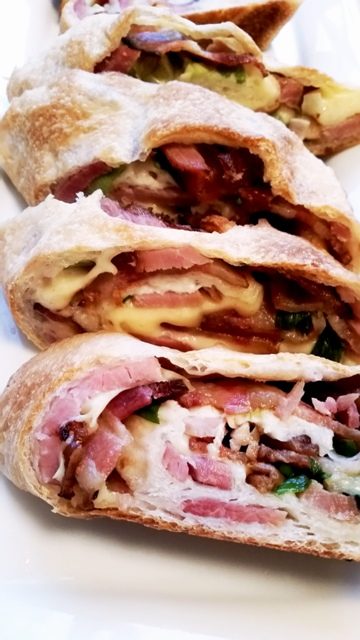 Delicious melted cheese, ham, bacon and green onion stromboli! Perfect for a weeknight or weekend dinner when you are pinched for time and are craving some Italian comfort food!
I baked a Honey Baked Ham and had lots of leftovers! I wanted to make a Stromboli with baked ham, swiss cheese, bacon, and green onions! This was perfect! We had about an hour for dinner before we had to be at the airport.
PLEASE REMEMBER TO SHARE ON FACEBOOK
AND PIN IT!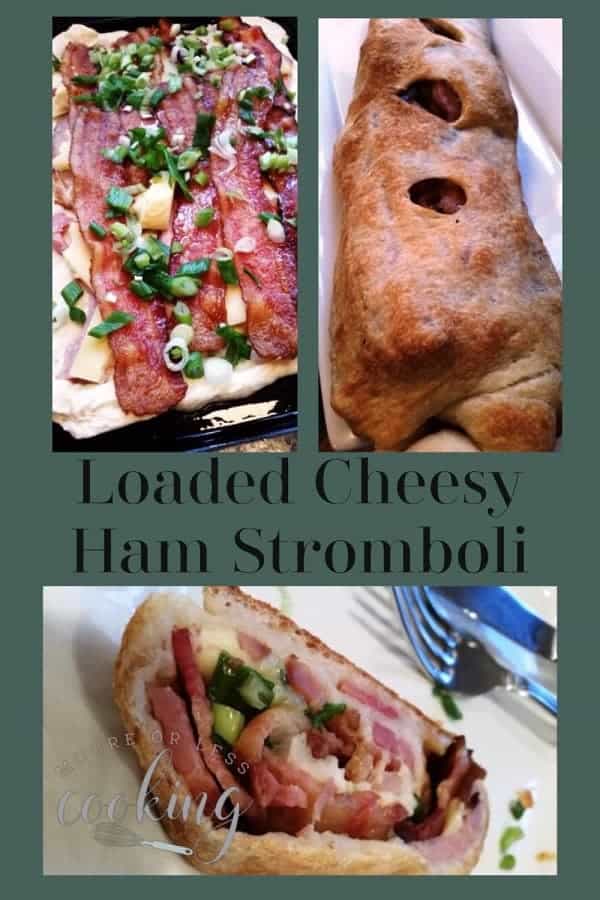 Connect with Moore or Less Cooking!
Follow me on social media, so you never miss a post! FACEBOOK|TWITTER /PINTEREST|BLOGLOVIN|INSTAGRAM|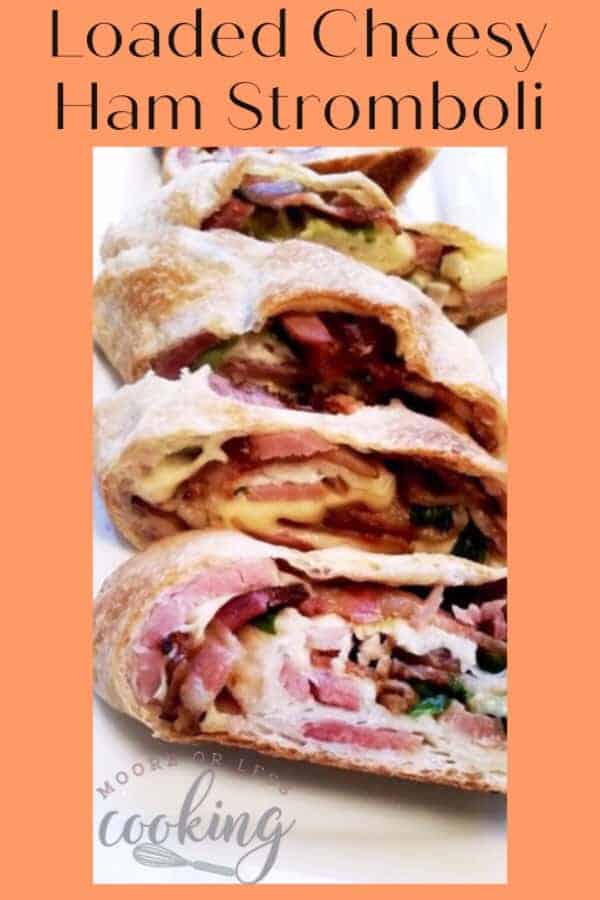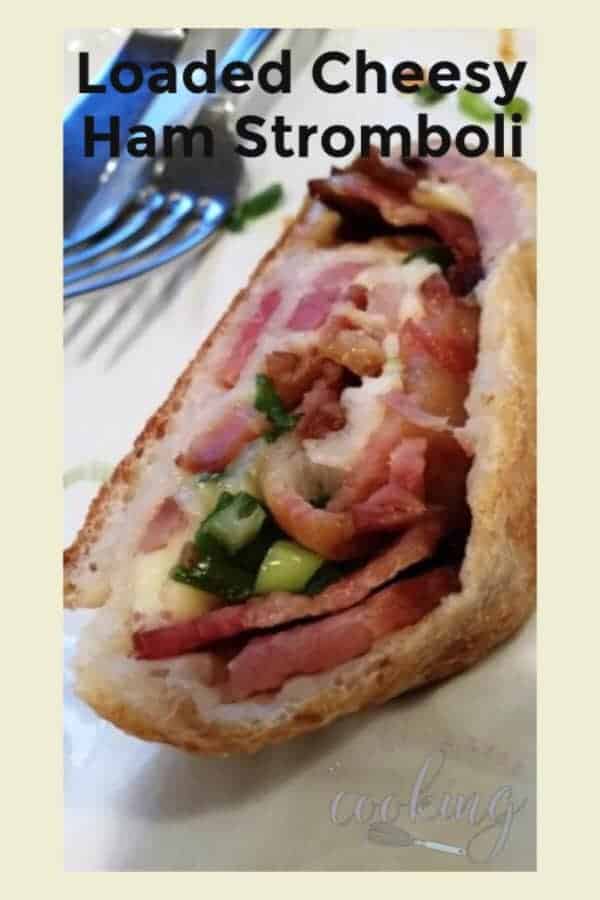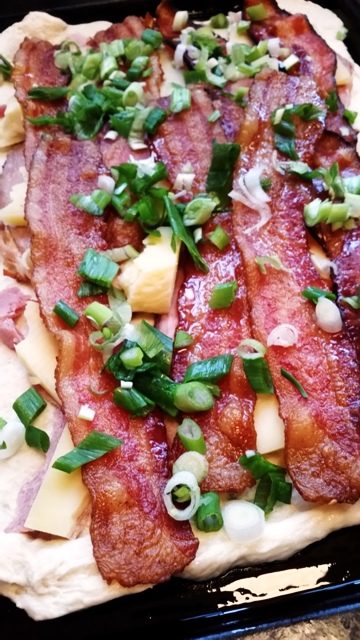 Roll out the dough with your fingers. Place the ingredients on the dough. Roll it up.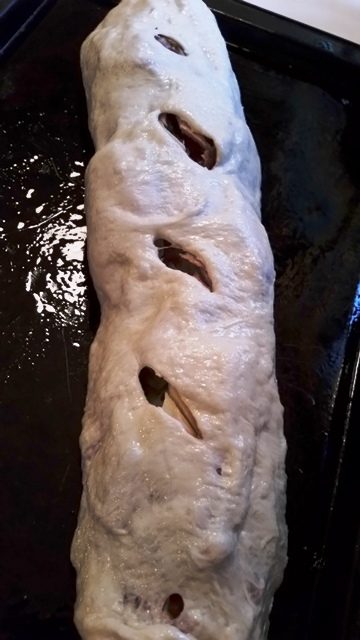 Place 4 slices on the dough with a knife to let out the steam.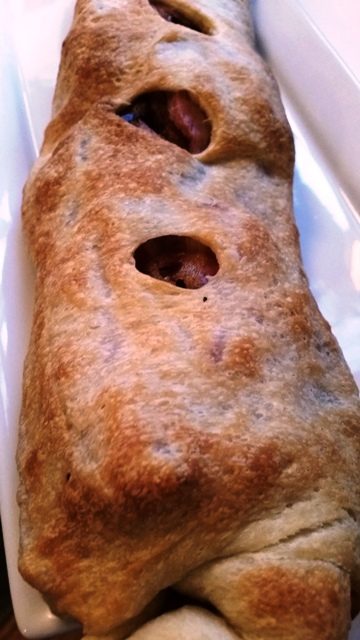 Bake until golden brown. Slice and serve.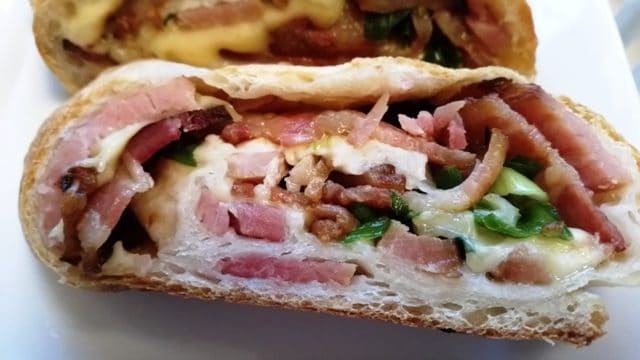 There was enough for 2 slices if everyone wanted seconds, and you better believe they did! The kids liked drizzling a bit of mustard on theirs. I liked mine just the way it was, so delicious! Drizzle some olive oil on a baking sheet, roll out the refrigerated dough.
Layer the ham, swiss cheese, crispy bacon, and green onions. Roll up the stromboli jelly roll style. Seal and tuck the ends in underneath. Make slits in the dough, so that the steam can be released. Bake until golden brown. Serve warm.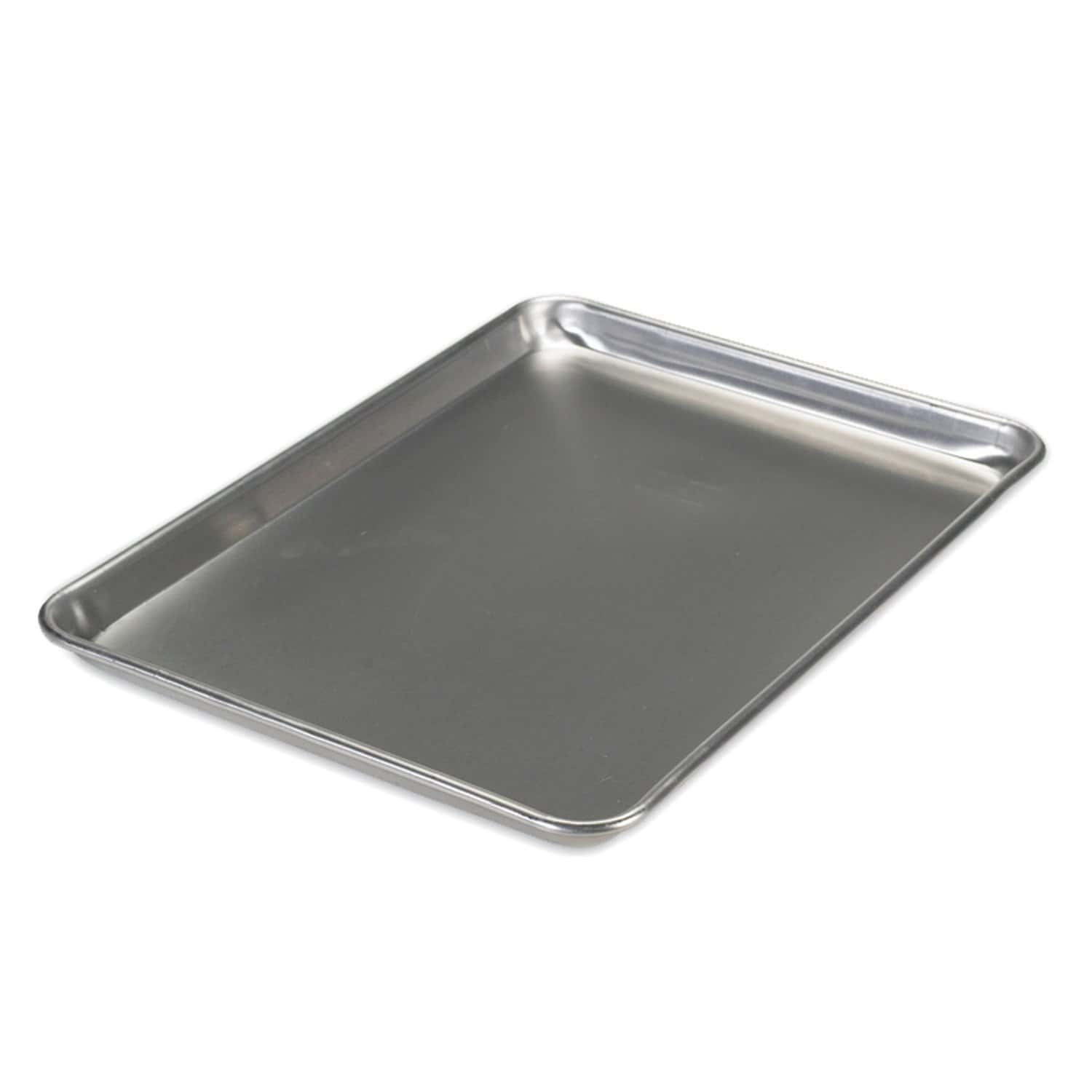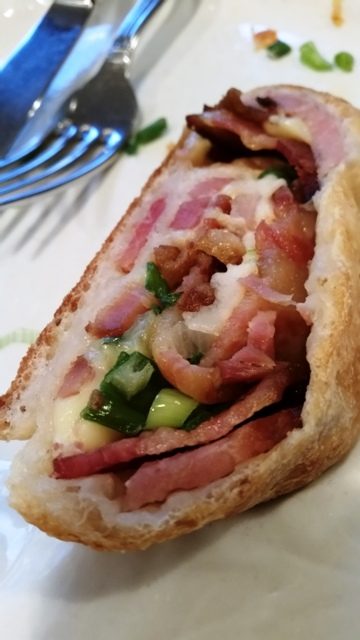 Nettie is a wife and mother who is passionate about cooking and baking… especially when easy meals are involved! With 5 children, Nettie insists that all meals, snacks, and desserts come together quickly! You will find a wide variety of easy yet scrumptious recipes on her very popular website Moore or Less Cooking
Follow Mooreorlesscooking on FACEBOOK | TWITTER | GOOGLE+ | PINTEREST | BLOGLOVIN |INSTAGRAM|
Check out how easy it is to make this Cheesy Ham Stromboli! Please watch my video!
Loaded Cheesy Ham Stromboli
Author:
Prep time:
Cook time:
Total time:
This easy loaded Stromboli is filled with ham, cheese, bacon and green onions. Perfect for a busy schedule for dinner time!
Ingredients
1 tube (11 ounces) refrigerated crusty French loaf
6 ounces baked ham, thinly sliced
8 bacon strips, cooked until brown and crispy
1-1/2 cups (6 ounces) slices of Swiss cheese
Instructions
Preheat oven to 350°.
Unroll dough into a rectangle on a greased baking sheet.
Place sliced ham over dough leaving ½ inch of edges of the dough.
Sprinkle evenly with green onions, bacon, and cheese.
Roll up jelly-roll style, starting with the long side.
Pinch seam to seal and tuck the ends under.
Place seam side down on baking sheet.
With a sharp knife, cut several deep slits on top of french loaf dough.
Bake 20-30 minutes or until golden brown.
Cool slightly before slicing.
Serve warm.

Pin It:
Recipe Adapted from The Girl Who Ate Everything
Nettie is a wife and mother who is passionate about cooking and baking… especially when easy meals are involved! With 5 children, Nettie insists that all meals, snacks, and desserts come together quickly! You will find a wide variety of easy yet scrumptious recipes on her very popular website
Moore or Less Cooking