Delicious No-Bake Rocky Road Avalanche Bars require 7 ingredients and can be made in under 25 minutes!
We had our annual Halloween Pumpkin Carving party and I thought that these no bakes would be great for our get together.
The kids had fun putting them together. When the pumpkins are finished being carved these treats are ready. They were a hit! Chocolate, Peanut Butter, Rice Cereal and Mini Marshmallows! What more could you ask for in a No Bake Bar?!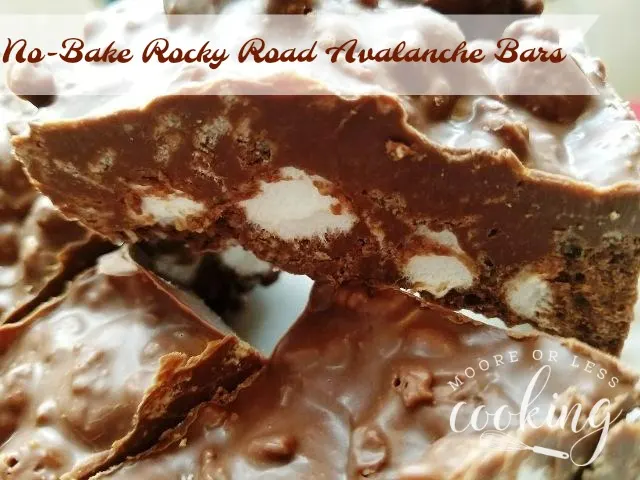 Donna and Chad Elick are the creators of The Slow Roasted Italian and authors of The Simple Kitchen Cookbook. I met Donna and Chad on Facebook when I first started blogging in 2011. Wow, I can't believe it's been 6 years! I love their recipes and Facebook page. I am so excited about their cookbook! Get your copy here.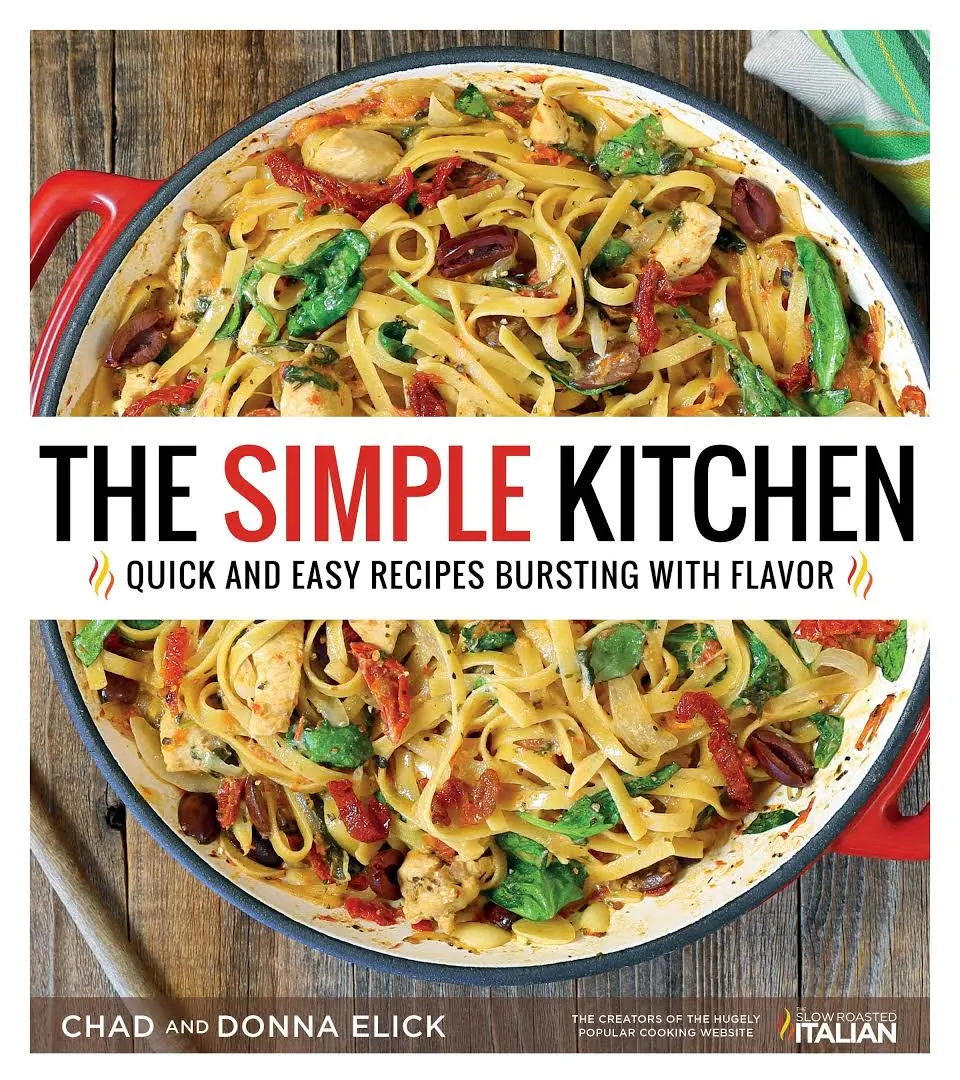 The Simple Kitchen cookbook is the perfect answer to the question, "what's for dinner?" with incredible recipes for everyday meals.
This cookbook is a life saver! More than 80 delicious recipes that come together in no time, that the whole family will love.
You will find Slow Cooked Meals, 30-Minute Meals, One Pot Meals, Easy Appetizers and scrumptious desserts.
Recipes include Fiesta Chicken Street Tacos, Meatball Parmesan Skillet, Slow Cooker Sweet and Spicy Barbecue Wings, Garlic-Parmesan Smashed Potatoes, Overnight Cinnamon Rolls and many more.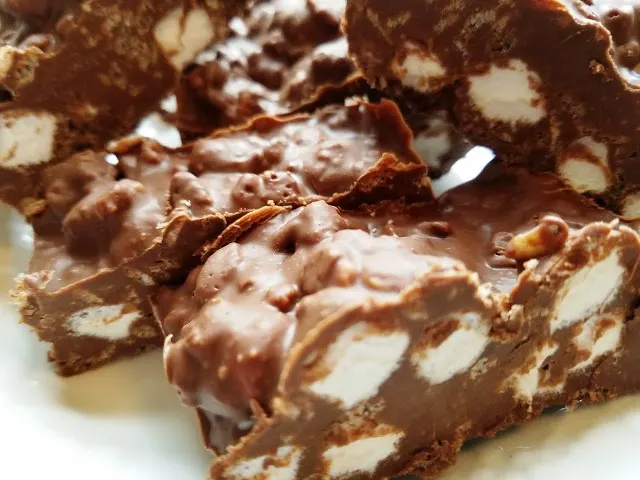 These No-Bake Rocky Road Avalanche Bars will be a hit with your whole family!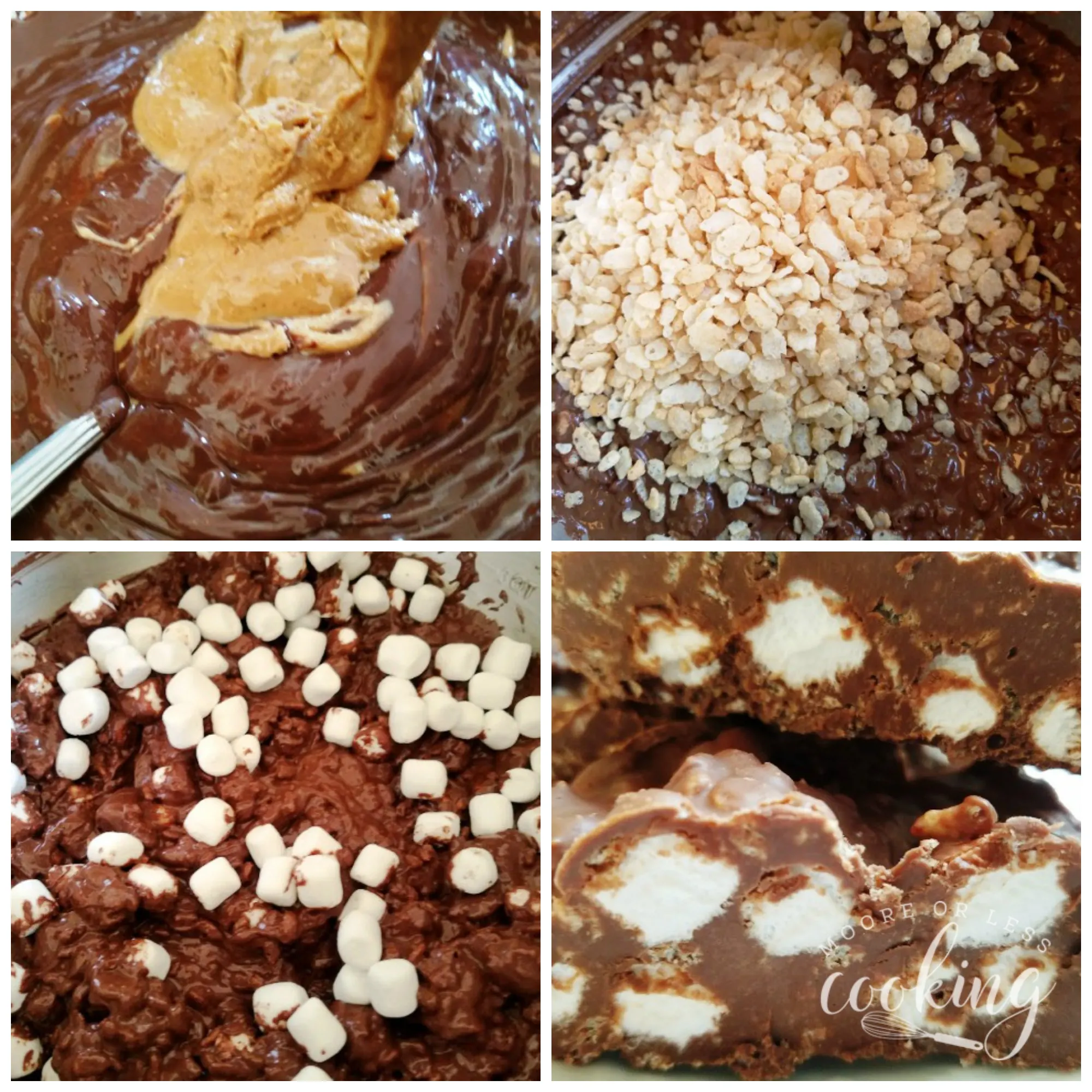 PIN IT:

Moore No-Bake Recipes: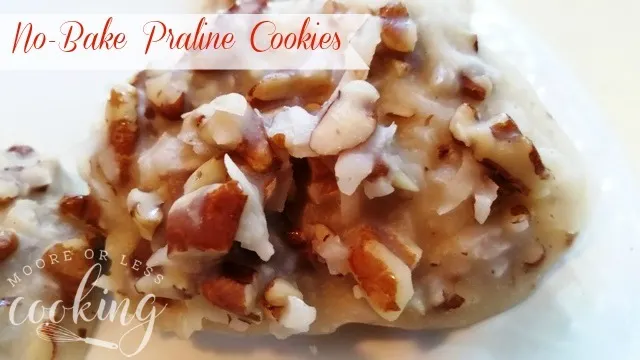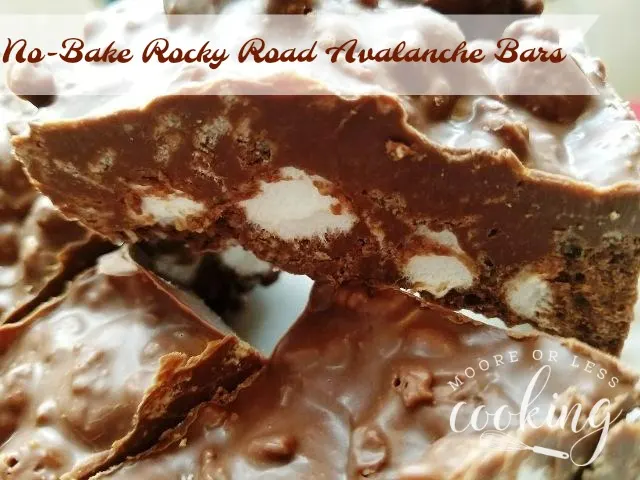 Yield:

24
No-Bake Rocky Road Avalanche Bars
Chocolate, Peanut Butter and Marshmallow No-Bake Bars!
Ingredients
1 pound chocolate flavored candy coating (Candiquik)
2 cups semisweet chocolate chips
4 ounce German's sweet chocolate bar, broken in chunks
1 jar super chunky peanut butter
3 cups crispy rice cereal
3 cups mini marshmallows
1/2 teaspoon salt
Instructions
Line a 9 x 13 inch baking pan with parchment paper.
in a microwave safe bowl, add all of the chocolate. Place in microwave. Heat at half power for 30 seconds at a time until heated and completely melted and smooth, stir after each interval.
Add peanut butter to the warm chocolate until melted and smooth.
Add marshmallows, rice cereal and salt, stir to combine.
Pour mixture into baking pan.
Place in freezer for 20 minutes. After solid, cut into bars.
Makes 24 pieces
Nettie Moore is a wife and mother who is passionate about cooking and baking… especially when easy meals are involved! With 5 children, Nettie insists that all meals, snacks, and desserts come together quickly! You will find a wide variety of easy yet scrumptious recipes on her very popular website Moore or Less Cooking
FACEBOOK | TWITTER | GOOGLE+ | PINTEREST | BLOGLOVIN |INSTAGRAM|