This shop has been compensated by Collective Bias, Inc. and its advertiser. All opinions are mine alone. #GetGrillingAmerica #CollectiveBias
Lip smackin', finger lickin', tender on the bone Pineapple Sweet Ribs. These meaty ribs are so moist and delectable. Wonderfully addictive ribs with a simple rub and flavorful glaze.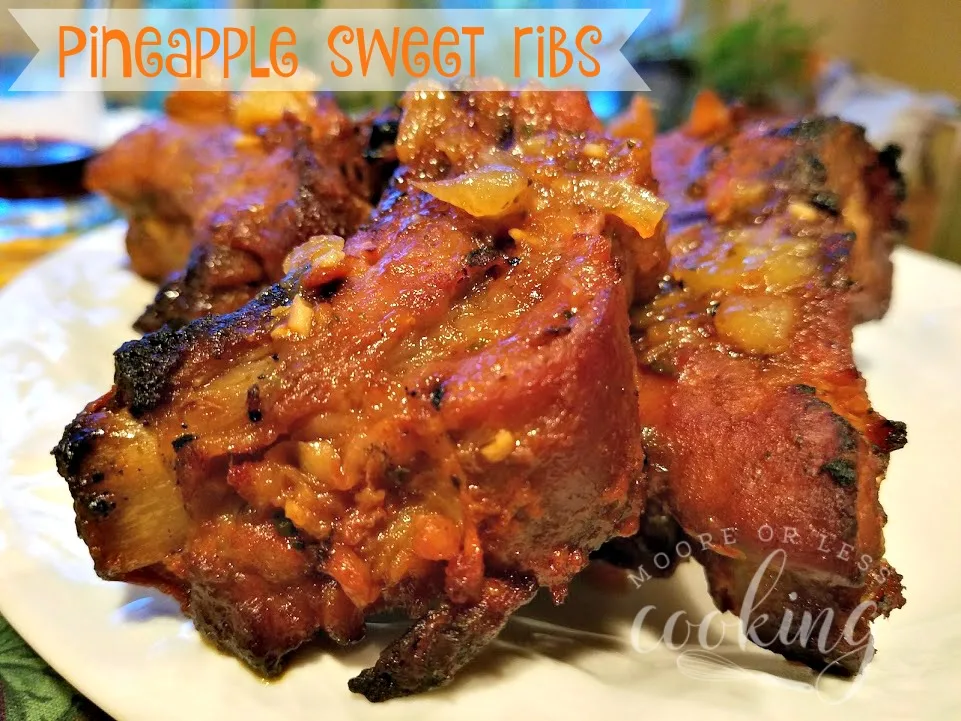 I can't believe how delicious these ribs turned out! My mouth is watering just looking at these Pineapple Sweet Ribs. They are cooked over a charcoal grill, bringing out an incredible flavor. There is no reason to be intimidated, it's so easy to grill ribs! Smithfield Extra Tender Ribs is my secret weapon to perfect ribs every time.
We have gone from spring to full Summer weather with much warmer temps than usual. It's supposed to be in the 80's today! The unofficial start to Summer is almost here, Memorial Day is right around the corner. It's time to get your grill ready for summer parties.
My favorite tips and techniques for grilling ribs:
Use very good charcoal such as Kingsford Charcoal. Stack the coals on one side of the grill in a pyramid style, keep the other side empty.
Add apple wood chips to charcoal for a delicious smoky flavor, soak wood chips in water for 15 mins before adding to charcoal.
When choosing ribs to grill, choose Smithfield Ribs. They are hand-trimmed, extra tender, and juicy. Plus Smithfield Fresh Pork does not add hormones or steroids.
Make a simple rub and sauce for the ribs.
Make sure to keep your charcoal temperature at 250-300 degrees.
No matter what your level of expertise is, you can grill great ribs!
It makes me happy that I can get quality meat right in my local Walmart meat case.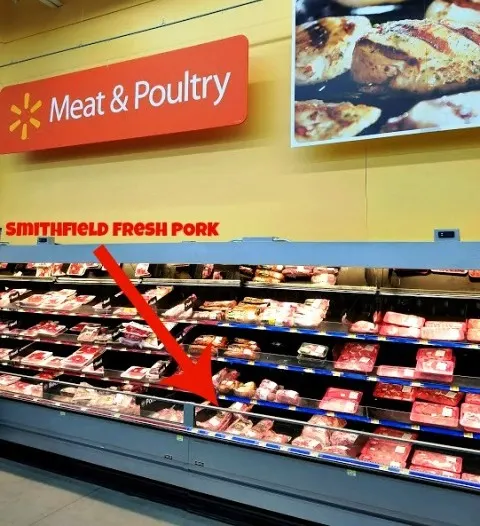 Smithfield Fresh Pork Ribs are hand-trimmed, extra tender and juicy.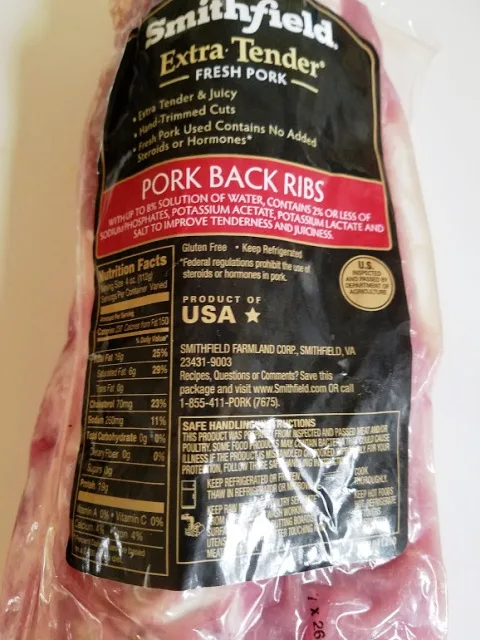 Make sure to visit Smithfield's Get Grilling America ! YOU CAN WIN $5,000 cash plus multiple prizes throughout the summer!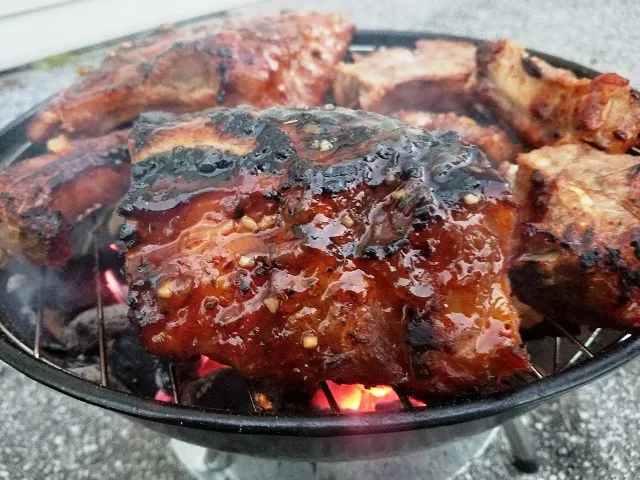 Smithfield Extra Tender fresh pork is more tender and juicy, so no matter what the level of experience you have in the kitchen or on the grill, their pork is sure to impress.
How to make Pineapple Sweet Ribs: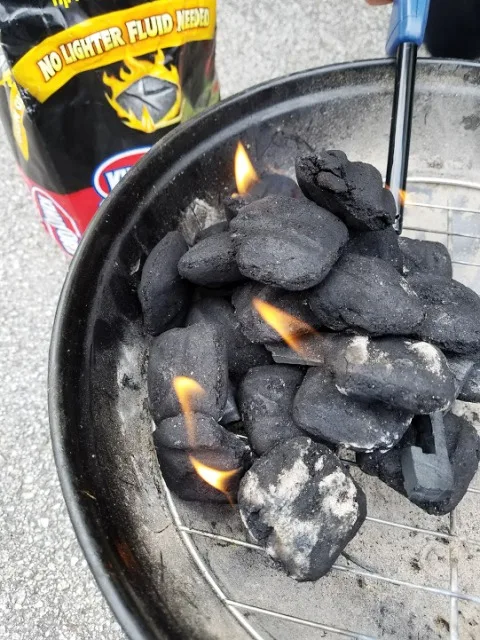 Build a fire ( a combination of charcoal and wood) for indirect cooking by situating the coals on only one side of the grill, leaving the other side void. When the coals register 250 degrees, place the ribs meat side up on the grill over the empty space. Close the cover, and cook with the indirect heat for 2 1/2 hours, adding coals as needed to maintain 250 degrees.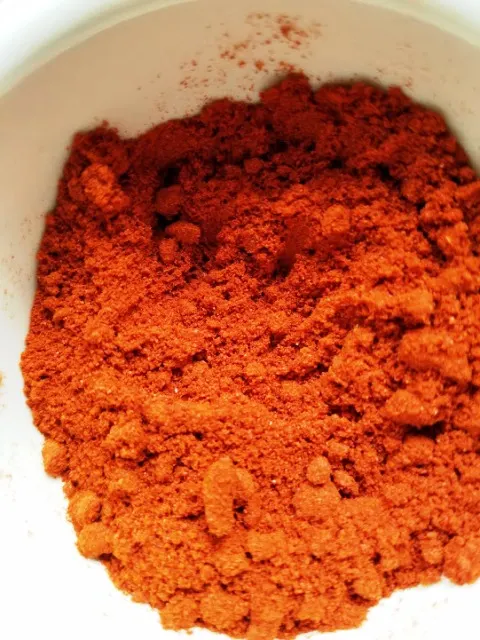 Rub Sweet Smoked Paprika all over the ribs.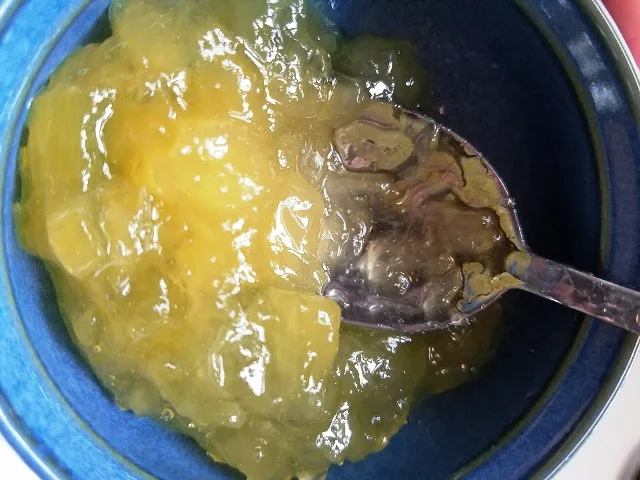 Then rub Pineapple Preserves all over the ribs, front and back.
Place the rubbed ribs on the grill at a temperature of 250°F degrees. Smoke the ribs at 225°F to 250°F for 2 1/2 hours.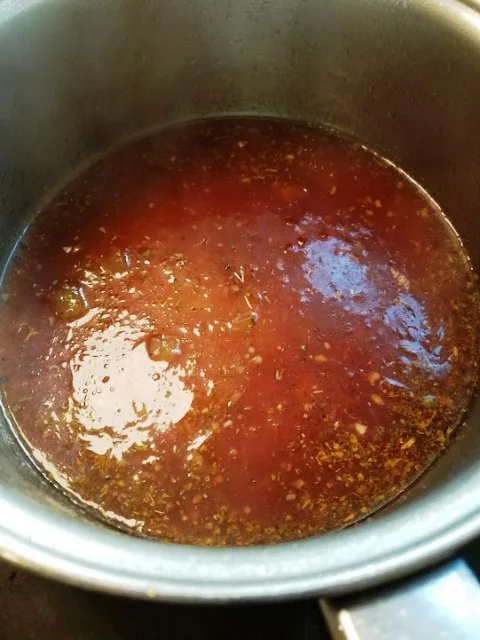 While the ribs are cooking, make the pineapple glaze in a saucepan over the stove.
After ribs have reached an internal temperature of 210 degrees F, add Pineapple Glaze with a silicone brush.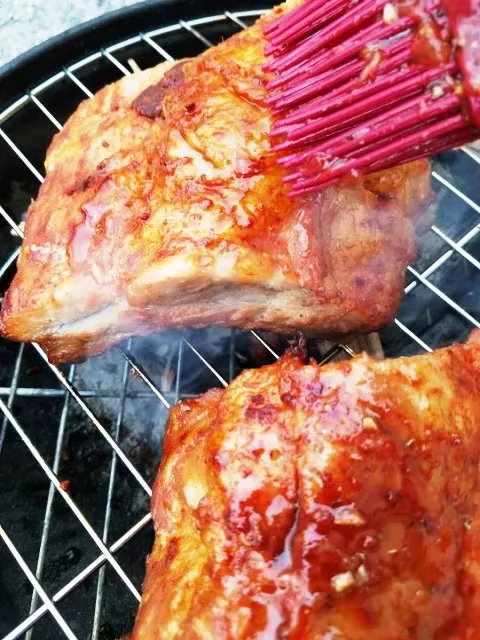 Allow cooking on the grill for another 30 minutes. The pineapple glaze caramelizes into a crusty brown finish.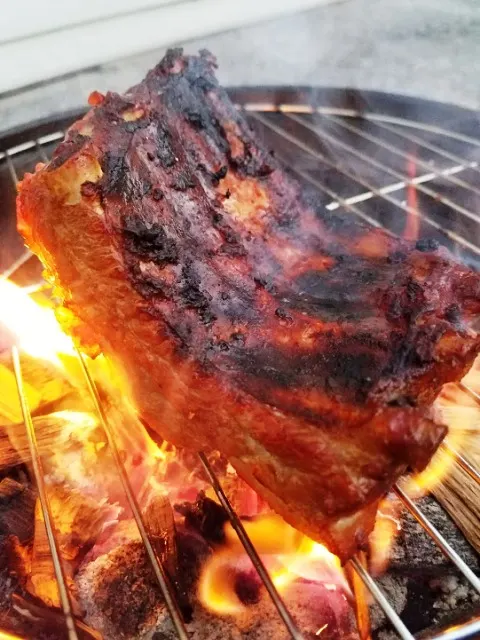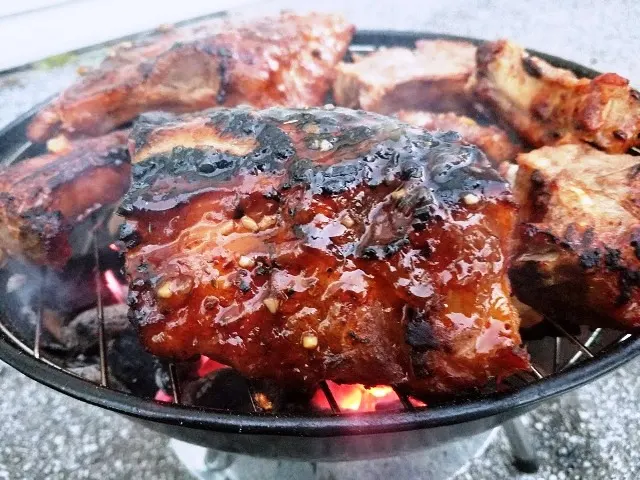 The flavor is amazing! Juicy and saucy!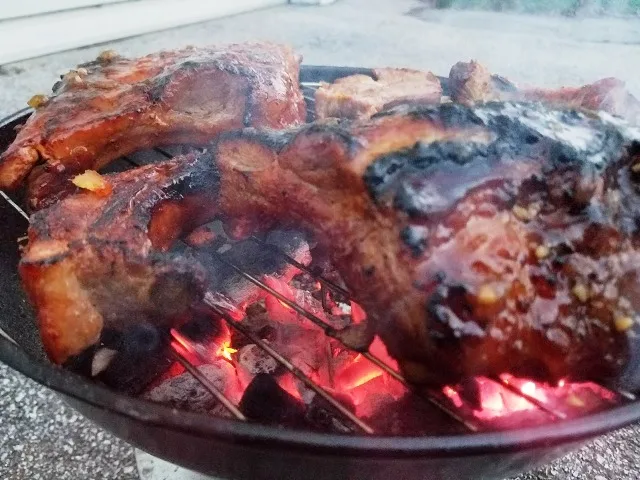 Allow the ribs to brown, keep an eye on the ribs so that they don't catch on fire. Turning as needed. Keep the lid off.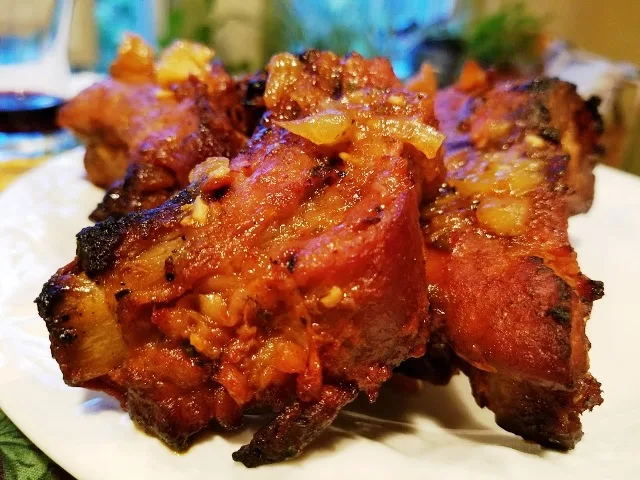 Enjoy these scrumptious meaty ribs!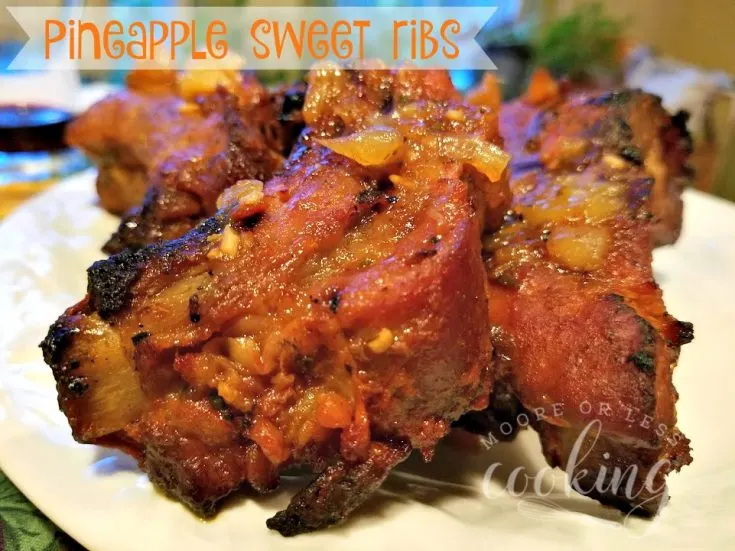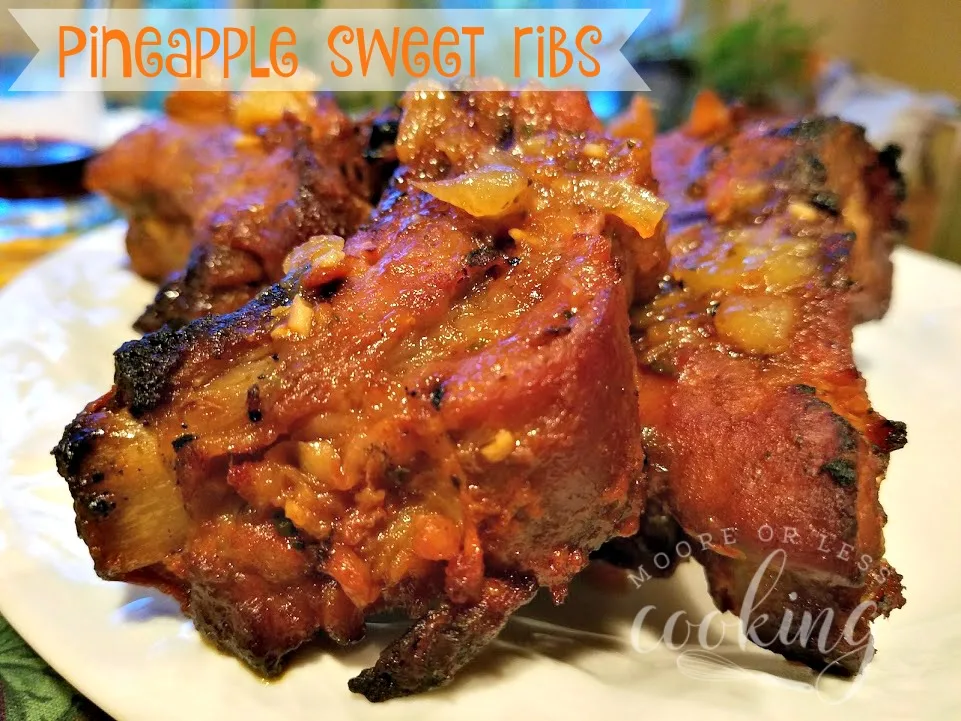 Yield:

serves 4
Pineapple Sweet Ribs
Total Time:
3 hours
15 minutes
Lip smackin', finger lickin', tender on the bone Pineapple Sweet Ribs. The meatiest ribs that are so moist and delectable. These ribs are wonderfully addictive with a simple rub and flavorful glaze.
Ingredients
1 Smithfield pork rib rack, total weight about 3.5 lbs
RUB:
1/4 cup smoked paprika
1/4 cup pineapple jam
Sauce:
1 tbsp Olive Oil
1 teaspoon garlic, minced
1/4 cup ketchup
1/4 cup brown sugar
1/4 cup apple cider vinegar
1/2 cup pineapple juice
1/2 tsp oregano
2/3 cup pineapple jam
Instructions
Prepare the ribs and rub: Remove the thin, papery skin from the back of the rack of ribs by pulling it off in a sheet with your fingers and a butter knife.
Rub paprika all over ribs, front and back. Rub jam all over ribs.
Set up the grill for indirect grilling and place a large drip pan in the center.
If using a gas grill, place all of the wood chips in the smoker box and preheat the grill to high; when smoke appears, reduce the heat to medium.
If using a charcoal grill, preheat it to medium.
When ready to cook, if using a charcoal grill, toss the wood chips on the coals. Brush and oil the grill grate. Arrange the ribs on the hot grate over the drip pan. Cover the grill and smoke cook the ribs for 2 1/2 hours.
While the ribs are cooking, make the sauce in a saucepan. In a saucepan, heat the oil on medium.
Add the garlic until softened.
Add the remaining sauce ingredients to the pot and combine with a whisk.
Increase the heat and bring the sauce to a boil.
Once the sauce has boiled for a couple minutes and is bubbling, lower the heat and let it reduce.
Make sure to stir the sauce a few times.
When the ribs have cooked for an hour, uncover the grill and brush the ribs with the sauce (if using). Re-cover the grill and continue cooking the ribs until tender and almost done, 1/4 to 1/2 hour longer for baby back ribs, 1/2 to 1 hour longer for spareribs. The ribs are done when the meat is very tender and has shrunk back from the ends of the bones. If using a charcoal grill, you'll need to add 10 to 12 fresh coals to each side after 1 hour. Fifteen to twenty minutes before the ribs are done, brush sauce over ribs.
To serve, cut the racks in half or, for a plate-burying effect, just leave them whole. Ribs can be individually sliced, flip rack over to the bone side and with a sharp knife cut between the ribs. Serve immediately. To reheat, place ribs in foil, place in oven at 350 degrees F for 20 mins.
PIN IT FOR LATER:

Be a Grill Master in your own home. Check out how World Champion Grillmaster Tuffy Stone makes his ribs with a Tomato Chipotle Glaze!
If you don't know about Tuffy Stone, he is a classically-trained French chef, television personality, and accomplished pitmaster. He has been a judge and host on the Destination America reality television show BBQ Pitmasters since 2009.
Tuffy founded the "Cool Smoke" professional barbecue team and co-owns four Q Barbeque restaurants and Rancho T restaurant in Richmond, Va.
He has earned the Grand Champion titles in nearly every major barbecue competition including the American Royal World Series of Barbecue (2013 & 2014), Jack Daniel's World Championship Invitational Barbecue (2013 & 2015), and the Kingsford Invitational (2015).
For more information about Smithfield®: Facebook, Twitter, Pinterest, Instagram, YouTube and Smithfield website
Nettie Moore is the cook, baker, photographer and designer behind Moore or Less Cooking Food Blog. Nettie is a self- trained cook and baker. She loves creating easy recipes that don't call for a lot of unknown ingredients. Nettie's Blueberry Skillet Cake has been featured in Taste Of Home Magazine and her Peach Raspberry Pie has won awards! She was born and raised in Southern California and now lives with her artist husband. Follow Nettie on her blog, Moore or Less Cooking, or on FACEBOOK | TWITTER | GOOGLE+ | PINTEREST | BLOGLOVIN |INSTAGRAM|