This is a sponsored post written by me on behalf of Shaw's Supermarkets. All opinions are my own as always.
I am always looking for deals and coupons for my favorite items when I shop at the grocery store. So, I would like to share with you my experience with shopping at Shaw's Supermarkets and the wonderful savings they have to offer.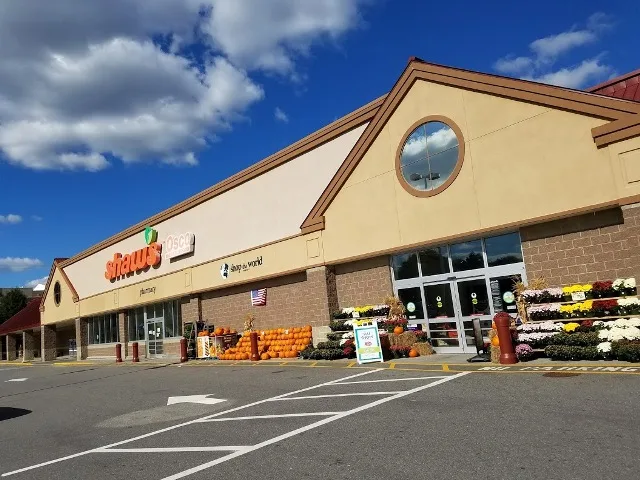 First, I downloaded the Shaw's Supermarkets app on my phone and was excited to see right away, a coupon for $5 off purchases of $50. I usually spend around $75- $100 a week for the two of us on groceries per week, so this was a great way to start off. I pick up sale things for my kids who are in college. With this savings tool you will find:
Shopping List (great reminder once you get to the market, shows your savings.)
Store Locator
Coupons (there are so many that I clicked on, great savings and so simple to use!)
Recipes (Very helpful when you are in a rut and want to try something or just a reminder for when you are at the market and don't want to forget your ingredients.)
Pharmacy (I like to do one stop shopping, helpful that I can pick up my prescriptions while I grocery shop)
Weekly ad (check out what the specials are before you go)
Gas rewards (this is always a perk, gas prices are going up)
I am going to share my haul with you from the Stock Up Sale at Shaw's Supermarkets. I stocked up my pantry with my favorite items.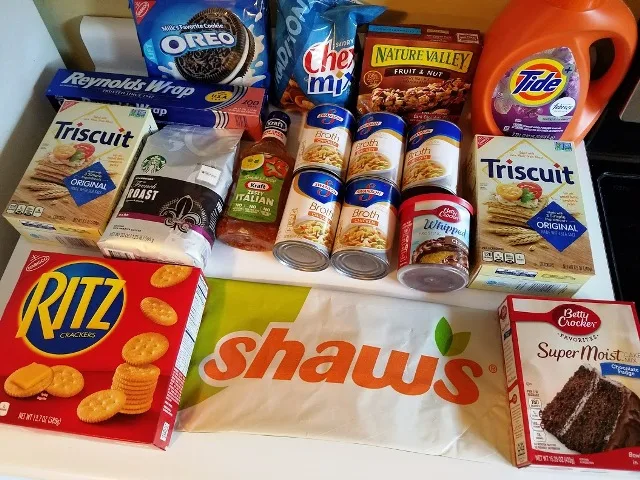 I created a fun and delicious dessert to bring to my daughter who is in college. I wanted to bake her something that was easy to transport in the car. Since I didn't have a lot of time, I chose making an Easy Chocolate Butterscotch Bar with a Betty Crocker™ cake mix from the Stock Up Sale.
I really like this dessert because I only need 5 ingredients and it is done in 20 minutes! Perfect for a busy schedule. What you need for this recipe: eggs, butter, semi-sweet chocolate chips, butterscotch chips, Betty Crocker Super Moist Butter Cake Mix. A cake pan, vegetable cooking spray, and a stand mixer. That's it!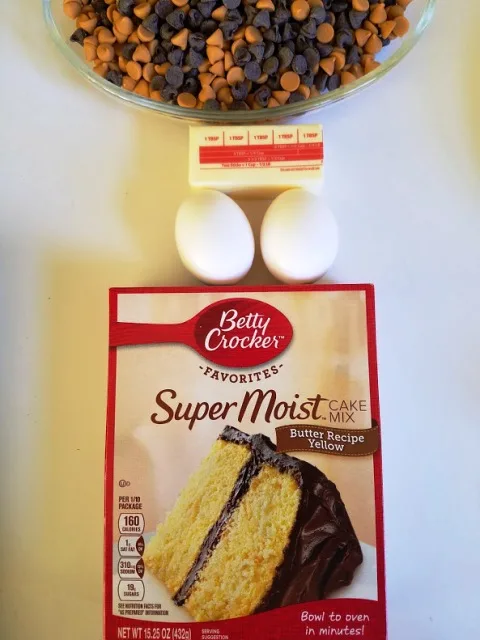 Batter is thick, so use a stand mixer. Combine cake mix, melted butter and beaten eggs.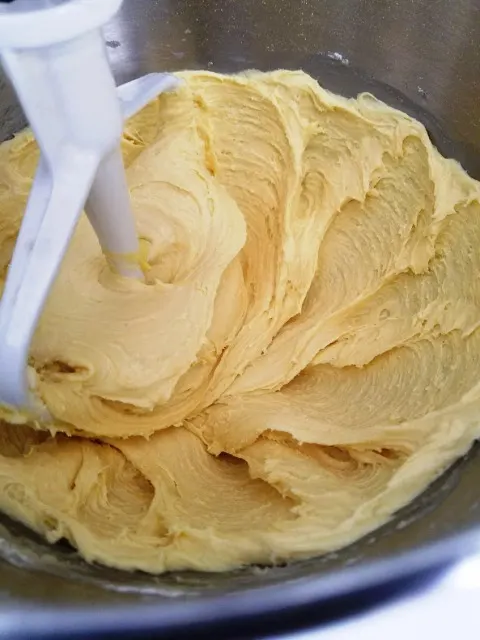 Mix in chocolate and butterscotch chips with a spatula.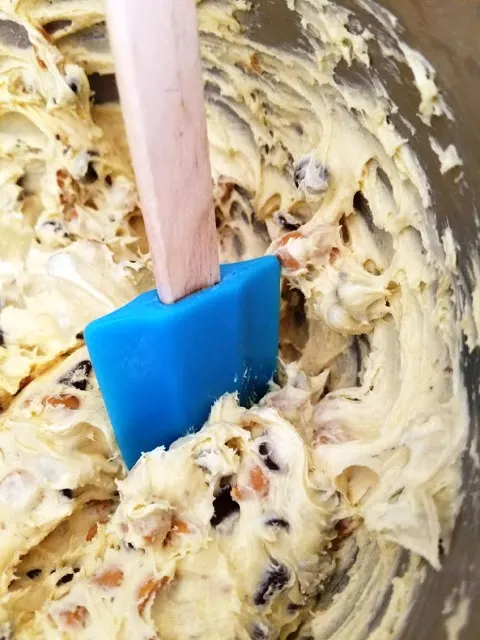 I like to spray my hands with Vegetable spray to smooth out batter. The batter is sticky and thick.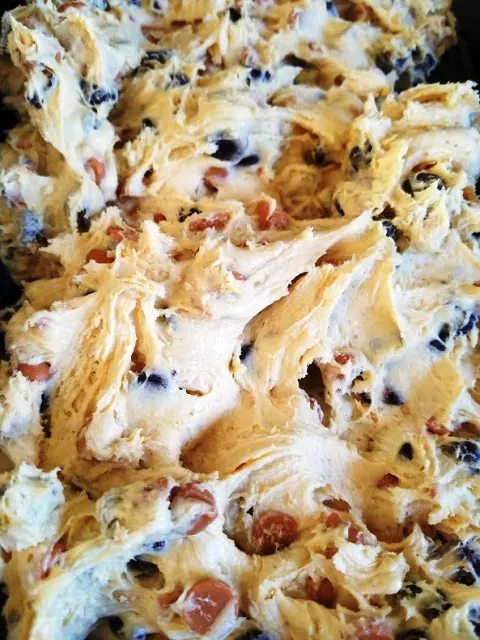 Bake until golden brown.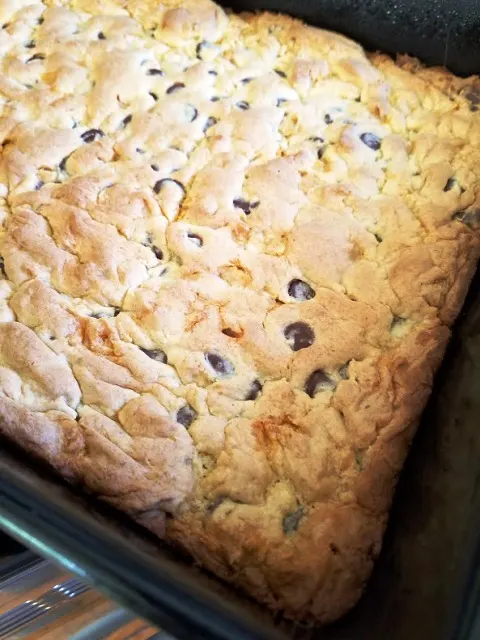 Let cool on a baking rack.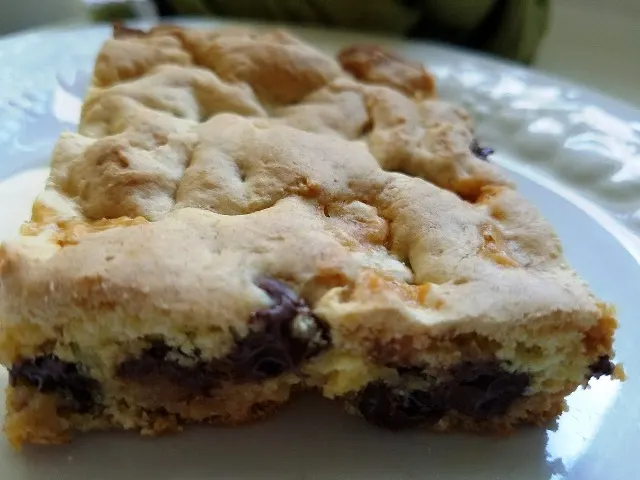 So easy and chocolate chips are ooey gooey! Win!!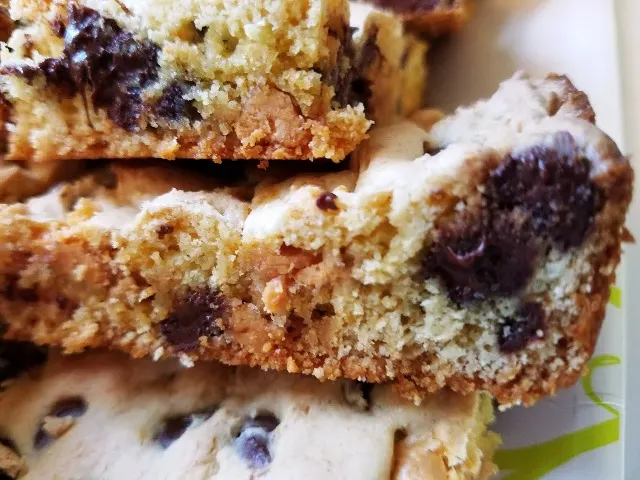 I stacked them up and presented them on a pretty fall plate and off we went to deliver them to our college girl. Perfect to share with her friends!
Shopping at Shaw's Supermarkets during the Stock Up Sale means I can get all my favorite staples from General Mills, Coca-Cola, Kraft and Nabisco at a great value. I love my recyclable bag from Shaw's Supermarkets! It says, "Use me, re-use me, but don't lose me." Very clever!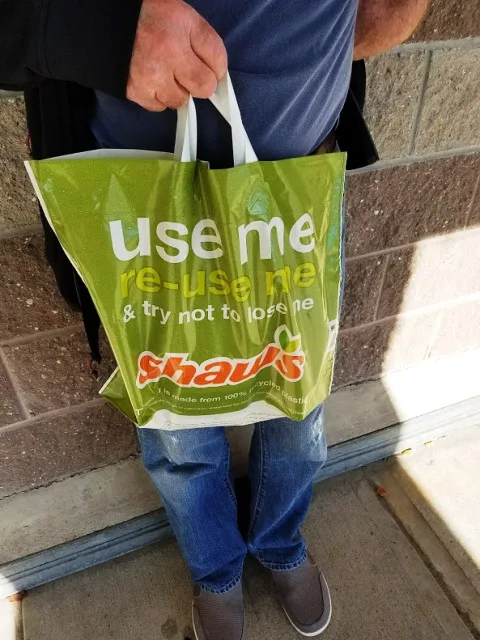 I find all of these great products at my local Shaw's Supermarkets – be sure to check out these great products at your local Albertsons Companies grocery stores including Albertsons, Safeway, ACME Markets, Jewel-Osco, Vons, Pavilions, Randalls, Tom Thumb, Star Market, United Express, United and Carrs/Safeway.
Shaw's Supermarkets is giving away groceries for a year to one lucky winner. Between 10/4-10/19, show them how you how you stock up your pantry and share a photo of how you've loaded up with your favorite items, including those below, from #StockUpSale2017. Entry is as easy as 1-2- 3:
o Take a photo featuring two or more of the participating Stock Up Sale
products below
o Use #StockUpSale2017 in your caption and complete entry form
For official rules and details, visit Shaw's Supermarkets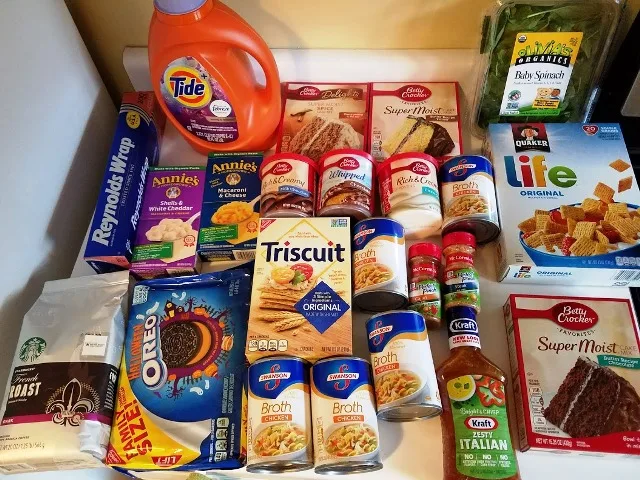 Please find below all Participating products:
o Honey Nut Cheerios™
o Cheerios™ 8.90oz.
o Cinnamon Toast Crunch™ 12.20oz.
o Progresso™ Traditional, Rich & Hearty, Reduced Sodium, Light Soup, Vegetable
Classic, selected varieties 18-19oz
o Nature Valley™ Granola Bars 7.44oz-8.44oz
o Yoplait® Traditional Yogurt, 4-6oz, selected varieties
o Oui™ by Yoplait® Strawberry French Style Yogurt 5oz.
o Annie's™ Natural Mac & Cheese 6oz; selected varieties
o Old El Paso™ Shells
o Totino's™ Pizza Rolls 15ct, Totino Party Pizza 9.8-10.4oz, selected varieties
o Betty Crocker™ Hamburger Helpers, 4.7-8.7oz, selected varieties
o Betty Crocker™ Fruit Snacks, 4.5-8oz, selected varieties
o Chex Mix™ 8-8.75oz, selected varieties
o Betty Crocker™ Super Moist™ Cake Mix, 15.25 – 16.25oz., select varieties
o Betty Crocker™ Whipped Frosting, Milk Chocolate 12oz.
o Betty Crocker™ Brownie Mix, Chocolate 18.40oz.
o Pillsbury™ Apple Toaster Strudel™, 6ct., 11.70oz.
o Coca-Cola Mini Cans
o Dasani Sparkling Black Cherry
o Classico Tomato Basil
o Heinz Ketchup
o OREO 14.3 oz.
o Ritz 13.7 oz.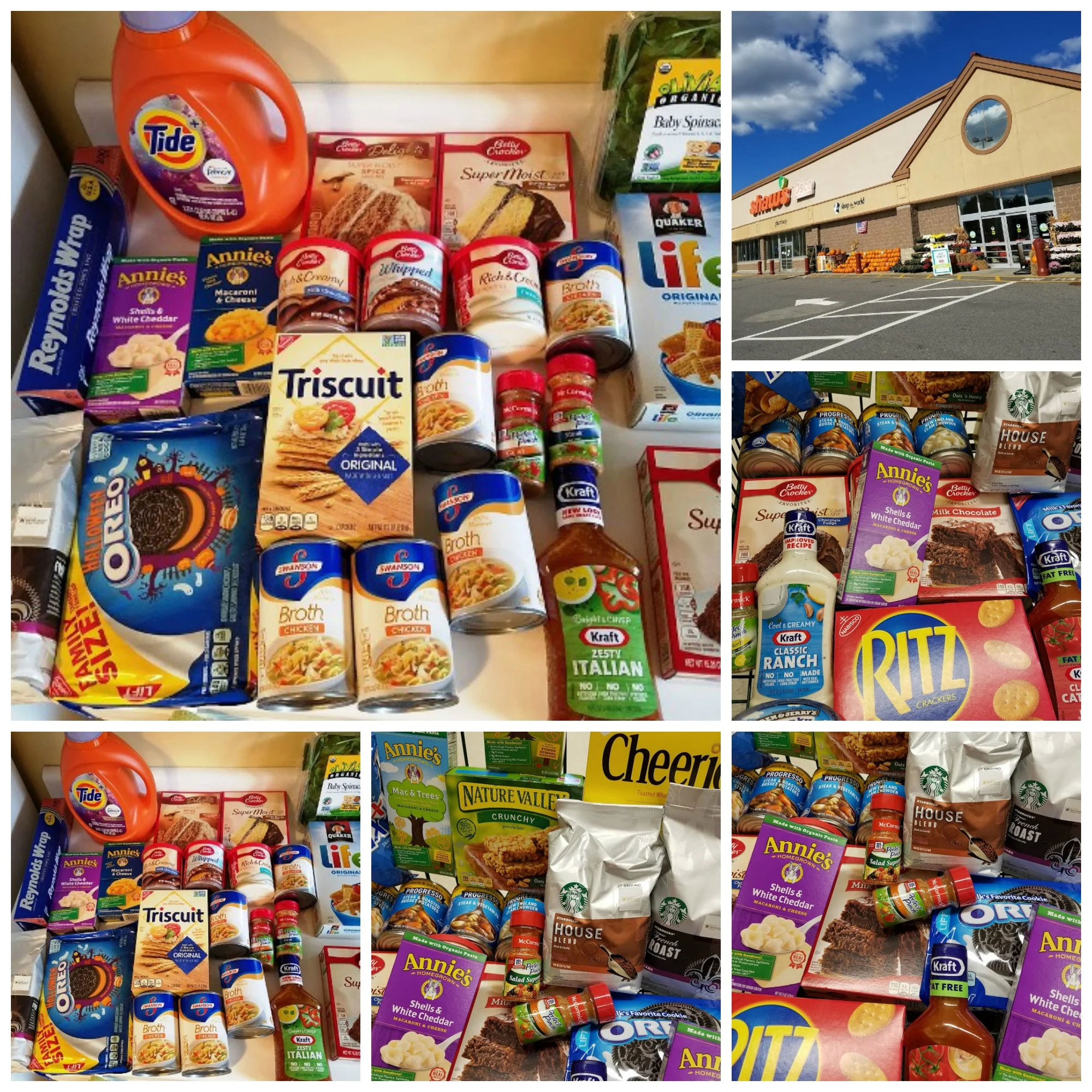 PIN IT:


Yield:

12
Easy Chocolate Butterscotch Bars
Only 5 ingredients needed for this Easy Chocolate Butterscotch bar. Make it in under 30 minutes!
Ingredients
1 box Betty Crocker Butter Cake Mix
2 eggs beaten
5 Tbsp Butter Melted
6 ounces semi-sweet chocolate chips
6 ounces Butterscotch chips
Instructions
Preheat oven to 350F degrees.
Spray a 9 x 13 baking dish with nonstick cooking spray.
In the mixing bowl, combine dry cake mix with melted butter and beaten eggs.
An electric or stand mixer makes this easier because batter will be very thick.
Stir in chocolate and butterscotch chips.
Spread the batter into greased baking dish.
Spray hands with nonstick cooking spray and then spread the batter around with your hands since the batter is very thick.
Spread out evenly.
Bake for about 20 minutes.
Cookie bars puff up as it is cooking.
Edges will be golden brown when done.
Let Cool.
Please remember to SHARE on FACEBOOK
and PIN IT!
Nettie Moore is the cook, baker, photographer, and designer behind Moore or Less Cooking Food Blog. Nettie is a self-trained cook and baker. She loves creating easy recipes that don't call for a lot of unknown ingredients. Nettie's Blueberry Skillet Cake has been featured in Taste Of Home Magazine and her Peach Raspberry Pie has won awards! She was born and raised in Southern California and now lives with her artist husband. Follow Nettie on her blog, Moore or Less Cooking, or on
FACEBOOK | TWITTER | GOOGLE+ | PINTEREST | BLOGLOVIN |INSTAGRAM|
This is a sponsored post written by me on behalf of Shaw's Supermarkets. All opinions are my own as always.