Peanut butter, chocolate, marshmallows, puffed rice, and white almond bark combine to make an irresistible no-bake sweet treat with this Slow Cooker Avalanche Cookies recipe, Crunchy, chewy, and packed with deliciousness, these cookies are perfect for the holidays and beyond.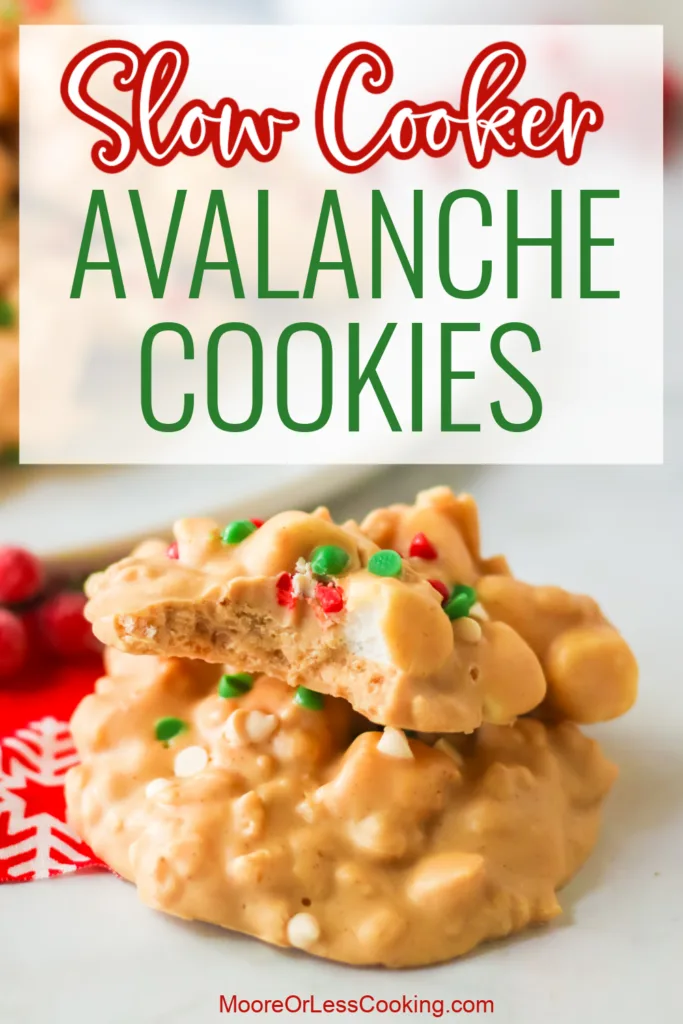 Super easy to make, you'll love these no-bake cookies that melt all those sweet and gooey ingredients into deliciousness right in your slow cooker. The almond bark and peanut butter are warmed to melted perfection before you stir in the puffed rice cereal and mini marshmallows. You'll scoop these scrumptious treats onto parchment paper and top them with mini chips. Let them cool into cookies and then devour them!
Why You'll Love This Recipe
minimal ingredients
no special baking, cooking, or decorating skills required
easy, no-bake dessert
perfect for cookie trays, exchanges, or gift-giving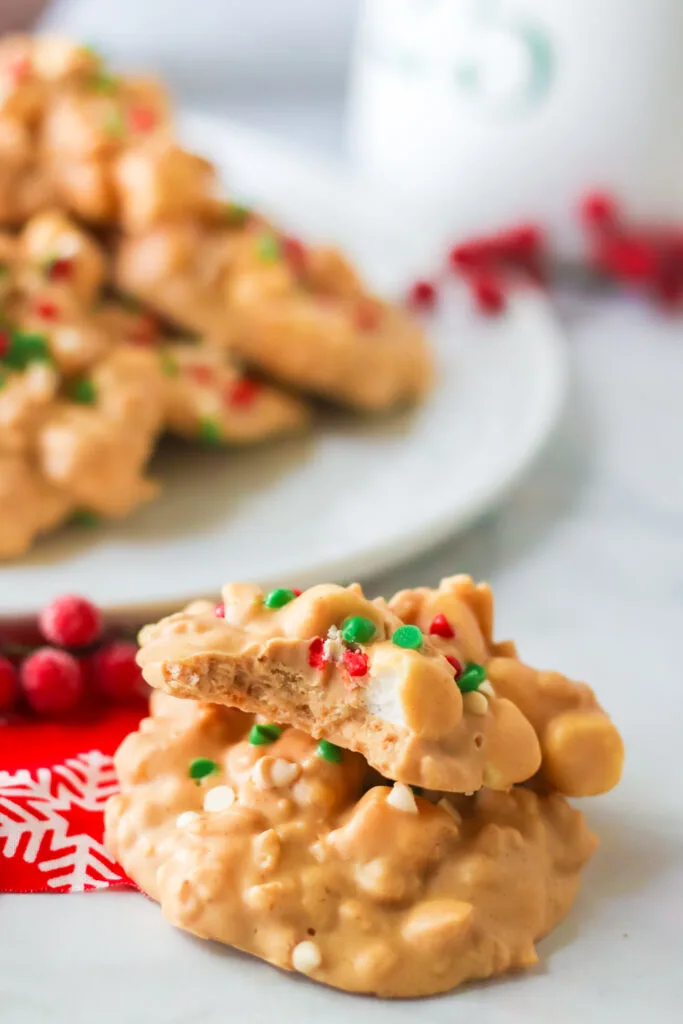 How To Make Avalanche Cookies
Step 1: Add almond bark and peanut butter to your slow cooker and set on low for 1 hour. Check on it every 20 minutes and give it a stir.
Step 2: Turn the slow cooker off, remove the lid and let the mixture cool for 15 minutes.
Step 3: Stir in the puffed rice cereal and the mini marshmallows.
Step 4: Use a large cookie scoop to form the cookies and scoop them onto a parchment-lined tray.
Step 5: Immediately top each one with a sprinkle of the mini chips.
Step 6: Let them cool and set up or place the tray in the fridge for 15 minutes to set.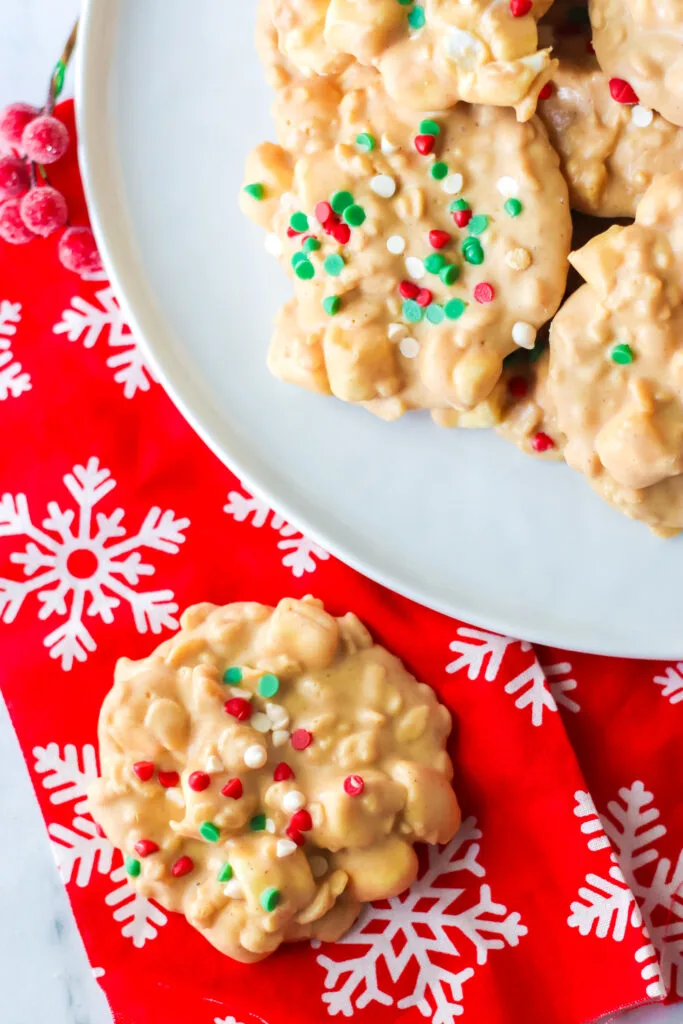 Tips
The mixture will be sticky, so use a rubber spatula when stirring the ingredients together.
Use a Silpat liner or wax or parchment paper to set the cookie on so they'll be easy to remove.
When adding garnishes to the top of the cookies, add them immediately to each as you scoop and set the cookie on the parchment paper. If you wait until you've scooped them all out, the first ones will have already been set up so the garnishes won't stick as well.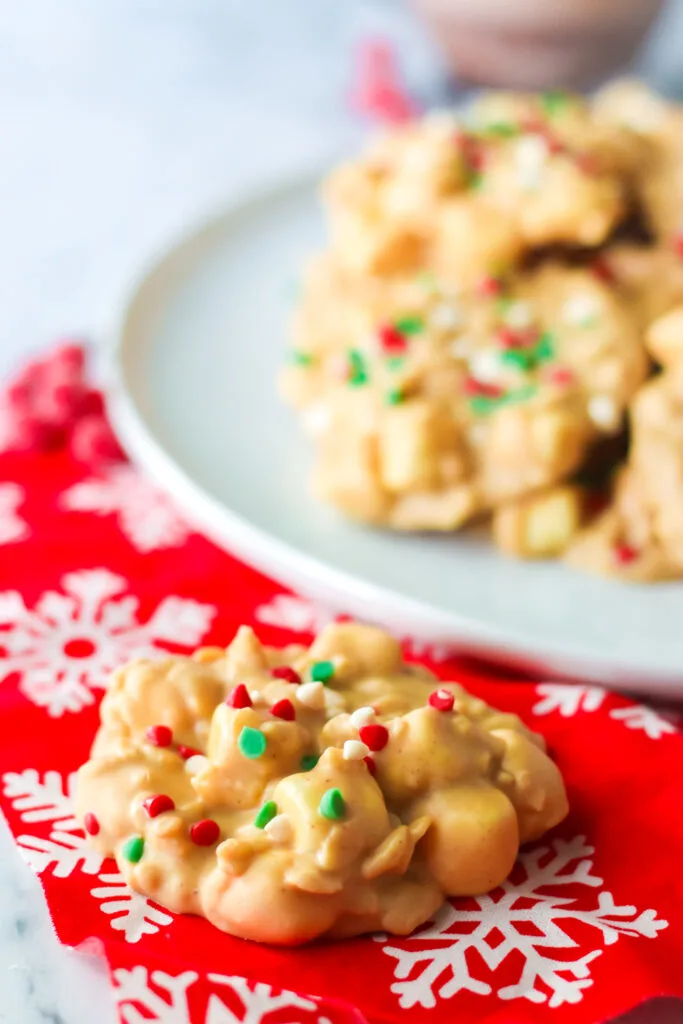 Can I Make These Without A Slow Cooker?
Yes, you can. You can use either the stovetop or the microwave.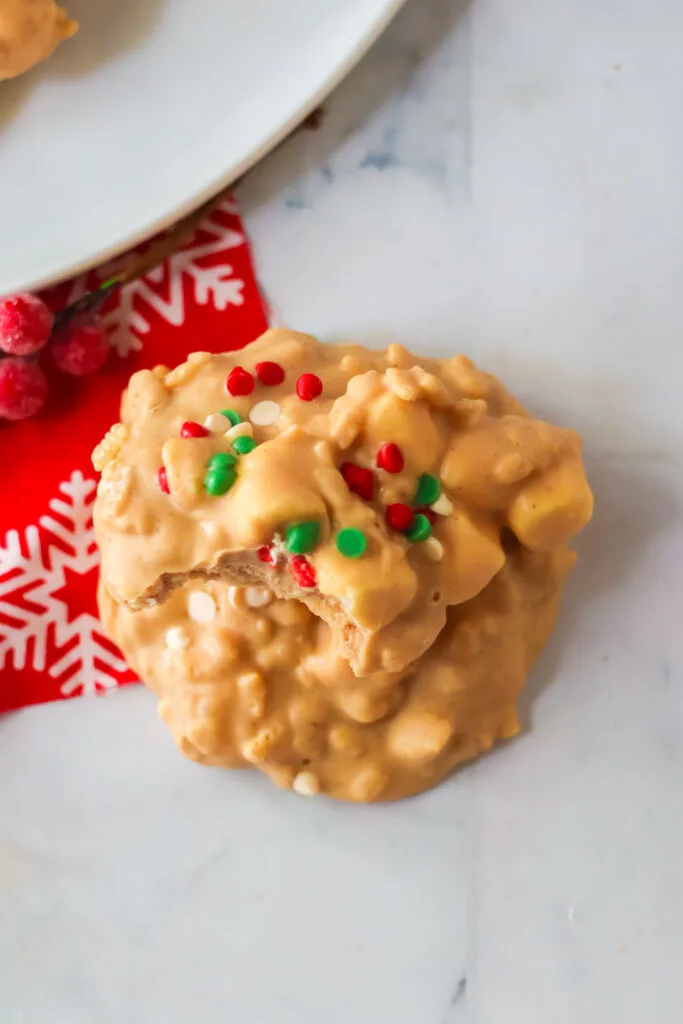 Stovetop Method
To a large saucepan, add the broken almond bark and peanut butter. Melt the two ingredients over medium heat, stirring to keep them from sticking. Once melted, remove from the heat and let the mixture cool for 10-15 minutes. Continue with the recipe as written.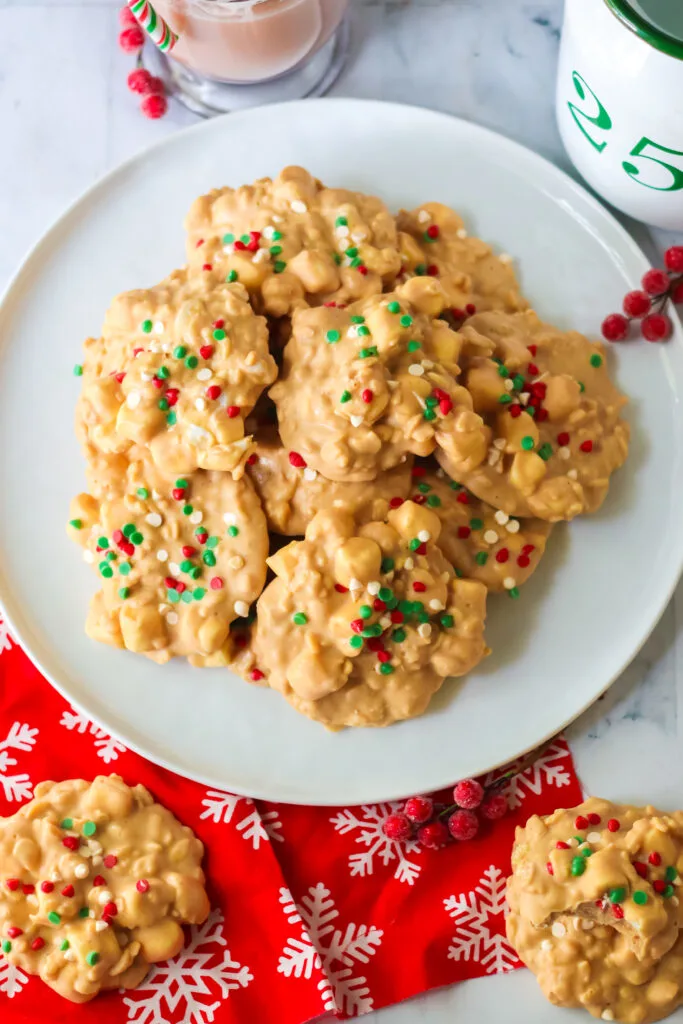 Microwave Method
Begin by placing only the broken almond bark in a large microwave-safe bowl. Melt in 30-second increments. Stir between each microwave interval until the bark is almost melted. Then, add the peanut butter for the final 30-second increment. Stir well to combine. Let the mixture cool for 10-15 minutes. Continue with the recipe as written.
Variations
Love chocolate? Try swapping out the white almond bark for chocolate-flavored almond bark.
Want more crunch? Use crunchy peanut butter instead of smooth.
Swap out the peanut butter. Use any other kind of nut butter such as almond butter. You can even use sun butter or try Nutella!
Want a different kind of crunch? Swap out the puffed rice cereal for Cheerios.
Want more nutty flavor? Add finely chopped peanuts, walnuts, or pecans to the final mixture.
Can't find mini chocolate chips? Add chocolate chips to the final mixture so you'll have them, but just on the inside.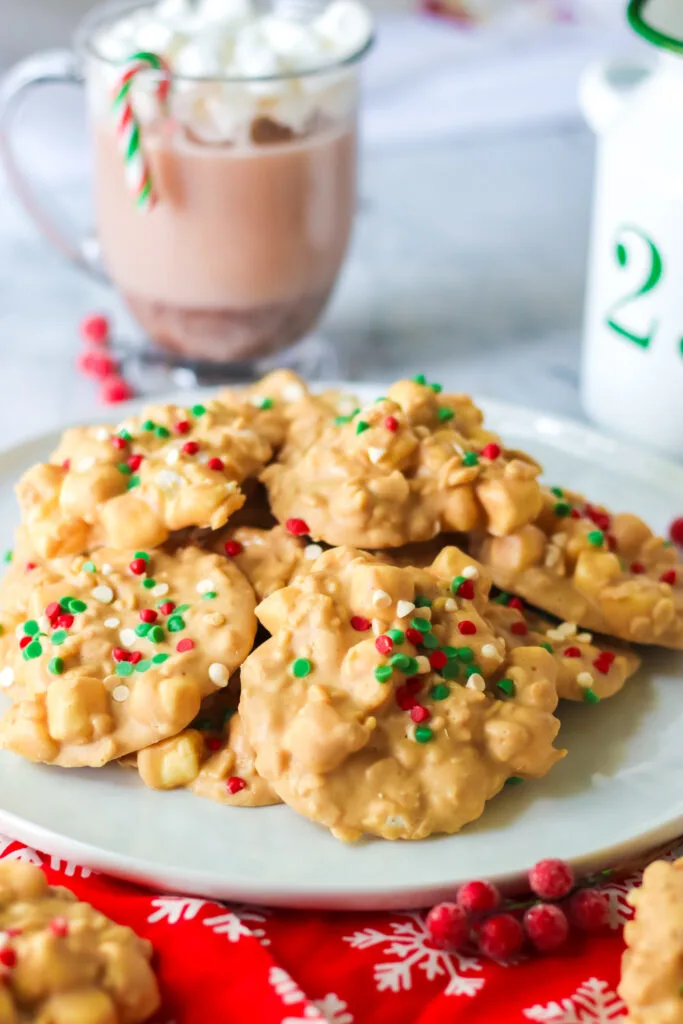 Make Cookie Bars Instead Of Scooped Cookies
This recipe is perfect for adding into a parchment-lined baking dish, pouring in the mixture, and letting it set before cutting into squares or rectangles to make bars.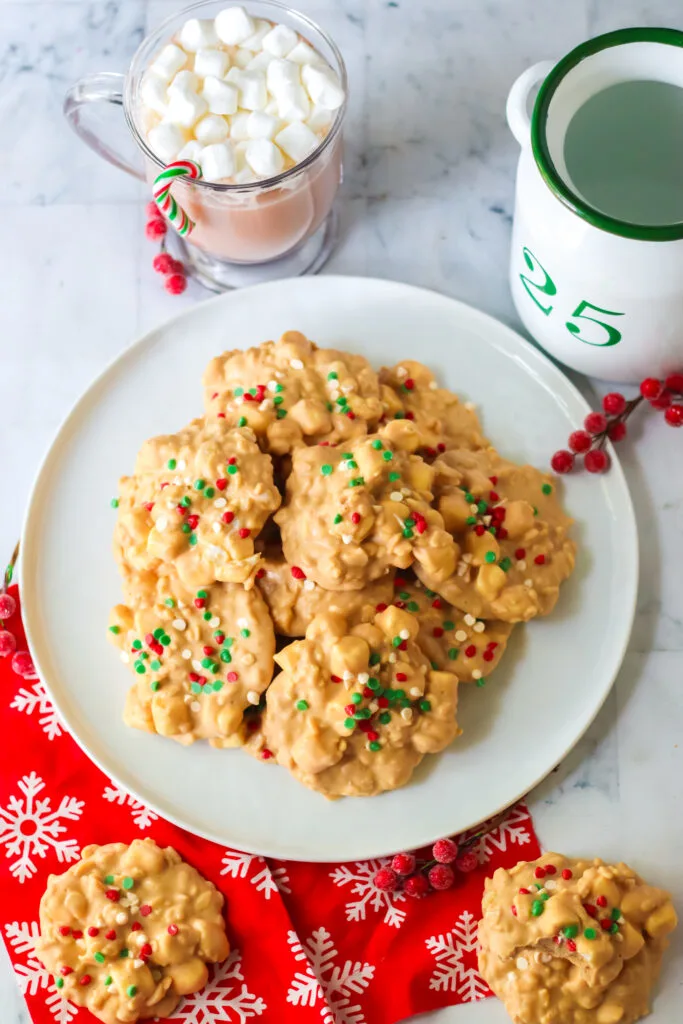 Once you've poured the mixture into the baking dish, garnish with the mini chocolate chips. Let it set completely or put it in the refrigerator to speed things up before slicing it into bars.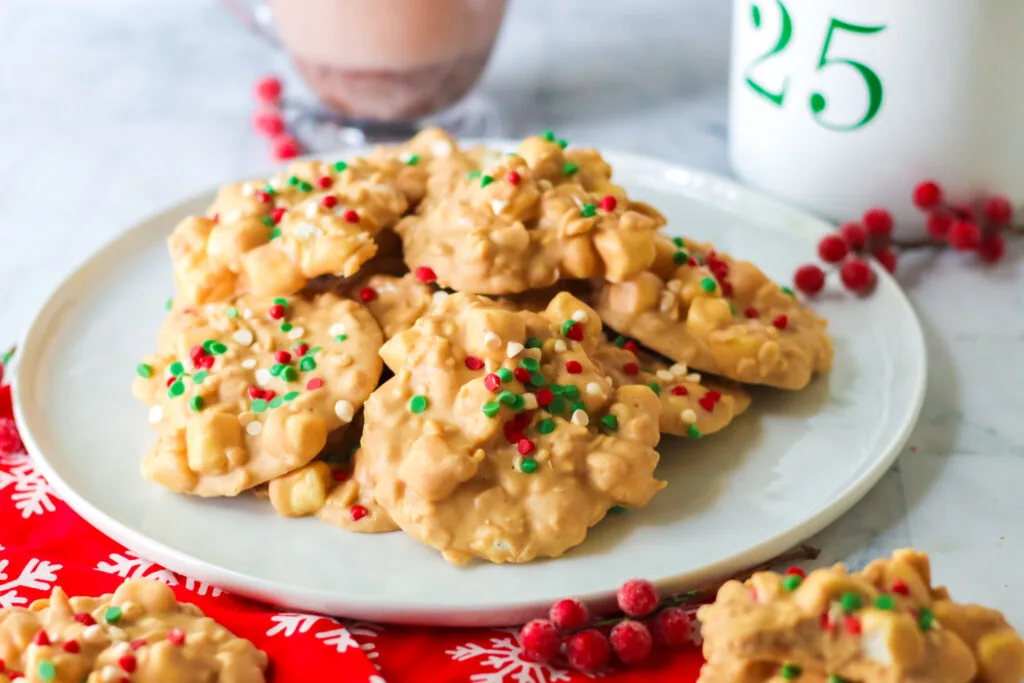 Garnish And Topping Ideas
Mini chocolate chips of any color for any occasion or theme. (Here, I used red, green, and white, but good old chocolate and white chocolate will work for any occasion!)
Sprinkles – garnish with any kind, color, or theme.
Sanding Sugar Crystals – sprinkle with any color to fit a theme or occasion.
Nuts – sprinkle with finely chopped peanuts, pecans, or walnuts
Chocolate Drizzle – melt chocolate and add a zig-zag drizzle on top of the cookies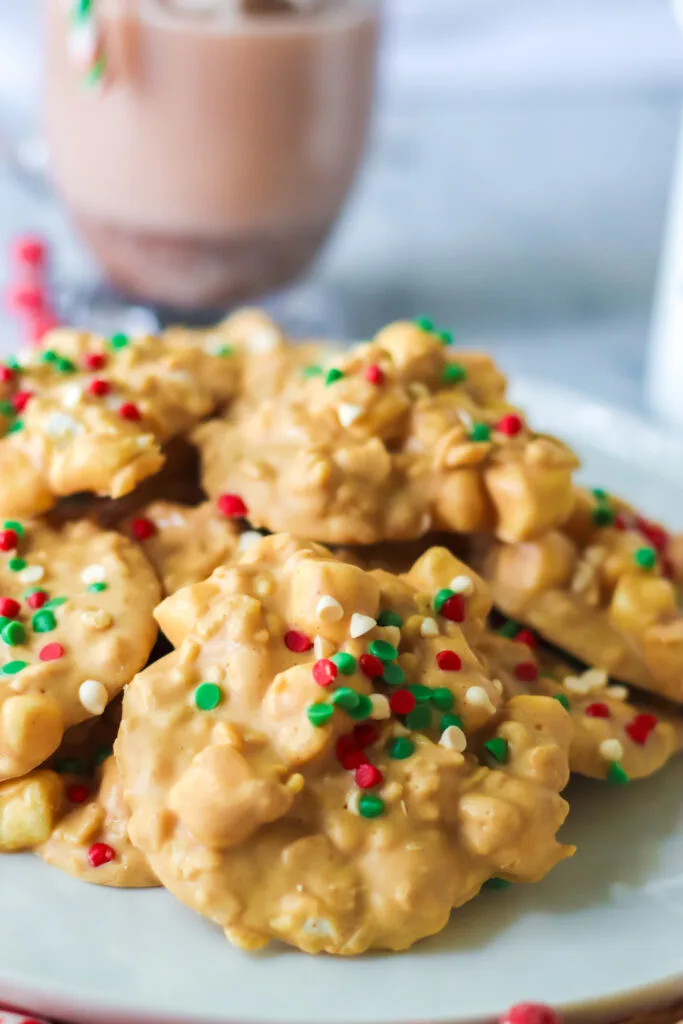 Storage
Store these cookies in an airtight container in the refrigerator for up to 2 weeks or in the freezer for up to 2 months. Use wax paper between each cookie for freezer storage.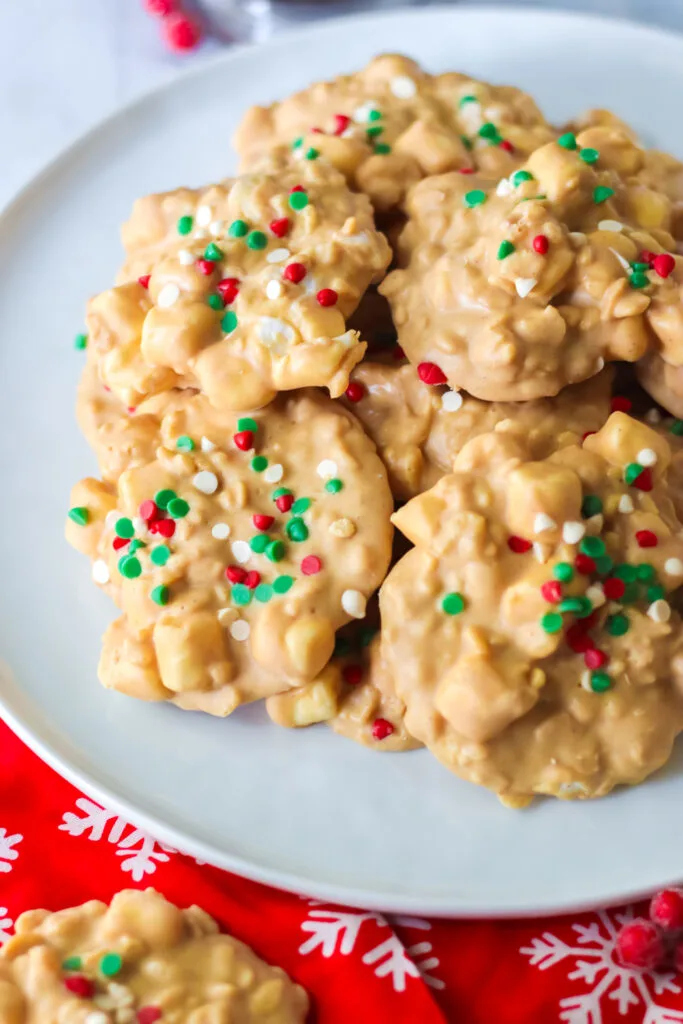 More Easy Cookie Recipes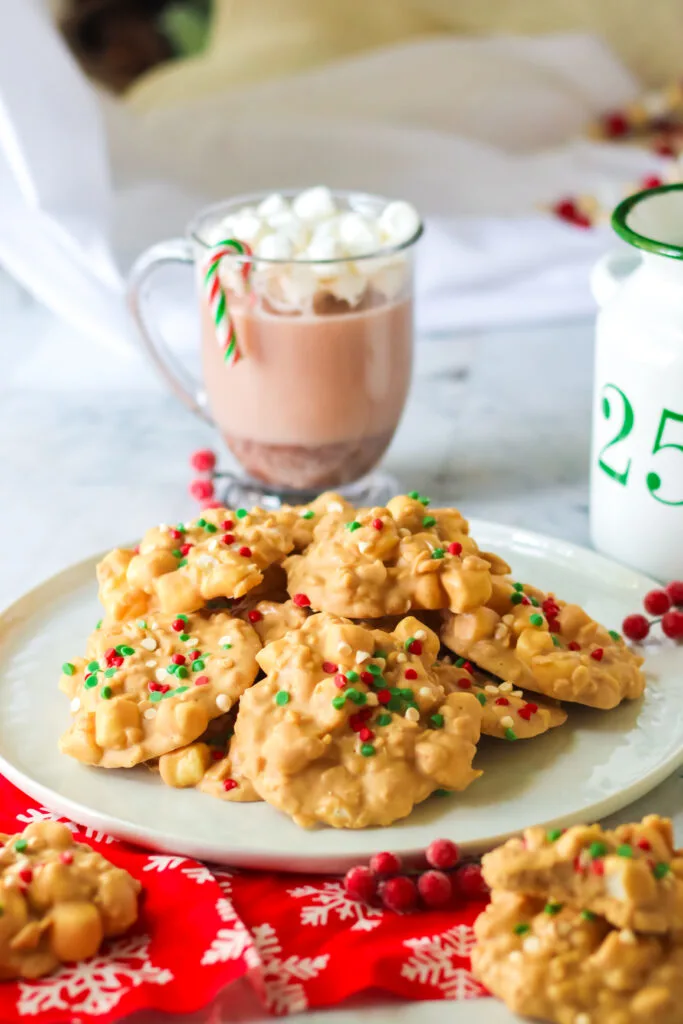 These cookies are just like the famous bark from the Rocky Mountain Chocolate Factory, but better!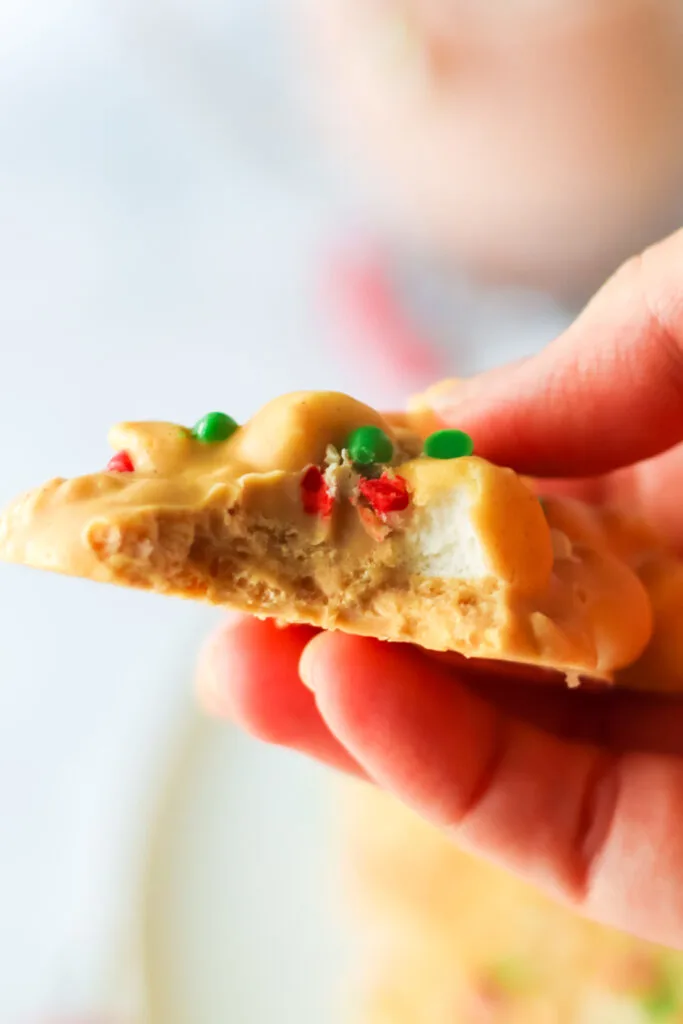 These no-bake cookies are so delicious and so pretty!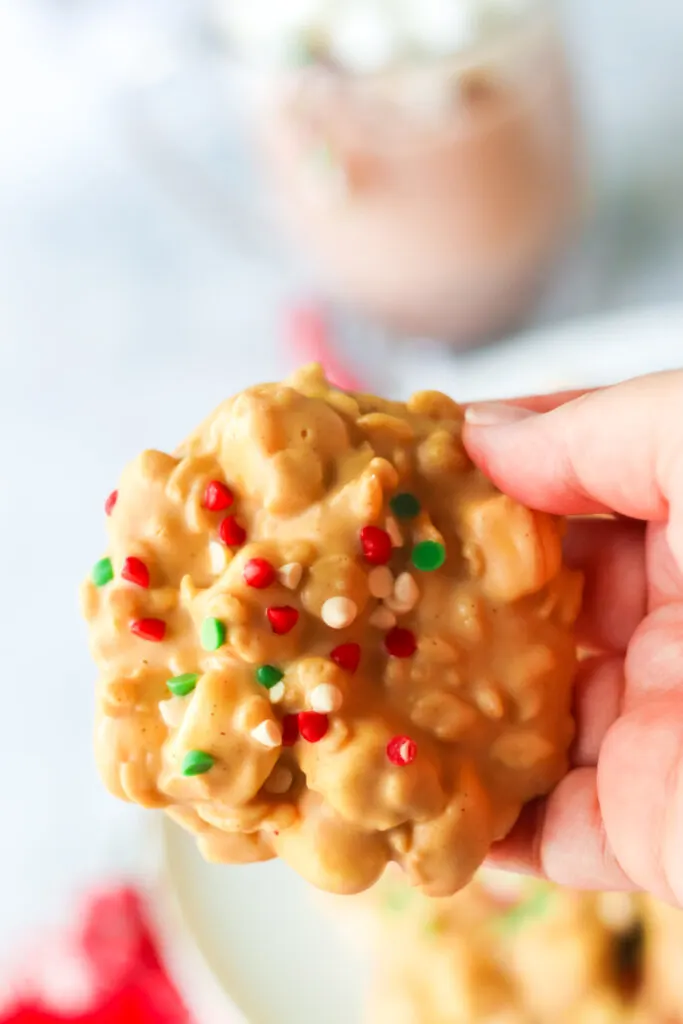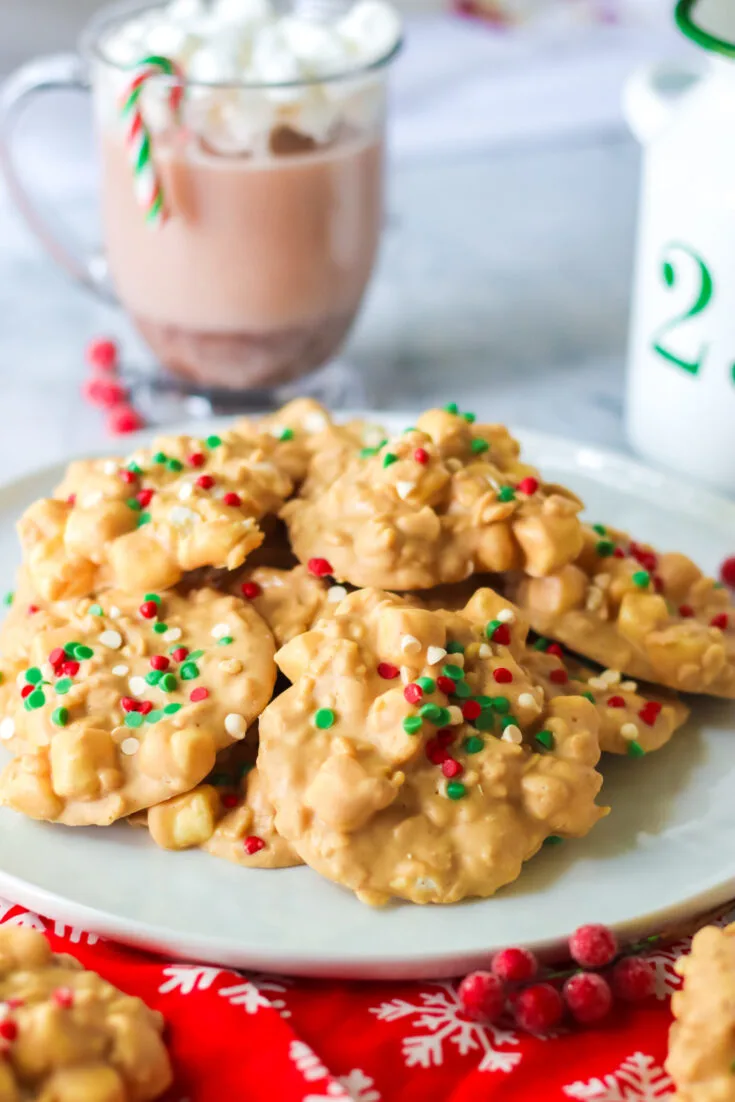 Yield:

Makes- About 24
Slow Cooker Avalanche Cookies
Total Time:
1 hour
10 minutes
These Slow Cooker Avalanche Cookies are my favorite holiday treat! Peanut butter and white almond bark melt in the slow cooker before getting mixed with puffed rice cereal and marshmallows. Topped with festive chips these are perfect for the holidays!
Ingredients
1 pound almond bark or white candy melts
15 ounces peanut butter
2 cups puffed rice cereal
2 cups mini marshmallows
¼ holiday mini chips
Instructions
Gather all of the ingredients.
To the slow cooker add the almond bark that is broken up and the peanut butter.
Cover and cook on low for 1 hour, stirring every 20 minutes.
Turn the slow cooker off, uncover and let cool for 15 minutes.
Stir in the cereal.
Stir in marshmallows.
Using a 2-tablespoon cookie scoop, scoop the mixture onto a parchment sheet lined tray.
Immediately top each one with a sprinkle of the mini chips.
Let it cool to set or pop it in the fridge for 15 minutes to set.
Serve!
Notes
The sweet white chocolate mixes with the peanut butter to create a fudgy no-bake cookie with a little crunch from the puffed rice and a little chewy from the marshmallows. These cookies are a wonderful combo.
Tips and Tricks
Store in an airtight container in the fridge for up to 2 weeks or in the freezer for 2 months.
You can use creamy peanut butter or chunky for a bit more crunch.
You can top these with holiday sprinkles as well.
You can use chocolate almond bark if you want a different flavor.
Recommended Products
As an Amazon Associate and member of other affiliate programs, I earn from qualifying purchases.
Nutrition Information
Yield
24
Serving Size
1
Amount Per Serving
Calories

242
Total Fat

19g
Saturated Fat

2g
Trans Fat

0g
Unsaturated Fat

15g
Cholesterol

0mg
Sodium

189mg
Carbohydrates

14g
Fiber

3g
Sugar

5g
Protein

8g