Biscuits are such a comfort food…can any food remind us quite so much of home? They're perfect any way you want them: served with your egg breakfast, with a delicious bowl of soup, or smothered with butter and jam. These fat, flaky mounds are just begging to be drowned in gravy, jam, lemon curd, or honey! Hungry for something heavier? They are wonderful layered with ham and cheese or smothered in sausage gravy alongside eggs and grits. The options are endless! Scroll down and don't miss a single one of these biscuit recipes!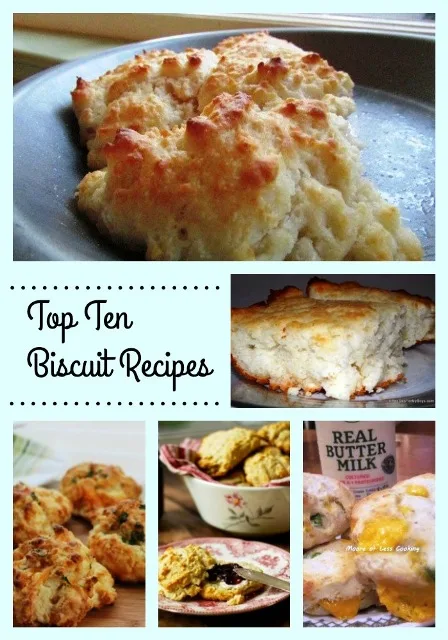 Baking Powder Drop BiscuitsNo kneading or rolling – just drop the dough by the spoonful into a greased or buttered pan. Recipe Moore or Less Cooking
7 Up Buttery Pan BiscuitsOnly 4 ingredients! Recipe Recipes For My Boys
Milk BiscuitsEnjoy a batch of these milk biscuits with a big pot of your favorite soup. Recipe Chin Deep
Cheddar Chive Jalapeño BiscuitsZippy cheesy biscuits! Recipe Moore or Less Cooking
Homemade Biscuit MixMake your own biscuit mix for fluffy biscuits. Recipe Recipes For My Boys
Copycat Red Lobster Cheddar Bay BiscuitsThese biscuits are so perfect and easy to make right at home. Recipe CincyShopper
June Carter Cash's Banana Drop BiscuitsTheir slight sweetness makes them taste a lot like drop scones, so of course they're good with butter or jam!Recipe ChinDeep
Jackie Garvin's Garlic Cheese BiscuitsLight, fluffy, and full of flavor. Recipe Cooking With Mary and Friends
Country Biscuits & Browned Butter Sausage GravyA delicious breakfast indulgence that is perfect for a cozy weekend meal. Recipe ChinDeep
Easiest Buttermilk Herb Drop BiscuitsA simple herb biscuit recipe. These biscuits also make amazing breakfast sandwiches! Just split them and fill with eggs, bacon, and cheese. Recipe ChinDeep
This post originally aired on Parade, Community Table. Written by Nettie Moore.
Nettie Moore is the cook, baker, photographer and designer behind Moore or Less Cooking Food Blog. Nettie is a self-trained cook and baker. She loves creating easy recipes that don't call for a lot of unknown ingredients. Nettie's Blueberry Skillet Cake has been featured in Taste Of Home Magazine and her Peach Raspberry Pie has won awards! She was born and raised in Southern California and now calls New England her home, where she lives with her husband and two children. Follow her on her blog Moore Or Less Cooking,Facebook, and Pinterest.