Perfect for game days, appetizers, or a full meal, these Air Fryer Korean BBQ Chicken Wings are an easy and outrageously tasty recipe that comes together in just 30 minutes!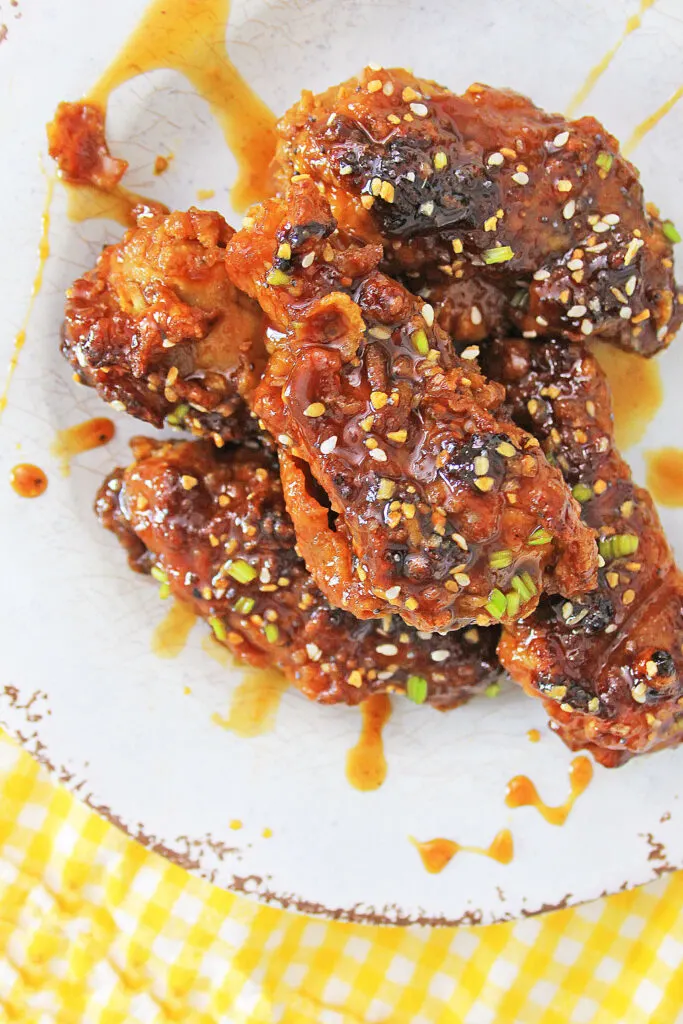 There's hardly anyone who will turn down a plate of hot, spicy, and sticky chicken wings, so be assured that this recipe will be a family favorite no matter what the occasion. The best part is there's no messy deep frying to worry about since all you need is a convenient air fryer!
What are Korean Chicken Wings?
Korean chicken wings are known for their crunchy fried exterior that's covered in a thick and spicy sauce. The crispy texture comes from being deep-fried, twice, in hot oil.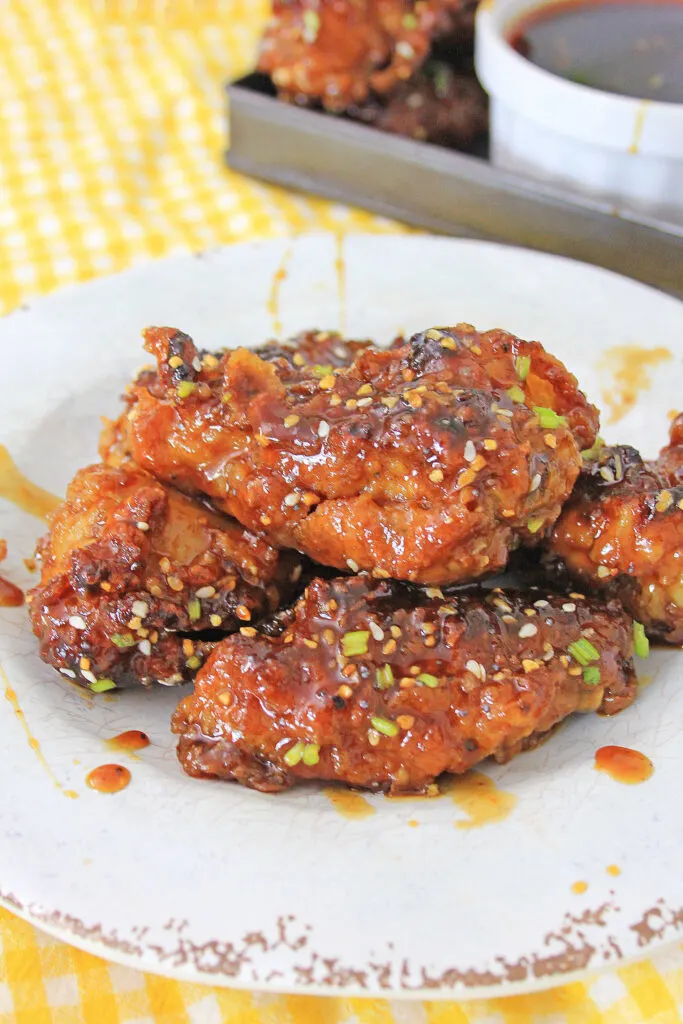 The sauce is also a hallmark of Korean chicken wings. From sweet and sour to hot and spicy, there's no end to the types of sauce that you can use for the fried chicken wings.
Why use an air fryer?
By using an air fryer, you can make crispy and delicious wings without all the deep frying that comes with traditional Korean chicken wing cooking methods. In fact, the classic way to make Korean wings is to double fry them. But with an air fryer, all of that is made simple.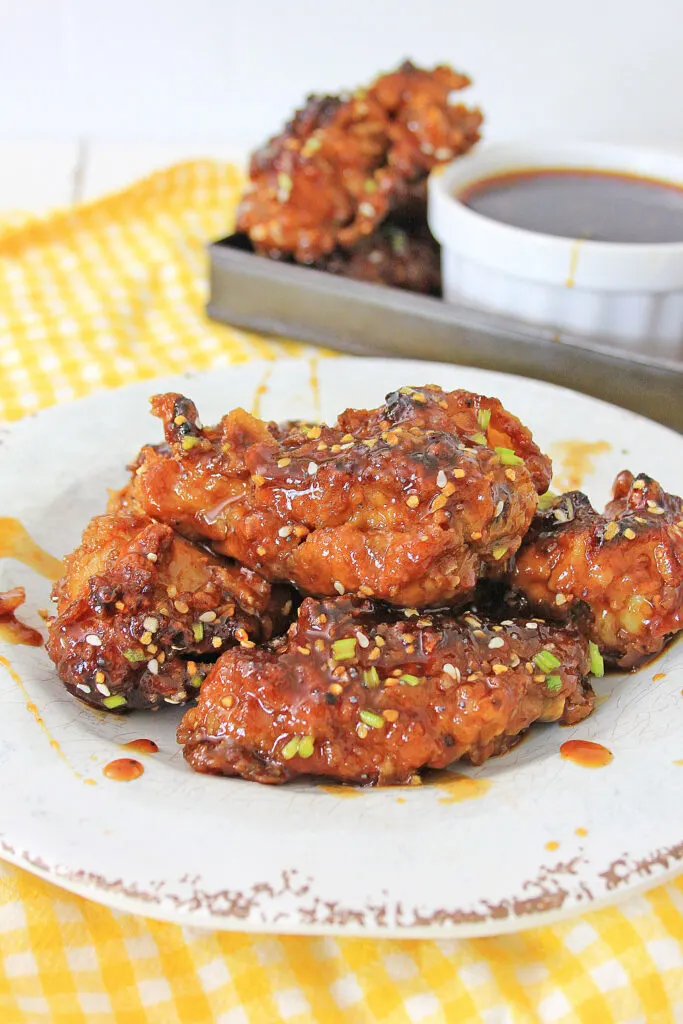 An air fryer acts as a convection oven so it works as both an oven and a fryer. What makes that so awesome is that it's also a healthier way to prepare your food. You won't need to use as much oil with an air fryer since the ability to fry or crisp the food is built right into how the appliance is engineered due to the constant circulation of hot air.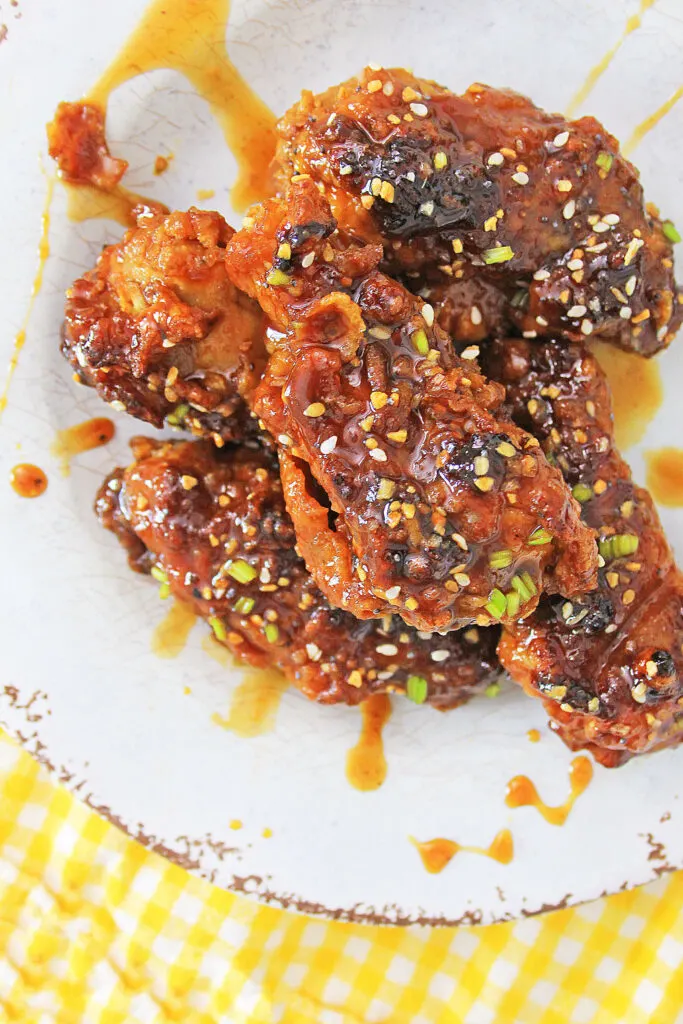 Also, cooking time is usually scaled down with an air fryer which makes it an efficient way to cook.
How many wings can I cook in the air fryer?
Depending on the brand and size of the air fryer, you should be able to cook somewhere between 15 to 20 wings in a single layer on the wire mesh of your appliance. I suggest leaving space between each chicken wing so that the hot air can circulate between them. This will help give the wings a crispier texture.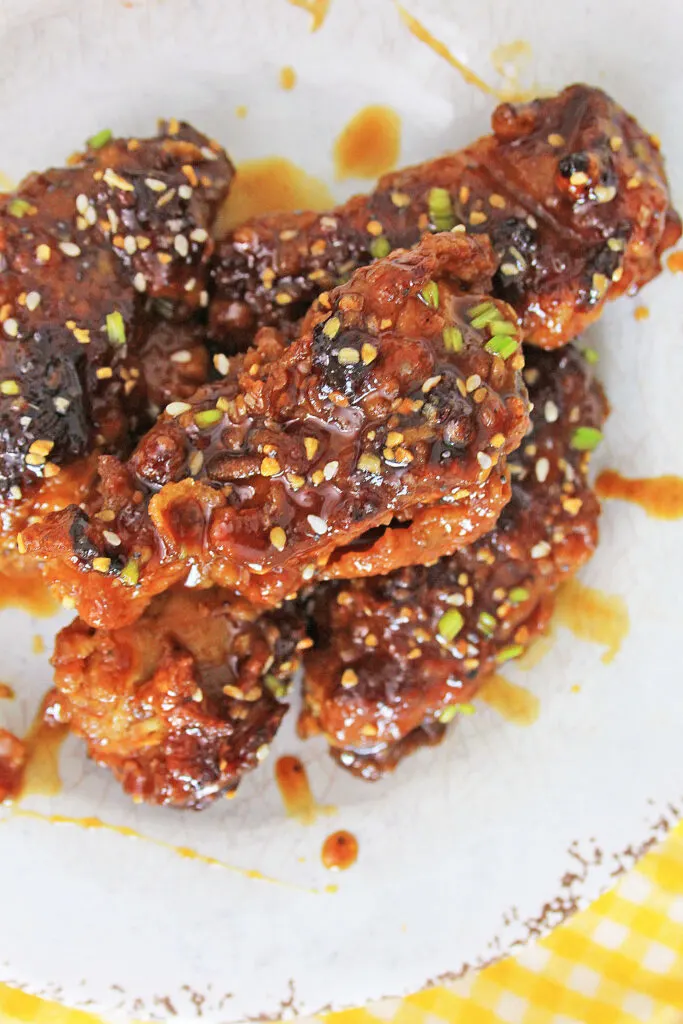 Can I use boneless chicken?
Yes. The process is the same for coating and cooking the chicken. You'll still get a crispy outer texture that's perfect for tossing with sauce.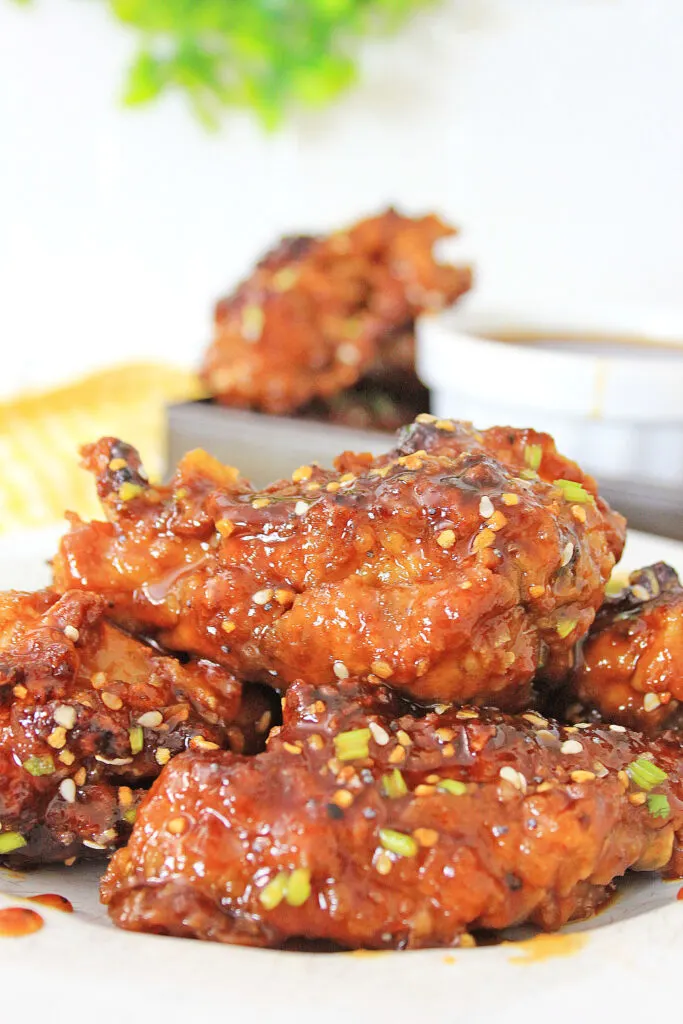 NOTE: Any sauce that is left over, simply place in an airtight container, and keep refrigerated for up to 30 days.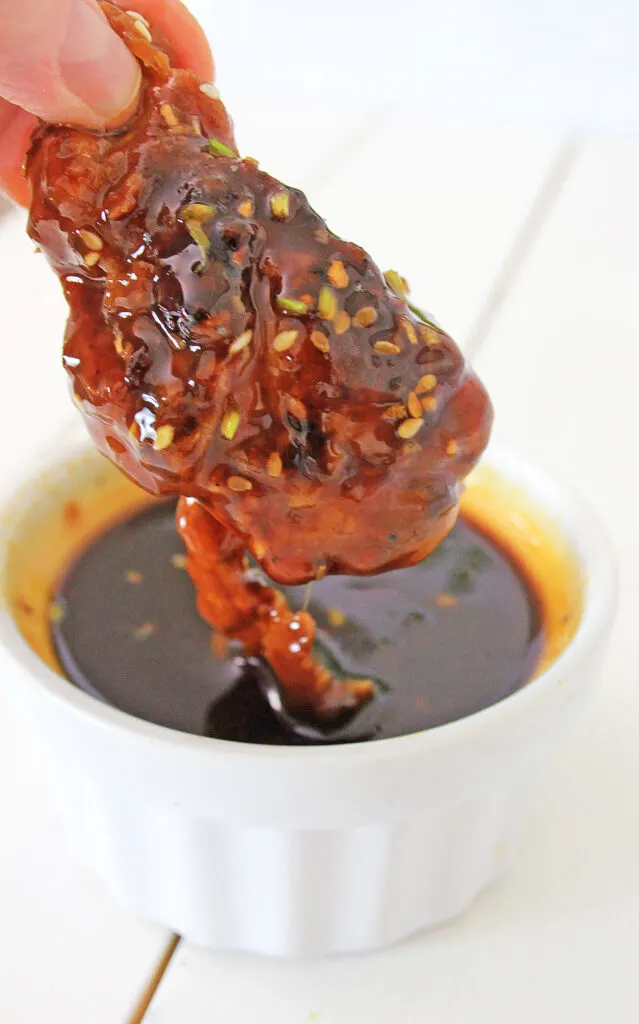 Smothered in a sweet and sticky sauce, these Air Fryer Korean BBQ Chicken Wing are an easy way to enjoy this crowd-pleasing fried chicken meal.
Related recipes
Coca-Cola Sweet And Spicy Chicken Wings
Simple Crock Pot Buffalo Chicken Wings
Crock Pot Marinated Chicken Wings
Air Fryer Wrapped Jalapeno Stuffed Chicken
Air Fryer Roasted Brussels Sprouts
Nettie is a wife and mother who is passionate about cooking and baking. With 5 children, Nettie insists that all meals, snacks, and desserts come together quickly! You will find a wide variety of easy yet scrumptious recipes on her very popular website Moore or Less Cooking Follow me on FACEBOOK and Pinterest sure to follow me on Instagram and tag #mooreorlesscooking so I can see all the wonderful recipes that YOU make from this site!
Check out my YOUTUBE with a free email subscription HERE
Follow Mooreorlesscooking on TWITTER | BLOGLOVIN
I would love for you to leave a rating and a comment below! How'd you do?!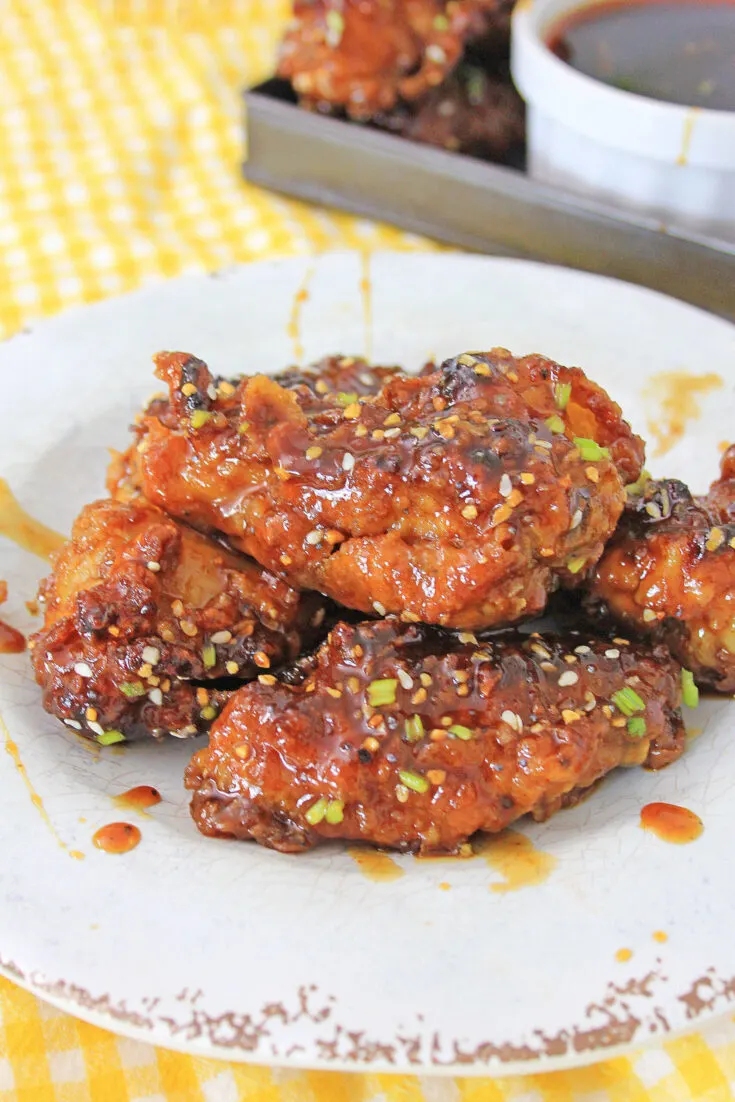 Yield:

15-20
Air Fryer Korean BBQ Chicken Wings
Additional Time:
10 minutes
Smothered in a sweet and sticky sauce, these Air Fryer Korean BBQ Chicken Wing are an easy way to enjoy this crowd-pleasing fried chicken meal.
Ingredients
For The Wings:
2 to 3 pounds of chicken wings
1 egg
1 cup of milk
2 cups of flour
Garlic salt - to taste
Seasoned salt - to taste
Seasoned pepper - to taste
Spray olive oil
For The BBQ Sauce:
1/2 cup of Soy Sauce
1/2 cup of Applesauce
1/3 cup of Sugar
1/3 cup of Brown sugar
1/2 cup of water
1 teaspoon of minced garlic
1 teaspoon of Sesame oil
1 Tablespoon of Rice Wine Vinegar
1 Tablespoon of Pear Juice
1 Tablespoon of Lemon Juice
1 Tablespoon of Apple Juice
1 Tablespoon of Orange Juice
1 Tablespoon of Sweet Chili sauce
1/2 teaspoon of Garlic powder
1/2 teaspoon of onion powder
1/2 teaspoon of Ground Ginger
2 Tablespoons of Cornstarch
Instructions
Start by making the sauce; In a large heavy saucepan, add all the BBQ sauce ingredients except for the cornstarch. Stir the ingredients together until well blended. Bring to a boil, and turn the heat to low. Allow sauce to simmer while you're preparing the wings.
In a medium-size bowl, add the egg, and milk, and whisk together until blended.
In another large bowl, add the flour.
Open the chicken wings and place them on parchment paper. Sprinkle with garlic salt, seasoned salt, and seasoned pepper.
Spray the bottom of the Air Fryer basket with spray olive oil.
Dip wings, one at a time, in the egg/milk mixture, and then roll in the flour, and repeat (dip again in egg/milk mixture - then roll in flour).
After the second dip and roll in flour, place the wings in the Air Fryer basket.
Spray the wings with the spray olive oil, and set the temperature to 400 degrees for 10 minutes.
Remove fryer basket, turn wings, and spray lightly with spray olive oil. Cook in the Air Fryer for 10 more minutes, checking wings every 3 minutes, making sure they are not getting too browned. If they appear to be getting too brown, turn the temperature to 375, and continue to cook.
Remove the wings from the basket to a large bowl.
In a small bowl, place the cornstarch, and add enough water to stir the cornstarch until smooth.
Add the cornstarch to the sauce, and turn the heat up to medium-high. Bring the sauce to a boil, stirring constantly, and when the sauce boils and thickens, remove from heat.
Stir sauce, and spoon over wings. Toss wings in sauce to coat.
Place wings back in the air fryer for 1 minute.
Remove wings to a plate, sprinkle with sesame seeds, and serve with additional sauce on the side.
Notes
Any sauce that is left over, simply place in an airtight container, and keep refrigerated for up to 30 days.
Recommended Products
As an Amazon Associate and member of other affiliate programs, I earn from qualifying purchases.
Nutrition Information
Yield
20
Serving Size
1
Amount Per Serving
Calories

332
Total Fat

18g
Saturated Fat

6g
Trans Fat

0g
Unsaturated Fat

10g
Cholesterol

67mg
Sodium

691mg
Carbohydrates

27g
Fiber

1g
Sugar

9g
Protein

14g