Peanut Butter Cup Cheesecake
An Oreo crust holds the luscious creamy filling for this decadent Peanut Butter Cup Cheesecake. A rich chocolate ganache tops this scrumptious cheesecake that's garnished with mini peanut butter cups and peanut butter chips.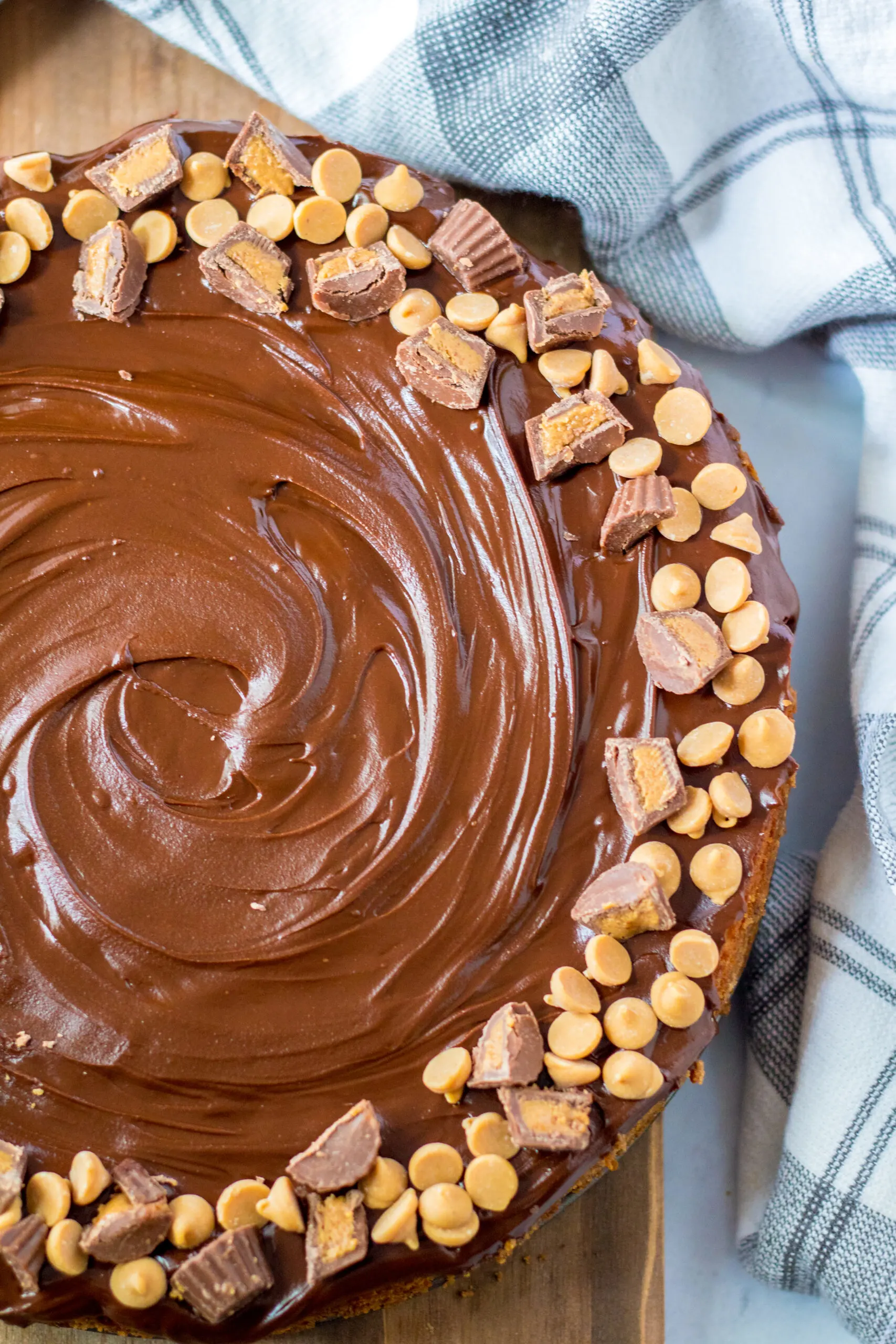 The universally loved combination of peanut butter and chocolate star in this showstopper of a cheesecake that is guaranteed to win over family, friends, kids, and neighbors. Even people who say they don't like cheesecake will go absolutely insane for this incredible dessert. It's that good!
If you're one of those people who can't pass the candy aisle without grabbing a bag of mini peanut butter cups, then this recipe is for you. Or if you've been known to hide a bag of these little gems at Halloween, just so you'll have your own personal stash of your favorite bite-sized nutty chocolate treat, then this recipe is for you.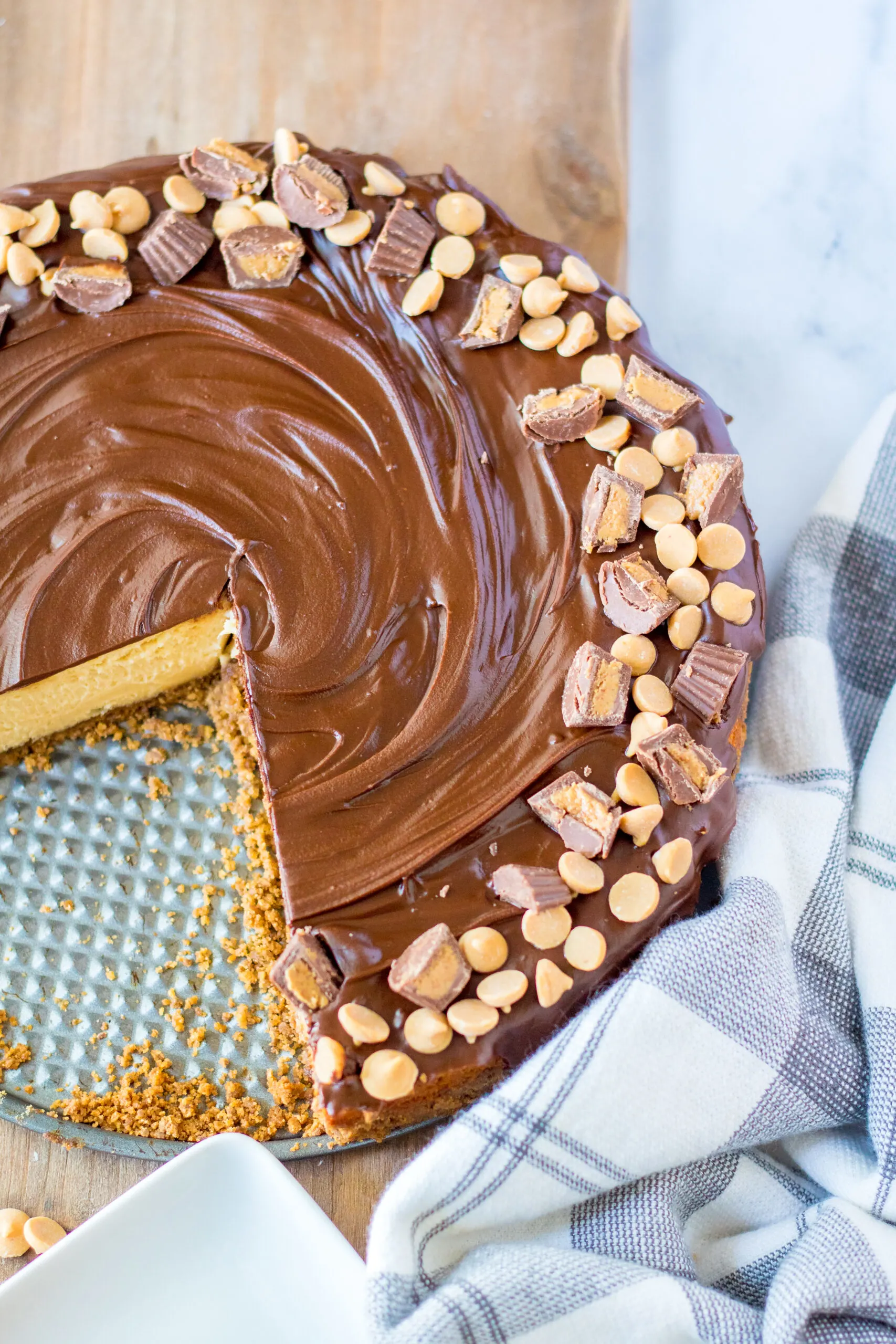 Maybe you have a house full of adults, teens, or kids who seem to make a jar of peanut butter disappear in record time. Then this recipe is for you and them. Serve this cheesecake and it will make you the most beloved person in the household, guaranteed!
Oh, and it's easy to make! There's no water bath to worry about; just a little planning ahead because it needs a session in the fridge to chill and firm up before you drizzle the top with the chocolate ganache. This one is worth the wait!
Tips For Making Peanut Butter Cup Cheesecake
Start with room temperature ingredients

. Go ahead and set out your cream cheese, eggs, and butter at least an hour ahead of time. Doing this makes them easier to mix, beat or whip when the time comes. It also helps to ensure that you're not over-mixing when trying to combine the ingredients.

Use store-bought creamy peanut butter

. Don't use the natural peanut butter that has the oil separated and you would need to mix yourself. There's a time and place for that type of peanut butter, but this recipe is not it. You want to use the creamy version here so that it will mix perfectly with the cream cheese and not be a runny, oily mess.

Don't overcook your cheesecake

. You don't want to dry it out. The cheesecake will set and firm up in the refrigerator, so don't worry if the middle seems a little soft and jiggly. Take it out of the oven, cool it, and then refrigerate it before adding the chocolate layer.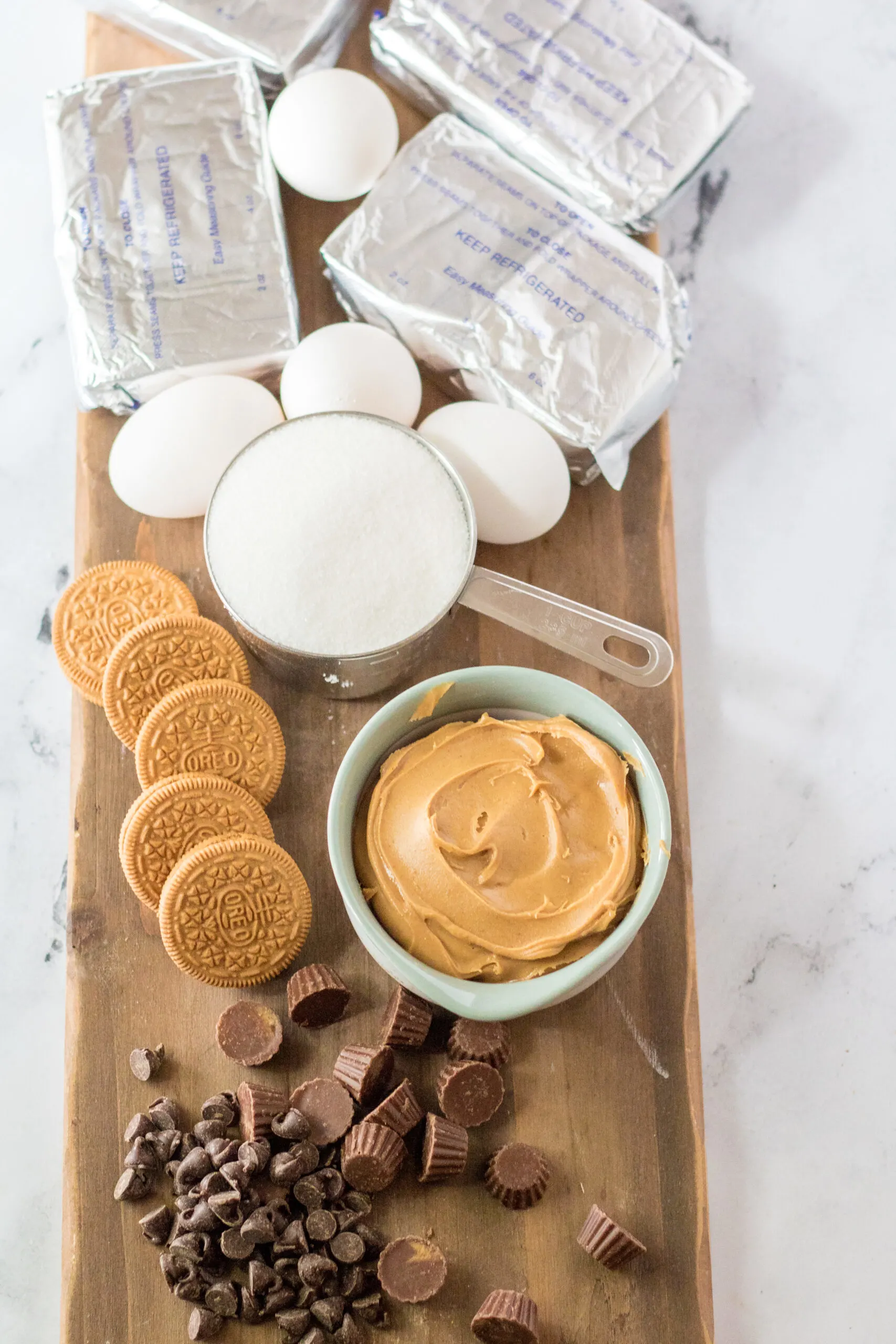 Ingredients Needed
Peanut butter flavored Oreos (regular Oreos are fine to use as well)
Butter
Cream cheese
Sugar
Vanilla extract
Eggs
Peanut butter
Semi-sweet chocolate chips
Peanut butter chips
Mini peanut butter cups
Steps To Making The Peanut Butter Cup Cheesecake
Crush or blend Oreos into crumbs, add melted butter, mix and press into the bottom of a springform pan. Set aside.

Blend together softened cream cheese, sugar, and vanilla extract with a hand mixer.

Gradually add in eggs and peanut butter until blended.

Pour the filling over the crust and bake for 55 minutes.

When done, remove the rim of the springform pan, cool the cheesecake, and then refrigerate it for at least 4 hours until very well chilled. Overnight is better if you're planning ahead.

When ready to add the ganache to the top of the cheesecake, melt the butter and semi-sweet chocolate chips in the microwave in a microwave-safe bowl in 30-second increments. Be sure and stir between increments until melted and smooth.

Pour the chocolate over the cheesecake and decorate with peanut butter chips and mini cups.
I think this Peanut Butter Cup Cheesecake is perfect as is, but if you're making it for a celebration event or birthday, you might want to add a little something extra just to take it over the top. Here are a few suggestions.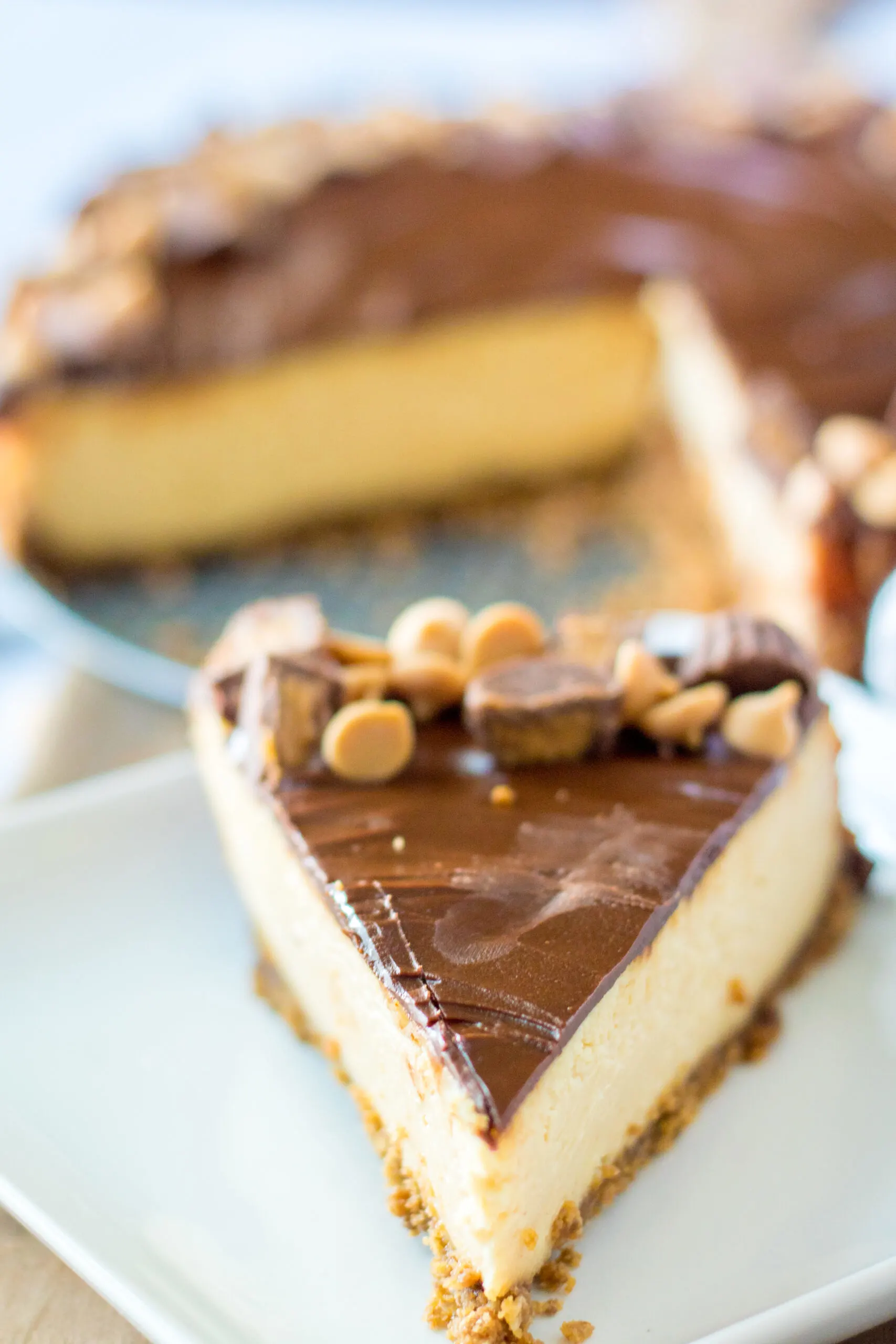 Crust Variations
Try any of these variations. All you need to do is crush and crumble them with your food processor or blender, add butter, as per the recipe instructions, and press them into the pan. No baking is needed.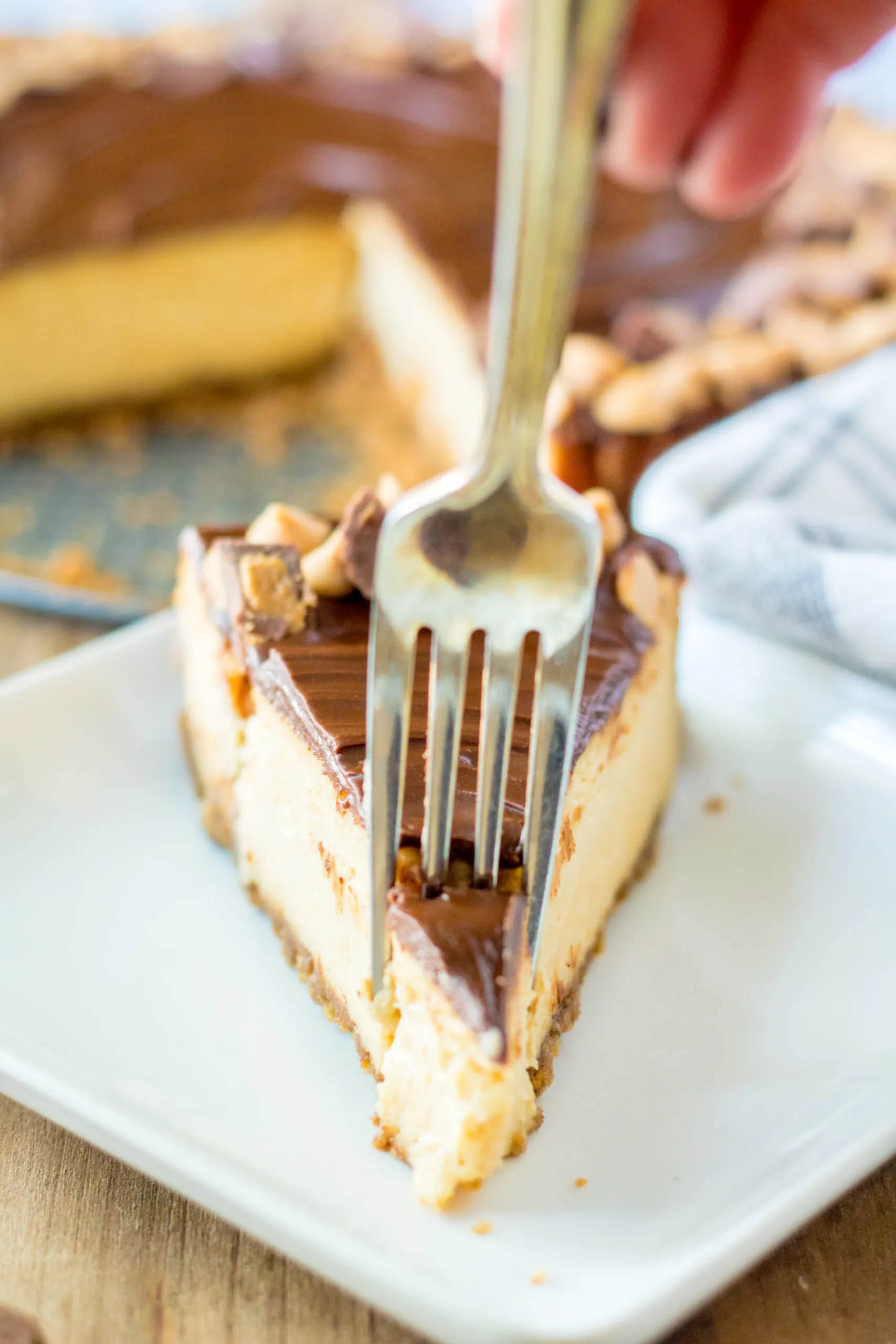 Oreos: Any complimentary flavor of Oreos will work – chocolate, peanut butter, and even golden Oreos

Crushed nutter butter cookies

Crushed graham crackers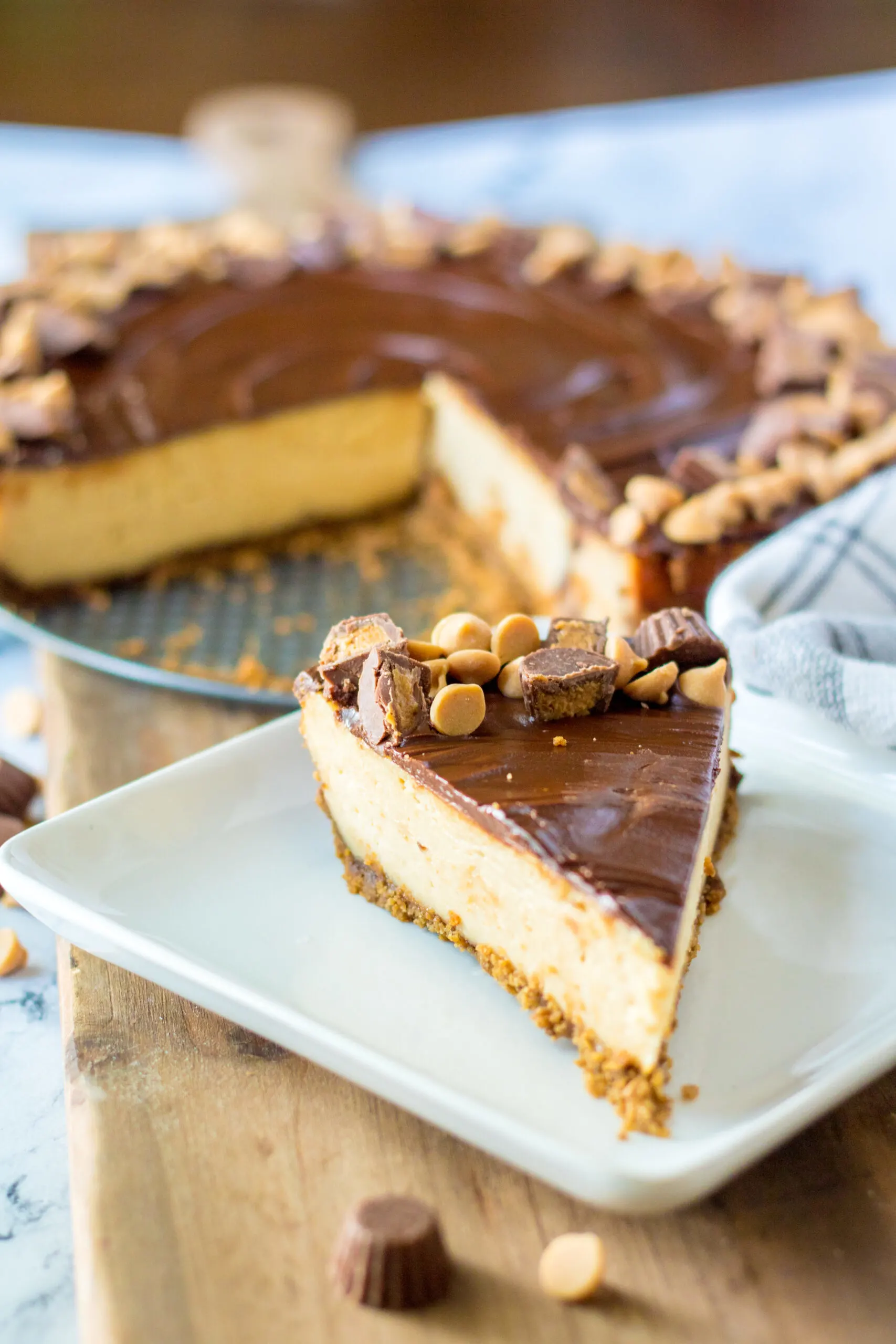 Filling Variations
Once the filling, as per the recipe, is mixed, gently fold in your choice of any of the following:
1/2 cup peanut butter chips

1/2 cup dark chocolate or semi-sweet chocolate chips

12 – 15 mini peanut butter cups, chopped
Topping Variations
After you add the ganache, you can go to town decorating the top with as many or as few yummy additions as you want. The recipe calls for additional peanut butter chips and mini peanut butter cups, but here are some other awesome ideas.
Crushed salted peanuts

Chopped mini peanut butter cups

Peanut butter chips, chocolate chips

Piped on peanut butter around the edges

Piped on whipped cream around the edges

Piped on chocolate frosting around the edges

Reese's pieces or M & Ms

Crushed pretzels

Crushed nutter butter cookies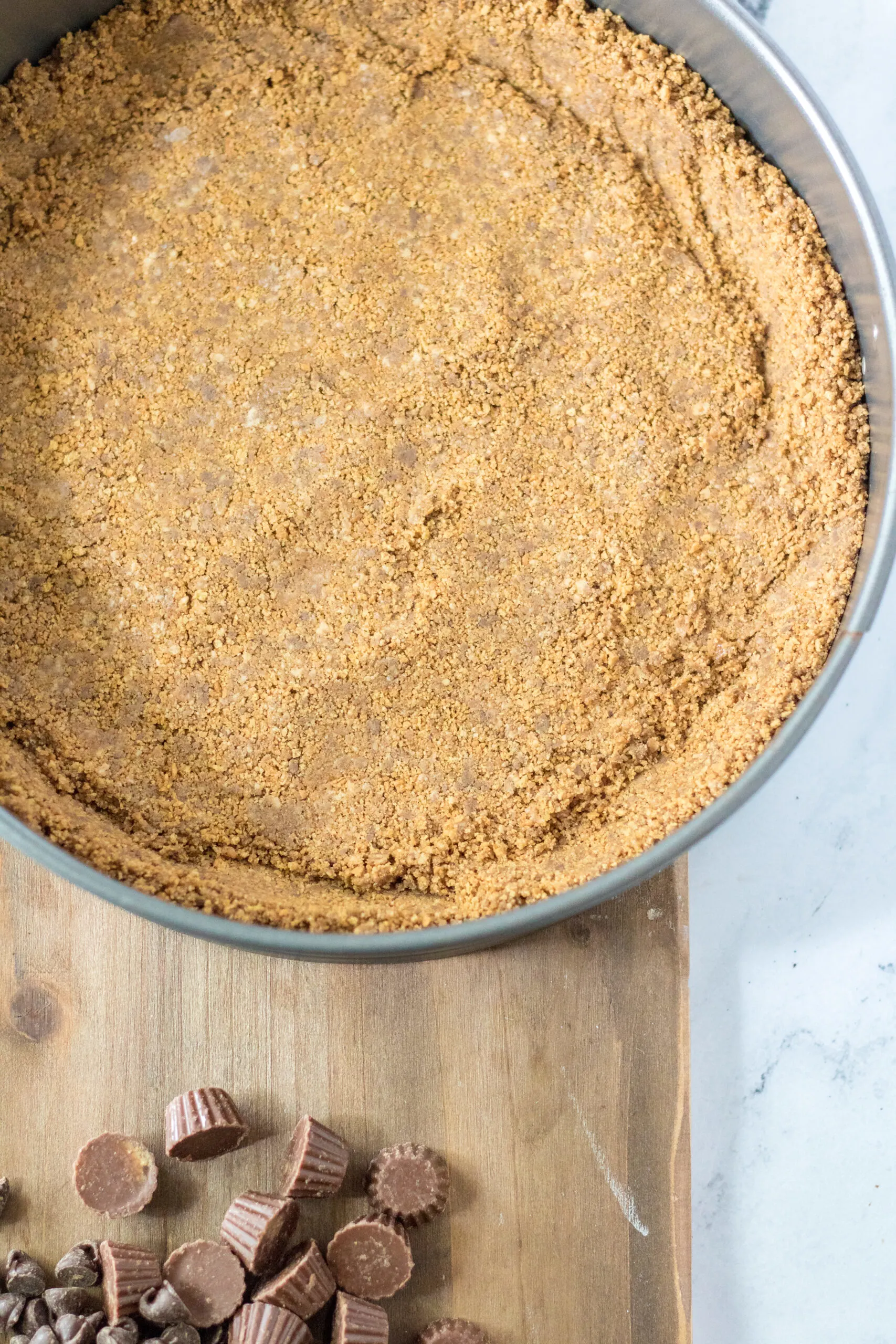 Is This Cheesecake Freezer-Friendly?
You can freeze this cheesecake without the chocolate ganache and garnishes on the top for up to 1 month. Let thaw in the fridge overnight before adding the toppings.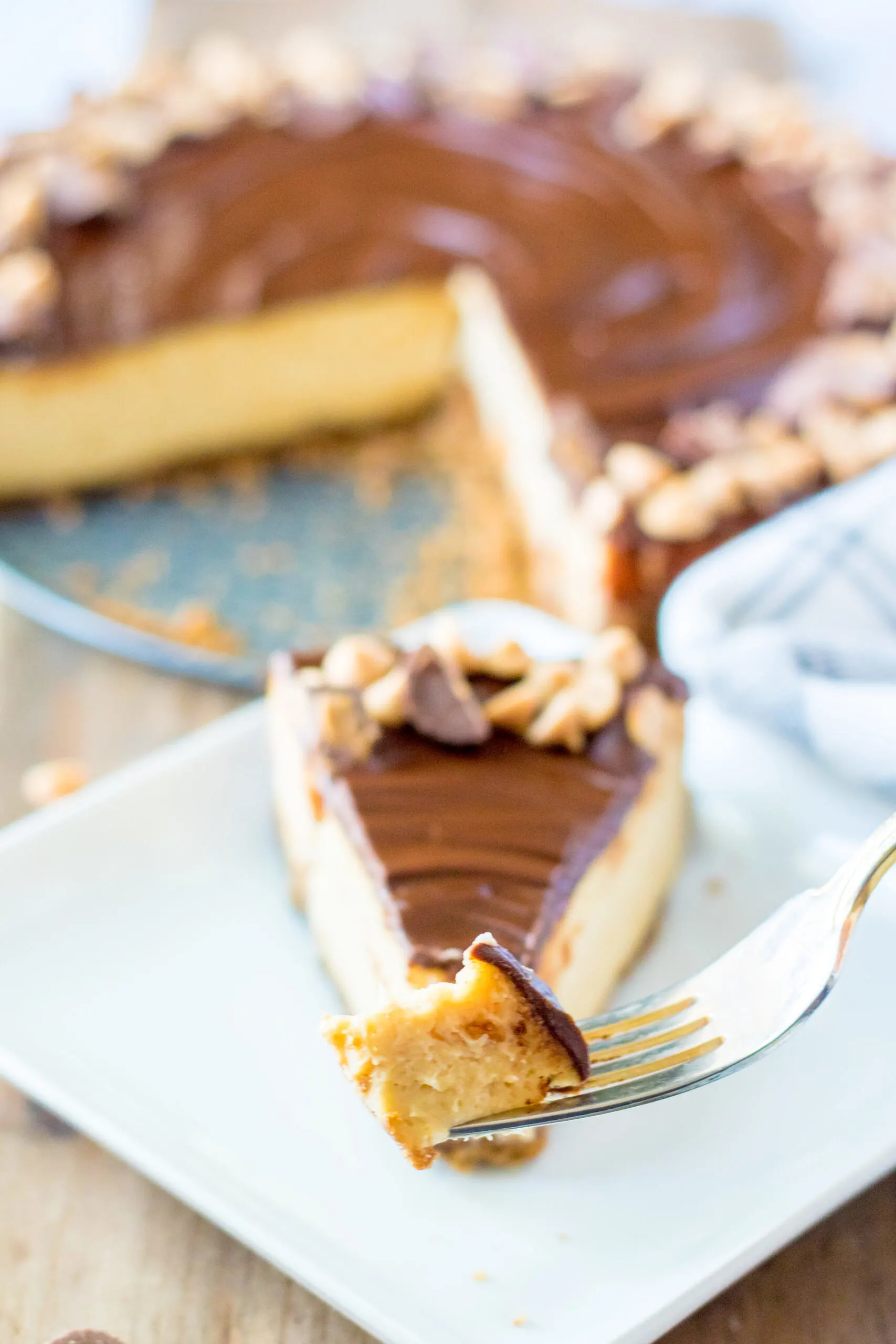 How Do I Store Leftover Cheesecake?
Store, covered, in the refrigerator for up to 1 week.
I'm beyond confident that you'll love this fantastic cheesecake that sandwiches a creamy peanut butter filling between a cookie crust and a scrumptious chocolate topping for a spectacular sweet treat that absolutely everyone will adore.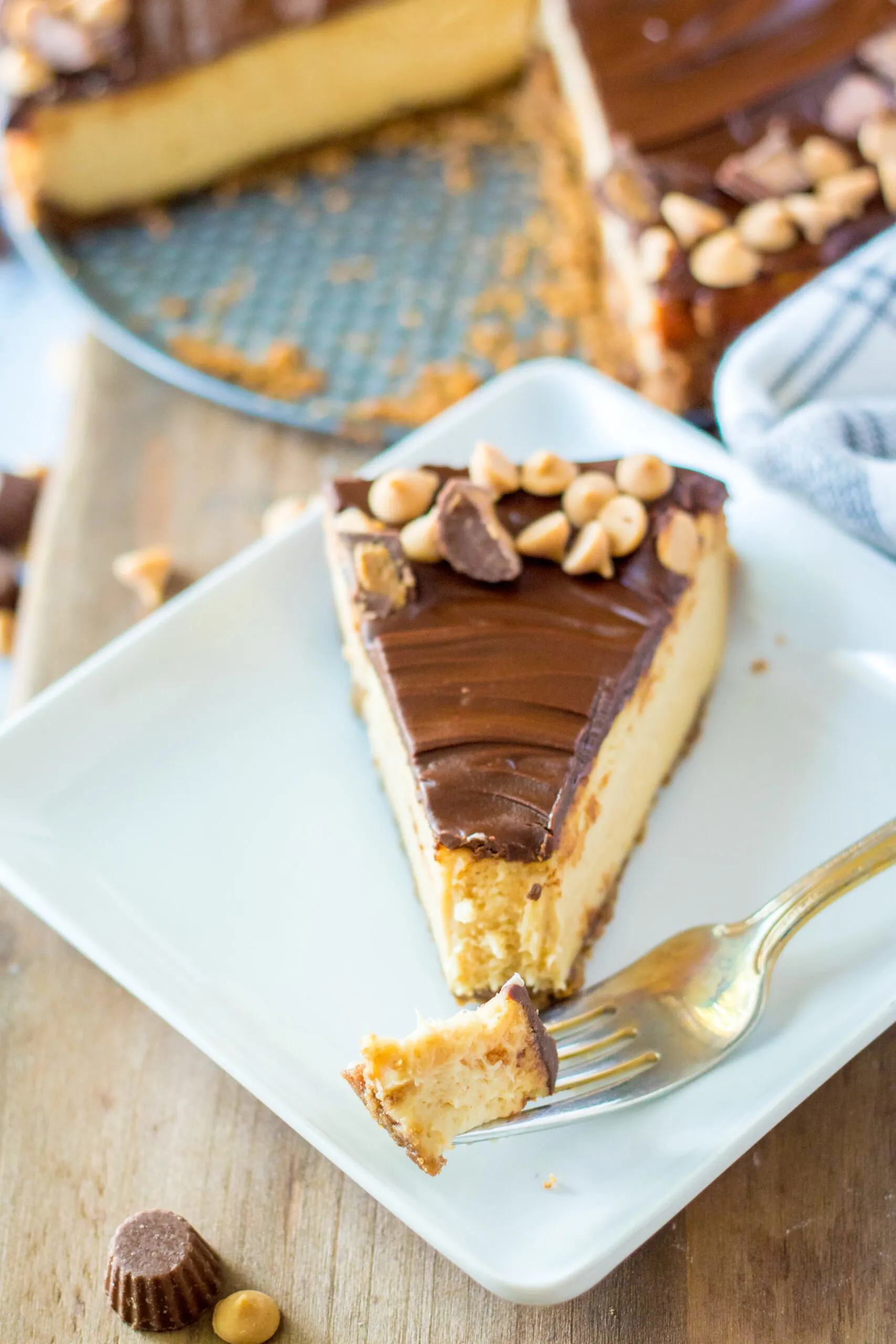 Related Recipes
Creamy Peanut Butter Cheesecake
Peanut Butter Chocolate Lasagna
Keto Peanut Butter And Chocolate Fudge
Nettie is a wife and mother who is passionate about cooking and baking. With 5 children, Nettie insists that all meals, snacks, and desserts come together quickly! You will find a wide variety of easy yet scrumptious recipes on her very popular website
Moore or Less Cooking
Be sure to follow me on
Instagram
and tag #mooreorlesscooking so I can see all the wonderful recipes that YOU make from this site!
Did You Make This Recipe?
I would love for you to leave a rating and a comment below! How'd you do?!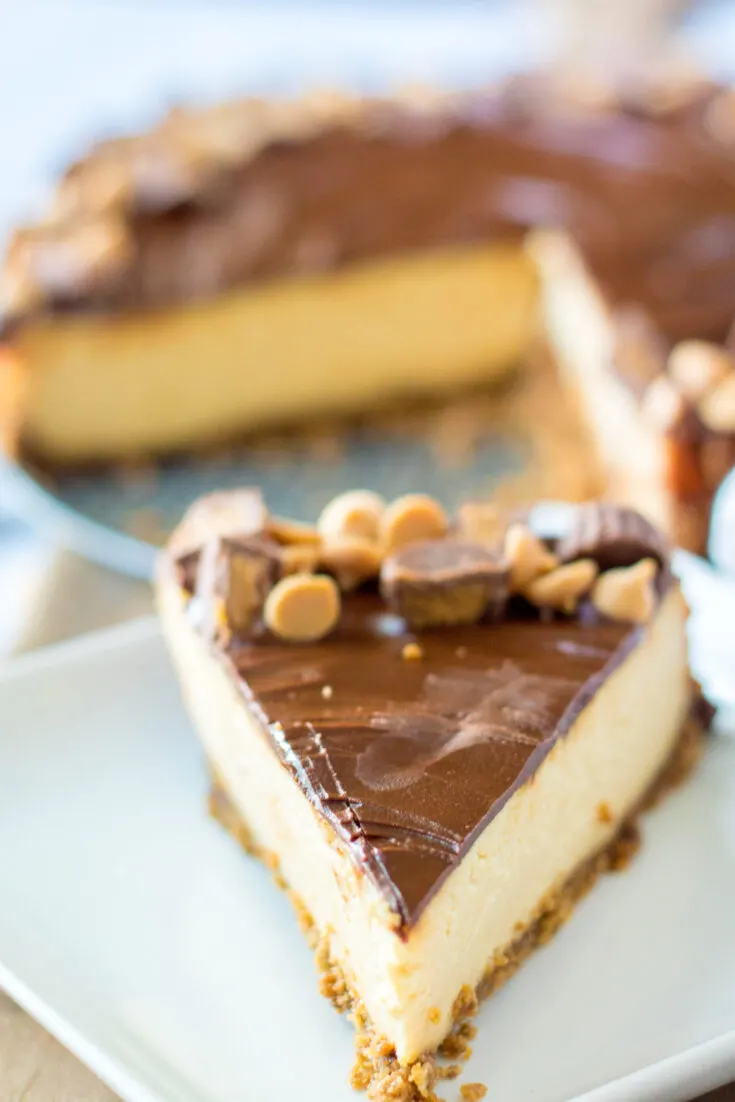 Peanut Butter Cup Cheesecake
Total Time:
5 hours
20 minutes
Ingredients
35 peanut butter pie Oreos (regular Oreos are fine to use as well!)
1/3 cup butter or margarine, melted
4 packages (8 oz. each) cream cheese, softened
1 cup granulated sugar
1 teaspoon vanilla
4 eggs
1 cup peanut butter
1 ½ cups semi-sweet chocolate chips
2 tablespoons butter
Peanut butter chips and mini peanut butter cups for decorating
Instructions
Preheat oven to 325 degrees.
In your food processor blend the Oreos into crumbs.
Add the melted butter to the cookie crumbs; press onto the bottom of the 9-inch springform pan.
Beat cream cheese, 1 cup sugar, and vanilla with mixer until blended.
Add eggs, 1 at a time, mixing at low speed after each just until blended.
Mix in the peanut butter.
Pour over crust.
Bake 55 min. or until the center is almost set. Run a knife around the rim of the pan to loosen the cake; cool before removing the rim.
Refrigerate cheesecake for 4 hours.
In a microwave-safe bowl combine the 2 tablespoons of butter and semi-sweet chocolate chips and heat in 30-second increments, stirring between them until melted and smooth.
Pour over the cheesecake.
Remove the springform round.
Decorate the edge with peanut butter chips and mini cups.
Serve!
Recommended Products
As an Amazon Associate and member of other affiliate programs, I earn from qualifying purchases.