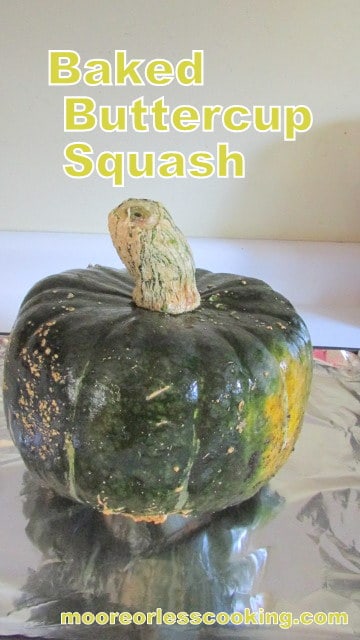 Our friend and neighbor asked me if I would like a Buttercup Squash from his garden, his very productive garden. Of course I would! Having never made one before, I was excited for the challenge.
Now this squash is 5 pounds! That is a perfect squash for your holiday parties and makes a wonderful centerpiece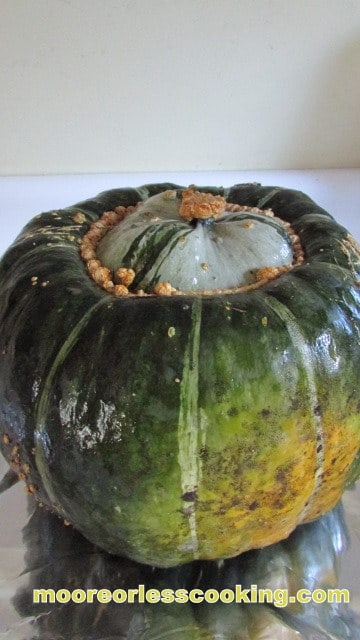 Cut the stem off and flip it over! Isn't this a beautiful squash? There is a lot of "meaty" squash inside.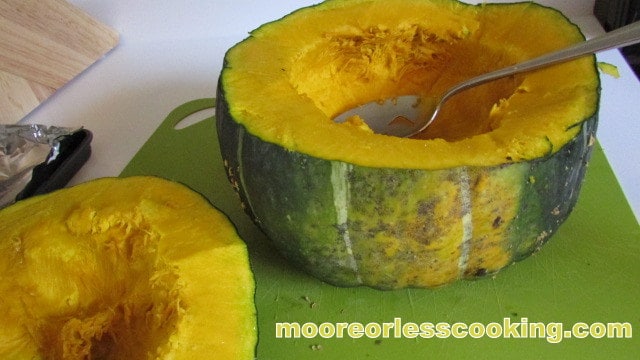 Cut off the top, like you would a pumpkin, scoop out the seeds and stringy "meat".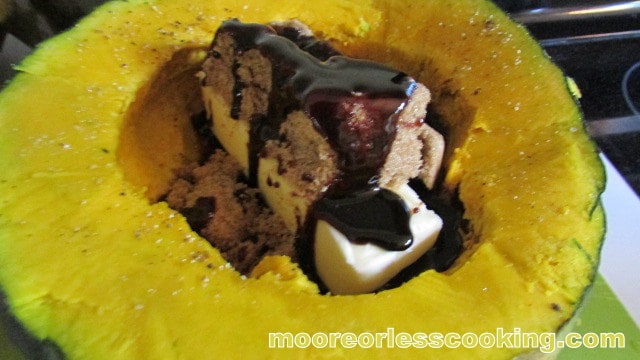 Place Butter, Molasses and Brown Sugar, Salt and Pepper inside the bottom half of squash.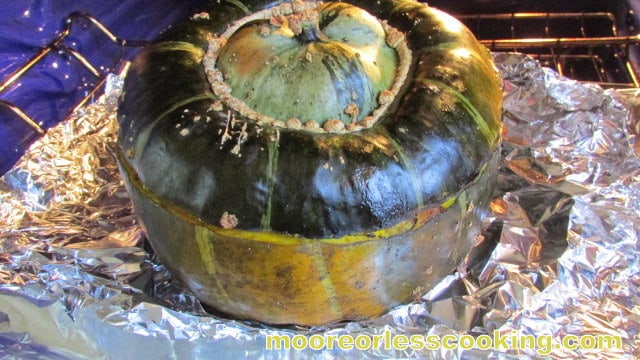 Place Top back on squash, completely cover with foil, place on foil lined baking sheet. Place in a preheated oven at 400 degrees for an hour to an hour and a half, depending on the size of the squash. I did take the foil off after an hour and let it bake uncovered for another half hour.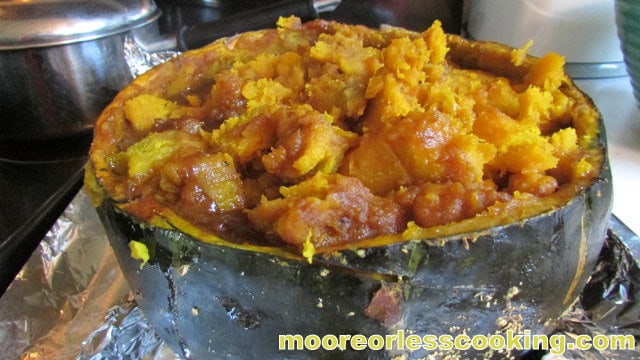 Carefully remove foil, be careful of steam released when taking cover off the top. Use a pot holder or towel and carefully take off top of squash, scrape top and bottom carefully not going too deep and and cutting through. Leave a half inch along the bottom Gently using a soup spoon scoop the " meaty " part of the squash and melted butter and molasses and sugar. After scooping all "meat", gently place lid back on top to keep warm.
Yield:

8 servings

Baked Buttercup Squash

Total Time:

2 hours

20 minutes

This is an easy recipe that just takes a little time to cut the squash open, clean out and fill with delicious ingredients, perfect for a holiday centerpiece.

Ingredients

1 large buttercup squash
1 stick butter ( unsalted )
1/4 cup molasses
1 cup packed light brown sugar
salt and pepper to taste

Instructions

Preheat oven to 400 degrees
Remove top of squash like carving a pumpkin, clean seed from top and keep to use when baking
Completely remove seeds and pith from squash, salt and pepper inside of squash
Cover a baking sheet with aluminum foil
Fill squash cavity with butter, molasses and sugar, add more salt and pepper to taste
Wrap squash completely in aluminum foil, place on prepared baking sheet and bake for 45-1 hour or until squash is fork tender
Remove squash from oven and test for doneness, lift lid, piercing the flesh with fork. Squash is done when fork slides smoothly into flesh with no resistance
Using a large spoon, scoop flesh in chunks leaving flesh inside the squash in the hot liquid
Serve hot
Linked Up: