This Chocolate sheet cake is a one layer cake with a wonderful chocolate frosting. This really is The Best Chocolate Sheet Cake~ Ever! So chocolatey and rich! You will be hearing moans and groans from anyone who takes a bite!
You can't beat a slice of chocolate cake served with ice cream. If you love chocolate cake, you'll also love our Chocolate Stout Cake with Whiskey Buttercream Frosting and our Chocolate Pound Cake with a Chocolate Glaze.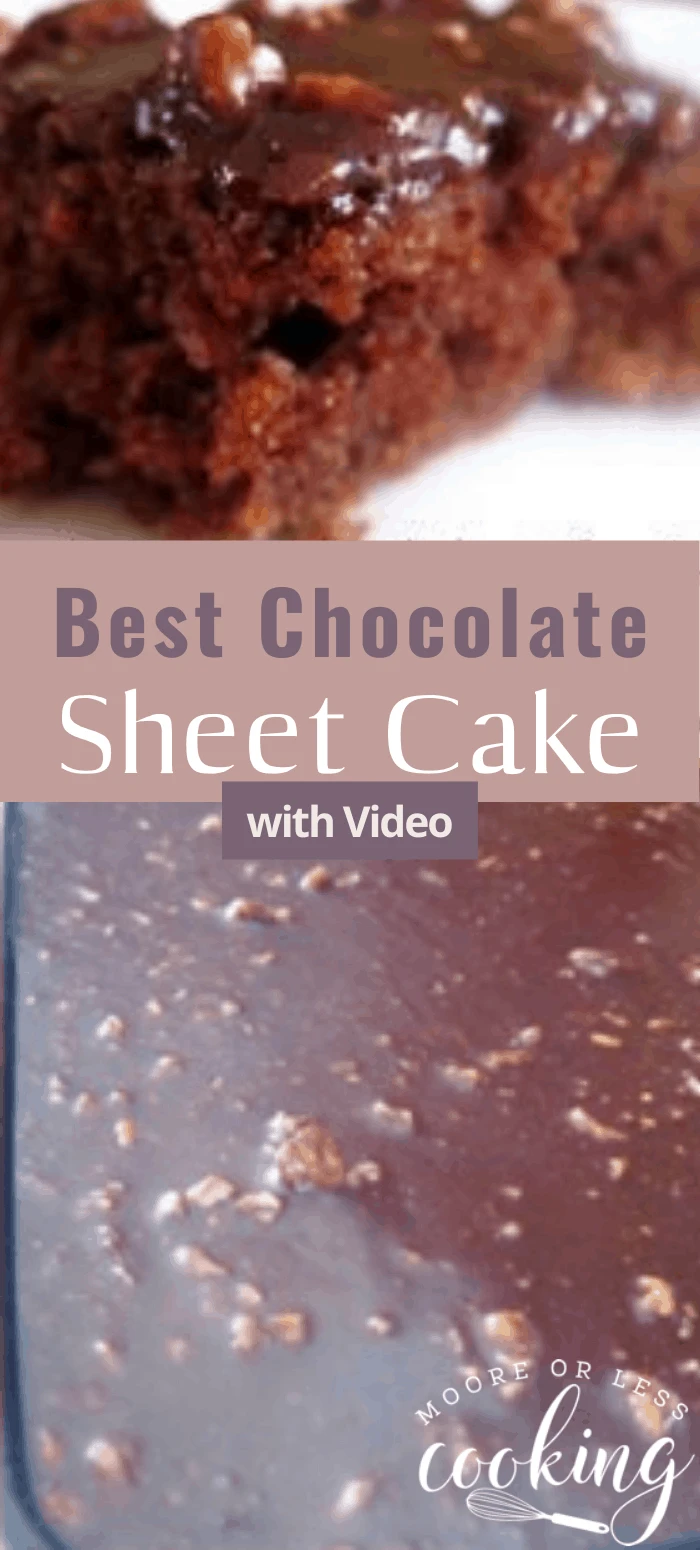 How to freeze the chocolate cake? Freeze the cake unfrosted by wrapping it tightly in aluminum foil or Saran Wrap, placing in a freezer-safe bag and then freezing for up to 4-6 months. If frosted, you can still freeze your cake.
To do this, we recommend placing the cake on a cookie sheet, unwrapped, and placing it in the freezer for about 4 hours. Take out and wrap in plastic wrap followed by a layer of aluminum foil. This can also stay in the freezer for up to 4-6 months. Let defrost in the fridge overnight before enjoying.
Nettie is a wife and mother who is passionate about cooking and baking… especially when easy meals are involved! With 5 children, Nettie insists that all meals, snacks, and desserts come together quickly! You will find a wide variety of easy yet scrumptious recipes on her very popular website Moore or Less Cooking FACEBOOK|TWITTER|GOOGLE+|PINTEREST| BLOGLOVIN|INSTAGRAM|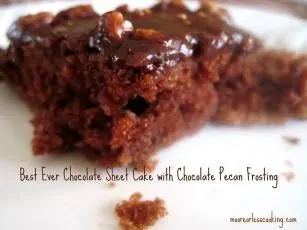 Yield:

1 sheet cake
Best Chocolate Sheet Cake
The Best Chocolate Sheet cake EVER!
Ingredients
FOR THE CAKE:
2 cups Flour
2 cups Sugar
1/4 teaspoon Salt
4 Tablespoons (heaping) Cocoa Powder
2 sticks Butter
1 cup Boiling Water
1/2 cup Buttermilk
2 whole Beaten Eggs
1 teaspoon Baking Soda
1 teaspoon Vanilla
FOR FROSTING:
1/2 cup Finely Chopped Pecans
1-3/4 stick Butter
4 Tablespoons (heaping) Cocoa
6 Tablespoons Milk
1 teaspoon Vanilla
1 pound (minus 1/2 Cup) Powdered Sugar
Instructions
Note: I use an 18x13 sheet cake pan.
In a mixing bowl, combine flour, sugar, and salt.
In a saucepan, melt butter. Add cocoa. Stir together.
Add boiling water, allow mixture to boil for 30 seconds, then turn off heat.
Pour over flour mixture, and stir lightly to cool.
In a measuring cup, pour the buttermilk and add beaten eggs, baking soda, and vanilla.
Stir buttermilk mixture into butter/chocolate mixture. Pour into sheet cake pan and bake at 350-degrees for 20 minutes.
While cake is baking, make the icing.
Chop pecans finely.
Melt butter in a saucepan.
Add cocoa, stir to combine, then turn off heat.
Add the milk, vanilla, and powdered sugar.
Stir together.
Add the pecans, stir together, and pour over warm cake.
Enjoy! Take this sheet cake to your next party, you will make lots of friends! Nettie
Nutrition Information
Yield
24 slices
Serving Size
1 slice
Amount Per Serving
Calories

272
Total Fat

17g
Saturated Fat

9g
Trans Fat

1g
Unsaturated Fat

6g
Cholesterol

54mg
Sodium

206mg
Carbohydrates

29g
Fiber

1g
Sugar

20g
Protein

3g