This really is The Best Chocolate Sheet Cake~ Ever! So chocolatey and rich! You will be hearing moans and groans from anyone who takes a bite!
It's Judy's Surprise Birthday and I have been wanting to make this incredible cake ever since I saw it on The Pioneer Woman Cook's Blog.
She says it's The Best Sheet Cake Ever, and I trust her. Everything that I have made from her blog has been delicious and my kids have asked me to make it all the time!
Well she was right! Friends were going back for second and third pieces!
I wanted to make a delicious cake for Judy and her friends, since I didn't know how many people were going to be there to surprise the HECK out of her, I thought that a sheet cake would be perfect!
I read every single one of the comments on TPWC Blog, which is saying a lot ( she usually gets around 800 comments or MORE per post) and so many people commented that this cake was really difficult to mess up.
I thought of this the whole time that I was talking to my best friend while trying to make the cake and frosting.
Do you ever do that? Leave out an ingredient while you are having a serious conversation on the phone?
I have, sugar, while making pies, not good at all!I didn't leave out any ingredients for this cake, but my mind was really concentrating on two things at one time.
I recommend this if you are feeling lazy and need to be challenged! Talking and Baking!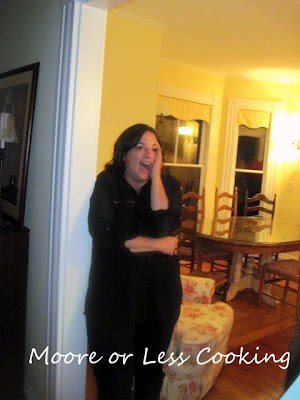 This sheet cake is wonderful warm after just being freshly frosted or perfect the day after for breakfast, or as a late snack, or before lunch, or after a hike!
My kids are asking me to make another sheet cake since this one was whisked away for the party, okay kids, for your birthday!
Make sure to decorate the cake if you like, I am in no way a skilled baker-ess, I drew out JUDY and a Heart, but it was still hard to tell what that exactly was…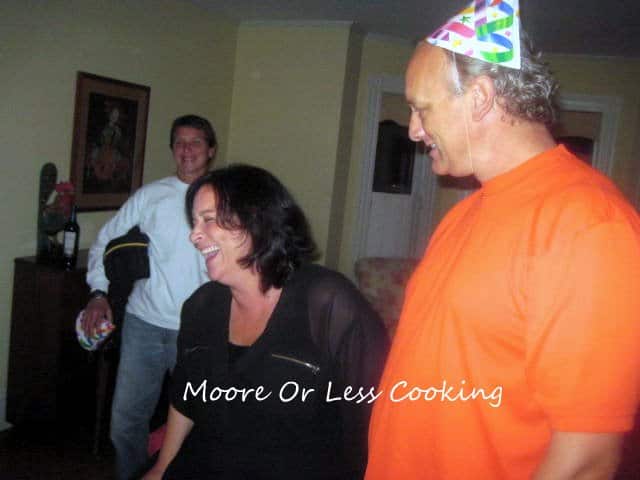 As we were all hiding waiting for Judy and Tom to come back from their date night, Judy's Mother called Judy from the back room asking her if she could show her something on the computer, the lights were off, we were quiet as mice, we all jumped out and yelled SURPRISE!!
Thank goodness, Judy is young and has a very strong heart, I would have collapsed, don't yell at me and come jumping out at me from a dark room, years will come off my life!
You are an amazing sport Young Judy!!
Judy still trying to recover, you did a great job Tom keeping it a secret!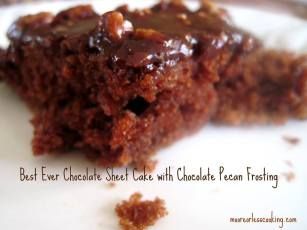 Yield:

1 sheet cake
Best Chocolate Sheet Cake
The Best Chocolate Sheet cake EVER!
Ingredients
FOR THE CAKE:
2 cups Flour
2 cups Sugar
1/4 teaspoon Salt
4 Tablespoons (heaping) Cocoa Powder
2 sticks Butter
1 cup Boiling Water
1/2 cup Buttermilk
2 whole Beaten Eggs
1 teaspoon Baking Soda
1 teaspoon Vanilla
FOR FROSTING:
1/2 cup Finely Chopped Pecans
1-3/4 stick Butter
4 Tablespoons (heaping) Cocoa
6 Tablespoons Milk
1 teaspoon Vanilla
1 pound (minus 1/2 Cup) Powdered Sugar
Instructions
Note: I use an 18x13 sheet cake pan.
In a mixing bowl, combine flour, sugar, and salt.
In a saucepan, melt butter. Add cocoa. Stir together.
Add boiling water, allow mixture to boil for 30 seconds, then turn off heat.
Pour over flour mixture, and stir lightly to cool.
In a measuring cup, pour the buttermilk and add beaten eggs, baking soda, and vanilla.
Stir buttermilk mixture into butter/chocolate mixture. Pour into sheet cake pan and bake at 350-degrees for 20 minutes.
While cake is baking, make the icing.
Chop pecans finely.
Melt butter in a saucepan.
Add cocoa, stir to combine, then turn off heat.
Add the milk, vanilla, and powdered sugar.
Stir together.
Add the pecans, stir together, and pour over warm cake.
Enjoy! Take this sheet cake to your next party, you will make lots of friends! Nettie
Nutrition Information
Yield
24 slices
Serving Size
1 slice
Amount Per Serving
Calories

272
Total Fat

17g
Saturated Fat

9g
Trans Fat

1g
Unsaturated Fat

6g
Cholesterol

54mg
Sodium

206mg
Carbohydrates

29g
Fiber

1g
Sugar

20g
Protein

3g
Please remember to SHARE on FACEBOOK
and PIN IT!
Nettie is a wife and mother who is passionate about cooking and baking… especially when easy meals are involved! With 5 children, Nettie insists that all meals, snacks, and desserts come together quickly! You will find a wide variety of easy yet scrumptious recipes on her very popular website Moore or Less Cooking FACEBOOK | TWITTER | GOOGLE+ | PINTEREST | BLOGLOVIN |INSTAGRAM|