Combine a fudgy crust with a sweet and creamy filling that's garnished with a salty and buttery topping and you've got a Brownie Bottom Salted Caramel Cheesecake dessert that will be simply irresistible to your friends and family!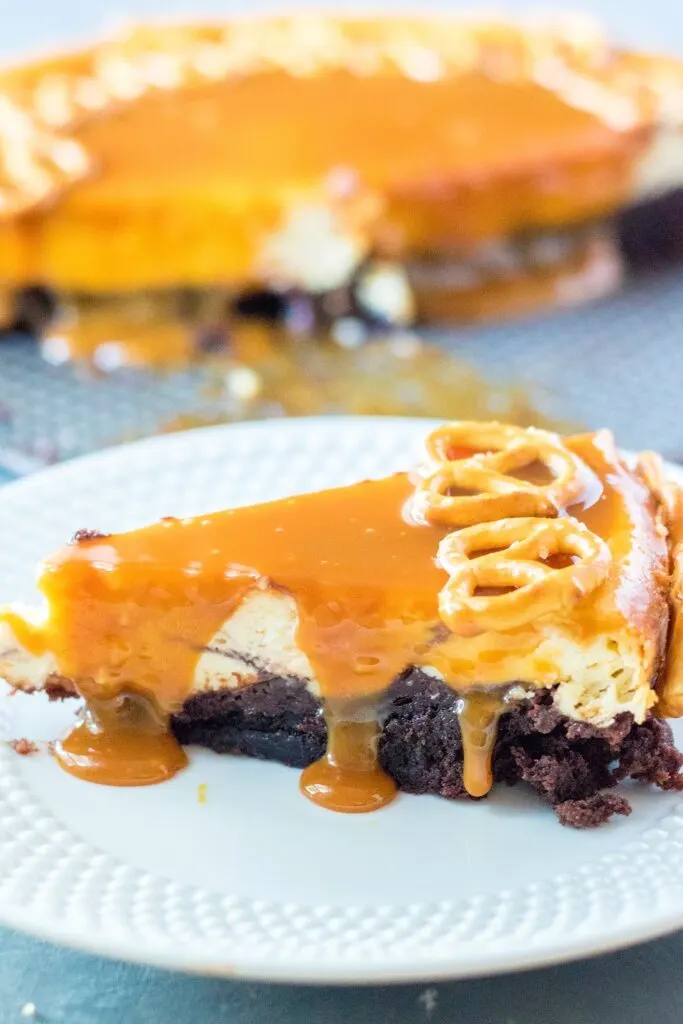 For a cheesecake that will rival that famous factory restaurant (you know the one!), this super easy and decadent brownie-bottom salted caramel cheesecake is the one to make.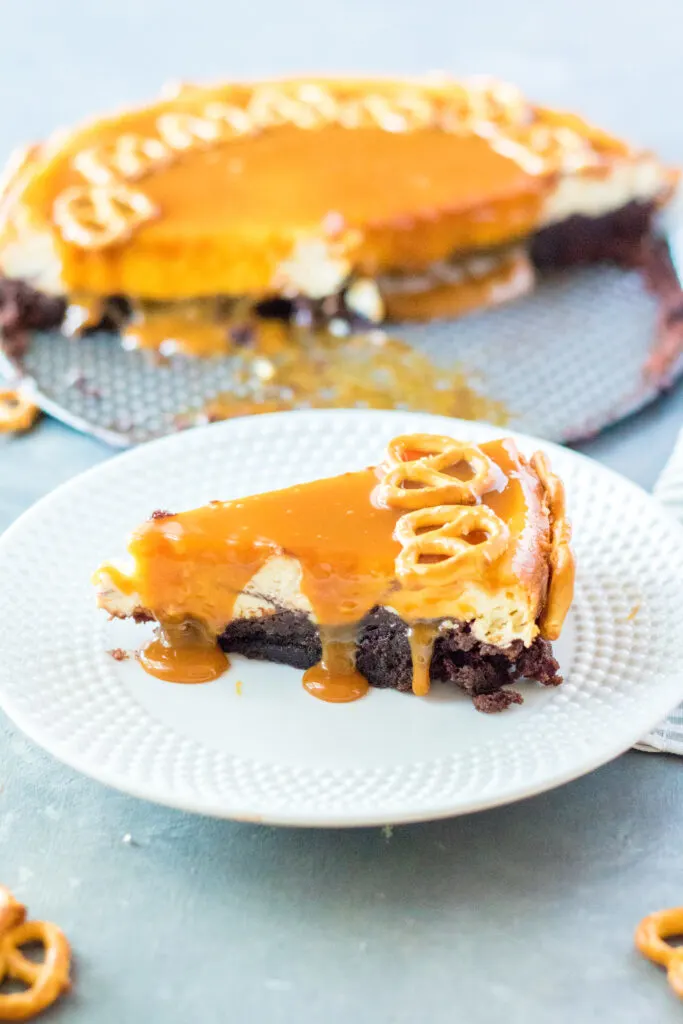 The chocolate brownie crust holds the sweetened cream cheese filling that's baked to smooth perfection before being topped with caramel sauce. Add the perfect salty crunch with pretzels as a decorative element to line the sides of the baked and cooled cheesecake just before serving.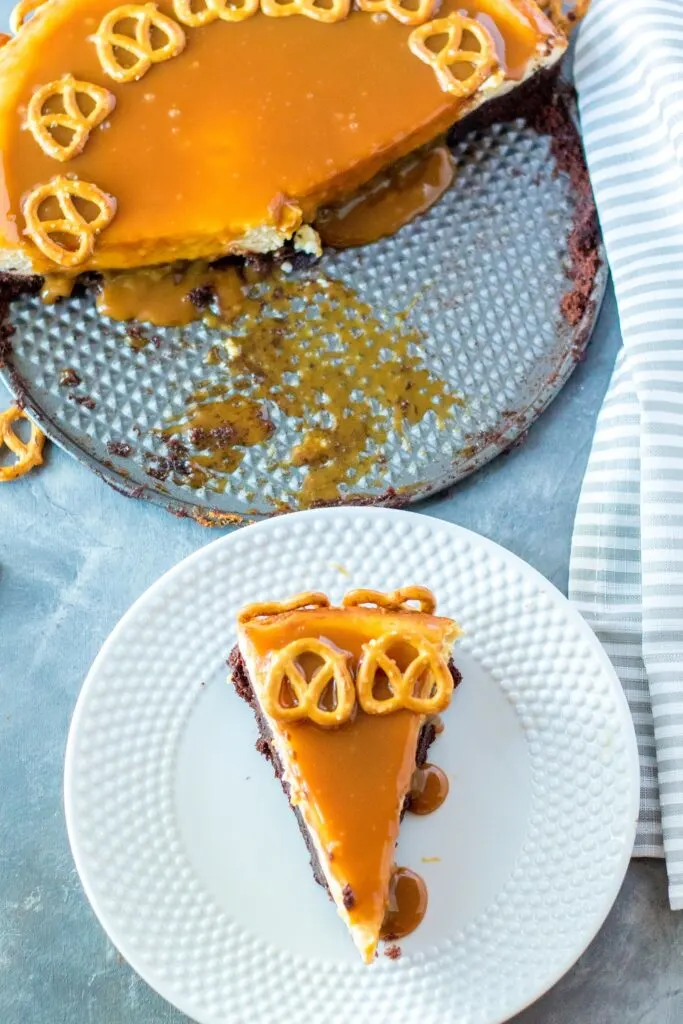 This cheesecake is perfect for special occasions and would be a decadent addition to any fall holiday dessert table, too!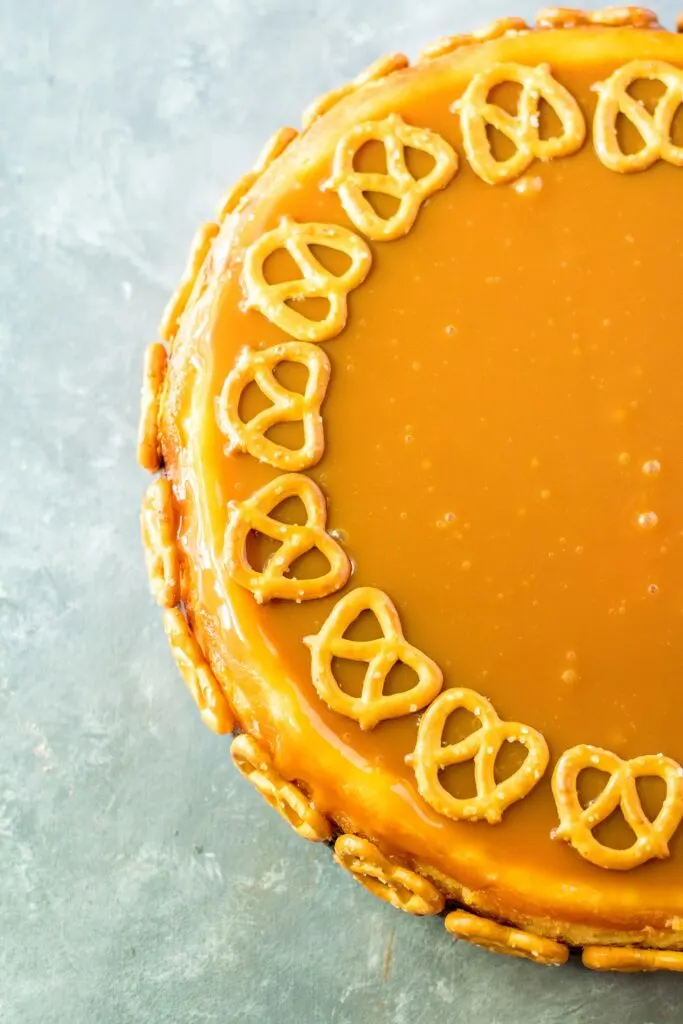 Why You'll Love This Cheesecake Recipe
It's easy!
The brownie crust is made from scratch, but you can use a mix if you are pinched for time!
The cheesecake filling uses common pantry ingredients and just requires a handheld mixer to blend.
There's no water bath needed when baking this cheesecake.
You can use your favorite store-bought jarred caramel sauce for the topping.
It's easily garnished with a bag of small pretzels for a decorative, salty, and crunchy finish.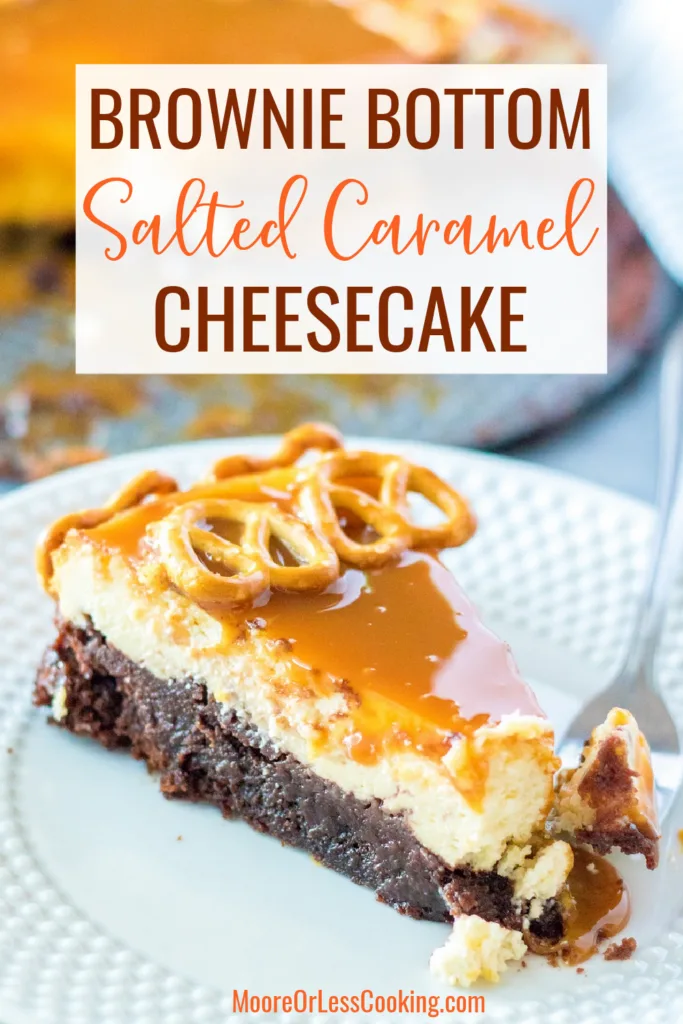 Ingredients Needed
For the Brownie Base –
semi-sweet chocolate, chopped or chocolate chips
unsalted butter, cut into pieces
sugar
eggs
vanilla
all-purpose flour
baking powder
sea salt
cooking spray or butter for greasing
Or use your favorite brand of brownie mix. Note, that you'll also need the ingredients listed on the box (usually water, oil, and eggs) that the brownie mix calls for.
Cream Cheese, softened – make sure you set the packages out to come to room temperature. It makes it easier to blend as well as produces a smooth cheesecake filling.
Sugar-white granulated is what to use.
Vanilla Extract – for flavoring the cheesecake filling
Eggs – set them out to come to room temperature.
Salted Caramel Topping – use your favorite jarred brand.
Pretzels – for decorating. Use small pretzels that will fit around the periphery of the cheesecake as decoration.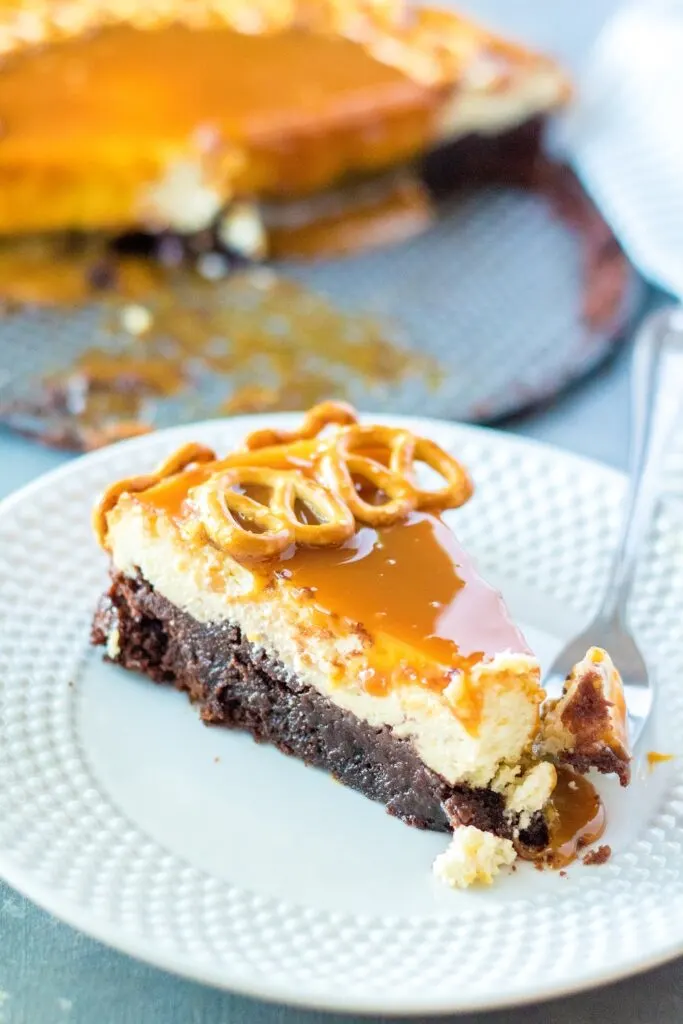 How To Make The Brownie Bottom Salted Caramel Cheesecake
Note: This is a summary of the recipe steps. For complete instructions, see the recipe card down below.
Preheat the oven to 325 degrees.
Prepare the brownie mix as directed on the back of the box or make the recipe below for the brownie base.
Pour into the bottom of a 9-inch springform pan.
Beat cream cheese, sugar, and vanilla with a mixer until blended.
Add in the eggs, 1 at a time, mixing on low speed after each just until blended.
Pour over the brownie crust.
Bake for 55 min. or until the center is almost set.
Run a knife around the rim of the pan to loosen the cake. Let it cool before removing the rim.
Refrigerate the cheesecake for at least 4 hours.
Pour the caramel topping all over the cheesecake and remove it from the springform pan.
Decorate the outer edge and top with pretzels. Serve!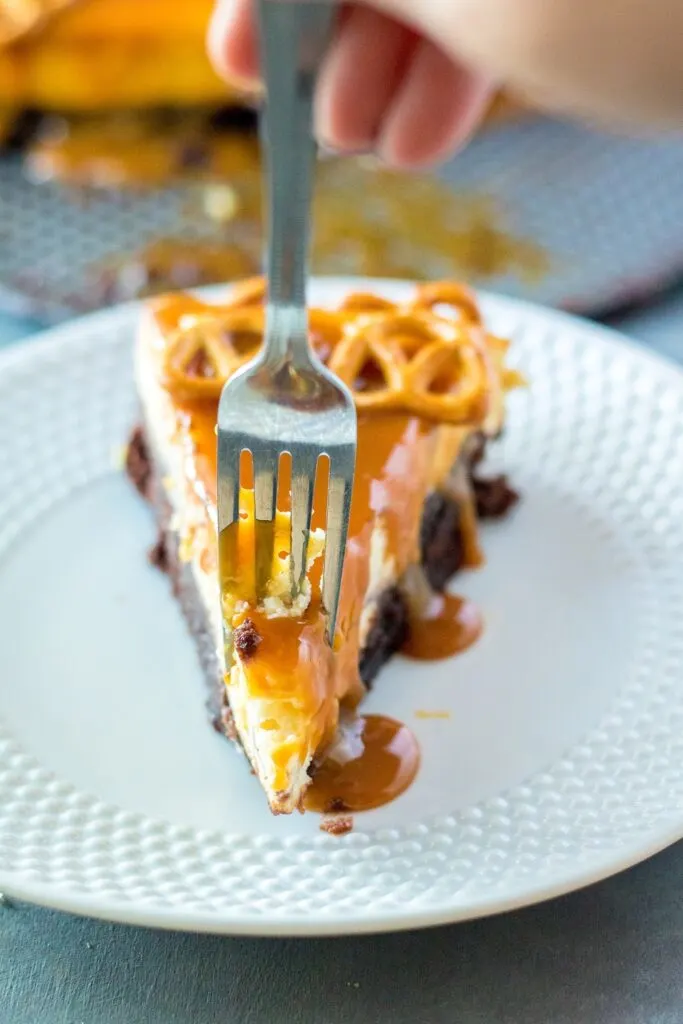 How Do I Know When The Cheesecake Is Done?
Since every oven is different, you may need a little longer or a little less time in the oven. I would check your cheesecake at the 50-55 minute mark and test for doneness. The center of the cheesecake should be set with just a hint of jiggle in the center. If it's too jiggly, leave it in for 5 more minutes and continue to check for doneness.
Once it's out of the oven, let it cool just a bit before you chill it in the refrigerator, which will help the cheesecake to firm up. The cheesecake will need to chill for at least 4 hours before adding the topping. I like to chill mine overnight for maximum firmness and setting.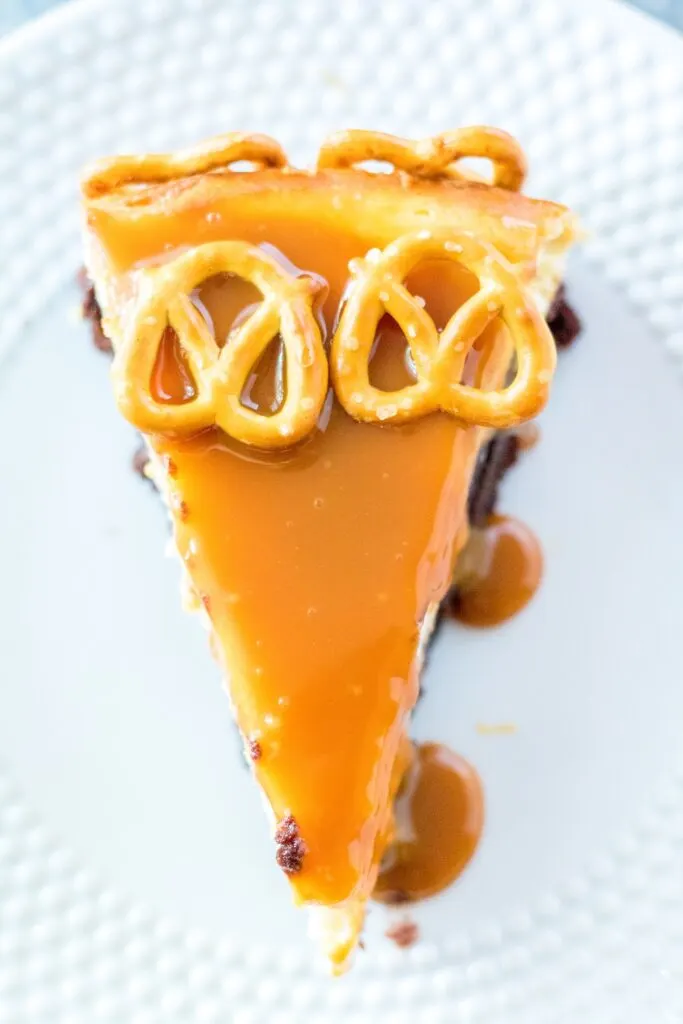 What If The Top Of The Cheesecake Cracks?
If the top has cracks, it's not the end of the world! Remember, you're going to be topping the cooked and chilled filling with caramel sauce and decorating it with pretzels, so any cracks will most likely be obscured by the toppings!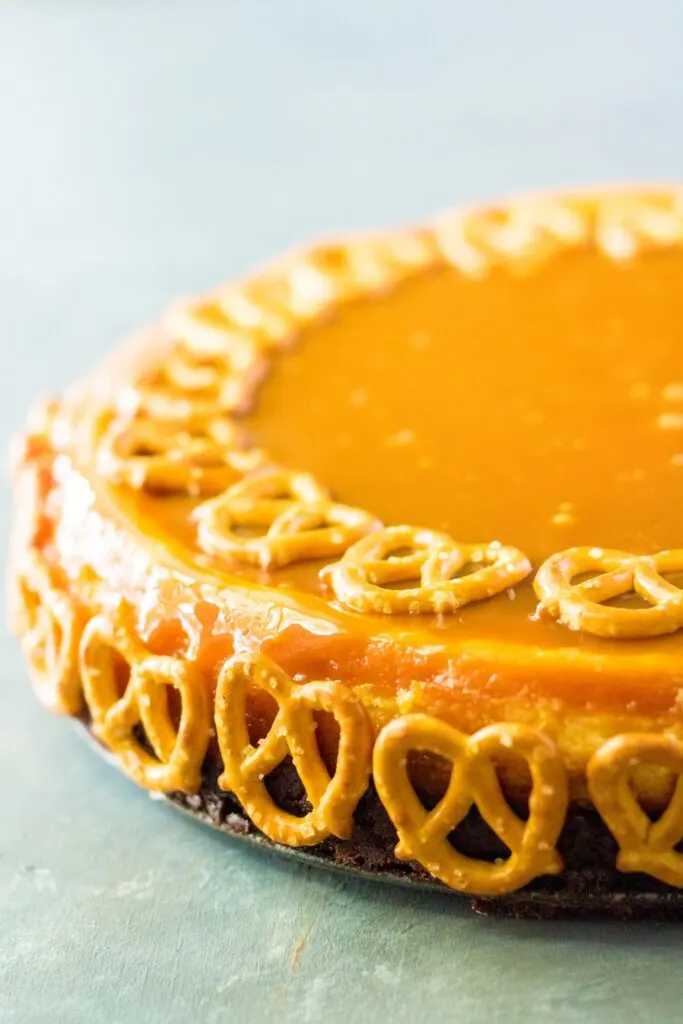 Topping Variations
It's hard to beat a luscious caramel topping, but this recipe is also perfect for trying out some other yummy ideas. Note: they should all be added after the cheesecake has fully chilled in the fridge. Here are a few to consider:
Add a drizzle of chocolate sauce over the caramel topping
Chocolate Fudge jarred topping
Strawberry jarred topping
Butterscotch jarred topping
Sour Cream – add and chill again to set it completely
Cherry Pie Filling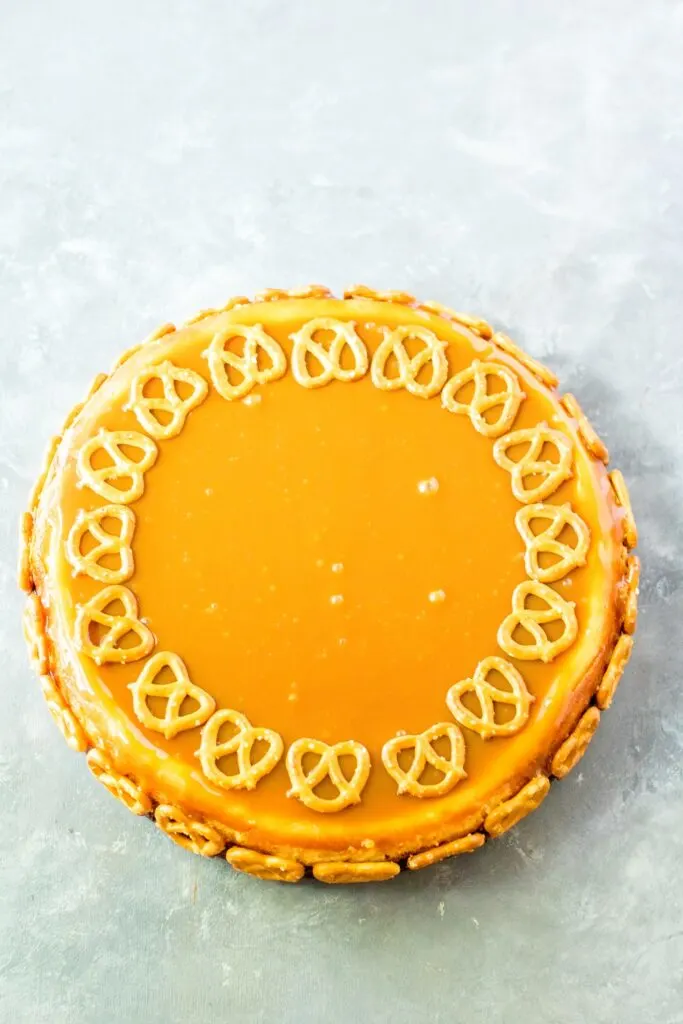 Pretzel Variations
If you would rather leave off the pretzels, try these other delicious ideas for garnishing the caramel topping of this cheesecake.
Garnish with a very light sprinkle of flakey sea salt around the top edge of the caramel sauce.
Garnish the caramel sauce topping with crushed toffee bits.
Garnish the caramel sauce topping with chopped pecans.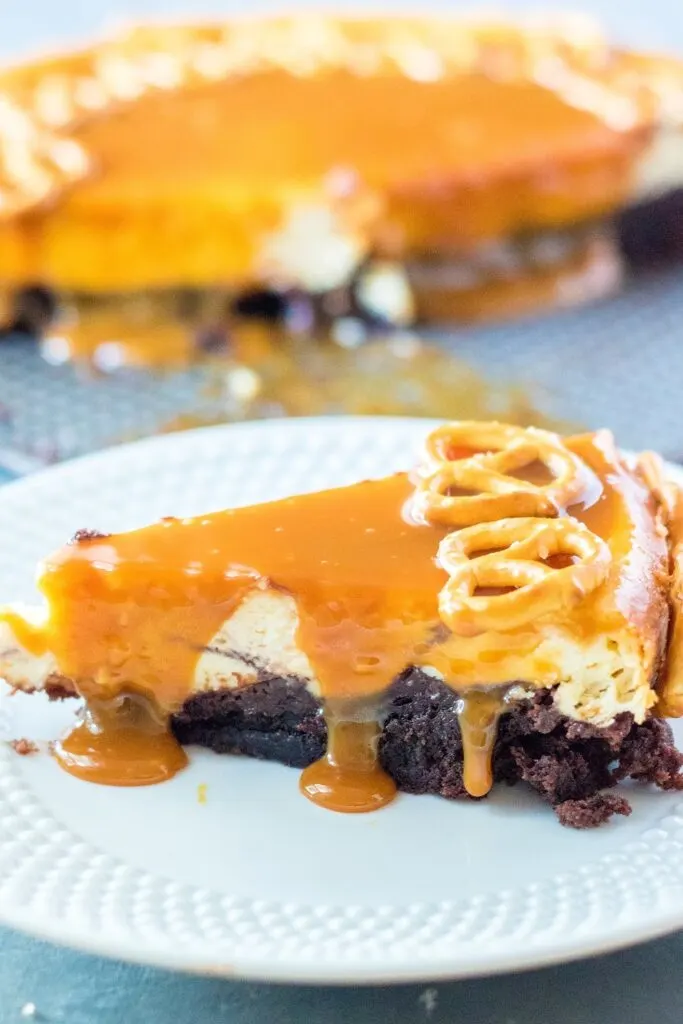 Can I Make This Cheesecake Ahead?
Yes, and you should! I like to make it the day before I want to serve it as it needs at least 4 hours in the refrigerator to set before adding the topping and serving. That said, I find that chilling it overnight is best. That way, everything is set and will slice perfectly when ready to serve.
You can make it ahead of time and let it chill in the fridge for up to two days before topping it and serving. Make sure it's tightly covered to avoid drying out.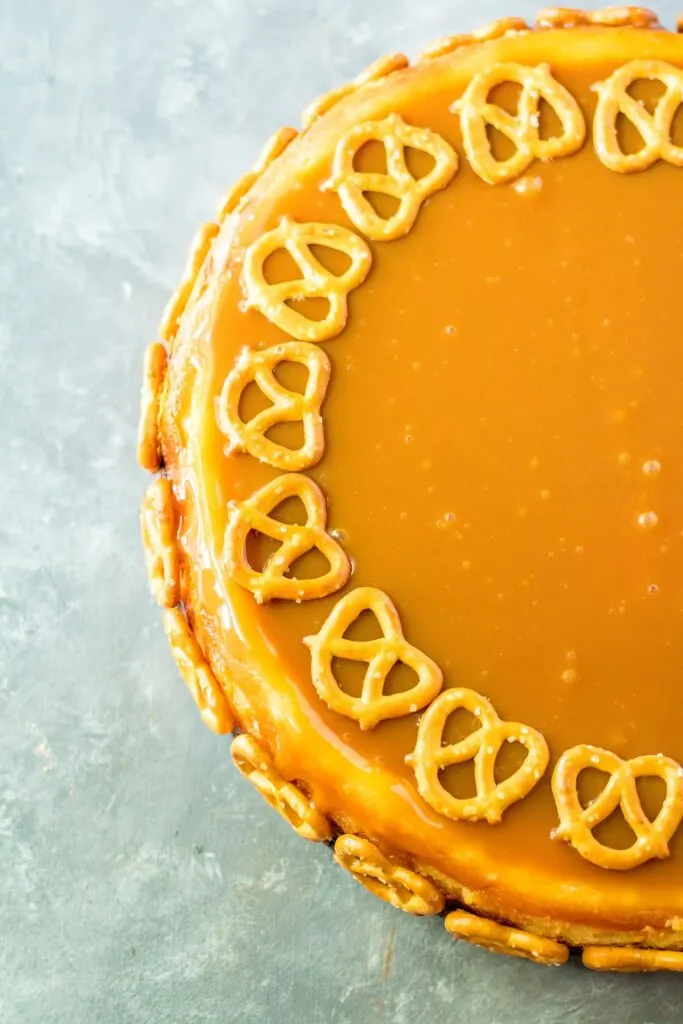 How To Store This Cheesecake
This cheesecake should be stored in the fridge. Keep it in a covered container or cover it well with plastic wrap. Leftovers will keep for up to a week.
Is this Cheesecake Freezer-Friendly?
Yes, the cheesecake, without the caramel topping, can be tightly wrapped and stored in the freezer for up to 3 months. Thaw it in the fridge overnight and add the topping and pretzels before serving.
More Cheesecake Recipes
Cheesecake Factory Copycat Key Lime Cheesecake
Instant Pot Mint Chip Oreo Cheesecake
Copycat Cheesecake Factory Pumpkin Cheesecake
Key Lime Strawberry Cheesecake Cake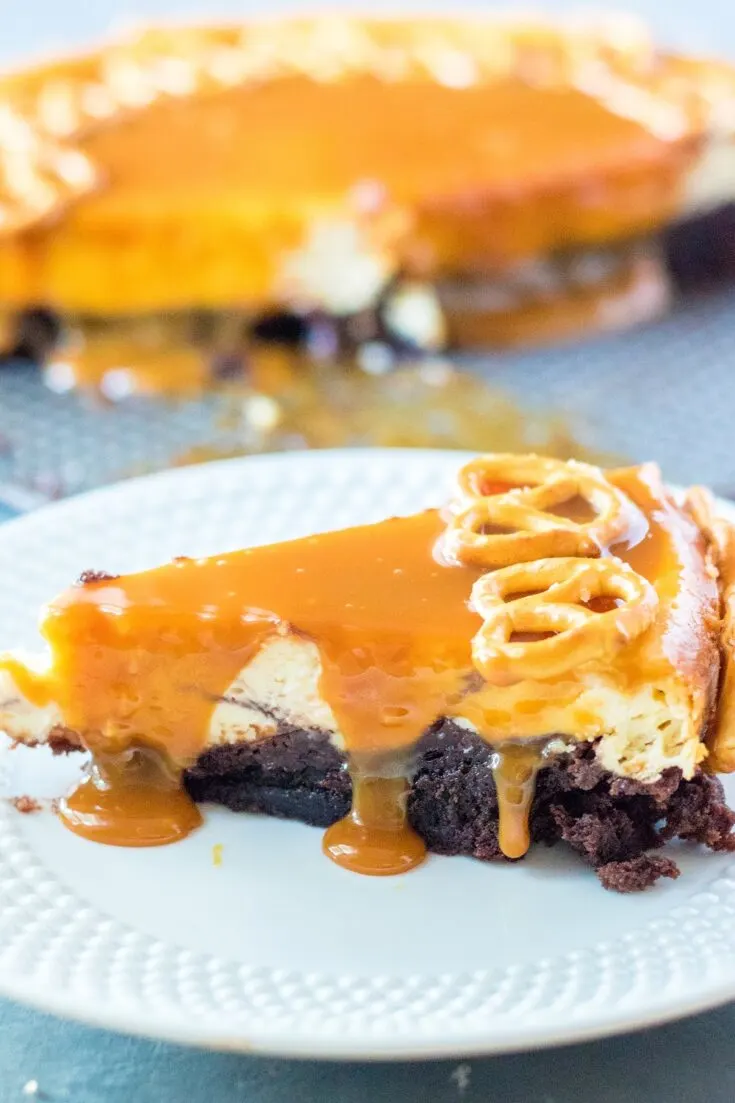 Yield:

12 slices
Brownie Bottom Salted Caramel Cheesecake
Total Time:
4 hours
24 minutes
Combine a fudgy brownie crust with a sweet and creamy filling that's garnished with a salty and buttery topping and you've got a Brownie Bottom Salted Caramel Cheesecake dessert that will be simply irresistible to your friends and family!
Ingredients
THE BROWNIE BASE:
3 ounces semi-sweet chocolate, chopped
1/2 cup unsalted butter, cut into pieces
1 cup sugar
2 large eggs
1 1/2 teaspoons vanilla
2/3 cup all purpose flour
1/2 teaspoon baking powder
1/4 teaspoon salt
cooking spray or butter for greasing
NO BAKE CHEESECAKE LAYER:
20 ounces cream cheese, softened
1/2 cups powdered sugar
1/2 cup sour cream
1/2 cup heavy cream
1 tsp Vanilla
Instructions
Gather all the ingredients
THE BROWNIE BASE:
Preheat your oven to 325 degrees. Adjust your oven rack to the middle position. Grease your 9-inch springform pan with cooking spray or butter. Set aside.
You now have 2 options:
1) In a small saucepan, melt butter, over low heat. Add chocolate and stir until combined.
OR 2) Using a small bowl or measuring cup melt the butter and chocolate together in your microwave, on low, stirring every 30 seconds or so, until melted and totally blended together. Set aside to cool slightly.
In a medium to large mixing bowl, combine sugar, eggs, vanilla, baking powder, and salt. Use a whisk to mix the ingredients together. Add chocolate mixture and continue to whisk until smooth. Add flour and whisk until totally incorporated.
Next, pour the batter into the prepared springform pan. Do your best to spread the batter as evenly as possible across the bottom of the pan, trying not to get any brownie batter on the sides of the pan. You want the layers of this cake to be as perfect as possible!
Bake until the top of the brownie begins to crack and a toothpick inserted into the center comes out almost clean. A few crumbs are ok! It will take around 24 minutes. Sometimes a little less, sometimes a little more. I always rotate the brownies at about the 12-minute mark. Once brownies are cooked, remove them from your oven and place them on a wire rack to totally cool.
NO-BAKE CHEESECAKE LAYER:
Beat cream cheese, sour cream, powdered sugar, and heavy cream until smooth.
Beat until smooth. Add parchment paper around the edge of the brownies while still in the pan.
Once the brownie is cool, open the springform pan briefly, slide parchment around the edge of the brownie, and close the springform pan. The parchment needs to rise slightly above the springform pan to hold the cheesecake mixture.
Pour and spread over the brownie bottom.

Cover with plastic wrap and refrigerate for a minimum of 4 hours but ideally overnight so that cheesecake is firm and set.

Pour caramel sauce all over your cheesecake while parchment is still in place and refrigerate for at least an hour for caramel sauce to become firmer.

Refrigerate until needed for serving.

Remove from springform pan.

Decorate with pretzels as desired on the outer edge and top.
Recommended Products
As an Amazon Associate and member of other affiliate programs, I earn from qualifying purchases.
Nutrition Information
Yield
12
Serving Size
1
Amount Per Serving
Calories

493
Total Fat

36g
Saturated Fat

21g
Trans Fat

0g
Unsaturated Fat

12g
Cholesterol

124mg
Sodium

286mg
Carbohydrates

40g
Fiber

1g
Sugar

28g
Protein

6g