This cheesecake has a seasonal twist to traditional cheesecake. Topped with buttercream frosting and served drizzled with caramel sauce=delicious! Make this Copycat Cheesecake Factory Pumpkin Cheesecake at home instead of going to the restaurant to get it.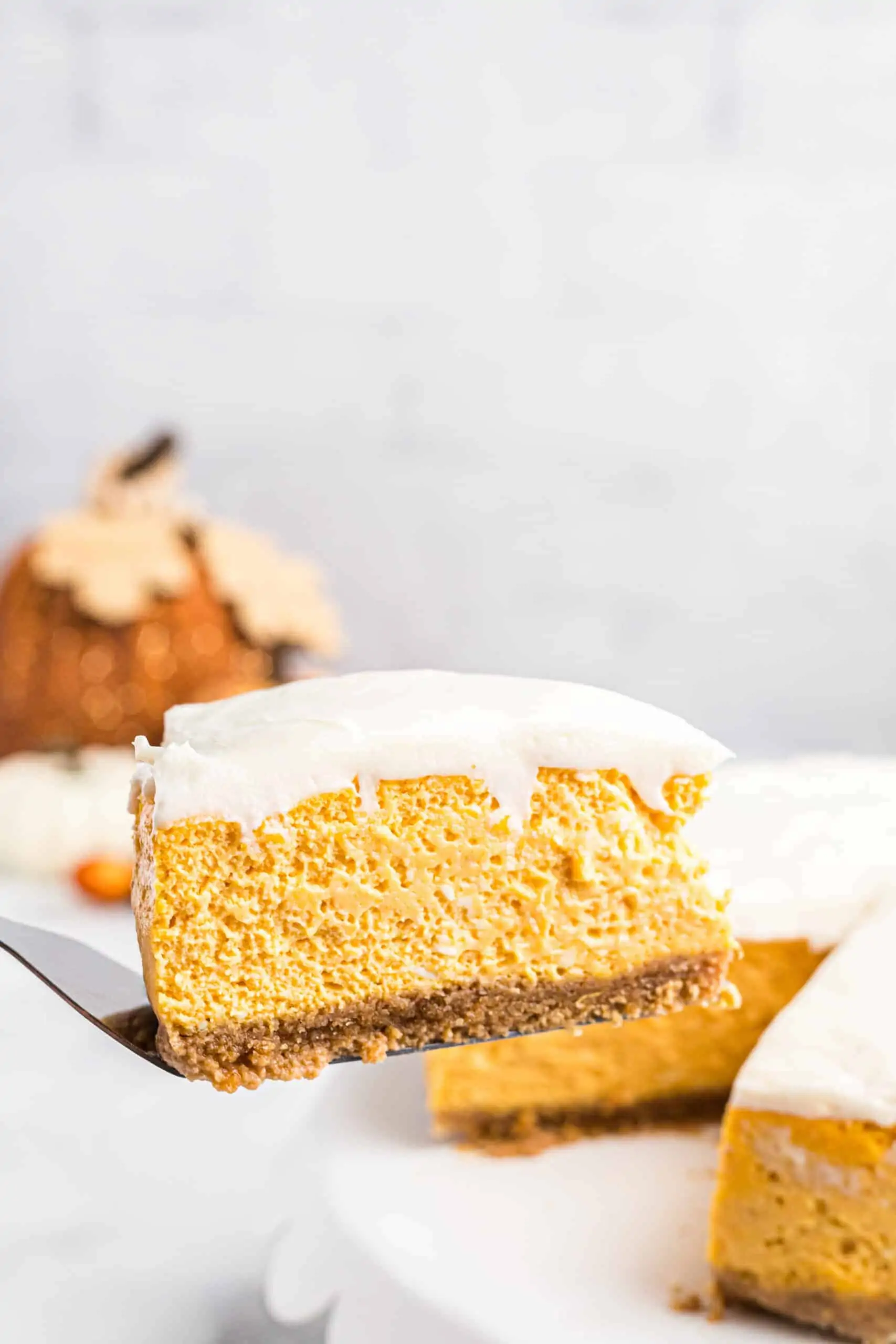 The best part about going to the Cheesecake Factory for dinner is selecting the perfect slice of cheesecake as a dessert. While I love the restaurant and the cheesecake slices they have available, the one thing I do not like is spending money while working with a budget.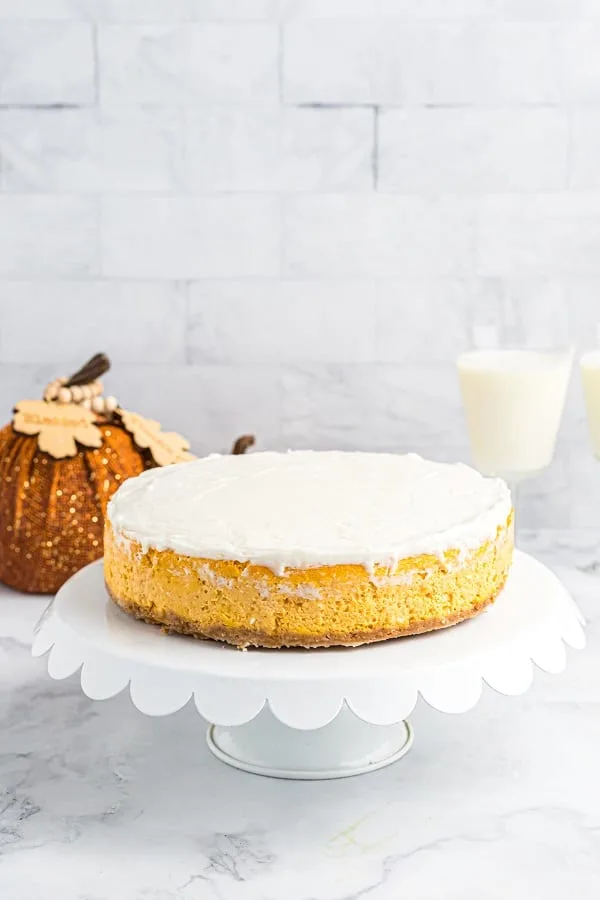 Whenever I crave the restaurant's cheesecake, I prepare this Copycat Cheesecake Factory Pumpkin Cheesecake because it combines some of my favorites—sweet pumpkin and cheesecake. Rather than paying a lot of money for a single slice of cheesecake, I can have as much of it as I want for a fraction of the cost.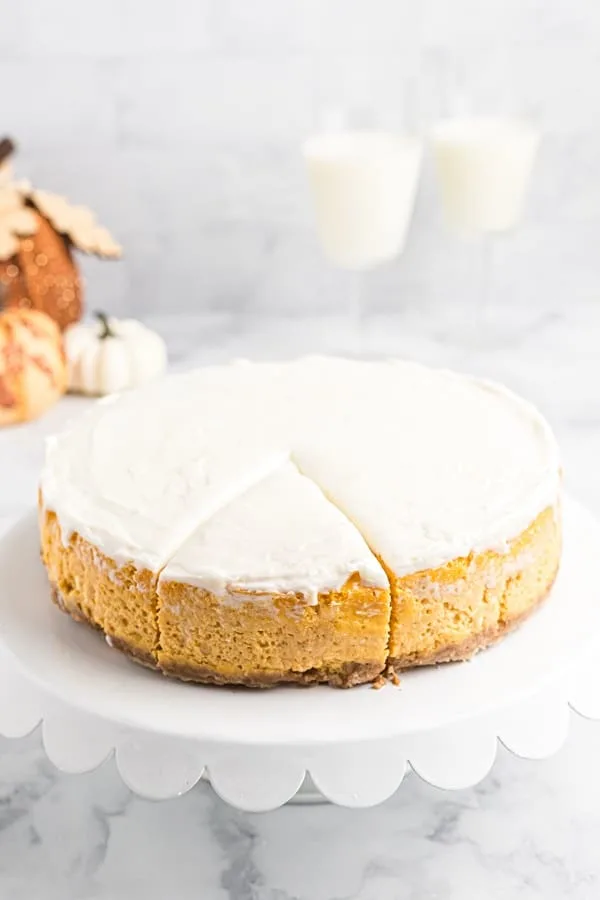 Copycat Cheesecake Factory Pumpkin Cheesecake
If you want to prepare a dessert that everyone in the house will love, this is a great choice. It is the perfect dessert to have after dinner on any day of the week, but it is also a great dessert to prepare and bring with you to a holiday dinner with some of your relatives. Anyone who enjoys cheesecake and pumpkin-flavored treats will love this combination.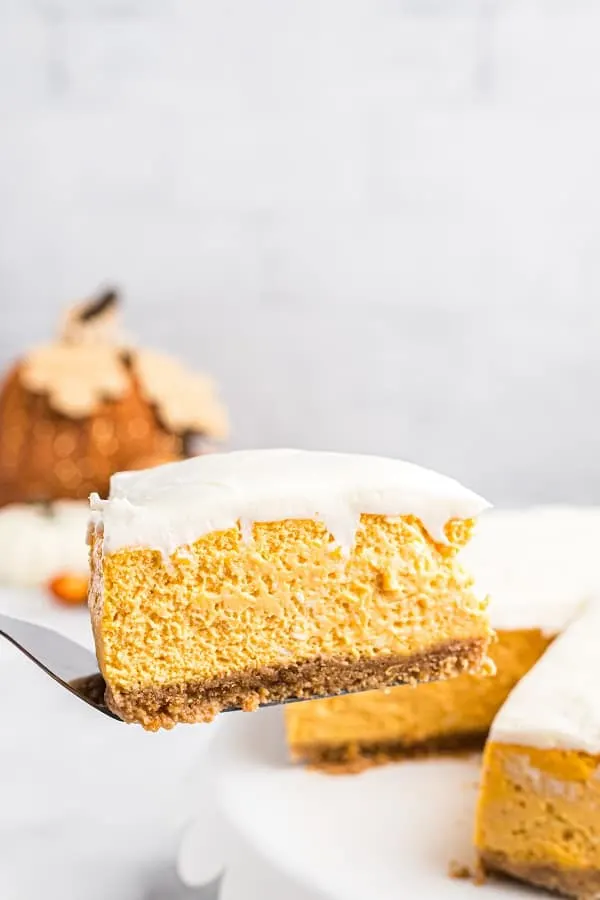 I love that I can make this Copycat Cheesecake Factory Pumpkin Cheesecake in advance and freeze it. There are a few steps involved in preparing it, but each step is worth it because of how good the cheesecake tastes.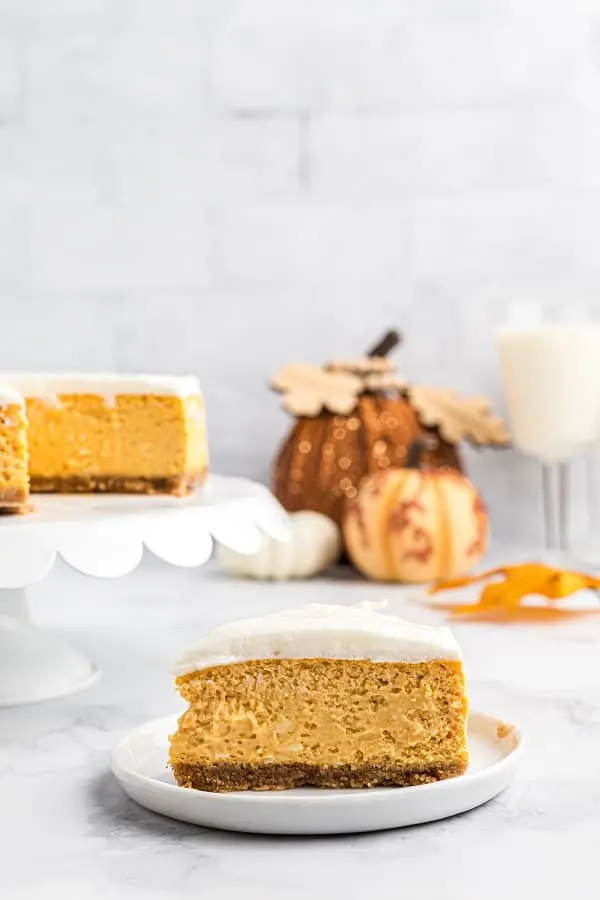 Tasty Additions For Your Cheesecake Factory Pumpkin Cheesecake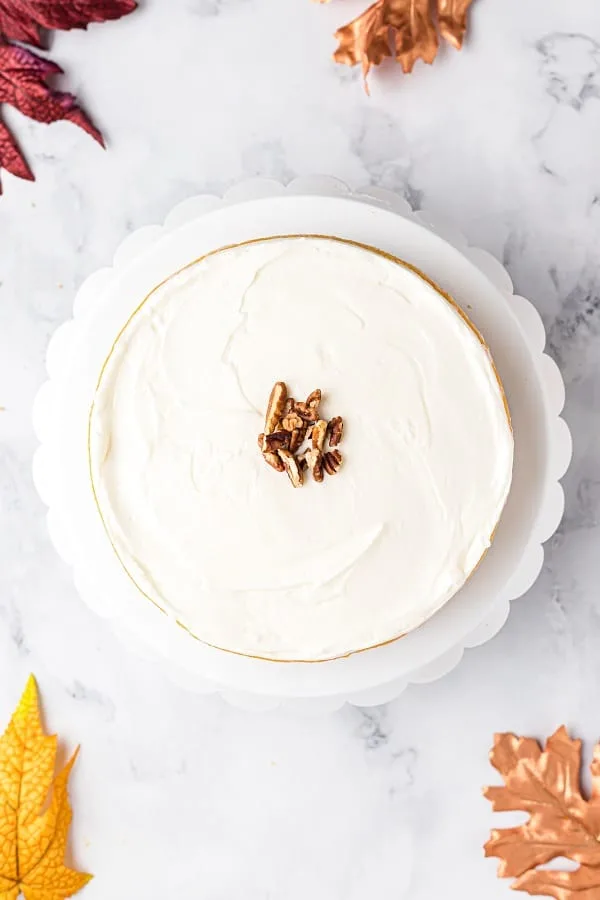 The Copycat Cheesecake Factory Pumpkin Cheesecake tastes excellent on its own, but you can add some frosting to it to make it even sweeter. I have used frosting on it and enjoyed the added flavor.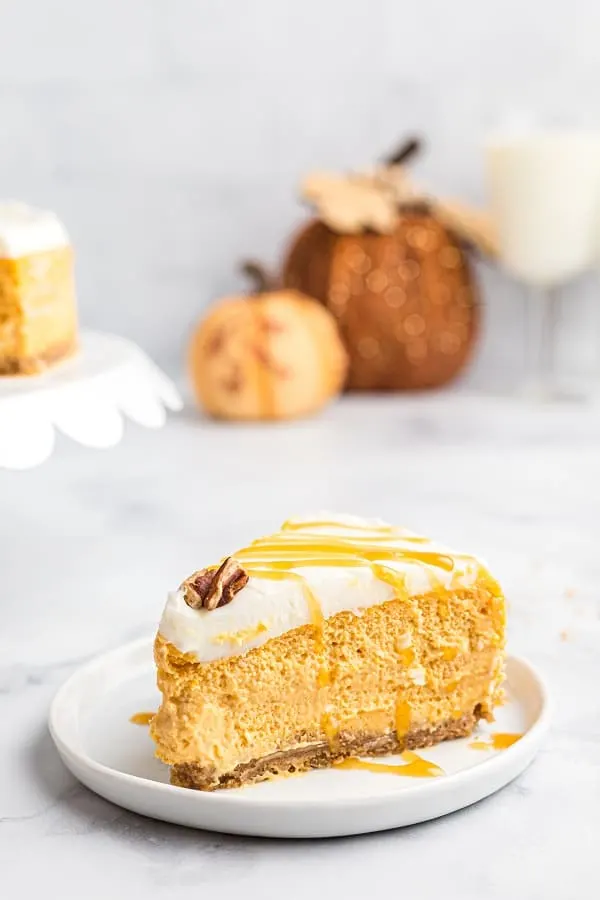 The frosting that I believe goes best with this cheesecake is buttercream frosting. It offers an added sweetness without taking away from the taste of the pumpkin cheesecake.

It also adds a special touch to the cheesecake, making it look even more presentable when bringing it to a special event for guests to eat.

Aside from frosting, caramel sauce is an excellent addition to this Copycat Cheesecake Factory Pumpkin Cheesecake recipe.

The caramel sauce pairs perfectly with the pumpkin spice and sweet cheese flavor.

You can make your own caramel using condensed milk, or you can purchase pre-made caramel and heat it before lightly pouring it over the top of your cheesecake.

I like to let the caramel slowly drip down the sides to ensure that each piece has plenty of caramel added. My children love the slices with caramel on top and will literally fight over them.

You can even add whipped cream to the top of your cheesecake. Traditional whipped cream works great, but you might want to prepare some pumpkin-flavored whipped cream by adding a bit of pumpkin spice to the cream.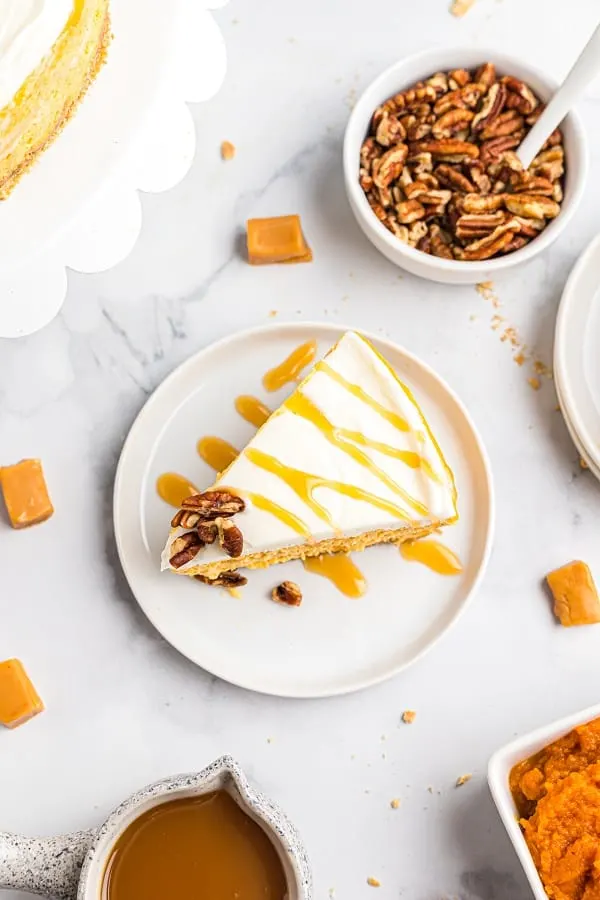 Alternative Crust Options For Your Copycat Cheesecake Factory Pumpkin Cheesecake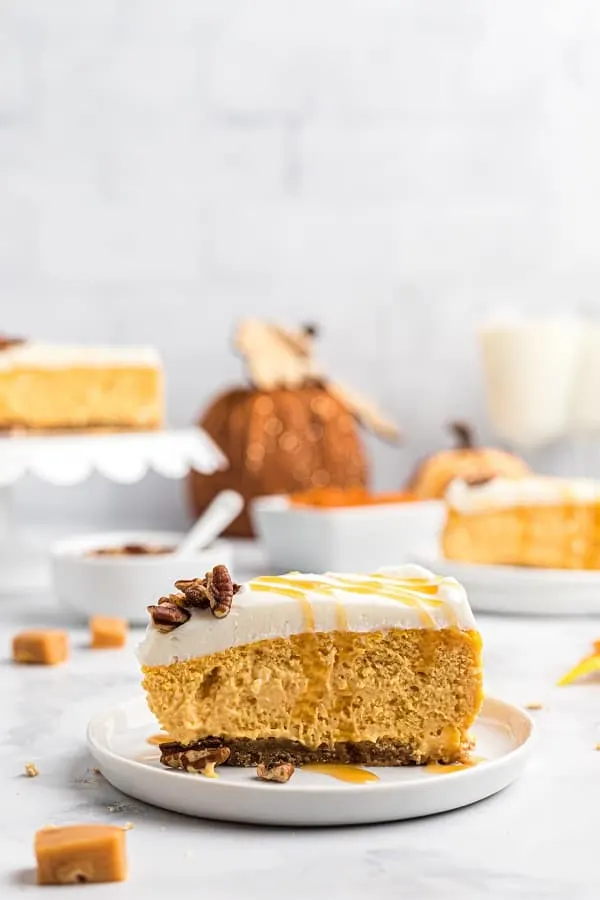 Crushed graham crackers combined with light brown sugar and melted butter make for the perfect cheesecake crust. However, there are some alternatives you can try when you want to mix things up. In the past, I have used crushed pumpkin spice cookies and crushed vanilla wafers. You do not have to choose graham crackers specifically.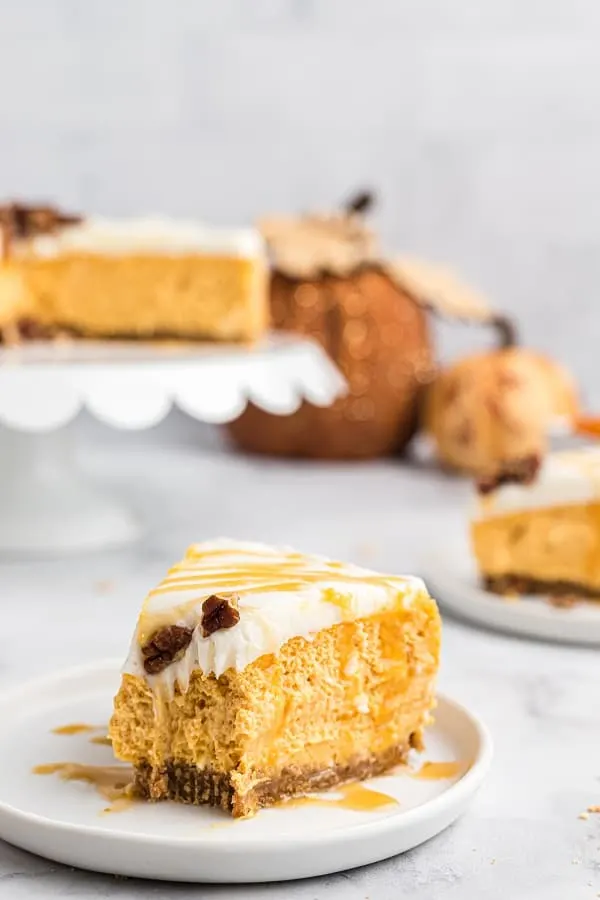 You simply need to choose something that has a crunch to it. If you want to add a salty crunch to your Copycat Cheesecake Factory Pumpkin Cheesecake, use some crushed pretzels to make your crust.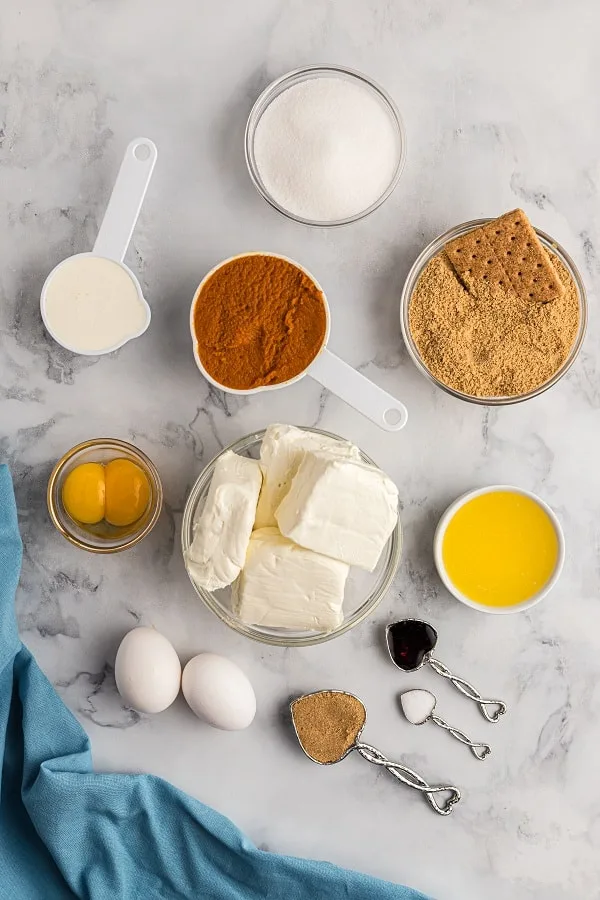 How to Keep Your Copycat Cheesecake Factory Pumpkin Cheesecake Fresh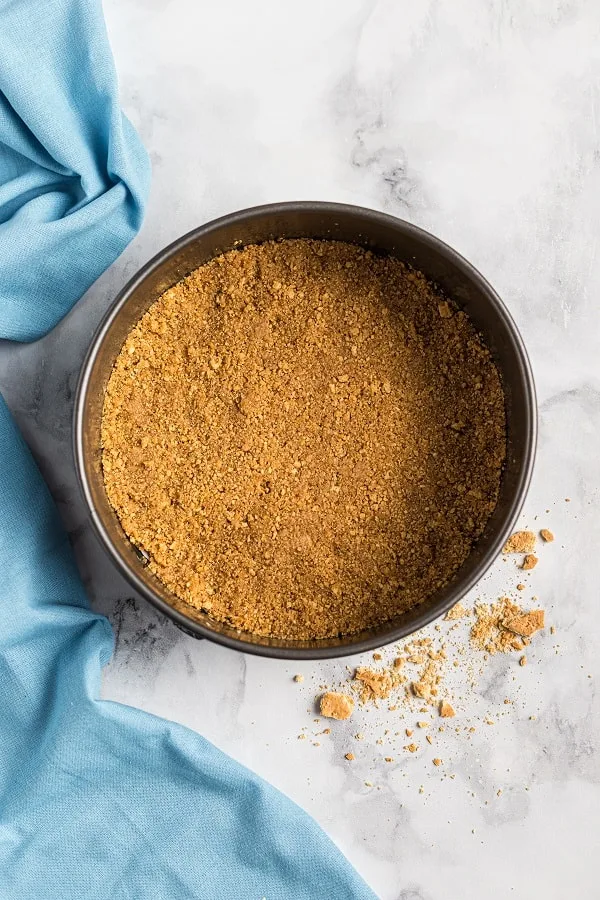 After taking the time to prepare such a delicious dessert, you want to keep it fresh so that it tastes just as good when you go back for a second, third, or even fourth piece throughout the week. Wrap your cheesecake tightly with plastic wrap, put it into a container with a lid, and keep it refrigerated for up to five days.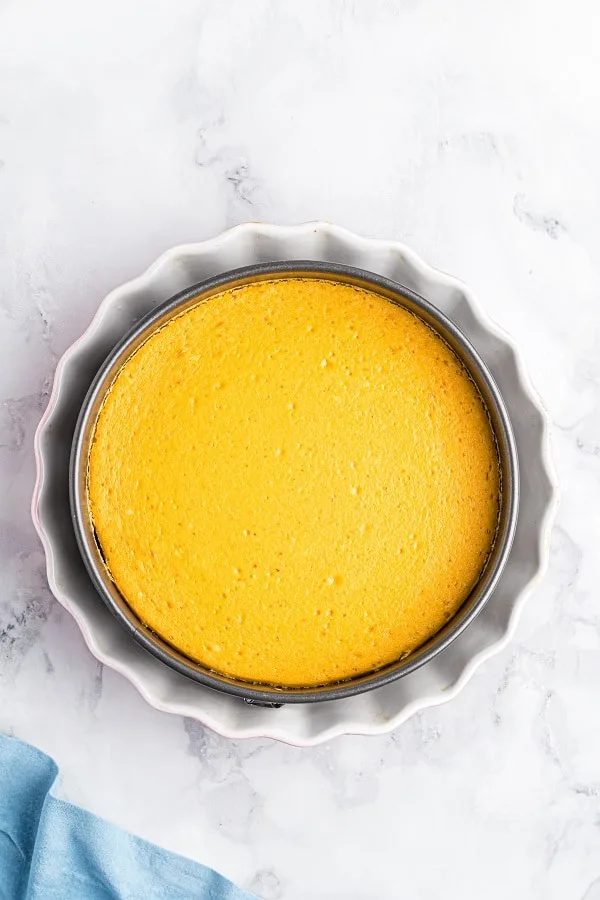 If you need to prepare the cheesecake a week or so in advance for a party, you can preserve its freshness by storing it in the freezer instead of the fridge. When your cheesecake is freshly baked, you can leave it out to set for 12 hours. However, once the cheesecake sets, it needs to go in the fridge or freezer to keep it from spoiling.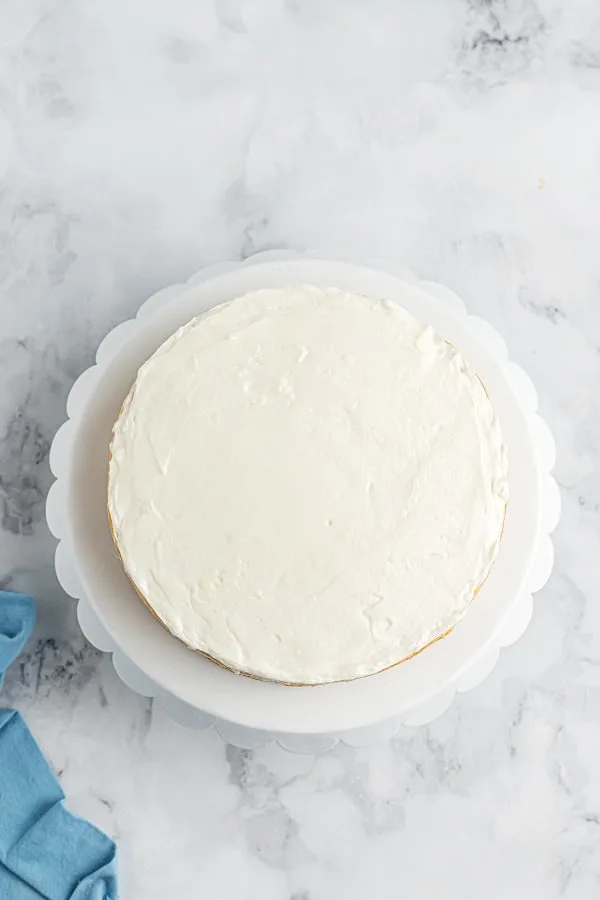 More Cheesecake Recipes: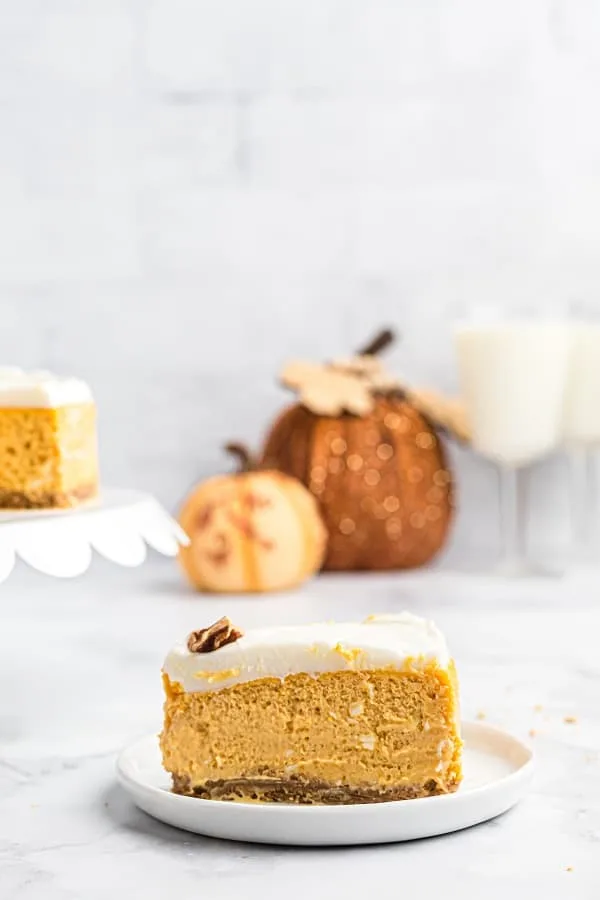 Nettie is a wife and mother who is passionate about cooking and baking. With 5 children, Nettie insists that all meals, snacks, and desserts come together quickly! You will find a wide variety of easy yet scrumptious recipes on her very popular website Moore or Less Cooking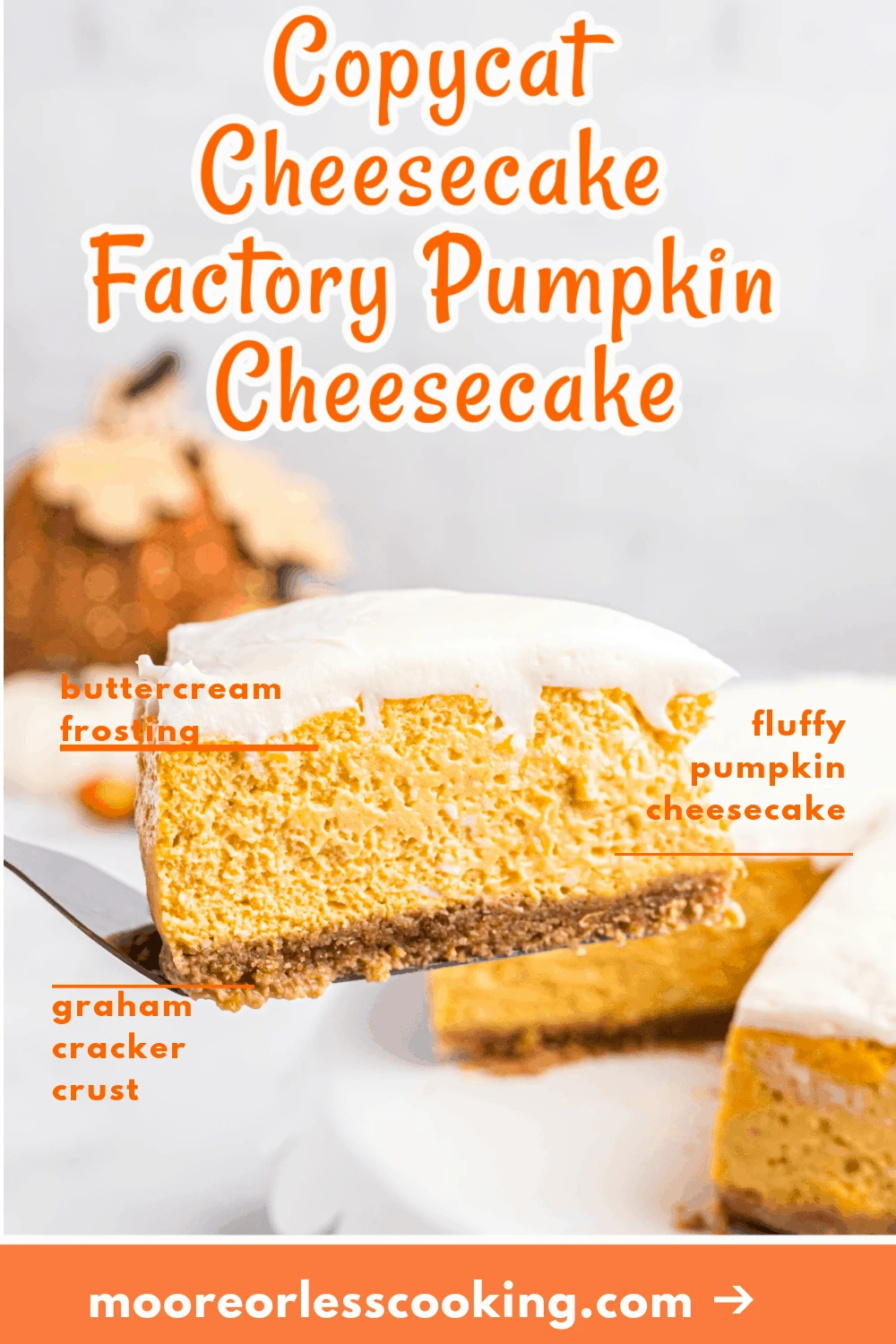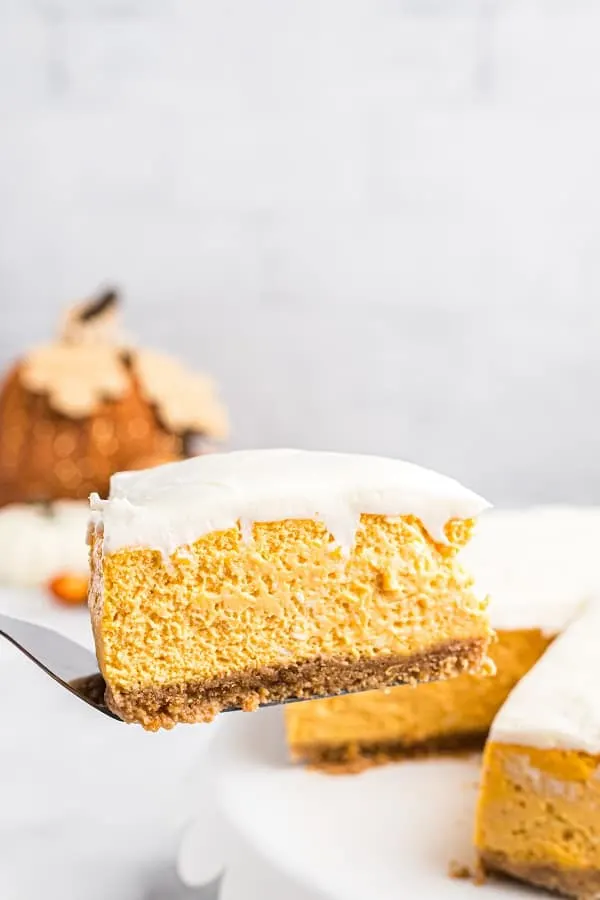 Yield:

12 slices
Copycat Cheesecake Factory Pumpkin Cheesecake
Total Time:
3 hours
10 minutes
Save money while enjoying the taste of Cheesecake Factory's Pumpkin Cheesecake. This recipe is the perfect dupe for the traditional recipe, but you can make it at home instead of going to the restaurant to get it.
Ingredients
Cheesecake Ingredients:
2 1/2 pkg of Cream Cheese (20 oz total)
3/4 cup granulated sugar
1/4 tsp salt
2 eggs
2 egg yolks
1/3 heavy cream
1 tsp vanilla
1 cup pumpkin puree
Crust Ingredients:
8-10 Crushed Cinnamon Graham Crackers
1 Tablespoon Light Brown Sugar
6 Tablespoons of Melted Butter
Wilton's Buttercream Frosting Ingredients:
½ cup solid vegetable shortening
½ salted butter
4 cups powdered sugar
2 Tablespoons of milk or water (I used water)
1 teaspoon vanilla
Optional: Bottle Caramel Sauce
Instructions
Preheat oven to 325 degrees.
Line the bottom of the springform pan with an 8-inch cut circle of parchment paper before placing the crust in the pan.
Make the crust:
In a small bowl, combine graham cracker crumbs, melted butter, and brown sugar. Stir with a spoon or spatula, until it is well mixed. Press into the bottom of an 8-inch springform pan. Set aside until ready to fill.
Make the Cheesecake:
Using a mixer, cream the sugar and cream cheese and salt. Be sure to do this or the cream cheese will split when you add the eggs. Mix on medium speed until it is completely smooth, about 2-3 minutes.
Slowly add in the eggs and egg yolks to the cream cheese mixture, continuously mixing. Addin the pumpkin puree, while it is mixing, then add in heavy cream and vanilla. Continue mixing the batter, until all ingredients are combined and the batter is smooth.
Pour batter over the prepared crust and gently tap the pan on the counter to ensure air bubbles are released. Place the springform pan into a pie plate or cake pan, and add enough water to cover the side of the cheesecake pan about halfway. (This helps the cheesecake to not sink in the middle. If you skip this step, some of the butter will drip through the springform pan into the bottom of the oven, and the cake may split or sink.)
Bake at 325 for 50 minutes. (The middle will still be a little jiggly, but it will set once as it cools) Remove the cheesecake from the water bath and let it cool. If you leave it in the bath, it will absorb some of the water.
Allow the cheesecake to cool and cover to refrigerate for at least 2 hours to overnight, allowing the cheesecake to set well.
Once set, gently remove the springform pan. Slowly and carefully slide the parchment paper from under the cheesecake and place the cheesecake on a serving dish or platter.
Directions Buttercream Frosting:
In a large mixing bowl, combine vegetable shortening and butter. Add in vanilla. Slowly add in powdered sugar, one scoop at a time, until it becomes stiff. Add in milk or water, one tablespoon at a time until frosting has desired consistency.
Optional: drizzle caramel sauce over slice before serving.
Notes
I use cinnamon graham crackers for the extra flavor, but if you want to use traditional graham crackers, you can add a teaspoon of cinnamon if desired. I have also made this cheesecake doubling the crust, depending on preference.
If you want a true white frosting, use colorless vanilla- you can get at Michaels, Hobby Lobby, or even Wallmart in the cake supplies section, not the baking supplies.
I have made this with and without the frosting. I actually like adding buttercream frosting when I have an extra sweet tooth, and it reminds me of Cheesecake Factory Cheesecakes. We drizzled it with caramel sauce too so it was DELICIOUS. My kids fought over it with the caramel sauce, but that isn't needed either.
If using frosting to decorate a cake or cupcakes, I use all butter, as the butter seems to hold shape better for flowers or piping. For this cheesecake, I used shortening and butter so it would spread more easily. No need to add additional salt if using salted butter. If you use unsalted butter, add ⅛ tsp of salt.
Nutrition Information
Yield
12
Serving Size
1
Amount Per Serving
Calories

538
Total Fat

24g
Saturated Fat

11g
Trans Fat

0g
Unsaturated Fat

12g
Cholesterol

98mg
Sodium

299mg
Carbohydrates

77g
Fiber

2g
Sugar

61g
Protein

5g