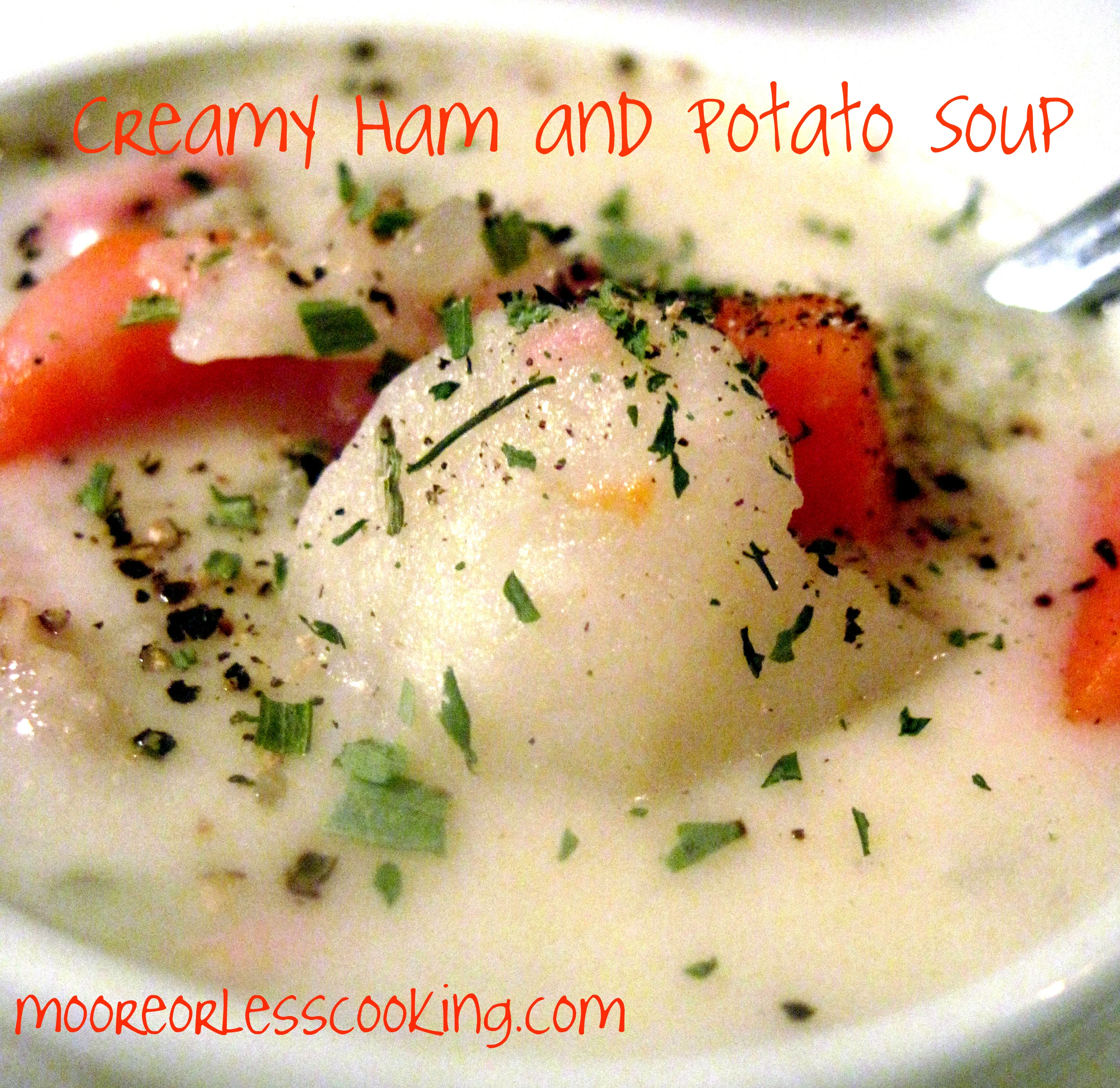 If you have been following my blog for a while, then you know that I am in a predicament, a Food predicament~ A Potato Predicament!! If this is the first time you are visiting my blog, then welcome to the wacky world of the Moore's!! Hubs loves buying everything in bulk quantity…Is it an Irish thing?? In this case, yes it is. He purchased Fifty pounds of potatoes, much to my shagrin. But never the less, we are eating a lot of potato pancakes, stews, and my newest Creamy Ham and Potato Soup. You will love this soup because it is easy and so delicious. It is on the top ten of our favorite soups now.
Yield: 6 servings
Ingredients
3 1/2 cups peeled and diced potatoes
1/3 cup diced celery
1/3 cup finely chopped onion
1/2 cup carrot, diced (optional)
1 cup diced cooked ham (buy a ham steak in the deli section)
3 1/4 cups chicken broth
1/2 teaspoon salt, or to taste
1 teaspoon ground white or black pepper, or to taste
5 tablespoons butter
5 tablespoons all-purpose flour
2 cups milk
Instructions
Combine the potatoes, celery, onion, carrot, ham and chicken broth in a stockpot. Bring to a boil, then cook over medium heat until potatoes are tender, about 10 to 15 minutes. Stir in the salt and pepper.
In a separate saucepan, melt butter over medium-low heat. Whisk in flour with a fork, and cook, stirring constantly until thick, about 1 minute. Slowly stir in milk so that lumps don't form and until all of the milk has been added. Continue stirring over medium-low heat until thick, 4 to 5 minutes.
Stir the milk mixture into the stockpot, and cook soup until heated through.
Top with cheddar cheese, chives, and bacon if desired. Serve immediately.
Source: adapted from The Girl Who Ate Everything
This post has been linked up to these fabulous blogs!