Easy Strawberry Rhubarb Crisp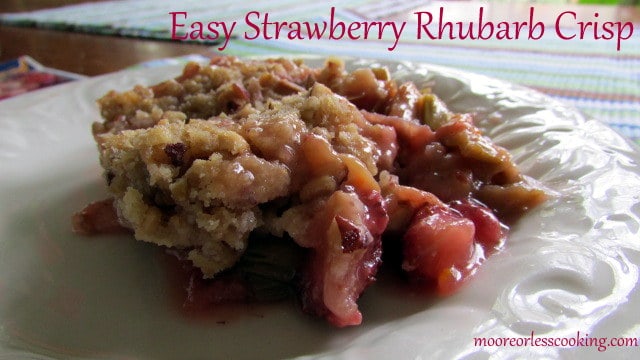 It is Rhubarb season, don't I know it, having enjoyed a fabulous meal at Maude in Beverly Hills. The month's theme was rhubarb. It was one of the most memorable meals, so incredible.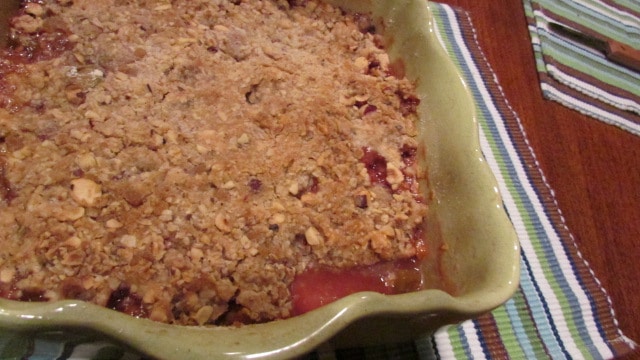 This triggered something in my brain to make a Strawberry Rhubarb Crisp. Lucky me…when I was having my hair done, my incredible hair stylist asked if I would like to stop by her home and have lunch outside and cut some rhubarb….what a perfect day!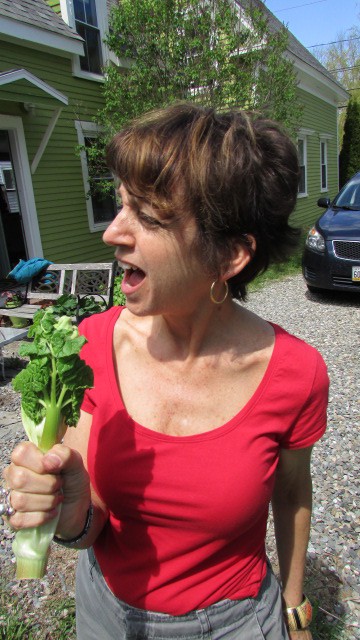 As soon as I had my rhubarb stash, I rushed home to create this amazing dessert. As it was baking, I thought of my son whose birthday is soon approaching and always requests a birthday pie.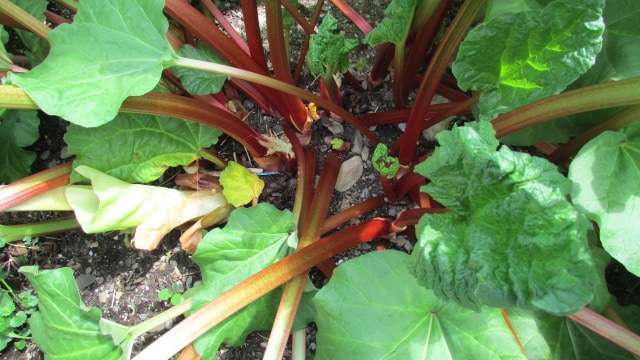 He surprised us with an early visit…he didn't make it out of the kitchen, walks into the den with a plate full of my Easy Strawberry Rhubarb Crisp….the sounds coming from him were, "mmmmmmmmm, this is really good Mom, can I have this for my birthday???…" 10 stars ********** rating for Nettie.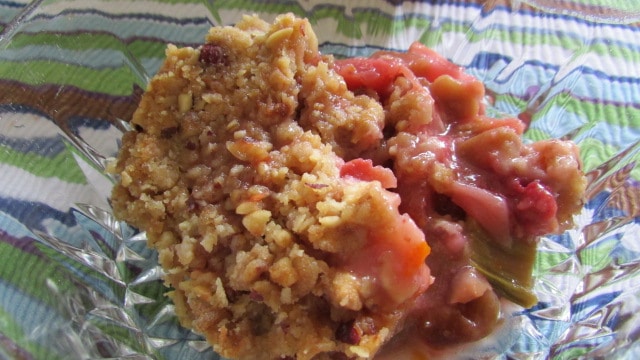 Ingredients:
1 1/2 pounds rhubarb, cut into 1-inch pieces (about 4 cups)

2/3 cup granulated sugar

Zest and juice of 1 orange

1 cup all-purpose flour

1/2 cup dark brown sugar

1/2 teaspoon cinnamon

8 tablespoons (1 stick) cold unsalted butter, cut into small pieces

1/2 cup rolled oats

1/4 cup hazelnuts, skinned, toasted, and chopped (optional)

1/2 pint fresh raspberries

1 pint of sliced strawberries
Directions
Heat oven to 350 degrees. Combine rhubarb, granulated sugar, and orange zest and juice in a large bowl. Stir to combine.

In another bowl, combine flour, brown sugar, and cinnamon. Rub the butter into the flour mixture with your fingers until it is well incorporated and large crumbs form. Add oats and nuts and combine.

Turn rhubarb into a 1 1/2-quart baking dish, scatter raspberries and strawberries evenly over the surface, and cover with crumb topping. Bake until the topping is brown and crisp and juices are bubbling about 45 minutes. Let cool slightly before serving.