Fluffy Strawberry Lemon Cake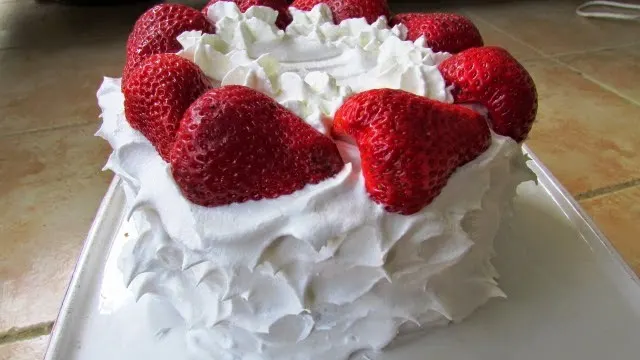 We had a lovely day at our friend's picnic. Since I was short for time, I pulled this Easy and Delicious Fluffy Strawberry Lemon Cake together after cooking all day. You can always bake an Angel Food Cake if you have more time available. But since I didn't, I used a bakery Angel Food Cake.
My daughter chopped the berries and decorated the cake for me, I think she did a beautiful job. Our friend's and family loved the cake,. Try it with blueberries and raspberries if strawberries aren't available.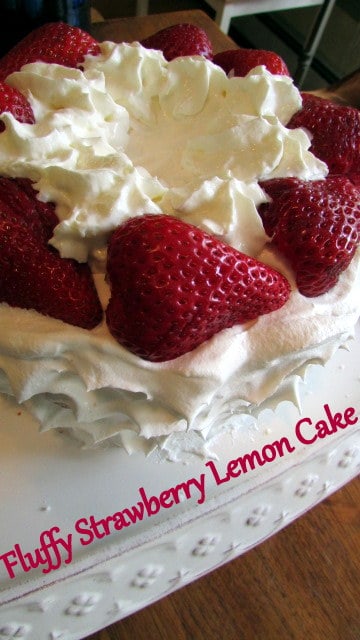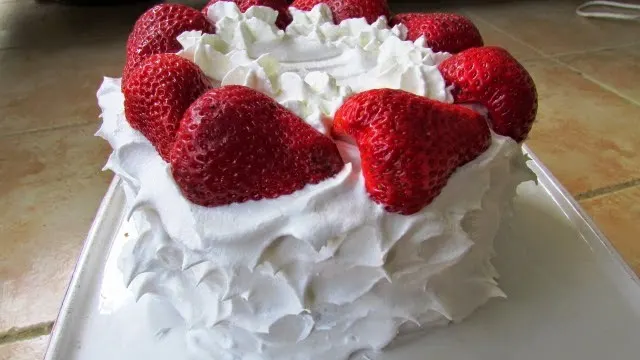 Yield:

8
Fluffy Strawberry Lemon Cake
Ingredients
1 round angel food cake (10 oz.)
1-1/4 cups cold fat-free milk
1 pkg. (4-serving size) JELL-O Vanilla Flavor Fat Free Sugar Free Instant Pudding
1 Tbsp. grated lemon zest
1 cup strawberries, chopped
2 cups thawed COOL WHIP LITE Whipped Topping
6 whole strawberries, halved
4 Raspberries for the top of cake
Whipped Cream for top
Instructions
PLACE cake on serving plate.
Cut 3/4-inch-thick slice off top of cake; set slice aside.
Carefully hollow out center of cake, leaving 1-inch-thick shell on bottom and sides.
Reserve removed cake for snacking or other use.
POUR milk into medium bowl.
Add dry pudding mix.
Beat with wire whisk 2 min. or until well blended.
Stir in lemon peel. Remove 1/2 cup of the pudding; place in medium bowl.
Set aside. Spoon chopped strawberries into cake shell; spoon remaining pudding over strawberries.
Replace top of cake.
ADD whipped topping to reserved 1/2 cup pudding; stir with wire whisk until well blended.
Spread onto top and sides of cake.
Refrigerate at least 1 hour before serving.
Garnish with strawberry halves and raspberries.
Store leftovers in refrigerator.