For a touch of spooky wrapped in an irresistible sweet treat, make these Halloween Sugar Cookie Bars for this year's party. The yellow and orange sugar cookie base is frosted with a sweet and thick purple icing that's topped with Halloween sprinkles and googly eyes. They're a fun and festive way to celebrate the season!
If you love sugar cookies, you'll love these bars! The cream cheese in the cookie dough helps keep them soft and chewy once baked. They're like a thick cookie but slathered with a sweet buttery frosting and decorated with seasonal sprinkles. Oh, and they're fun to make and assemble with an easy-swirled cookie base. Kids love them and so do adults!
Ingredients Needed
For The Bars:
Butter – softened, not melted. I use unsalted.
Sugar – Use white granulated sugar to sweeten the cookie dough.
Cream Cheese – set it out to soften so that it mixes easily and without clumps.
Eggs – to help bind the cookie dough.
Extracts – Use both vanilla extract and almond extract to flavor the dough.
Baking Powder – to help the cookie dough rise as it bakes.
Flour – use all-purpose flour.
Green And Orange Food Colorings – to tint the cookie dough. I use gel food coloring.

For The Frosting:
Butter – softened, not melted. I use unsalted.
Powdered Sugar – to mix with the butter to create the frosting.
Extracts – Use both vanilla extract and almond extract to flavor the frosting
Purple Food Coloring – to tint the frosting. I use gel food coloring.
Halloween Sprinkles – to decorate on top of the frosting. These Halloween sprinkles look great on the purple frosting.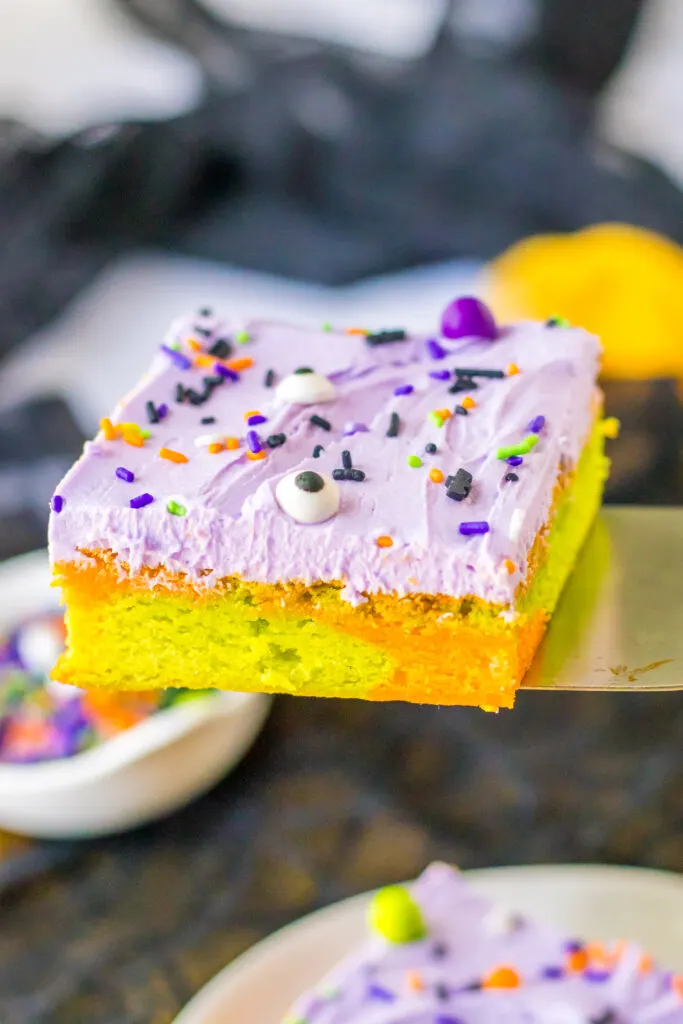 How To Make Halloween Sugar Cookie Bars
Note: This is a summary of the steps. For complete instructions, refer to the recipe card down below.
STEP 1: Mix together the cookie dough ingredients according to the detailed instructions in the recipe card down below before separating the dough, equally, into two bowls.
STEP 2: Using the food coloring, dye one bowl green and one bowl orange. Mix each to incorporate the food coloring.
STEP 3: In a parchment paper-lined 9×13 baking dish, add dollops of each dough into the pan, smooth them out with a spatula to create an even base, and then gently swirl the colors together with a knife. Smooth the top again for an even base.
STEP 4: Place the baking dish into a preheated 350-degree F oven and bake for 15-20 minutes until just baked through and lightly golden.
STEP 5: Remove from the oven and let cool completely.
STEP 6: Make the frosting in a medium mixing bowl by using an electric mixer to combine the butter, powdered sugar, vanilla, and almond extracts.
STEP 7: Tint the frosting by starting small with a drop or two of the purple food coloring and mixing. Add more until the desired color is achieved.
STEP 8: Once the frosting is whipped and tinted, spread it over the cooled cookie bars and decorate with the Halloween sprinkles before slicing and serving.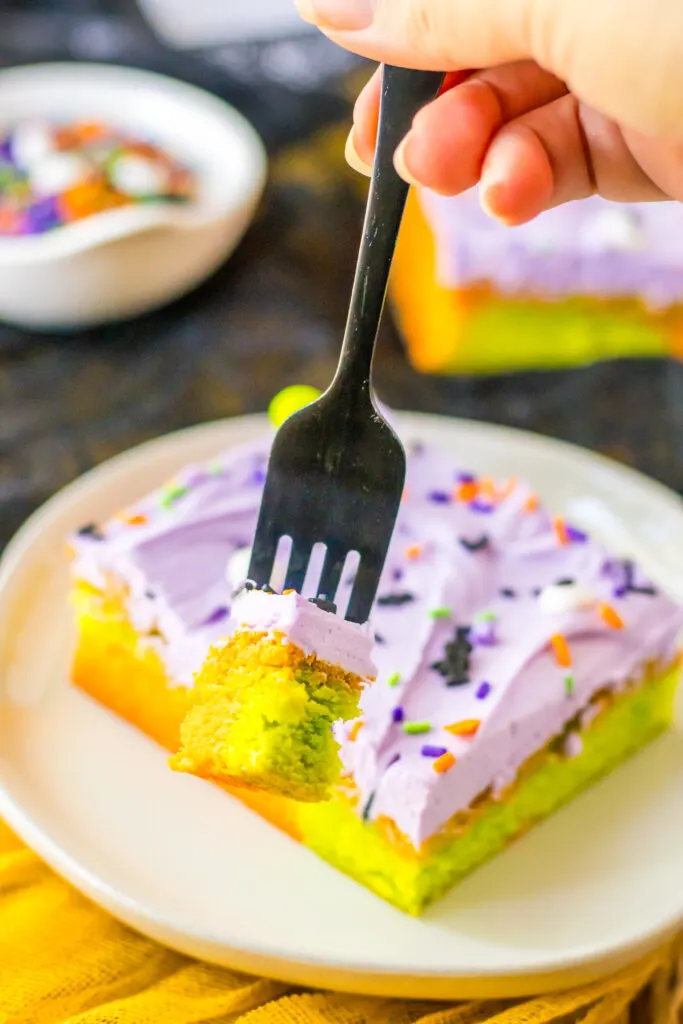 Do I Need To Chill The Dough?
Good news – no! Once the cookie dough has been made and dyed with food coloring, you just dollop the two colored cookie doughs into the pan, swirl them together with a knife, smooth it out, and bake.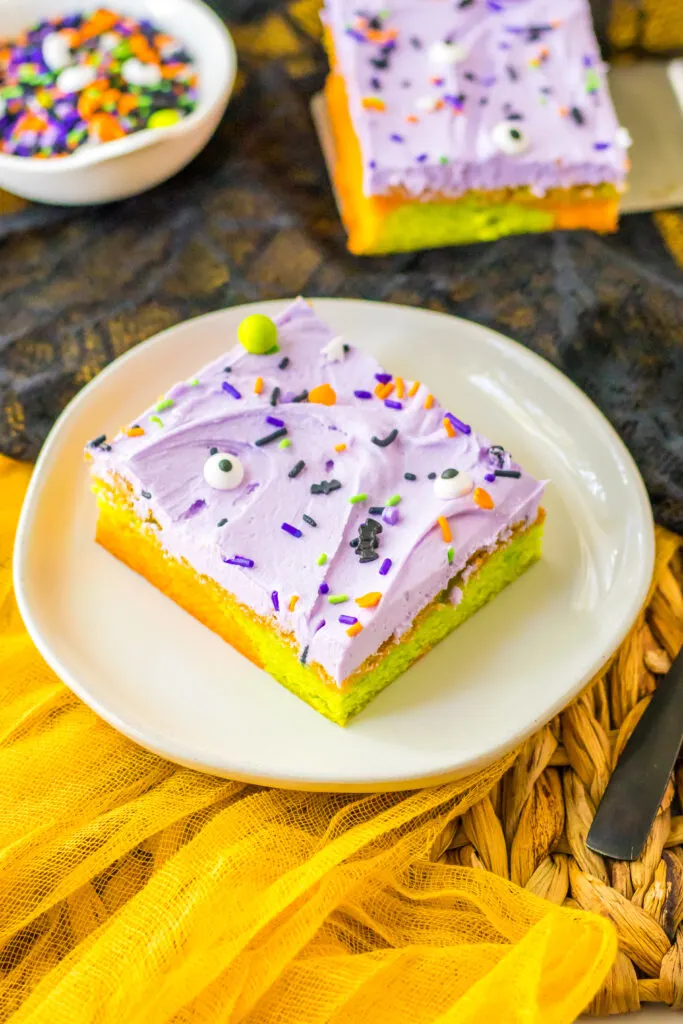 How Do I Swirl The Cookie Dough?
Once you've added and mixed the yellow and orange food colors to the separated cookie dough, just dollop each color, randomly, into the baking dish. Smooth them out with a spatula and you can either leave them as is, or go a little further and use a table knife to lightly swirl them together and then smooth out the top again before baking. Either way, you'll still get a two-toned sugar cookie base when it bakes and is cut into bars.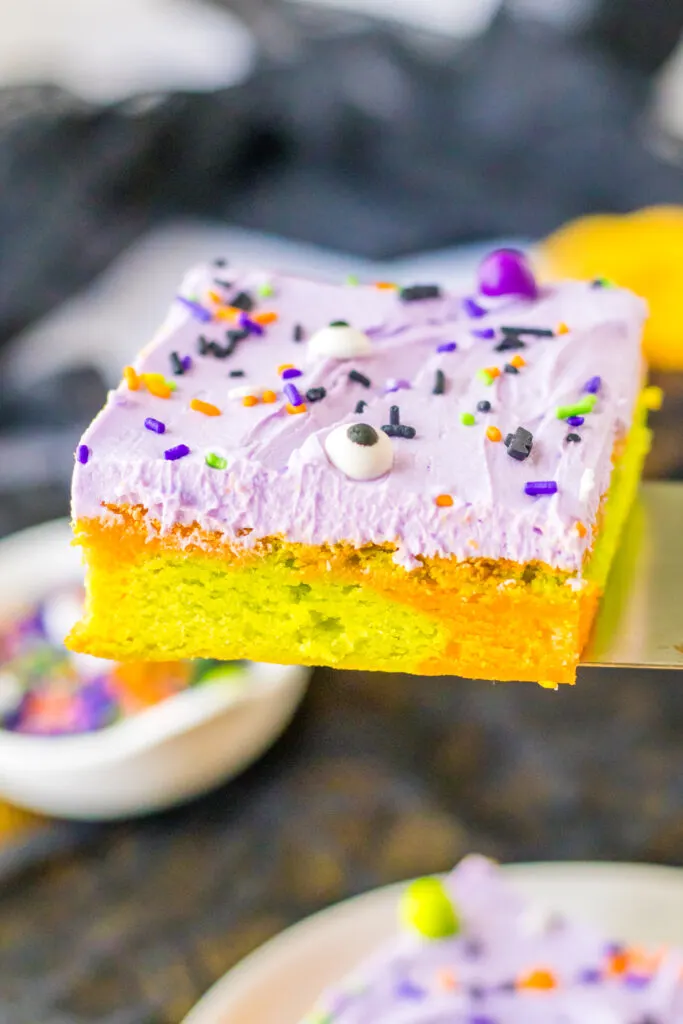 Can I Use Store-Bought Frosting Instead?
Absolutely. Choose white frosting in your favorite brand and just add the food coloring to it to tint it.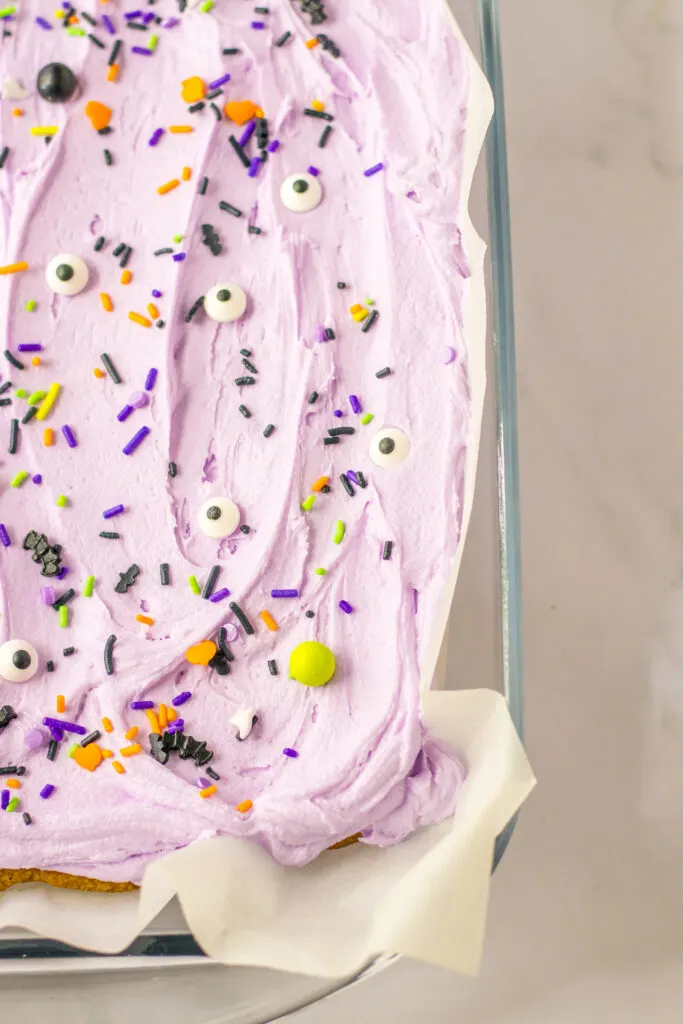 Color And Theme Variations
I love this recipe's classic Halloween yellow and orange color combo for the cookie dough base, and the light purple frosting really makes these Halloween Sugar Cookie Bars pop! If you want to change things up or make these sugar cookie bars for a different occasion, it's easy to do. Here are some ideas:
Halloween
Candy Corn Theme: Keep it classic with this theme by using orange and yellow dough as in the original recipe, but layering the two colors on top of each other rather than swirling them together. Spread out the orange first, then the yellow on top of the orange, and bake. Keep the frosting white and use candy corn and yellow and orange sprinkles for the top decoration.
Dark And Spooky: Use food coloring in purple and green for the two cookie dough bases and swirl them together or layer them and bake. Use black gel food coloring for the frosting and decorate the top with googly eyes and color-matching sprinkles like these.
Perfectly Pumpkin: Use orange food coloring for the single-layer cookie base and white frosting with pumpkin candy and sprinkles for decoration. Or you can flip the color scheme and bake the cookie dough in a single layer with no food coloring and instead, tint the frosting orange.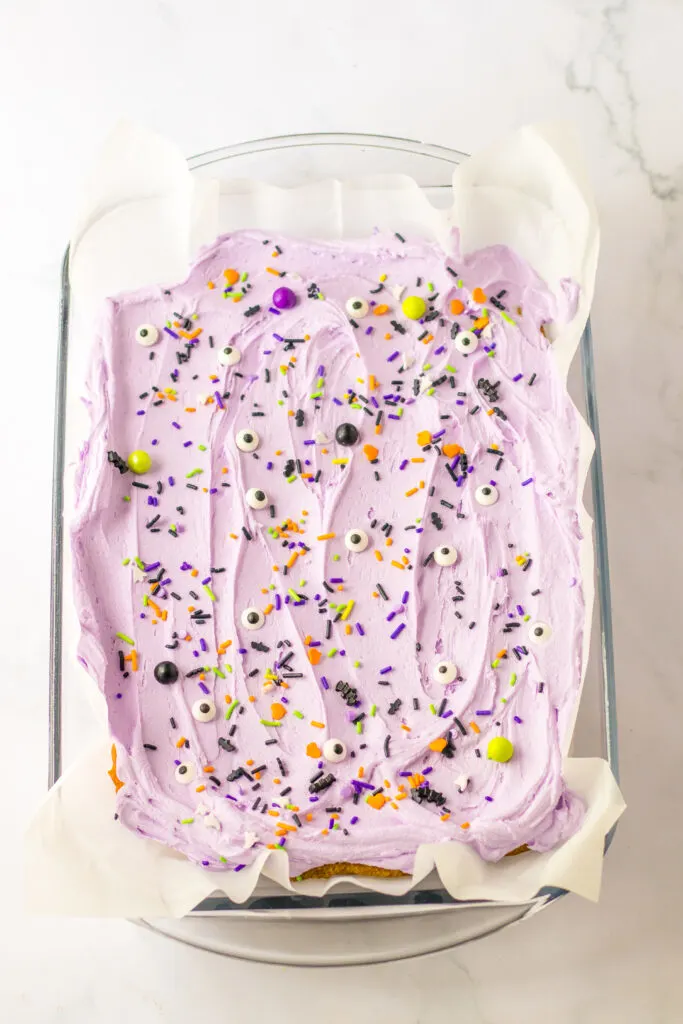 Other Holidays And Occasions
Just use your creativity to choose food colorings for the dough and frosting to fit whatever theme you need! And of course, decorate the top with matching sprinkles to fit the theme.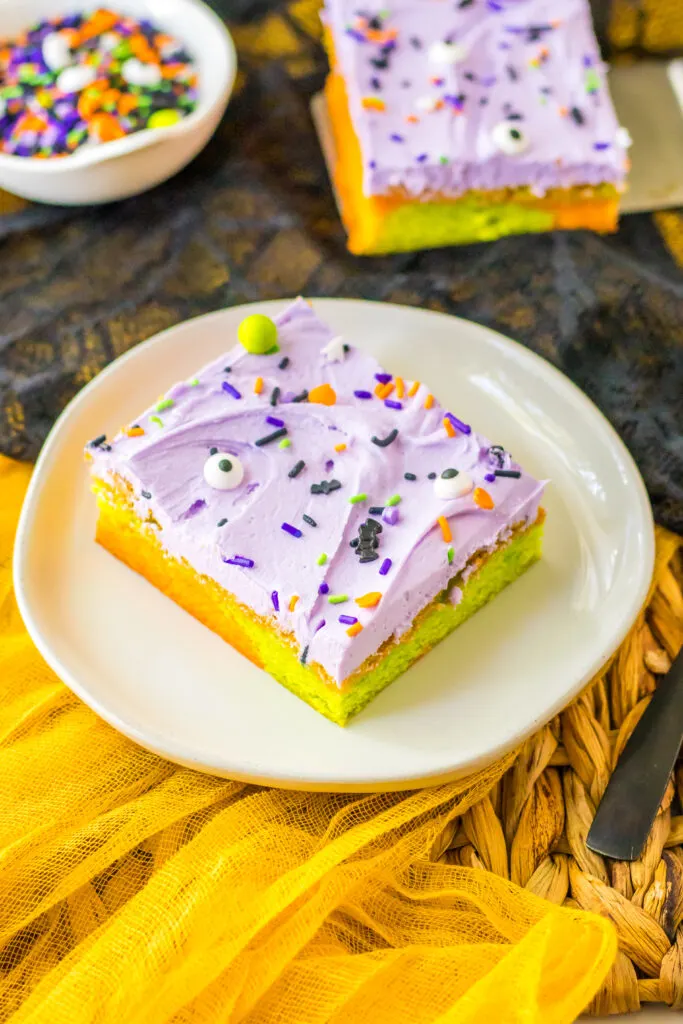 Can I Freeze These Bars?
Yes, you can freeze the baked and cooled bars before frosting them. You can freeze them already cut or, if you make them in a freezer-friendly baking pan, you can wrap and freeze the entire pan for up to a month. Thaw them in the refrigerator and frost and decorate before serving.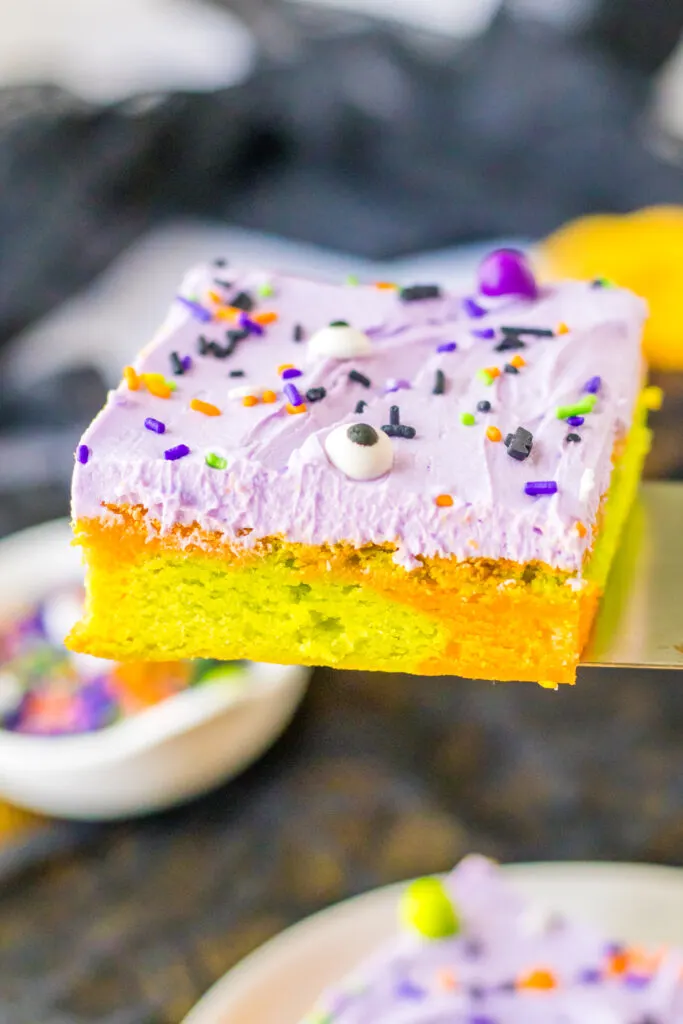 Storage
To store leftover cookie bars, keep them in a sealed container in the fridge for up to 5 days. I don't recommend freezing leftovers that have been frosted and decorated. To freeze the baked and unfrosted cookie bars, see the section above for how to freeze.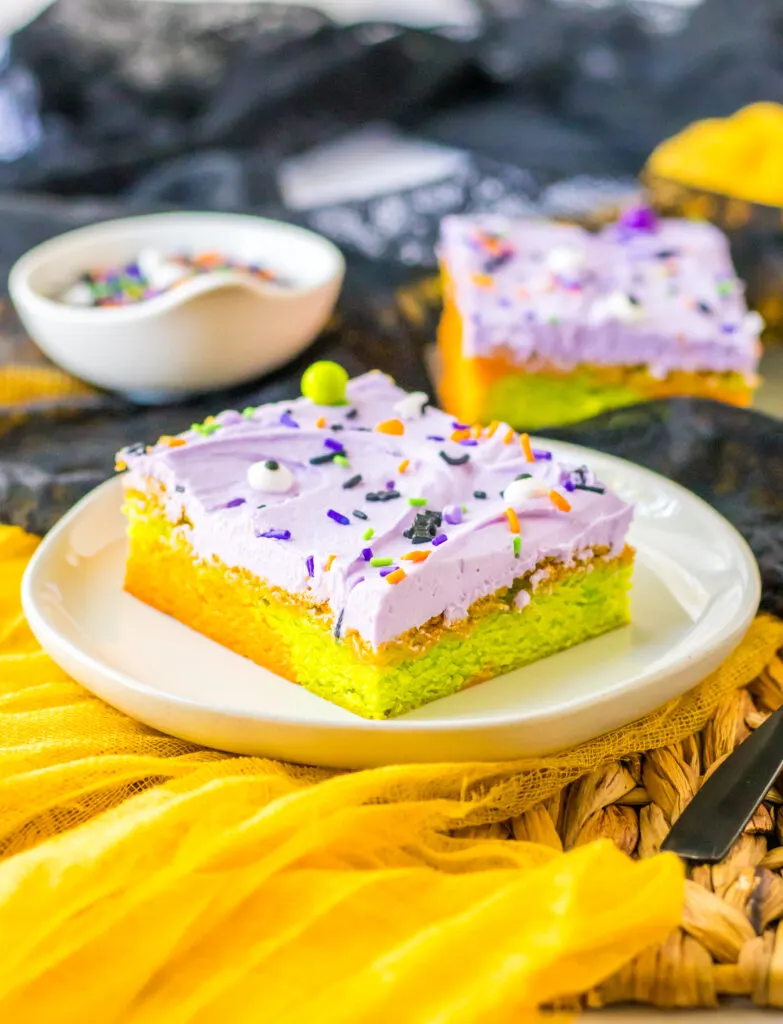 More Halloween Recipes
Oreo Spider Bites
Halloween Bundt Cake
Candy Corn Rice Krispy Treats
Halloween Spider Cookies
Pumpkin Cake with Cream Cheese Frosting
Halloween Pirate's Last Call Cocktail
Halloween Purple Pumpkin Eater Punch
Nettie is a wife and mother who is passionate about cooking and baking. With 5 children, Nettie insists that all meals, snacks, and desserts come together quickly! You will find a wide variety of easy yet scrumptious recipes on her viral website Moore or Less Cooking
Be sure to follow me on Instagram and tag #mooreorlesscooking so I can see all the wonderful recipes that YOU make from this site!
Check out my YOUTUBE with a free email subscription HERE and please share on FACEBOOK and PINTEREST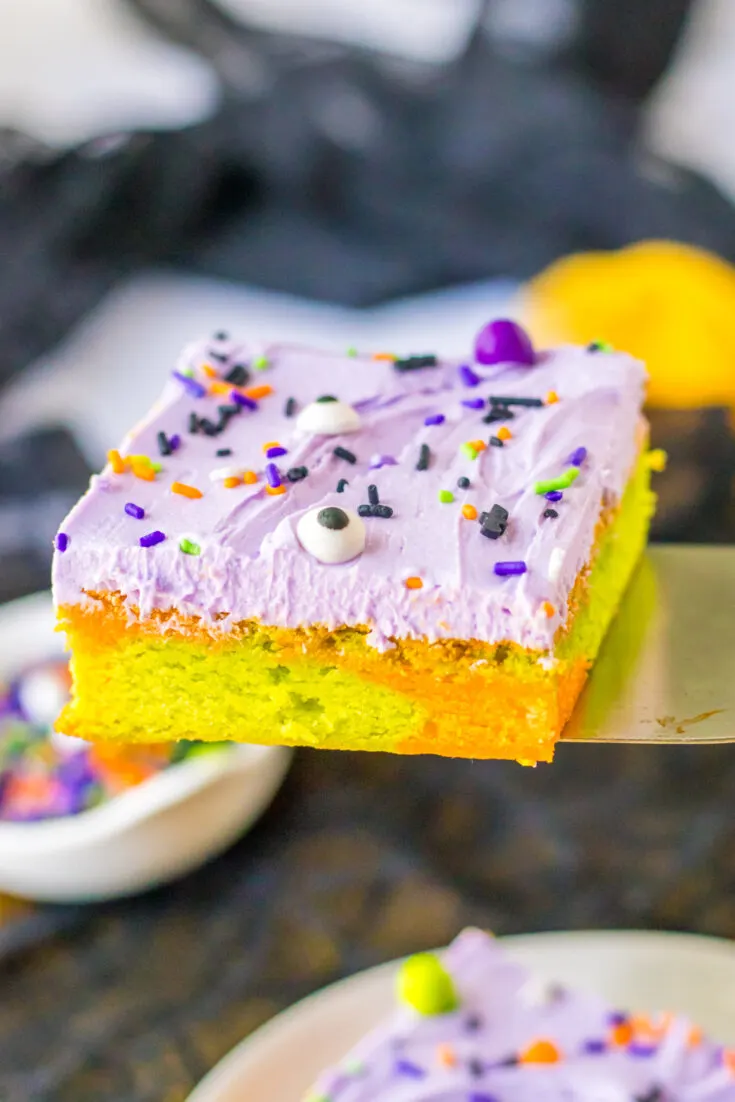 Yield:

Serves 16
Halloween Sugar Cookie Bars
Halloween Sugar Cookie Bars are a colorful spooky treat! Thick chewy marbled sugar cookie bars are flavored with vanilla and a touch of almond extract. Topped with a purple buttercream, and topped with colorful spooky sprinkles. Always a hit at any Halloween get-together.
Ingredients
Sugar Cookie Bars:
1 cup butter, softened
1 ½ cups sugar
3 ounces cream cheese, softened
2 eggs
1 teaspoon vanilla extract
1 teaspoon almond extract
2 teaspoons baking powder
4 cups flour
Green food coloring
Orange food coloring
Frosting:
1 cup butter, softened
3 cups powdered sugar
1 teaspoon vanilla extract
½ teaspoon almond extract
Purple food coloring
Halloween sprinkles
Instructions
Gather all of the ingredients.
Preheat oven to 350 degrees.
In a large mixing bowl using an electric mixer whip together the butter, sugar, and cream cheese until fluffy.
Add in the eggs and vanilla extract and almond extract.
Next stir in the baking powder.
Stir in the flour.
Separate the dough into 2 bowls and use the food coloring dye, one bowl for green and one bowl for orange.
Line a 9x13 baking dish with parchment paper.
Place dollops of each dough into the pan and then swirl together.
Place the dish into the preheated oven and bake for 15-20 minutes until it is just baked through and lightly golden.
Remove from oven and let cool completely.
In a medium mixing bowl using an electric mixture combine the butter, powdered sugar, vanilla extract and almond extract, and purple food coloring.
Once that is whipped and fluffy spread it over the cooled cookie bars.
Sprinkle the Halloween sprinkles all over the top.
Slice and serve!
Notes
Tips and Tricks:
Color the dough and the icing with any Halloween colors that you like.
Add white chocolate chips or milk chocolate chips to the dough if you like.
Store leftovers tightly covered for up to 4 days in the refrigerator.
Nutrition Information
Yield
16
Serving Size
1
Amount Per Serving
Calories

515
Total Fat

26g
Saturated Fat

16g
Trans Fat

1g
Unsaturated Fat

8g
Cholesterol

90mg
Sodium

277mg
Carbohydrates

66g
Fiber

1g
Sugar

41g
Protein

5g