Sliced apple rings wrapped in a flaky crust and dusted with sweet and fragrant cinnamon sugar make these Puff Pastry Apple Donuts the perfect cozy fall treat. Quick and easy to assemble, these baked donuts taste just like apple pie!
You'll love the simplicity of these Puff Pastry Apple Donuts. They're a fun recipe to make with the kids, too. In fact, their little fingers are perfect for wrapping the strands of puff pastry around each apple slice. Once in the oven, they take just 15 minutes to bake, so everyone can enjoy this seasonal apple treat in record time!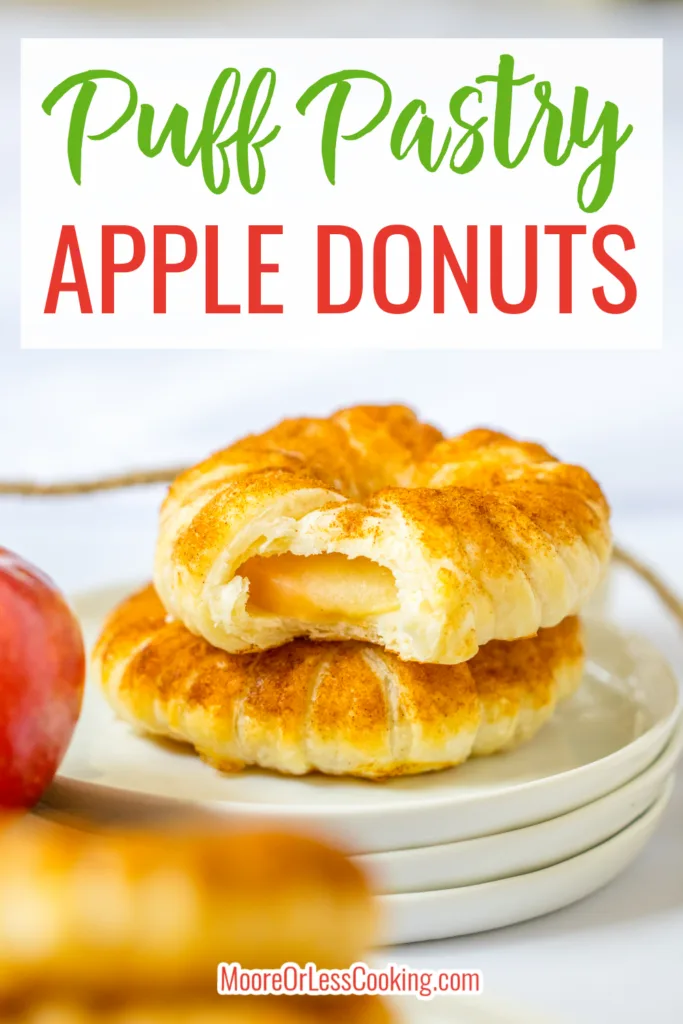 Why You'll Love This Recipe
Minimal ingredients
It's quick and easy
No special baking skills required
The recipe is easily doubled
Kids love it and they can help make it, too!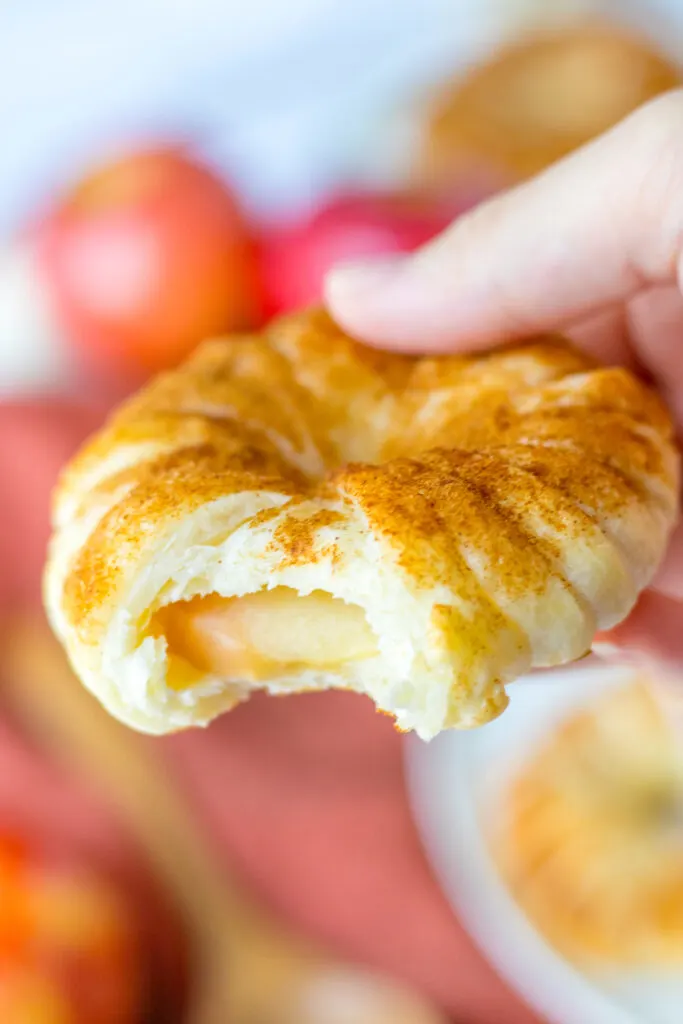 Ingredients Needed
Box Of Puff Pastry – Use a store-bought box of puff pastry sheets which will be thawed and cut into thin strips to wrap around each apple ring.
Apples – Choose large apples to slice as they will be easier to wrap. Use a baking apple variety.
Egg – For the egg wash to be brushed on top of the wrapped apple rings before baking.
Cinnamon Sugar – Sprinkle on top of the donuts before baking.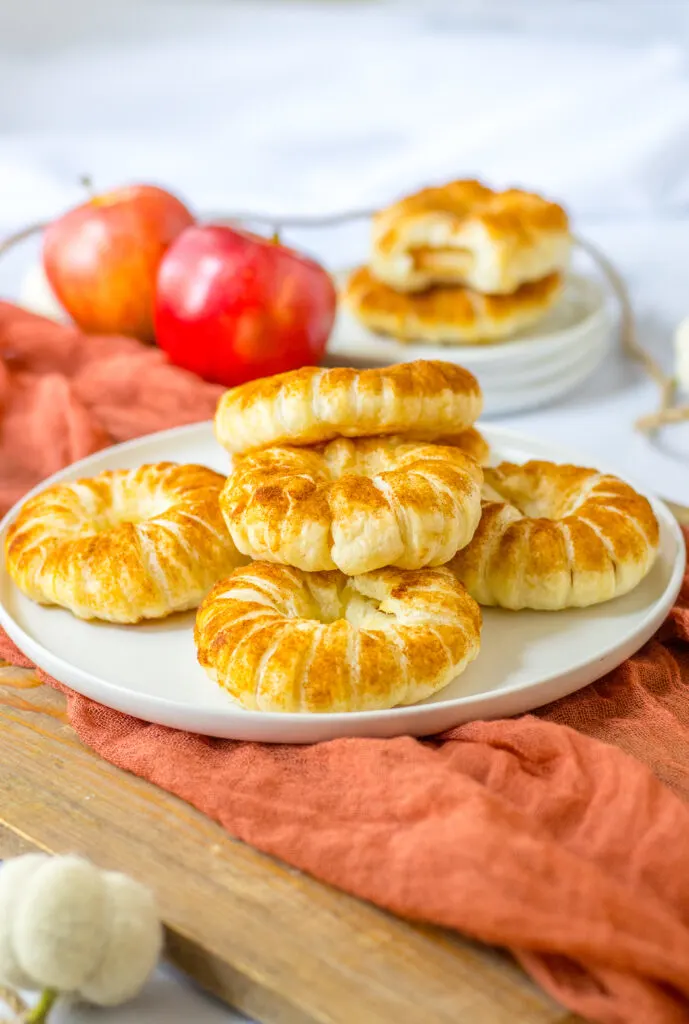 How To Make Puff Pastry Apple Donuts
Note: This is a summary of the steps. For complete instructions, refer to the recipe card down below.
STEP 1: Peel and cut the apples into rings and make a center hole in each ring.
STEP 2: Cut the thawed puff pastry into thin strips and begin wrapping each apple ring. Place each wrapped apple on a parchment-lined baking sheet.
STEP 3: Brush each wrapped apple ring with an egg wash and then sprinkle cinnamon sugar on top.
STEP 4: Bake in a 375° F oven for 15 minutes. Remove and let cool before serving.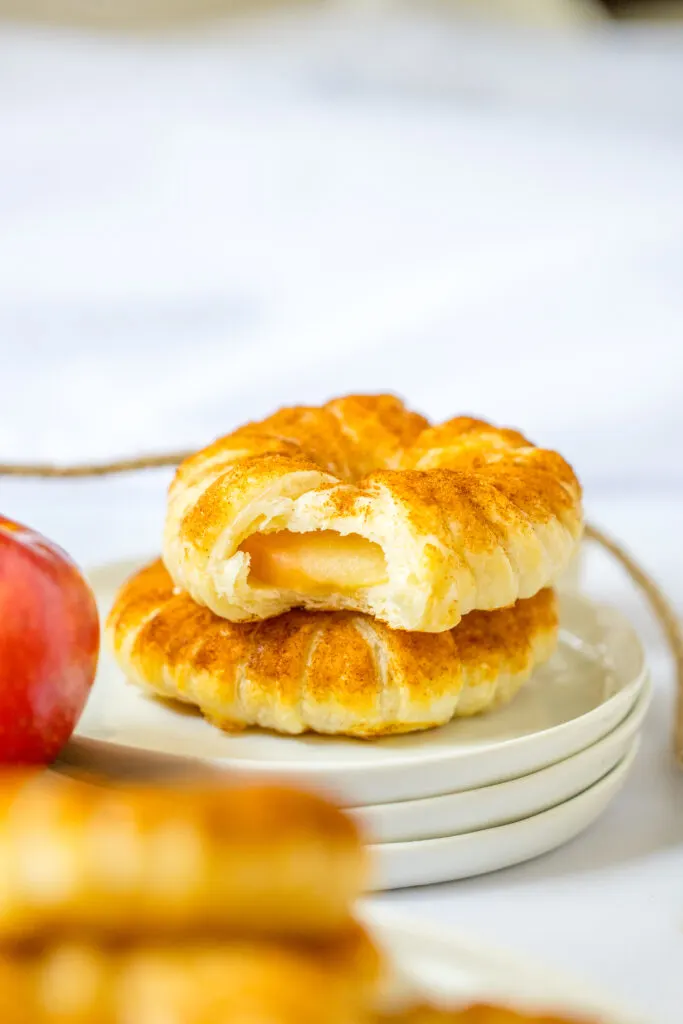 What Variety Of Apple Should I Use?
You want to use an apple variety that works well when baked. Some types become too mushy when baked, so you definitely want to use one that will retain its shape and texture, and still be a little crisp once baked. You can't go wrong with Honeycrisp, Granny Smith, Fuji, Golden Delicious, Pink Lady or Braeburn.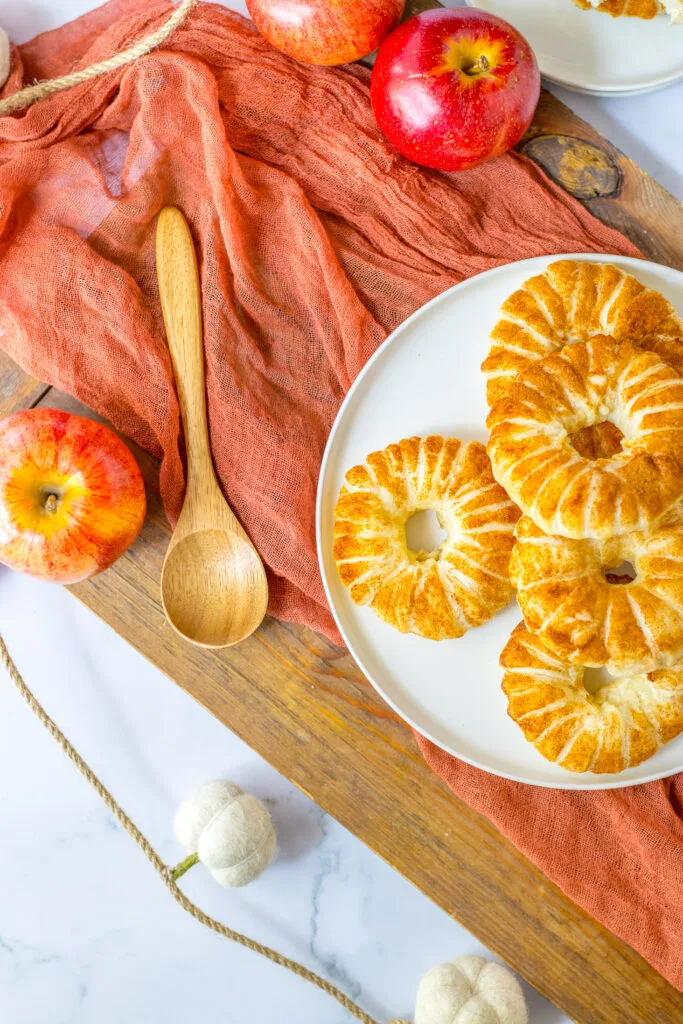 How To Cut The Apple Rings
Peel each apple and core it. Turn each apple on its side slice off each end (top and bottom) and discard. Slice the apples into rings, no wider than 1/2 inch. To make the center hole in each apple ring, punch out the center circle using the wide part of a piping tip or carefully use a small paring knife to cut out a circle. Note: The circle needs to be big enough for the puff pastry strips to be threaded through to wrap the apple ring.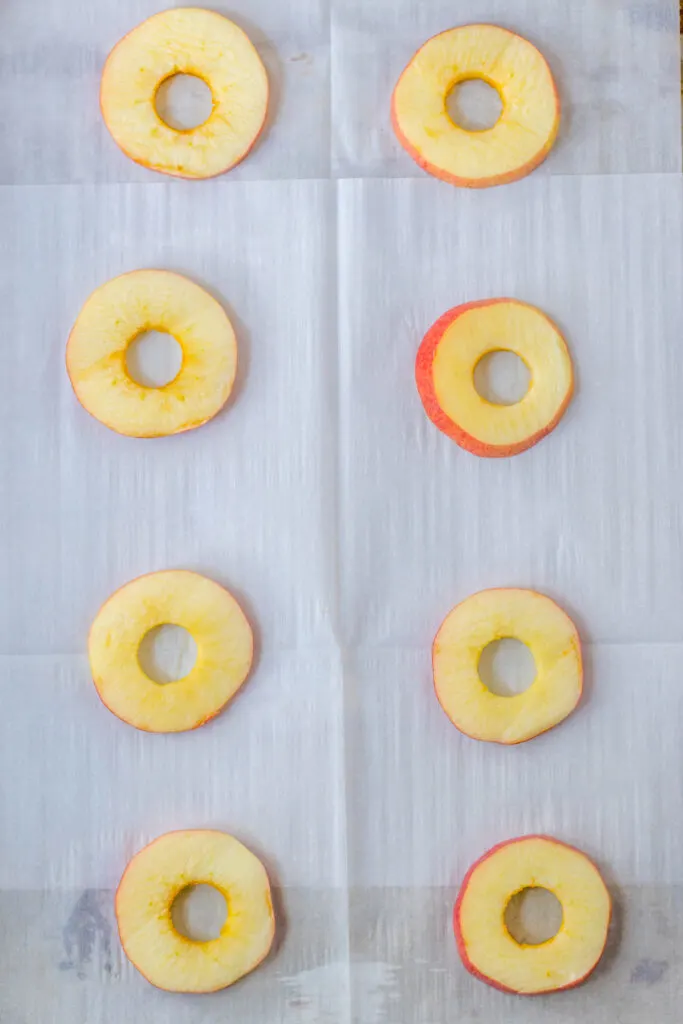 How To Wrap The Apple Rings
Cut the thawed puff pastry sheets into thin strips. Since cold puff pastry is easier to work with (and to wrap!) keep them in the fridge until ready to wrap. Take a strip and begin wrapping it around an apple ring, threading it through the center hole, bringing it up and around the ring and slightly overlapping as you go so that the apple ring is covered. If you run out of a strip on an apple ring, just grab another strip and keep going, where the other one left off. Cut or tear the strip when the ring is completely wrapped.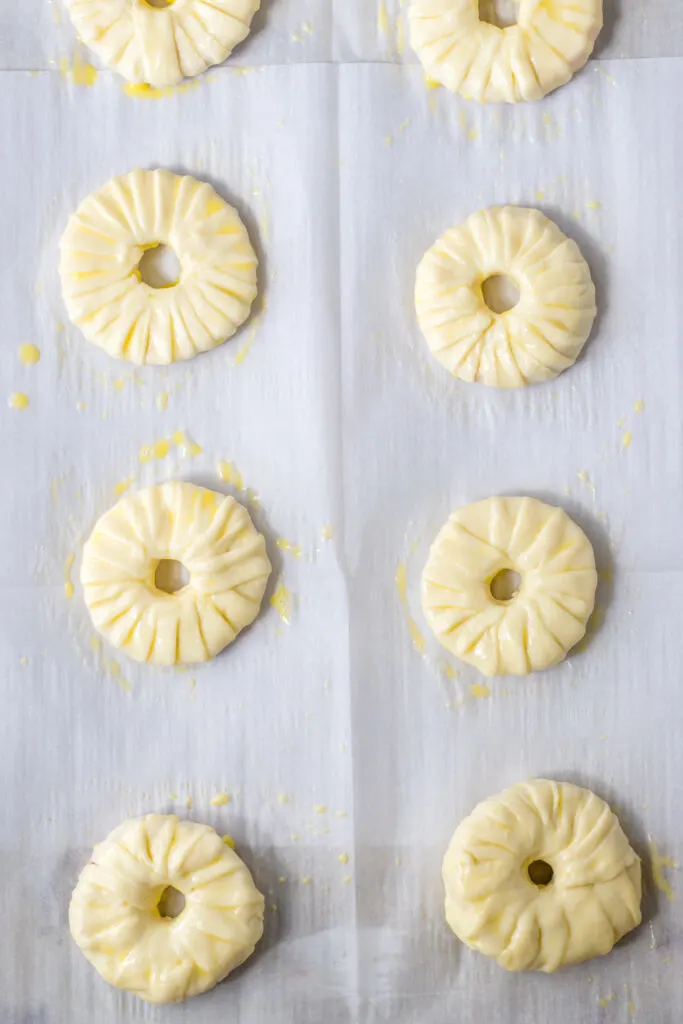 How To Make Cinnamon Sugar
In a small bowl, stir together 1/3 cup of white granulated sugar with 1 1/2 teaspoon of ground cinnamon. Sprinkle over the top of the donuts after you've brushed on the egg wash.
Variations For Toppings
Drizzle a little caramel sauce over the top of the baked donuts
Add additional sweetness with a simple drizzle of glaze by mixing the confectioner's sugar and water (or milk). You can also follow the directions for a simple vanilla glaze right here.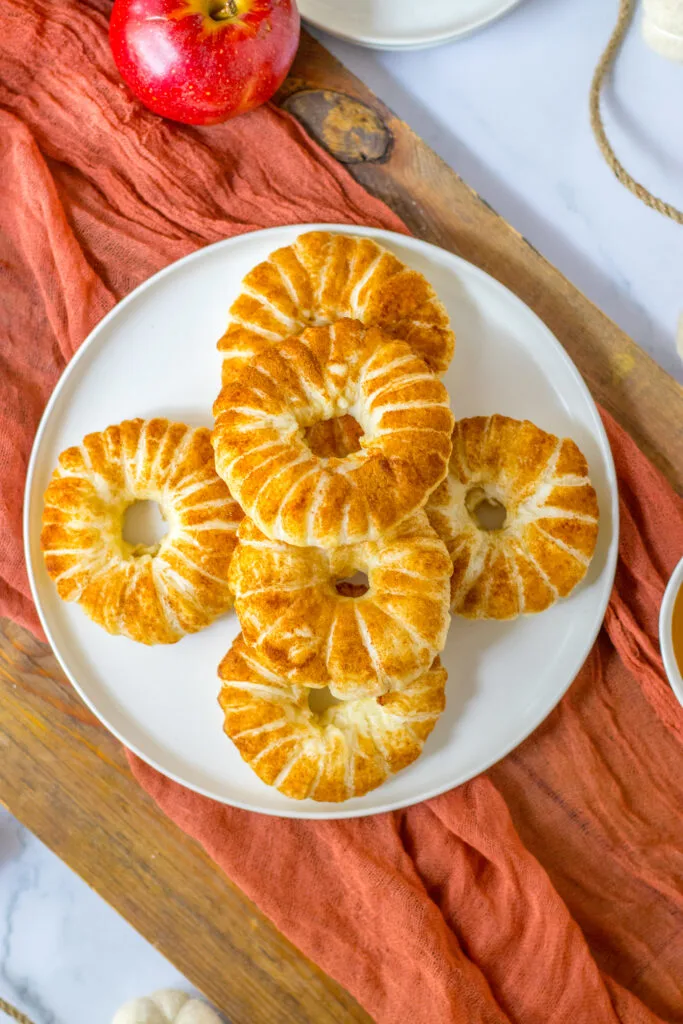 How To Serve These Donuts
These Puff Pastry Apple Donuts are excellent for breakfast, snacks, or as a delicious dessert served with a scoop of ice cream. They're also perfect for fall parties- just set out a tray of these donuts and watch them disappear!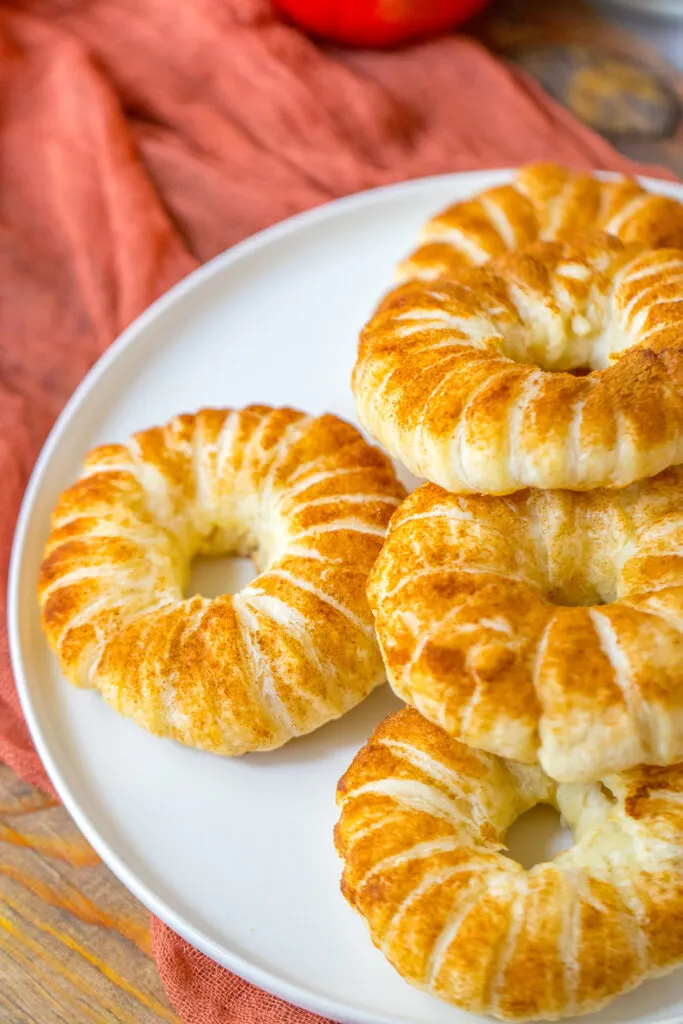 Storage
Store in an airtight container for up to 2 days on the countertop.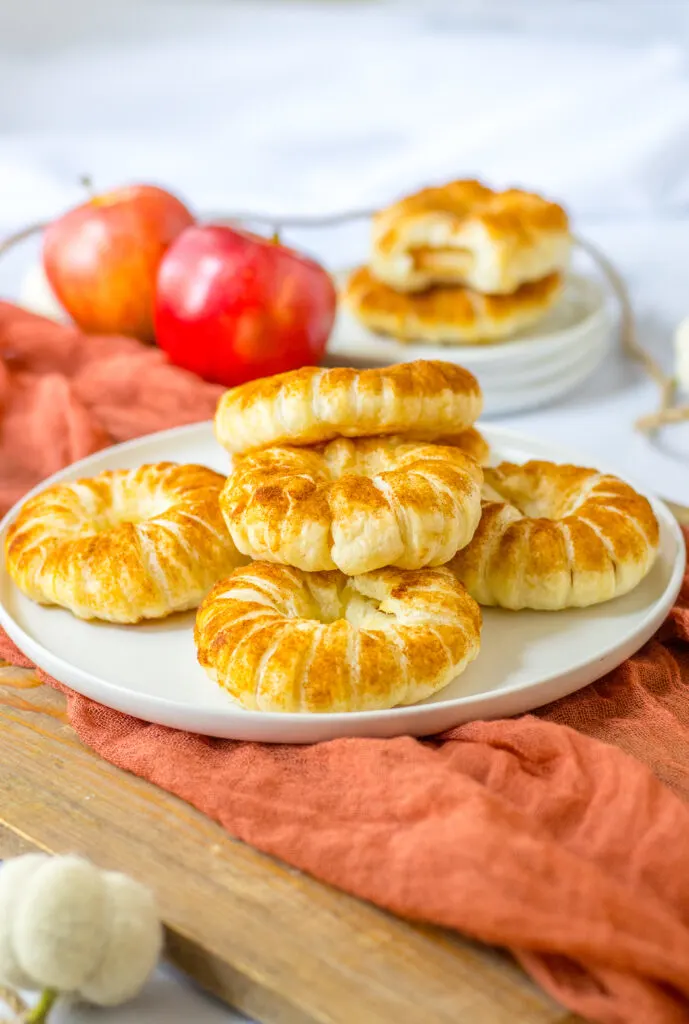 More Delicious Doughnut Recipes
Air Fryer Doughnuts
Yeast Doughnuts with Vanilla Glaze
King Cake Donuts
Powdered Sugar Biscuit Donuts
Red Velvet Donuts
Chinese Donuts
Nettie is a wife and mother who is passionate about cooking and baking. With 5 children, Nettie insists that all meals, snacks, and desserts come together quickly! You will find a wide variety of easy yet scrumptious recipes on her viral website Moore or Less Cooking
Be sure to follow me on Instagram and tag #mooreorlesscooking so I can see all the wonderful recipes that YOU make from this site!
Check out my YOUTUBE with a free email subscription HERE and please share on FACEBOOK and PINTEREST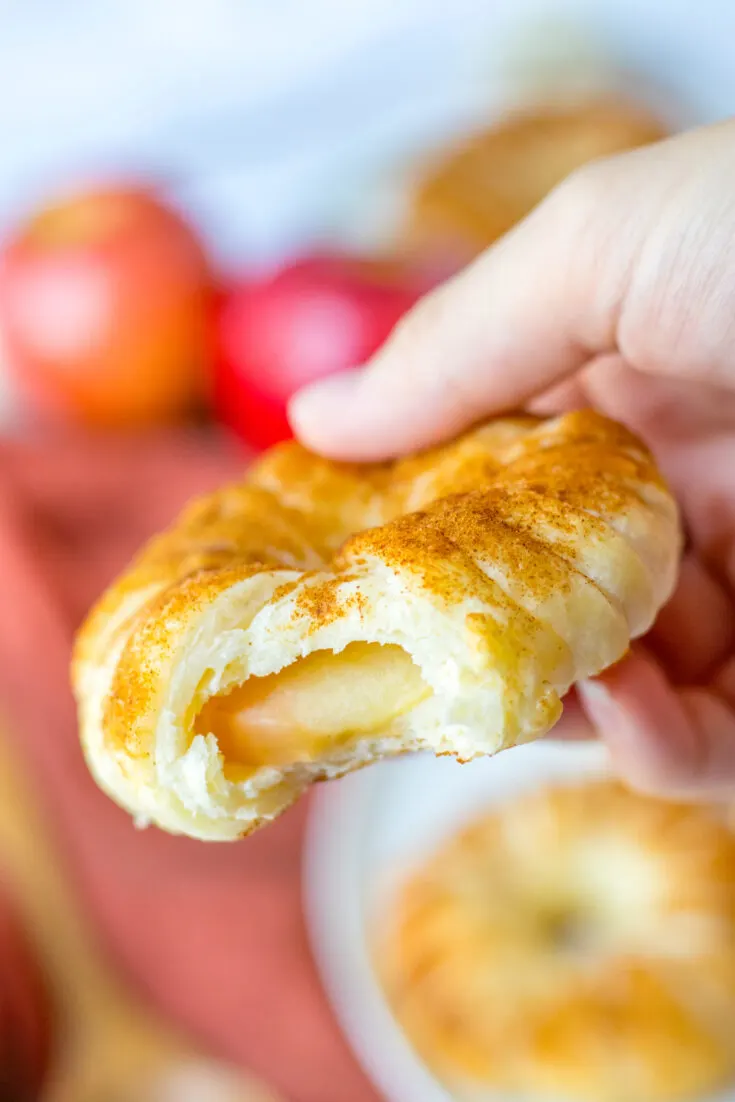 Yield:

Serves- 8
Puff Pastry Apple Donuts
Sliced apple rings wrapped in a flaky crust and dusted with sweet and fragrant cinnamon sugar make these Puff Pastry Apple Donuts the perfect cozy fall treat. Quick and easy to assemble, these baked donuts taste just like apple pie!
Ingredients
1 box of Puff Pastry
2 apples
1 egg
1/3 cup of cinnamon sugar
Instructions
1. Gather all of the ingredients.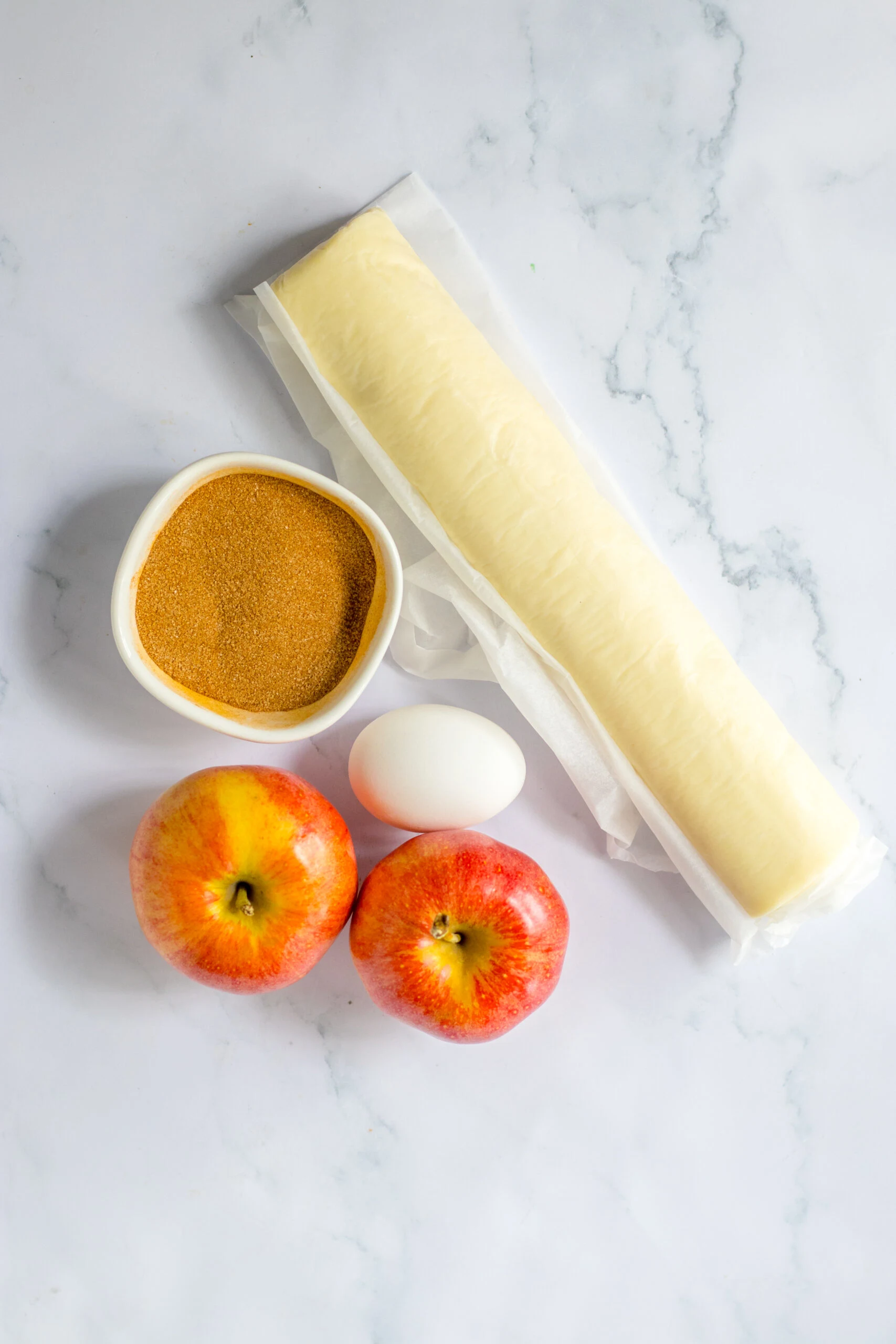 2. Preheat oven to 375°
3. Cut the apples and using either a knife or something small and round (like the big side of an icing tip) cut the middle of the apple slices out to make a donut shape.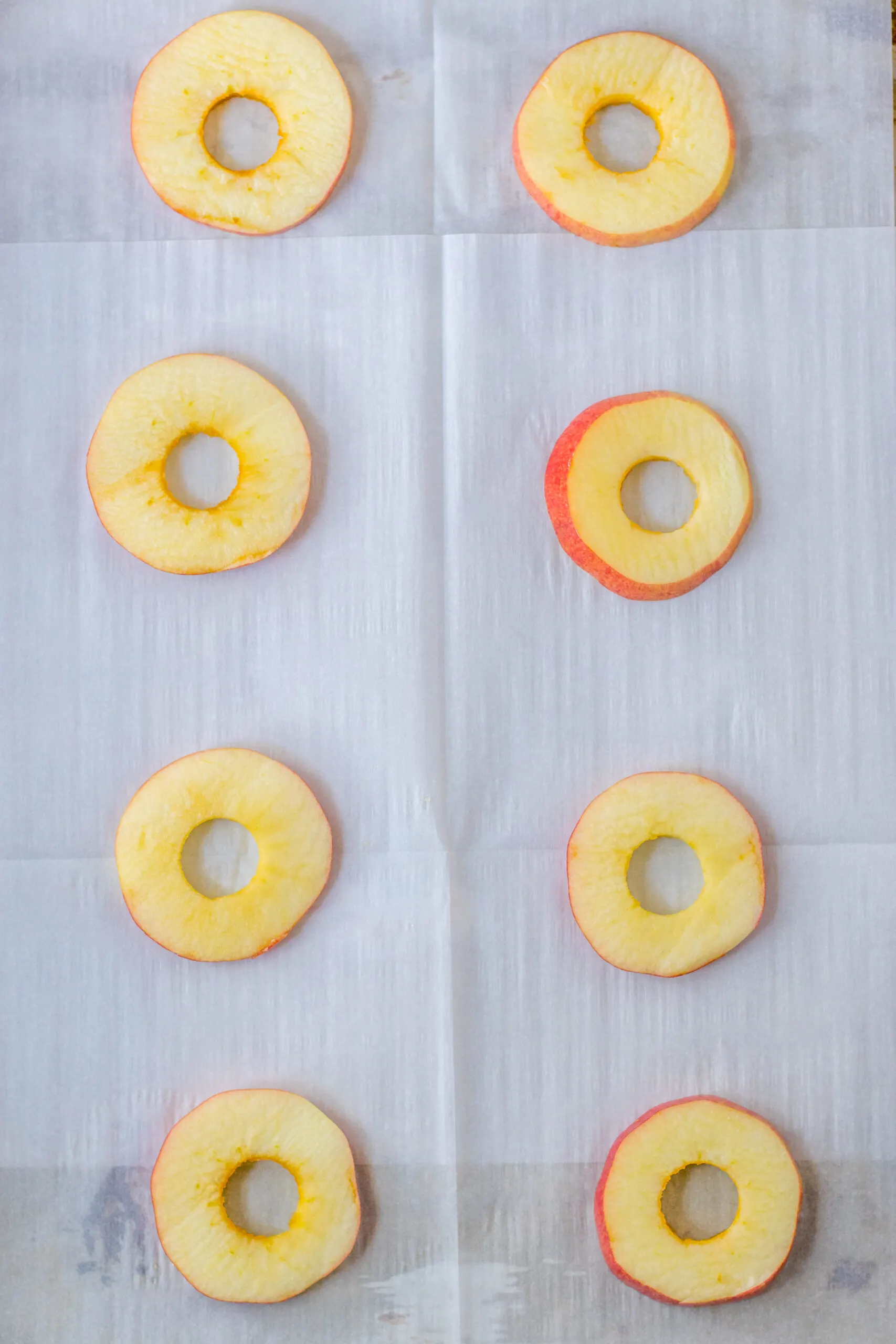 4. Cut the puff pastry into thin strips and begin wrapping the donuts, Either wrap it through the hole all the way around or you can put the end in the hole and wrap it to the other side and rip the piece off and repeat all the way around.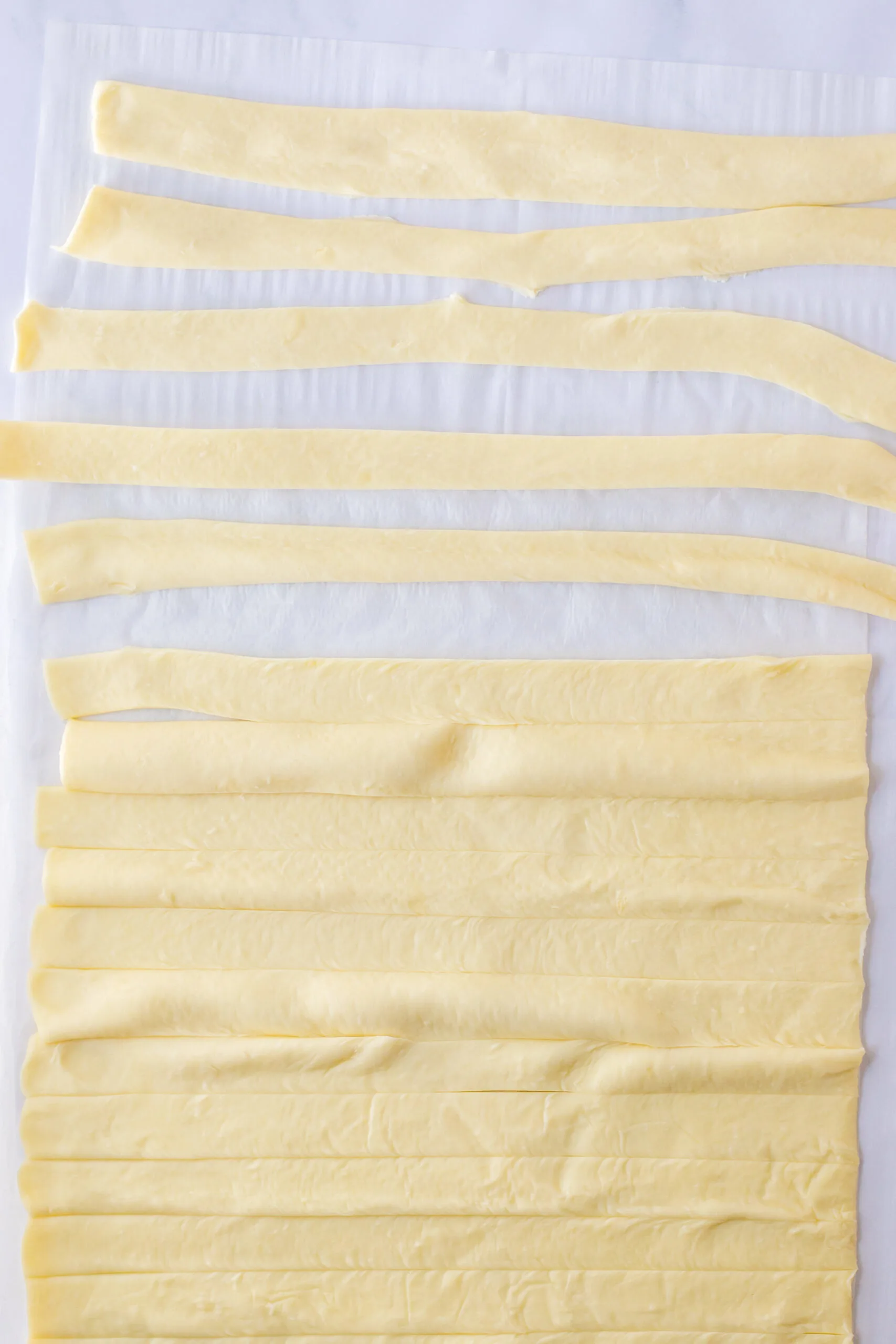 5. Once done stick a finger in the hole and flatten the sides out. Add the egg to a bowl and add a little bit of water and stir, baste on top of all the donuts.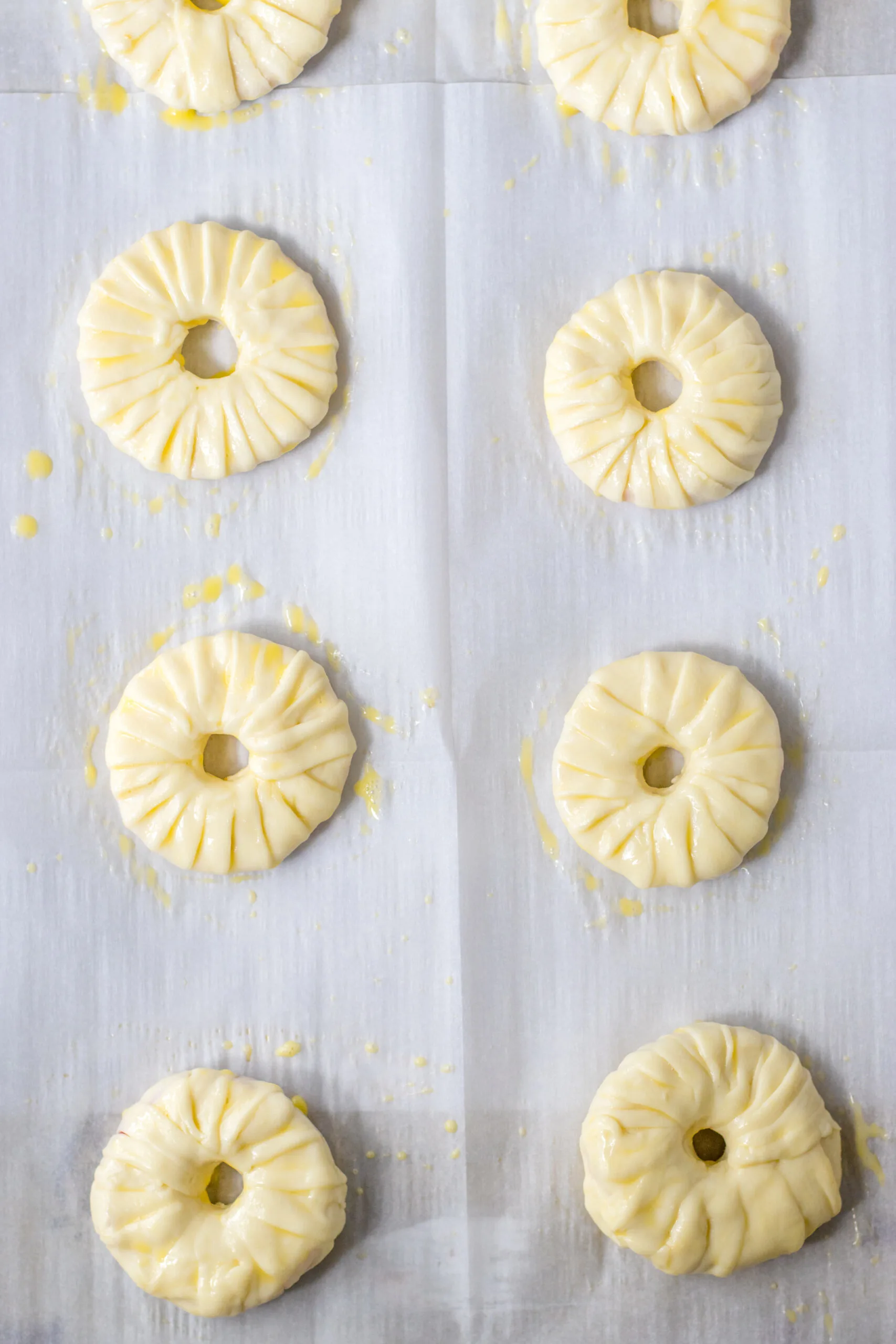 6. Sprinkle on top with cinnamon sugar all over.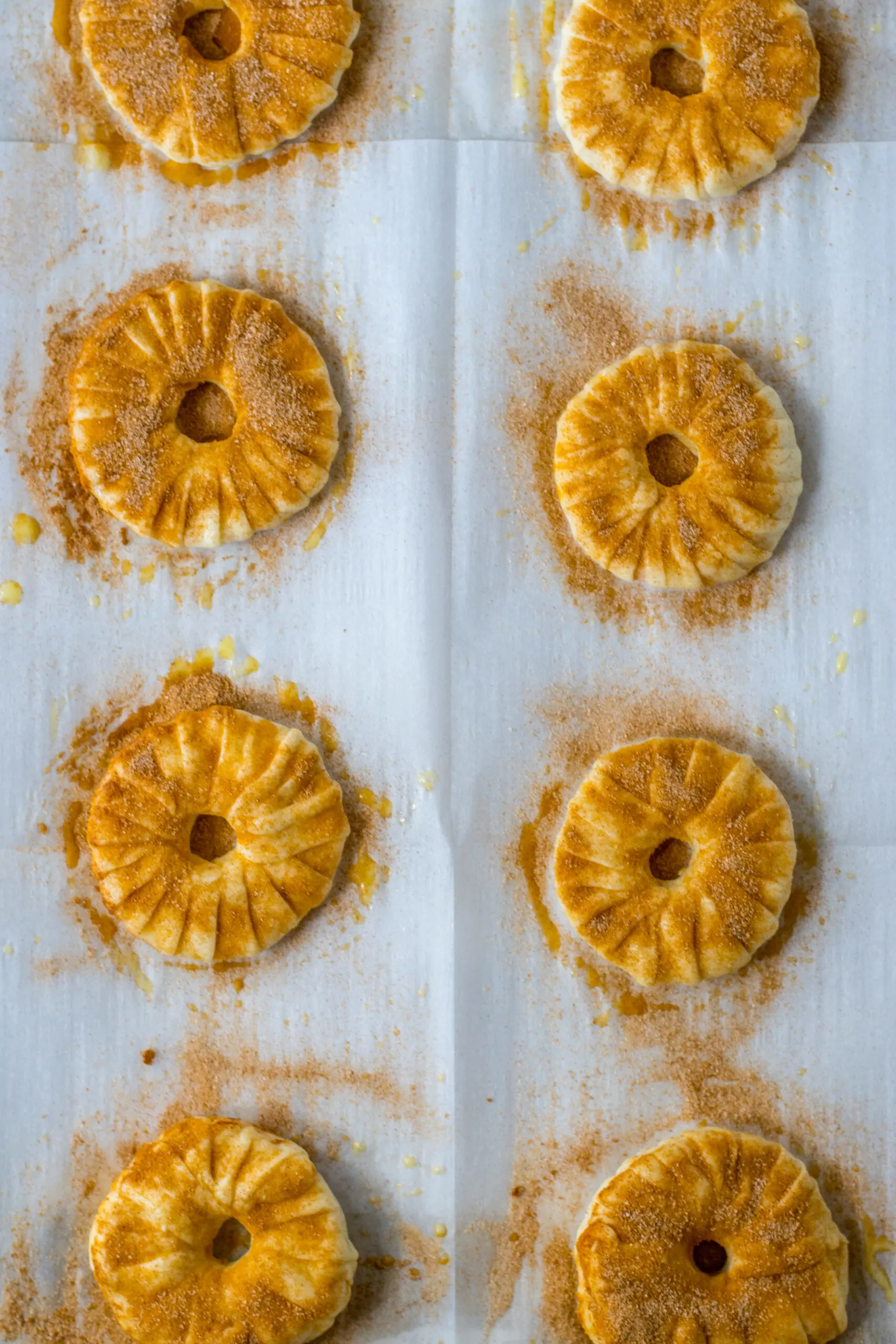 7. Place on a parchment paper lined baking sheet then place in the oven and bake for 15 minutes.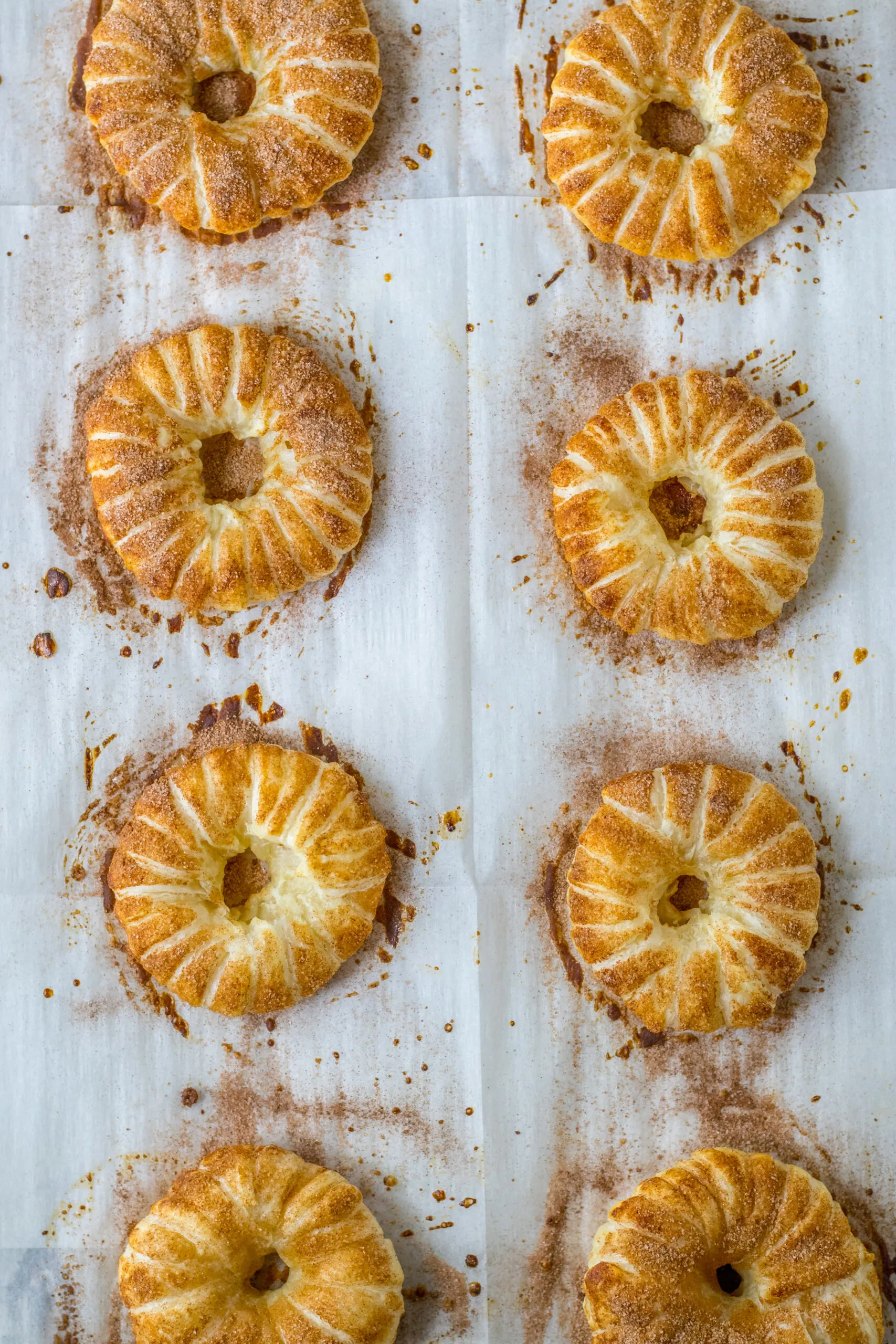 8. Cool until warm and enjoy!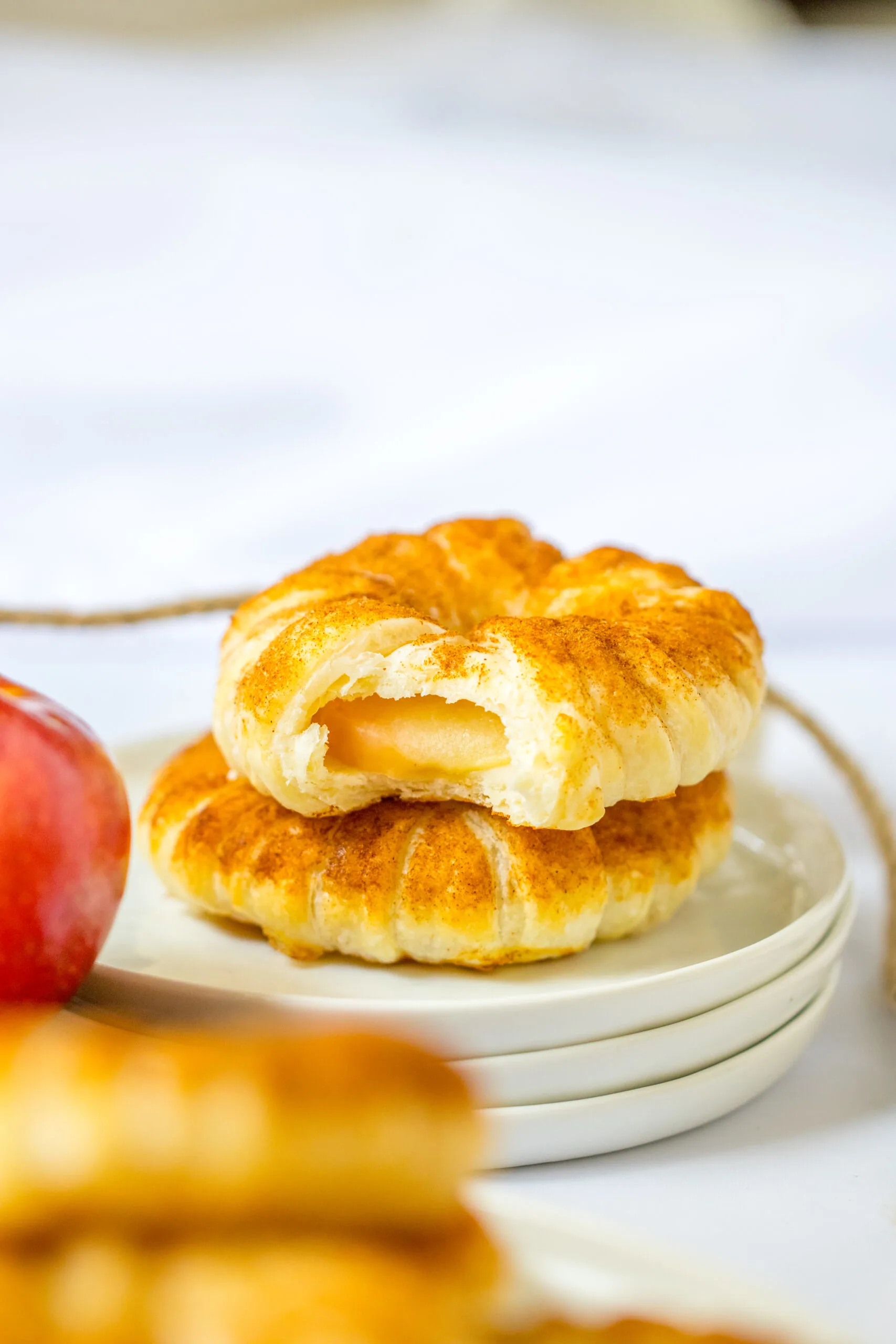 Notes
Tips and tricks!
To make the cinnamon sugar ratio, mix ½ cup granulated sugar with 2 tablespoons of ground cinnamon, and pour it into a jar to store.
Store the Puff Pastry Apple Donuts in an airtight container for 2 days on the counter
Delicious topped with vanilla ice cream!
Recommended Products
As an Amazon Associate and member of other affiliate programs, I earn from qualifying purchases.
Nutrition Information
Yield
8
Serving Size
1
Amount Per Serving
Calories

79
Total Fat

2g
Saturated Fat

0g
Trans Fat

0g
Unsaturated Fat

1g
Cholesterol

23mg
Sodium

19mg
Carbohydrates

15g
Fiber

2g
Sugar

11g
Protein

1g