Writing is very personal, too personal. I have not wanted to talk about what has been going on because I just start crying. I can't write when I am crying, but the ink will not be ruined.
My Grandma Frances died last Sunday. I got the call from my Aunt, I knew this, the week before, I felt it the week before and wanted to talk to my Grandma and Aunt. But I have been having migraines, horrible debilitating migraines, where I don't even know where the days go migraines, and every night, I just wanted to take a warm bath, lie down with my lavender eye pillow, and wish my migraine away.
I miss my Grandma. She was 92 years old, I thought she would live forever. I can hear her voice now saying, " I'm not young Lynnette". I remember her saying that to me when I was 5, how old was she? Younger than I am now….I can't pick up the phone and talk to my Grandma, I can only speak to her in my mind. I know what she will say. I know we will both laugh.
Grandma made me Biscotti every year. For my Birthday and for Christmas. Every year, as if her life depended on it. It started, I didn't get a box in the mail, when I didn't receive the box of Biscotti, I knew she felt terrible that she could no longer make them for me. She felt worse than I did.
I loved those Biscotti, as soon as the box arrived in the mail, I would hide them so that my family didn't eat them all, that day. I didn't make Biscotti because Grandma made them best. But I do have the recipe and one day I will try to make them. They are twice baked, so a little more effort. I will try to be strong and bake a batch for Grandma.
My Grandma was an amazing cook and baker. She loved that I had a food blog. I remember when she cooked dinner and served everyone, she would stand in the kitchen and watch everyone eat.
We begged her to come sit with us and eat. Grandma's family were farmers and they would make a huge meal for lunch, because they would work it off, course after course after course, the Italian way. I loved her lasagna, I loved her thumb print cookies. I dream of her thumb print cookies.
One time we made them together and I wrote the recipe down as we baked them, that was over 40 years ago. She always watched what she ate, she exercised and took care of herself.
She smiled with her eyes, we sang to each other every time we spoke on the phone and when she wasn't singing to me, I would put hubs on the phone and have him sing to her.
I knew she absolutely adored him and his singing, we laughed and laughed about everything, she had the best sense of humor, my Grandma. Wishing this wasn't the last time we spoke.
What did we talk about the last time we spoke? The weather? Our health? The kids? Work? I don't recall, I just know that I always loved talking to my Grandma, she always knew the right thing to say to me, I always felt better when we spoke. I love you Grandma. Thank you for always loving me. I miss you.
I have never made lemon bars, but they are one of my favorite bar desserts. I had no idea how much I would love the combination of lemon and lavender, it is perfect and lemony tart with a light lavender flavor and a sweet and crumbly shortbread crust.
I have loved every recipe from Joy The Baker Cookbook. I will make this recipe again, it is perfect for gifts and parties. My kids and hubs kept going back for more. I highly recommend getting the cookbook and making this recipe. You can find the recipe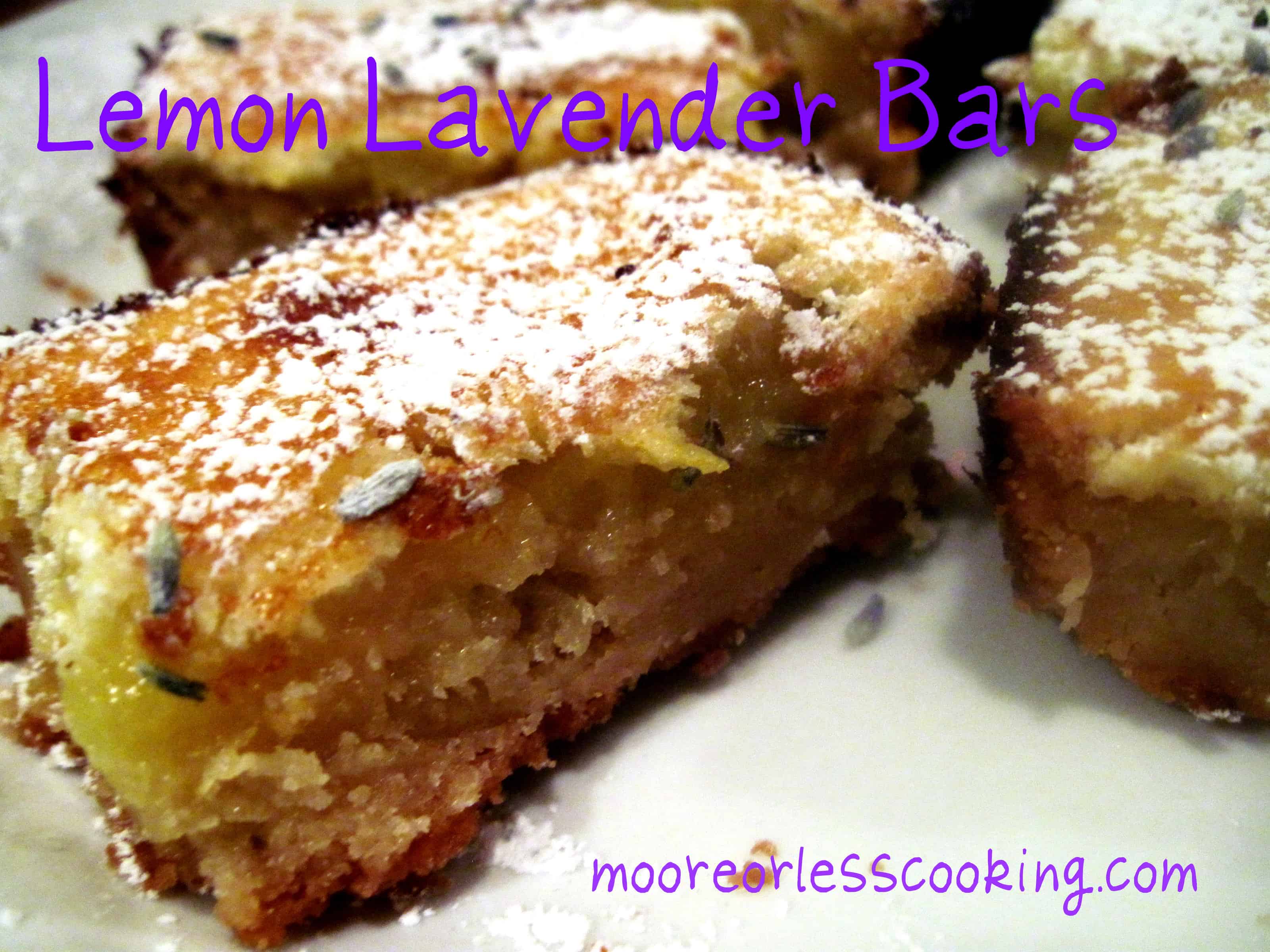 here. This is one of my favorite cookbooks. I love Sunday's With Joy Baking Group. I am enjoying every recipe that we make each week. I know it will come to an end soon, but I want this to last forever! Nettie <3
Joy's book officially hit the shelves today! Click here to purchase your own copy and check out her blog to see if she'll be in a city near you to sign it.
Here's the recipe from Joy The Baker:
For the crust,
2 sticks unsalted butter, softened
3/4 cup of granulated sugar
1/4 cup of packed brown sugar
2 cups all purpose flour
Pinch of salt
1/2 tsp of dried lavender
For the lemon filling,
4 large eggs
1 1/2 cups of sugar
6 Tbsp of all purpose flour
1/2 cup fresh lemon juice
2 tsp lemon zest
Powdered sugar and dried lavender for topping
Preheat the oven to 350 degrees. Butter a 13×9 inch pan and set aside.
To make the crust: In the bowl of a stand mixer beat together butter and sugars until pale and fluffy, 3-5 minutes. Stop, scrape down and add the flour, salt and lavender. Beat on low until dough comes together. Dump the dough into the pan and flatten out with your hand until the base is level. Bake for 18-20 minutes or until slightly browned.
To make the filling: While the crust is baking, In a medium bowl whisk together the eggs and sugar until pale and light. Add the lemon juice, flour and zest. Whisk until completely incorporated. Remove the baked crust from the oven and immediately pour the prepared filling over the crust. Return to the oven and bake for 25 minutes or until browned around the edges and no longer wobbly in the center.
After it comes out of the oven sprinkle lavishly with the powdered sugar and dried lavender.
The bars will stay fresh in an airtight container, in the fridge for up to 4 days.