Summer parties and events deserve a dessert that everyone can enjoy and sheet cakes are an easy way to accomplish that. Whether you use a boxed mix or make your batter from scratch, sheet cakes are an easy way to feed a crowd by baking the cake in a single, thin layer.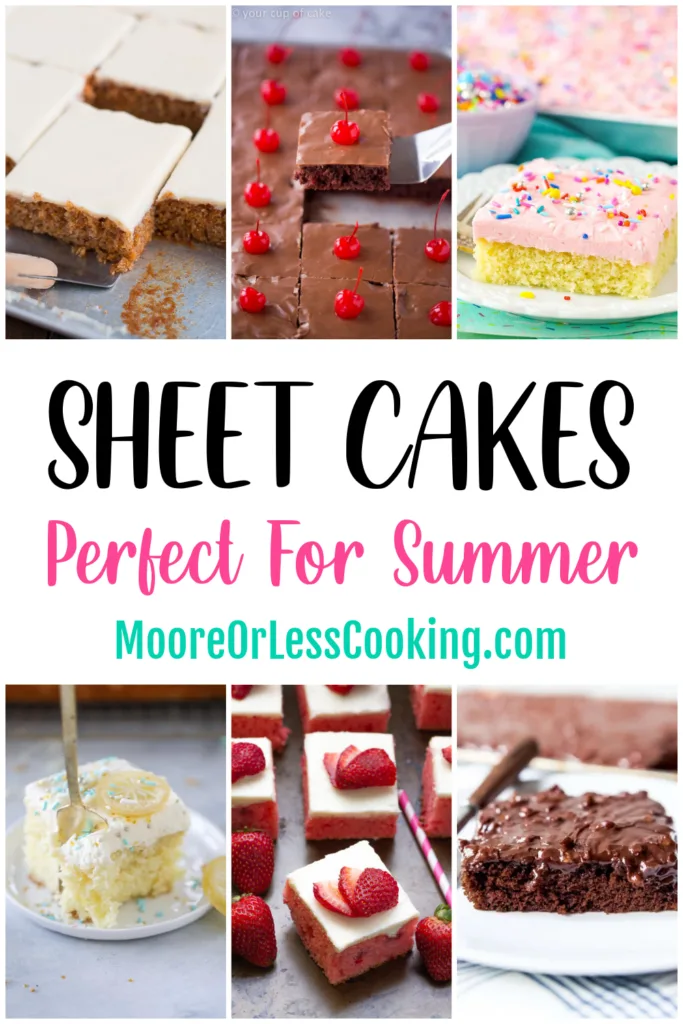 This makes the cake easy to transport and serve. Summer flavors of sheet cakes include strawberry, lemon, pineapple, carrot, coconut, lime, cherry, banana, and of course vanilla and chocolate. Here, you'll find sheet cake recipes that are perfect for birthdays, BBQs, graduations, tailgating, wedding showers, and more. You'll appreciate how quickly and effortlessly these summer sheet cakes can be made and baked. You'll have no trouble finding something scrumptious and full of summer flavors in this sweet and tasty collection of recipes.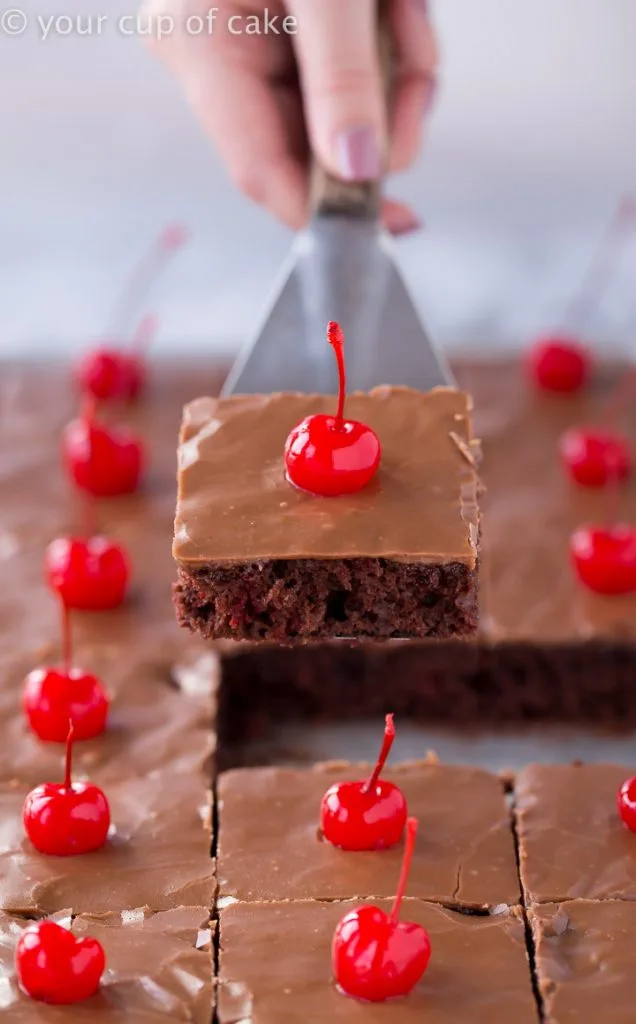 What is a Sheet Cake?
A sheet cake is a one-layer cake baked in a large, flat rectangular pan such as a sheet pan or a jelly roll pan. Sheet cakes bake quicker than other cakes, usually in 15 minutes. Sheet cakes come in all types of flavors. Here you will find 15 of the best sheet cake recipes.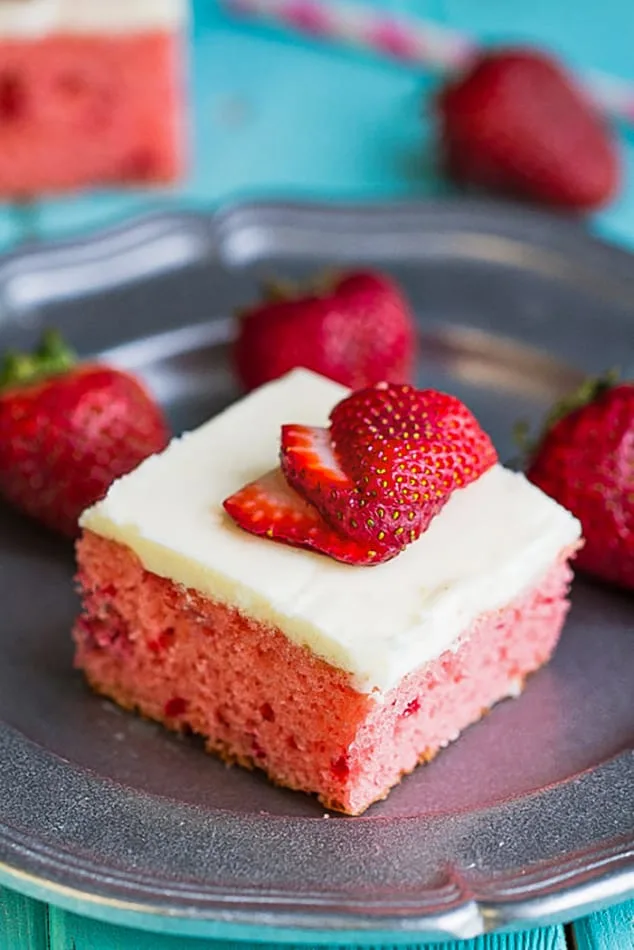 How Many Slices of Cake Does a Sheet Cake Serve?
There are different size sheet cakes. Once you know the size of sheet cake that you will be using. You can figure out how many servings there will be. A half-sized sheet pan will make 58 servings and a quarter-sized sheet pan will make 30 servings.
Full sheet cake: 18" x 26"
Half sheet cake: 13" x 18"
Quarter sheet cake: 9" x 23"
What's the Difference Between A Sheet Cake and A Regular Cake?
The main difference is the size of the cake pans. A sheet cake pan is a shallow, large pan. A regular cake is made in a 9×13 baking dish or, when making a double layer cake, it can be made in two 8-9" round pans.
Serve a crowd with this easy-to-make sheet cake that's made from scratch. The simple batter is infused with vanilla extract and is poured into a 12 x 18-inch sheet pan. It will bake quickly, taking only about 15 minutes before you can slide it out of the oven to cool. Frost it with a simple buttercream frosting that you can tint with food coloring and garnish with sprinkles for a festive look.
Vanilla Sheet Cake by Life Love And Sugar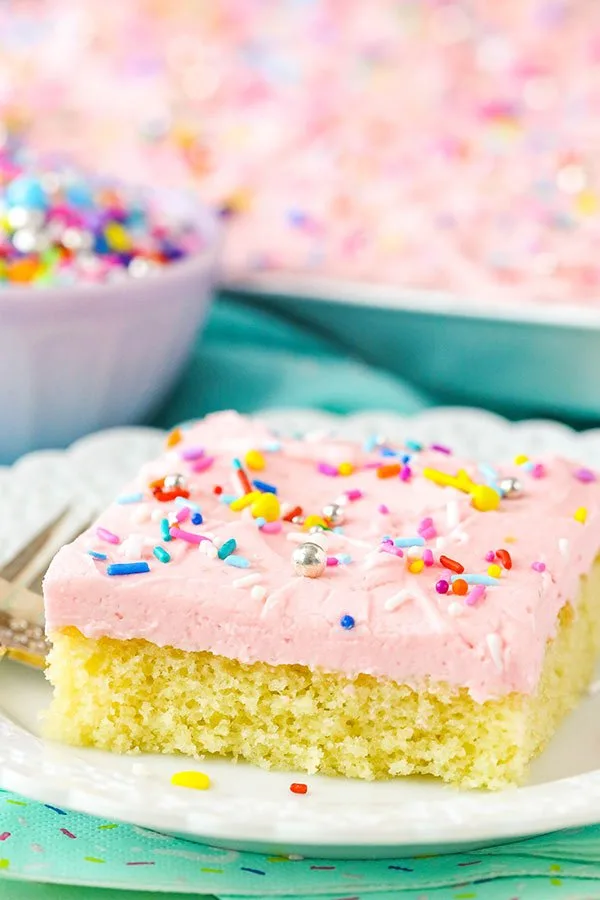 If you're ready for a chocolate overload, this is the cake to make. The batter is enhanced with cocoa powder, chocolate pudding, and chocolate chips. Oh, my! After it's baked to rich and yummy perfection, add the chocolate buttercream frosting and garnish with chocolate chips. Count on rave reviews!
Chocolate Chocolate Chip Sheet Cake by The Baker Mama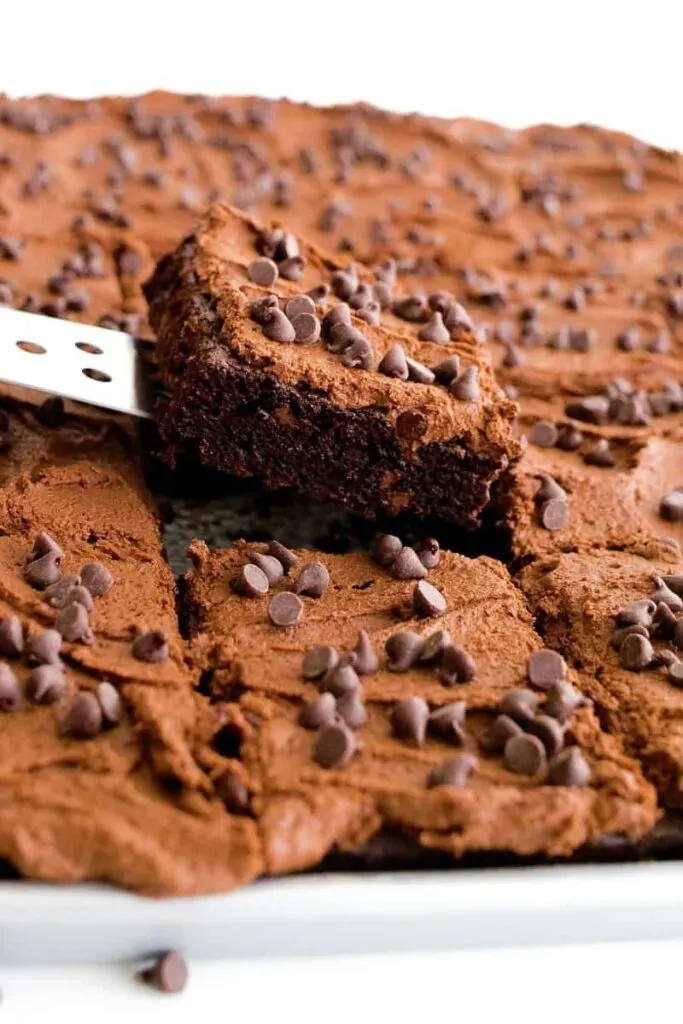 You'll love this light and refreshing sheet cake infused with a combo of orange and almond extract. Buttermilk in the batter gives it a little tang and lifts as it bakes. Add a dash of almond extract to the frosting and top the whole delightful cake with toasted sliced almonds. Divine!
Orange Almond Sheet Cake by Spicy Southern Kitchen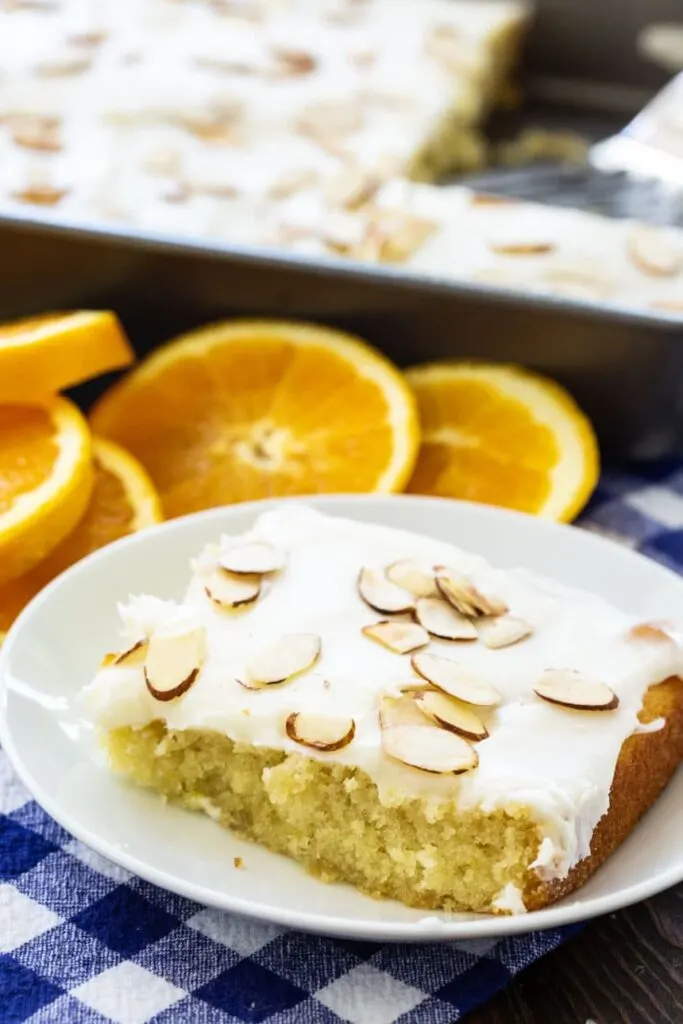 Coconut lovers will swoon over this sheet cake that's full of coconut flakes in every bite. From the batter to the frosting, shredded coconut makes an appearance. A little coconut extract in the batter and frosting will boost the nutty flavor. Toast the shredded coconut for a final garnish on top to make it extra tasty!
Coconut Sheet Cake by Baked Bree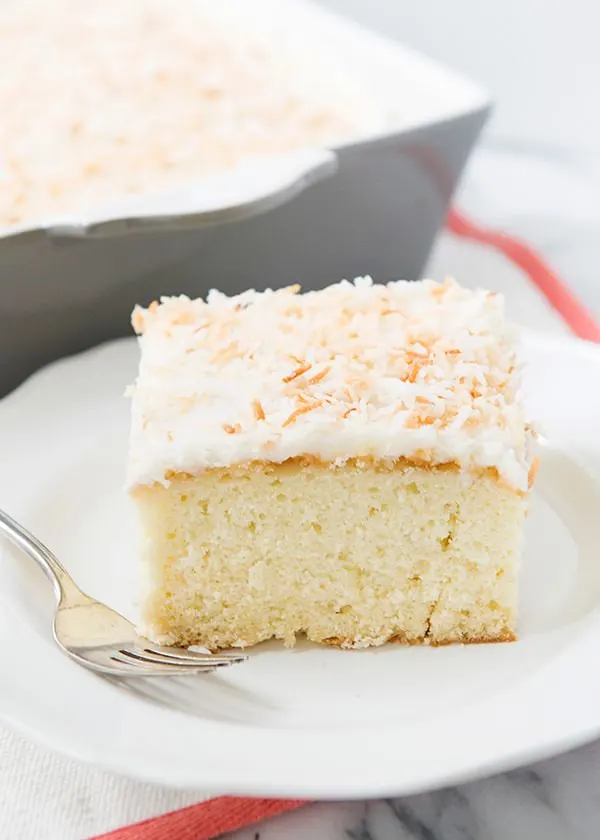 Go tropical with a pineapple sheet cake that's sweet and full of summer vibes. The super-easy cake batter is outrageously moist and full of mouth-watering pineapple. The frosting is a delectable combo of pudding, cool whip, and crushed pineapple, making it a fluffy topping that's too tempting to resist.
Practically Perfect Pineapple Cake by Mom On Timeout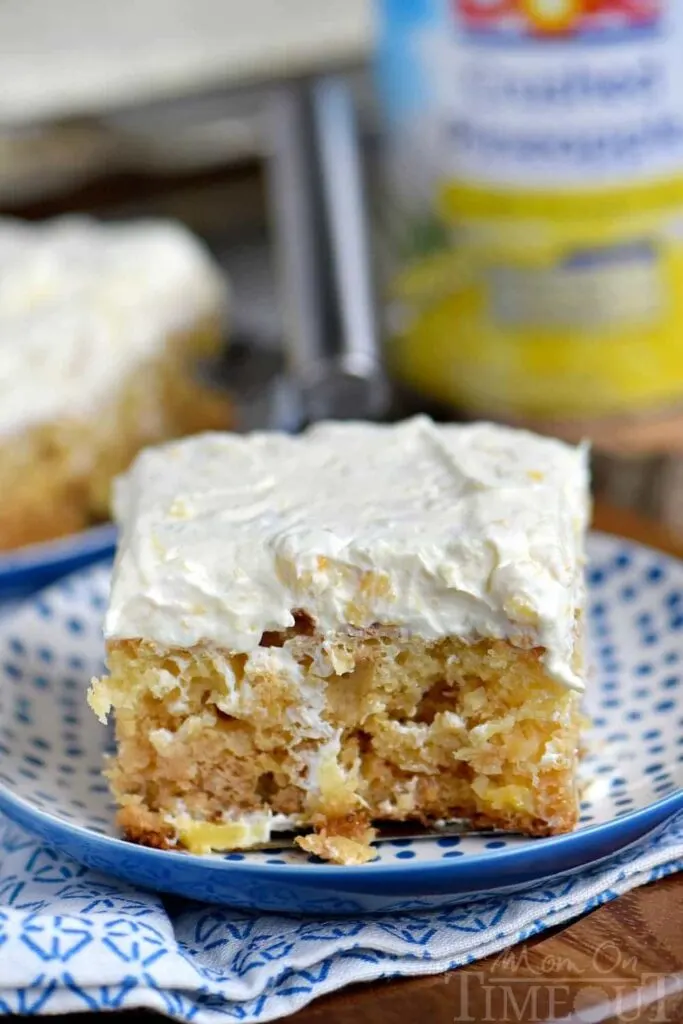 Inspired by banana bread, this cake batter hits all the right notes with its dash of cinnamon and brown sugar for a touch of caramel flavor. A 13 x 9 pan will bake this deliciousness in about 30 minutes. The chocolate buttercream frosting makes an excellent pairing for this delectable sheet cake.
Brown Sugar Banana Sheet Cake by Tutti Dolci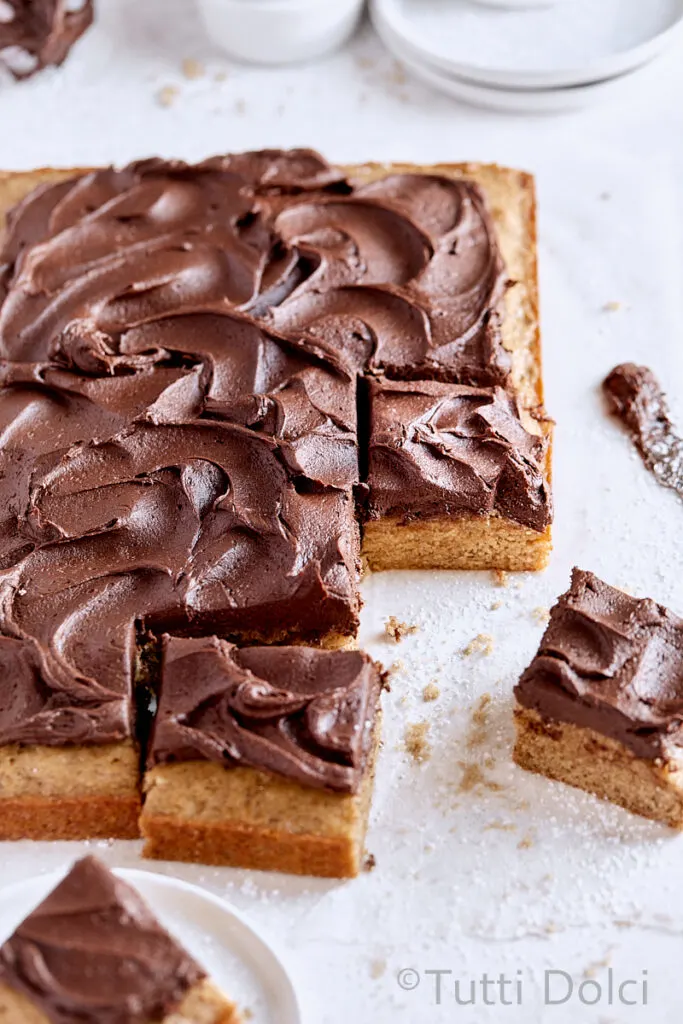 What better way to celebrate any summer event than with a lemon cake? The bright, tangy, and sweet flavor shines through in the cake base thanks to lemon zest and a little lemon extract. Pair it with a cream cheese frosting and garnish with optional sprinkles and lemon slices.
Lemon Sheet Cake by How Sweet Eats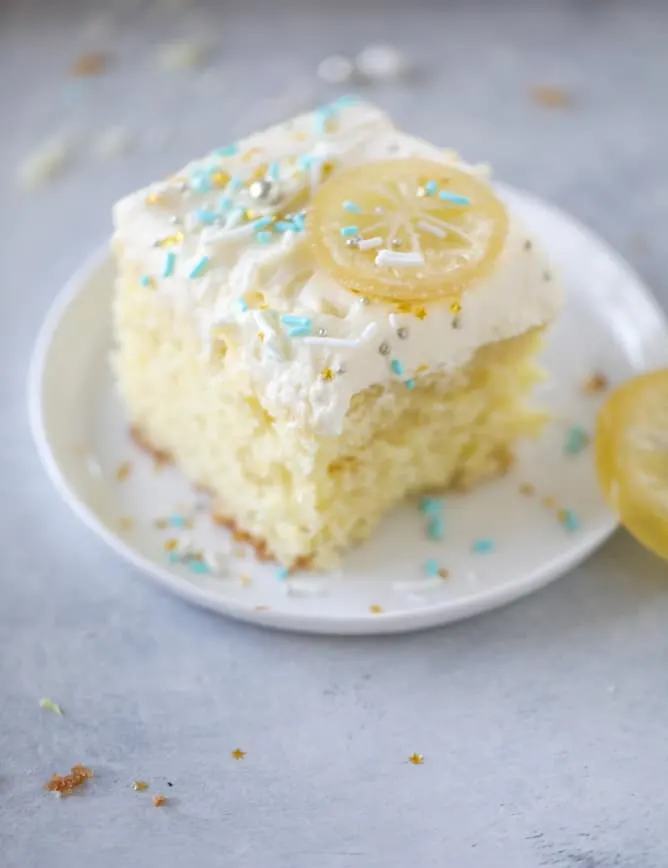 Chocolate comes in many varieties, and here, white chocolate is the star of this pretty sheet cake. The batter can be easily mixed by hand and transferred to a sheet pan for a quick session in the oven. The frosting is full of white chocolate chips that are melted along with butter and other sugary ingredients. When the cake is iced, top it with more white chocolate chips for good measure!
White Chocolate Texas Sheet Cake by Averie Cooks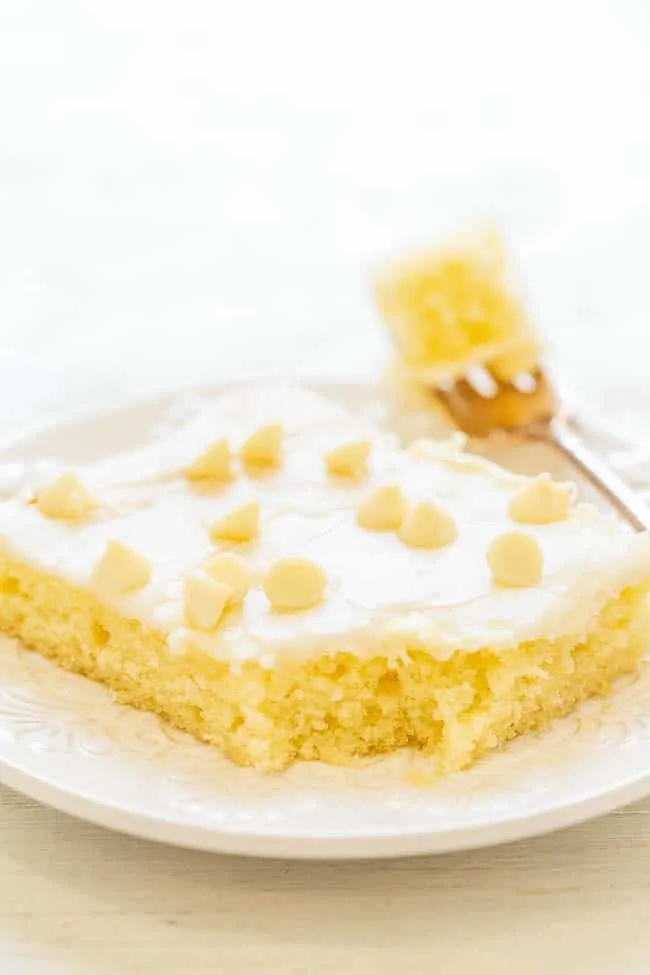 Warming spices of cinnamon, nutmeg, and cloves will make this carrot cake a crowd favorite on your summer table. Full of grated carrots, it's a simple batter made from scratch. Butter, cream cheese, and powdered sugar make quick work of the frosting. Nuts are optional and can be added to the batter or as a garnish on the frosting.
Carrot Sheet Cake by Handle The Heat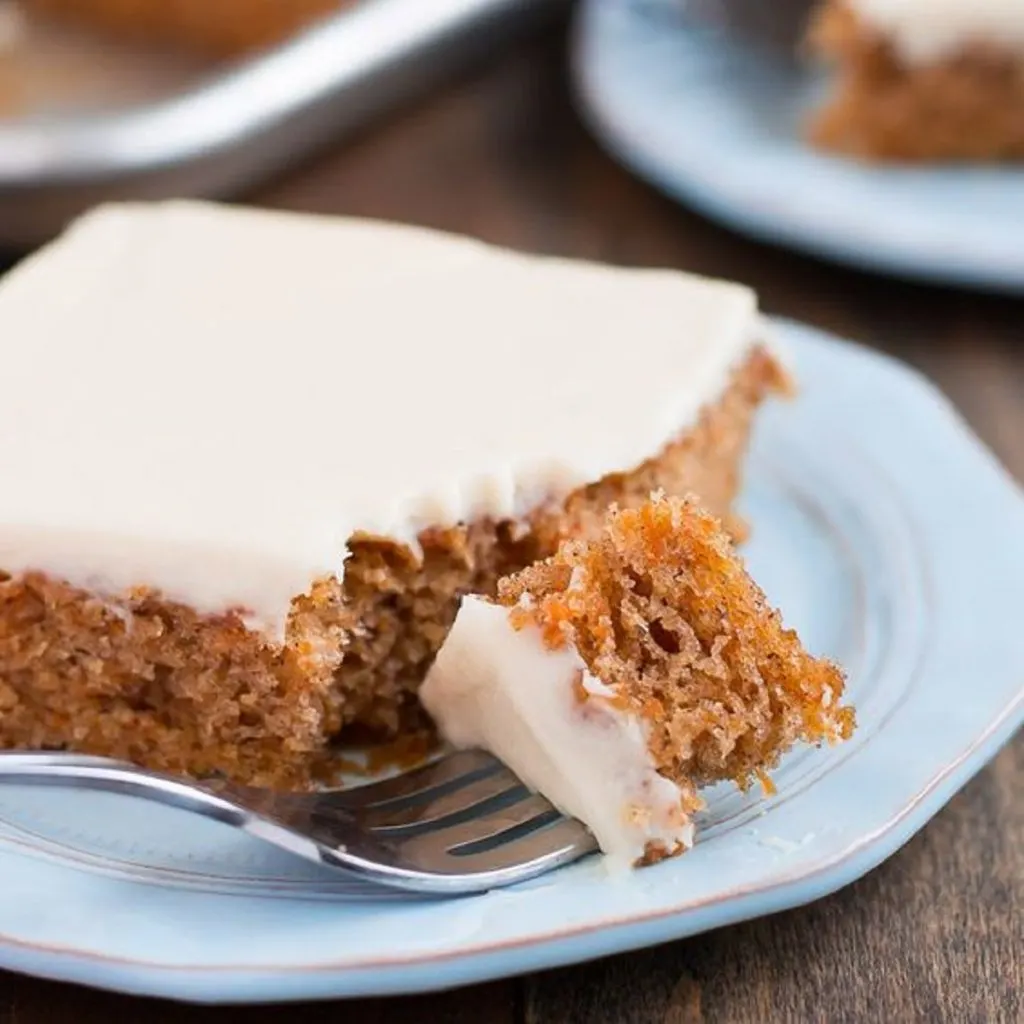 This made from scratch sheet cake uses freeze-dried strawberries along with fresh ones to create a burst of berry flavor that celebrates the summer season. The sweetened cream cheese frosting adds just the right touch to this scrumptious cake. You won't be able to stop eating this one!
Strawberry Sheet Cake by Life Made Sweeter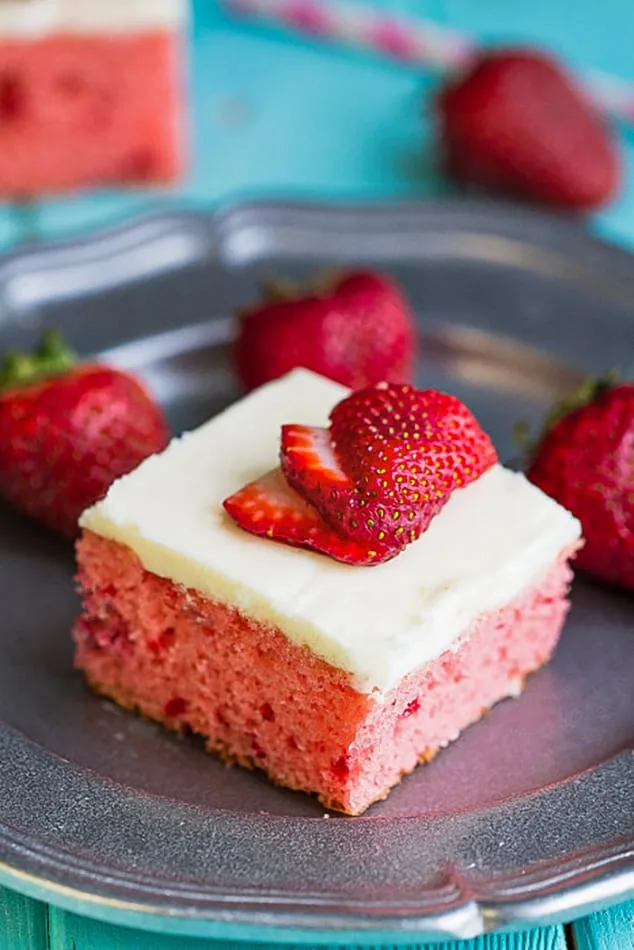 You can't go wrong with this classic Texas sheet cake that will surely satisfy your chocolate cravings. The buttermilk batter base pairs perfectly with the cocoa powder to produce a rich flavor and texture that's almost like a brownie. The pourable chocolate frosting can be garnished with chopped walnuts or pecans for extra deliciousness.
Chocolate Texas Sheet Cake by House Of Nash Eats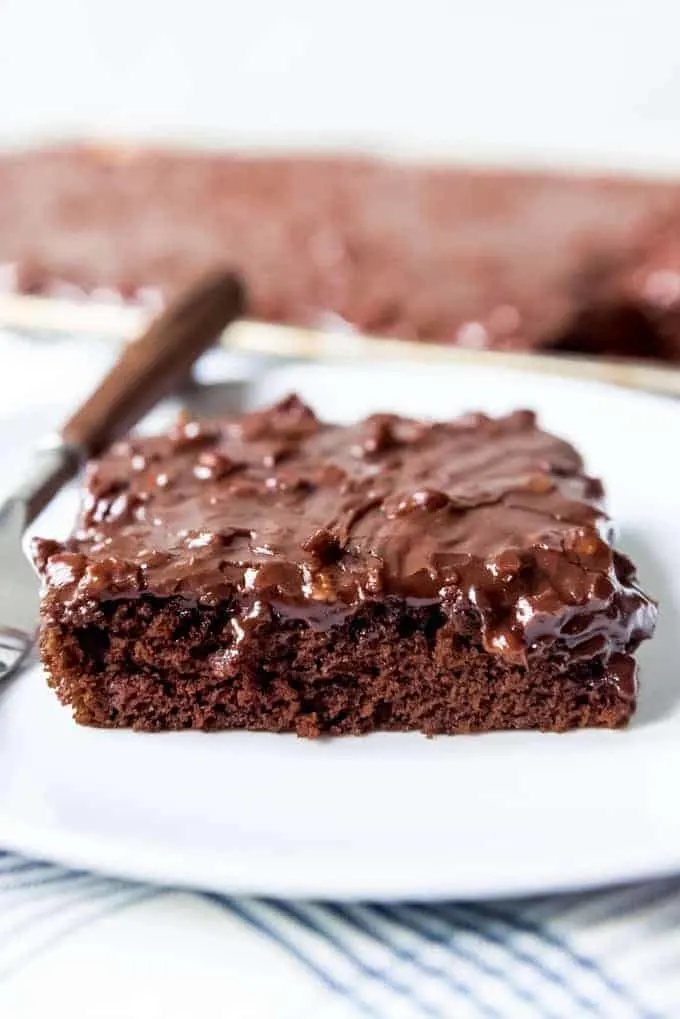 No mixer is needed with this simple batter recipe that transforms a delectable buttermilk sheet cake into a bright and tangy summer cake with the addition of key lime juice. Frost it with butter and powdered sugar icing infused with key lime juice and zest for an extra punch of lime flavor. It's light, airy, and full of citrus goodness!
Key Lime Sheet Cake by Tastes Of Lizzy T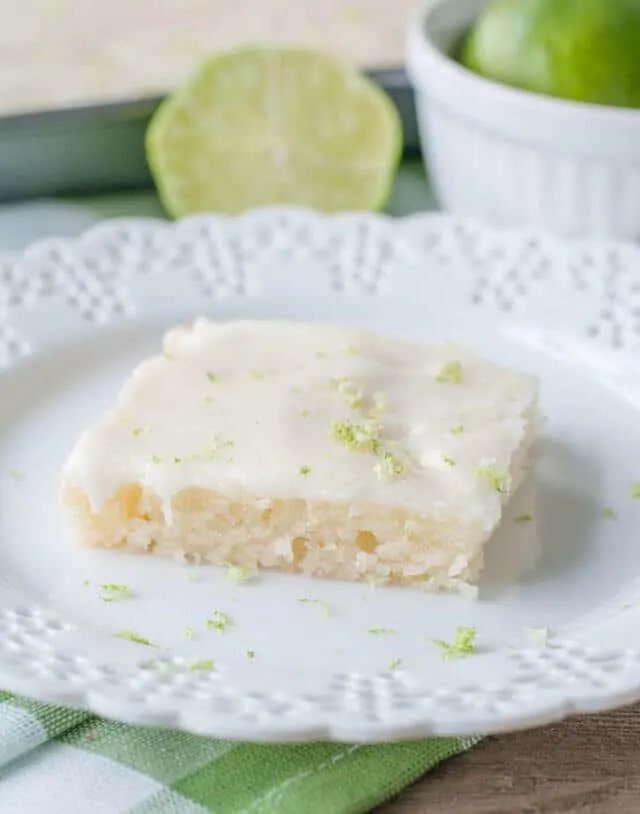 Kids, as well as adults, will gobble up a slice of this cake and be right back for more. It's an irresistible cake that adds peanut butter to the batter along with buttermilk and brown sugar. This deliciousness is topped with peanut butter and powdered sugar glaze that you make on the stovetop. Pour this over the warm cake and let it set before slicing.
Peanut Butter Sheet Cake by The Girl Who Ate Everything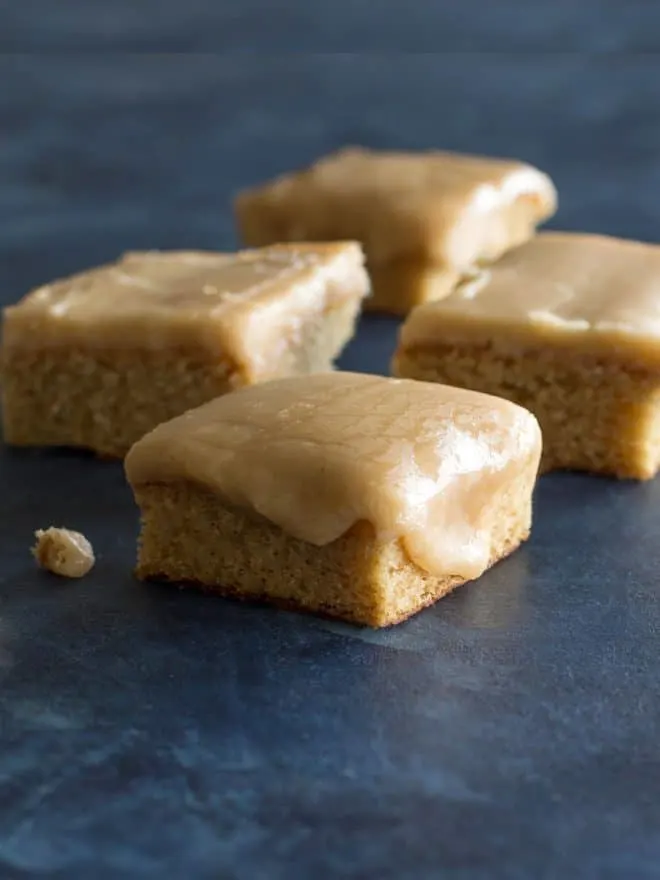 If a cake with pecans, bananas, pineapple, and cinnamon sounds heavenly, then you'll want to make this southern-style sheet cake as soon as possible. It's a moist cake that's easily mixed and baked in a 9 x 13 pan. Top it with a sweetened cream cheese frosting and serve it with a glass of sweet tea!
Hummingbird Sheet Cake by Southern Bite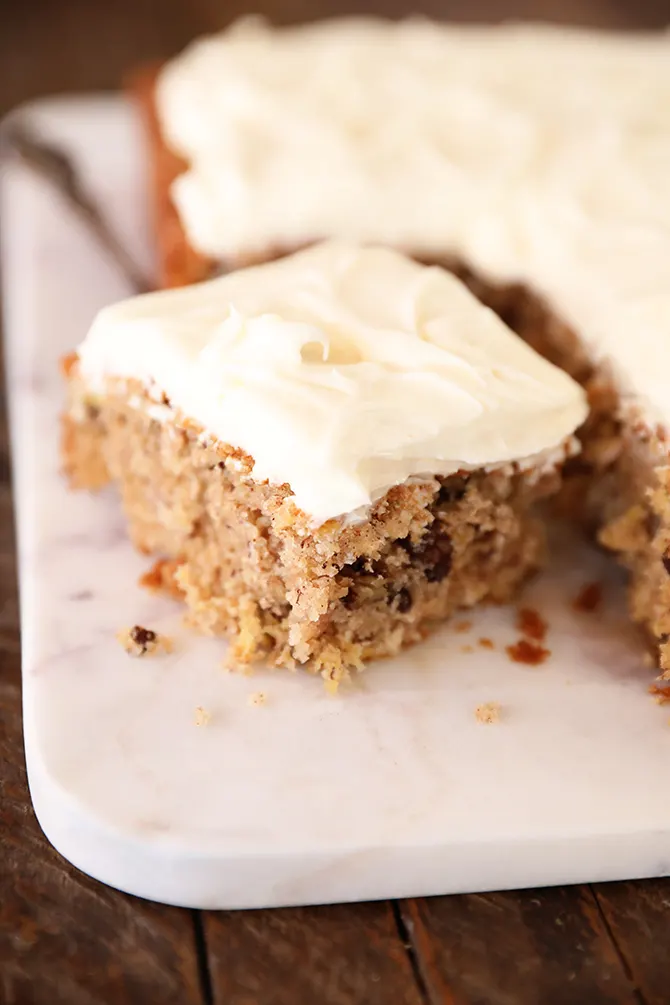 The winning combination of chocolate and cherry will be appreciated with this melt-in-your-mouth sheet cake. Use a chocolate cake mix and a can of cherry pie filling to create this crowd-pleasing dessert. A simple chocolate frosting is poured over the warm cake to create a thin chocolate glaze. Garnish with stemmed maraschino cherries for a bright and colorful touch.
Chocolate Cherry Texas Sheet Cake by Your Cup Of Cake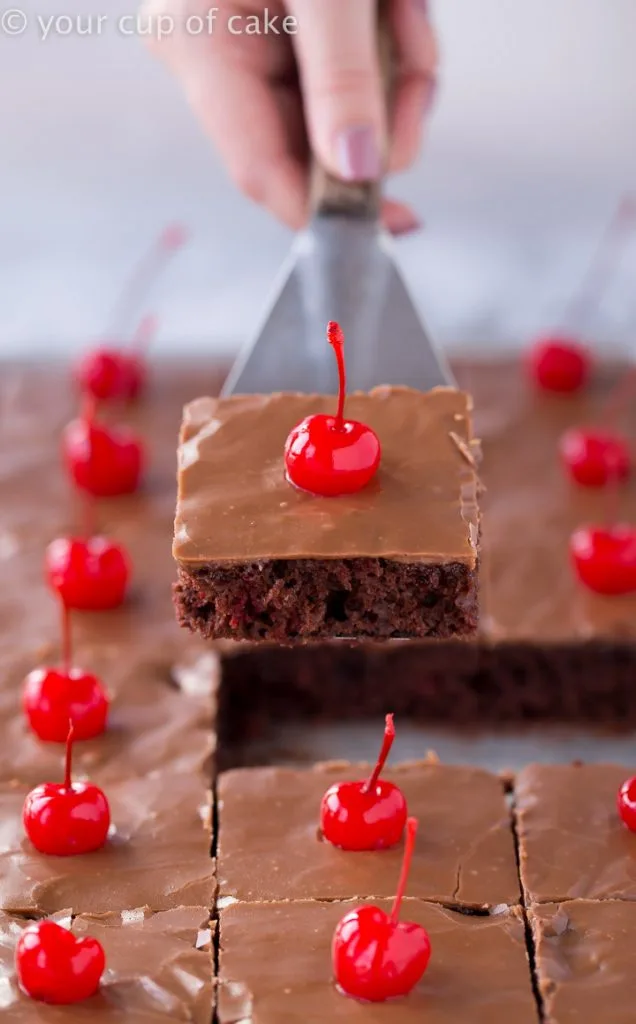 Nettie is a wife and mother who is passionate about cooking and baking. With 5 children, Nettie insists that all meals, snacks, and desserts come together quickly! You will find a wide variety of easy yet scrumptious recipes on her very popular website Moore or Less Cooking
Be sure to follow me on Instagram and tag #mooreorlesscooking so I can see all the wonderful recipes that YOU make from this site!
Check out my YOUTUBE with a free email subscription HERE and please share on FACEBOOK and on PINTEREST
Follow Mooreorlesscooking on FACEBOOK | TWITTER | PINTEREST | BLOGLOVIN |INSTAGRAM|