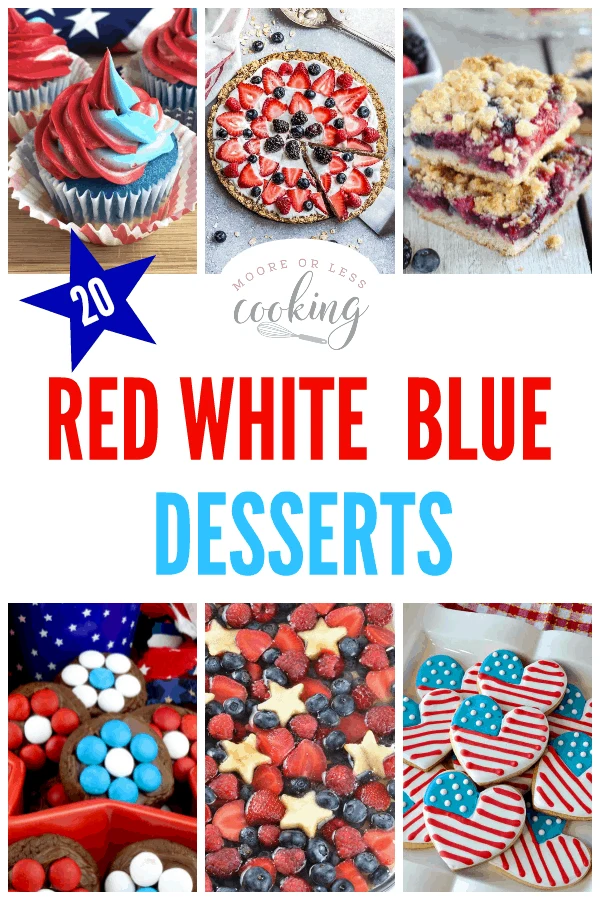 These red, white, and blue desserts are perfect for summer celebrations such as the 4th of July, Memorial Day, or even a sports team with these colors! From stars and stripes to flag-inspired decor, everyone will enjoy these creative recipes.
You'll find awesome recipes like red, white and blue ice cream, star-inspired fruit pizza, no-bake trifle, patriotic funnel cake, red, white and blue popsicles, flag decorated treats, and cookies and more.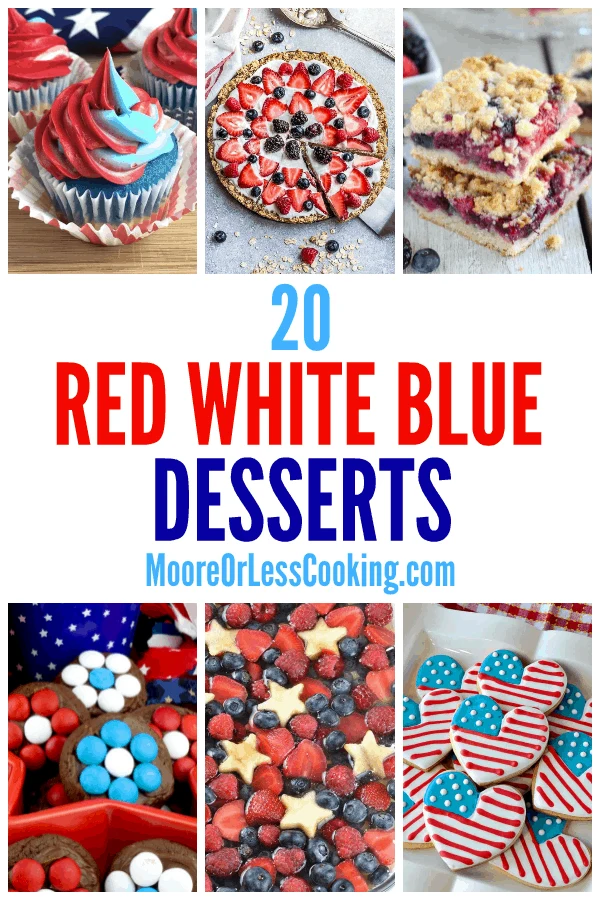 Using summer berries is an easy way to add delicious sweetness and patriotic colors to many desserts. Let these recipes inspire you to get creative with your use of food, flavorings, color, and tools to create just the right dessert for your occasion.
These impressive red, white, and blue jello stars are super easy to make. The kids might want to help, too. First, make your red and blue jello. Let it chill and slice into small blocks.
Make the sweetened condensed milk and gelatin mixture and pour off the red and blue jello chunks. Let it set and chill and then cut it into stars.
Stained Glass Jello by Brown Eyed Baker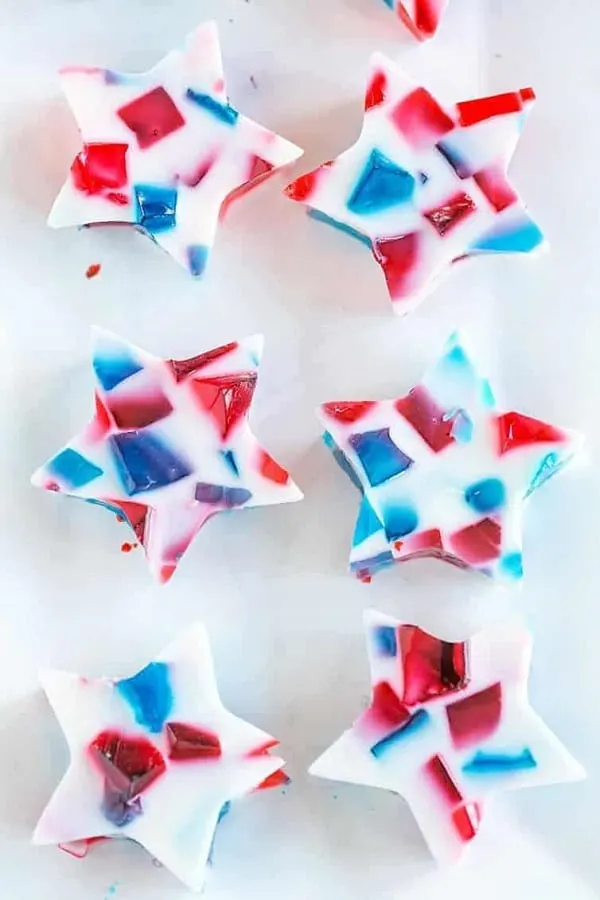 Easily make these tri-colored cupcakes by dividing the batter into 3 sections and adding food coloring. Add batter from each color into your cupcake wells and bake. Treat the frosting the same way for coloring purposes and pipe it on using a star tip. Very festive!
Red White Blue Swirl Cupcakes by The Soccer Mom Blog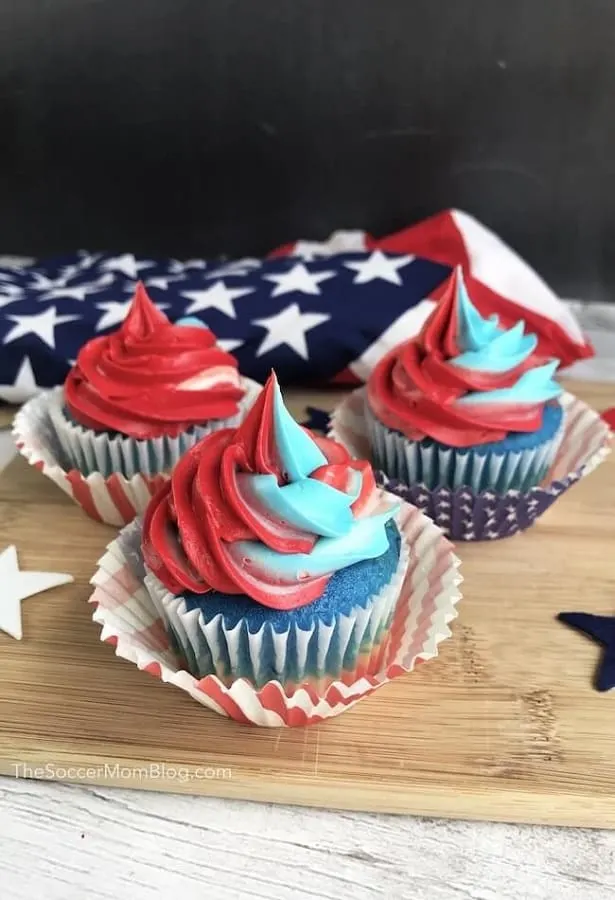 This no-churn ice cream incorporates cake into the mix for a tasty and celebratory treat. Divide white cake batter and add red food coloring to one half and blue to the other. Bake, cool, and then crumble. Make the no-churn ice cream and add some red and blue cake crumbles and stir gently. Chill well before serving
Red White Blue Ice Cream by It's Always Autumn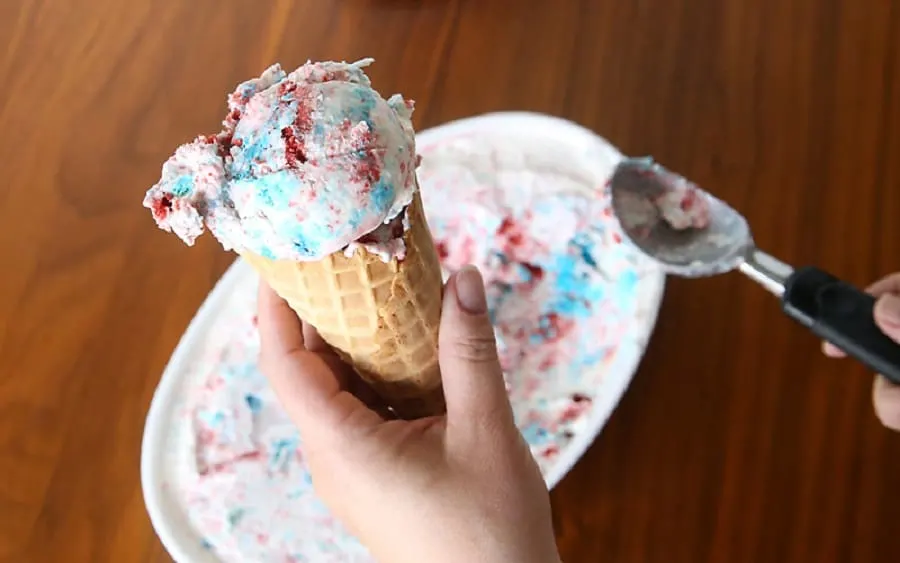 Use summer's extravaganza of fresh berries to create a sweet red, white, and blue fruit pizza. This showstopper dessert features a simple oat-crust topped by a sweetened Greek yogurt filling. Add blackberries, raspberries, strawberries, and blueberries in a decorative star shape. So pretty!
Red White And Blue Fruit Pizza by Life Made Sweeter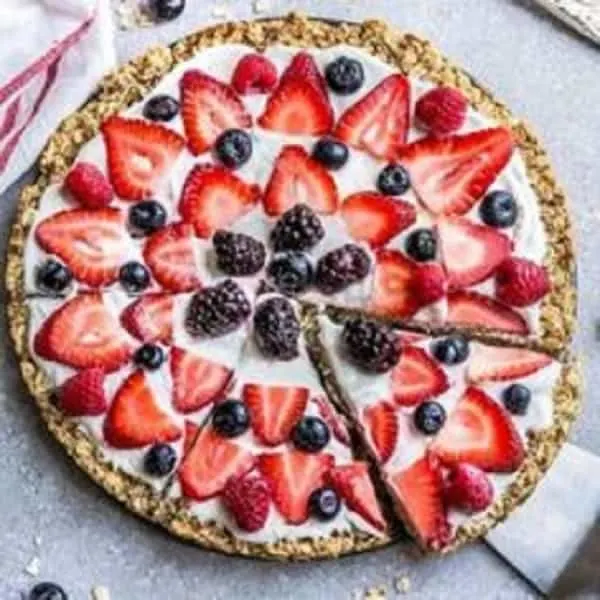 Double the chocolate flavor with these chocolate frosted chocolate cookies. That's a lot of chocolate! The chocolate frosting helps hold the red, white and blue M & M's that you can arrange in a circular flower pattern on top of each cookie. Very creative!
Patriotic M & M Cookies by Two Sisters Crafting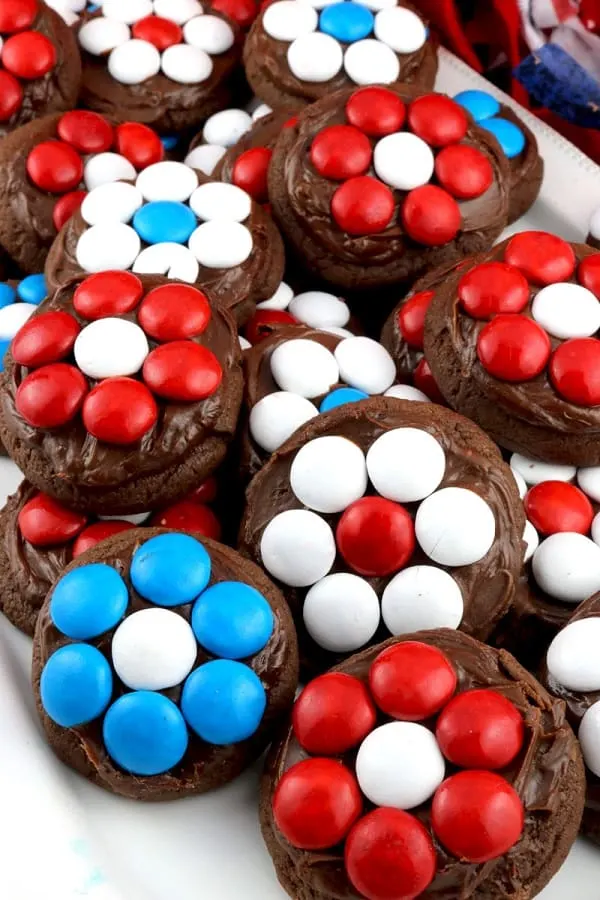 Don't worry about turning on the oven with this no-bake dessert. You can use a store-bought angel food cake and keep it simple. You'll need fresh strawberries and blueberries, too. You'll make an easy cream cheese frosting to go between the layers. Use a glass trifle dish to show off all your pretty layering. Let this one be the centerpiece on your dessert table!
No-Bake Strawberry Blueberry Trifle by Natasha's Kitchen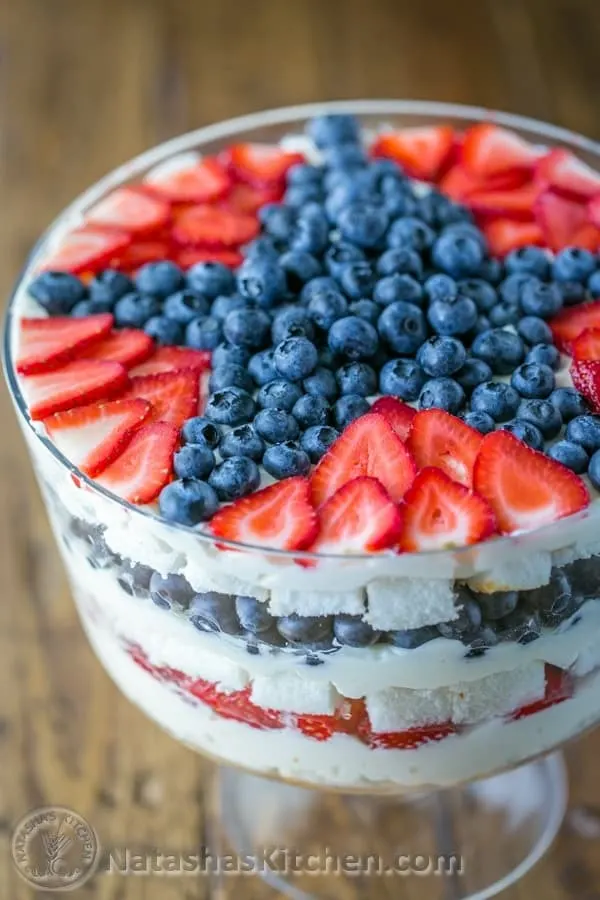 Celebrate Independence Day by baking up a batch of heart-shaped sugar cookies and decorating them like the American flag. You'll make royal icing in red, white, and blue and just pipe it on. Easy enough for beginners, so give it a try!
American Flag Heart Decorated Cookies by Kudos Kitchen By Renee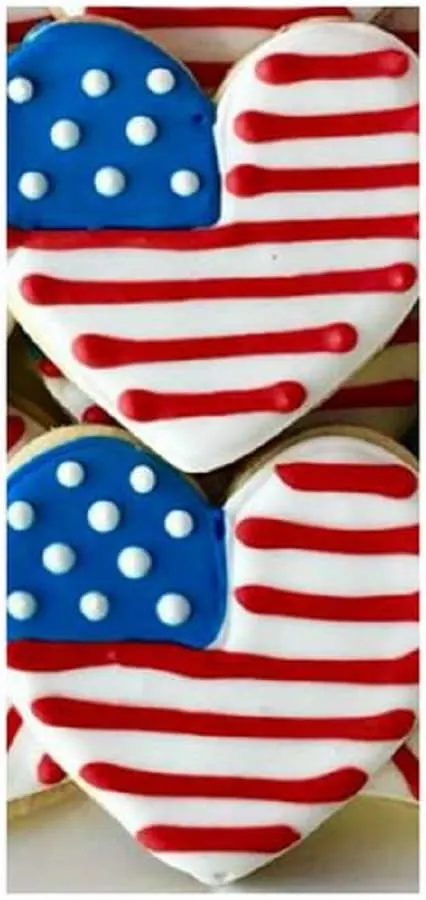 This creative dessert adds vanilla cake batter to red ice cream cones to be baked. When cooled, pipe on white frosting first, and top with blue frosting that you've colored with food coloring. Add some festive sprinkles and then add a red cherry on top of each and enjoy!
4th Of July Cone Cupcakes by Crayons And Cravings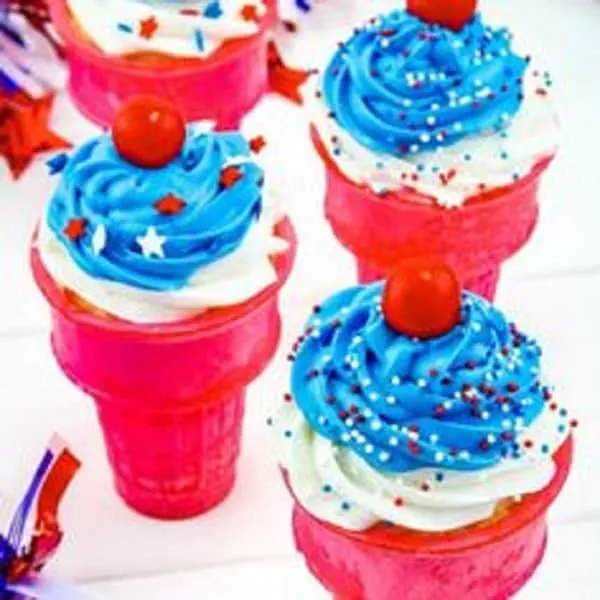 Cookie dough with sprinkles gets pressed into a pan and baked for a festive base for a buttercream frosting. Cut into bars and decorate each with fresh cut strawberries and blueberries. Simple, delicious, and perfect for the 4th of July.
4th Of July Sugar Cookie Bars by Your Cup Of Cake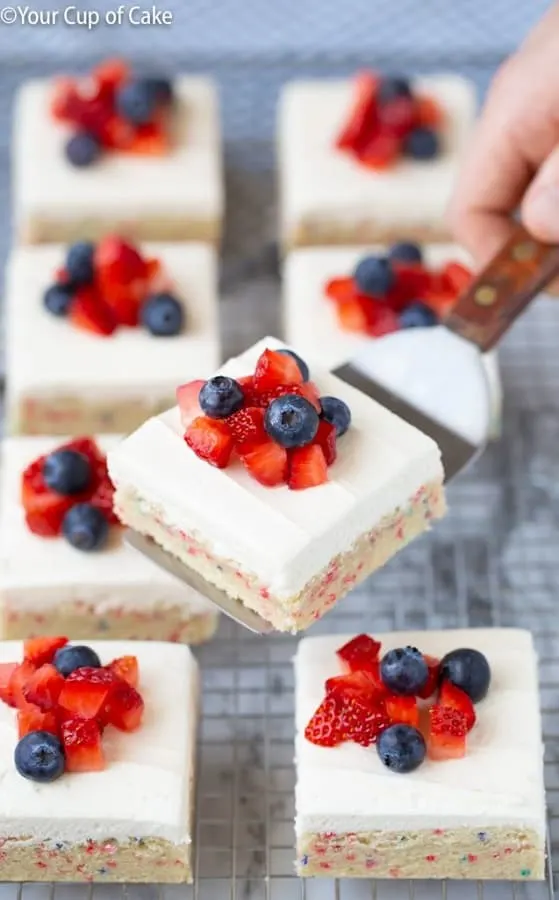 The kids will love these festive and sparkly marshmallow pops and they'll want to help decorate them, too! Oreos get in on the action, so there's double fun here. Using red, white, and blue melting chocolates, dip the cookie and marshmallows, drizzle them, and add sprinkles or colored sugar. So festive!
4th Of July Oreo Pops Marshmallow Pops by Simply Designing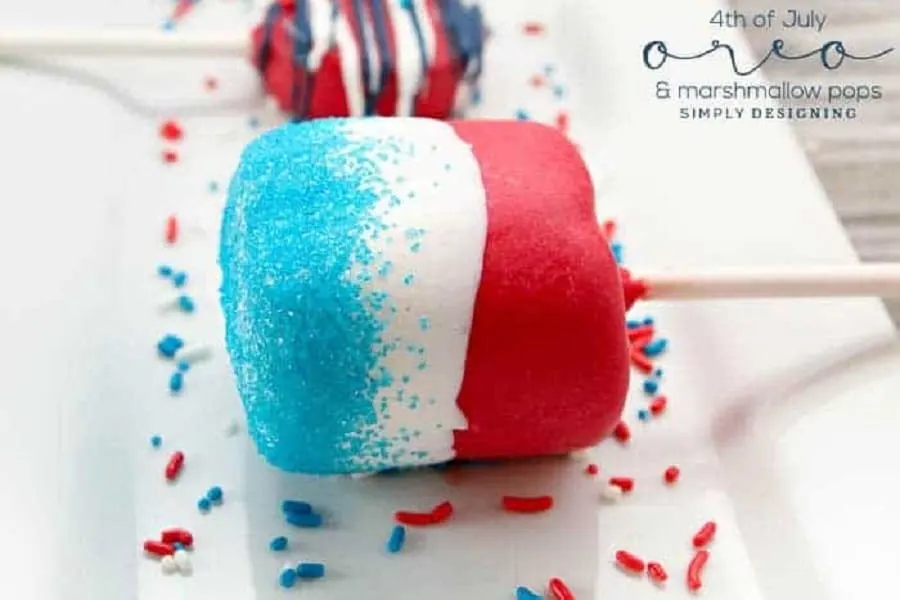 Rice Krispie treats are always a hit and here, you just add a little red and blue food coloring to part of the batch and layer them in the pan to set. Top with red, white, and blue sprinkles and M & M's. Awesome!
Red White Blue Rice Krispie Treats by I Heart Naptime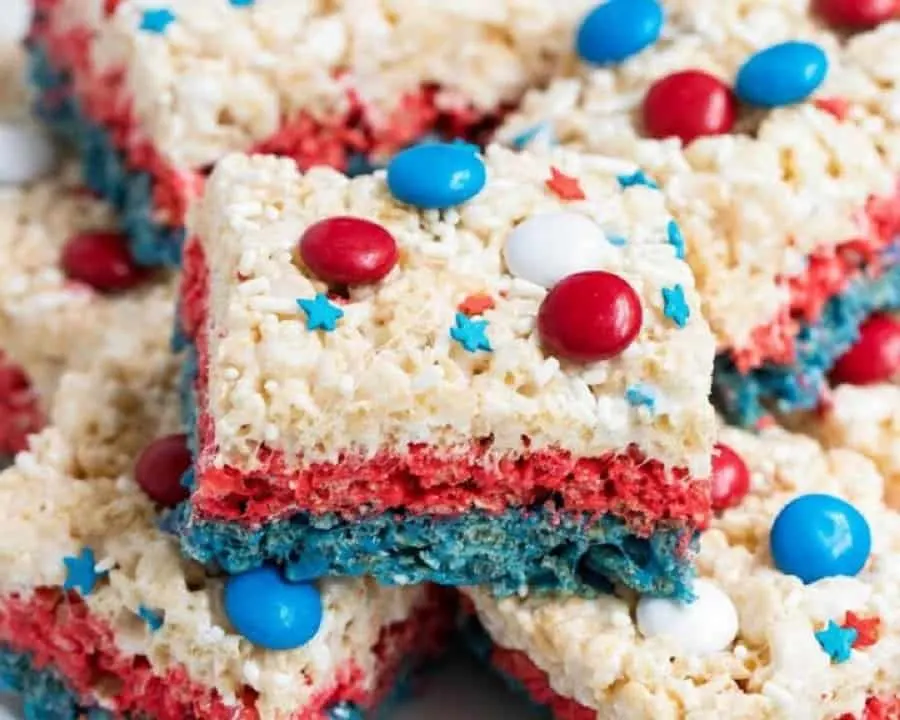 This is a fun cake to make and is a surprise when you cut into it! Either prepare or use a store-bought angel food cake. Follow the direction on how to make a tunnel in the middle of the cake. Make a sweetened cream cheese frosting and fold in chopped blueberries and strawberries. Fill the tunnel with the fruity mixture. Frost with the remaining cream cheese frosting, garnish with berries and refrigerate until ready to serve.
Patriotic Funnel Cake by Food Folks And Fun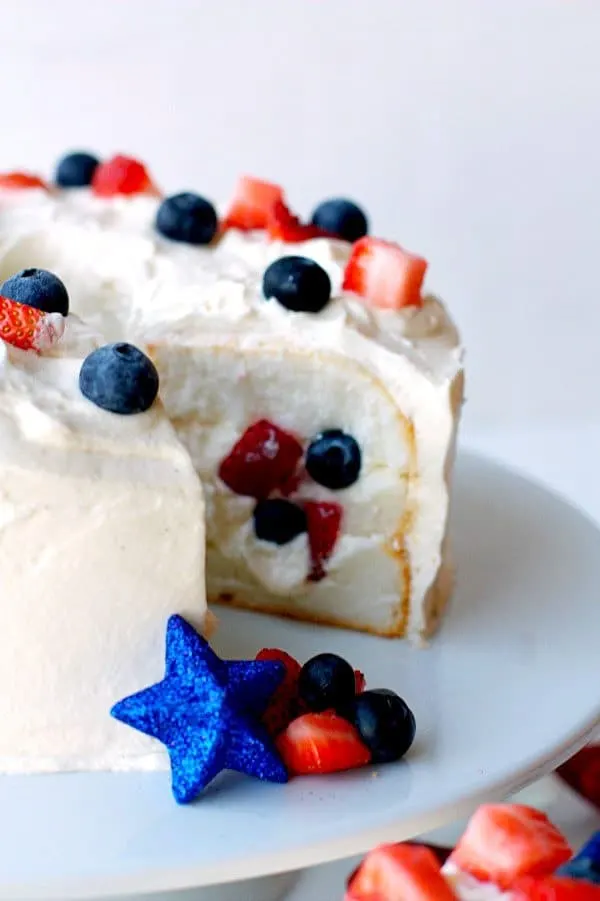 You'll love making these adorable firecracker cherries. Using maraschino cherries, marinate them in cola for 1-2 days. To make, dip 2/3 of each cherry into melted white chocolate before dipping 1/3 of the way into the blue sanding sugar. Perfect for celebrating the 4th of July!
Cola Soaked Firecracker Cherries by The Chunky Chef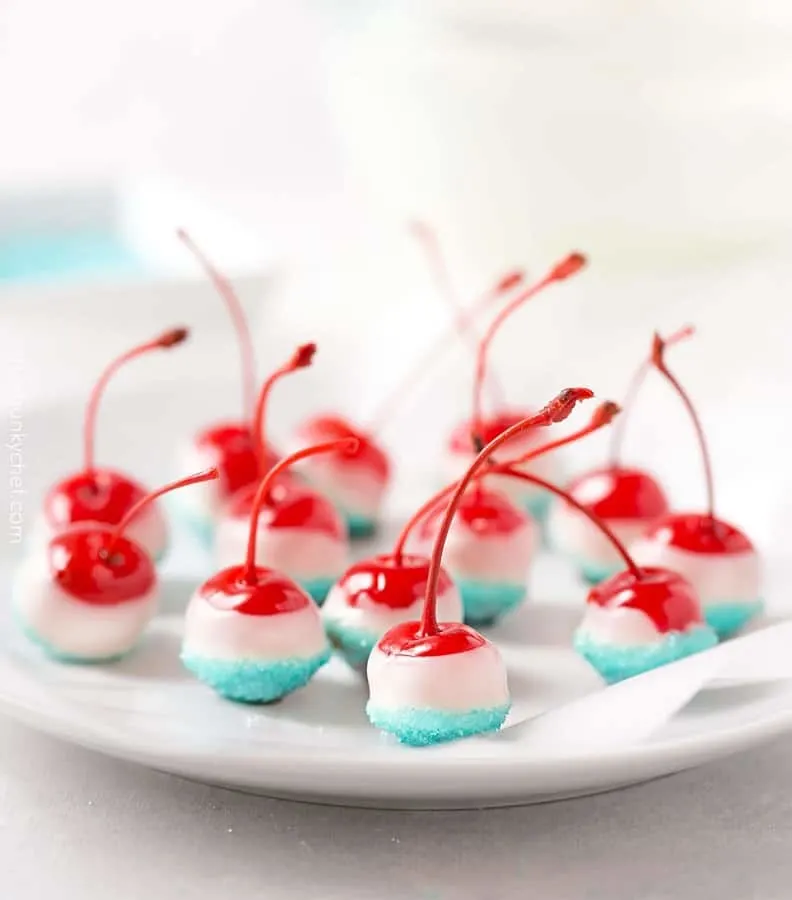 Use a combo of strawberries, blueberries, raspberries, and blackberries for a sweet and fruity filling for these crumble bars. The crust is lightly flavored with lemon zest before half of it is added to a baking pan. Add in the chopped berries and crumble the remaining dough on top and bake up this deliciousness!
Mixed Berry Crumble Bars by Celebrating Sweets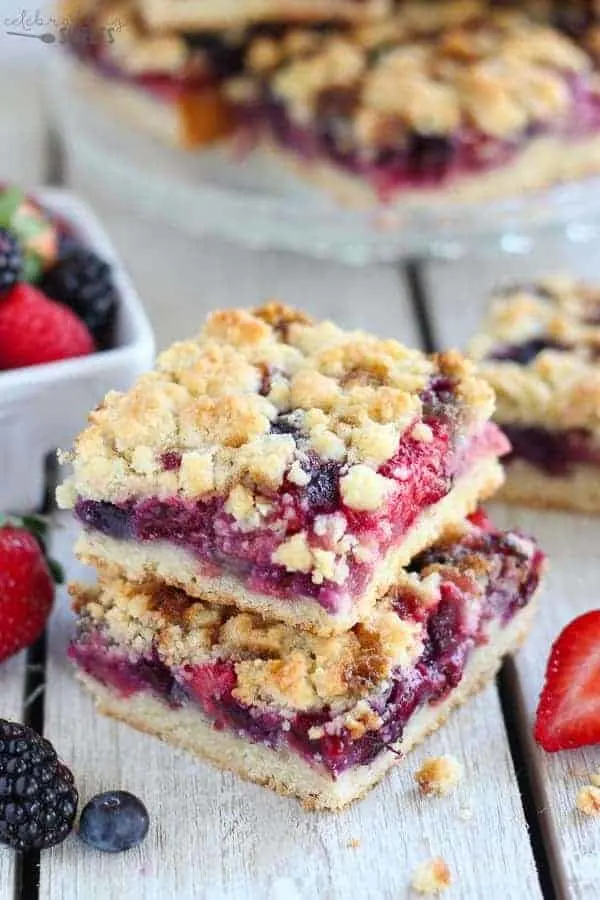 These popsicles are so easy to make. First, make your white stars out of the greek yogurt by using small star-shaped ice cube molds. Freeze before proceeding. Puree your strawberries and blueberries, separately. Add sweetener of your choice, if desired. For the white section, use sweetened yogurt. To layer, add a star to the bottom of each popsicle mode. Layer blueberries, yogurt, and strawberries in your popsicle molds and freeze.
Patriotic Popsicles by The Things We'll Make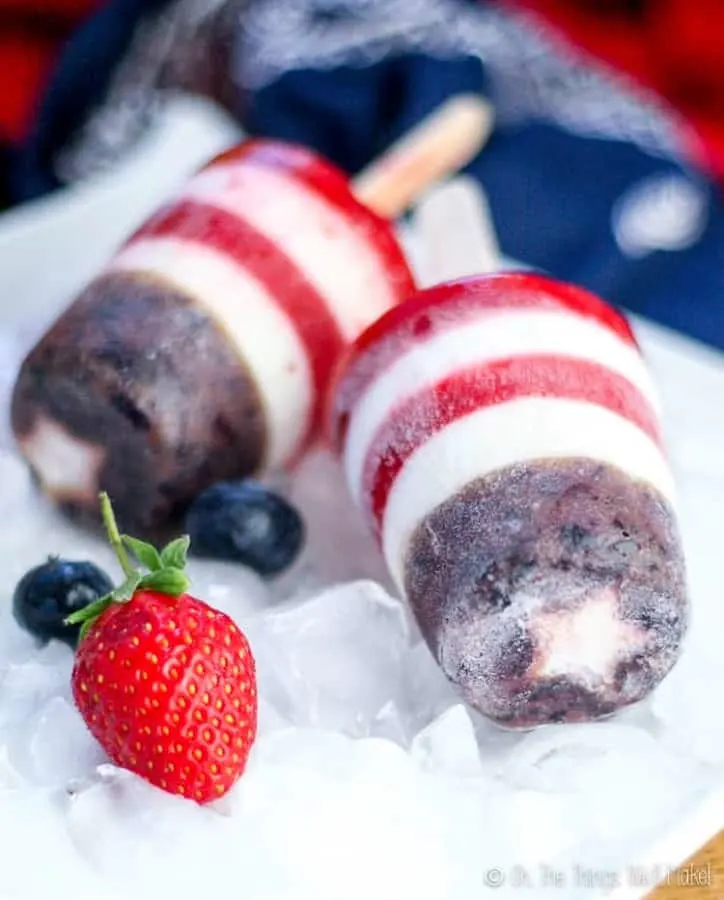 These deliciously flavored cookies of cherry and almond get a little 4th of July makeover for your celebration. Divide your cookie dough and tint one batch with blue food coloring. Roll each color together for individual balls and gently flatten for each cookie in the middle. Add a cherry to the thumbprint and bake.
Cherry Almond Sugar Cookies by Sustain My Cooking Habit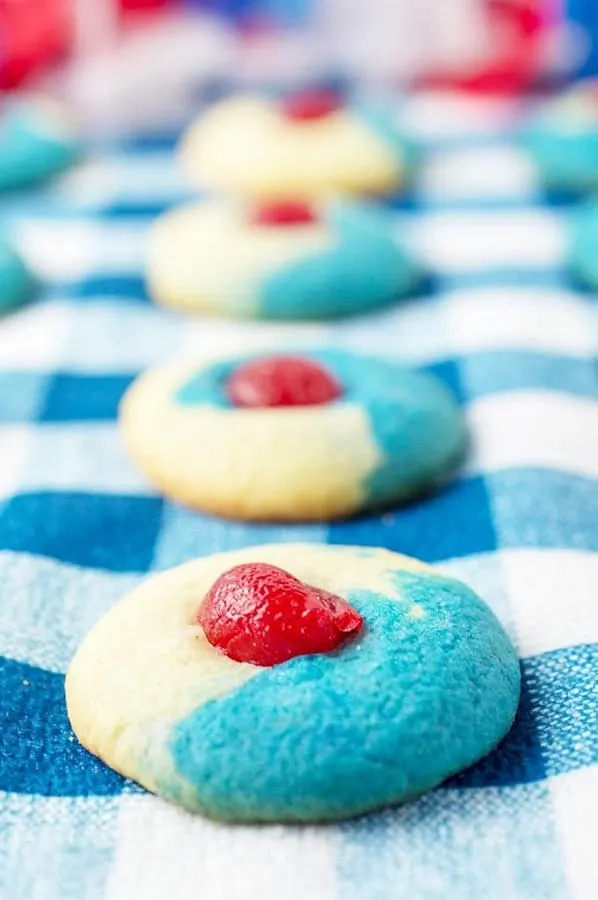 Go bold with these brilliantly colored red, white, and blue cherry vanilla butter patties. Kids love to help with these, too. Once the patties have been made and chilled, dip each in CandiQuik coating. Add red, white, and blue sprinkles and let set. It's a no-bake treat that everyone will enjoy!
Cherry Vanilla All American Patties by Mom On Timeout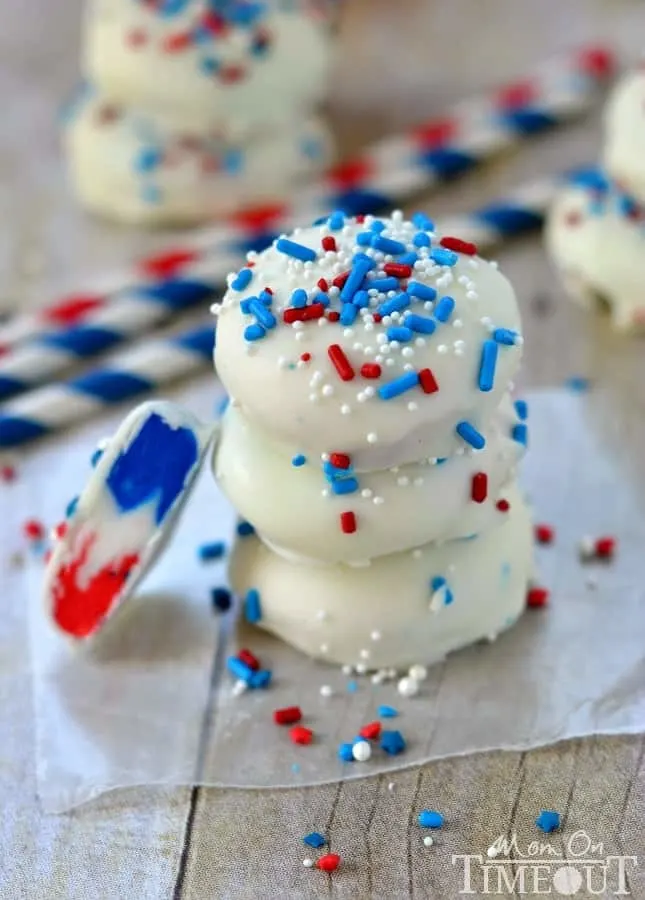 These patriotic desserts will be an impressive addition to your celebration! Just add your prepared red jello to each glass cup and let chill and set. Then, layer the sweetened condensed milk and gelatin mixture to each; chill and set. Finally, add the prepared blue jello to each glass and let chill and set. Add a dollop of whipped cream before serving.
Patriotic 4th Of July Layered Jello by Spend With Pennies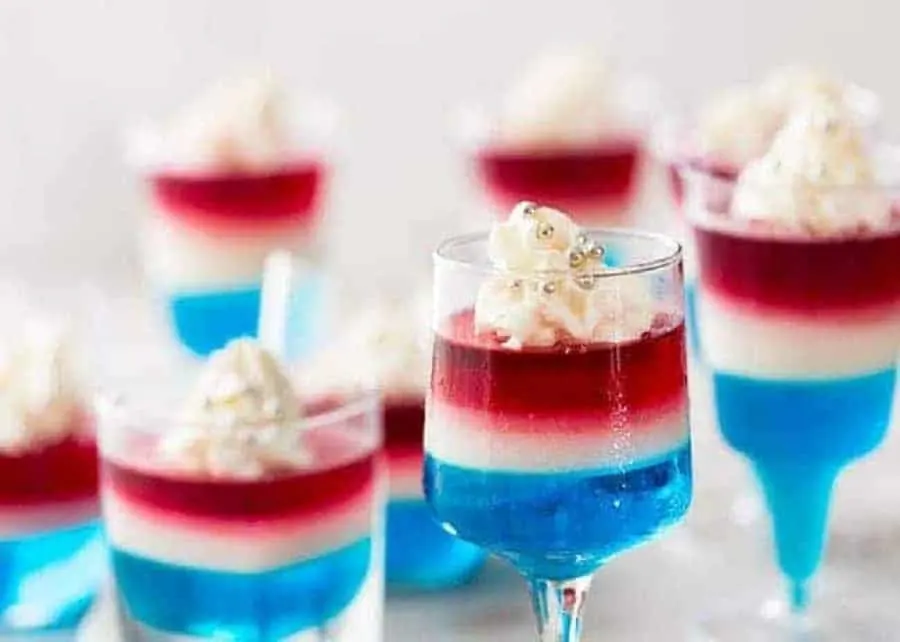 Upgrade these plain rice Krispies with a 4th of July theme! Make your rice Krispies and cut them into squares. Using melting chocolates in red, white and blue, dip each in the white chocolate first, pipe on red stripes, and then pipe on a blue square in the upper left corner of each treat. Cute!
Flag Rice Krispie Treats by Making Of A Mom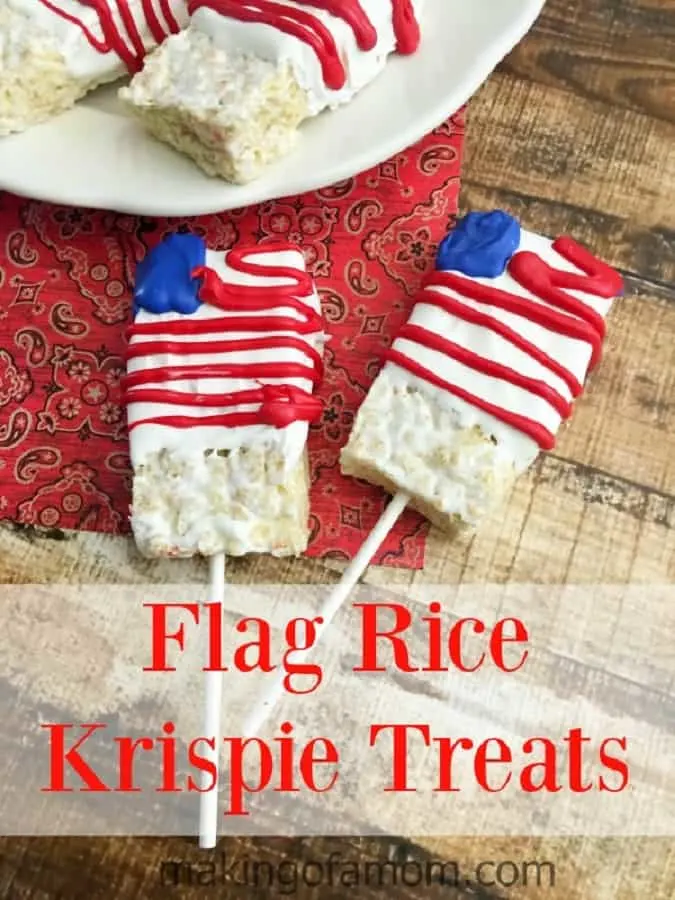 This crunchy sweet and salty pretzel crust is the perfect base for this patriotic-inspired fruity dessert. A sweetened cream cheese layer goes on top of the crust while a gelatin layer of strawberries, blueberries, raspberries, and star-shaped apple chunks tops it all. Keep refrigerated until ready to serve. Yummy!
No-Bake Summer Berry Pretzel Salad by OMG Chocolate Desserts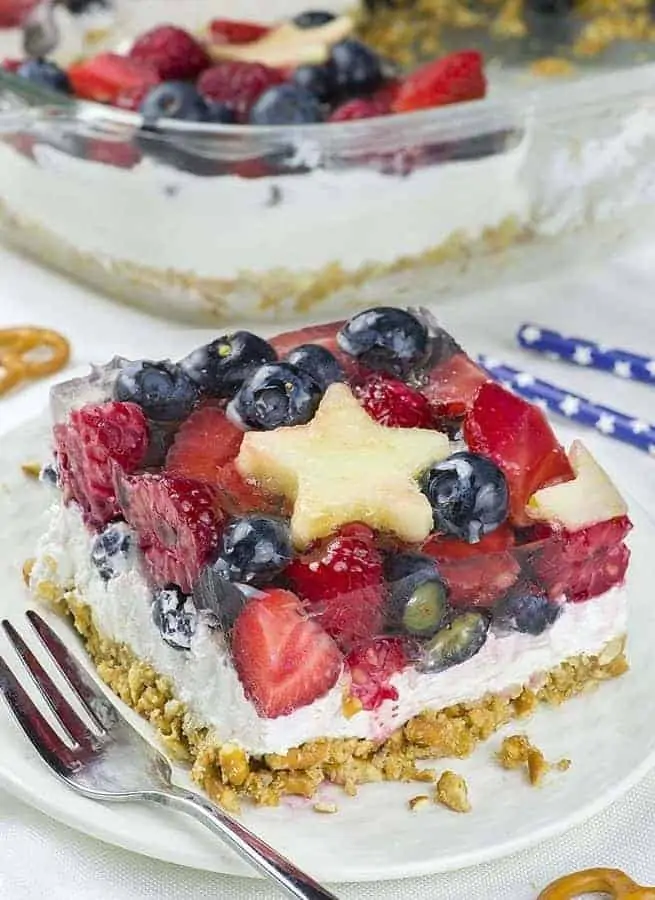 More Red, White, and Blue Recipes:
Nettie is a wife and mother who is passionate about cooking and baking. With 5 children, Nettie insists that all meals, snacks, and desserts come together quickly! You will find a wide variety of easy yet scrumptious recipes on her very popular website Moore or Less Cooking
Be sure to follow me on Instagram and tag #mooreorlesscooking so I can see all the wonderful recipes that YOU make from this site!
Check out my YOUTUBE with a free email subscription HERE and please share on FACEBOOK and on PINTEREST
Follow Mooreorlesscooking on TWITTER | BLOGLOVIN
Did You Make These Recipes?
I would love for you to leave a rating and a comment below! How'd you do?!