Casseroles have changed my life! I will let you in on a secret. I really do love to cook, but I do not love to cook breakfast, lunch, and dinner every day!
I become really cranky if I have to cook all day, so when I am making a casserole, I know that I won't have to cook breakfast or dinner for the next couple days!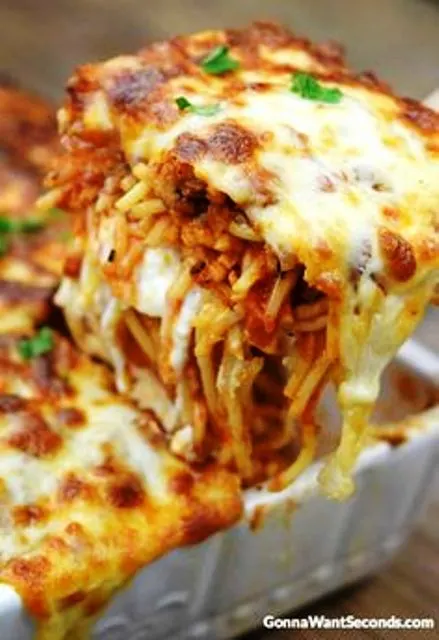 Million Dollar Spaghetti
This Million Dollar Spaghetti Casserole is super easy to put together and has a center layer of creamy, gooey cheese. A favorite way to serve spaghetti, people just can't get enough of it! Get Recipe Here
Gonna Want Seconds
Growing up, I wasn't a "leftover" fan. I wanted to eat something different for breakfast and especially dinner.
But now that I have kids, I am tired and do not want to make something different for dinner.
Why would I?? I mean I think that I am a great cook and baker, why would you want to eat anything else?
Seriously, when hubs and I sit down for dinner, he always says, "You would never get this in a restaurant!"
First of all, he is smart, this feeds my ego (no pun intended) and I accept the challenge and keep on cooking!!
So, let's talk about casseroles. They are comforting, serve large portions and large crowds, and everyone is always excited when you gift a casserole.
They are perfect for small or large gatherings. Perfect for a brunch, a shower or a funeral. They don't have to take a lot of work, but they sure do pay off.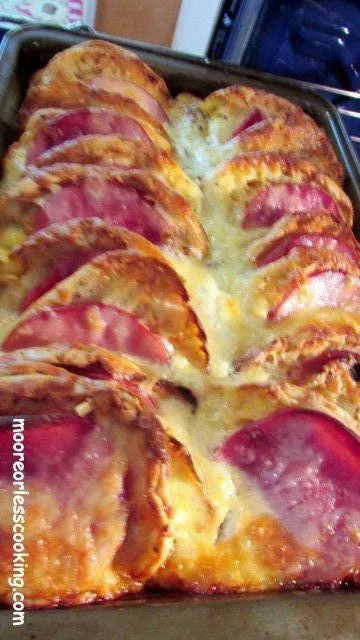 English Muffin, Ham & Egg Strata (Overnight Bake)
Strata translated means layers…generally layers of egg-soaked bread and meat of some kind (ham, sausage, bacon) and cheese. It is baked like a casserole. Get Recipe Here
Moore or Less Cooking
The recipient is comforted and full after a serving and has more meals to reheat. They are perfect for the elderly after surgery.
A casserole is a wonderful gift for a new Mom. I received tons of casseroles and can still remember who made them.
I was so appreciative that my family and I were fed through the loving gesture of casseroles.
There are so many choices here for breakfast, lunch and dinner casseroles. Scroll down to see all 24 Life-Changing Casseroles!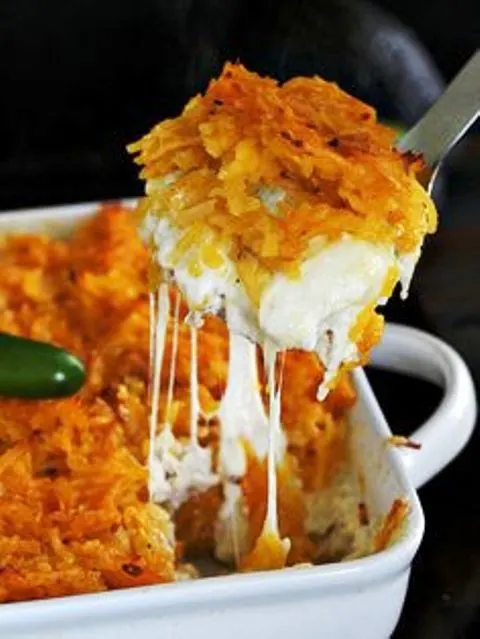 Hash Brown Chicken Jalapeño Casserole
Creamy and cheesy Hash Brown Chicken Jalapeño Casserole loaded with spicy jalapeños, sweet corn, tender chicken and a delicious layer of hash browns. Get Recipe Here
Peas and Peonies
Nettie Moore is the cook, baker, photographer, and designer behind Moore or Less Cooking Food Blog. Nettie is a self- trained cook and baker. She loves creating easy recipes that don't call for a lot of unknown ingredients. Nettie's Blueberry Skillet Cake has been featured in Taste Of Home Magazine and her Peach Raspberry Pie has won awards! She was born and raised in Southern California and now calls New England her home, where she lives with her husband and two children. Follow Nettie on her blog, Moore or Less Cooking, or here: FACEBOOK | TWITTER | PINTEREST | BLOGLOVIN |INSTAGRAM| YouTube