You'll love this 3 Musketeers Candy recipe where creamy chocolate surrounds a fluffy, sweet, and melt-in-your-mouth mousse. You won't believe how easy it is to make these copycat bite-sized bars – and with just 3 ingredients!
This no-bake recipe for homemade candy bars recipe is ridiculously easy! It's a great way to keep creamy chocolate treats on hand, plus you'll have the satisfaction of being able to make them yourself and customizing them with various sizes, flavors, and types of chocolate.
The simple mousse filling that we love sinking our teeth into is made with just 2 ingredients before being frozen and then dipped in chocolate. These creamy chocolate sweet confections are perfect for holidays, parties, gift giving or to grab when you need a quick chocolate fix with a creamy center.
Making this easy candy recipe will probably spark your creativity on how to change up the chocolate coatings and even how to garnish and decorate the tops. You won't get that from a store-bought 3 Musketeers candy bar! I share some fun ideas down below.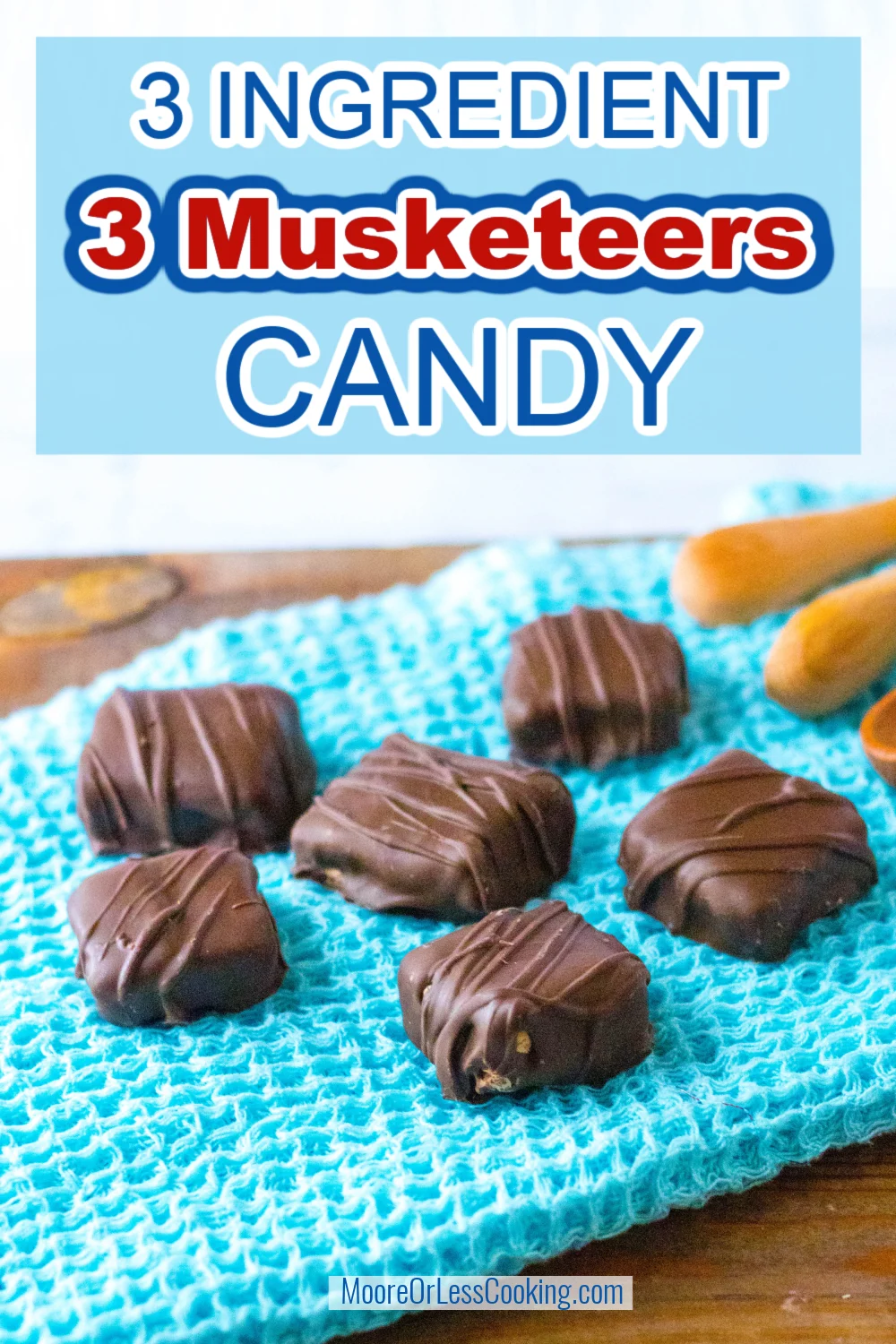 Ingredients Needed
Milk Chocolate Chips – Use your favorite brand.
Whipped Topping – I like to use a thawed container of cool whip. It's already fluffy and light and is perfect for the mousse filling.
Chocolate Almond Bark – I prefer almond bark since it provides the perfect texture of chocolate coating once it sets and dries.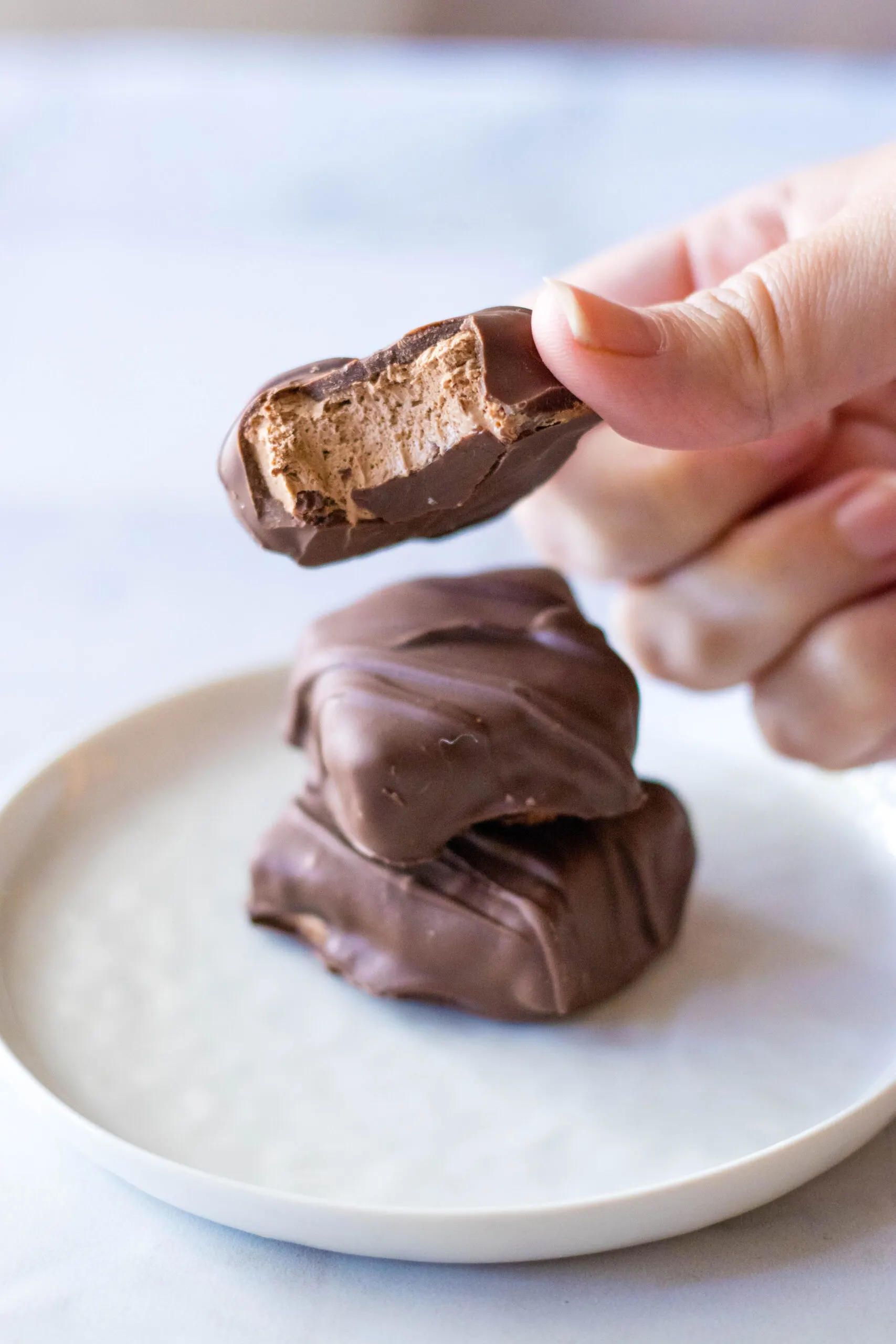 How To Make 3 Musketeers Bars
Note: This is a summary of the recipe steps. For complete instructions, see the recipe card down below.
STEP 1: Line an 8×8 pan with parchment paper, making sure to let the paper overlap on the edges for easy removal later.
STEP 2: Melt the chocolate chips by microwaving them in a microwave-safe bowl. Melt in 30 seconds increments, stirring in between to keep the chocolate smooth.
STEP 3: Transfer the melted chocolate to a large mixing bowl and add the container of whipped topping. Mix with an electric mixer on high before reducing to medium until the mixture is fluffy.
STEP 4: Spread the mixture evenly in the parchment-lined pan and place in the freezer for at least 30 minutes.
STEP 5: Remove the pan from the freezer and, using the overhang of the parchment paper, lift the entire frozen mixture out of the pan and onto a flat surface. Cut a very thin line around the entire large frozen square to create clean edges.
STEP 6: Cut into bite-sized pieces.
STEP 7: Keep them on the parchment paper and transfer them back into the pan. Make sure the pieces are spread out a little so they don't freeze back together. Place the pan back in the freezer to harden for 15 minutes before dipping in the chocolate.
STEP 8: Melt the chocolate almond bark in a microwave-safe bowl in 30 seconds increments, stirring in between to ensure it's completely melted.
STEP 9: Take the bars out of the freezer and, using a fork, dip each into the melted chocolate, making sure it's thoroughly covered. Place each piece back on the parchment paper.
STEP 10: When all are dipped, place them back in the freezer for 20 minutes to harden and set.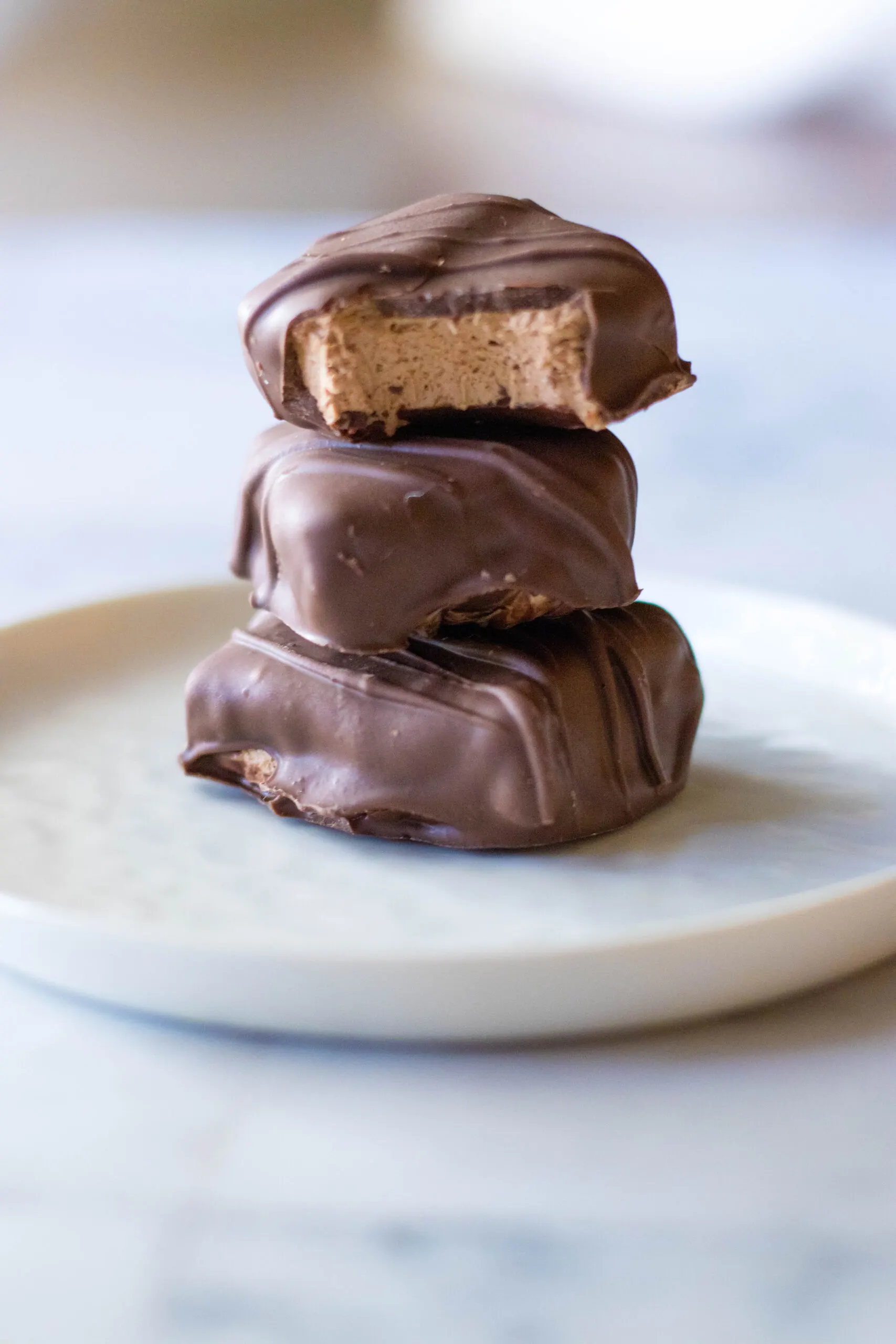 Can I Use Homemade Whipped Cream?
Unfortunately, no. Homemade whipped cream won't have the stabilizers added to it that the store-bought version contains. The stabilizers help keep the inner mousse of this candy bar intact and stable. Homemade whipped cream would break down and become runny.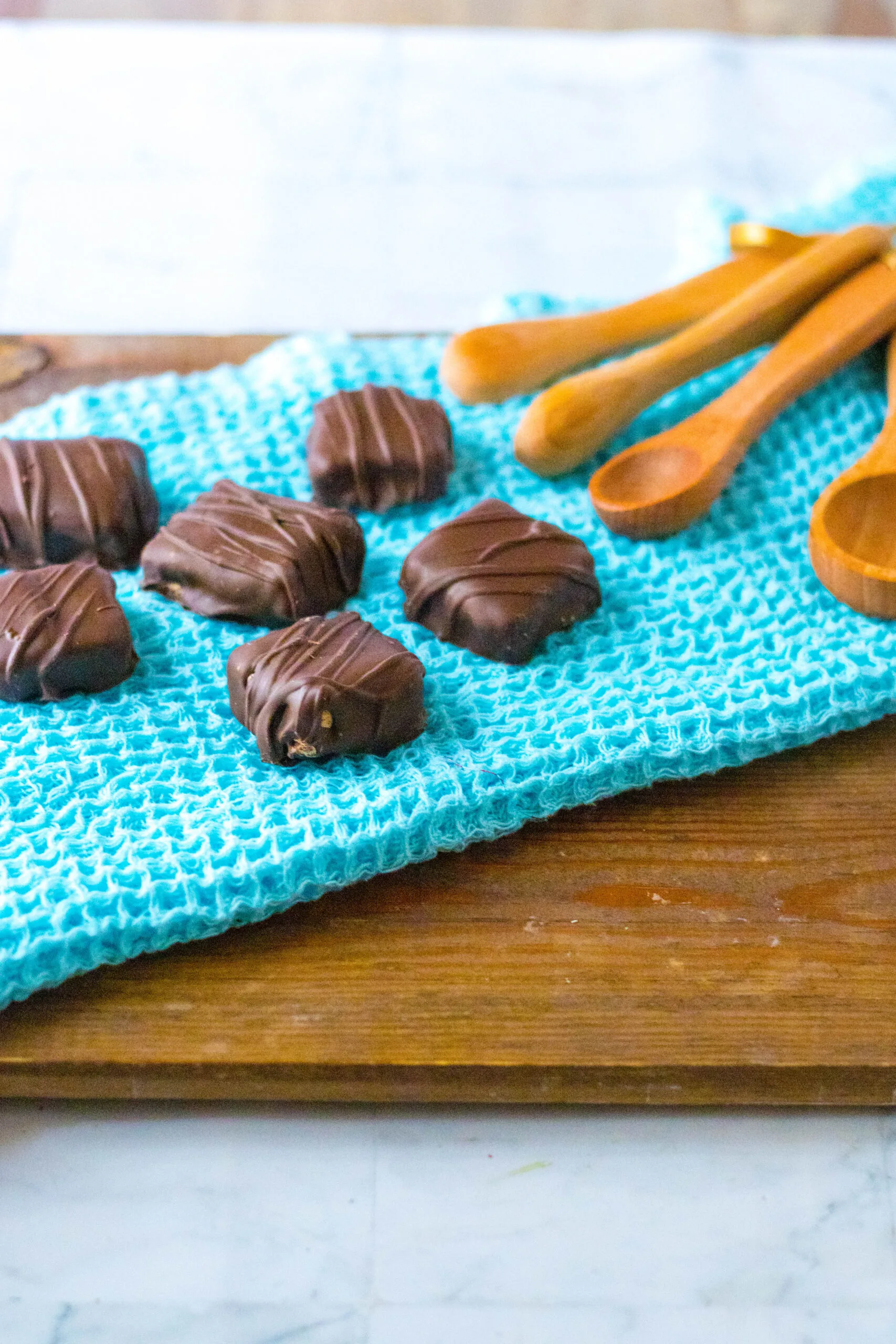 Can I Chill These In The Refrigerator?
No, you need to give them their sessions in the freezer. The whipped topping and melted chocolate need to be firm before cutting, and then you'll need to freeze the pieces again before dipping them in the chocolate. The refrigerator won't get it firm enough. So make some room in your freezer!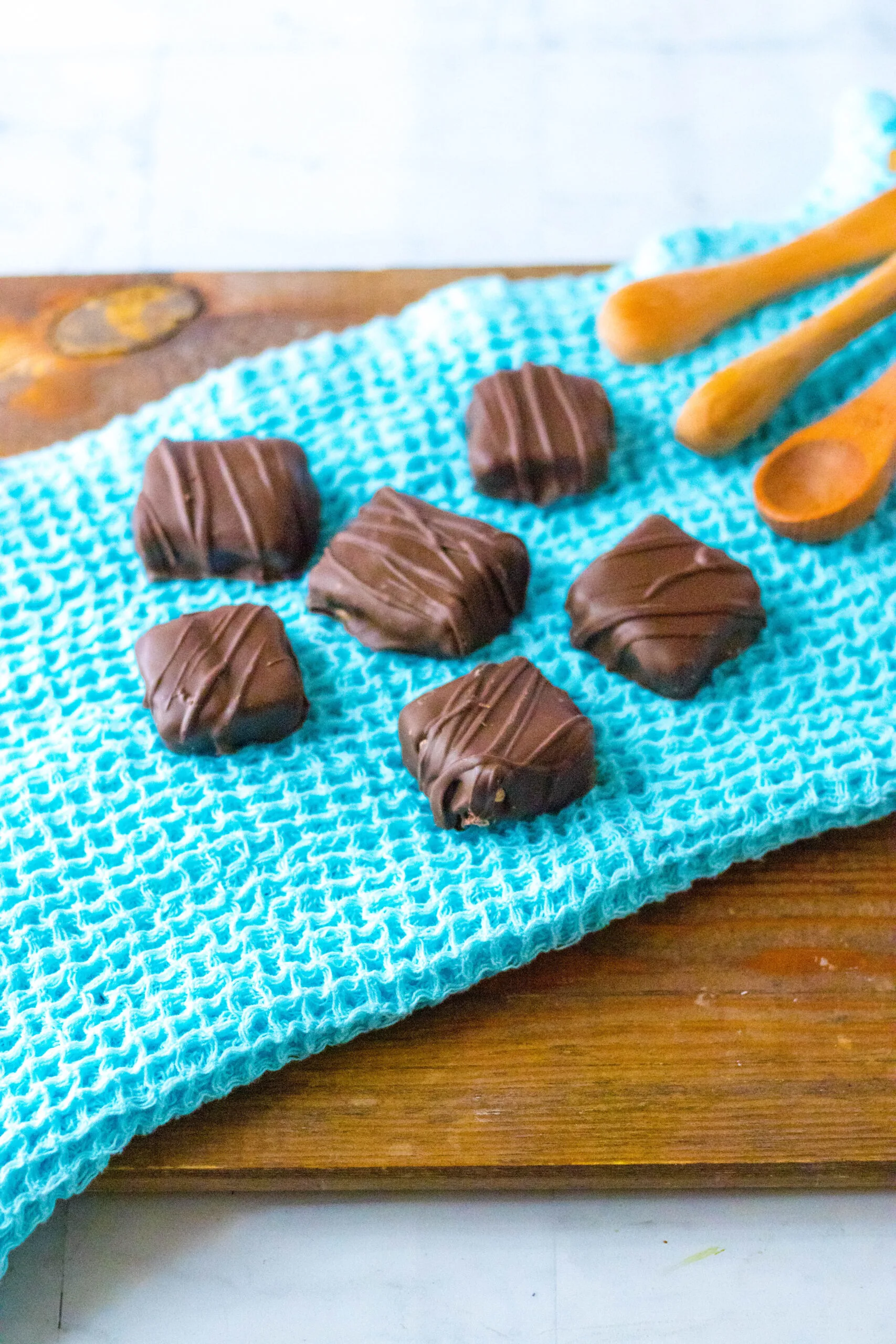 How Do I Dip The Candy Bar Pieces?
I like to use the fork method to easily dip them into the chocolate almond bark. Gently place the candy piece on a fork and lower it into the melted chocolate. Make sure all sides are covered. If you need to use a separate spoon to help "spoon" the chocolate over the candy, you can do that. Then lift the coated candy from underneath, with the fork, and let the excess chocolate drip back into the bowl. Carefully place the coated candy back on the parchment paper.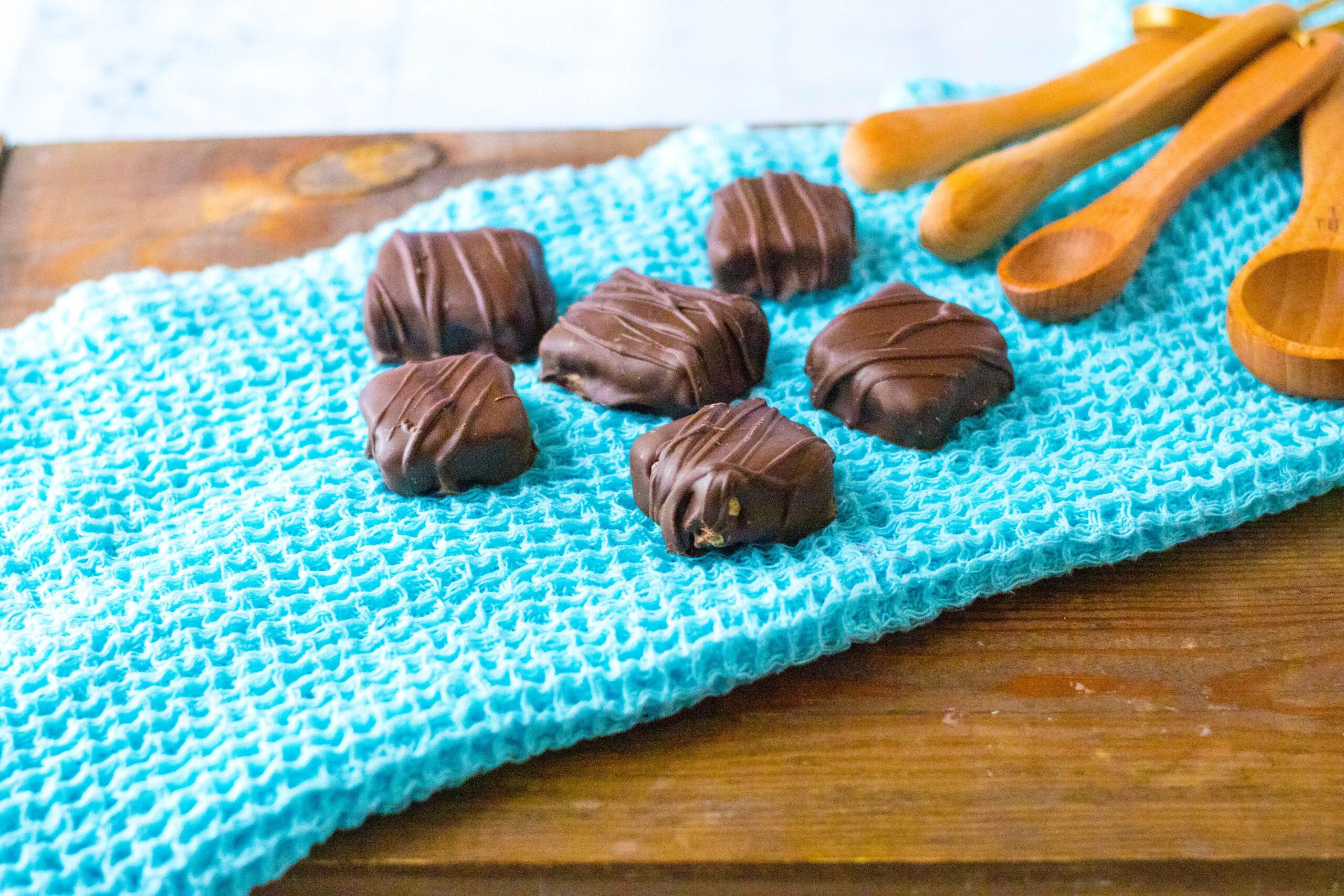 Chocolate Coating Variations
While this recipe calls for chocolate almond bark you can also try the white almond bark for something different.
You can also use chocolate melting wafers instead of the almond bark. The advantage of using melting wafers is that they come in an assortment of colors. This is great for when you want to color coordinate with a holiday or party theme.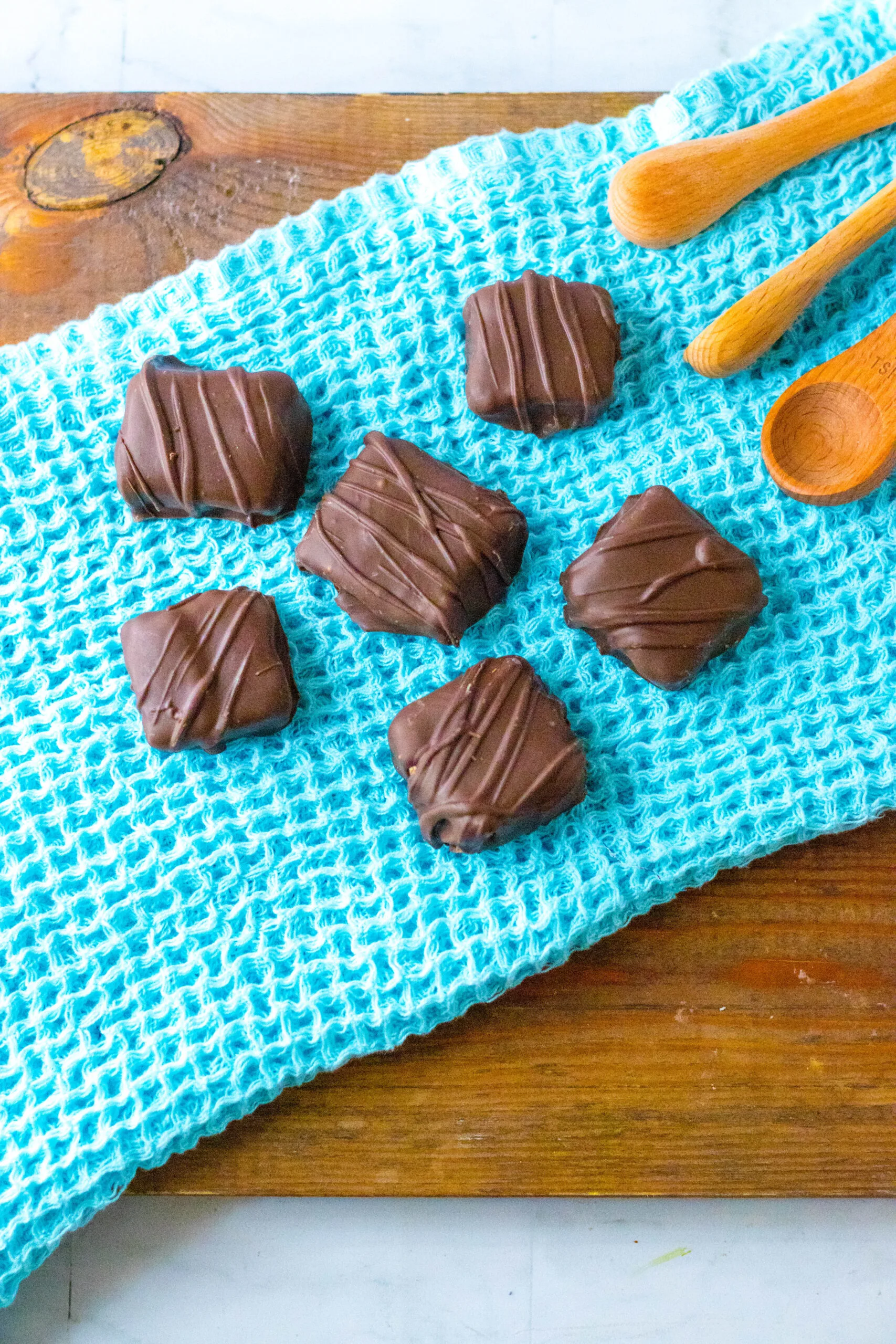 Toppings And Decorations
While the original 3 Musketeers bar doesn't offer anything in the way of a topping decor or design, don't let that stop you from being creative with these homemade candies!
Drizzle Design: Using more melted chocolate, use a fork to drizzle, in a z-pattern, a little more on top of the coated candy once it has been set. You can even use a different color for effect. For example, for a dark chocolate-coated piece, try white chocolate for the drizzle. For the Christmas holiday, use red or green melted chocolate wafers for the drizzle. For Valentine's Day, use a pink drizzle.
Sprinkles: You can also use sprinkles for a fun touch. I suggest adding them immediately after dipping each piece in chocolate so that they'll stick before the coating hardens.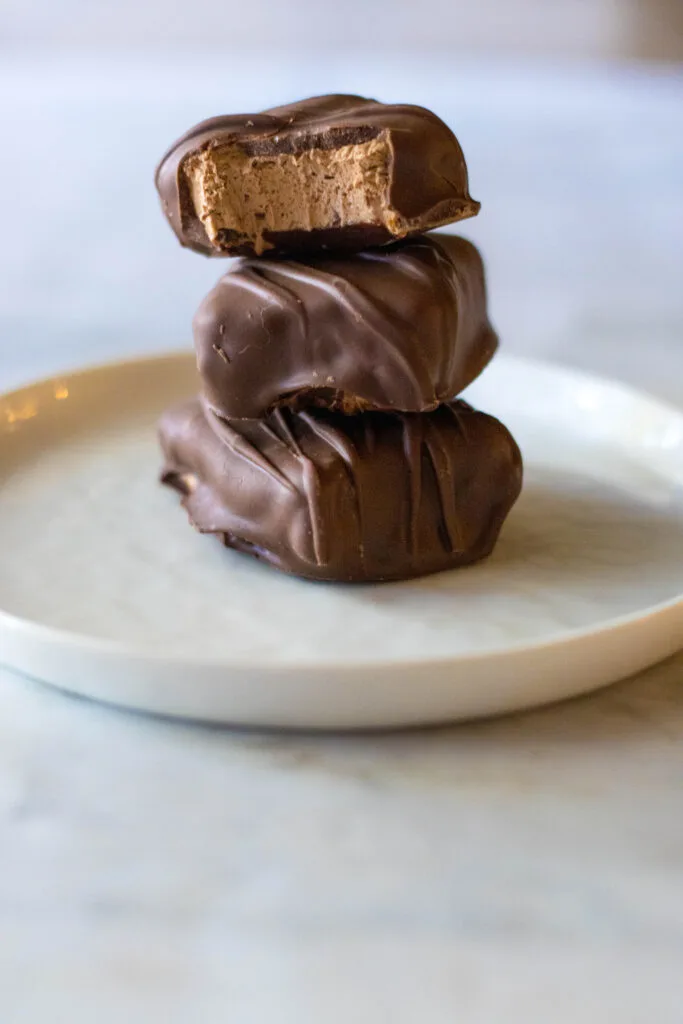 Storage
You'll need to keep your 3 Musketeers candy in an airtight container in the freezer. The mousse filling contains whipped topping, so it won't hold up if you try to store them in the fridge. The candy will last in the freezer for several months.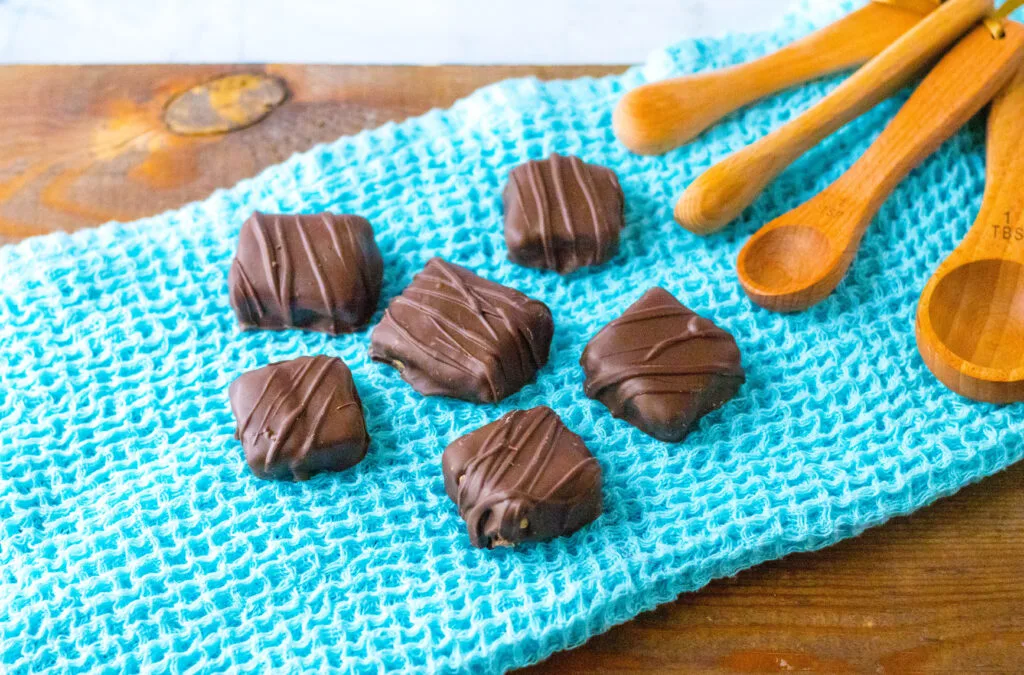 More Easy Candy Recipes
Chocolate-Covered Honeycomb Candy
Easy 3-Ingredient Candy Cane Bark
Slow Cooker Butterscotch Nut Clusters
Nettie is a wife and mother who is passionate about cooking and baking. With 5 children, Nettie insists that all meals, snacks, and desserts come together quickly! You will find a wide variety of easy yet scrumptious recipes on her viral website Moore or Less Cooking
Be sure to follow me on Instagram and tag #mooreorlesscooking so I can see all the wonderful recipes that YOU make from this site!
Check out my YOUTUBE with a free email subscription HERE and please share on FACEBOOK and PINTEREST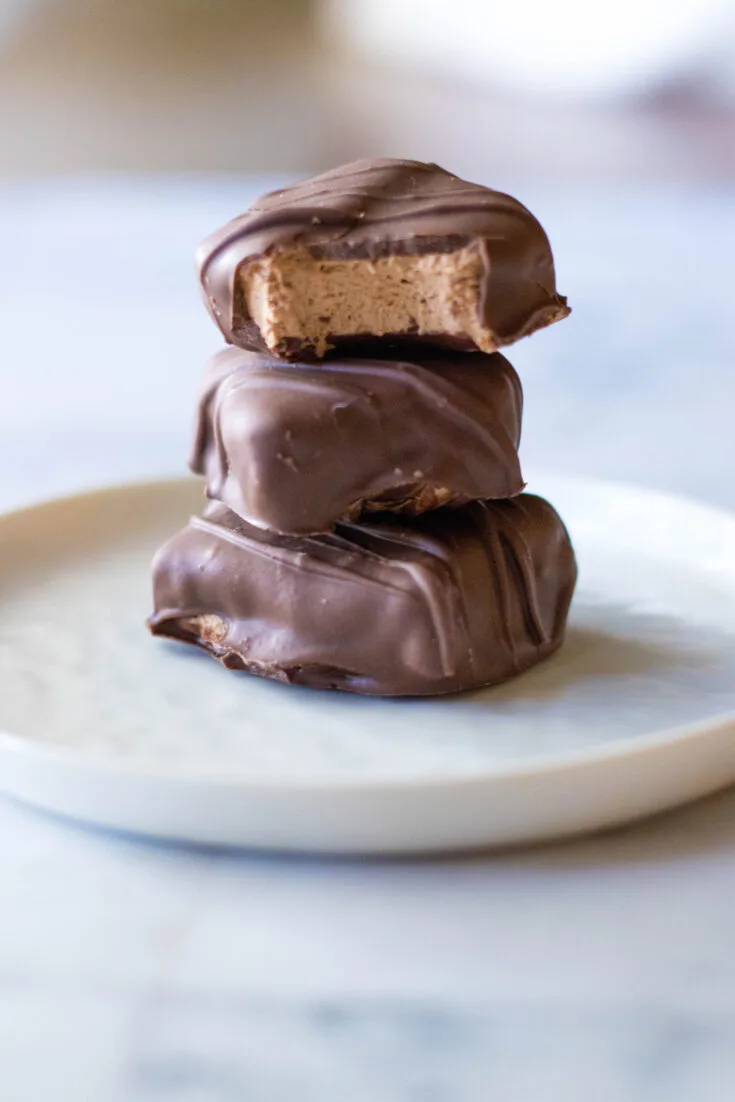 Yield:

Serves- 16
3 Ingredients 3 Musketeers Candy
Prep Time:
1 hour
30 minutes
Total Time:
1 hour
30 minutes
Creamy chocolate surrounds a fluffy, sweet, and melt-in-your-mouth chocolate mousse. You won't believe how easy it is to make these copycat bite-sized bars - and with just 3 ingredients!
Ingredients
3 cups Milk Chocolate Chips
8 ounce container of whipped topping
24 ounce chocolate almond bark
Instructions
Gather all of the ingredients.
Line an 8x8 pan with parchment paper. Make sure there is an overlap of the paper over the edges!
In a medium microwave-safe bowl, melt down 3 cups for 30 seconds and stir each time until completely melted.
Pour into a large mixing bowl.
Use an electric mixer, and mix on high for about 30 seconds, after adding the whole container of whipped topping into the bowl. Beat on medium for about 1 minute. The mixture should be nice and fluffy!
Spread the mix into the parchment in the pan, spread evenly, and freeze for 30 minutes.
Remove from the freezer and move onto a hard flat surface. Cut a very thin line around the entire edge of the square so it cleans it up.
Next, cut into bite-size candy bars, I made about 16.
Spread out so they don't freeze back together for 15 minutes.
While the bars are in the freezer, melt the almond bark in a microwave-safe bowl for 30 seconds at a time, stirring each time until completely melted.
Bring bars out of the freezer and dip them into the yummy chocolate mix and place them back on parchment paper.
When all are dipped place back in the freezer or fridge for 20 minutes.
Now take a bite and enjoy!
Notes
Tips and Tricks •
These super easy copycat 3 ingredients 3 musketeers taste SO good! They taste just like the real deal! You'll want to make these all the time!
Store in a sealed container in the refrigerator for up to one week or the freezer for 2 months.
Use two forks to help dip the bars into the almond bark.
After dipping, dip a fork into the chocolate and drizzle over the bars to make a cute design!
You can use dark chocolate instead of milk chocolate!
Recommended Products
As an Amazon Associate and member of other affiliate programs, I earn from qualifying purchases.
Nutrition Information
Yield
16
Serving Size
1
Amount Per Serving
Calories

466
Total Fat

33g
Saturated Fat

16g
Trans Fat

0g
Unsaturated Fat

15g
Cholesterol

8mg
Sodium

33mg
Carbohydrates

34g
Fiber

7g
Sugar

21g
Protein

10g