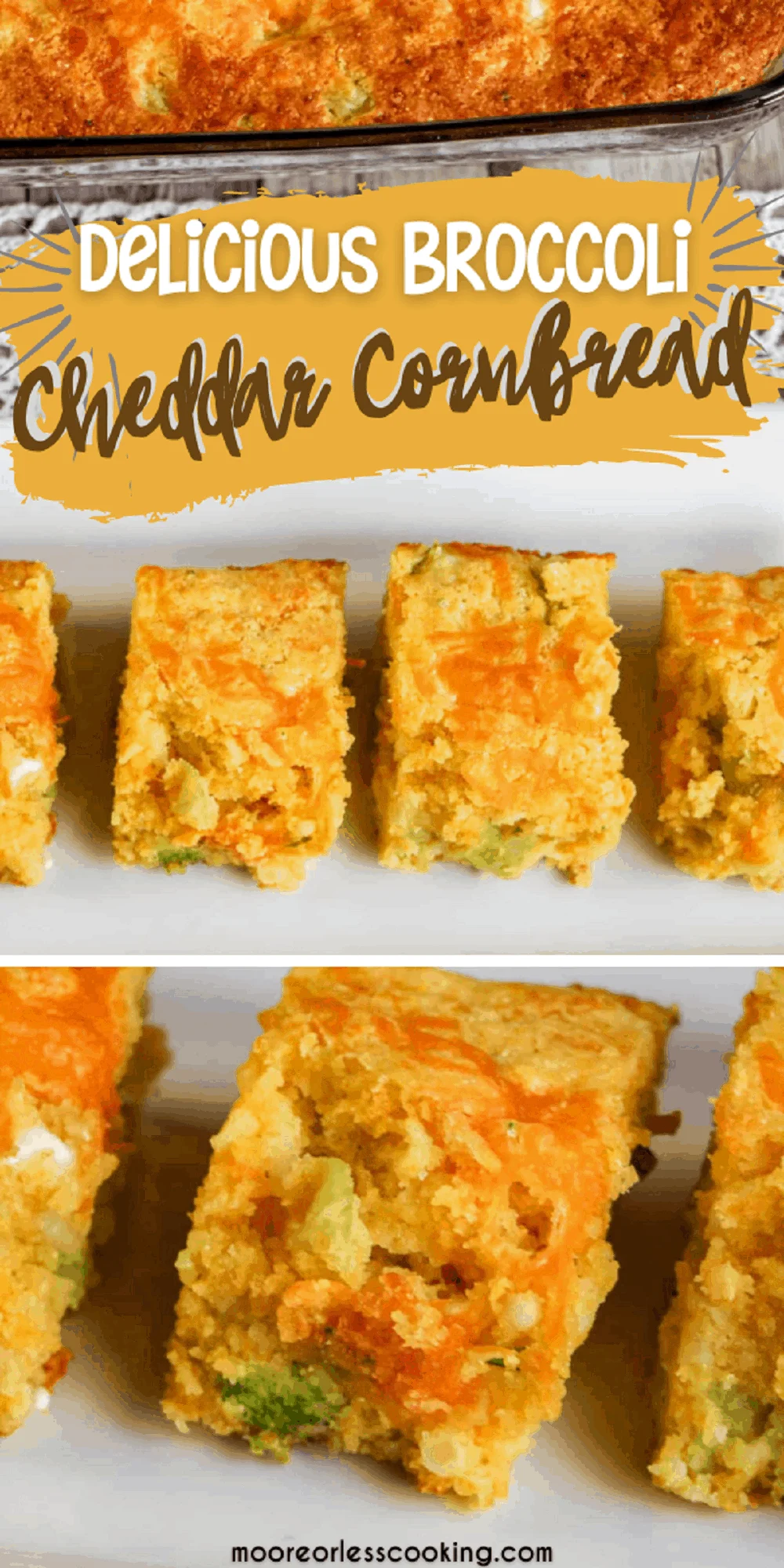 You'll love this savory and delicious recipe that takes the classic combination of broccoli and cheddar cheese and combines it with cornbread. This tasty Broccoli Cheddar Cornbread recipe is sure to become a family favorite.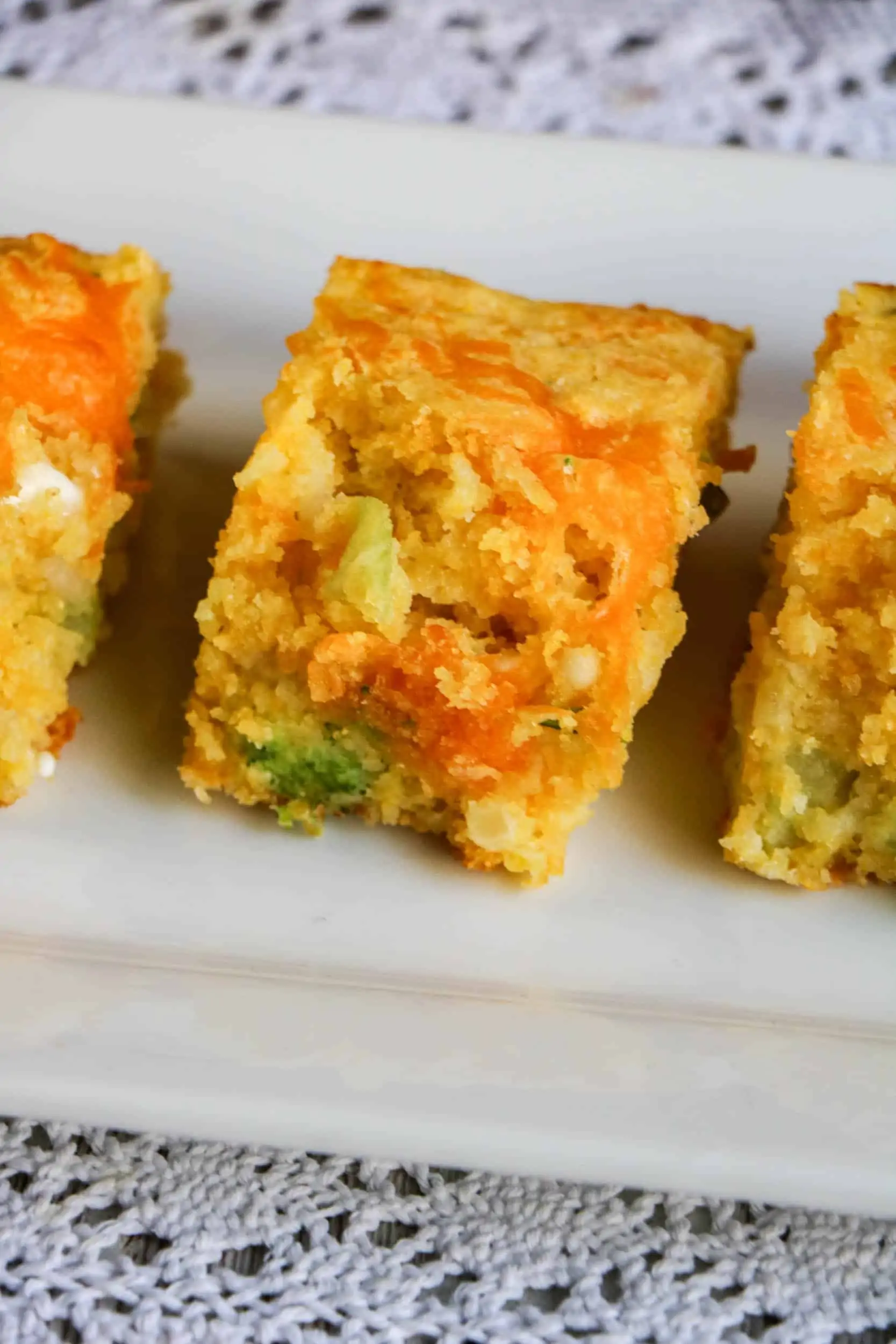 There's no hard work involved with assembling this recipe – you can whip it up in a matter of minutes! This makes it perfect for a busy weeknight or even as a last-minute dish for a potluck. You'll use boxed cornbread mix and frozen broccoli along with grated cheese, which you can buy pre-shredded if you're really in a hurry!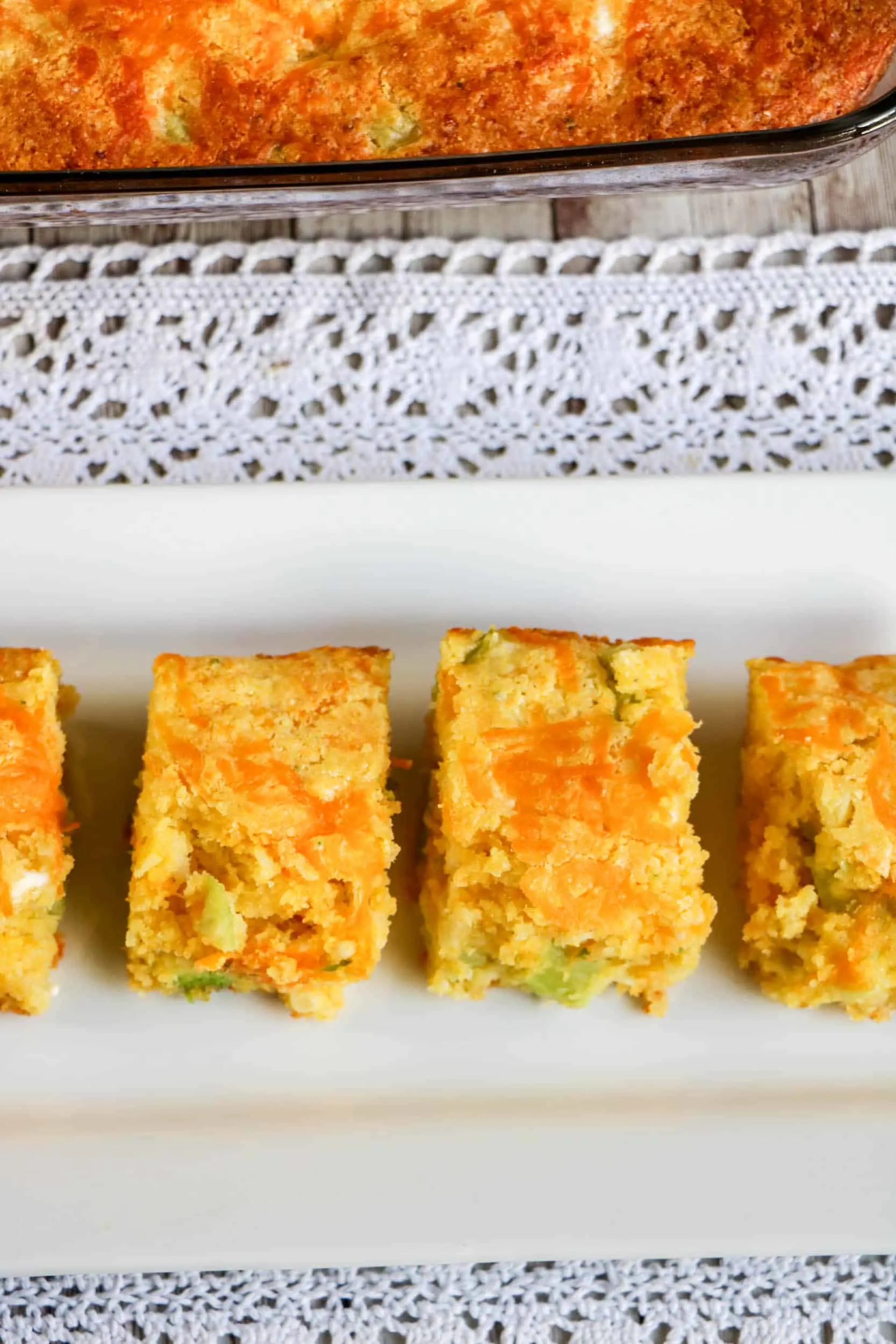 This yummy Broccoli Cheddar Cornbread is also a fabulous way to get a green veggie into your kids since it isn't the dominant star of the recipe. Even kids that say they don't like broccoli will gobble this cornbread down in record time. It's a cheesy cornbread recipe that just happens to have broccoli in it!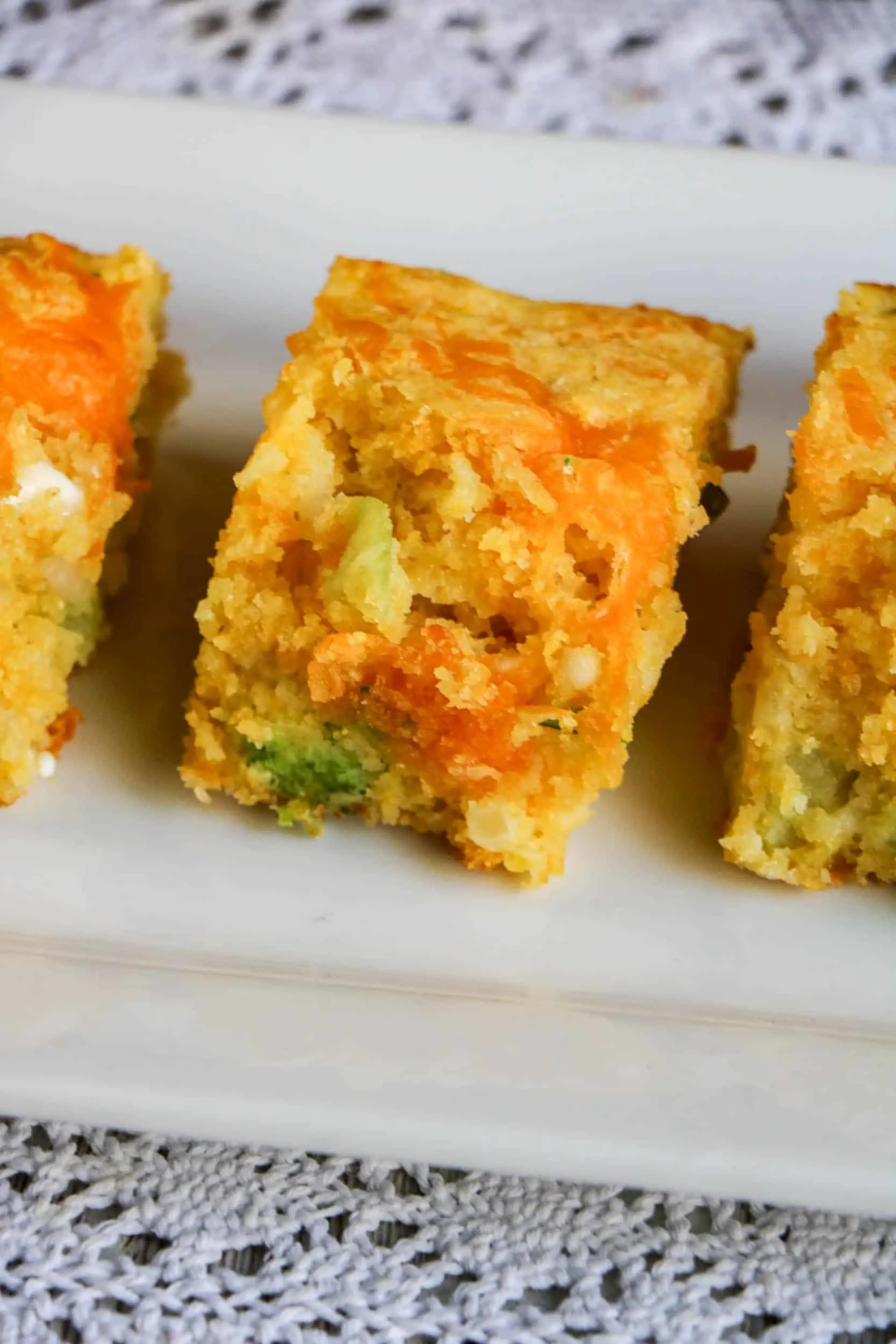 This Broccoli Cheddar Cornbread works perfectly as a side dish for chili, soup, pork chops, BBQ, or just on its own. It's even great as a snack – just bake it in a muffin tin for an easy grab-and-go treat!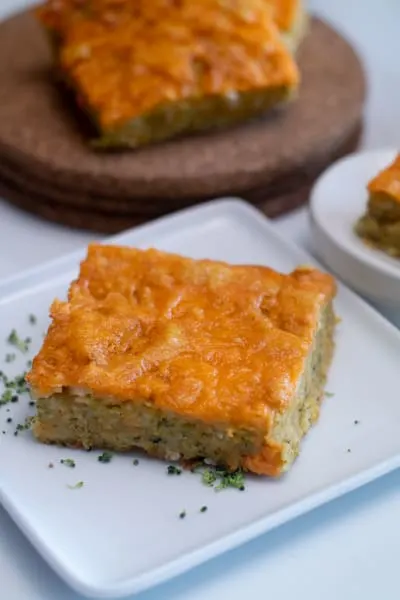 Should I use frozen broccoli or fresh broccoli?
You can use either. For convenience, just toss in a package of frozen. If you don't want to thaw and drain the frozen chopped broccoli that comes in a solid block, just get a frozen package that's made up of florets. You can thaw them just a bit in your microwave to make them a little easier to chop into smaller bites. There's no draining required because there's no water accumulation with a frozen package of broccoli florets. If you use fresh broccoli, again, just chop the florets into bite-sized pieces and you're good to go.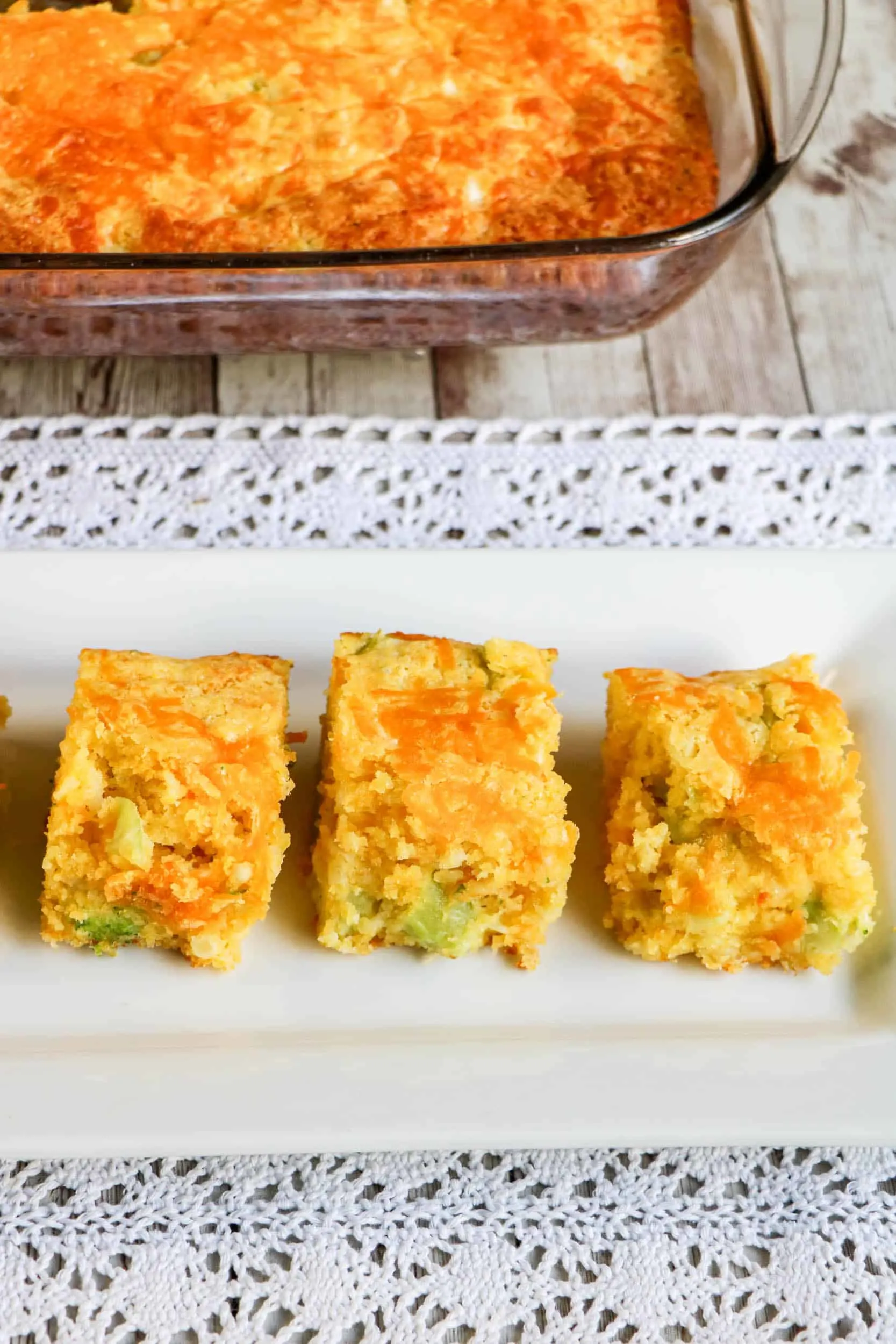 What can I substitute for cheddar cheese?
If you don't have cheddar cheese on hand or you just don't like it, try pepper jack cheese for a little zing. You definitely want a cheese that's hard enough to grate and shred, so even a block of Swiss or Gruyere would be good. And if you're really adventurous, combine a few varieties!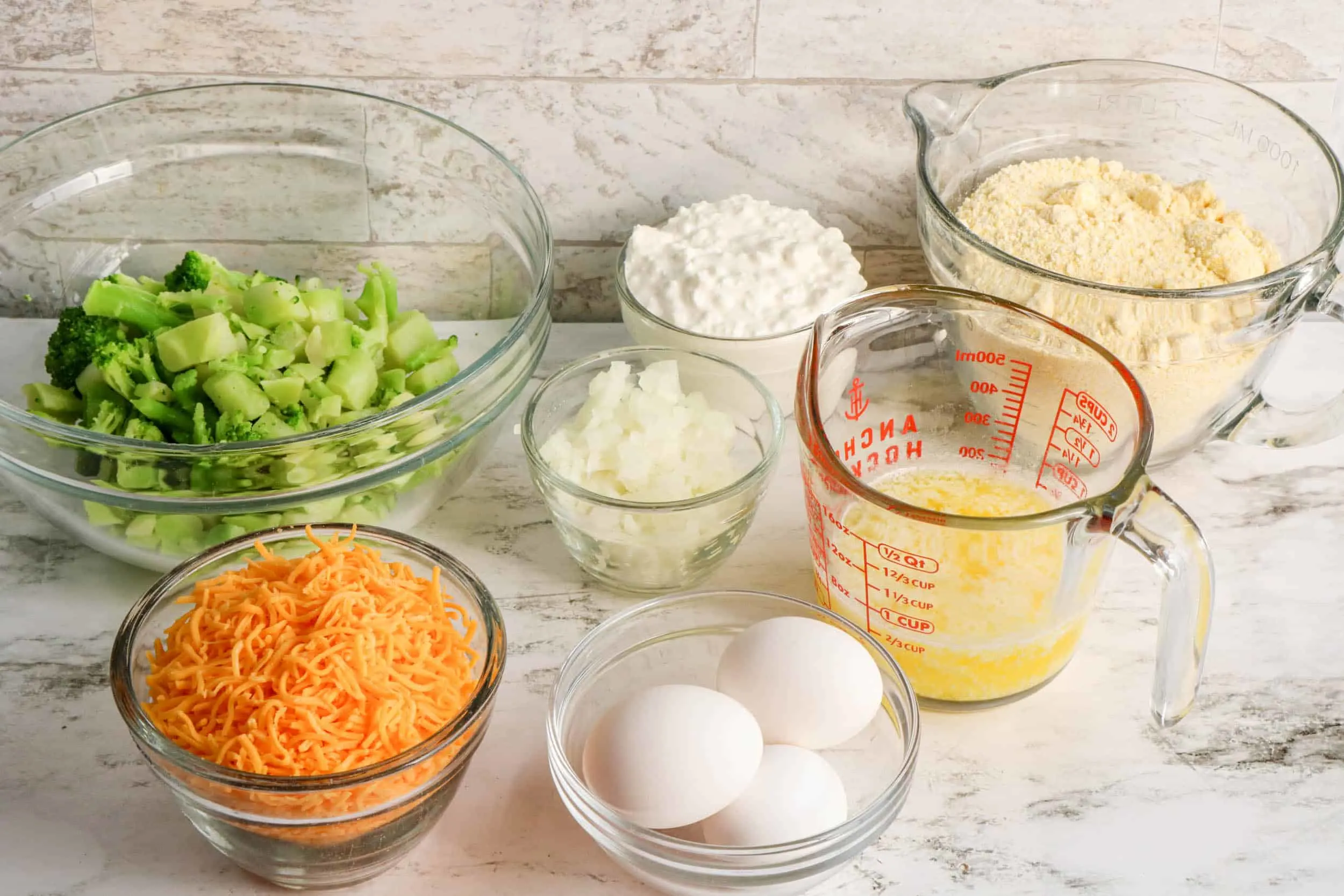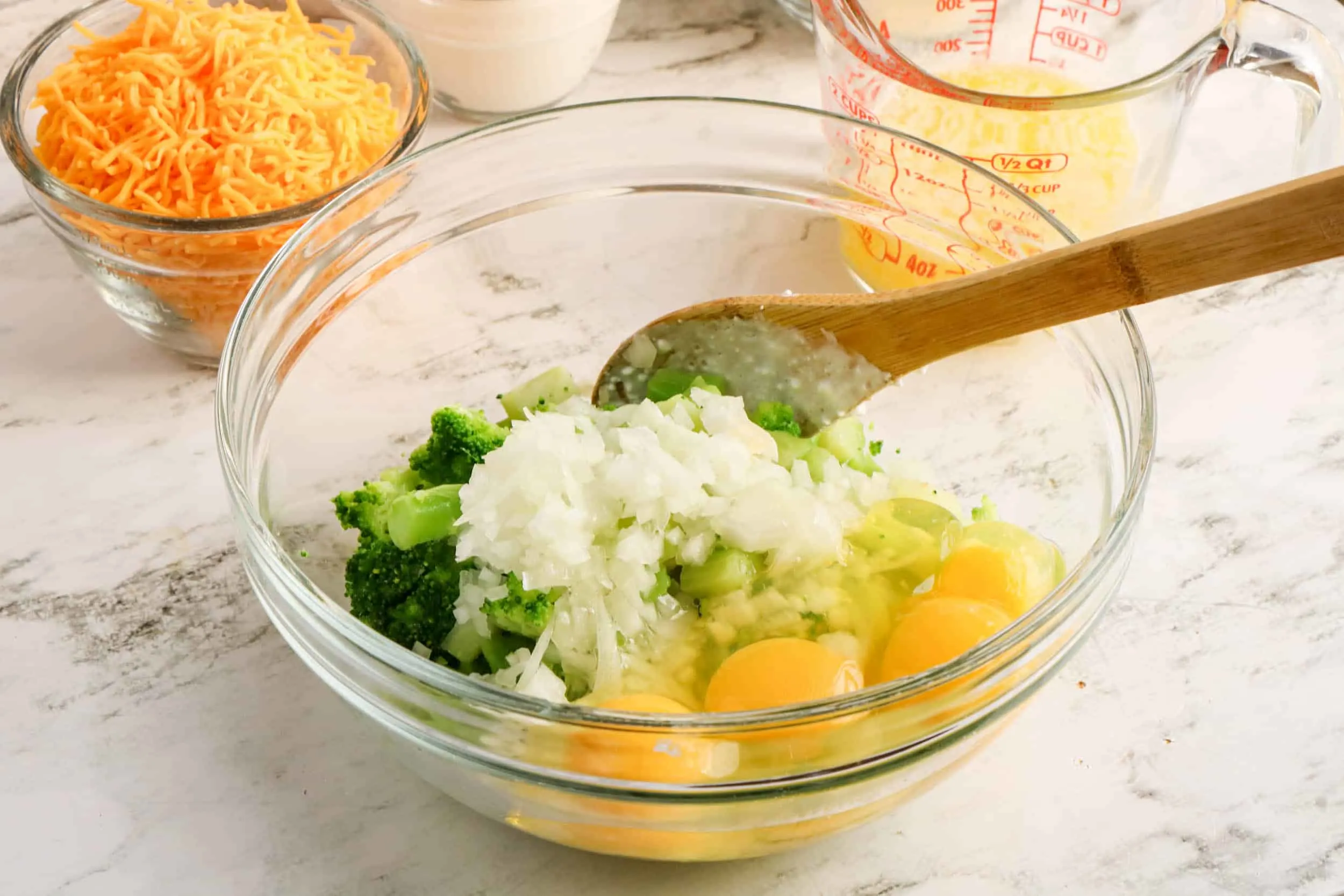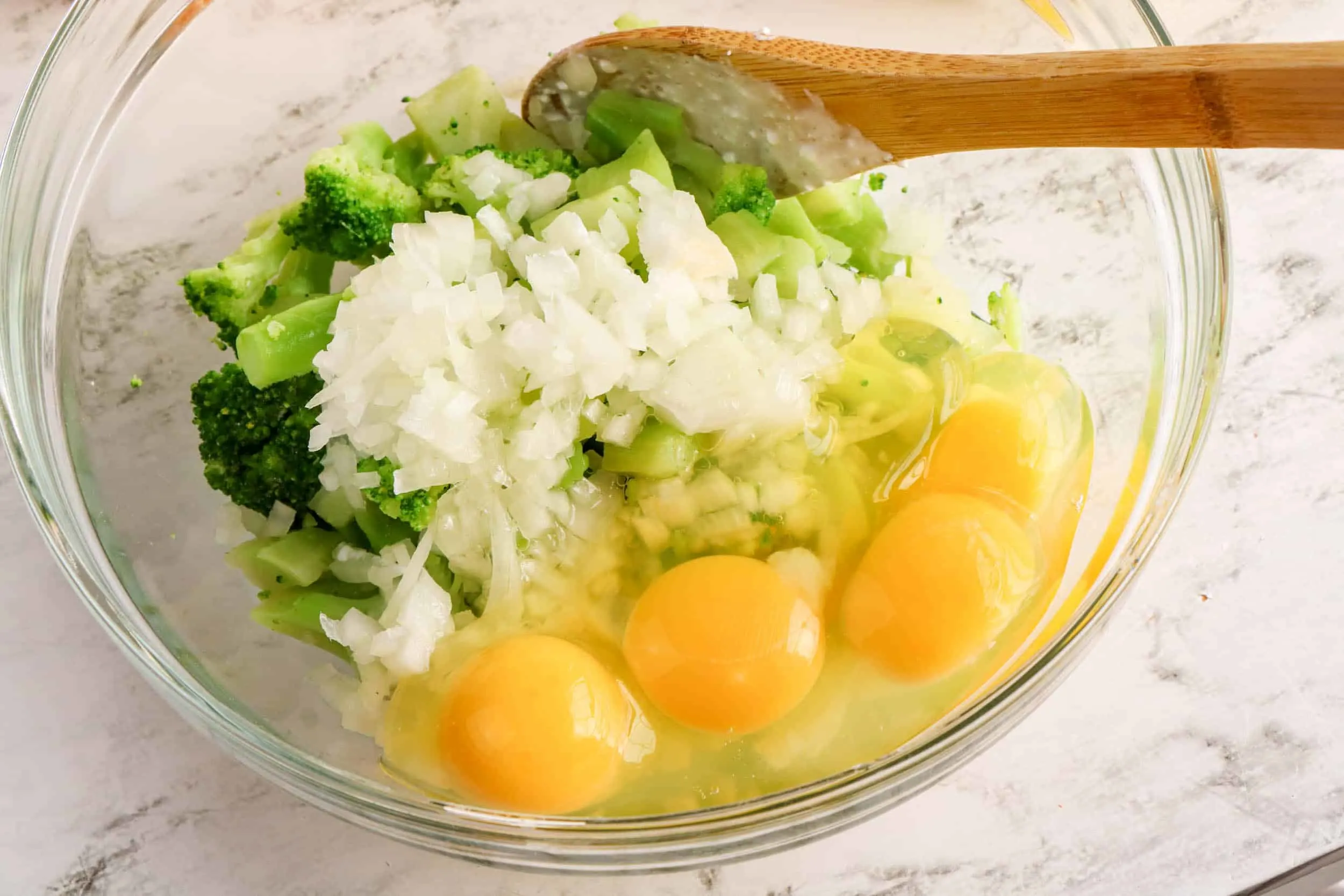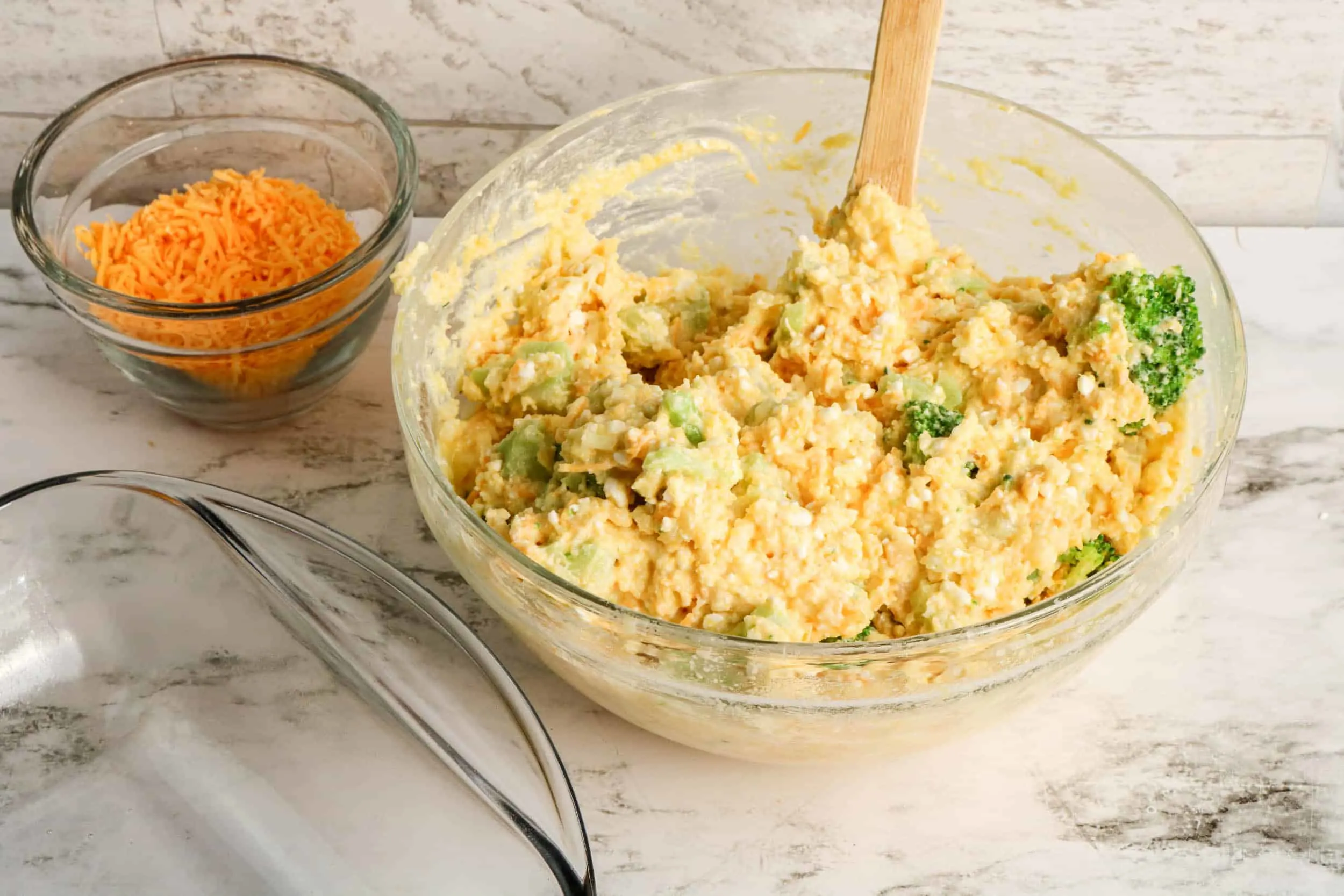 What can I substitute for the cottage cheese?
If you need to substitute something for cottage cheese, use sour cream. Whatever you do, don't leave this ingredient or its substitute out. This is what helps make the recipe moist, creamy and fluffy.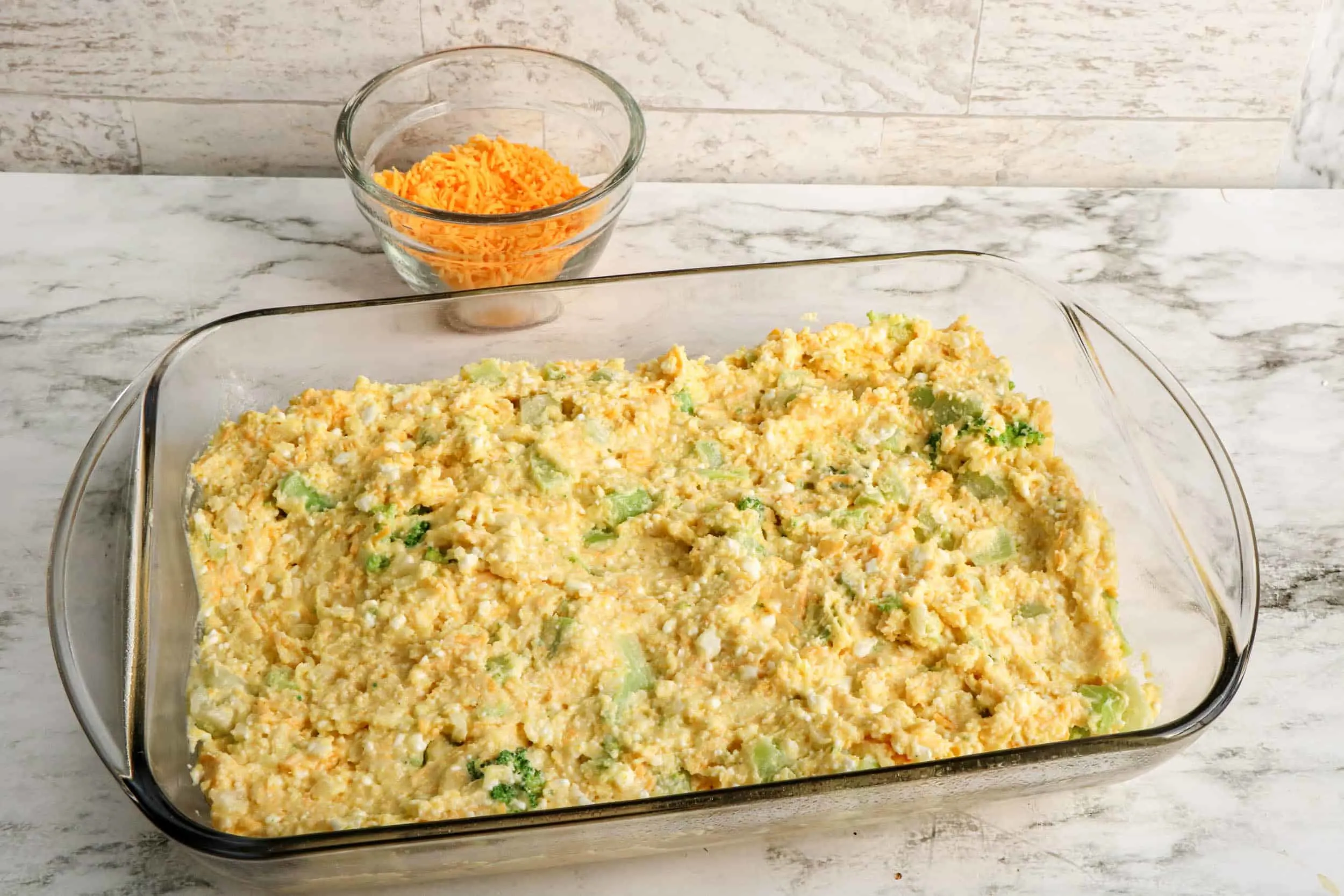 Pour all ingredients into a casserole dish, and sprinkle cheddar cheese over it.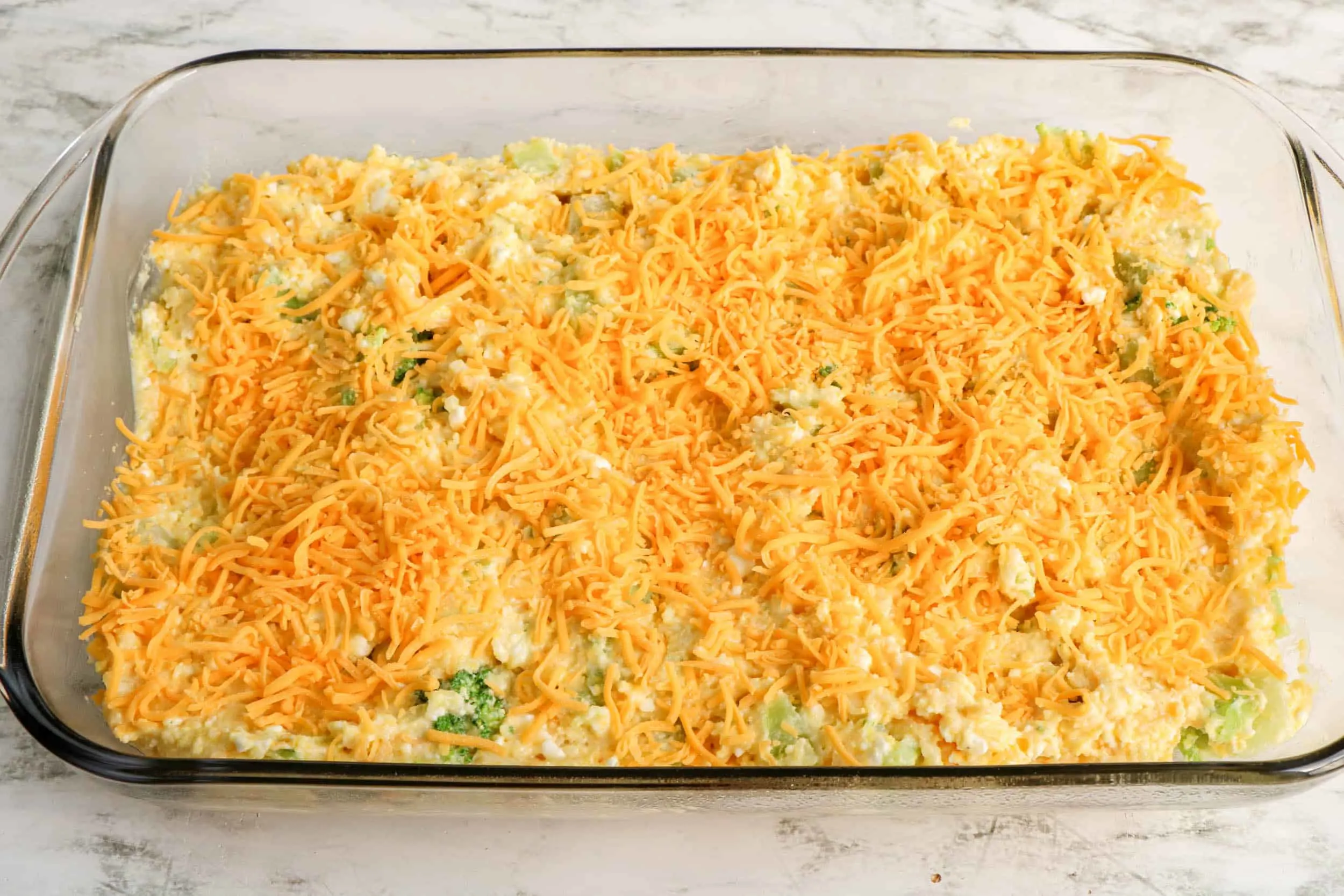 Pull out of the oven after testing with a toothpick that comes out clean.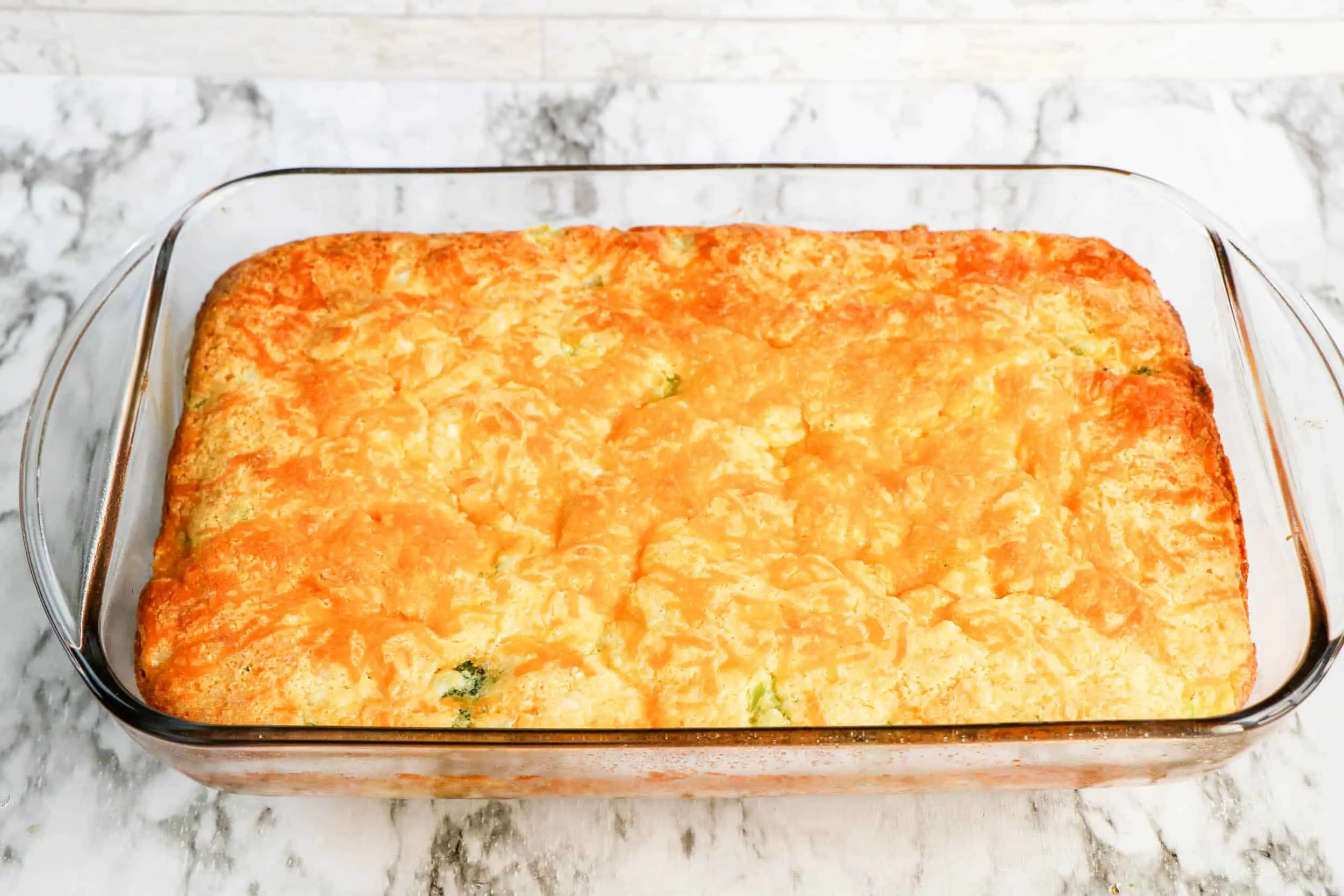 Let stand for 5-10 minutes, cut into chunks or slices. You can also serve with butter if you like.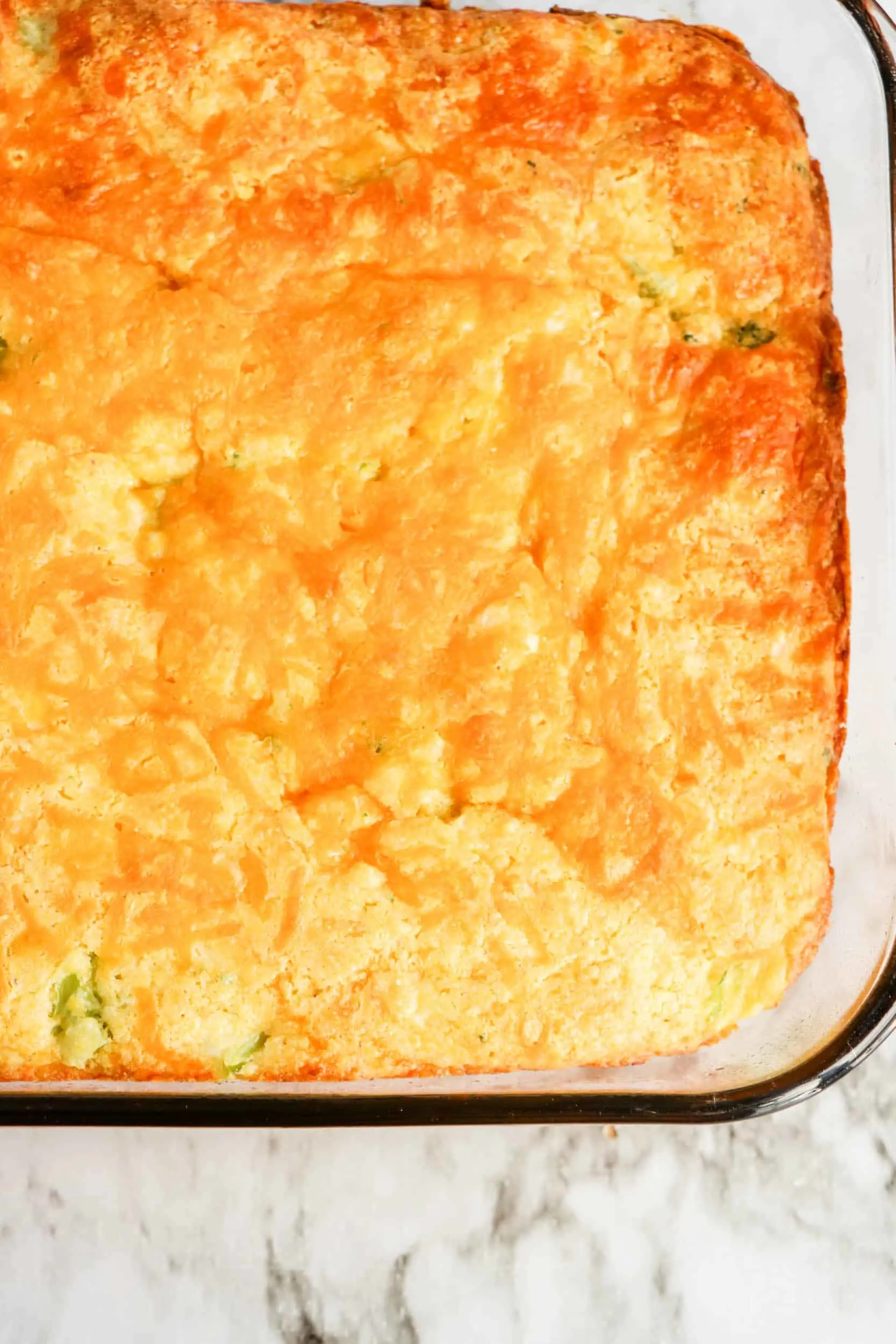 This casserole makes the most delicious golden crust. I love the corner piece the best!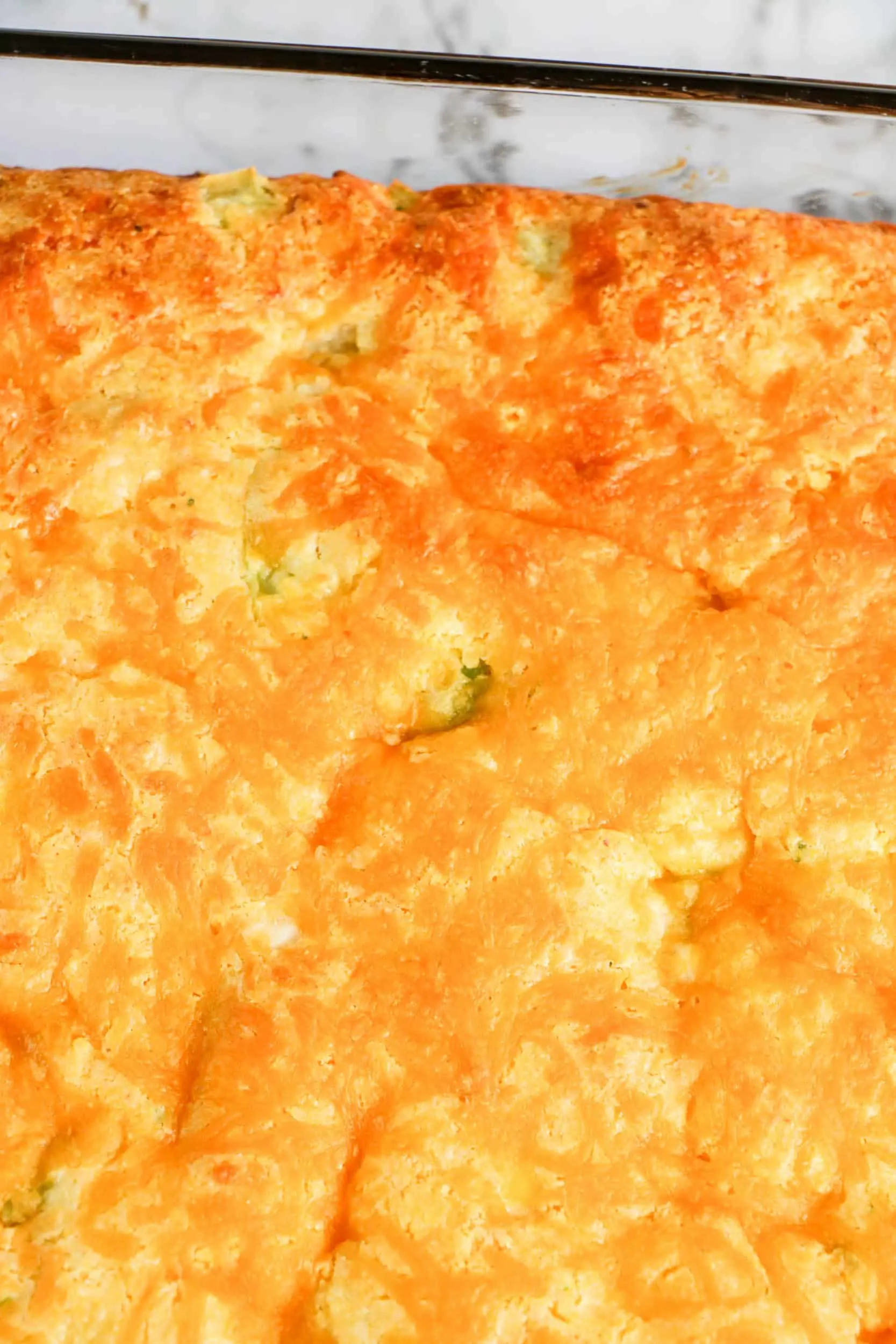 Slice it up and serve on a serving platter.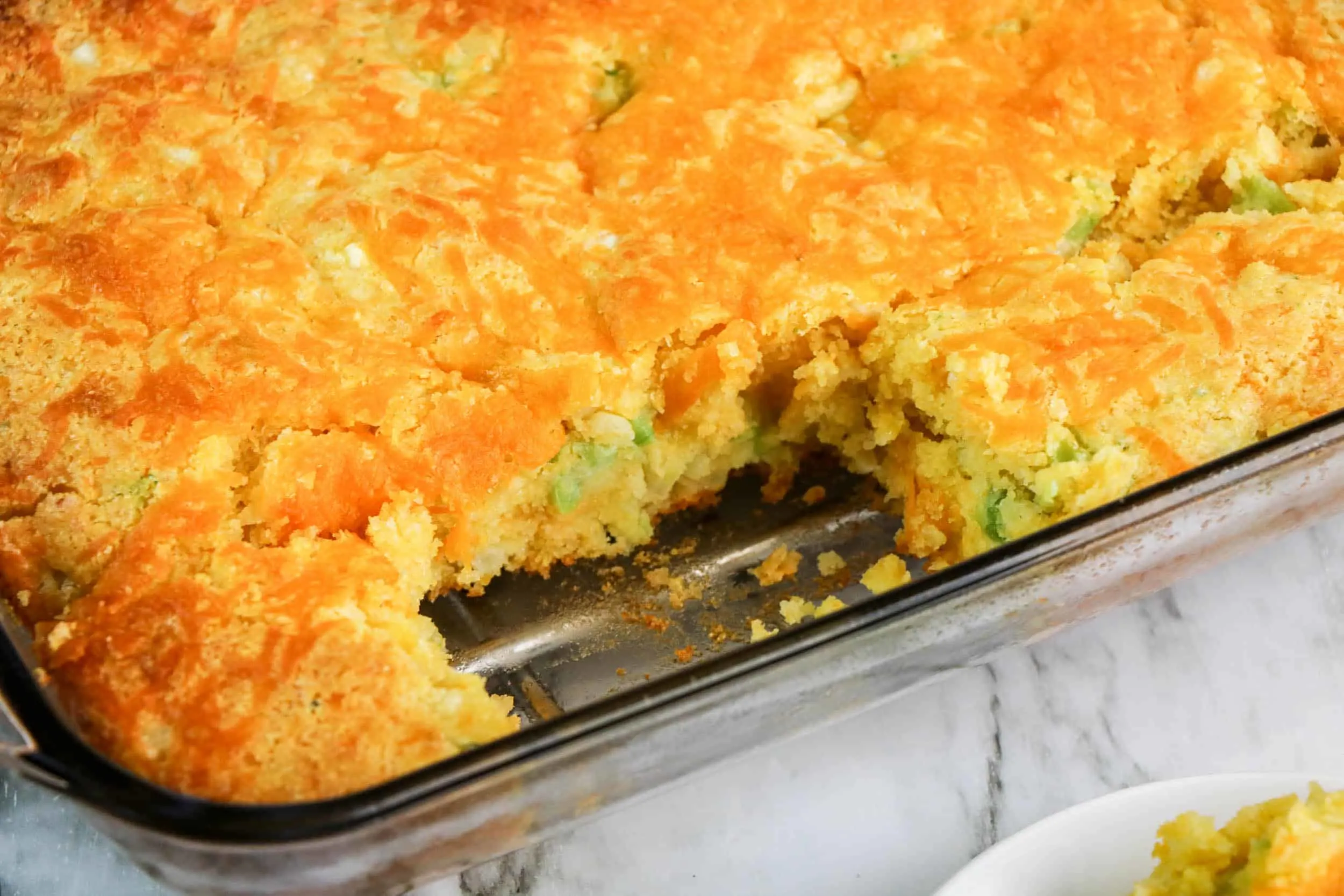 How to store Broccoli Cheddar Cornbread
Serve it warm, and any leftovers should be stored in the refrigerator due to the egg, butter, and cheese content. Just cover it with foil or plastic wrap and it will keep for up to 4 days. To reheat individual slices, microwave them at short intervals until warm. This Broccoli Cheddar Cornbread also tastes amazing cold, straight out of the fridge!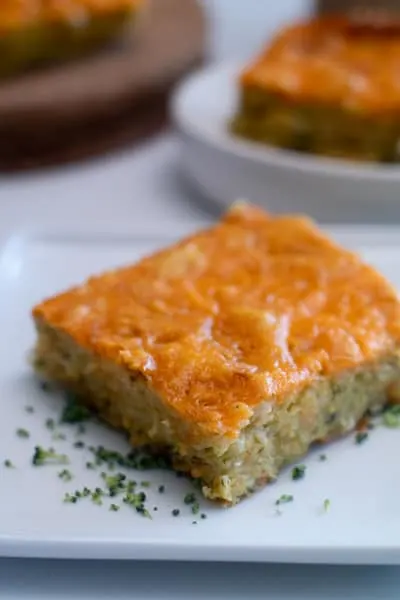 Are leftovers of Broccoli Cheddar Cornbread freezable?
Absolutely! Leftovers will keep for up to 3 months in the freezer in an airtight container or a freezer-friendly Ziploc bag. Thaw and reheat in the microwave or on a low setting in the oven before serving.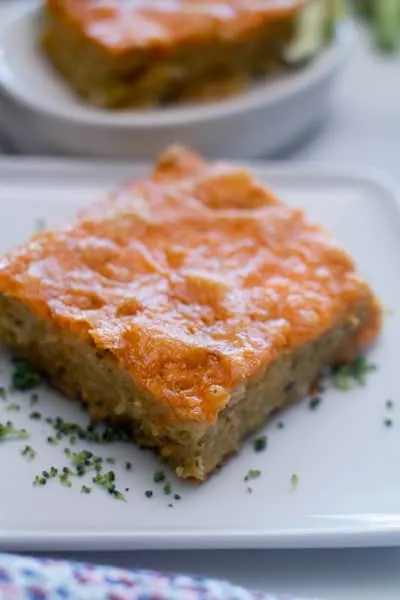 Ingredients
1 cup cottage cheese
¾ cup butter, melted
4 eggs, lightly beaten
2 (8.5 ounce) packages cornbread mix
1 (10 ounces) package frozen chopped broccoli, thawed and drained
1 onion, chopped fine
2 cups shredded cheddar cheese, divided
Directions
Preheat the oven to 375 degrees. Prepare a 9×13 casserole dish with nonstick cooking spray.

In a large bowl, mix together the cottage cheese, butter, eggs, cornbread mix until well blended.

Stir in the cornbread mix. Then, add the broccoli, onion, and 1 ½ cup cheese.

Spread the batter in the prepared casserole dish and top with the remaining cheese.

Bake for 35 to 40 minutes or until the cornbread is puffed and golden.

Remove from the oven and cool slightly before slicing and serving.
This hearty Broccoli Cheddar Cornbread recipe is a delicious comfort good option when you need a savory side dish. It's perfect for chilly weather since it pairs nicely with soups and stews. It's great in the summer when you need a quick side for picnics and BBQs. It's awesome in the fall for game days and with chili. It's tasty in the spring as a sidekick with ham. This Broccoli Cheddar Cornbread is a quick, easy, and tasty recipe for all seasons!
Related Recipes
Nettie is a wife and mother who is passionate about cooking and baking. With 5 children, Nettie insists that all meals, snacks, and desserts come together quickly! You will find a wide variety of easy yet scrumptious recipes on her very popular website
Moore or Less Cooking
Be sure to follow me on
Instagram
and tag #mooreorlesscooking so I can see all the wonderful recipes that YOU make from this site!
Did You Make This Recipe?
I would love for you to leave a rating and a comment below! How'd you do?!
			


			


				


			 				


		
		



			
			


				





			

Yield:

 12 servings
	
	
	

Broccoli Cheddar Cornbread






			



			

		


			

You'll love this savory and delicious recipe that takes the classic combination of broccoli and cheddar cheese and combines it with cornbread. This tasty Broccoli Cheddar Cornbread recipe is sure to become a family favorite.


		


		 


	


		

Ingredients



											


									

						1 cup cottage cheese					

									

						¾ cup butter, melted 					

									

						4 eggs, lightly beaten					

									

						2 (8.5 ounce) packages cornbread mix					

									

						1 (10 ounces) package frozen chopped broccoli, thawed and drained					

									

						1 onion, chopped fine					

									

						2 cups shredded cheddar cheese, divided					

							


			


		
		


		

Instructions


		

Preheat the oven to 375 degrees. Prepare a 9×13 casserole dish with nonstick cooking spray.
In a large bowl, mix together the cottage cheese, butter, eggs, cornbread mix until well blended.
Stir in the cornbread mix. Then, add the broccoli, onion, and 1 ½ cup cheese.
Spread the batter in the prepared casserole dish and top with the remaining cheese.
Bake for 35 to 40 minutes or until the cornbread is puffed and golden.
Remove from the oven and cool slightly before slicing and serving.

	


	


			


			


			

Recommended Products



							

As an Amazon Associate and member of other affiliate programs, I earn from qualifying purchases.


			
			
		


		


	


		

Nutrition Information



					

Yield

 12
		
					

Serving Size

 1
		
		Amount Per Serving

		

Calories

 234

Total Fat

 20g

Saturated Fat

 12g

Trans Fat

 1g

Unsaturated Fat

 7g

Cholesterol

 114mg

Sodium

 325mg

Carbohydrates

 4g

Fiber

 0g

Sugar

 2g

Protein

 9g