This salad is a LOW- Carb dream. Bacon, hard-boiled egg, lettuce, tomatoes, grilled chicken, avocado is a wonderful keto meal.
Cobb Salad is my favorite summer salad, in fact, it is my favorite salad all year round! I feel like I have been eating it my whole life. I don't even have to think about what I am going to order when we dine at the Daily Grill, it is Cobb Salad and Iced Tea, always!
This salad is a LOW- Carb dream. Hard-Boiled eggs are also perfect with this salad, but my eggs didn't peel well and looked awful for the pictures, so I omitted them. I love a creamy Blue Cheese dressing, but you can have any dressing you prefer, Vinaigrette, Caesar, Oil, and Vinegar, or just a squeeze of lemon.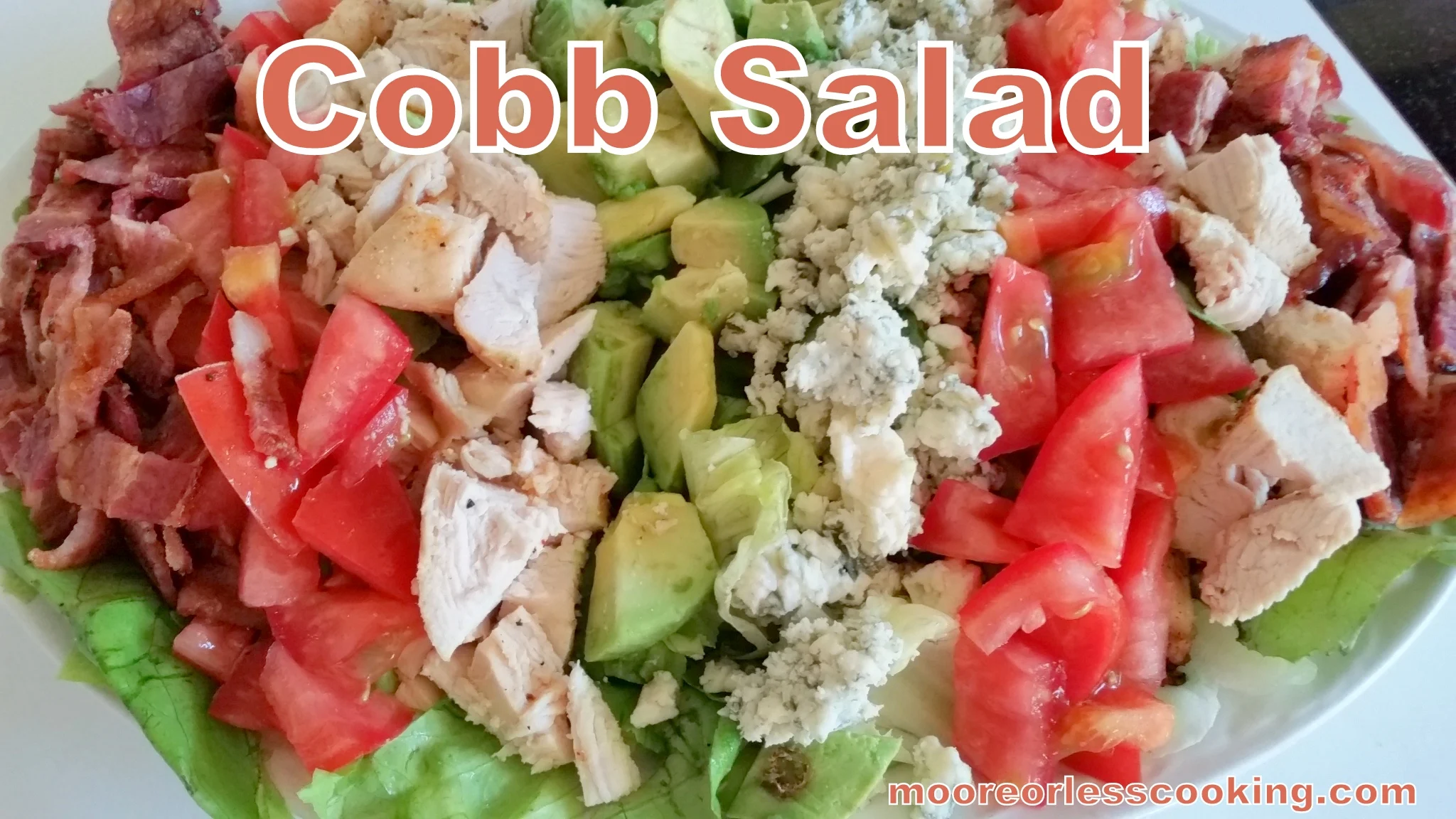 What is the Origination of the Cobb Salad?
I guess I shouldn't assume that you have had a Cobb Salad before. Hubs asked if there was corn in the salad? HMMMM, what? Oooooh, corn on the cobb? No, not the original Cobb Salad. The Cobb Salad originated at The Derby Restaurant in Hollywood California, on Hollywood Blvd. This salad was named after Robert Howard Cobb.
The Derby was a wonderful restaurant where the Who's -who of celebrities would dine, such as Jimmy Durante, ahh-cha-cha-cha! His nose, or as he would call it, "schnaze", was larger than most. There was a photo of his profile with him in one photo, and the extension of his "schnaze" in the photo next to his. I would stare at this photo drawing in awe, I thought it was so cool to have two pictures, hysterical!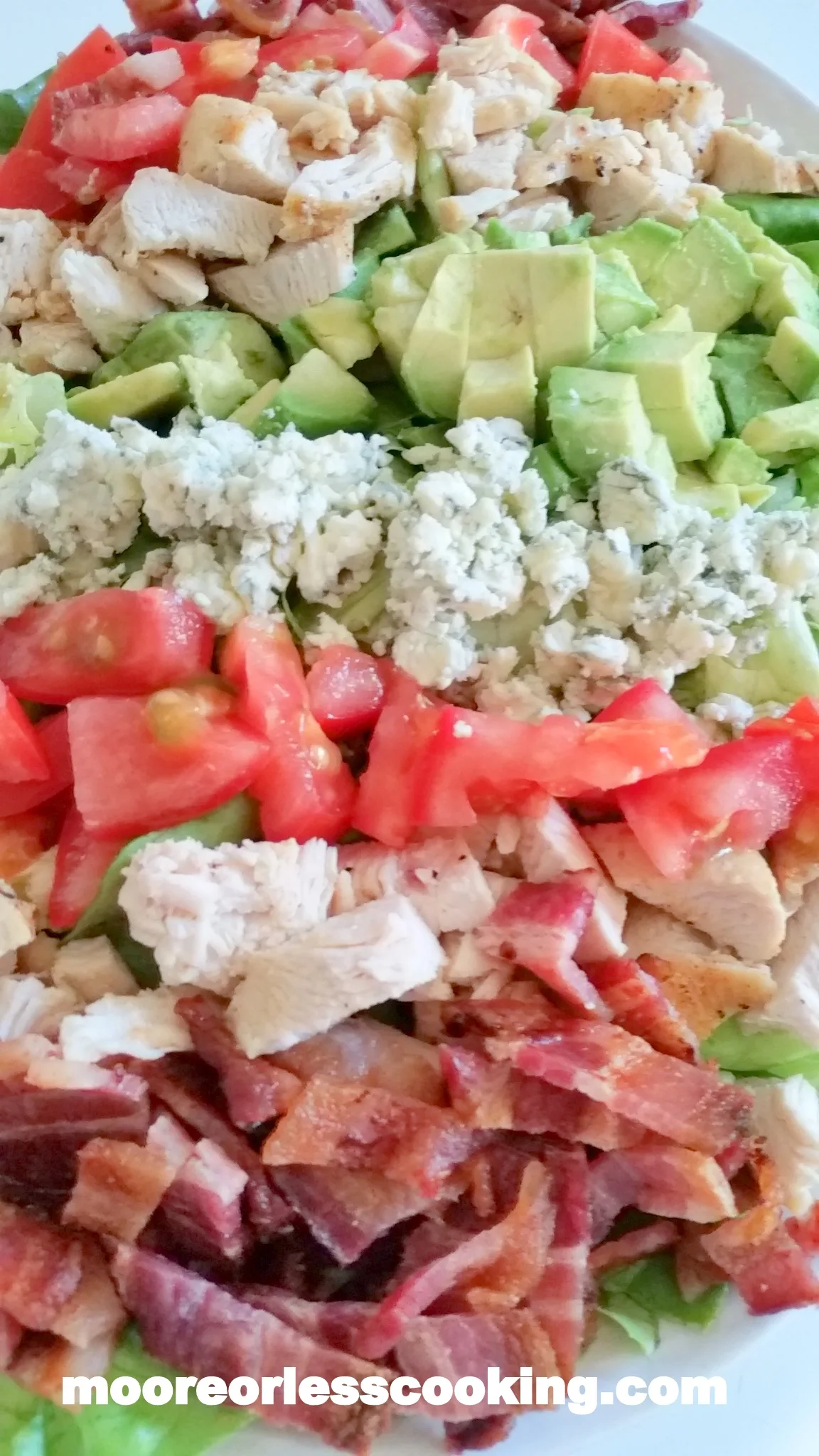 What do you need to make a cobb salad?
When you make a Cobb Salad, use a Good Quality Blue Cheese such as Castello's The Original Danish Blue Cheese. It is creamy and bold and one of the best Blue Cheese I have tasted. What you will need for this salad: Crispy Bacon, Ripe Avocado, Lettuce, Grilled Chicken, Blue Cheese, Hardboiled Eggs ( not pictured), Tomatoes.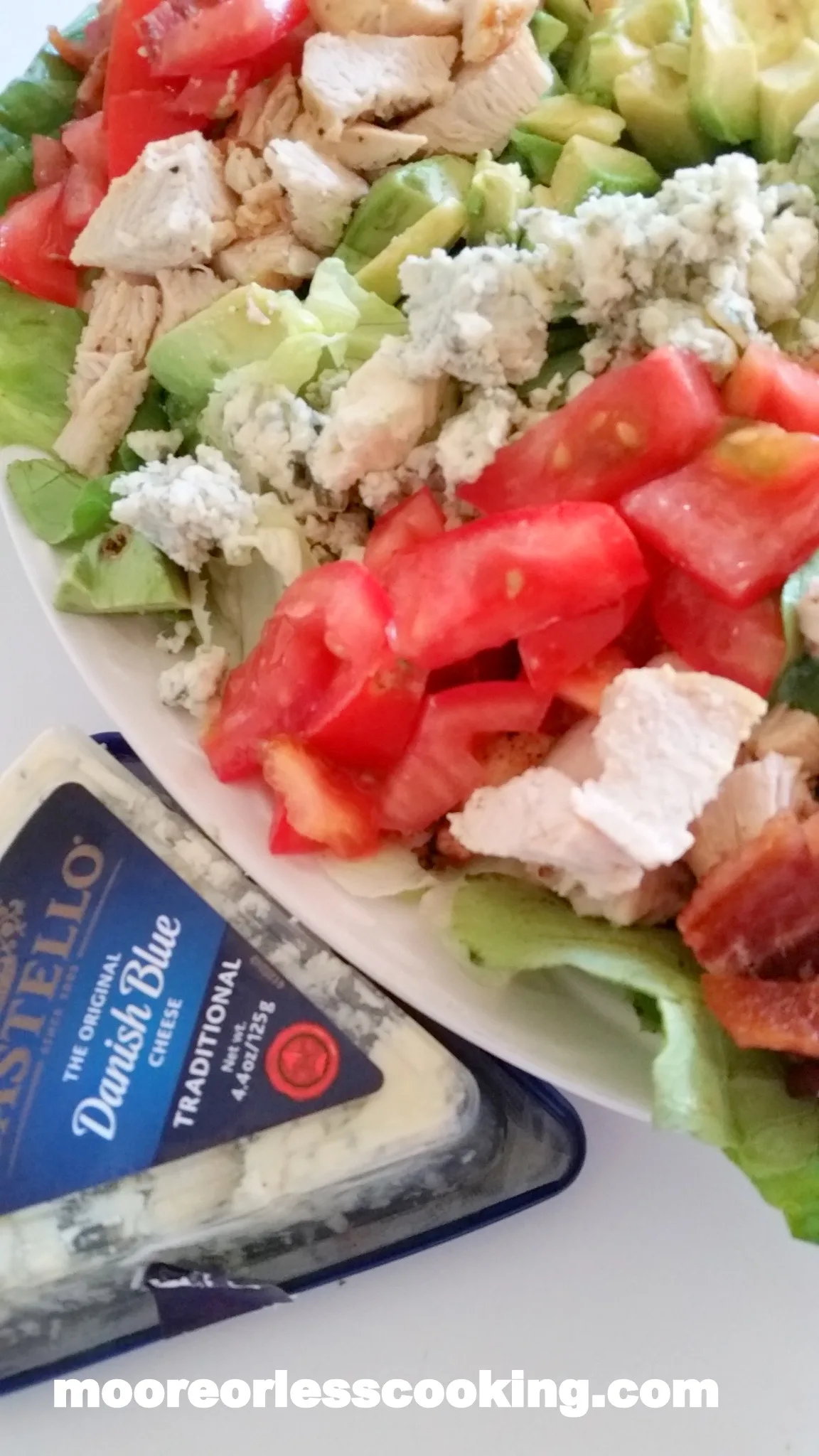 More Chicken recipes:
9 Great Grilled Chicken Recipes
More Low Carb Recipes:
Low-Carb Berry Rhubarb Crumble
Best Low Carb Biscuits & Video
Ultimate Fat Head Pizza~Low Carb
Nettie is a wife and mother who is passionate about cooking and baking. With 5 children, Nettie insists that all meals, snacks, and desserts come together quickly! You will find a wide variety of easy yet scrumptious recipes on her very popular website Moore or Less Cooking
Be sure to follow me on Instagram and tag #mooreorlesscooking so I can see all the wonderful recipes that YOU make from this site!
Check out my YOUTUBE with a free email subscription HERE and please share on FACEBOOK and on PINTEREST
Follow Mooreorlesscooking on FACEBOOK | TWITTER | PINTEREST | BLOGLOVIN |INSTAGRAM|
This yummy Cobb Salad is a LOW CARBERS Dream! Grilled Chicken, Bacon, Blue Cheese, Tomatoes, Lettuce, avocado, is so delicious!
Ingredients
1/2 head each of iceberg and Romaine lettuce, chopped
1 cup fresh tomato, diced
1 cup roasted or grilled chicken breast, diced
6 strips uncured bacon, cooked, diced
1 avocado, peeled and diced
3 hard-boiled eggs, peeled and chopped fine (not pictured)
1/2 cup Castello blue cheese) crumbled
Instructions
Combine chopped lettuces in a large shallow bowl or plate.
Top salad greens with rows of the remaining ingredients.
At table, toss salad with your favorite Salad Dressing and serve.
Recipe adapted from The Original Brown Derby Cobb Salad
In the spirit of full disclosure, I have partnered with CASTELLO CHEESE and have received the product, as part of my participation. However, no payment was given or expected for posting about the program, and as always, all opinions given here are fully my own.