When you have that chocolate hankering and want to stick to your Low Carb diet~ Look no further! Creamy, chocolatey heavenly pudding dessert for a keto low-carb diet.
This is such a quick and easy fix, hubs didn't guess the two ingredients, no, he just inhaled it and talked about when he was a boy, his sister used to make pudding.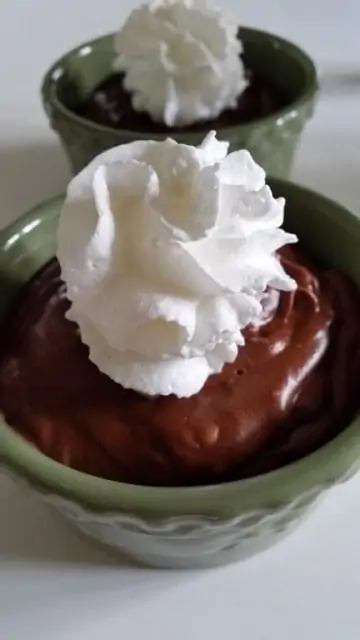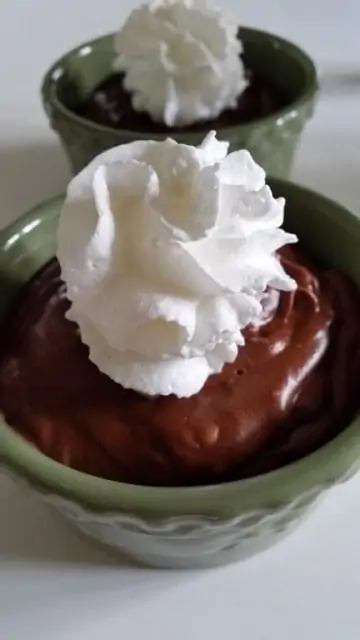 Only 2 ingredients are needed for this creamy delicious dessert! Low Carb and Keto!
Let's assume you are using a 1-ounce box. LOOK AT THE NUTRITIONAL LABEL. It states that the box contains 4 servings, with 6 carbohydrates for each serving.
I said to use heavy whipping cream in place of the milk. For a 1-ounce box, you are supposed to use 2 cups of cold milk. Substitute heavy whipping cream in place of the milk. Now, how many carbs are in 2 cups of heavy whipping cream? There are 6.6 carbs in 1 cup. So, for 2 cups, there would be roughly 13.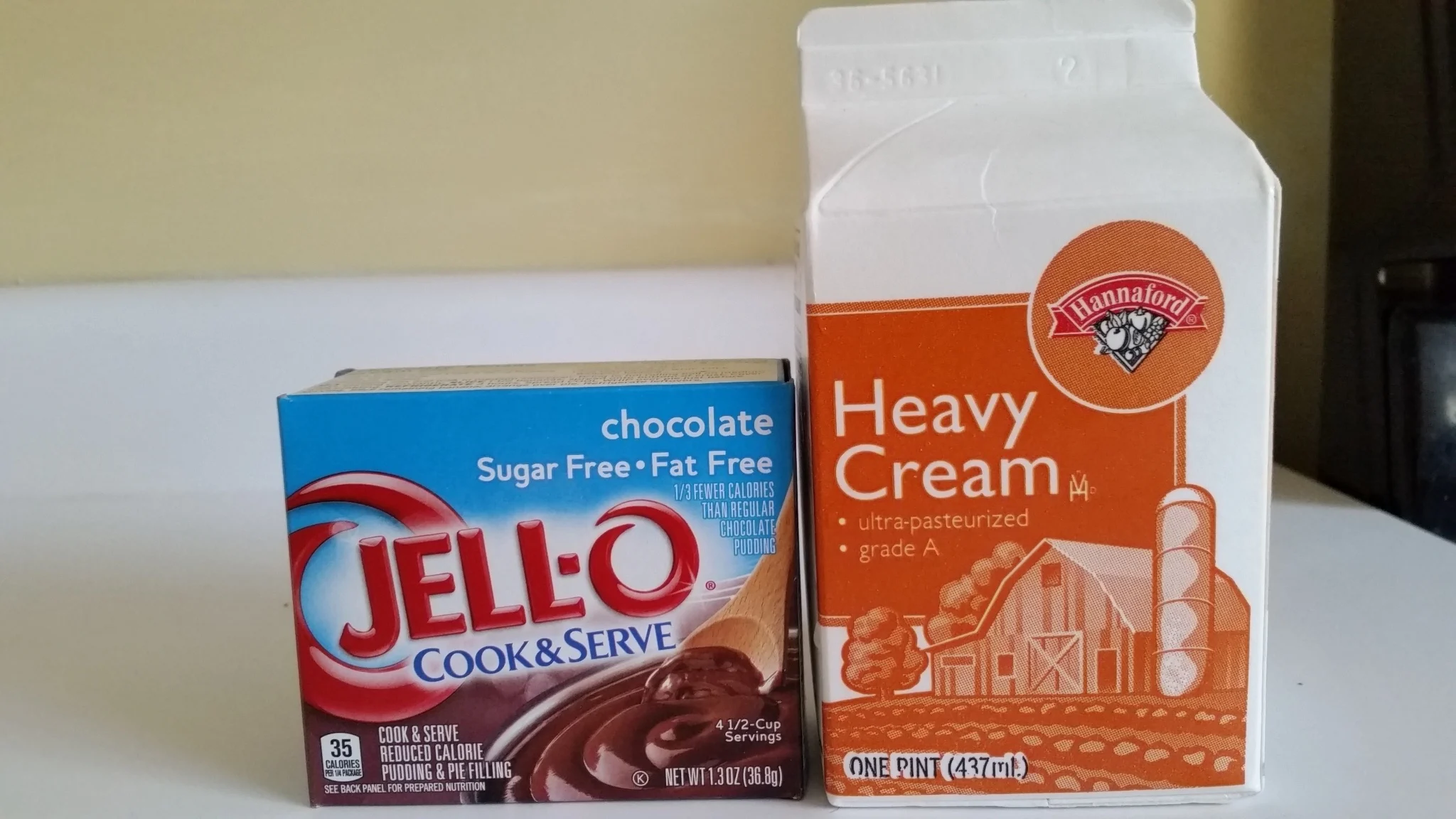 Only 2 Ingredients are needed for this recipe! Maybe it is just too simple to write a recipe post about, but we loved it, so I am going to share it with you! Sugar-Free Chocolate Pudding and 2 Cups of Heavy Cream. That's it!! It is rich and yummy!!

Add 13 carbs from the cream to the 24 for the WHOLE BOX of pudding. You now have a total of 37 carbs for the ENTIRE recipe. Remember, there are 4 servings of pudding per box. Divide the 37 total grams by 4 servings, and you get what? 9.25 carbs per serving.
How to Make Low-Carb Chocolate Pudding Dessert
This chocolate pudding recipe takes no time at all on the stovetop, and then a quick chill while you're eating dinner, and voila! Homemade chocolate pudding can be made in advance and stored in the fridge until you're ready to enjoy it.
HOW TO SERVE KETO CHOCOLATE PUDDING
It's so delicious on its own, and that's how I usually serve it, or just with a spoon. But if you would like to be fancy, here are a few yummy choices options for you:
Top it with keto whipped cream as I do in the video below, or with chocolate whipped cream.
Top it with fresh berries.
Scatter dark chocolate shavings or a few dark chocolate chips on top.
Heat a teaspoon of peanut butter and drizzle it on top.
Melt a square of extra-dark chocolate and drizzle it on top.
IS THIS A MAKE-AHEAD RECIPE?
Absolutely! I do appreciate the fact that this is a dessert that I can make well in advance. It makes life so much easier when you don't have to worry about making dessert when your guests are already there.
In fact, you SHOULD make this pudding ahead of time and refrigerate it for at least 2 hours before serving. Two hours is the bare minimum – 4 hours is better, and overnight is best. The pudding's consistency greatly improves after a night in the fridge. It becomes thicker and silkier.
WHAT ABOUT LEFTOVERS?
You can keep leftovers of this keto chocolate pudding, covered and refrigerated, for up to 4 days. Although I must say I never have leftovers when I make this amazing dessert! As for whether it can be frozen, I haven't tried that, so I can't say if it would work.
As far as fat, the entire 1-ounce box of pudding contains ZERO grams of fat. There are 175 grams for 2 cups of heavy cream. Again, there are 4 servings here if you are using a 1-ounce box, so there are roughly 43 grams of fat per serving.

PLEASE REMEMBER TO SHARE ON FACEBOOK
AND PIN IT!
Divide pudding into ramekins. Eat warm or chill in the refrigerator.

Add some sugar-free whipped cream!
PLEASE REMEMBER TO SHARE ON FACEBOOK
AND PIN IT!

TIPS:
You can also use regular Jell-O Instant Pudding if you're not watching your sugar intake.
For a lighter version that's still much fluffier than regular pudding, try using half whipping cream and half milk.
Try freezing it! It makes an amazing sugar-free ice-cream-like dessert.
Put it in a pie crust or use it in a layered dessert.
Top it with fruit (raspberries are good with the chocolate flavor!)
Use it as a dip with vanilla wafers or graham crackers.
This dessert is super filling (like eating fudge), so you don't need much. I would say it makes 10 or more servings. You could literally eat a tablespoon a day to satisfy cravings. That's what I do!
Did You Make This Recipe?
I would love for you to leave a rating and a comment below! How'd you do?!
More Low-Carb Recipes:
Nettie is a wife and mother who is passionate about cooking and baking. With 5 children, Nettie insists that all meals, snacks, and desserts come together quickly! You will find a wide variety of easy yet scrumptious recipes on her very popular website Moore or Less Cooking
Follow me on FACEBOOK and PINTEREST
Be sure to follow me on Instagram and tag #mooreorlesscooking so I can see all the wonderful recipes that YOU make from this site!
Check out my YOUTUBE with a free email subscription HERE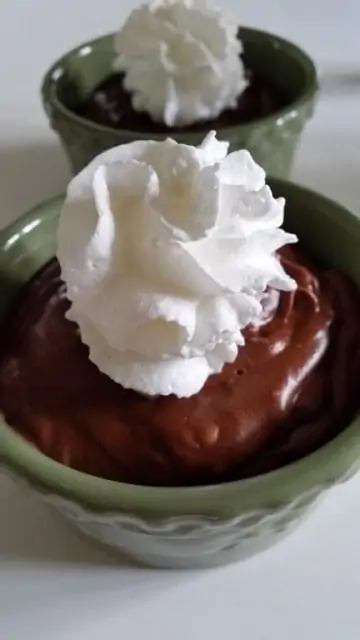 Yield:

10 servings
LOW CARB PUDDING
When you have that chocolate hankering and want to stick to your Low Carb diet~ Look no further! Creamy, chocolatey heavenly pudding dessert for keto low carb diet.
Ingredients
1 box of Chocolate Sugar-Free Jello Instant Pudding
2 cups of Heavy Cream
Instructions
In a saucepan over medium heat, whisk together pudding mix and cream.
When the mixture has thickened, take off heat.
Pour pudding into ramekins.
Serve warm or chill in the refrigerator.
Serve with whipped cream.
Recommended Products
As an Amazon Associate and member of other affiliate programs, I earn from qualifying purchases.
Nutrition Information
Yield
10
Serving Size
1
Amount Per Serving
Calories

182
Total Fat

18g
Saturated Fat

11g
Trans Fat

1g
Unsaturated Fat

5g
Cholesterol

55mg
Sodium

57mg
Carbohydrates

5g
Fiber

0g
Sugar

2g
Protein

2g