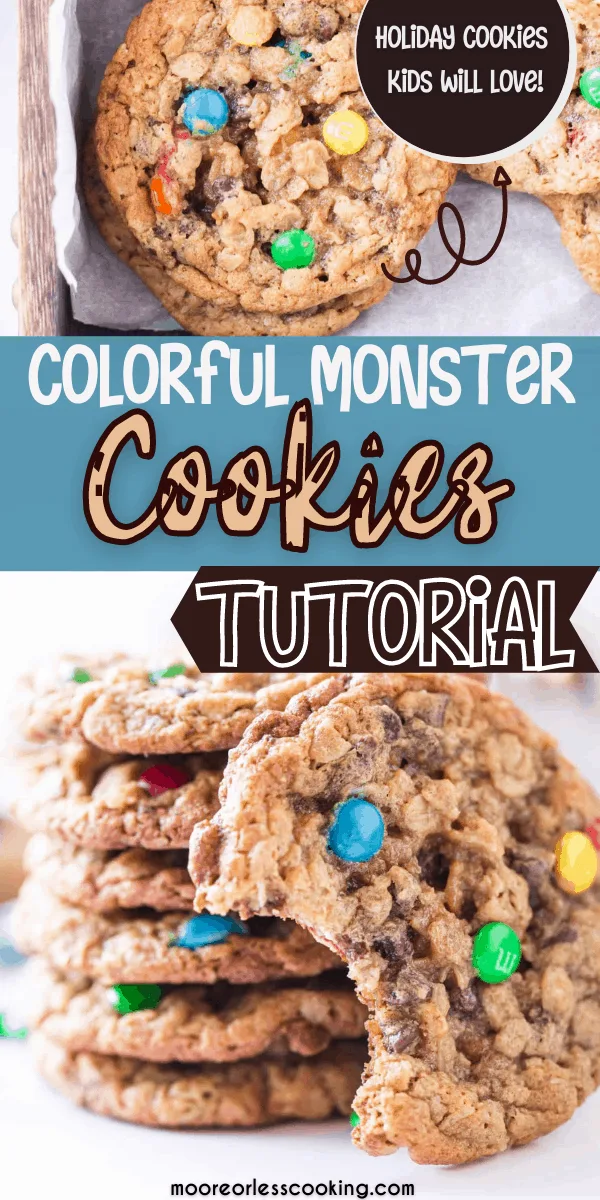 Monster Cookies are the perfect treat to bake for any holiday or any other special occasion. These cookies are full of flavor and have that colorful appeal that children love because of the mini M&M's added to them.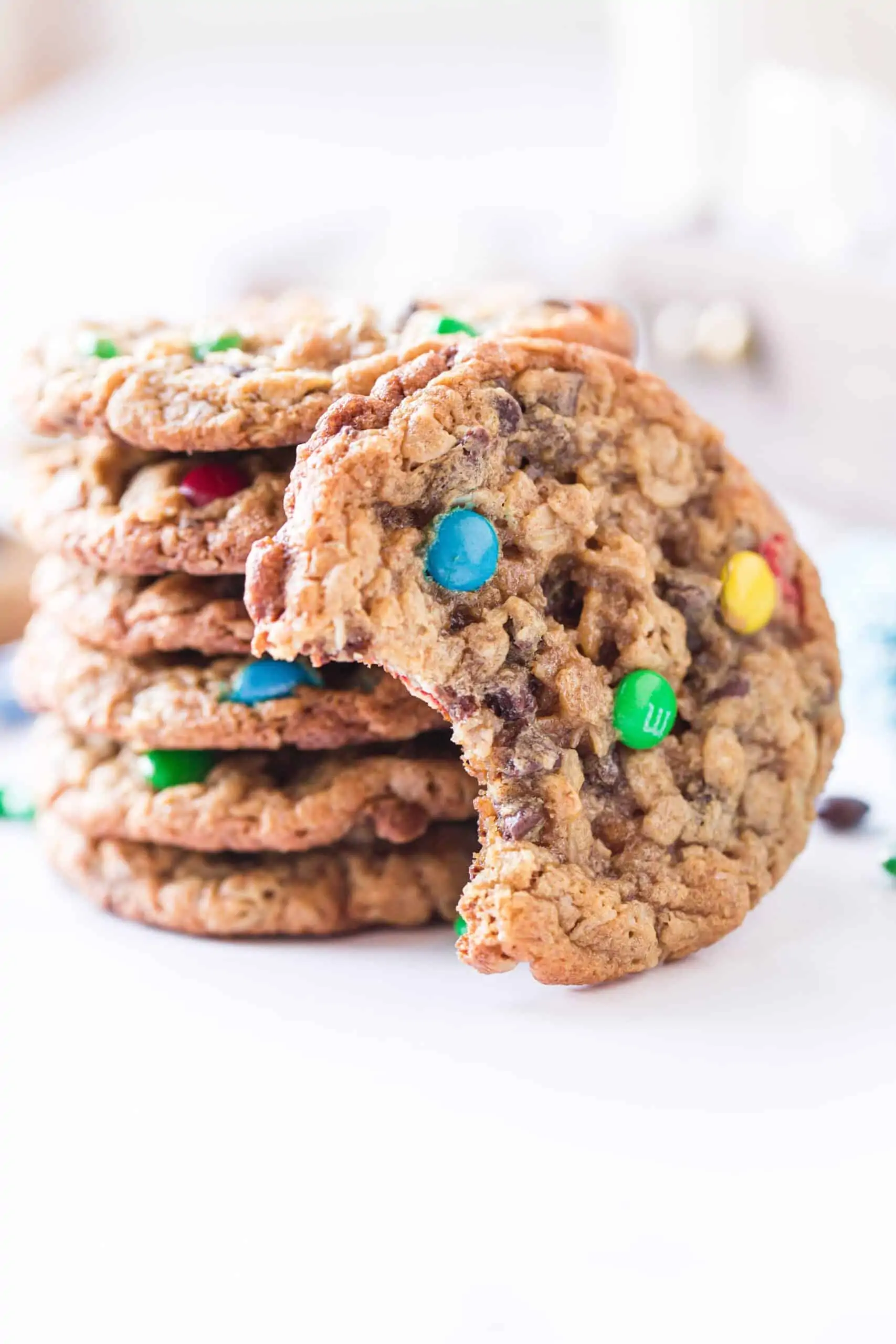 I love cookies. If I have to pick a quick dessert to make for the kids, I will usually choose to make the Monster Cookies. It only takes 10 minutes to prepare these simple yet tasty cookies that need to bake in the oven for 10 minutes. If you decide to make these cookies, you can have them ready to eat in less than 20 minutes.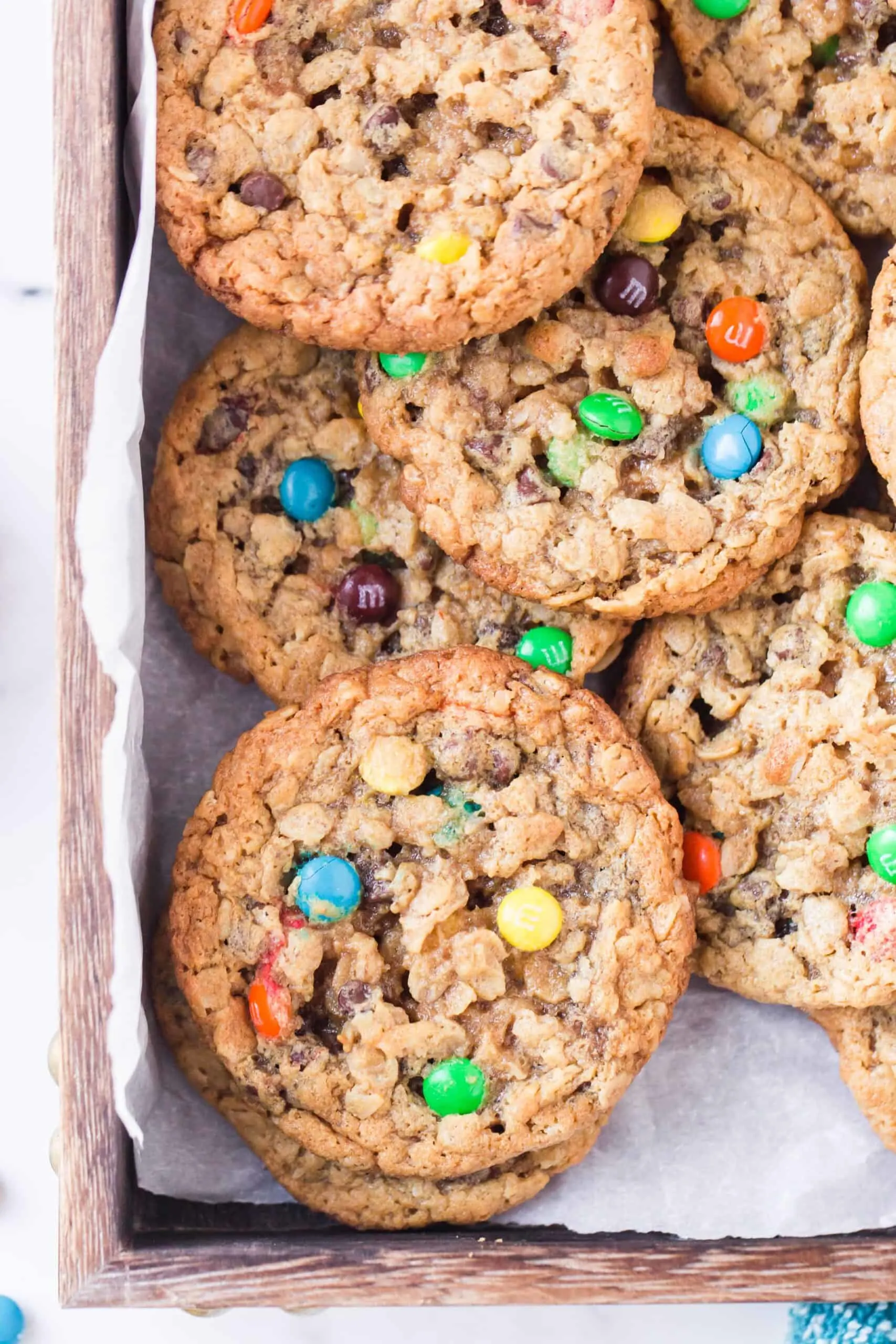 Monster Cookies
The Monster Cookies contain peanut butter that gives them more of a creamy consistency. They are also loaded with old-fashioned oats for the perfect texture and both semi-sweet chocolate chips and mini M&M's. While you can use regular M&M's or peanut M&M's, I prefer the mini ones because they are smaller and you can add more of them to each cookie.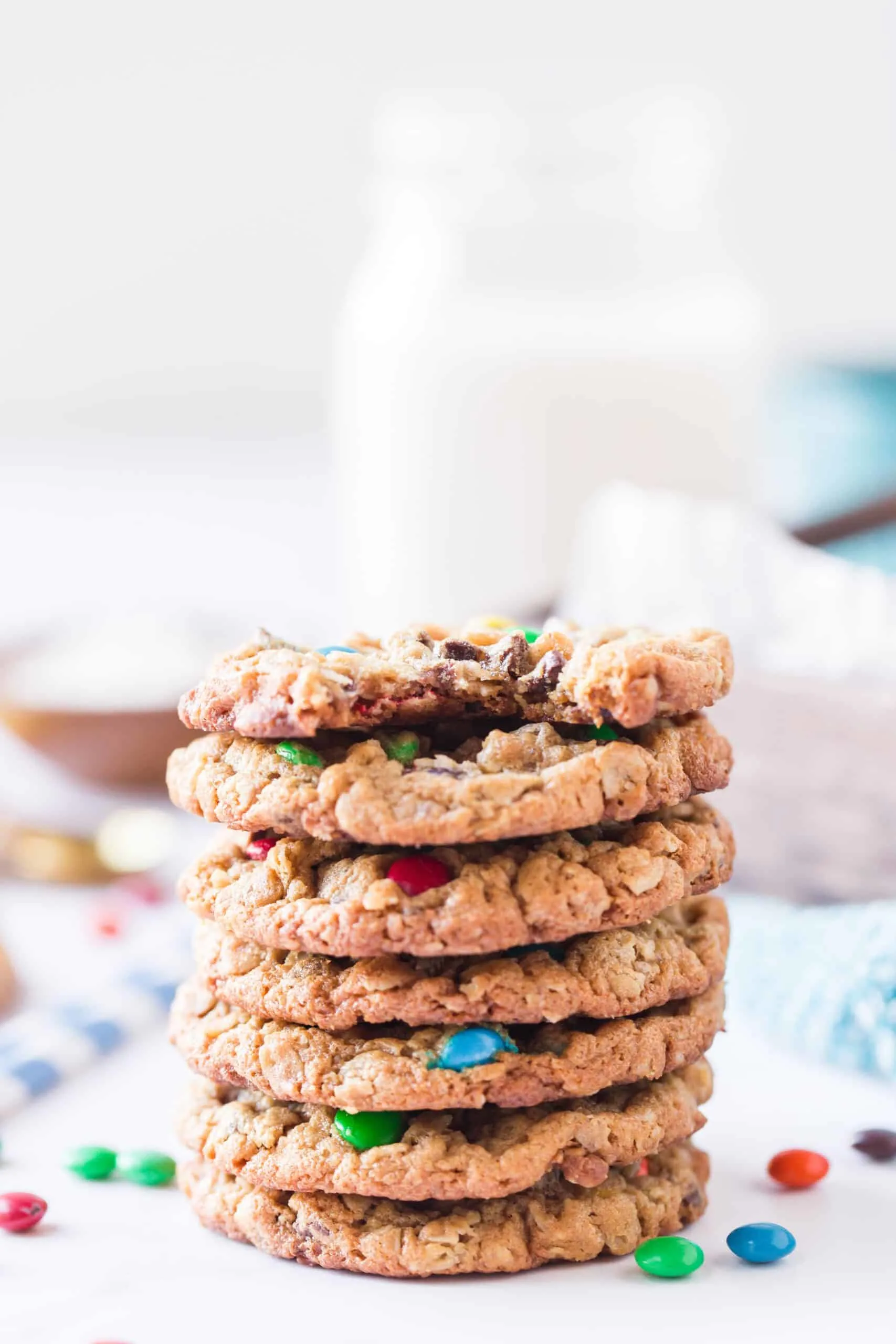 You need to use butter-flavored shortening, which you can purchase in a tub or in the form of a bar that looks just like butter. Make sure that you are buying the butter-flavored shortening instead of actual butter.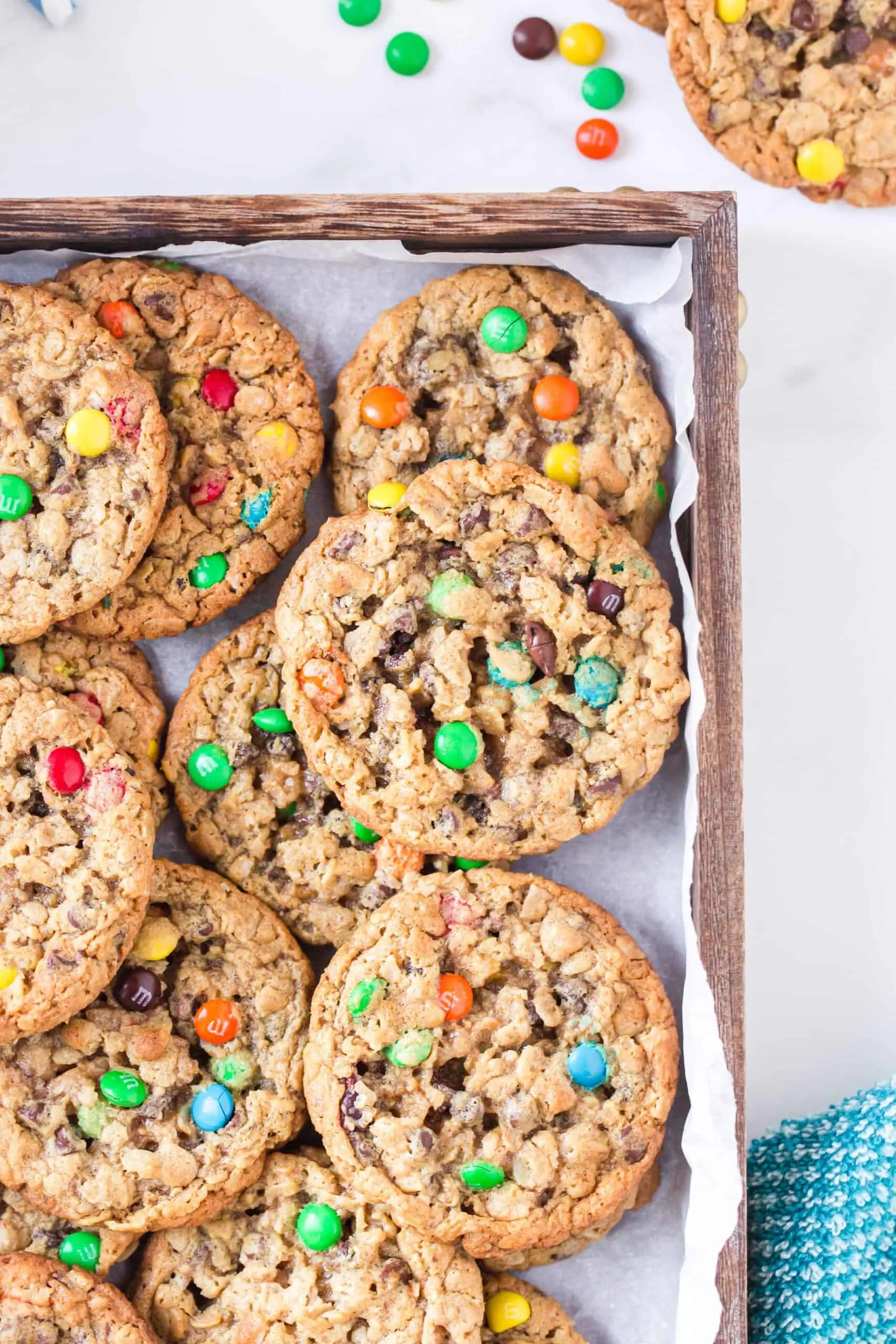 Peanut Butter Substitutions For Monster Cookies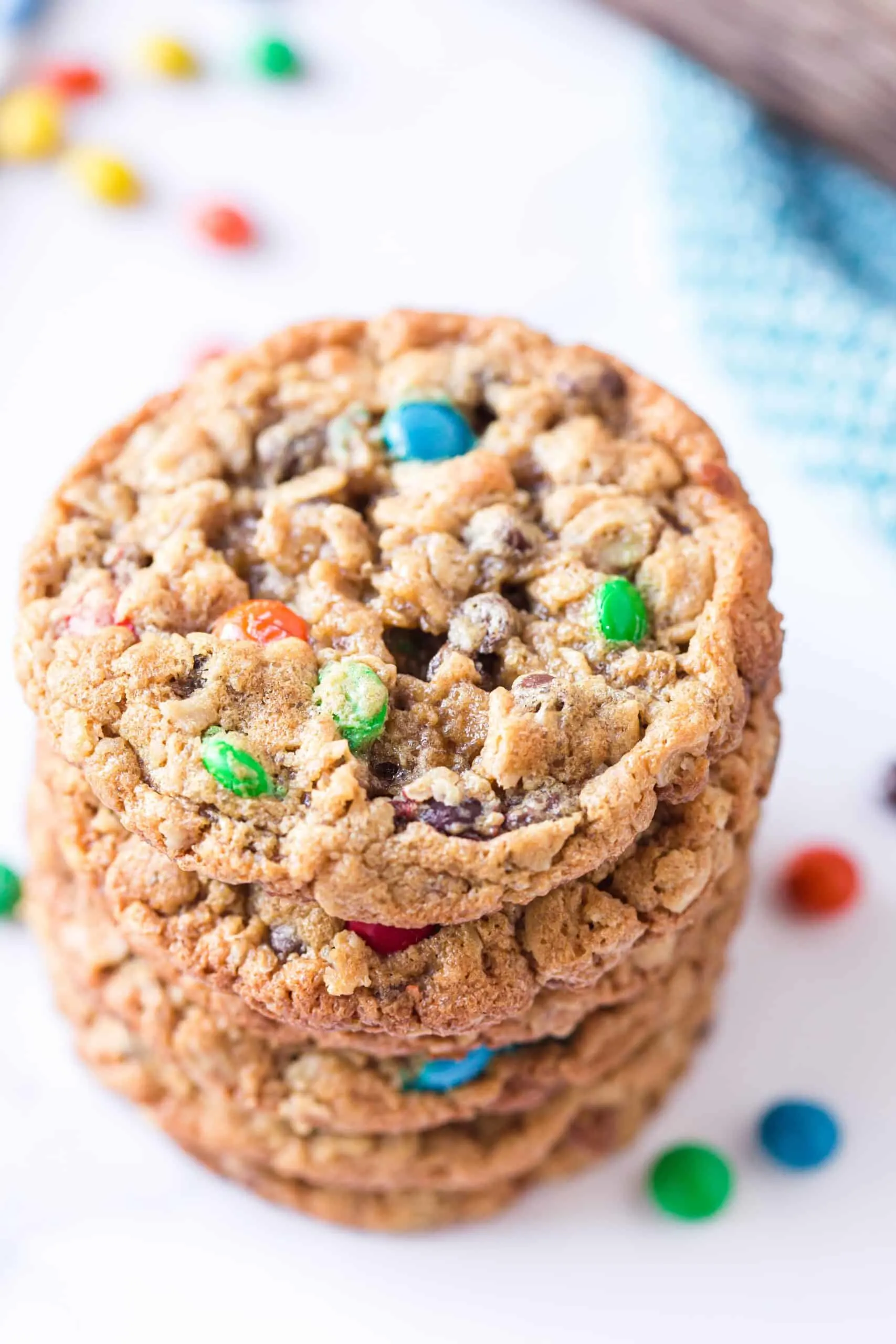 If there are food allergies that prevent you from using the peanut butter in your Monster Cookies recipe, there are some substitutions that you can use. Some of the great options to consider adding to the cookies include sunflower seed butter, almond butter, and cookie butter. If you use cookie butter, your cookies might have a slightly sweeter taste than they would if you were to use all the original ingredients in this recipe.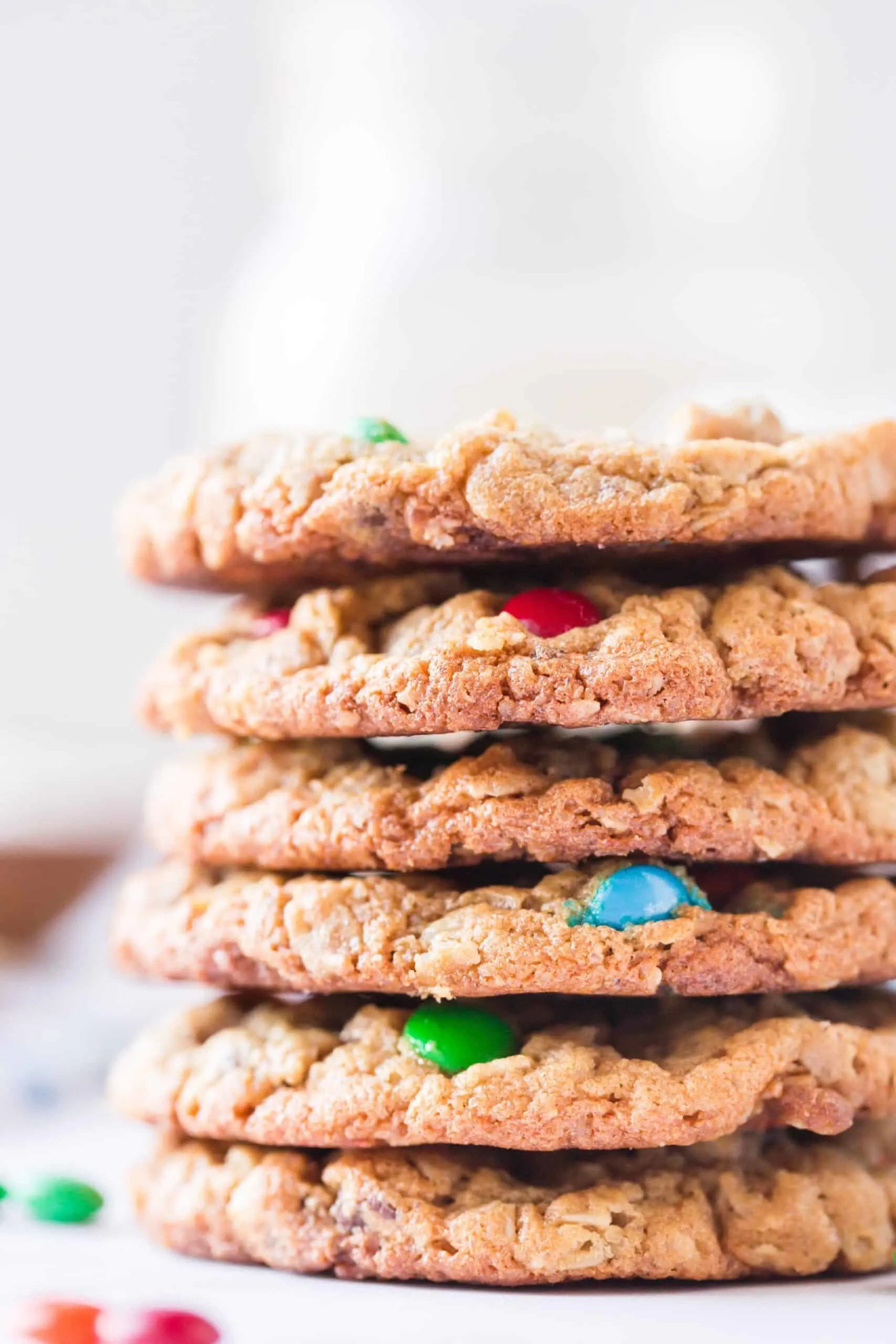 Simple Moderations to Make to Customize Your Monster Cookies
I love following this recipe for the Monster Cookies, but you can make moderations if you need or want to do so. For example, creamy peanut butter is my go-to choice for this recipe, but if you want a bit of a crunch added to your cookies, you can use crunchy peanut butter. There are plenty of different types of peanut butter, including cinnamon raisin peanut butter with pieces of raisins in it. Use the peanut butter that you like most.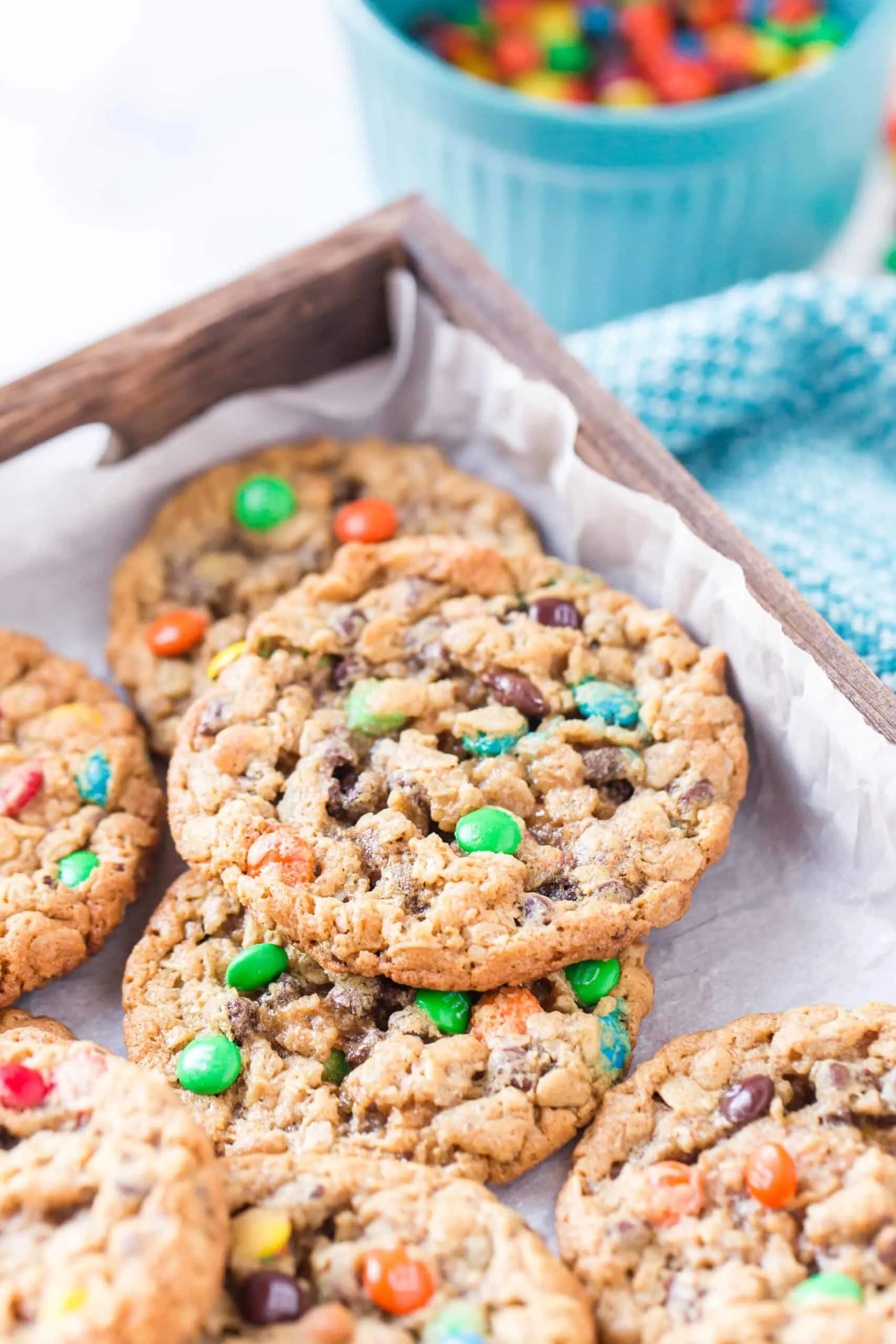 I always use old-fashioned oats in the Monster Cookies recipe, but you can use instant or quick-cooking oats, especially if that is all you have available. When I choose my chocolate chips, I pick miniature options that go with the miniature M&Ms. You can select different chocolate chips if you want, including large ones instead of mini morsels. There are also different flavors to pick from, such as milk chocolate, white chocolate, or chocolate with peanut butter.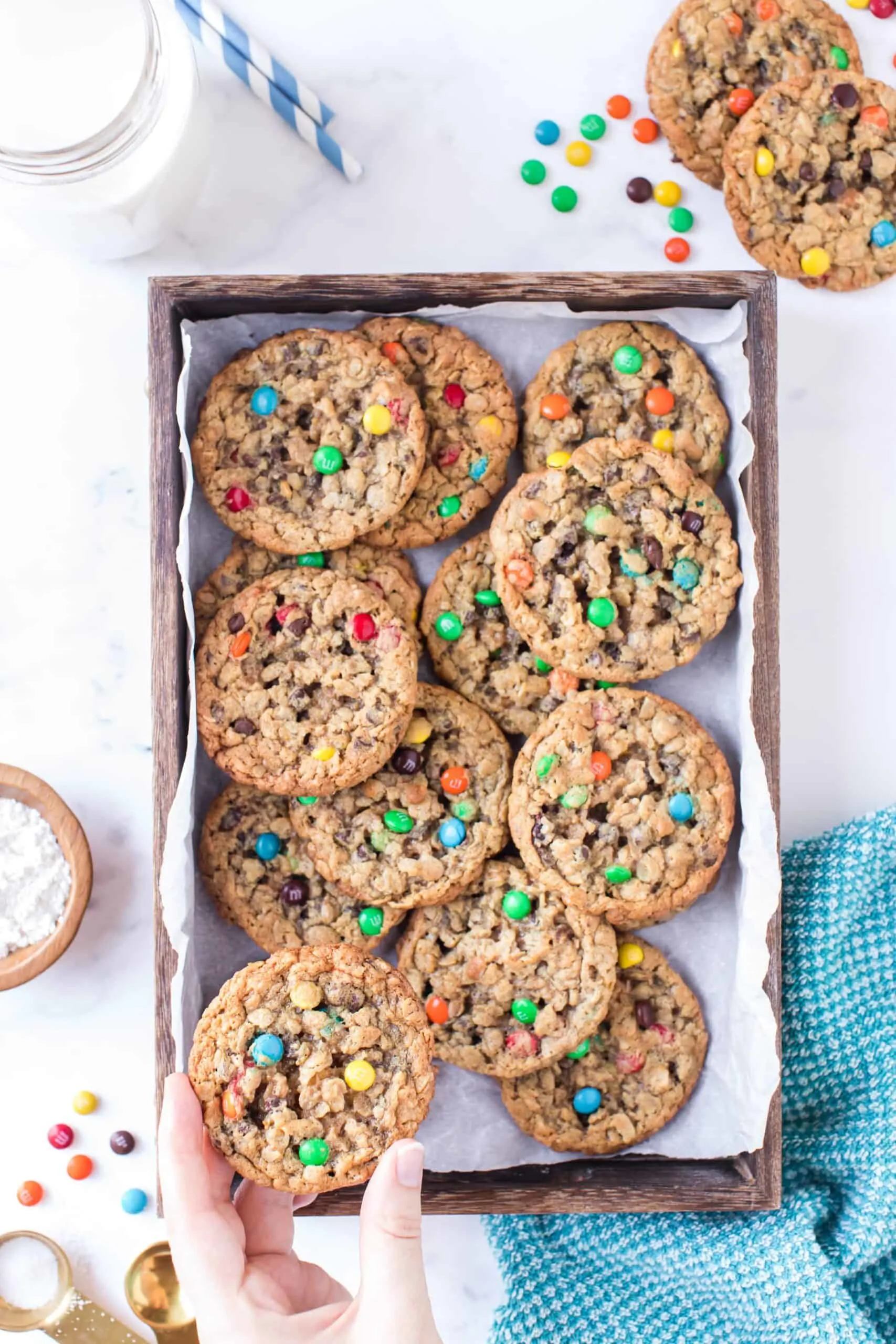 Where Did These Cookies Come From?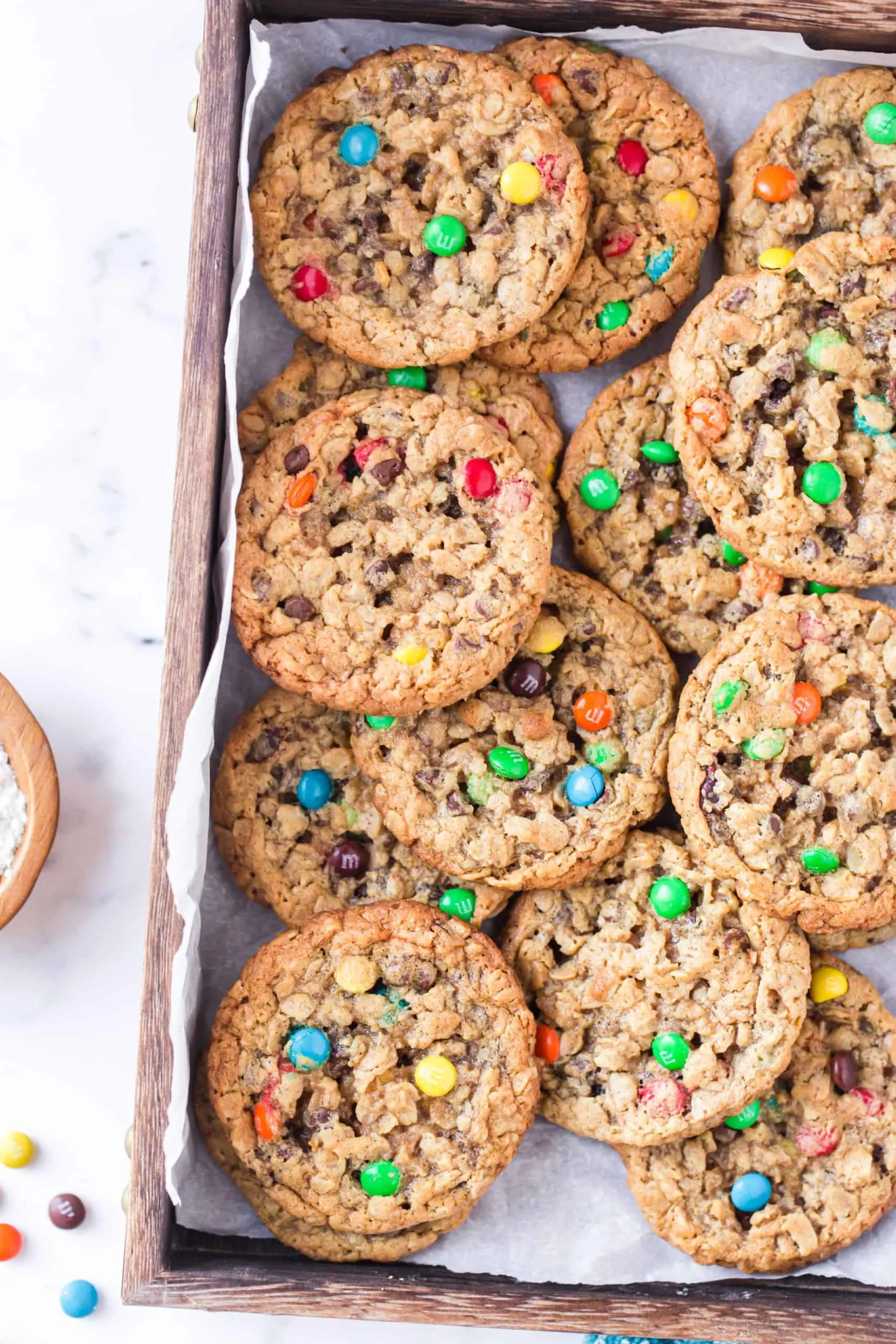 The Monster Cookies contain a mix of several great ingredients, including peanut butter, oats, and chocolate chips. Each bite has a sweet, crisp taste that most people seem to enjoy. I am not exactly sure who originally came up with the recipe for these cookies, but I will say that this recipe is pure genius. You can make delicious cookies that everyone will enjoy without even using flour.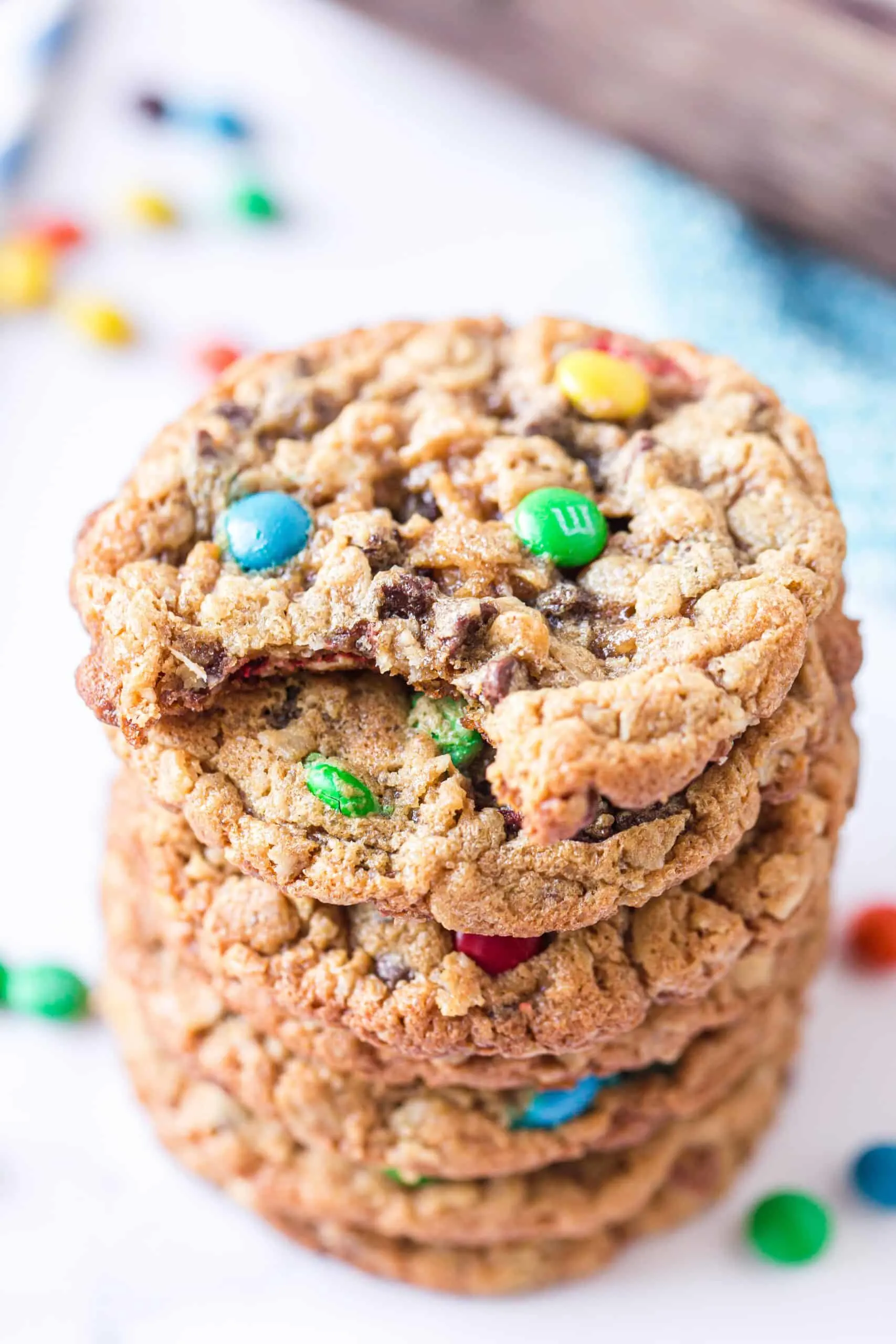 How to Store Your Monster Cookies
You do not need to put your Monster Cookies in the fridge to keep them fresh. I would recommend putting them in an airtight container or zipper-sealed baggie and leaving them out on a kitchen table.
Try to keep the cookies away from sunlight because you do not want them to become overheated.

If they start to get too hot, the chocolate may begin melting inside them, causing a big mess for you to have to clean up.

If you have a shaded area in the kitchen, place them in that spot to preserve them.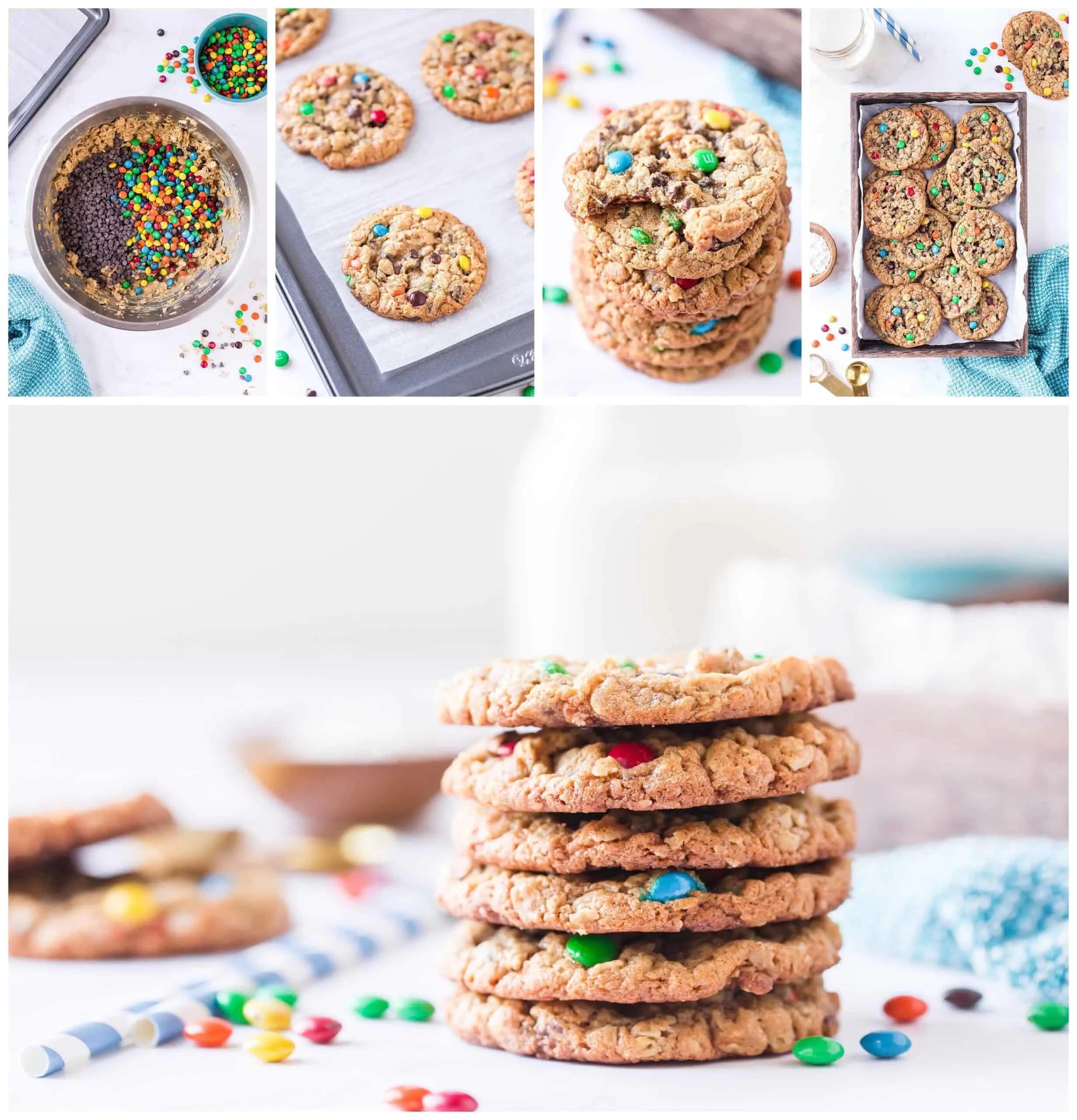 When leaving the cookies in a container or bag, they should stay fresh and soft for up to a week. If you need them to last longer than that, you should pop them in the freezer and then thaw them out for a few hours before eating them. The Monster Cookies are good to keep in the freezer for at least six months. If you do put them in the freezer, do not bite into them until they thaw out for a few hours because they will be too hard at first.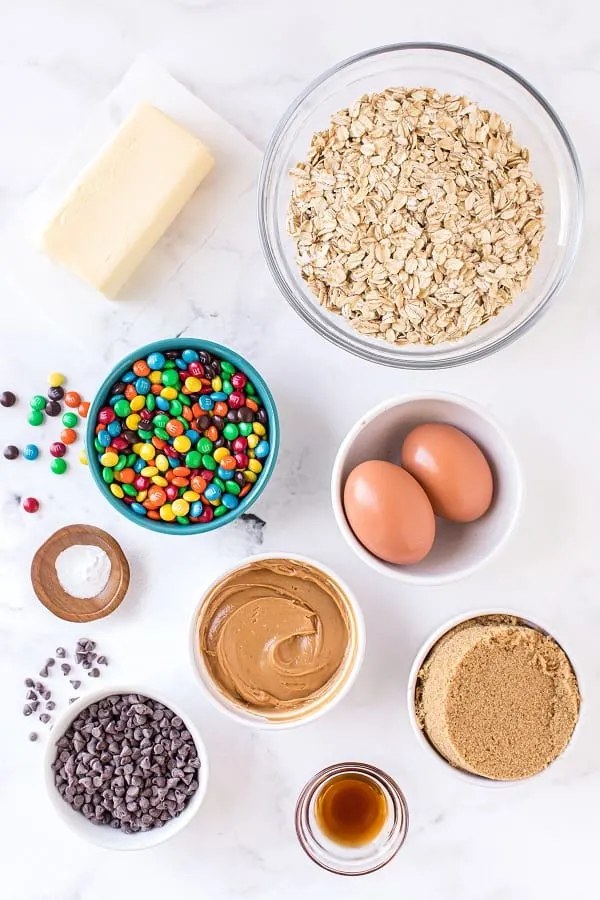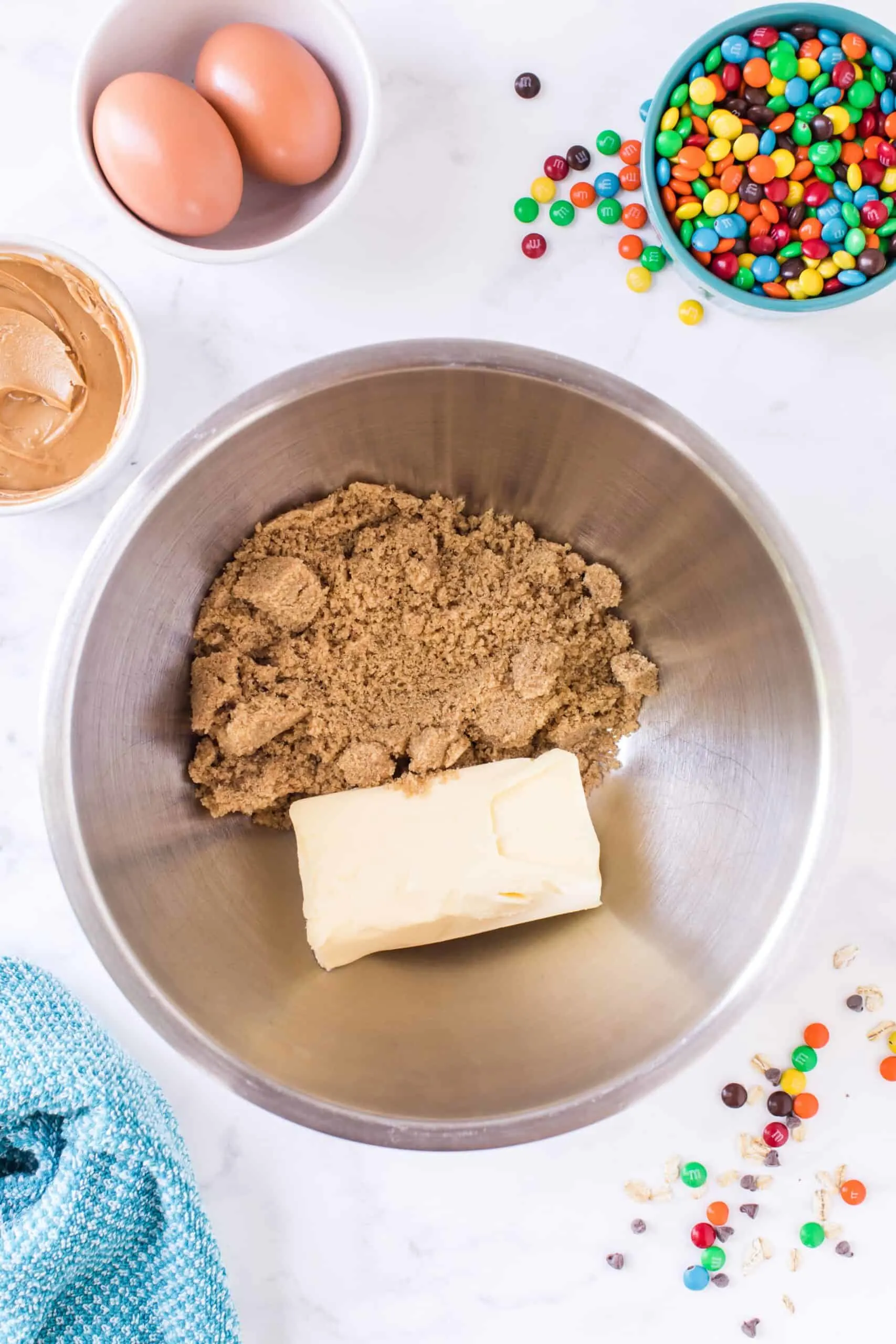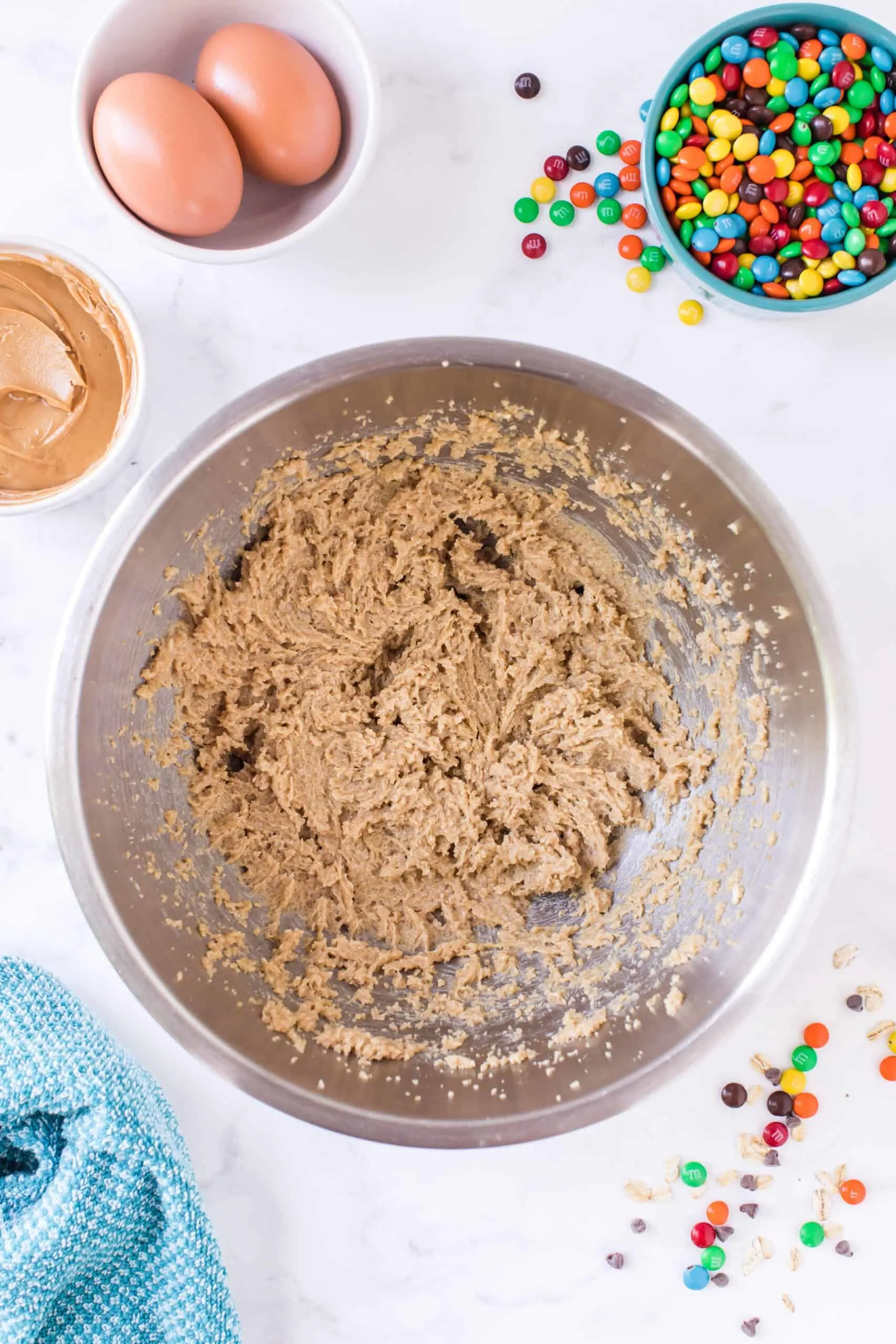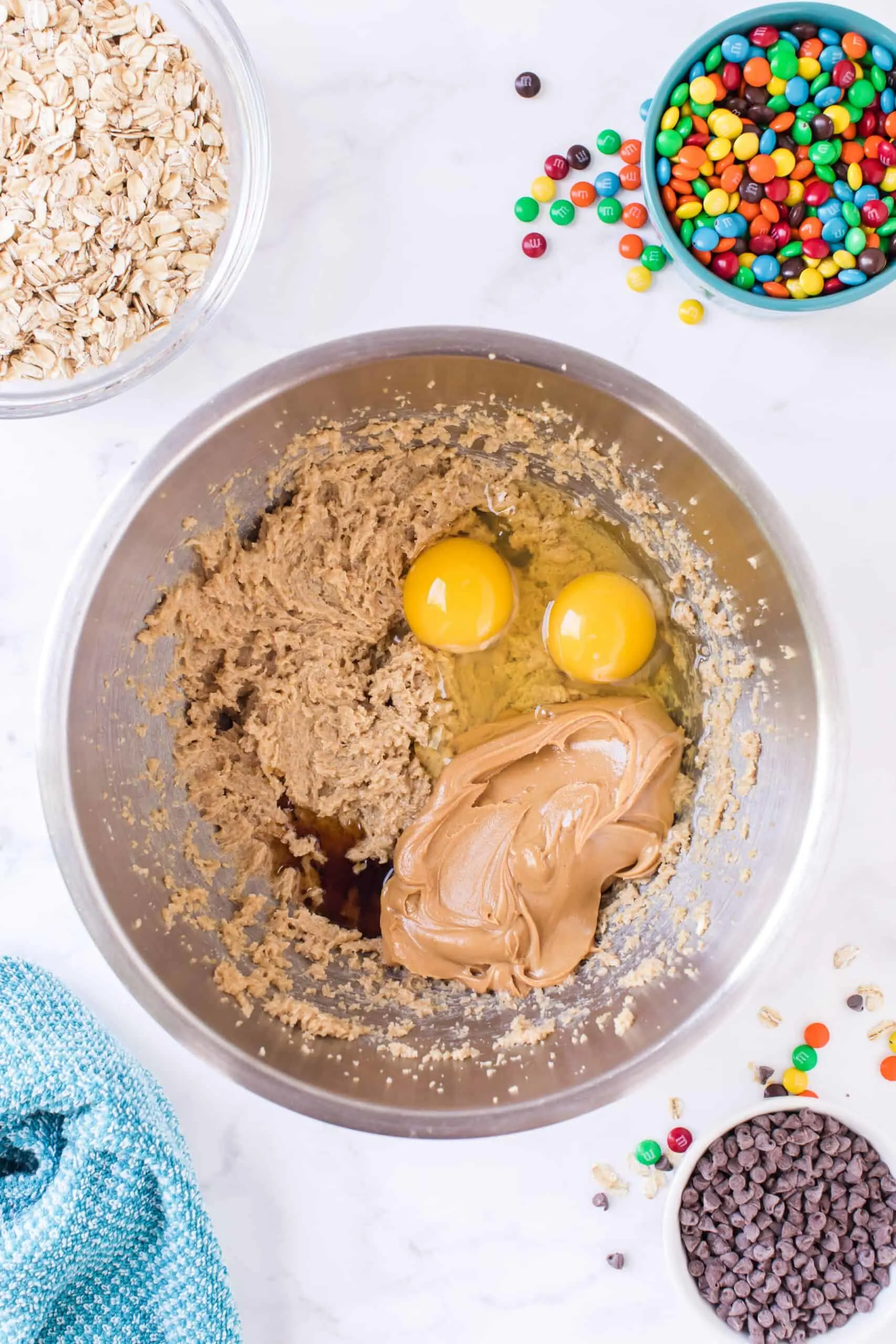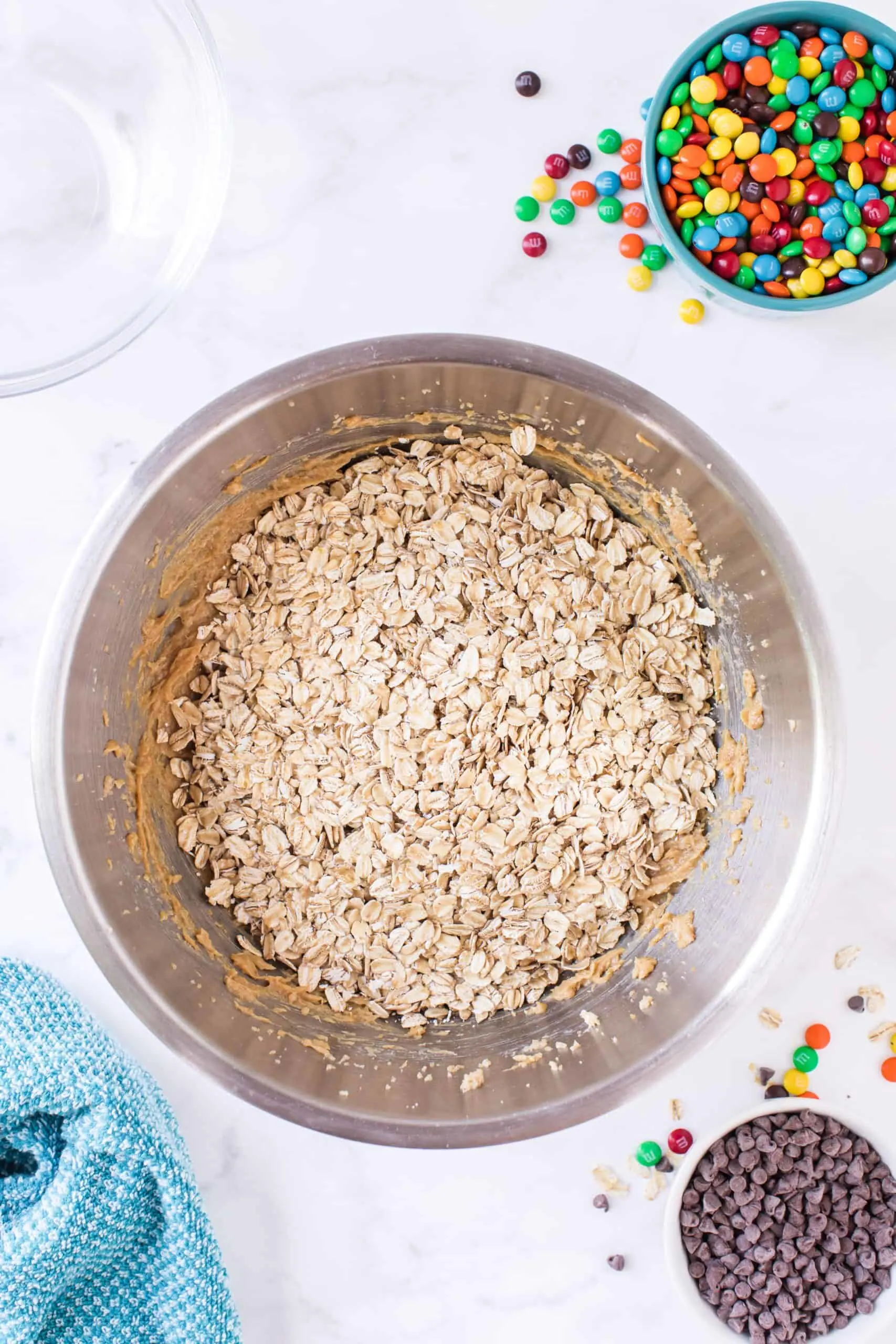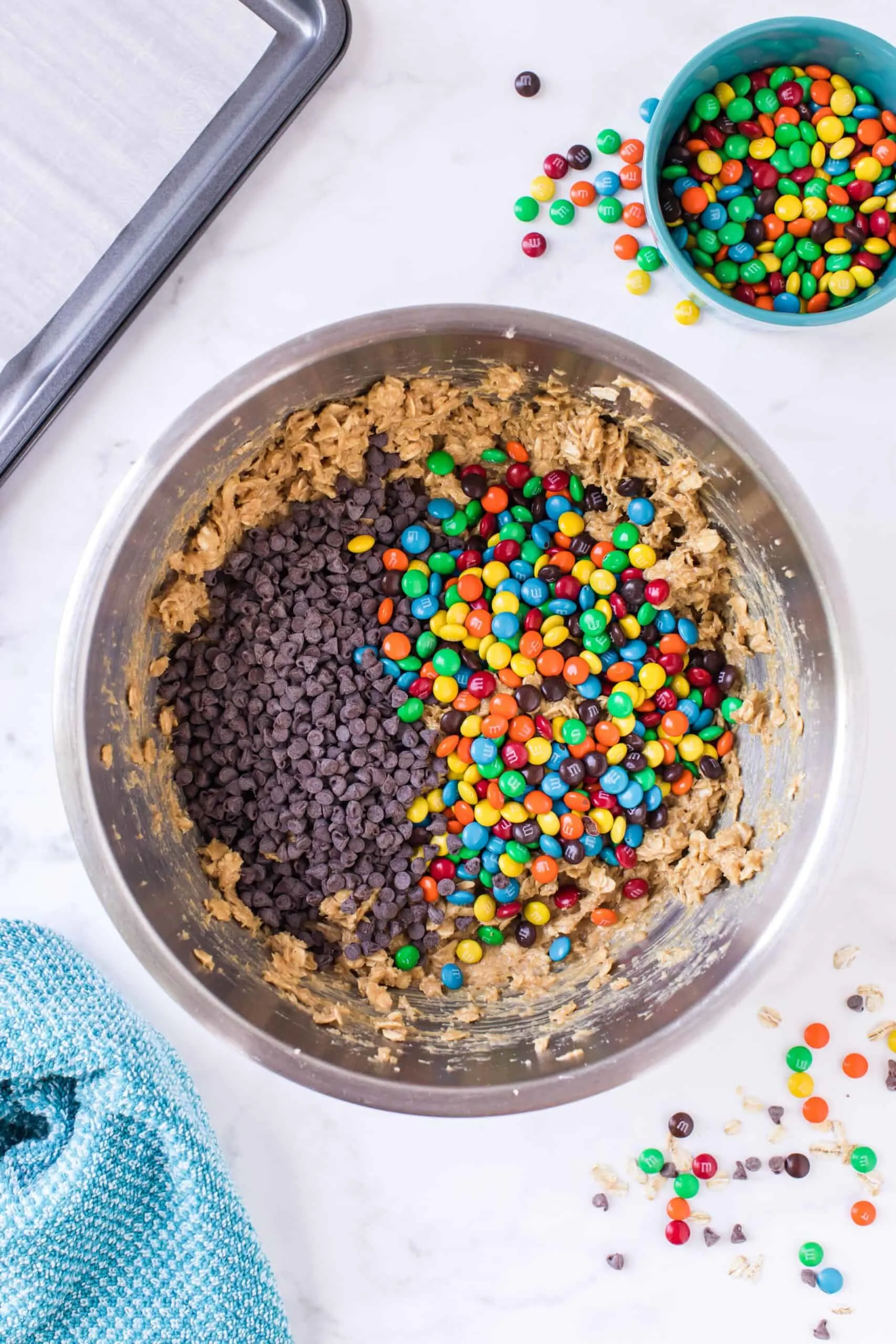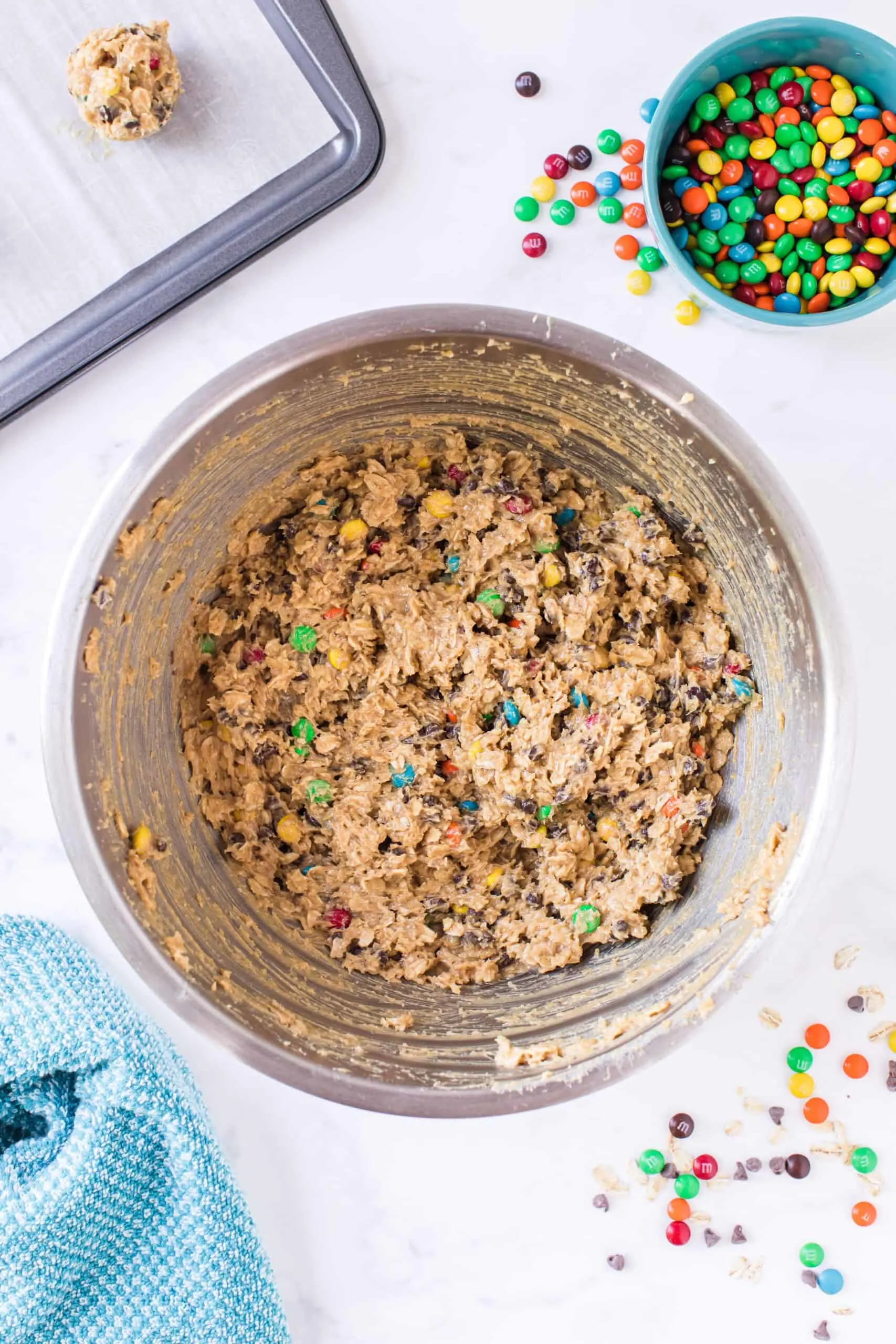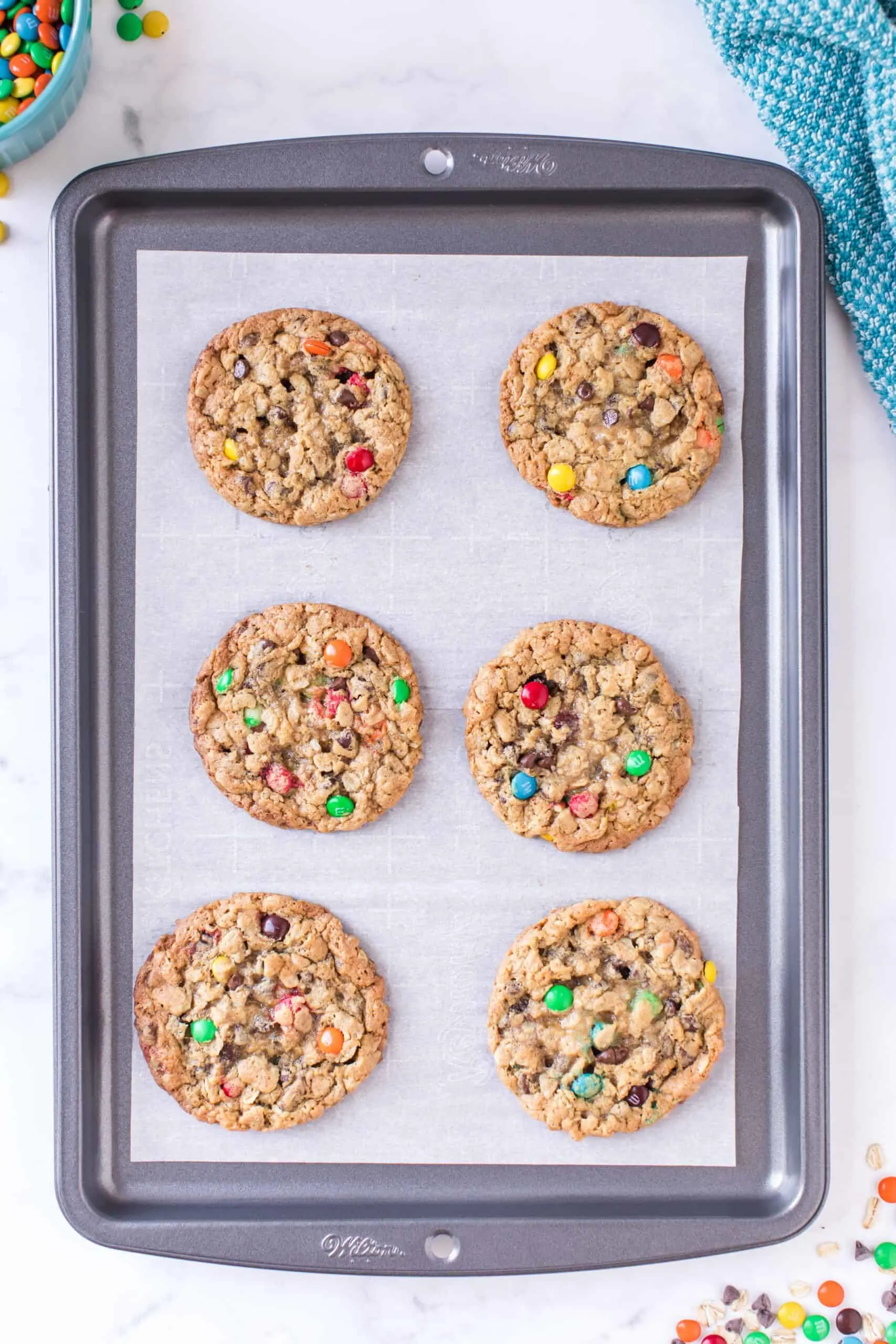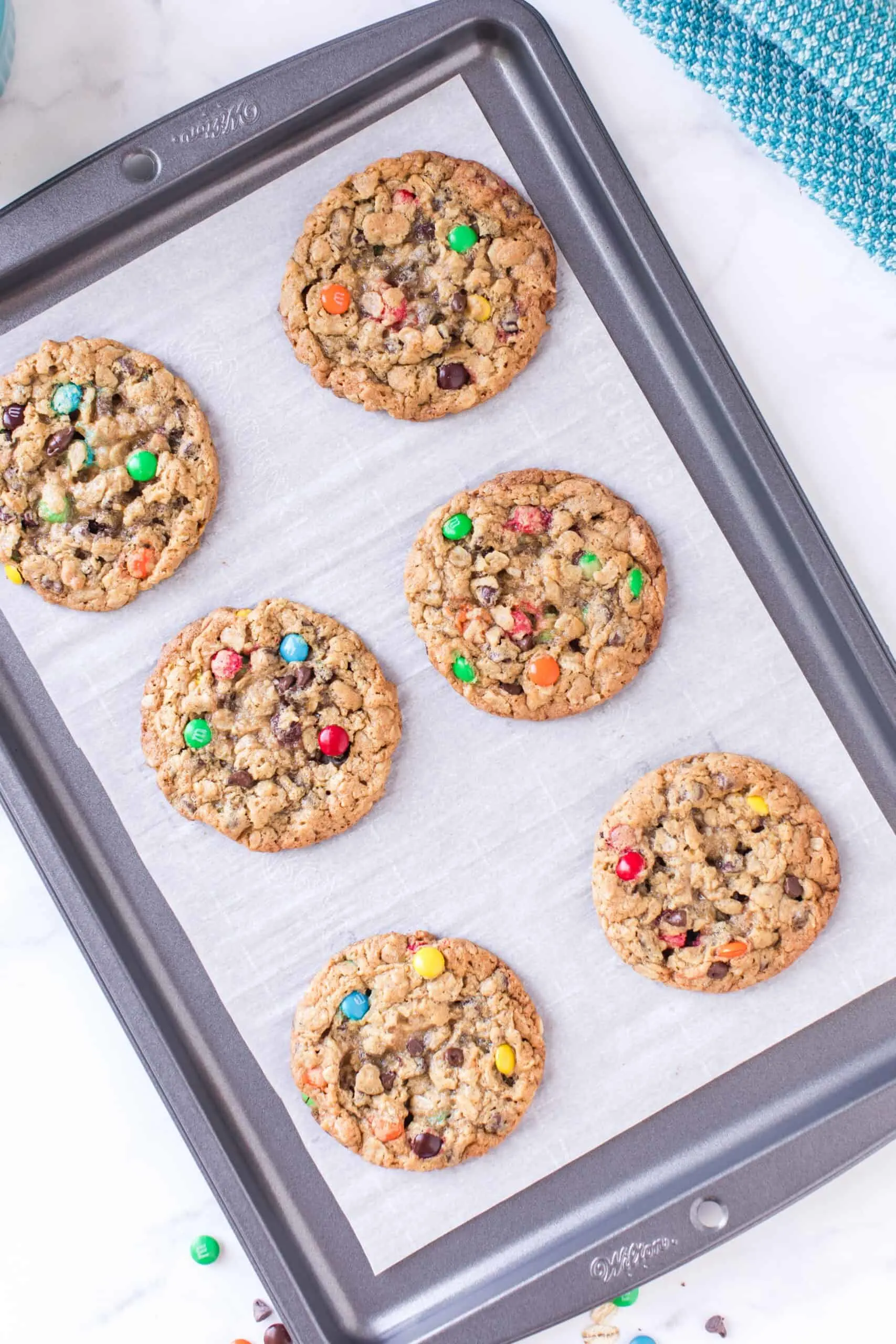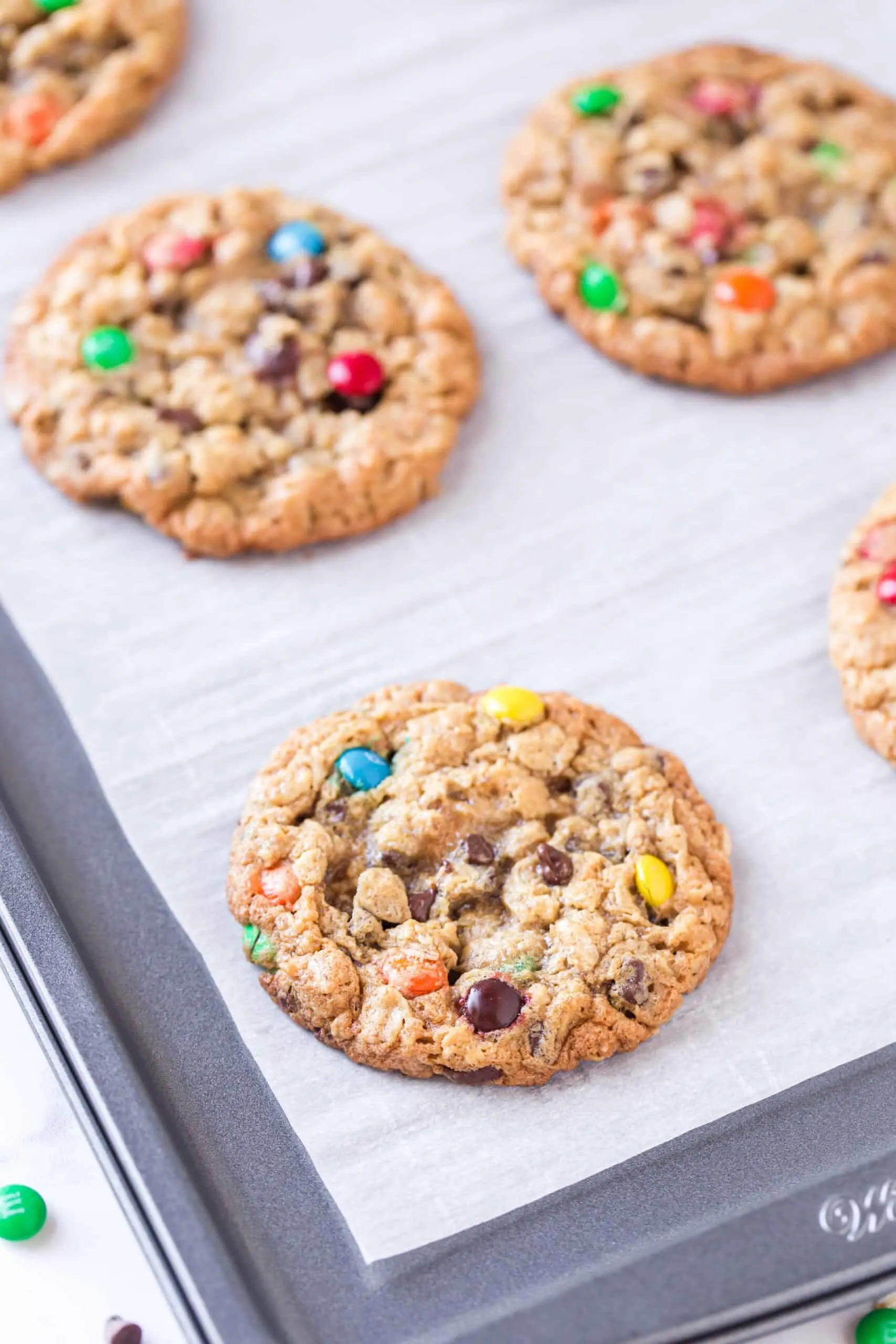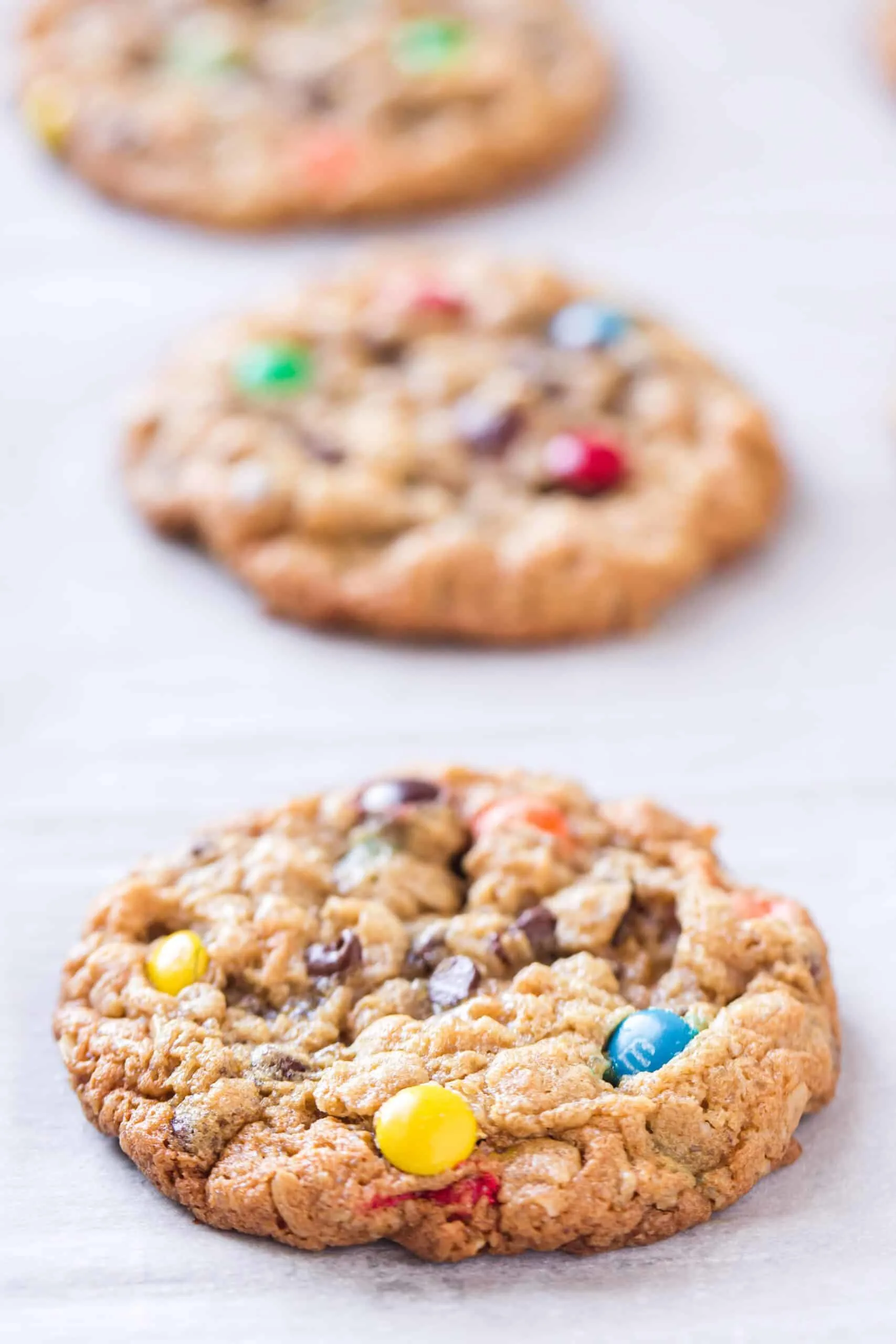 How to make monster cookies from scratch?
You will need the following ingredients:

Butter flavored shortening: butter flavored shortening can be purchased in a tub or in the form of a bar (similar to butter). Either form will work for this recipe.

Eggs

Peanut butter: I used creamy peanut butter, but you are free to use crunchy peanut butter if you would like a nutty crunch.
Oats: I used old fashioned oats, but you can also use instant or quick-cooking oats
Chocolate chips: I chose to use mini chocolate chips because I felt that they worked well with the mini M&Ms, but you are free to use any type of chocolate chip that you prefer.
Mini M&Ms: just like the chocolate chips, you can use regular-sized M&Ms if you would like.

You will need the following supplies:
More Cookie Recipes
Nettie is a wife and mother who is passionate about cooking and baking. With 5 children, Nettie insists that all meals, snacks, and desserts come together quickly! You will find a wide variety of easy yet scrumptious recipes on her very popular website Moore or Less Cooking
Be sure to follow me on Instagram and tag #mooreorlesscooking so I can see all the wonderful recipes that YOU make from this site!
Did You Make This Recipe?
I would love for you to leave a rating and a comment below! How'd you do?!
Please remember to SHARE on Facebook and PIN IT!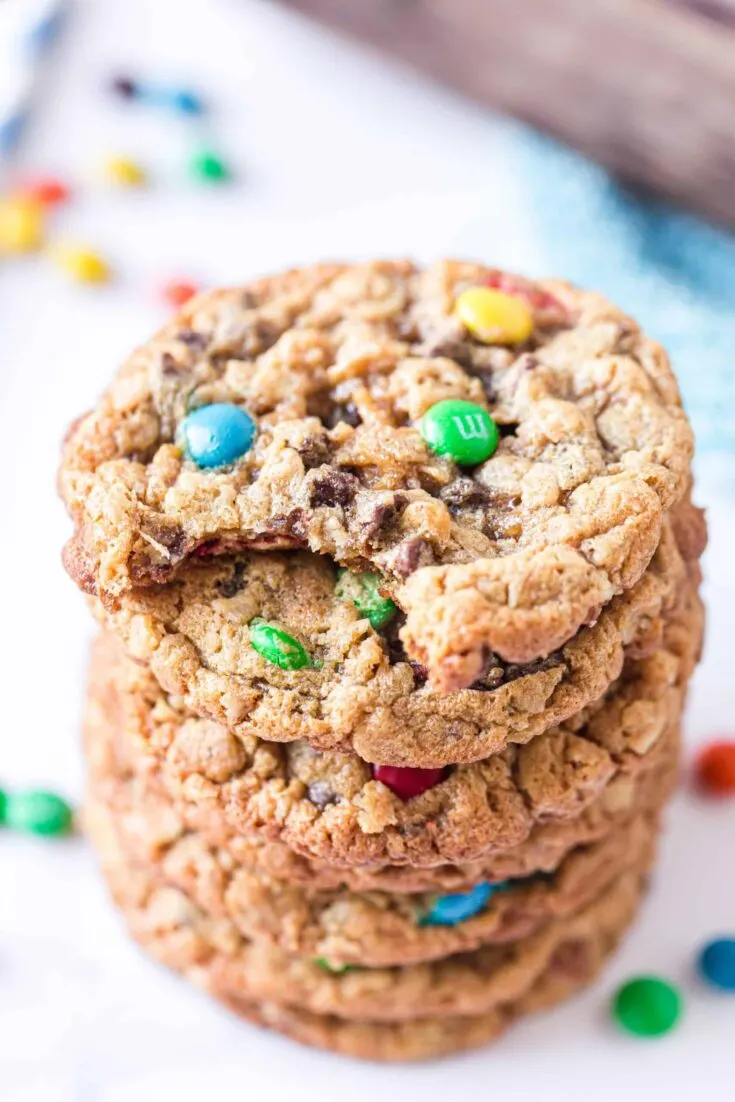 Yield:

3 dozen cookies
Monster Cookies
Total Time:
1 hour
10 minutes
Monster Cookies are the perfect treat to bake for any holiday or any other special occasion. These cookies are full of flavor and have that colorful appeal that children love because of the mini M&M's added to them.
Ingredients
¾ cup butter flavored shortening
1 cup light brown sugar, firmly packed
2 large eggs
1 cup creamy peanut butter
2 cups Old Fashioned oats
2 teaspoons baking soda
½ cup semi-sweet chocolate chips
½ cup mini M&M's
Instructions
Preheat oven to 350 degrees F and line two baking sheets with parchment paper.
Beat together butter flavored shortening and light brown sugar until light and fluffy, about 1-2 minutes.
Mix in eggs and peanut butter until combined.
Stir in oats and baking soda until fully incorporated
Fold the chocolate chips and M&M's into the cookie dough until evenly distributed.
Roll the cookie dough into 2-inch balls (I used a 2" cookie scoop for this step). Place on to the prepared baking sheets about 1 ½ inch apart.
Bake for 8-10 minutes or until the cookies are golden brown around the edges. The middle of the cookies will not look completely done. They will continue baking on the baking sheet when taken out of the oven.
Let the cookies cool on the baking sheet for 5 minutes before transferring to wire racks to cool completely.
Notes
Monster cookies can be stored at room temperature for up to one week. Make sure to store your monster cookies in an airtight container or baggie.
Your monster cookies can also be frozen for up to six months. Thaw cookies at room temperature before enjoying.
Recommended Products
As an Amazon Associate and member of other affiliate programs, I earn from qualifying purchases.
Nutrition Information
Yield
36 cookies
Serving Size
1
Amount Per Serving
Calories

145
Total Fat

10g
Saturated Fat

4g
Trans Fat

0g
Unsaturated Fat

4g
Cholesterol

21mg
Sodium

142mg
Carbohydrates

13g
Fiber

1g
Sugar

9g
Protein

3g