It's Day 5 of #choctoberfest!
Start your morning off right with this delicious smoothie!
This protein packed smoothie has the perfect amount of sweetness ( not that sweet at all ) I try to stay away from sweets in the morning. The banana sweetens it naturally. After a post workout, my body is so hungry, so this Hemp Protein Smoothie is perfect!! No sugar! A little bit of coffee and a big hug from Just Hemp Foods!
This pure plant based powder is gluten, soy and lactose free, but rich in 9 vitamins and minerals.
Hulled Hemp Seed. Use them as garnishes for smoothies, salads and fruits. Eat them straight out of the bag! Perfect for sauces, dips, marinades, yogurts, power drinks and delicious smoothies. Blend seeds into baking of breads, cookies or muffins.
I am rewarding myself after a post work out of Pilates class with a delicious and nutritious Good Morning Mocha Smoothie!
Coffee and chocolate for breakfast?? Oh YES! I love my smoothie with a bit of ice, but you make it the way you like it! Prefer a Hot Mocha Drink? Gently heat in the microwave, do not boil, this will lose the nutritional value of the hemp.
Why is Hemp Great for you?
The protein and fiber in hemp combine to slow digestion, which prevents spikes in blood sugar and therefore sustains your body's energy. A diet rich in hemp promotes digestive regularity.
When sprinkled on your cereal or fruit at breakfast, hemp protein and fiber also help aid in satiety, which will prevent you from snacking and keep you fuller longer.
The Omega-3 fatty acids in hemp reduces the risk of cardiovascular disease, lower blood pressure, and may even ward off Alzheimer's disease. Hemp seeds are one of the few Omega-3 sources found in plants.
The Omega-6 fatty acids in hemp stimulate skin and hair growth, maintain bone health, regulate metabolism, and help the brain function.
Hemp seeds contain essential amino acids, which improves muscle control, mental function, and normal body maintenance of cells, muscle, tissues, and organs.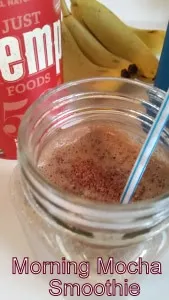 Yield:

2 servings
Morning Mocha Smoothie!
A delicious Protein Packed Smoothie that is healthy for you! Containing banana, peanut butter, hemp powder, hemp seed, chocolate and coffee!
Ingredients
1 Tablespoon Just Hemp Protein Powder
1 Tablespoon Cocoa Powder
2 Cups Almond Breeze Unsweetened Almond Milk
1 Banana
4 ice cubes
4 ounces Coffee
Sprinkle Just Hemp Hulled Hemp Seed Protein Toppers and Ghiradelli 100 % Cacao Unsweetened Chocolate Flakes
Instructions
Blend all ingredients in a blender thoroughly. Pour into 2 glasses, sprinkle Just Hemp Protein Toppers and Chocolate Flakes! Serve immediately!
This post is sponsored by Just Hemp. All opinions are my own as always. #justhemp #choctoberfest