It is fall and I want Soup!
There is just something about it, when the weather turns cooler, a big bowl of comforting soup sitting by the fireplace is the best way to be!
I have been harvesting vegetables from my garden and my peppers were ready to be picked, they didn't get too big, but they were sweet and delicious. Lots of cherry tomatoes and Roma tomatoes makes this soup perfect! I always have extra cooked rice in the refrigerator and used the Brown rice that we had. Use any kind of rice you like. I also had 2 large containers of chicken broth in the freezer, so this soup was a cinch to put together.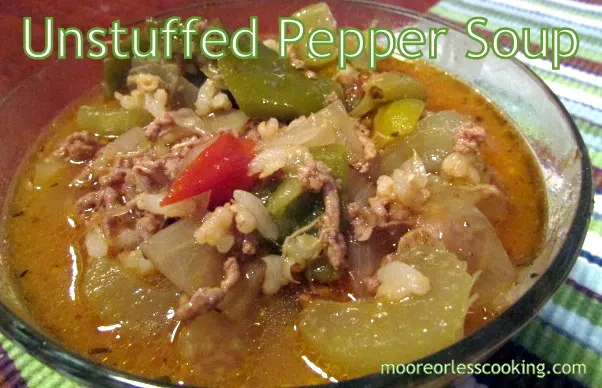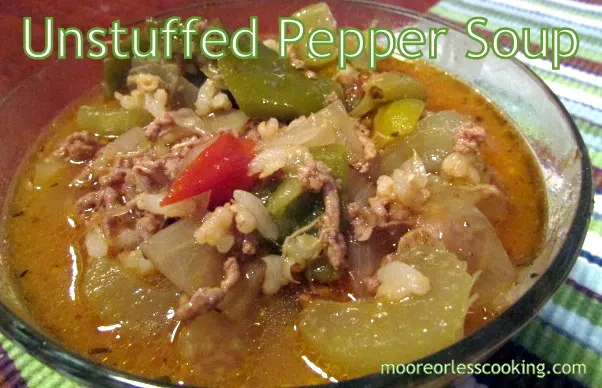 Yield:

3 quarts
UNSTUFFED PEPPER SOUP
Ingredients
1 Tbsp Olive Oil
6 small peppers or 3 large peppers, sliced
1 onion, chopped
1 pound ground beef
2 containers chicken stock
2 stalks celery, chopped
1 cup cooked rice
3 tomatoes, chopped
1 Tablespoon Bavarian Seasoning
Salt and pepper to taste
Instructions
Saute onion, celery, pepper in a Soup Pot with a Tbsp Olive Oil for 2-3 minutes, over medium heat.
Add ground beef, brown, drain fat.
Add broth, tomatoes and rice, cook until tomatoes are soft, over medium heat.
Add Bavarian Seasoning.
Simmer for 20-30 minutes.
Add salt and Pepper to taste.
LINKED UP