I am excited that the holidays are almost here! Every Christmas I make my Best Cherry Cheesecake. It's a wonderful tradition and the holidays wouldn't be the same without this luscious dessert. That's why I created this roundup of 19 incredible cheesecakes for the holidays. With fun seasonal flavors like peppermint and eggnog, to favorites like Nutella and chocolate, these are some of the best looking cheesecakes that I have ever seen. I know that you will find a few new favorites to share with your loved ones, and maybe they will become a holiday tradition for you and your family. Merry Christmas from Moore or Less Cooking. Scroll down to see all of the incredible cheesecakes!

Best Cherry Cheesecake
A luscious and creamy cheesecake that is quite simple to make. Get Recipe Here Moore or Less Cooking
Strawberry Cheesecake Puffs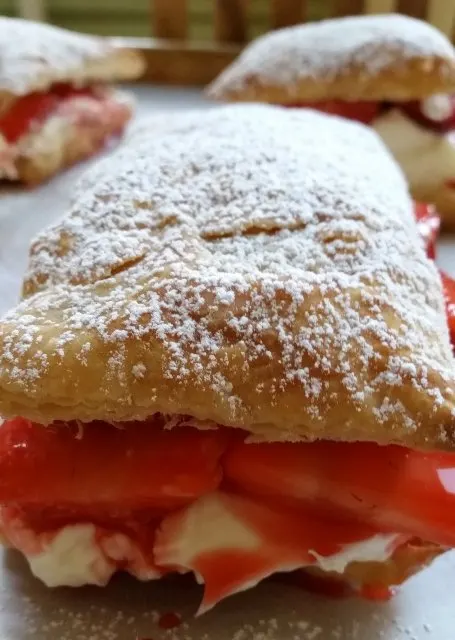 Delicate puff pastry filled with ripe and juicy strawberries, a rich no-bake cheesecake filling and a flavorful strawberry sauce. Get Recipe Here Moore or Less Cooking
Blackberry Cheesecake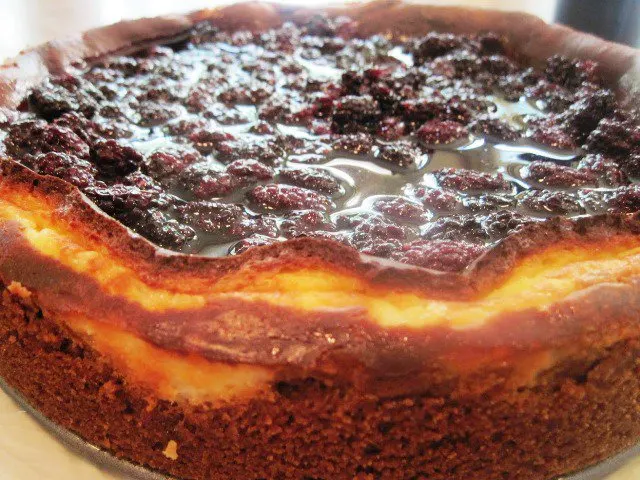 Creamy, dreamy blackberry cheesecake with a nutty cookie crust! Get Recipe Here Moore or Less Cooking
Bud's Best Cookies 'N Cream Cheesecake Bars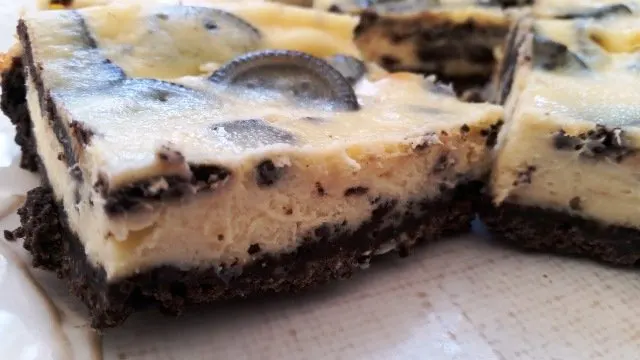 My kids' favorite ice cream is Cookies 'N Cream, so I created cheesecake bars with these wonderful flavors. Get Recipe Here Moore or Less Cooking
Nutella Cheesecake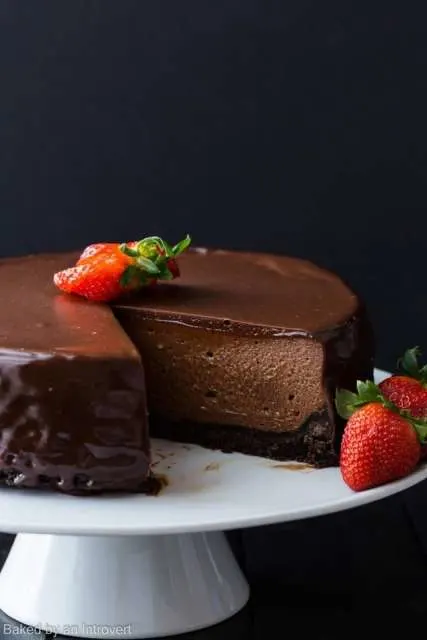 This Nutella Cheesecake tastes like it came from a gourmet bakery. It's decadent, creamy and full of Nutella flavor. Get Recipe Here Baked by an Introvert
No-Bake Peppermint Cheesecake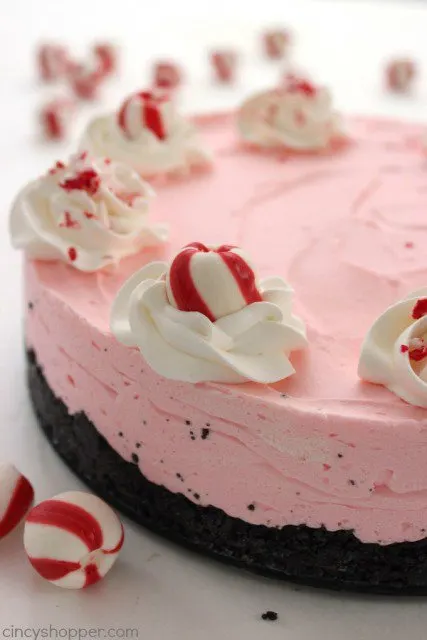 If you are looking for the perfect Christmas dessert, this No-Bake Peppermint Cheesecake will be it. Get Recipe Here Cincy Shopper
Crème Brûlée Cheesecake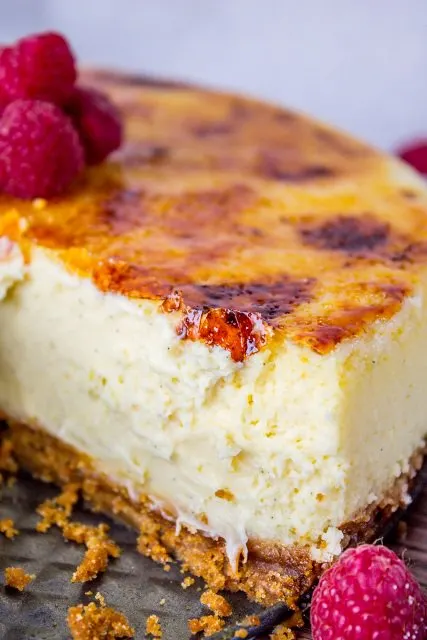 A thick, custard-y, vanilla-y cheesecake with a gingersnap crust and a crunchy, not-quite-burnt caramel shell on top. Get Recipe Here The Food Charlatan
Pineapple Upside-Down Cheesecake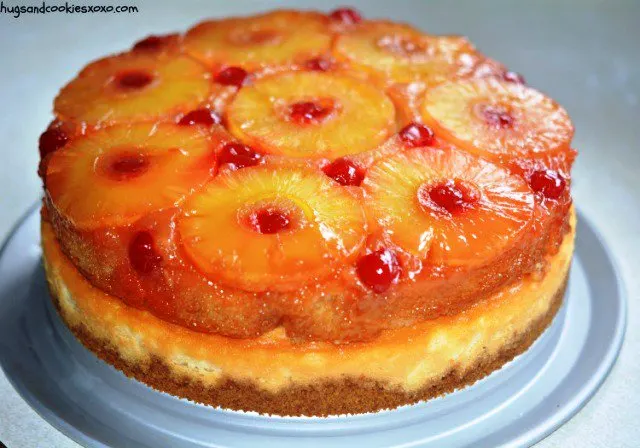 If you love cheesecake and pineapple upside-down cake, this is a no-brainer! Get Recipe Here Hugs and Cookies xoxo
Biscoff Cookie Butter Cheesecake with Biscoff Ganache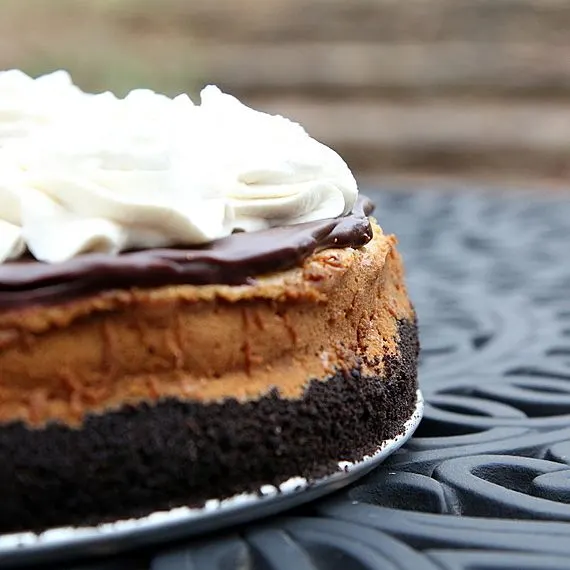 A simple Oreo crust holds creamy, smooth, luscious Biscoff cheesecake topped with a Biscoff ganache and brown sugar whipped cream. Get Recipe Here Jenni Field's Pastry Chef Online
Chocolate Swirl Cheesecake with Caramel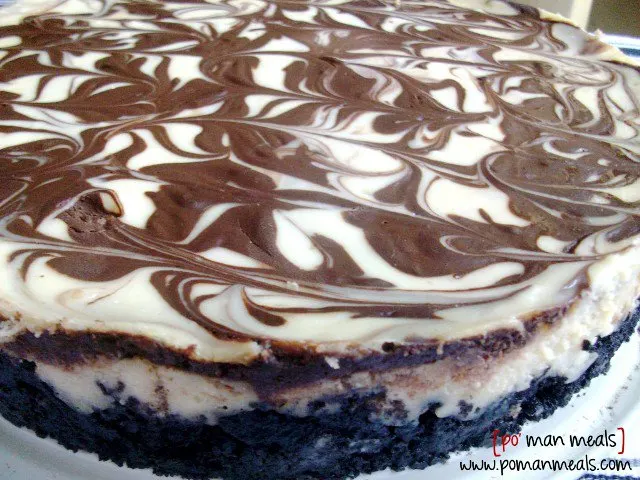 Vanilla and chocolate with a buttery caramel sauce on top. Get Recipe Here Po Man Meals
Cinnamon Roll Cheesecake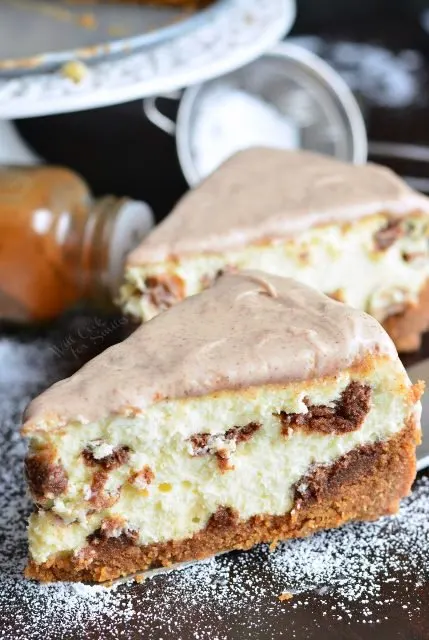 This Cinnamon Roll Cheesecake has a cinnamon flavored crust, smooth cheesecake filling, cinnamon filling throughout and cinnamon icing on top. Get Recipe Here Will Cook for Smiles
Pecan Pie Cheesecake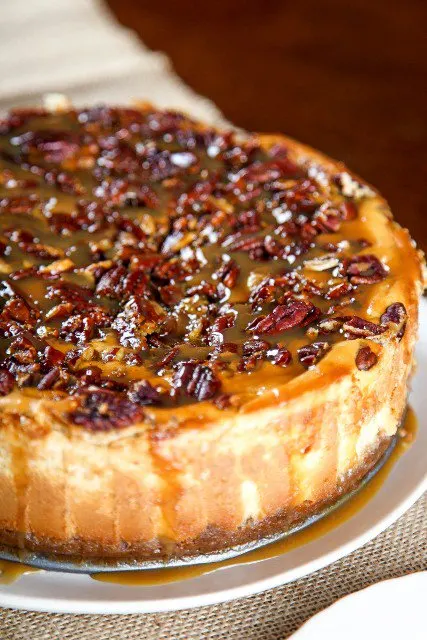 Creamy brown sugar cheesecake topped with a decadent pecan pie filling. Get Recipe Here Baking Beauty
Cherry Cheesecake Brownies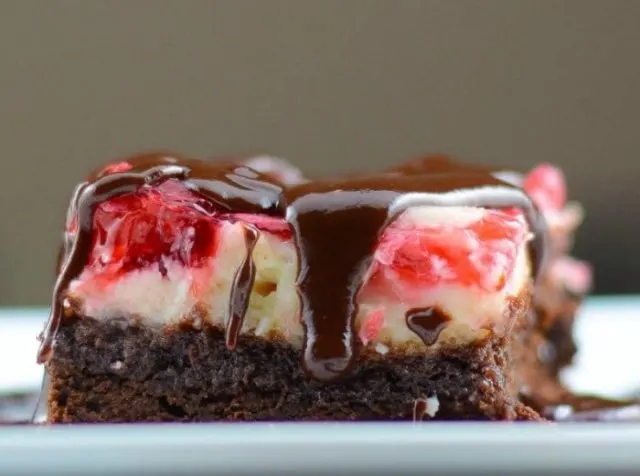 These cherry cheesecake brownies are perfect if you want to impress that special someone. Get Recipe Here Flavor Mosaic
No-Bake Eggnog Cheesecake
If you need a holiday dessert that is easy and delicious, whip up this No-Bake Eggnog Cheesecake. Get Recipe Here Cincy Shopper
Vanilla Bean Cheesecake with Apples and Caramel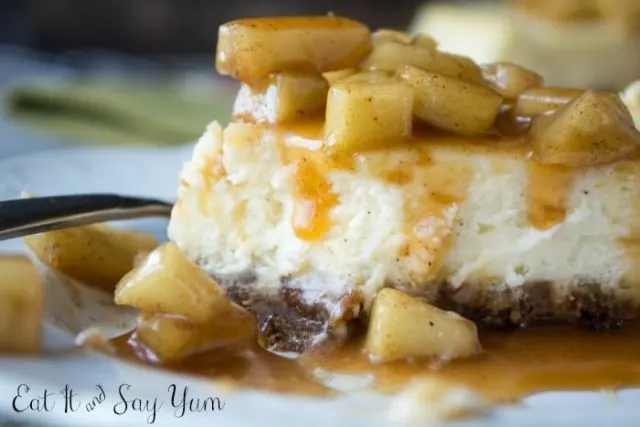 Caramel and apples are a winning combination! Get Recipe Here Eat It & Say Yum
Peppermint Cheesecake with Oreo Cake Crust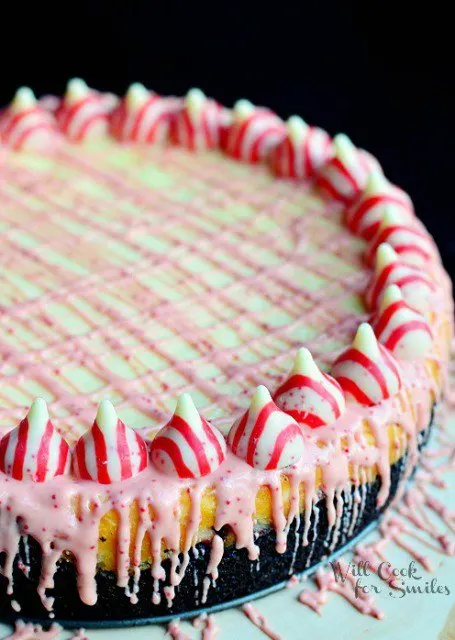 This Peppermint Cheesecake is made with a candy cane Oreo cake crust, topped with Hershey's Candy Cane Mint Kisses and drizzled with more melted Kisses. Get Recipe Here Will Cook for Smiles
Peppermint Mocha Mini Cheesecakes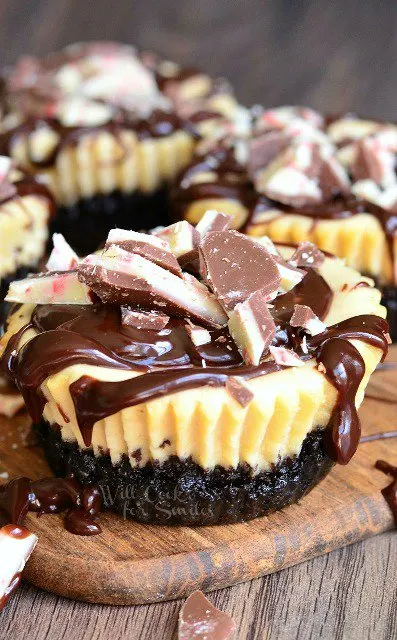 Mini cheesecakes made with peppermint Oreo crust, smooth peppermint mocha cheesecake and topped with peppermint chocolate drizzle and bark. Get Recipe Here Will Cook for Smiles
Chocolate Mint Anniversary Cheesecake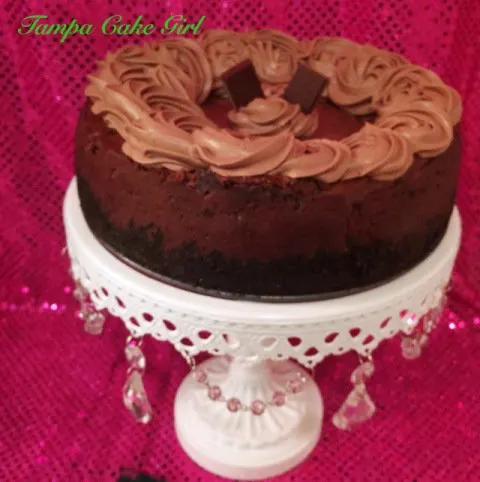 A mint chocolate dream! Get Recipe Here Tampa Cake Girl
Amaretto Pumpkin Cheesecake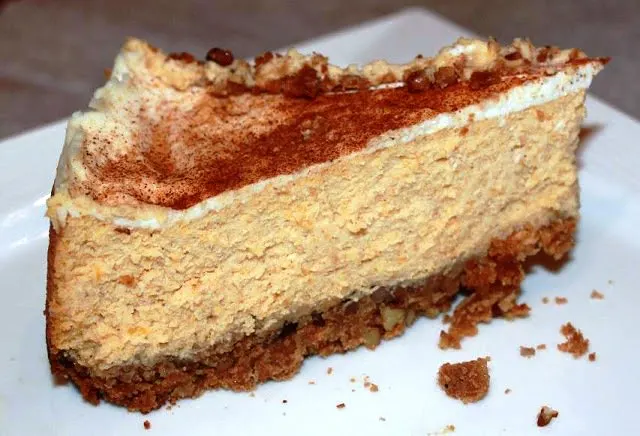 Use oven-roasted, fresh pumpkin or a good-quality canned pumpkin for a smooth and delicious cheesecake. Get Recipe Here What's Cookin' Italian Style Cuisine
Please remember to SHARE on FACEBOOK
and PIN IT!
Nettie is a wife and mother who is passionate about cooking and baking… especially when easy meals are involved! With 5 children, Nettie insists that all meals, snacks, and desserts come together quickly! You will find a wide variety of easy yet scrumptious recipes on her very popular website Moore or Less Cooking
FACEBOOK | TWITTER | GOOGLE+ | PINTEREST | BLOGLOVIN |INSTAGRAM|