You'll love these Cheesecake Stuffed Strawberry Cookies that use a boxed cake mix to create these incredibly easy berry-flavored sweet treats. Studded with white chocolate chips, each cookie holds a cream cheese filling that's a decadent surprise when you take that first bite!
If you love strawberry cheesecake, these cookies are the next best thing! Take a shortcut by using a strawberry-flavored boxed cake mix which makes it easy to whip up the cookie dough in record time.
The addition of white chocolate chips lends a delicious flavor to the cookies while a sweetened cream cheese mixture is hidden in the middle for a soft and tangy center surprise.
Oh, and if you have kids, they can help "stuff" the center of the cookies with the cream cheese mixture and help roll the pink cookie dough around it before baking them in the oven.
These cheesecake-stuffed cookies are perfect for birthday parties, baby showers, picnics, or potlucks, or any time you need a strawberry-themed cookie that's all decked out and pretty in pink!
Ingredients Needed
For The Cookie Dough
Strawberry Cake Mix – Use your favorite brand. You'll need just the boxed mix, plus the ingredient listed below for the cookie dough.
Oil – I use vegetable oil.
Eggs -The eggs help bind the ingredients together.
Vanilla Extract – Needed to enhance the flavor.
White Chocolate Chips – Use your favorite brand.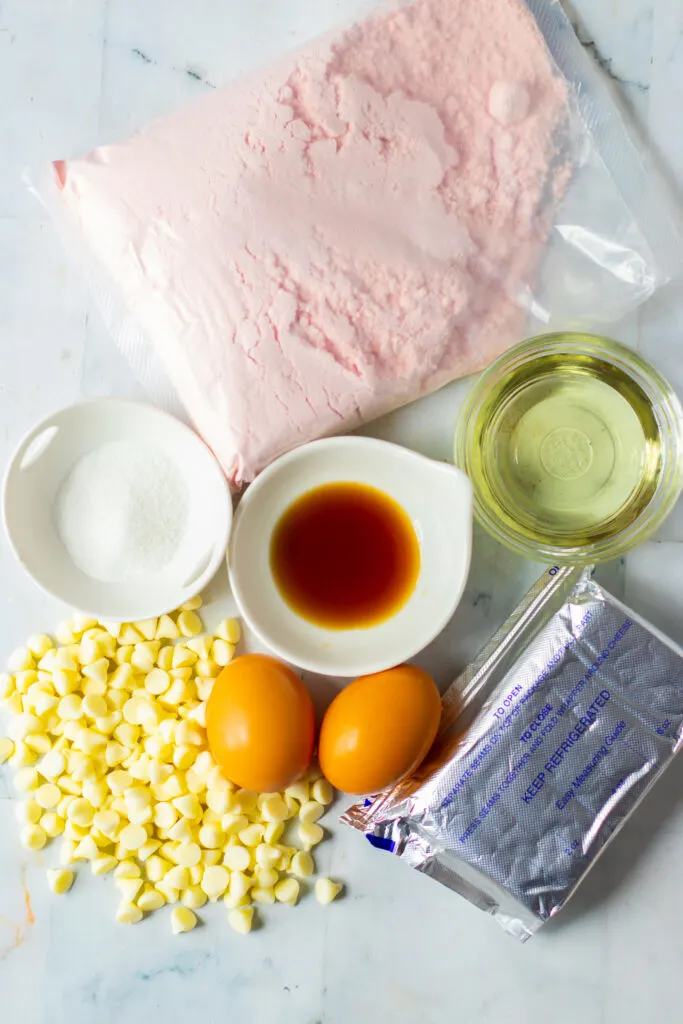 For The Cream Cheese Filling
Cream Cheese – You'll need one block, softened at room temperature.
Vanilla Extract – Needed to enhance the flavor.
Sugar – You can use either granulated white or confectioner's sugar.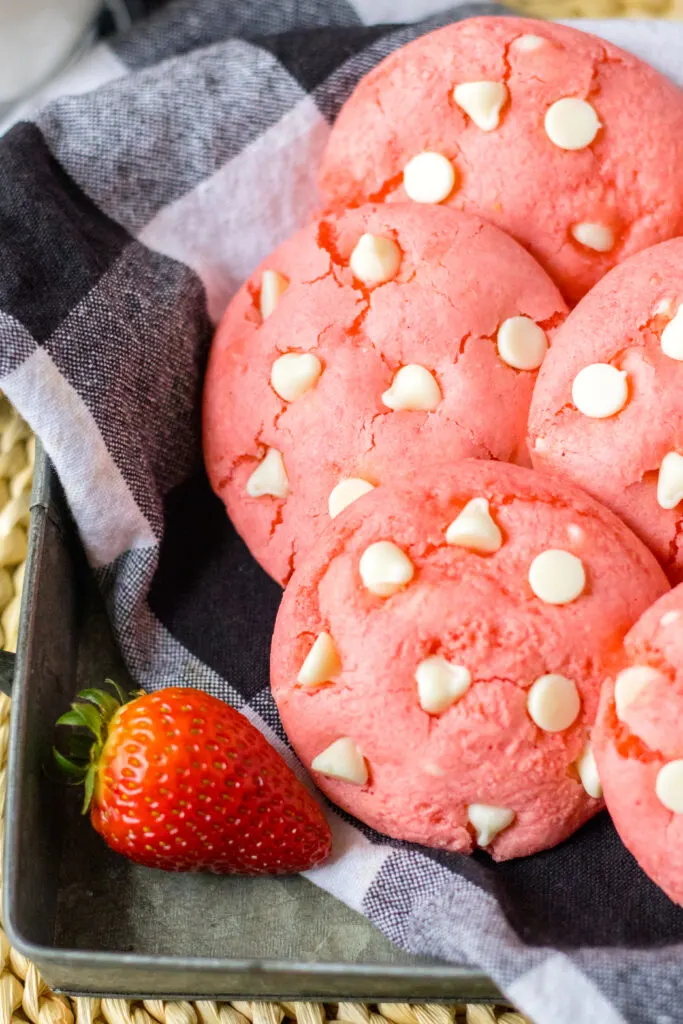 How To Make Cheesecake Stuffed Strawberry Cookies
STEP 1: Make the cookie dough by mixing together the cake mix, oil, vanilla, and eggs using a hand mixer. Add in the white chocolate chips and mix until combined.
STEP 2: Chill the dough by covering it with plastic wrap and placing it in the refrigerator for at least 20 minutes.
STEP 3: Make the cream cheese filling by mixing the cream cheese, sugar, and vanilla with a hand mixer until smooth.
STEP 4: Line a baking tray with parchment paper before scooping the cream cheese into 12 balls and setting them on the lined tray. Chill the cream cheese balls by placing the tray in the refrigerator for at least 40 minutes.
STEP 5: Line a separate cookie sheet with parchment paper or a Silpat mat.
STEP 6: Remove the cookie dough from the refrigerator and scoop 12 cookies from the dough mixture, and roll each into a ball drop on the cookie sheet. Place in the refrigerator for at least 40 minutes.
STEP 7: When ready to bake, preheat the oven to 350° F while you assemble the cookies.
STEP 8: Remove both the cookie and cream cheese ball trays from the refrigerator. Flatten each cookie with the palm of your hand and place a cream cheese ball in the center of each. Roll each cookie into a ball to surround and cover the cream cheese center and replace it on the cookie sheet.
STEP 9: Bake in the preheated oven for 10-12 minutes. Let cool on a cooling rack before serving.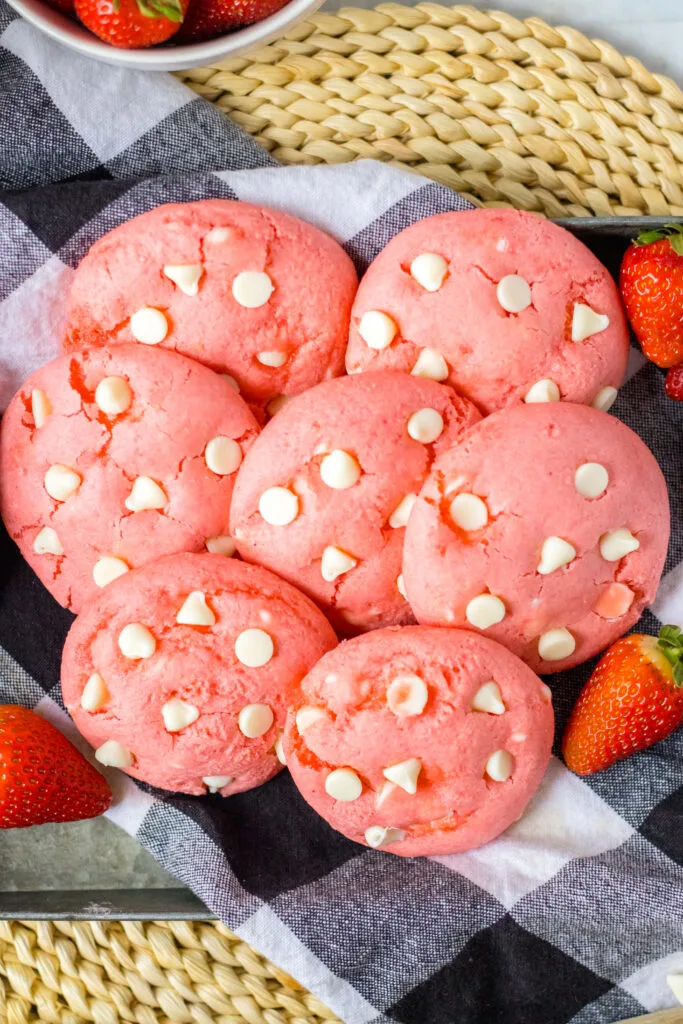 Pro Tips
Make sure the cheesecake ball inside of each cookie is completely covered before baking. You don't want any leaks!
Save out some of the white chocolate chips and lightly press them into the top of the assembled cookies before baking. Makes for a pretty cookie!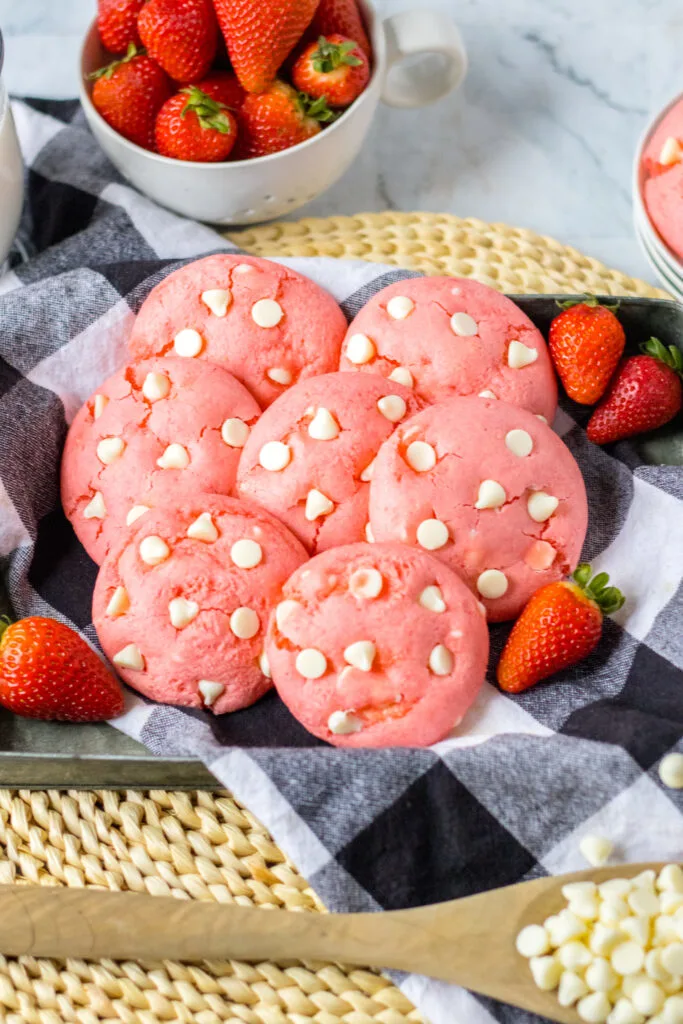 Flavor Variations
Since this recipe uses a boxed cake mix, you can easily switch out the cake flavor and follow the rest of the recipe as written. Here are some cake mix flavors for these stuffed cookies that would work deliciously with the cream cheese centers:
Lemon Cake Mix
Pumpkin Cake Mix
Carrot Cake Mix
Red Velvet Cake Mix
Chocolate Cake Mix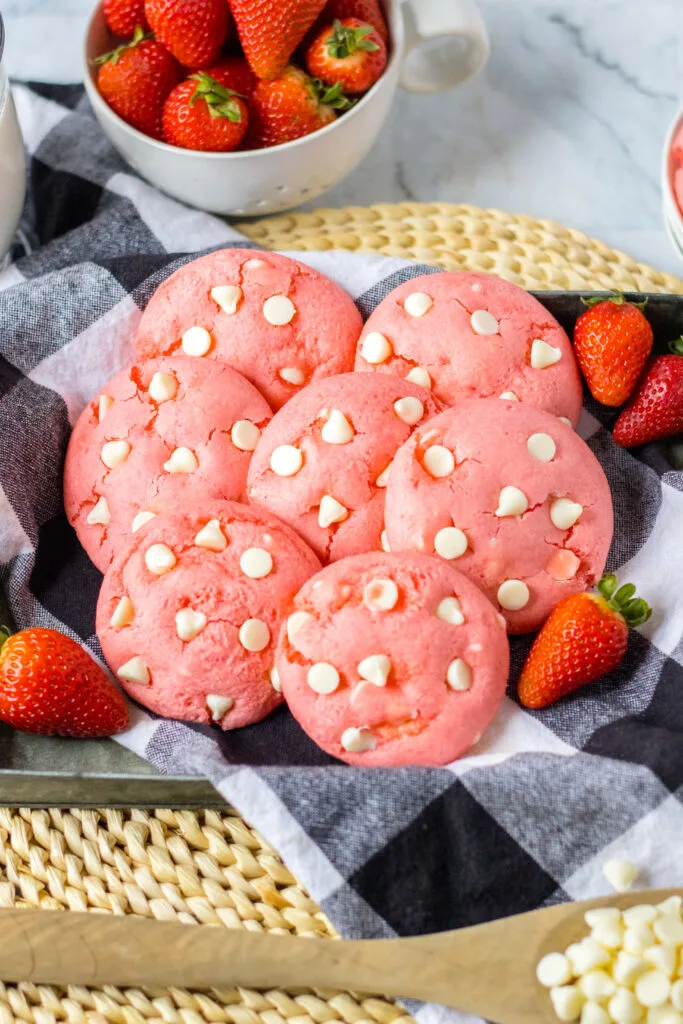 Assembly Variations
You can always play with the way you assemble the cookies. As written, the cream cheese mixture gets stuffed into the cookies before baking. Here are two other ways to use the cream cheese filling.
Bake the cookies without the filling included. When cooled, make strawberry sandwich cookies by slathering the cream cheese between two cookies. With this method, you'll get 6 sandwich cookies.
Bake the cookies without the filling included. When cooled, frost the top of each cookie with the cream cheese mixture.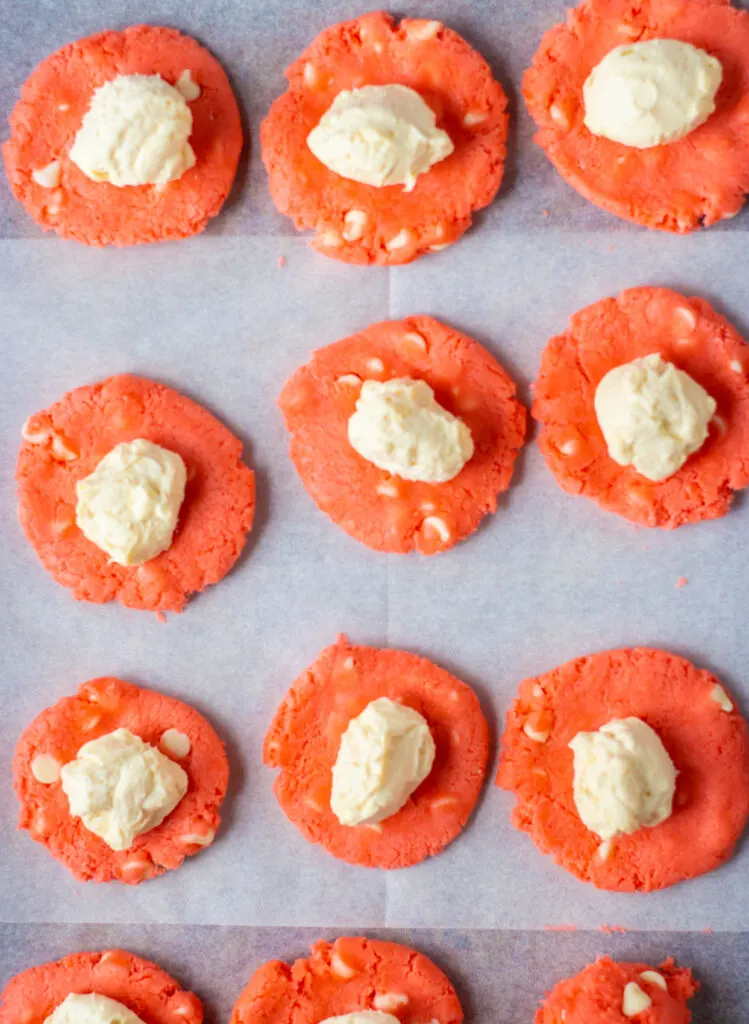 Do I Really Need To Chill The Dough And The Filling?
Yes, please do! You'll get much better results if you chill both for the required time before baking. Otherwise, if you work with room-temperature dough and filling, the cookies will definitely spread and be thin. Plus, when they spread too much, there's a risk of the cream cheese leaking out. Not pretty and not to mention, messy. So, chilling is the way to go. You can always make the chilled parts the night before and then assemble and bake them the next day – that way your payoff seems more immediate!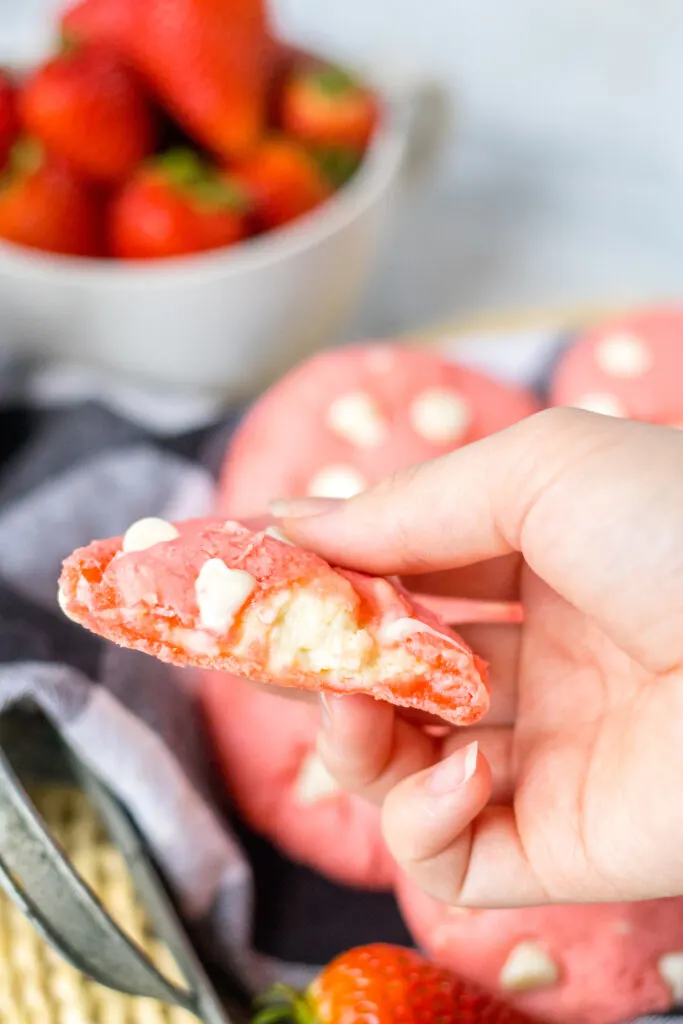 Can I Skip The Filling?
Of course! Still, chill the dough and then just scoop it into cookie dough balls and bake!
You might want to check out more of my ideas for using cake mixes to make cookies.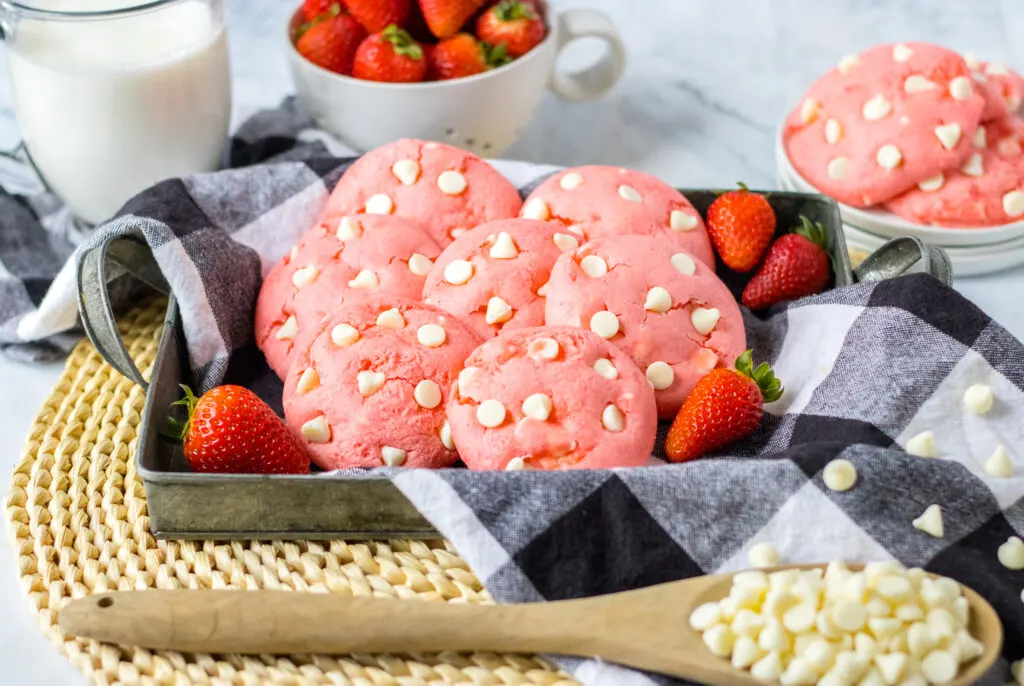 Storage
Store cooled cookies in an airtight container in the refrigerator for up to 5 days. You can also freeze the baked and cooled cookies in a freezer-safe bag for up to 3 months. Thaw in the refrigerator overnight before serving.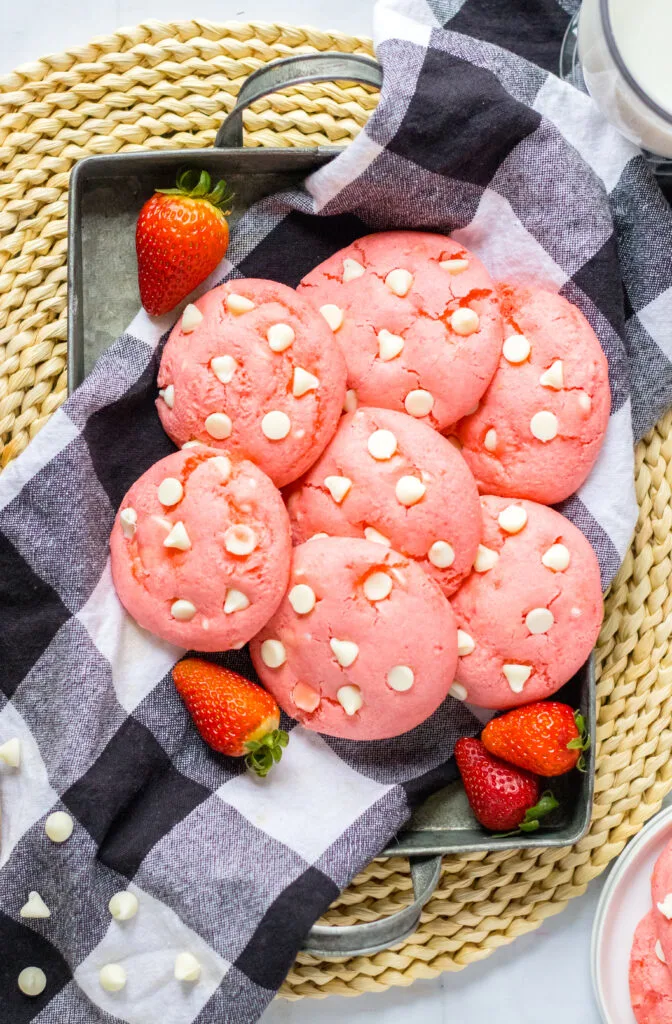 Related Recipes
Cake Mix Cookies
Christmas Cake Mix Cookies
Reese's Peanut Butter Filled Cookies
Peppermint Stuffed Snowman Cookies
Strawberry Shortcake
Strawberry Shortcake Poke Cake
Easy Strawberry Pie
Nettie is a wife and mother who is passionate about cooking and baking. With 5 children, Nettie insists that all meals, snacks, and desserts come together quickly! You will find a wide variety of easy yet scrumptious recipes on her viral website Moore or Less Cooking
Be sure to follow me on Instagram and tag #mooreorlesscooking so I can see all the wonderful recipes that YOU make from this site!
Check out my YOUTUBE with a free email subscription HERE and please share on FACEBOOK and on PINTEREST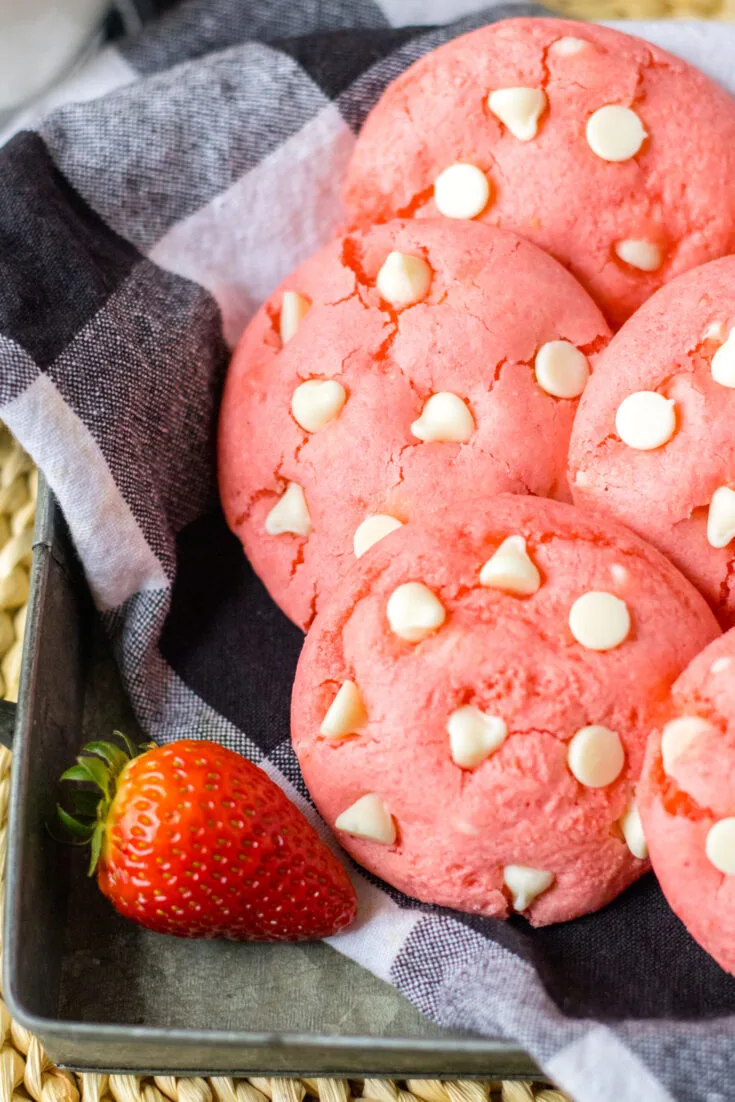 Yield:

12
Cheesecake Stuffed Strawberry Cookies
Total Time:
1 hour
17 minutes
These Cheesecake Stuffed Strawberry Cookies are delicious cookies! So incredibly tasty and gooey! Mixing strawberry cake mix, oil, vanilla, and white chocolate chips and then adding the cream cheese mixture made with cream cheese, vanilla, and sugar makes the BEST twist on cookies ever! These will have you addicted in no time!
Ingredients
Cheesecake Stuffed Strawberry Cookies
● 15 oz Strawberry cake mix
● 1/3 cup of oil
● 1 tsp of vanilla
● 1 cup of white chocolate chips
Cream Cheese Filling
● 1 (8 oz) block of cream cheese
● 1 tsp vanilla
● 3 tablespoons sugar
Instructions
Gather all of the ingredients.
In a large bowl mix, cake mix, oil, vanilla, and eggs and mix with a hand mixer until nice and smooth. Add in white chocolate chips and mix again.
Place bowl into the fridge for 20 minutes.
In a medium-large bowl mix cream cheese, sugar, and vanilla. Mix with a hand mixer until smooth.
Place parchment paper on a tray, using an ice cream scooper, scoop balls and drop them onto the paper, it should make 12. Place in the freezer for 40 minutes or until the cookie mixture is done.
Place parchment paper down on a large baking sheet, grab about 1 and a half of an inch amounts of the cookie mixture, and roll it into balls.
Once all 12 are laid out on paper, place them inside the fridge again for 40 minutes.
Preheat oven to 350° while waiting, flatten the cookie mixture out, and place 1 cream cheese ball inside it, roll into a ball using your hands, making sure the cream cheese doesn't leak out.
Once all rolled out, place into the preheated oven for 10-12 minutes.
When done set out to cool and enjoy!
Notes
If the cookie mixture is too sticky when handling, place it in the fridge for 20 more minutes.
Add more chocolate chips to the outside of the dough balls before placing them into the oven.
Make sure you can't see any cream cheese when you roll it into a ball so it doesn't leak out.
Nutrition Information
Yield
12
Serving Size
1
Amount Per Serving
Calories

326
Total Fat

20g
Saturated Fat

8g
Trans Fat

0g
Unsaturated Fat

11g
Cholesterol

34mg
Sodium

148mg
Carbohydrates

34g
Fiber

0g
Sugar

28g
Protein

3g