Fruity, festive, and spiked with vodka, these red and green layered Christmas Jello shots are topped with whipped cream and sprinkles for a seasonal twist on basic jello shots. They're perfect for holiday parties!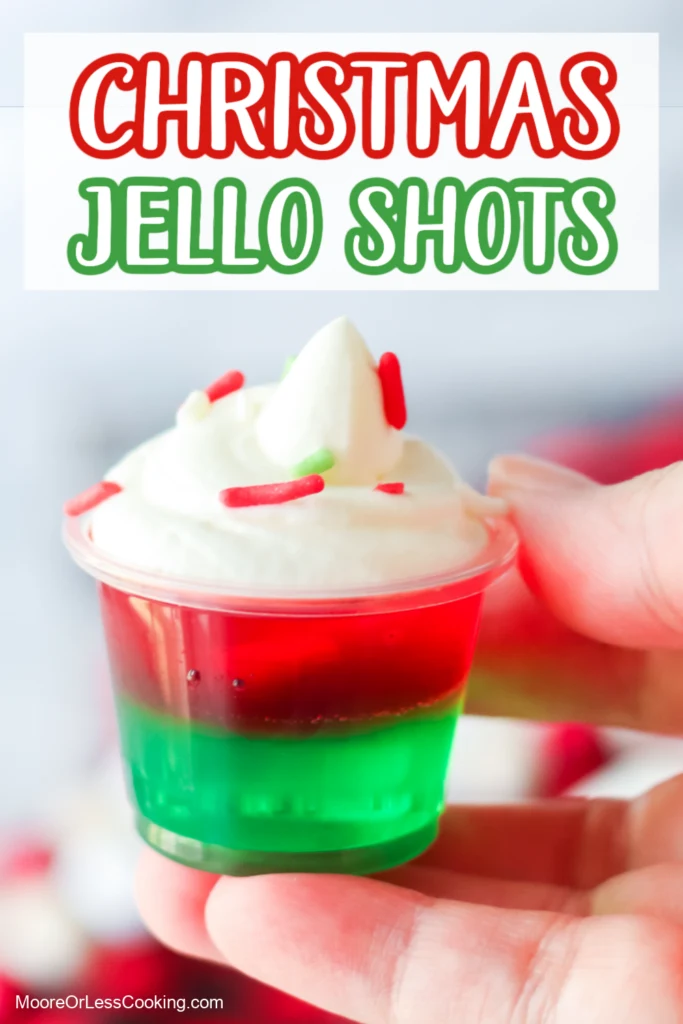 These tasty Christmas Jello Shots will certainly make your holiday parties even merrier! The red cranberry jello and green lime jello pair deliciously and are infused with a little vodka. A simple topping of whipped cream with a dusting of holiday sprinkles makes them dessert-worthy.
Oh, and these jello shots can easily be made without the vodka, so make a booze-free batch for the kids and others who want to enjoy them, alcohol-free.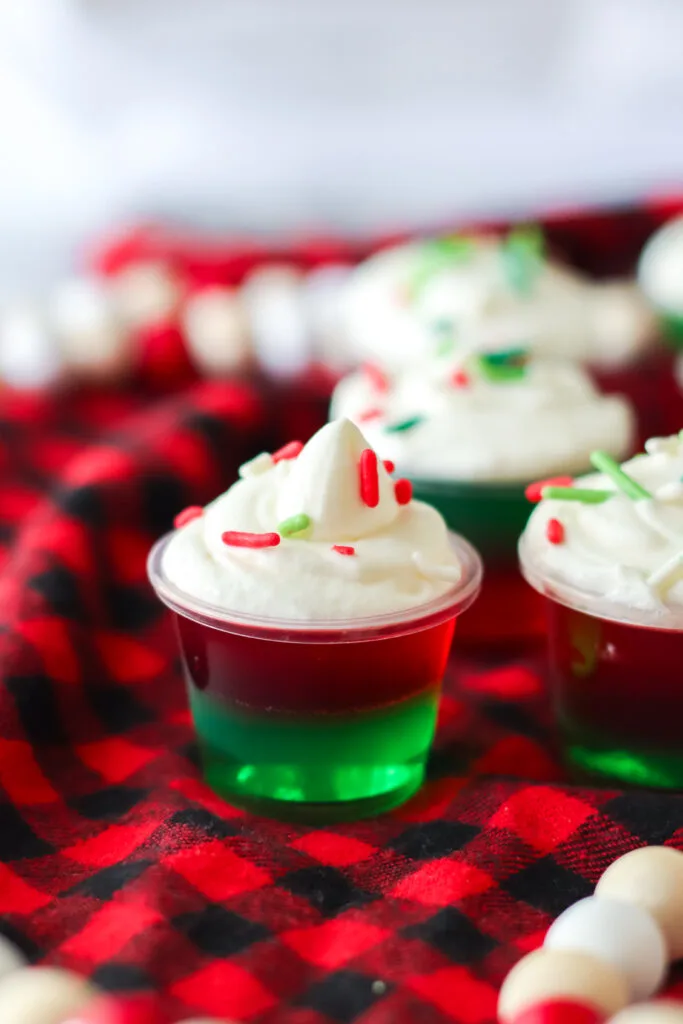 Why You'll Love This Recipe
Minimal ingredients needed
Make-ahead festive party treat
Easily customizable
Recipe can be doubled or tripled easily for parties
Can be made kid-friendly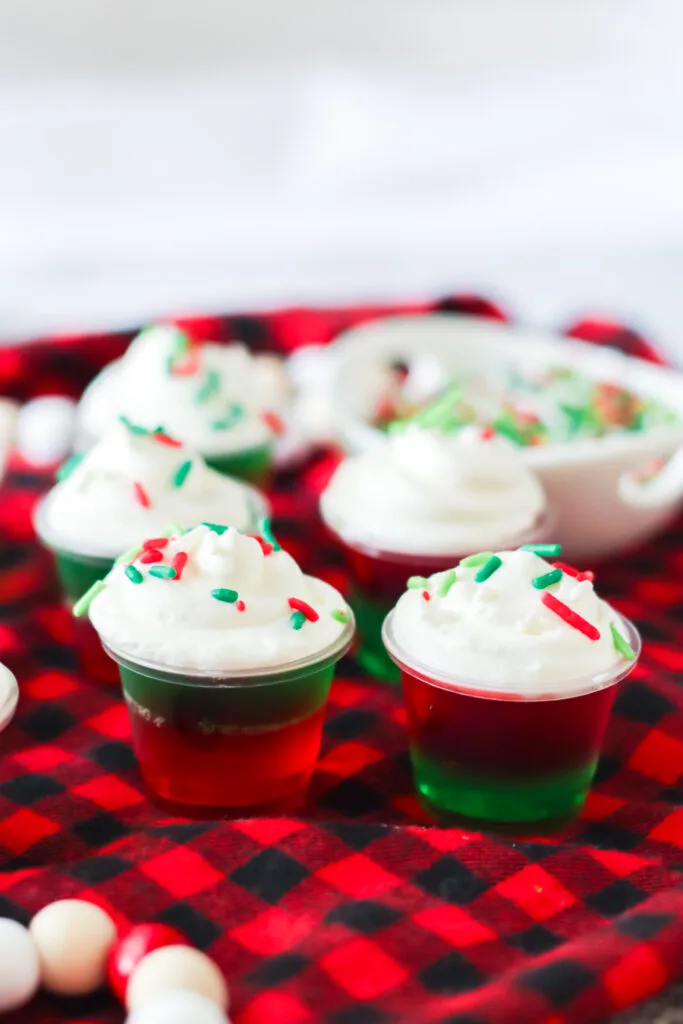 Ingredients Needed
Flavored Gelatin Mixes – Use cranberry and lime flavors for the red and green layers.
Water – Boiling water as well as cold water to help mix the gelatins.
Vodka – To spike the jello. I use unflavored so the taste of the cranberry and lime jello layers comes through.
Whipped Cream – Use the aerosol can so you can easily squirt it on right before serving.
Christmas Sprinkles – Just a few added to the top of the whipped cream adds the final festive touch.
Plastic Jello Shot Containers – I use the 1 oz cups.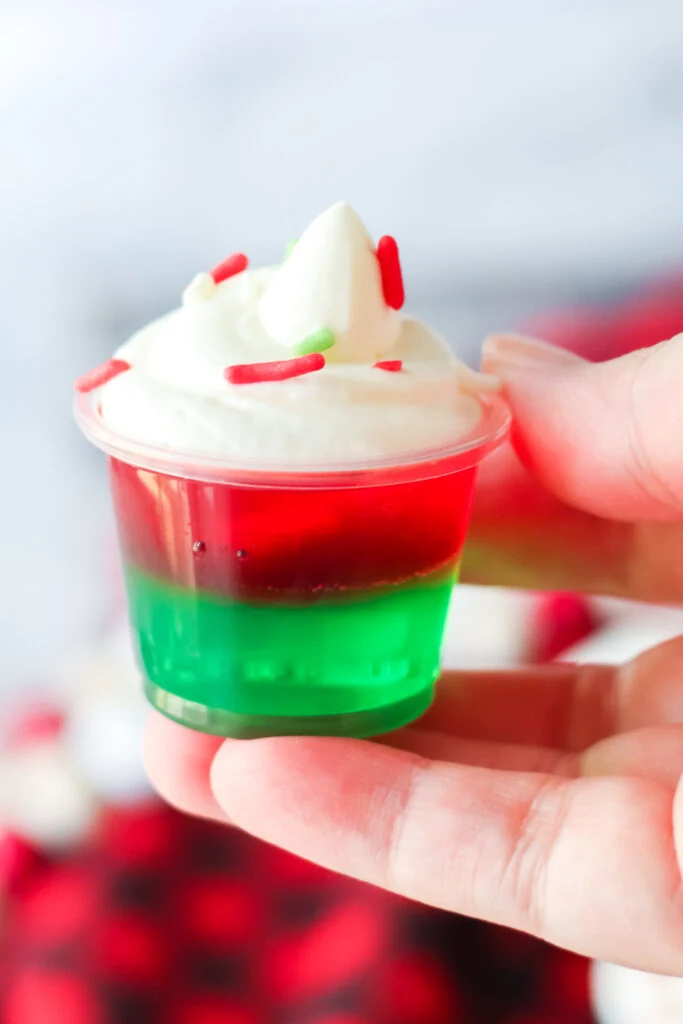 How To Make Christmas Jello Shots
Note: This is a summary of the recipe steps. For complete instructions, see the recipe card down below.
STEP 1: Prepare a baking tray by setting out the plastic jello cups so they're ready to go. Tip: make sure you have room in your fridge to set the tray so the jello can chill and set.
STEP 2: Make the cranberry jello, starting by adding the boiling water and whisking until dissolved. Then add the 1/2 cup of cold water and 1/2 cup of vodka and whisk to combine.
STEP 3: Pour the cranberry jello into the shot cups, about 1/2 way full for each.
STEP 4: Place the tray in the refrigerator for at least 30 minutes (longer if you can) so it can be completely set.
STEP 5: Make the lime jello by following the same directions for the water(s) and vodka.
STEP 6: Carefully pour the lime jello over the chilled and set cranberry jello layer.
STEP 7: Place the tray back in the fridge for 2 – 3 hours or until fully set.
STEP 8: When ready to serve, top with the whipped cream and sprinkles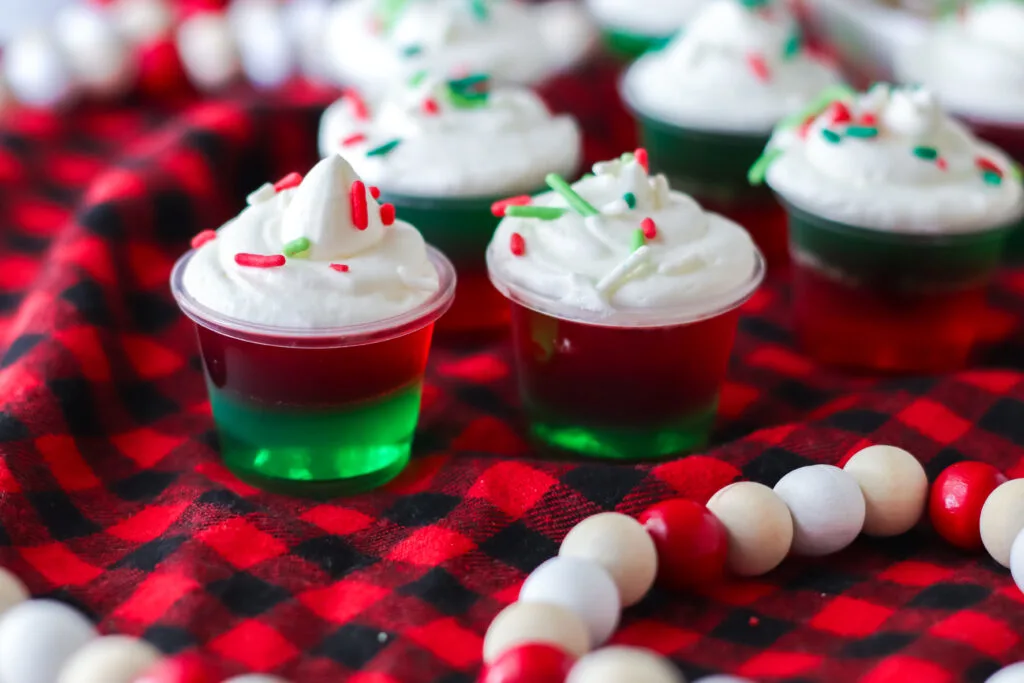 Pro Tips
Clear out space in your refrigerator to set the baking tray full of the jello shots. You want them to be on a level surface.
Make these jello shots the day before. These little bites of jello sweetness need time in the fridge to firm up, especially between the red and green layers. You can't rush it, so make them the day before so you'll have time to let everything firm up and fully chill.
Add the whipped cream and sprinkles just before you're ready to serve them. If you decorate them too early and leave them in the fridge, the whipped cream will deflate.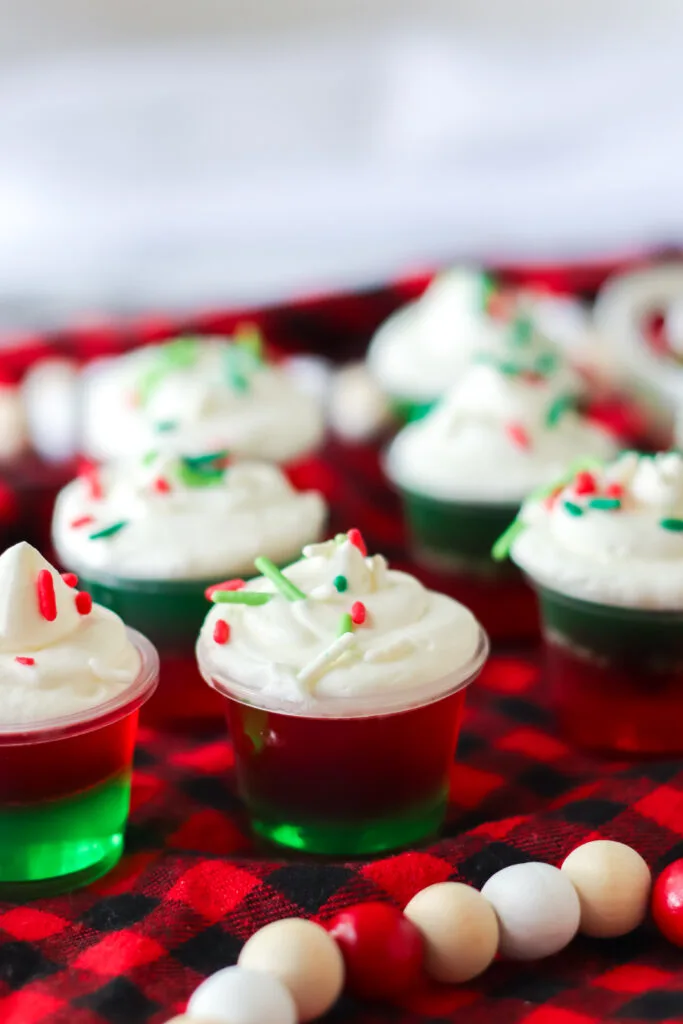 Jello Flavor Substitutions
Because cranberry jello is seasonal if you're having trouble finding it, just substitute cherry, strawberry, or raspberry flavors. Those will pair perfectly with the green lime flavor, as well.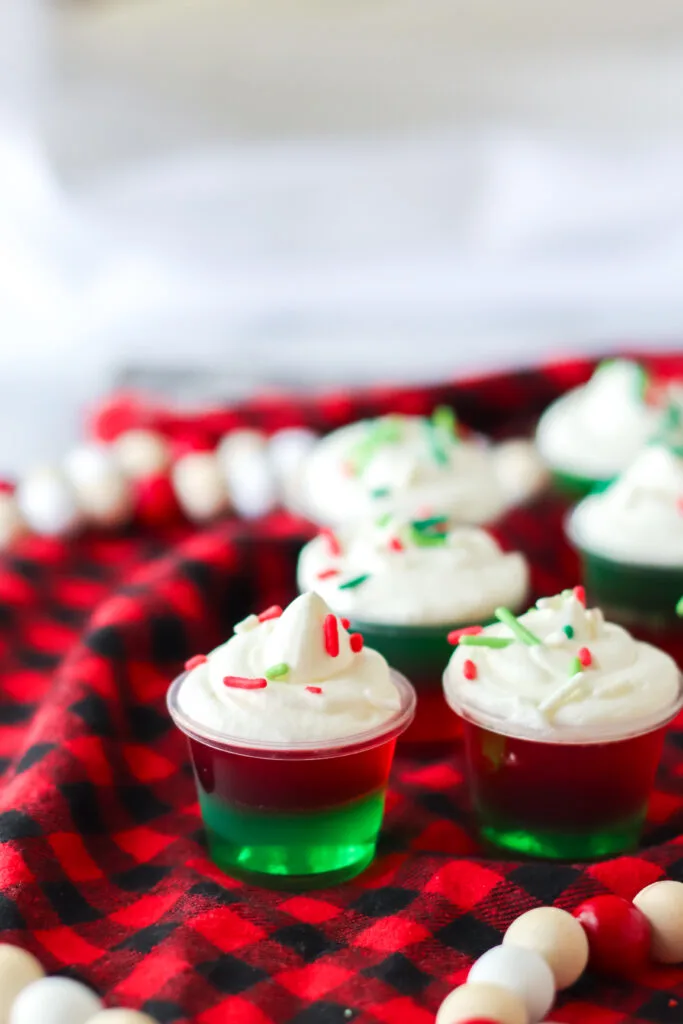 What Type of Alcohol Should I Use?
This recipe calls for unflavored vodka, which is what I use. You can also use flavored vodka, but make sure it's one that won't clash with the cranberry and lime jellos (or other flavors you might be using.)
Instead of vodka, you could also use flavored schnapps, such as Cranberry Schnapps.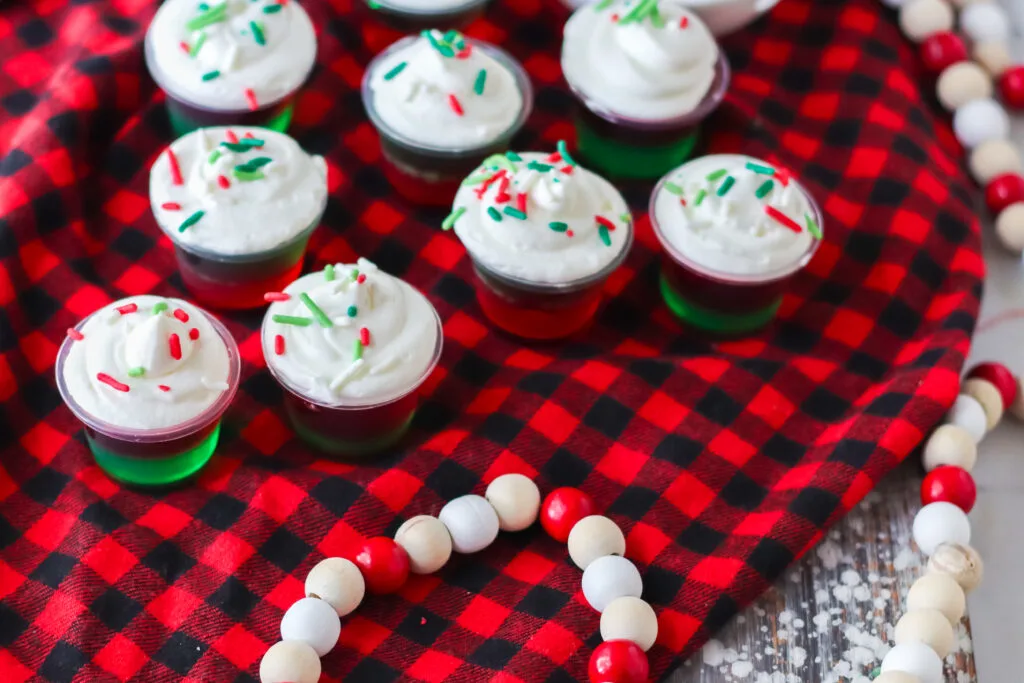 Can I Make These Without The Alcohol?
Absolutely! Where it calls for vodka in the recipe, just replace it with cold water, instead.
Colorful Variations
If you love this layered look for jello shots, you can substitute any two flavors for a completely different look or theme for parties and holidays. Here are a few ideas.
Patriotic – Use red (cherry) and blue (blueberry)
Game Days – Use the colors of your favorite teams.
Halloween Candy Corn – Use colors in yellow (pineapple) and orange.
Halloween – Use green (lime) and purple (grape).
St. Patrick's Day – Use green (lime) and yellow (pineapple).
Valentine's Day – Use red (black cherry) and a lighter red/pink (strawberry)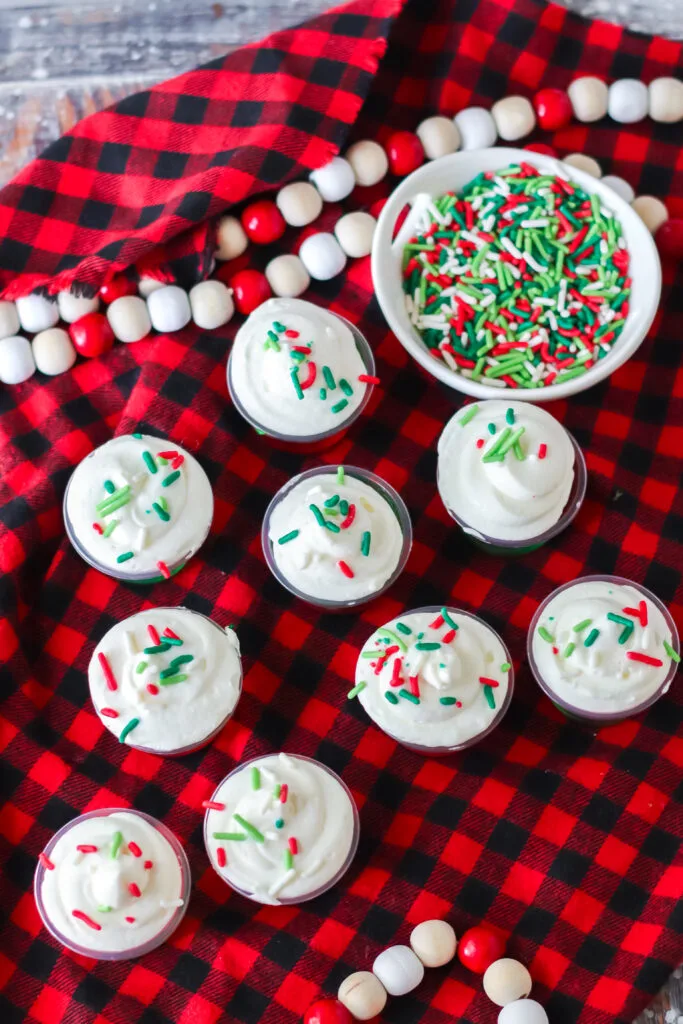 How To Serve Christmas Jello Shots
Jello shots are little bites of deliciousness and I like to run a sharp knife around the inner section of the plastic shot glass just to loosen them up a bit. This will allow them to easily be consumed without sticking to the shot glass.
If you don't want to do that, consider providing mini-tasting spoons so the shots can be spooned out and eaten.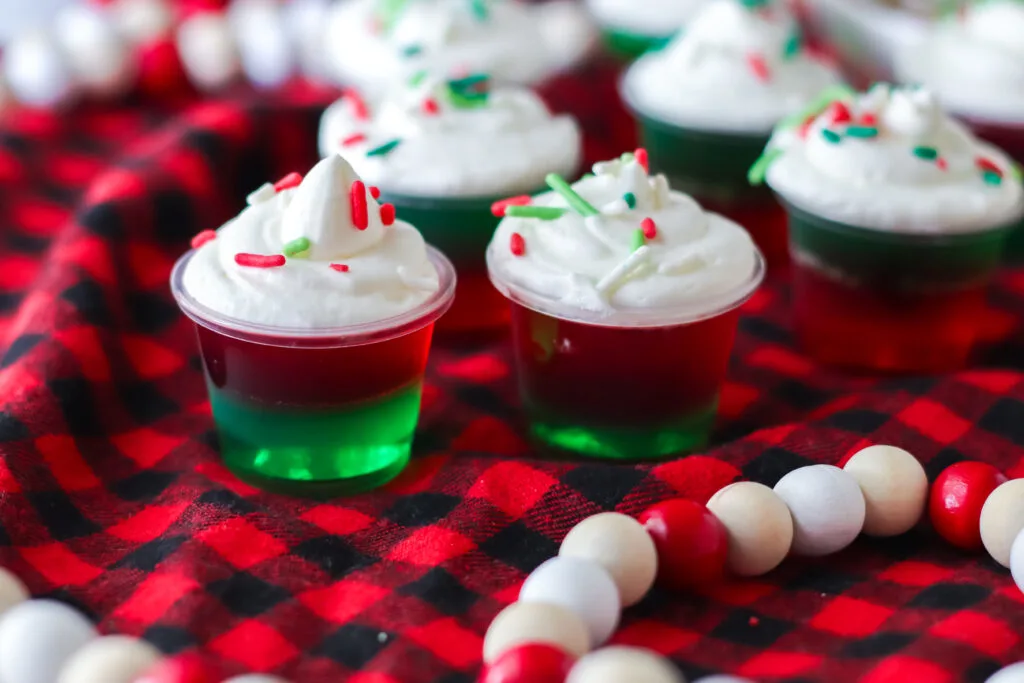 Storage
Store unserved and leftover jello shots in the refrigerator until ready to serve. You can also store them in an airtight container in the fridge if you prefer to not have the shot cups on a baking sheet.
Jello shots will last up to 4 days in the fridge.
I don't recommend freezing jello shots.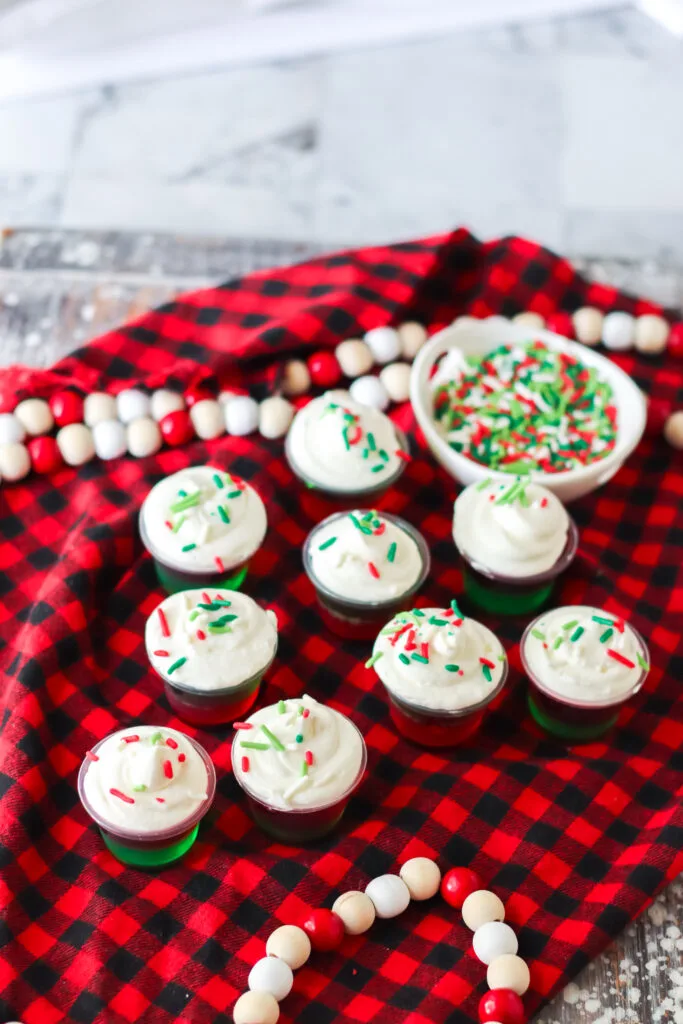 More Cocktail Recipes
Cinnamon Apple Cranberry Mimosa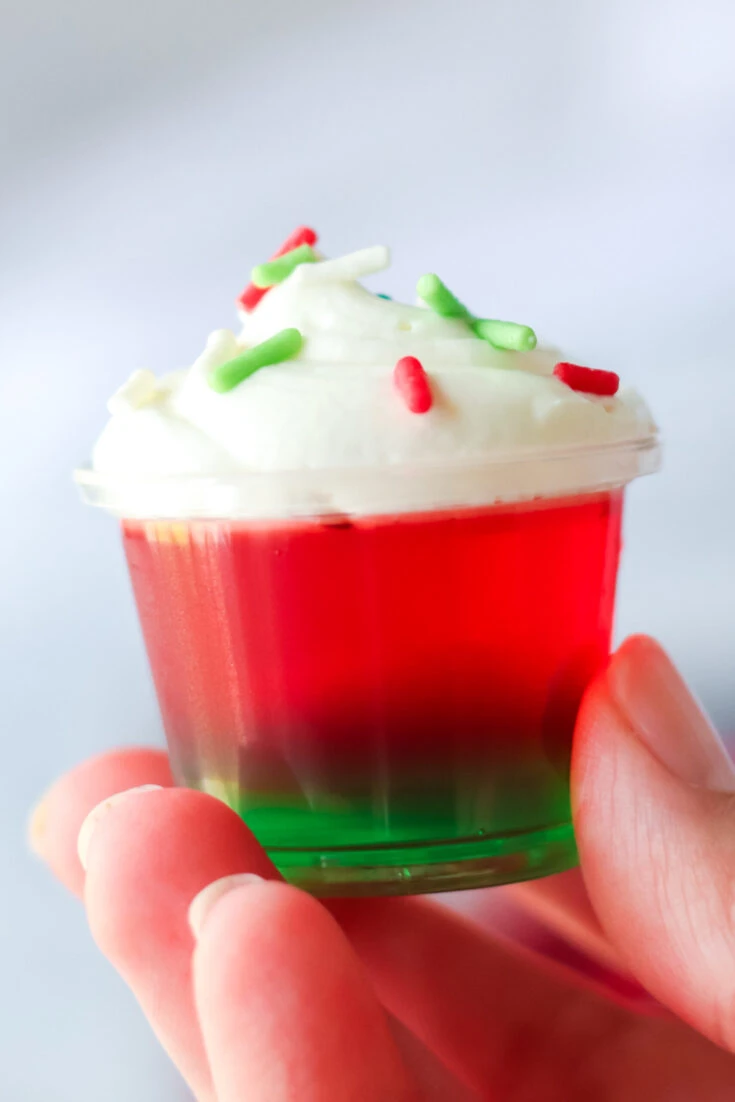 Yield:

Makes- 30-36
Christmas Jello Shots
Total Time:
2 hours
15 minutes
These Christmas Jello Shots are so festive for any Christmas party! Cranberry and lime jello are layered and topped with a little whipped cream and holiday sprinkles. Make these alcoholic or non-alcoholic if you like. They will be the hit of any Christmas party!
Ingredients
3 ounces cranberry flavored gelatin mix
3 ounces lime gelatin mix
2 cups boiling water, divided
1 cup cold water, divided
1 cup vodka, divided
Aerosol whipped cream
Christmas sprinkles, optional
Instructions
Gather all of the ingredients.
On a tray set out the cups, and set them aside for later. This is also a good time to make sure to clear space in the refrigerator for the tray of jello shots.
In a large measuring cup with a spout or a mixing bowl with a spout add 1 cup of boiling water and cranberry jello.
Whisk until the jello is all dissolved.
Next, add ½ cup of cold water and ½ cup of vodka.
Whisk again.
Carefully pour the mixture into the cups about a quarter to halfway up.
Carefully place the tray in the refrigerator for 30 minutes or until that layer is set.
Meanwhile, make the lime jello the same way.
Mix the orange jello with 1 cup of boiling water until dissolved then add in ½ cup of cold water and ½ cup of vodka.
When the red layer is set carefully pour the green jello on top.
Place them back in the refrigerator for 2 hours or until they are set.
When ready to serve, top each one with a squirt of whipped cream and sprinkles.
Serve
Notes
Tips and Tricks
Some people prefer the 2-ounce cups for jello shots and those work well too, you just will get fewer shots out of each batch.
This recipe is really easy to double or triple (and I recommend it!)
You can use flavored vodka if you like.
I would wait until you are ready to serve before topping it with the whipped cream and sprinkles.
These can also be made without vodka, just substitute the vodka for water.
Cranberry jello is seasonal, if you have trouble finding it this will also work with strawberry, cherry, or raspberry jello as well.
Recommended Products
As an Amazon Associate and member of other affiliate programs, I earn from qualifying purchases.
Nutrition Information
Yield
36
Serving Size
1
Amount Per Serving
Calories

27
Total Fat

0g
Saturated Fat

0g
Trans Fat

0g
Unsaturated Fat

0g
Cholesterol

0mg
Sodium

12mg
Carbohydrates

3g
Fiber

0g
Sugar

2g
Protein

0g