Large fresh artichokes marinated in a lemony garlic blend, then grilled to a seared and juicy perfection.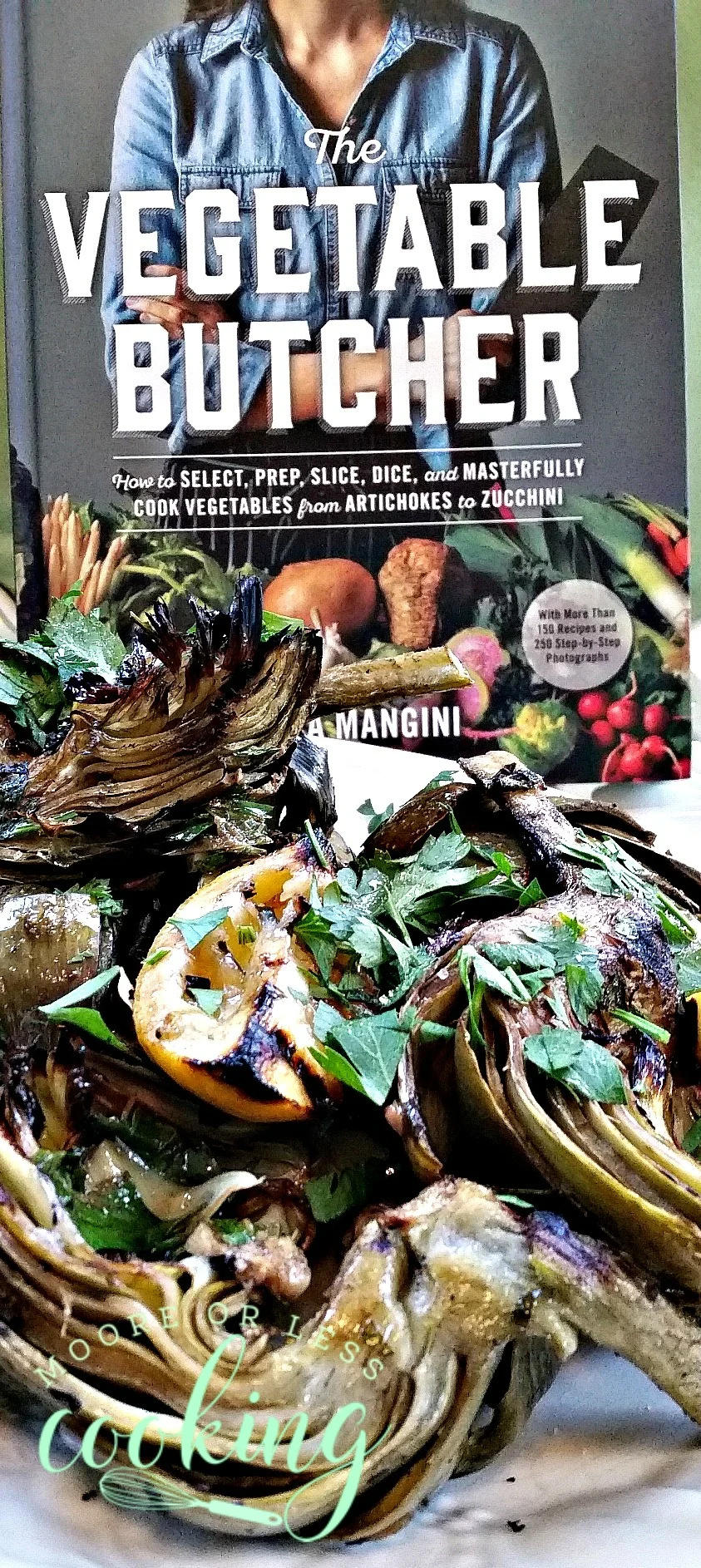 In reviewing " The Vegetable Butcher: How to Select, Prep, Slice, Dice and Masterfully Cook Vegetables from Artichokes to Zucchini ", by Cara Mangini, this cookbook is a feast for your eyes and soul. Mangini has taken many years to create and write this beautifully illustrated cookbook with simple step- by- step photographs, even an unpracticed cook can create masterpieces with Mangini's assistance. In Mangini's inspiring guide, she demystifies the world of vegetables, with her butchery skills of fresh produce. Cara Mangini shares knife lessons when cutting vegetables, such as cutting a cauliflower into steaks and peeling a tomato.
Cara Mangini, comes from a long line of traditional butchers in her family, but is the first Vegetable Butcher. She is owner and executive chef of Little Eater. This restaurant is produce inspired and also branches out to Little Eater Produce and Provisions, which is a local and artisanal food boutique in Columbus, Ohio.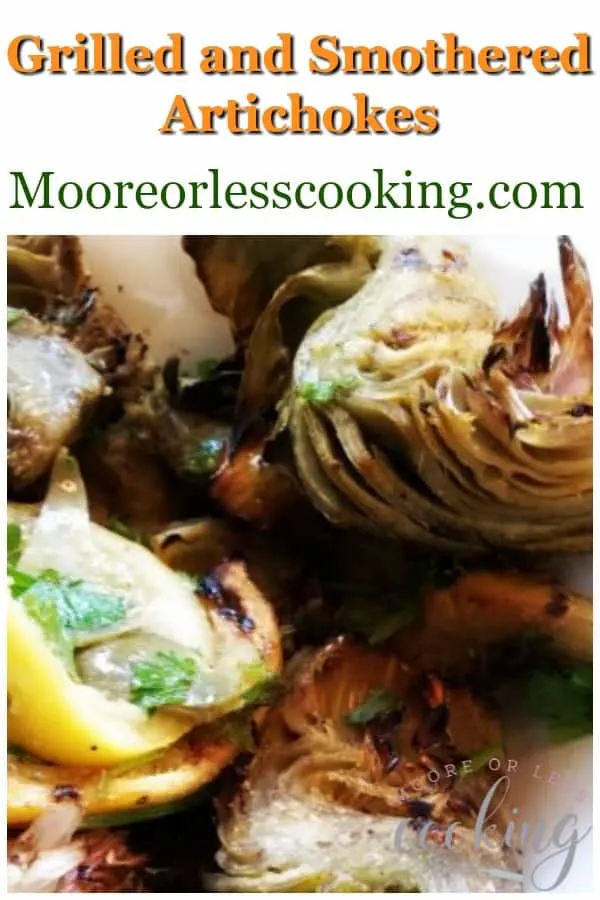 Be sure to check out Cara's website, follow her on Instagram, and check out the interview she did for Sunday Supper! Learn more about this beautiful cookbook on the Workman website.
Mangini includes more than 150 original and delicious vegetable recipes in her cookbook. Recipes ranging from mouth watering Eggplant Steaks with Salsa Verde to decadent Rutabaga and Apple Cardamom Pie. Mangini makes vegetables look sexy and delicious all in one.
I learned the proper way of cleaning and preparing an artichoke and the exact steps for keeping it from browning to clearing the choke from the heart. I'll show you how to find the meaty heart of the artichoke, you will never want to eat an artichoke any other way again.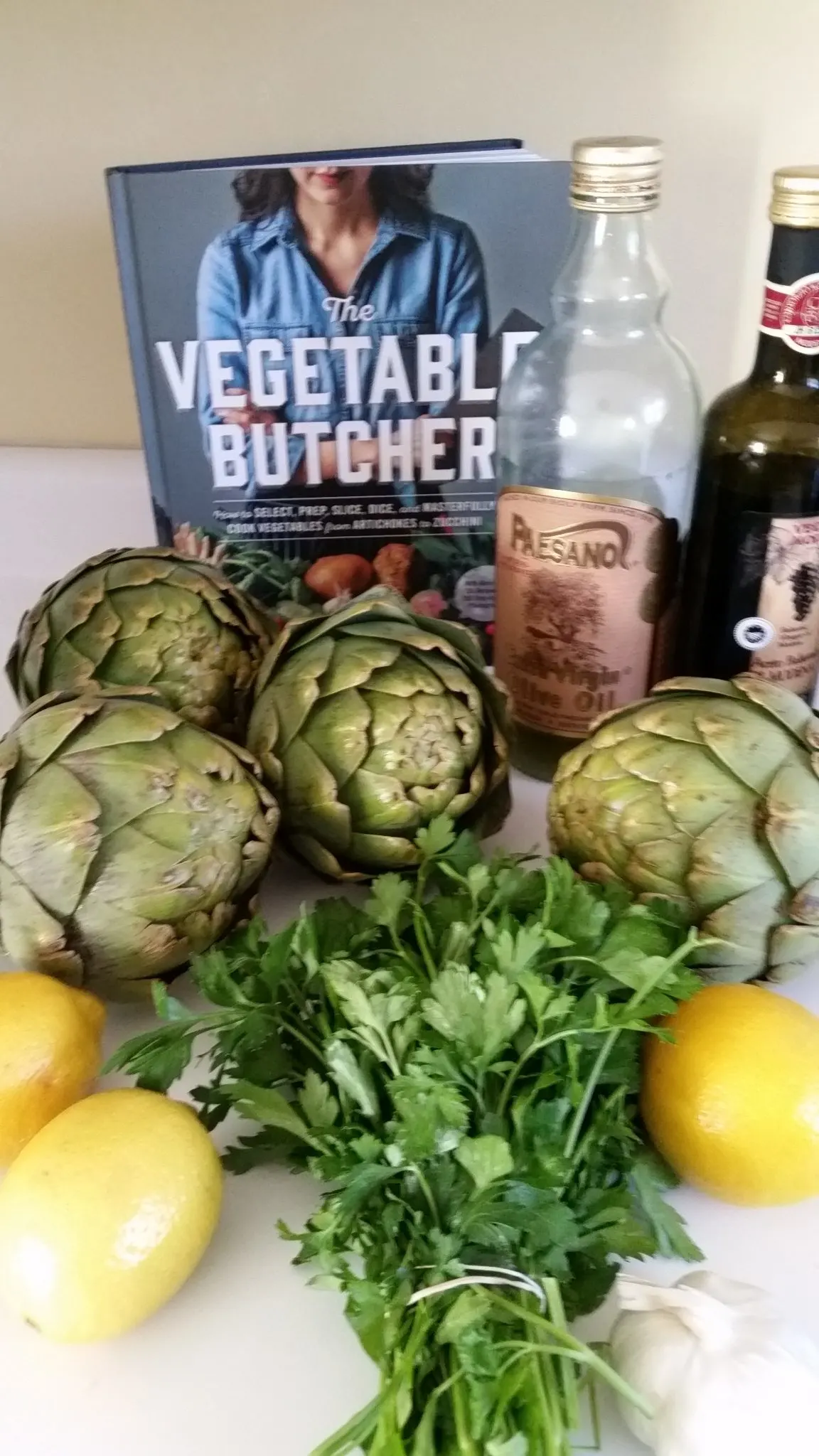 Just a few ingredients are needed for this fabulous recipe: fresh artichokes ( I asked my grocer if he had any more artichokes in back, he brought out the most beautiful biggest artichokes that I have ever seen! It pays to ask! Fresh Parsley, lemons, garlic, olive oil, balsamic vinegar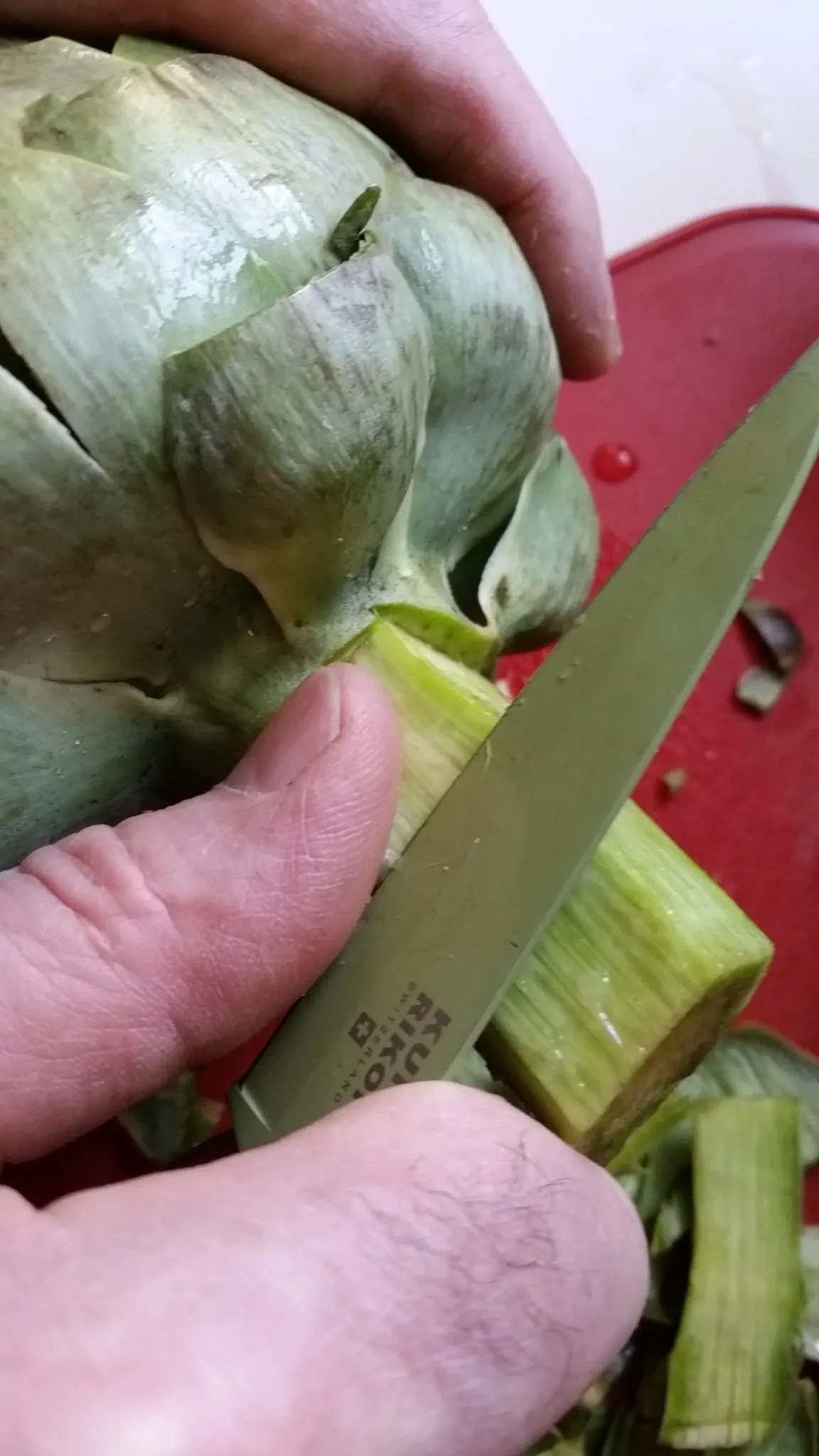 Wash artichokes. Trim the stem of the artichoke, cut the sharp tips off with kitchen scissors. rub with lemon to prevent them from browning.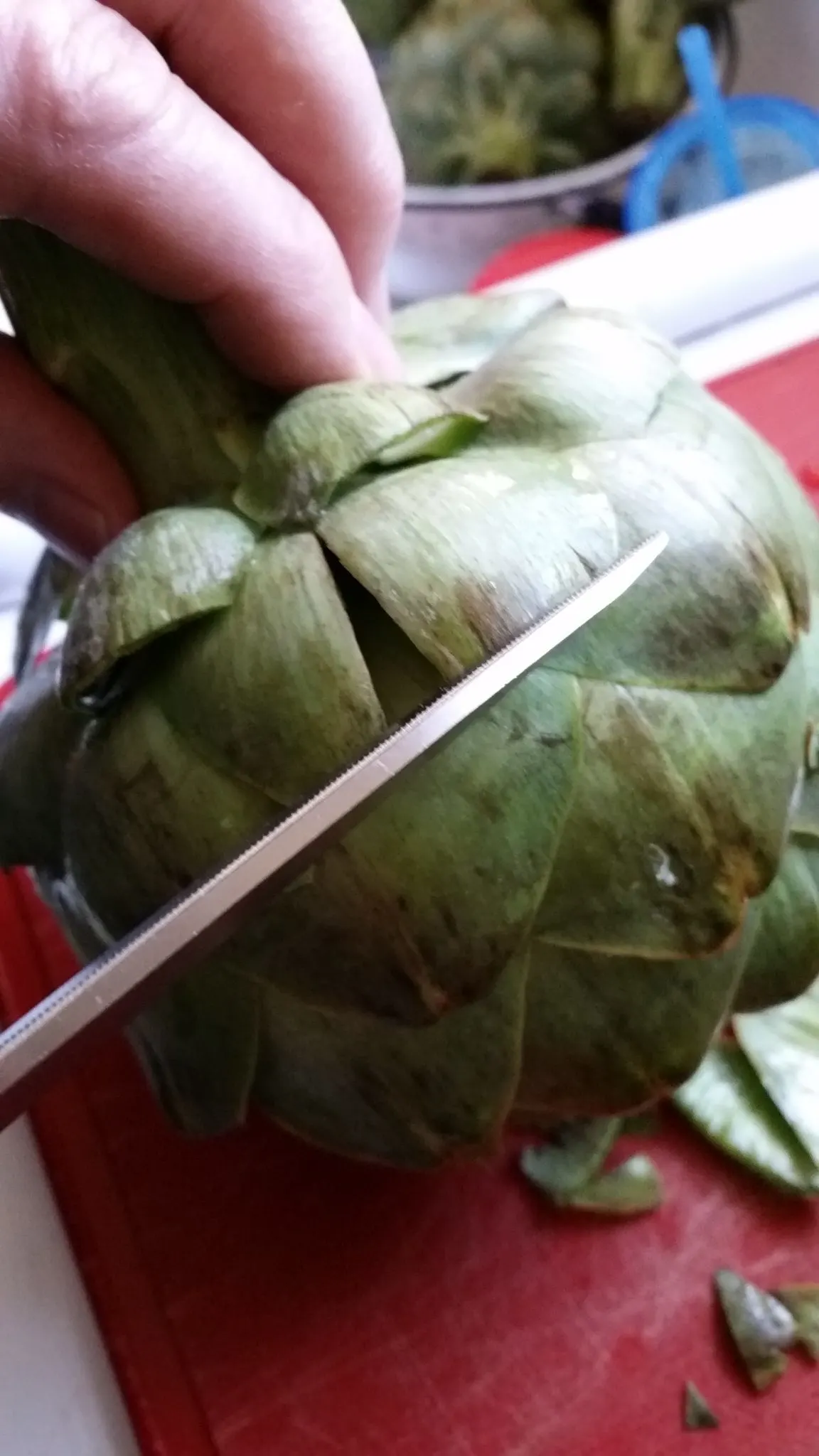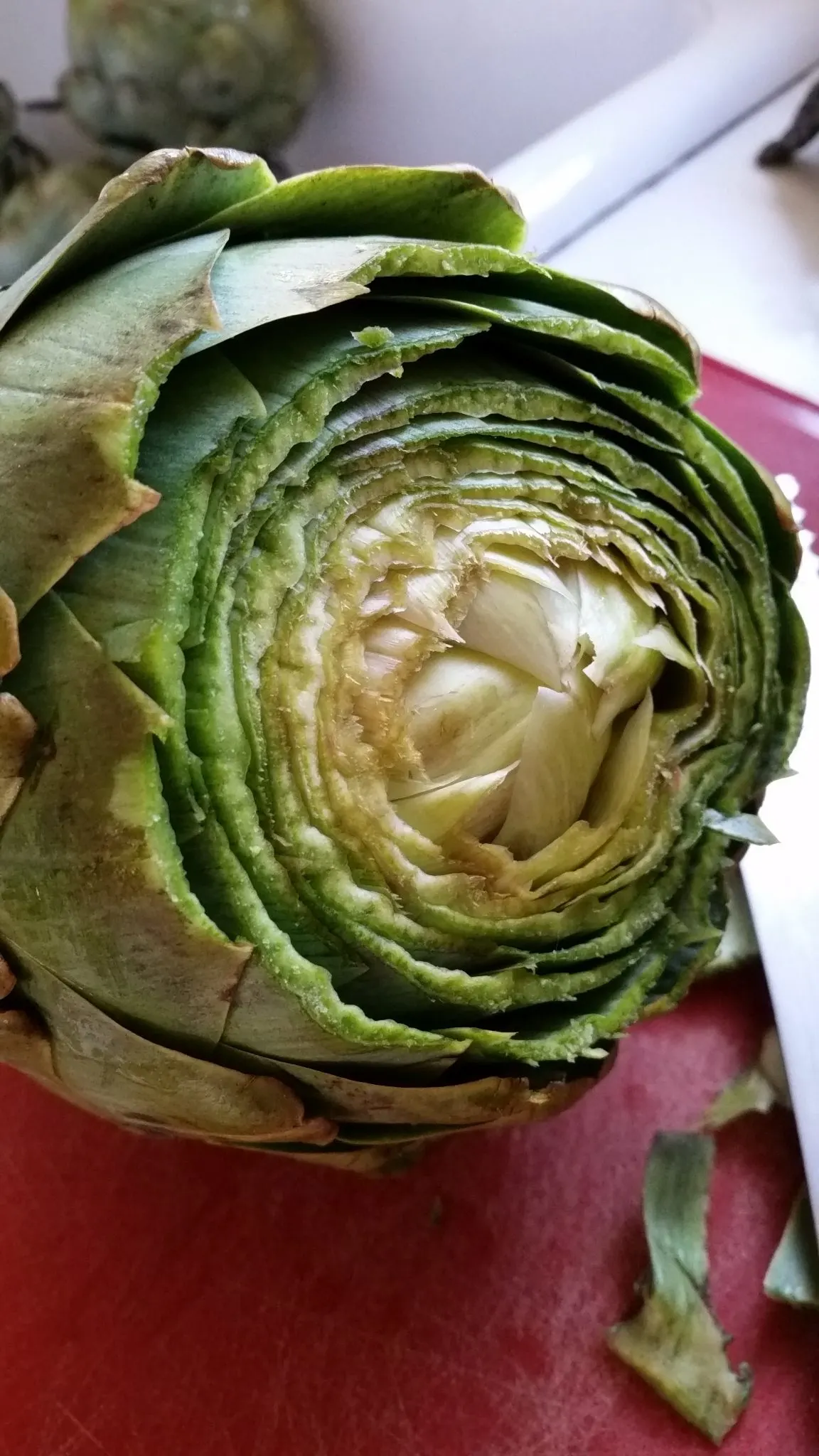 Cut off the top of the artichoke with a sharp knife.
Cut the artichoke in half.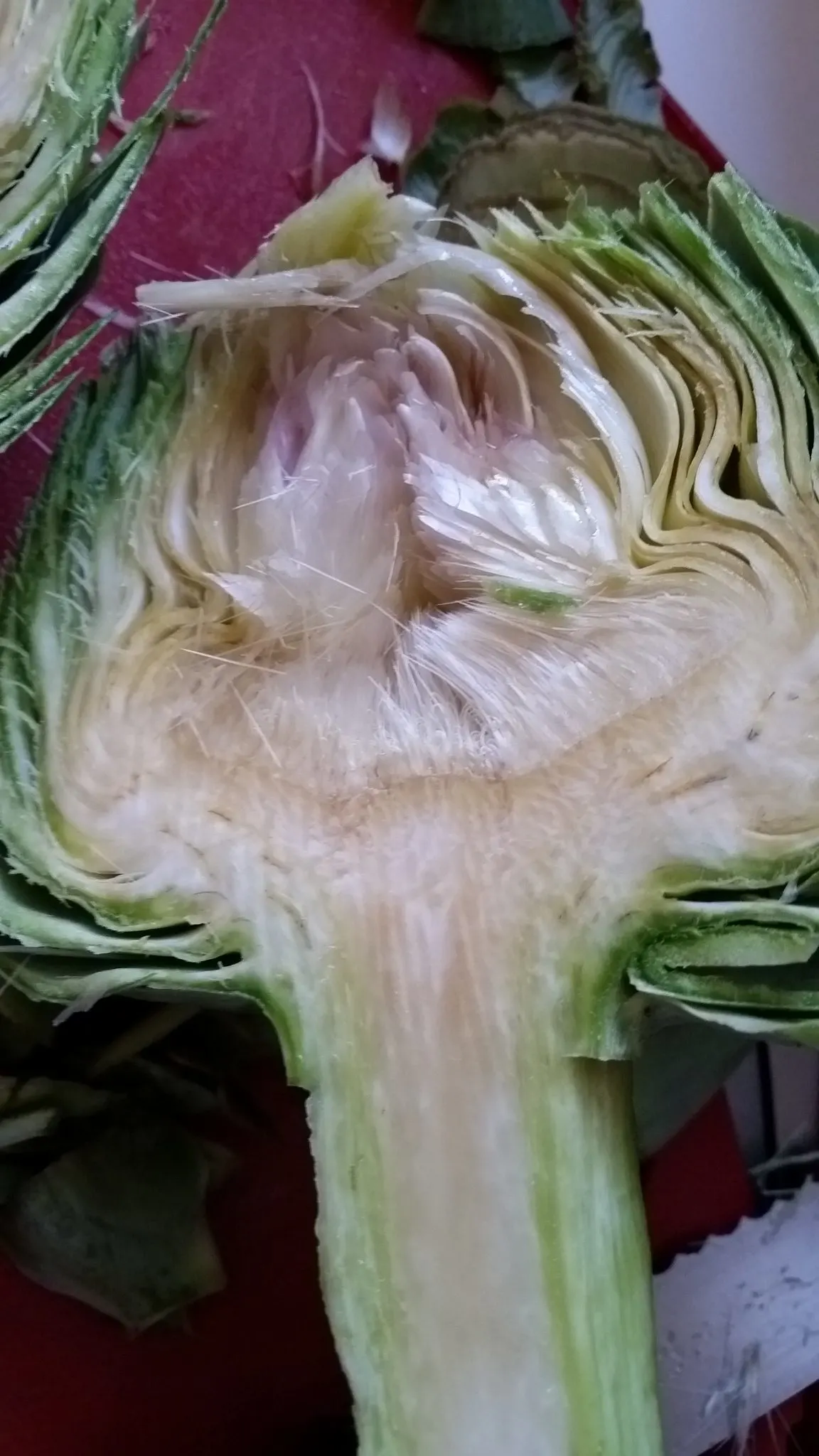 Quarter the artichoke, remove choke ( furry part ) with sharp knife or edge of spoon.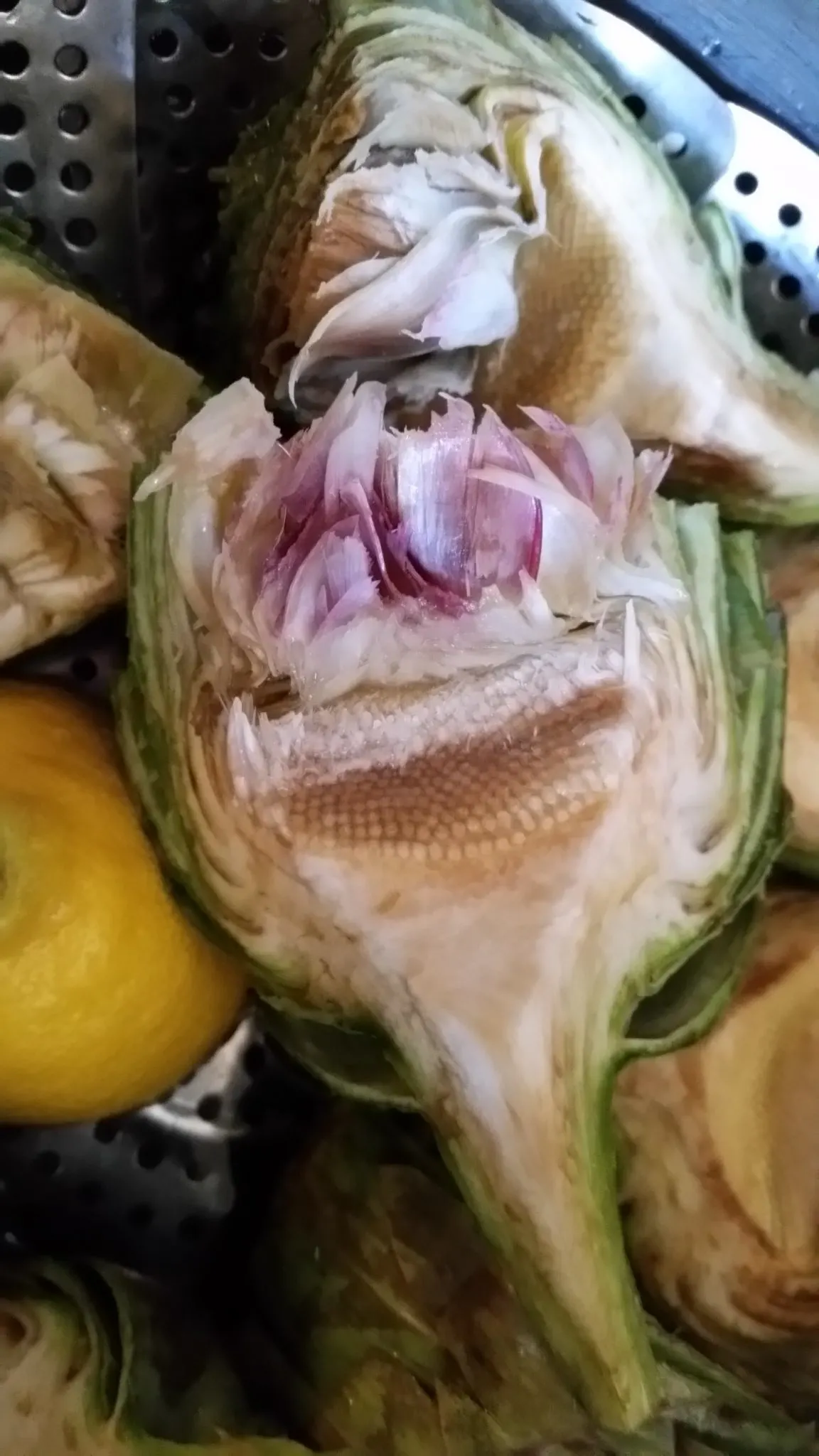 Make marinade.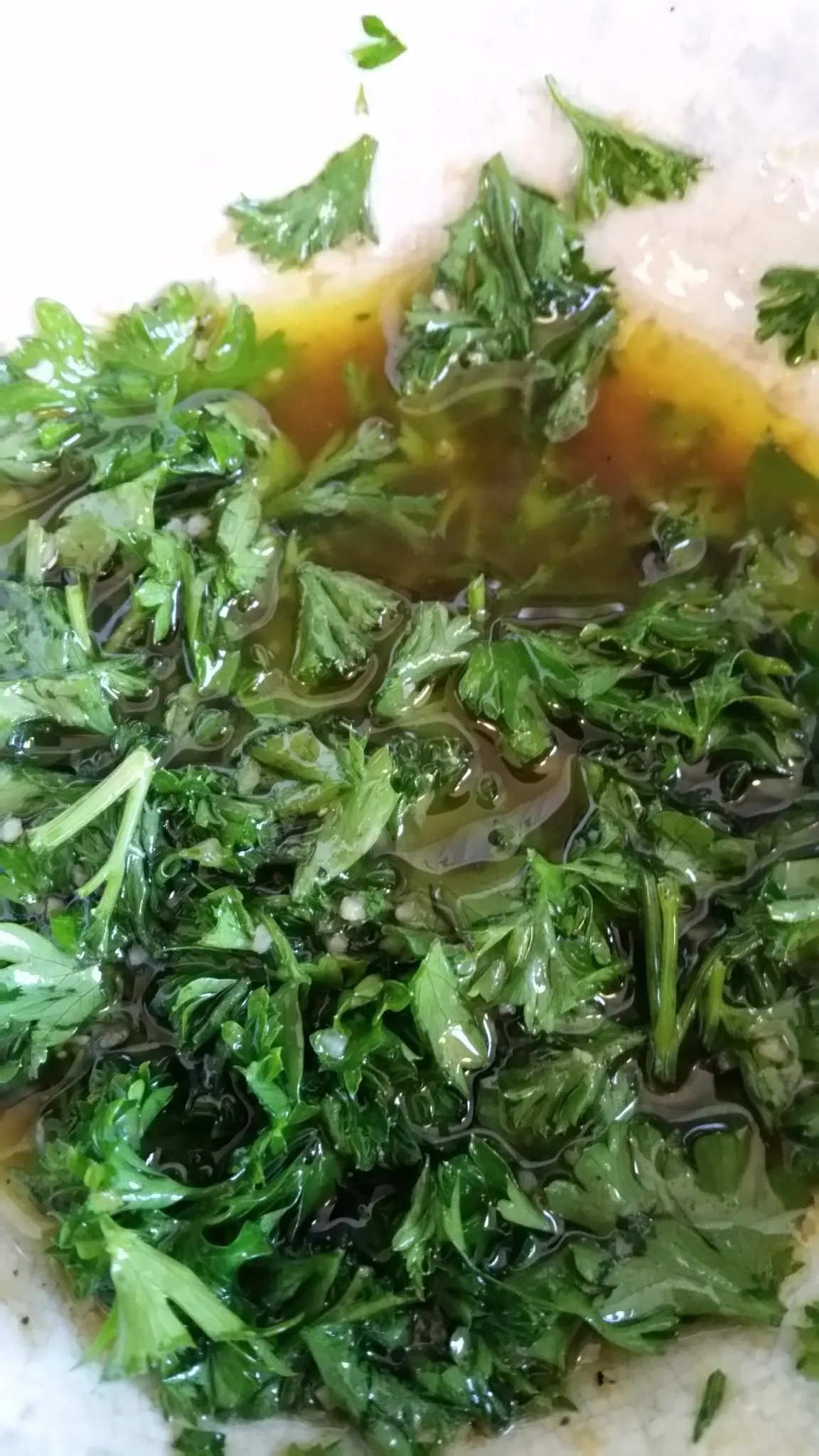 Steam artichokes, then marinade in the refrigerator. Then grill.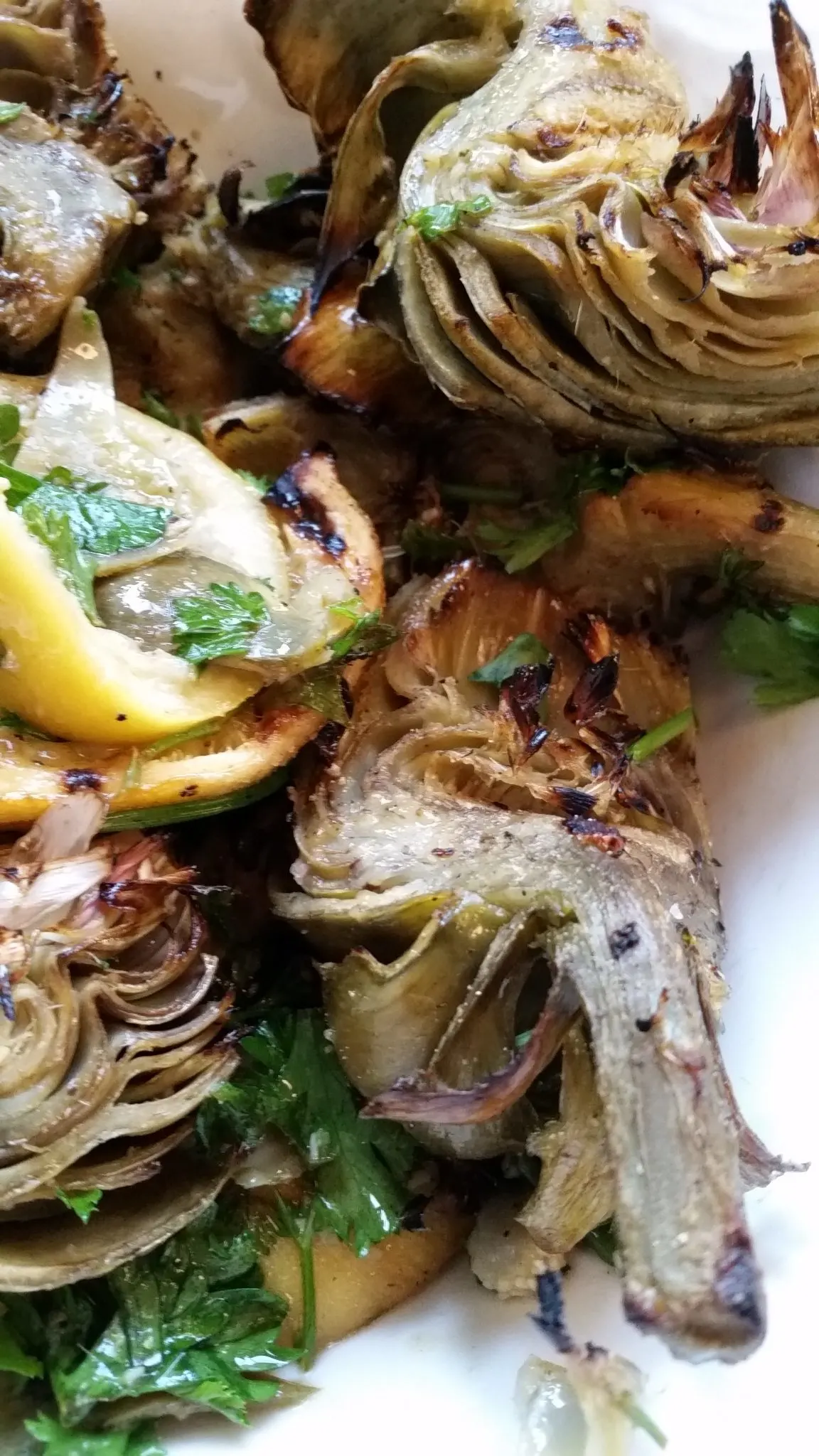 Pour marinade over artichokes. Have lots of napkins handy, it will be messy, but you won't even notice because you will be in artichoke heaven!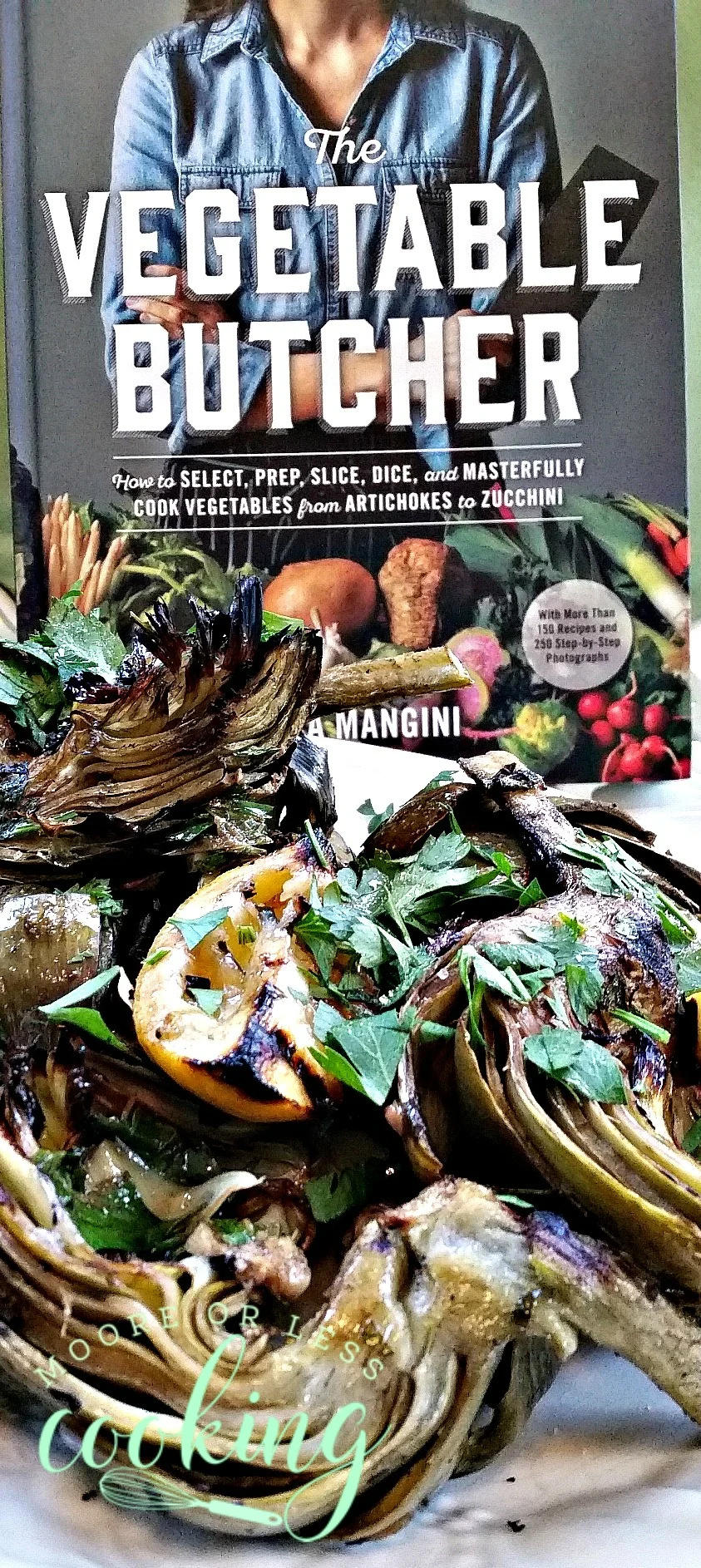 Pin It: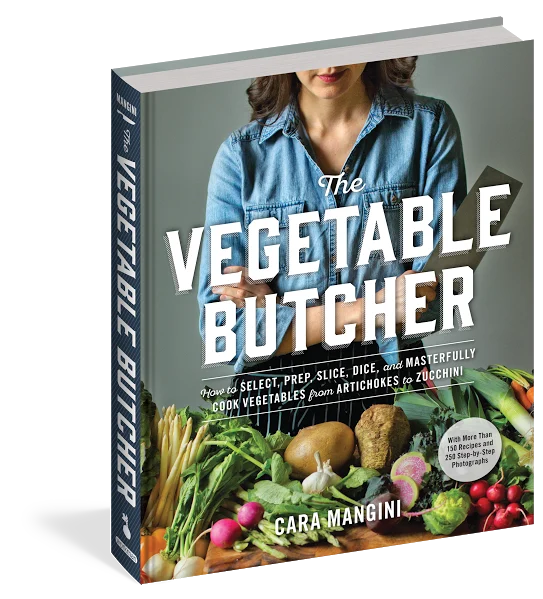 Succulent, juicy artichokes are enhanced by this zesty marinade. The meat and tips of the artichoke are moist and tender. Getting to the heart was like discovering a treasure of tastes, never wanting to use a napkin, for it may spoil losing one single taste of the smothered grilled artichoke.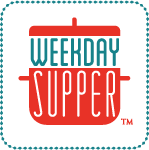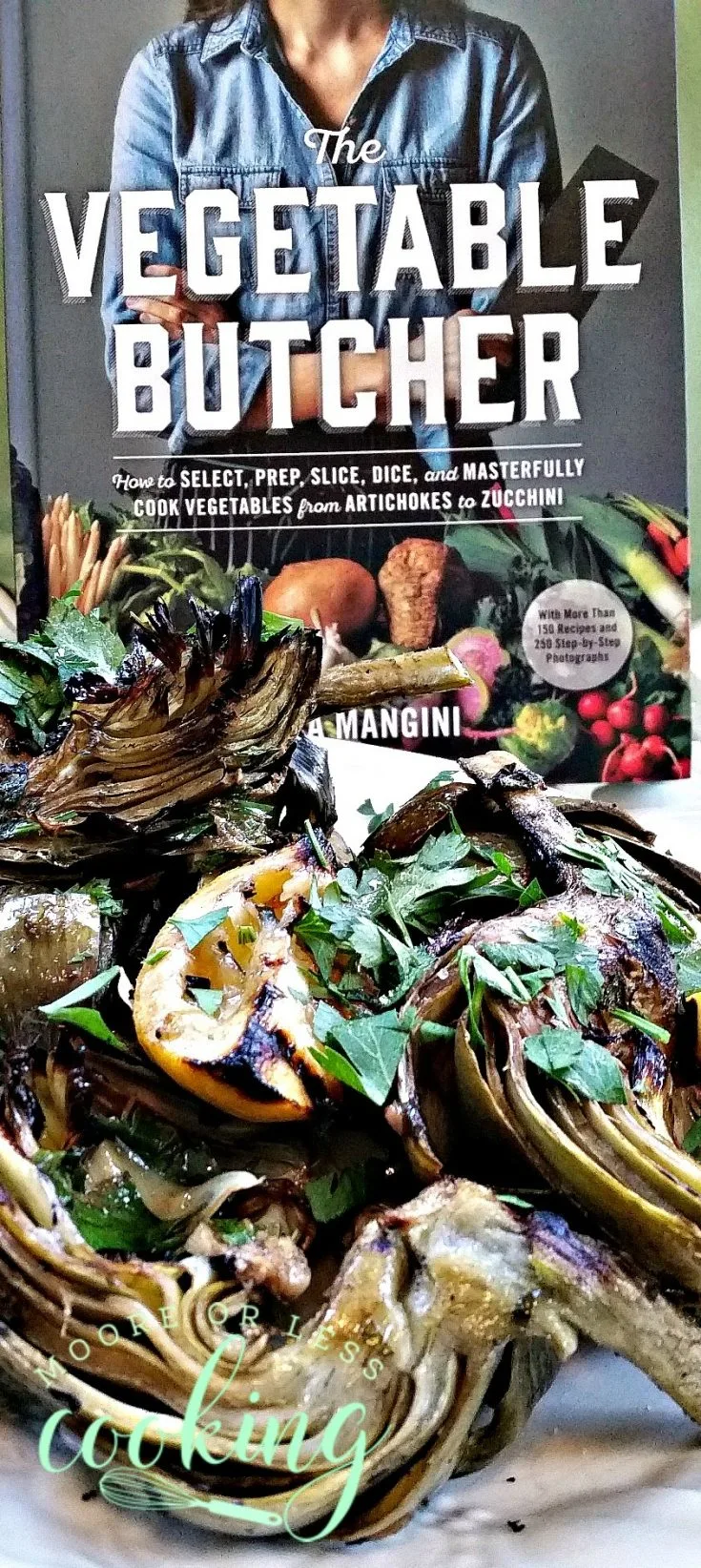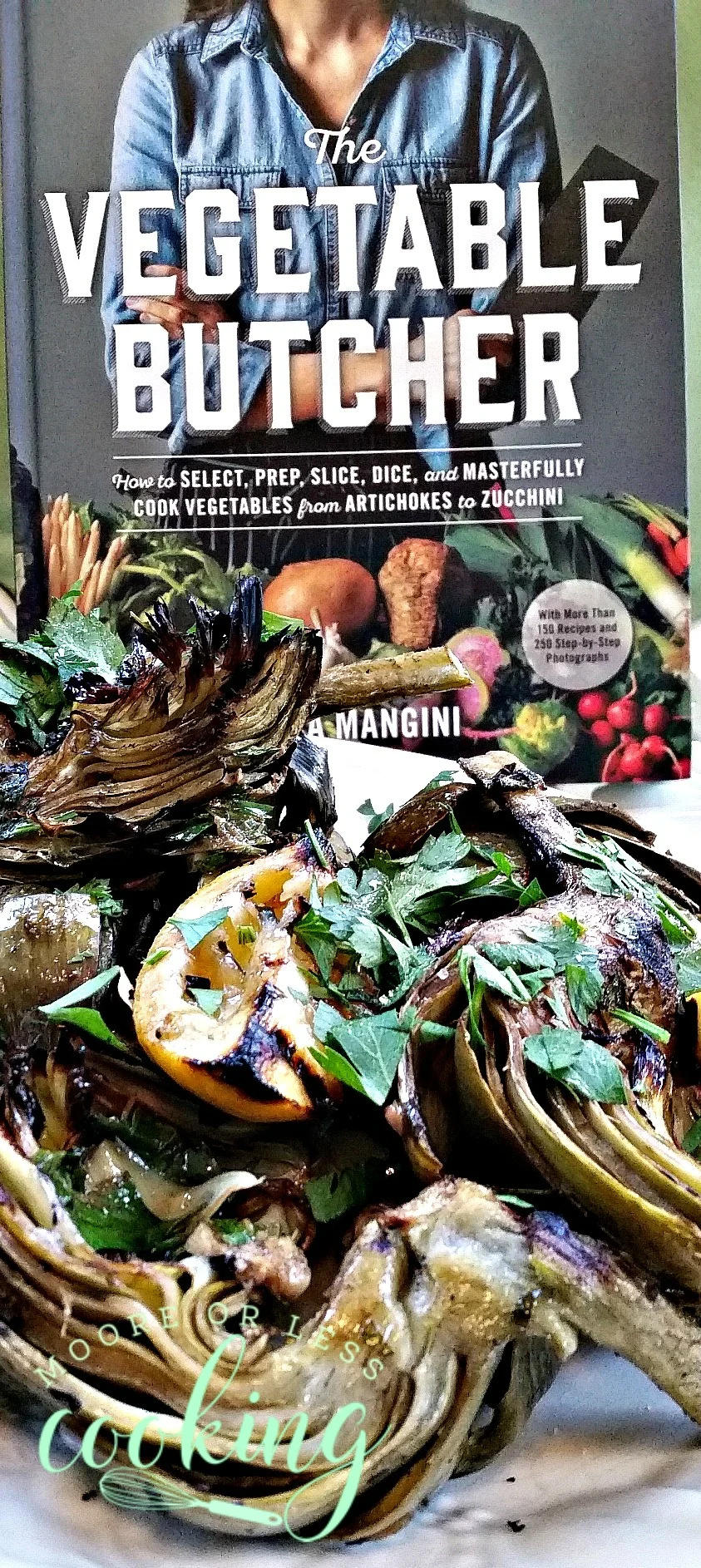 Yield:

2-4
Grilled and Smothered Artichokes #WeekdaySupper
Total Time:
1 hour
10 minutes
Succulent Artichokes that are marinated, grilled and smothered!
Ingredients
 3 medium-sized artichokes (stems attached), trimmed, peeled, quartered and choke removed
 Zest of 1 lemon
 2 large lemons, 1 halved and juiced, 1 quartered
 1 tablespoon balsamic vinegar
 1/2 cup extra-virgin olive oil
 2 garlic cloves
 1/2 teaspoon fine sea salt
 1/8 teaspoon freshly ground black pepper, plus more to taste
 1/2 cup loosely packed fresh flat-leaf parsley leaves, coarsely chopped
 Coarse or flaked sea salt to taste, for finishing
Instructions
Set a collapsible steamer in a large pot and fill the pot with enough water to just skim the bottom of the steamer. Bring water to a boil. Place artichokes in the steamer, cover the pot, and steam over medium-high heat until the leaves release easily when pulled and the hearts are tender when pierced with a paring knife; about 15 to 20 minutes.
Meanwhile, in a large bowl, whisk together lemon zest, lemon juice, balsamic vinegar, olive oil, garlic, fine sea salt, 1/8 teaspoon pepper and three-quarters of the parsley.
Add the steamed artichokes to the lemon marinade and toss to distribute evenly. Let stand until the marinade has infused the artichokes, at least 30 minutes or up to 3 hours. Alternatively, cover the bowl and refrigerate overnight.
About 10 to 15 minutes before you plan to cook, heat a grill to medium-high heat.
Use tongs to transfer artichokes, cut side down, to the grill; keep the bowl of marinade next to the grill. Cook artichokes until golden grill marks appear, 5 minutes, then flip them.
On the grill, place lemon quarters flesh side down. Cook artichokes and lemons until they are lightly charred and the artichokes are completely tender, 3 to 5 minutes. Transfer lemons to a serving platter. Return the artichokes to the bowl of marinade and toss to coat evenly. Arrange artichokes on the serving platter, and sprinkle with the remaining parsley, coarse sea salt and additional pepper. Serve immediately.
On buying artichokes: Look for artichokes heavy for their size, with tightly closed leaves. Rub leaves to determine freshness—they will squeak if they're fresh, and the small outer leaves around the base will snap.
Check out the Vegetable Butcher #WeekdaySupper Posts:
Monday – Shitake "Bacon" and Shredded Brussels Sprouts Pizza with an Egg on Top by The Crumby Cupcake
Tuesday – Grilled Asparagus, Taleggio, and Fried Egg Panini by Grumpy's Honeybunch
Last week:
Win a Beautiful Copy of "The Vegetable Butcher" Cookbook! By Cara Mangini
Prize: A copy of the Vegetable Butcher Cookbook
Leave a comment: What is your favorite vegetable?
Contest Giveaway Starts 5/13/2016- Ends 5/20/2016 Contest has ended.
Debi W. is the winner of The Vegetable Butcher Cookbook!
Affiliate Link~ The Vegetable Butcher: How to Select, Prep, Slice, Dice, and Masterfully Cook Vegetables from Artichokes to Zucchini
Recipe used with permission from Workman Publishing Company.
This post is sponsored by Workman Publishing Company in conjunction with a social media campaign through Sunday Supper LLC. All opinions are my own.
Linked Up: LET'S GET REAL WEEKLY LINK PARTY